Smartphone Users, Here's How to Properly Disinfect Your Phone
From what to use to wipe them to tools you can use to kill bacteria.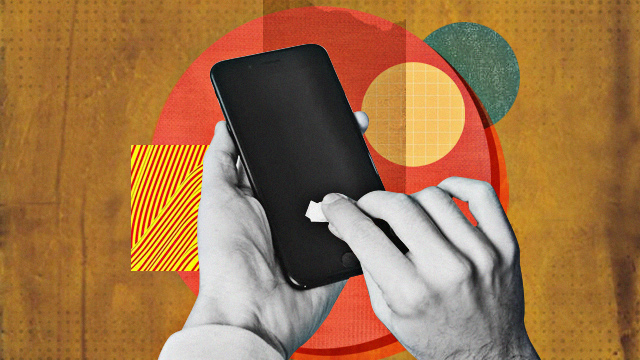 (SPOT.ph) In a study published in an online peer-reviewed life sciences journal, users can end up transferring up to 82% of bacteria that are present on their hands to their phone. The screen can harbor various disease-causing bacteria such as Staphylococcus, Streptococcus, Corynebacterium, and Haemophilus. Some species of staph can cause food poisoning and bacterial infection, strep can cause sore throat, pneumonia, meningitis, and urinary tract infections, corynebacterium can cause diphtheria, and haemophilus can cause middle ear infections as well as respiratory tract infections.
While not all bacteria on your phone are immediately pathogenic and may harbor only benign bacteria species, it shows that phones are exposed to almost the same level of microbes in the environment as their owners. This is probably no surprise since phones have practically become the extension of one's body, and it's always within easy reach. A TIME report has gone as far as saying that mobile phones are dirtier than toilets.
ADVERTISEMENT - CONTINUE READING BELOW
To add to the threat of phones getting contaminated with pathogens is the COVID-19 virus. According to the World Health Organization's Q&A, COVID-19, like other coronaviruses, can survive on surfaces for a few hours to a few days depending on other factors such as surface type, humidity, and temperature of the environment. Thankfully, the virus can easily be killed through standard disinfection.
The first step to prevent the contamination of gadgets is, of course, proper hand washing. Centers for Disease Control and Prevention recommends using soap and clean running water to remove germs from hands. This will help prevent the infection of not only your gadgets but also stop germs from getting into your body through the eyes, nose, and mouth.
CONTINUE READING BELOW
Recommended Videos
Phone manufacturers such as Apple and Google have recommended instructions for how to clean devices such as iPhones and Pixel Android phones. In general, the instructions can also be used as a guide for cleaning other phones. The first thing to remember is to avoid any harsh chemicals or abrasive cleaning materials. Do not use bleach as a cleaning agent even when diluted. Manufacturers recommend using a non-abrasive, lint-free cleaning cloth such a lens cloth or special device cleaning cloth such as 3M's microfiber electronic cleaning cloth. 
Although these phone cleaning tips are generally safe, proceed at your own risk especially for newer devices or if your phone is not IP68 certified or at least water-resistant. You need to wash and dry your hands before proceeding. Unplug and turn off your phone before cleaning. Also remove it from its casing if you have one installed. If the casing is made of plastic, silicon, or rubber material, you can wash or disinfect it separately. Use a damp cleaning cloth to wipe phone surfaces.
ADVERTISEMENT - CONTINUE READING BELOW
According to Apple's latest instruction, it is fine to use 70% isopropyl alcohol cleaning wipes or Clorox Disinfecting Wipes on iPhones, as well as other devices from the brand like the Mac, iPad, iPod, and their range of display and peripherals. Ideally, if your phone has a screen protector installed, a disinfecting wipe won't damage the screen's oleophobic coating. Wipe the phone gently and do not use a strong rubbing motion. Wipe the phone's back, sides, and front. and make sure to avoid getting any excess liquid on the ports and buttons.
For hard-to-reach places such as speaker grills or the earpiece, you can use a mini-tip cotton bud moistened with diluted isopropyl alcohol. Take extra care not to leave any cotton fibers behind. You can use a secondary cleaning cloth to wipe your phone dry of any residue.
Another option for phone disinfection is the use of UV sterilizers. The most popular phone UV sterilizer model is the PhoneSoap 3 (U.S.$ 79.95, roughly P4,040), which uses UV-C light to kill germs and bacteria on the phone's surface. Using the device is as simple as leaving your phone inside to disinfect for 10 minutes. Two standard USB ports in the device allow you to sanitize and charge at the same time. The PhoneSoap 3 is compatible with most phones and can be used to disinfect other items such as credit cards, keys, or smartwatches and even comes in several colors.
Another UV phone sterilizer, the Momax Q.Power UV-Box UV Sanitizing Box with Wireless Charging (P3,990, available at Digital Walker) uses the same principle as the PhoneSoap 3 by bathing the phone in UV light for 18 to 30 minutes. It also works as a wireless charger and can even be used as an aroma diffuser while you sanitize your phone.
ADVERTISEMENT - CONTINUE READING BELOW
While not just made for phones, the UV Care Pocket Sterilizer (P1,500) can also be used for gadgets, keyboards, as well as knobs, toys, and countertops, among others. It comes in a compact clamshell design and claims to eliminate "up to 99.9% of harmful germs, bacteria, viruses, allergens and molds using UV-C light technology" by shining light on one-fourth of the surface for two to three seconds per section.
Ed Geronia Jr. is a gaming, technology, and screen writer. He worked previously as a magazine editor and as a co-founder of a mobile technology startup.  He is currently involved in creating immersive virtual reality experiences. Follow him on Twitter @edgeronia.
Share this story with your friends!
---
Help us make Spot.ph better!
Take the short survey
Load More Stories