At This Store in Makati, It's All About Vintage
Because the hunt for vintage finds is half the fun.
(SPOT.ph) When was the last time you walked into a store with no real agenda? No shopping list of things you need to buy, no vacation plans coming up, no big sale you were looking forward to. Trudging through crowded malls and browsing shelves of ephemeral trends can feel like an errand more than a leisurely activity. But that certainly doesn't mean the thrill of shopping is gone forever. In fact, this new local shop has a different outlook when it comes to buying clothes. It's Vintage, a store selling—you guessed it—vintage clothing opened in Makati in January and it wants to bring the excitement and novelty back to shopping for clothes.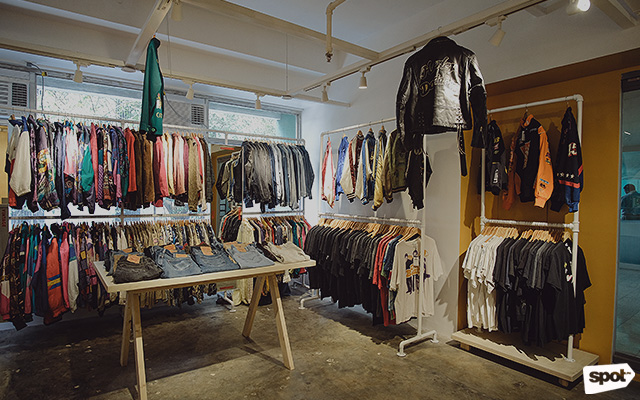 CONTINUE READING BELOW
Recommended Videos
ADVERTISEMENT - CONTINUE READING BELOW
Owner Fed Pua shares that his love for vintage clothing came from his own personal excursions of hunting for clothes in thrift shops abroad. "The first time I went to Japan and went to a vintage shop, that was the first time that I was like 'Oh my god, clothing can be fun.' There is clothing meant for every kind of person,'" he says. Pua shares he used to think of dressing up as more of a functional part of everyday life, rather than a hobby or an avenue for expression—at least before he discovered the thrill of rifling through unique pieces in vintage shops. "Before then, I never thought that clothing was something that you could have fun with in your everyday life."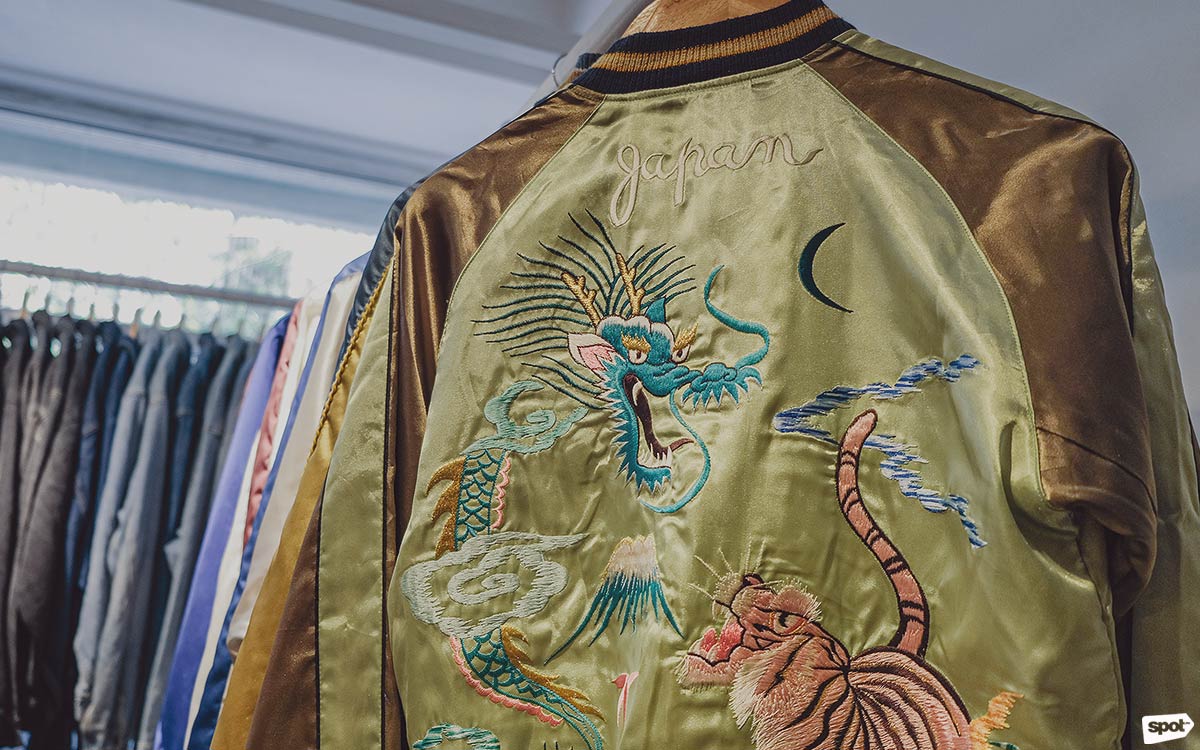 Check out the intricate details on this jacket available in the store—For Pua, unique finds like these are what making vintage shopping so fun.
PHOTO:

Majoy Siason
ADVERTISEMENT - CONTINUE READING BELOW
He shares that once he explored his first vintage shop, he was hooked—not just on the one-of-a-kind pieces he found, but on the whole experience of browsing through racks upon racks of clothes he had never seen before. "I love the idea of surprise—that when you enter, you really don't know what's there...That's why I always loved the real-life experience of a vintage shopping store." And with his very own vintage clothing store now open in Manila, he hopes to create a space where other people can feel the same.
'Oh my god, clothing can be fun.' There is clothing meant for every kind of person,'
"Where Did You Get It?"
It's Vintage began as a series of pop-ups, first launching in December 2017. Pua noticed that there weren't any spots around the Metro with the same wide array of secondhand clothing he had fallen in love with elsewhere and he found that he often had to look online for the unique pieces he was after. Though he acknowledges the growing popularity of ukay-ukay shops, he says the experience of it is different. "It's very cramped and there's a lot of health concerns," he notes. With It's Vintage, he hopes to help that same market find what they're looking for in a safe, curated space as well as to bring the experience to new people who have never tried shopping vintage.
ADVERTISEMENT - CONTINUE READING BELOW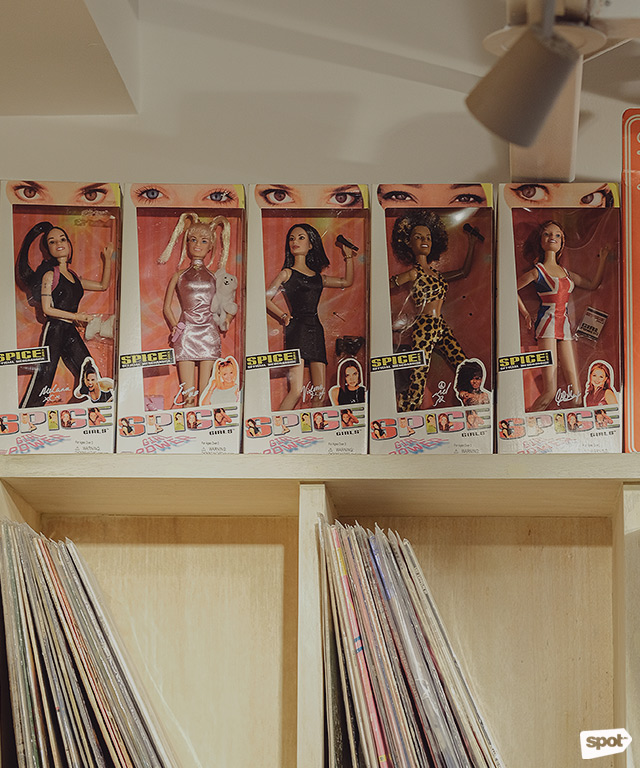 When It's Vintage opened its first few pop-ups, Pua notes that not only did a lot of people stop by to browse and shop, but that many of the customers would approach him afterwards asking for when the next pop-up would be or if the brand had a standalone store. "I realized I wasn't the only person looking for a curated vintage store in Manila," he says.
ADVERTISEMENT - CONTINUE READING BELOW
In fact, even just in his daily life, Pua says people would compliment his vintage finds or ask him where he bought the clothes he was wearing. His answer was simple: "it's vintage"—the very phrase from which the store gets its name.
Inside It's Vintage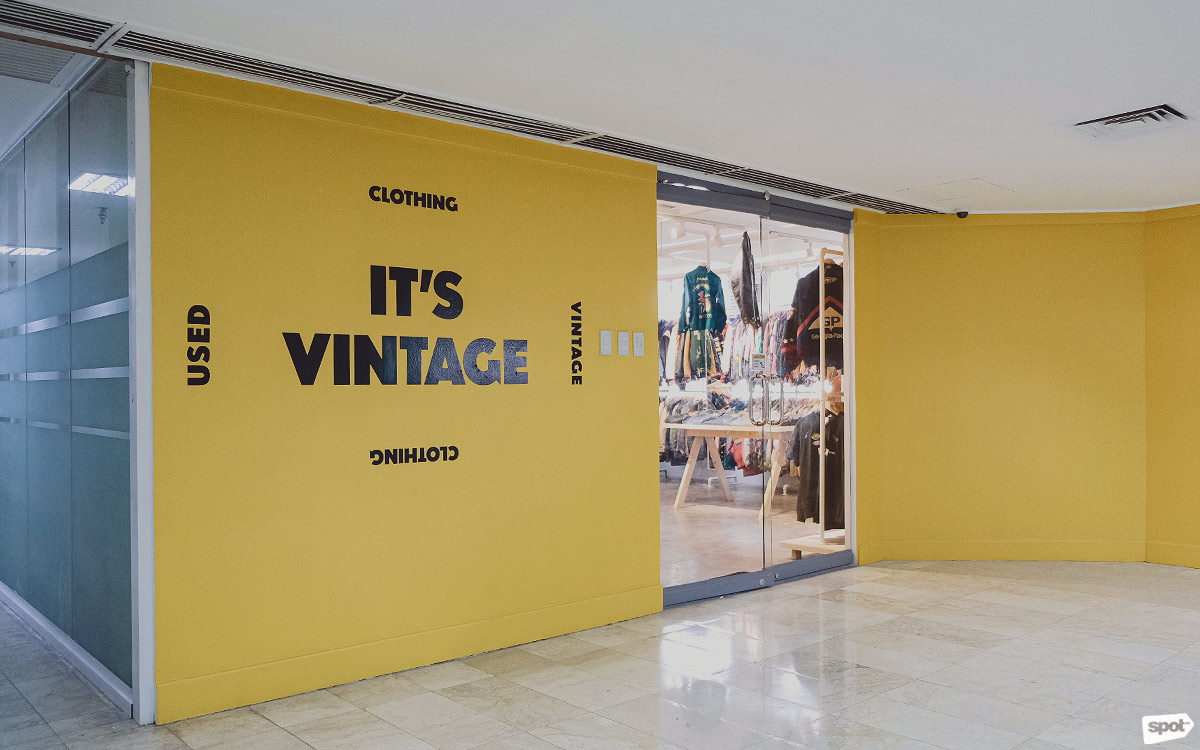 It's Vintage's industrial-chic, bright yellow facade will immediately draw you in.
PHOTO:

Majoy Siason
Located in Makati's bustling Legazpi Village, It's Vintage is inconspicuously situated on the second floor of the Planters Products Building on Esteban Street. Even from the outside, the bright yellow facade and colorful racks of clothing will draw you in.
Inside, Pua describes the space as "a mix of a mid-century log cabin and a Japanese library." You'll spot '60s and '70s-inspired design features like artificial trees and taxidermy against light wooden walls as well as a shelf lined with records both old and new. And yes, when you come in, you'll hear vinyl blasting all day long—anything from Fleetwood Mac to the Eraserheads.
ADVERTISEMENT - CONTINUE READING BELOW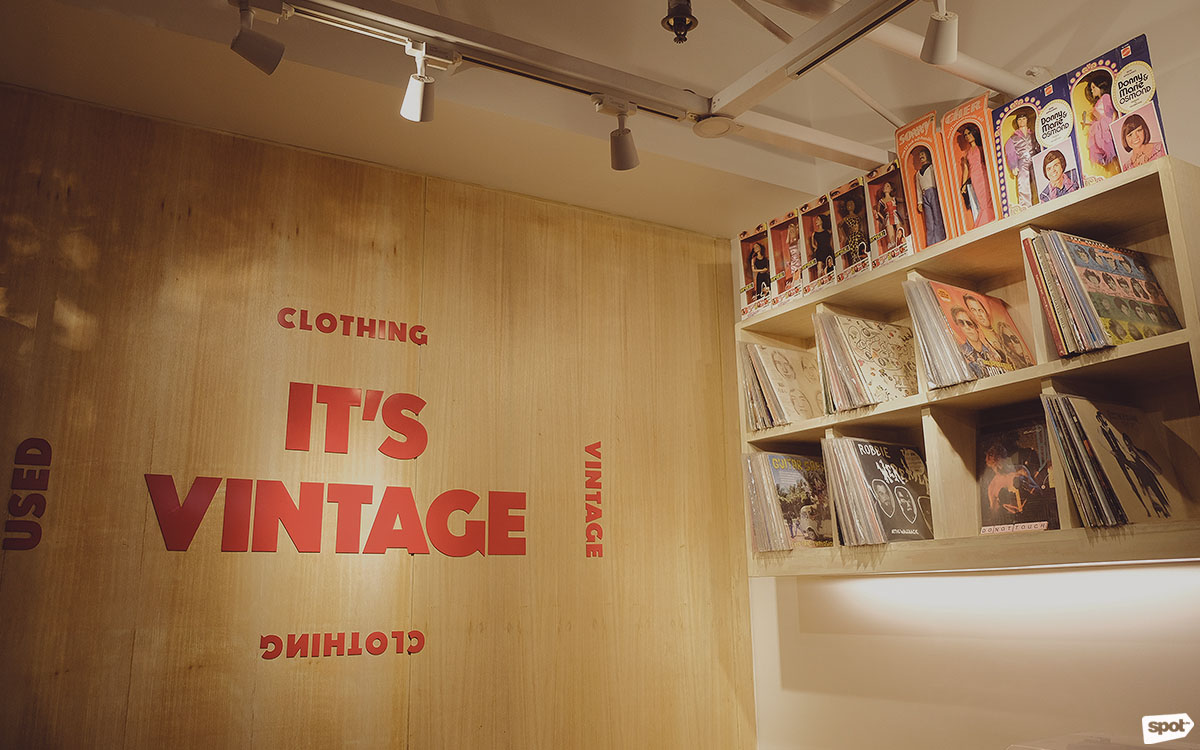 Peep the store's expansive collection of records.
PHOTO:

Majoy Siason
The space also features a minimalist-inspired layout with wide fixtures and shapes. While the store takes you on a trip back in time, it also has an aesthetic that's all its own. Pua shares that he wanted it to evoke a timeless, homey feel. Though the majority of the design inspiration is from the '60s, Pua notes that the mixed elements "could also be from the future." In a way, you almost feel like you could be in any era once you step inside.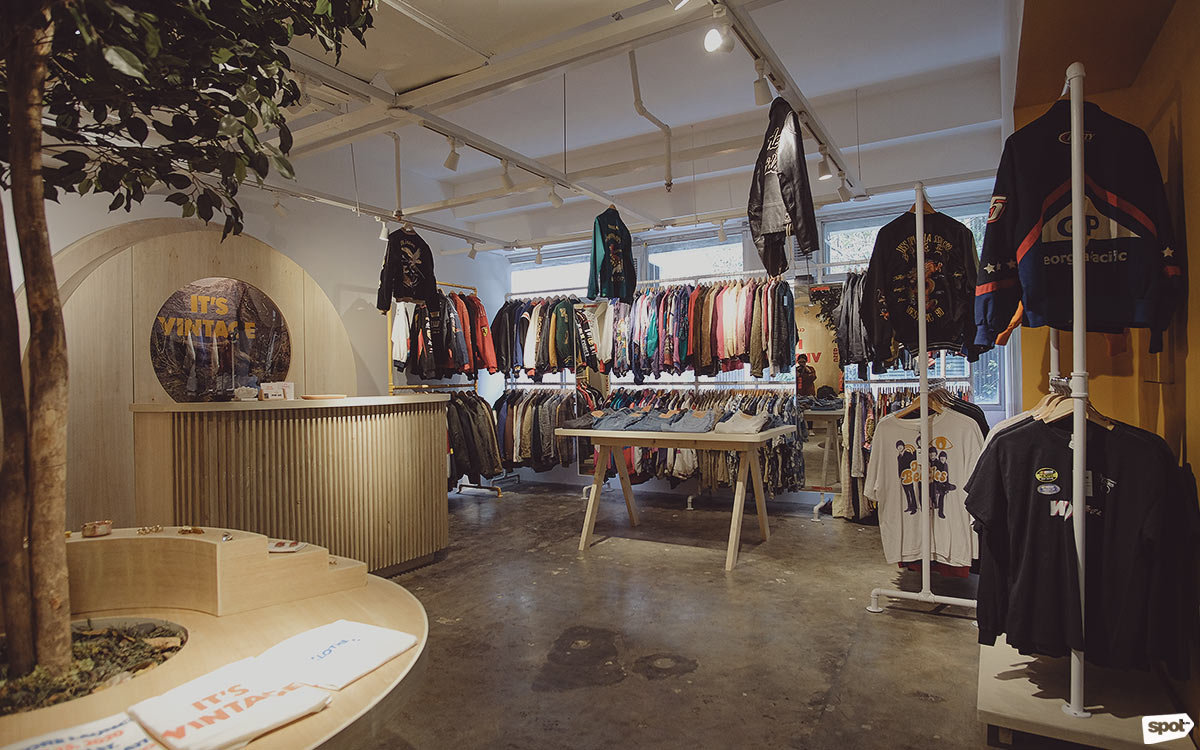 It's Vintage's store features an eclectic mix of elements from different places and eras designed to evoke a timeless feel.
PHOTO:

Majoy Siason
A special feature of the store that visitors should check out is its unique dressing room. The room is decked out in a spectrum of vibrant colors. Pua shares that it's inspired by a 1973 surrealist-fantasy film by Alejandro Jodorowsky called The Holy Mountain. "There's a lot of references to the occult, tarot, and astrology [in the film]," he shares. "There's this one scene where [the lead character] enters the room of the high priestess and the room is entirely rainbow-colored. That's one of the best scenes in movie history for me." He describes the dressing room as a vortex, "like you're entering a new world." And what better place to try on one-of-a-kind vintage pieces? And maybe take a cute mirror selfie or two while you're at it!
ADVERTISEMENT - CONTINUE READING BELOW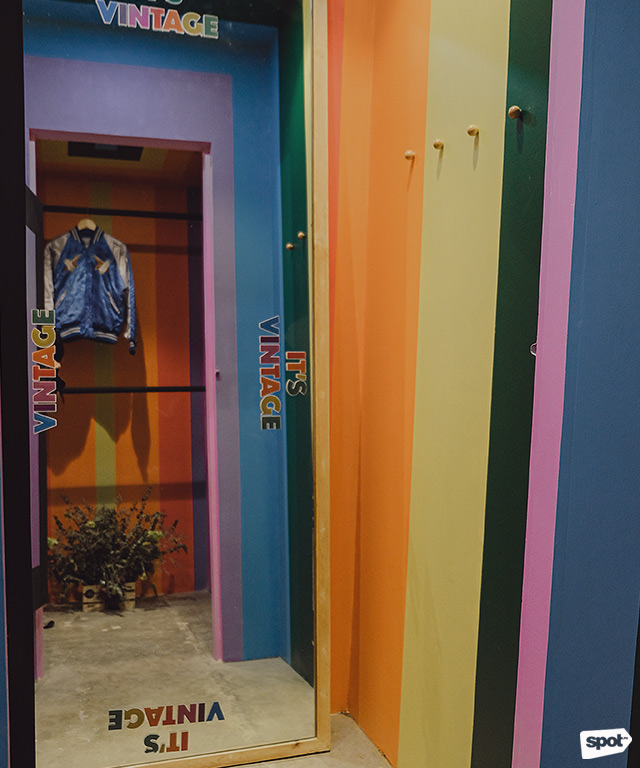 The World in One Shop
"What we carry are mostly handpicked things that I would think go well with Manila style, Manila climate," shares Pua. Though It's Vintage sources its stockpile of clothes from all over the world, their team takes time to handpick clothes one could easily wear even in the sunny, congested streets of Manila. He describes the fashion sensibility of the Metro as "casual, nonchalant, and effortless" and thus, so are It's Vintage's pieces.
ADVERTISEMENT - CONTINUE READING BELOW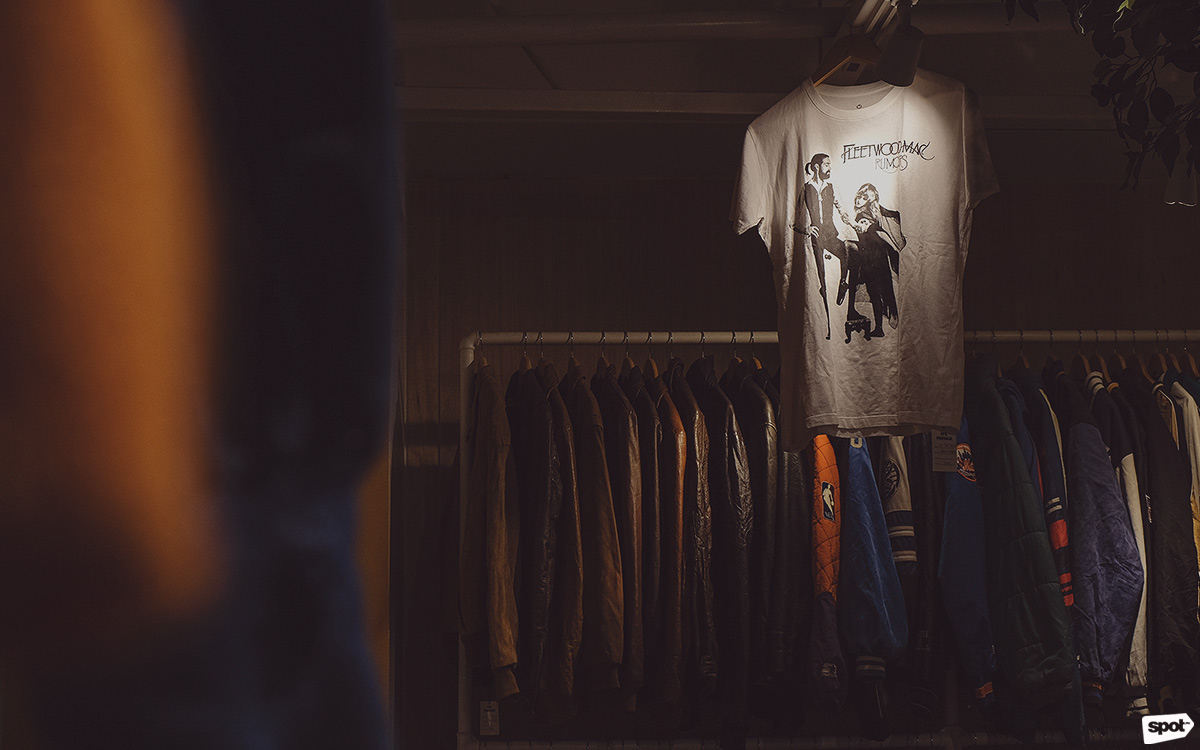 This Fleetwood Mac tee on display (Pua's favorite band) is just one of many band shirts you can shop that feature legendary acts like The Beatles, Metallica, Nirvana, and more.
PHOTO:

Majoy Siason
"There are a lot of great fashion capitals like Tokyo and New York, but they go all out when they dress up. I think what's interesting about the way people in Manila dress up is that it's very discreet." He says that his ideal outfit for the weather and atmosphere of the city would be a band shirt and vintage jeans (and of course, you can shop both inside). Thus, the store is curated to fit into that laid-back Manila style. You'll find rows upon rows of old-school graphic tees, jeans, denim jackets, windbreakers, souvenir jackets, and more sourced from places like Japan, the U.S., and even Europe. And yup, no two pieces in the store are the same. "It's the world in one shop," he beams.
ADVERTISEMENT - CONTINUE READING BELOW
Check out these gorgeous souvenir jackets sourced from Japan.
PHOTO:

Majoy Siason
In fact, Pua shares, once a piece is sold and goes off the shelf, they replace it immediately. He urges customers to visit multiple times, noting that the store is never really exactly the same each time you visit. While on your first visit, you may not find something for you, you're bound to have more options the next time you drop by—and so the experience is new and different every time.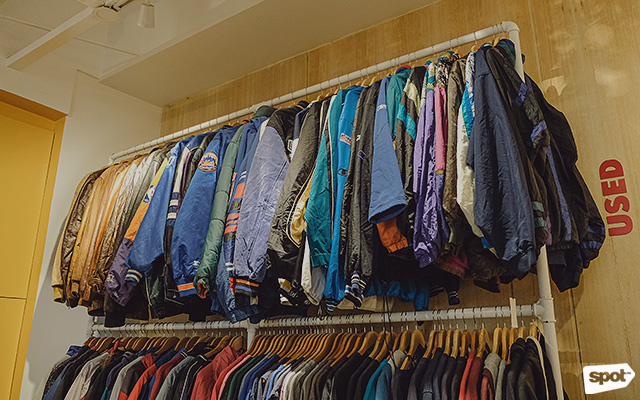 ADVERTISEMENT - CONTINUE READING BELOW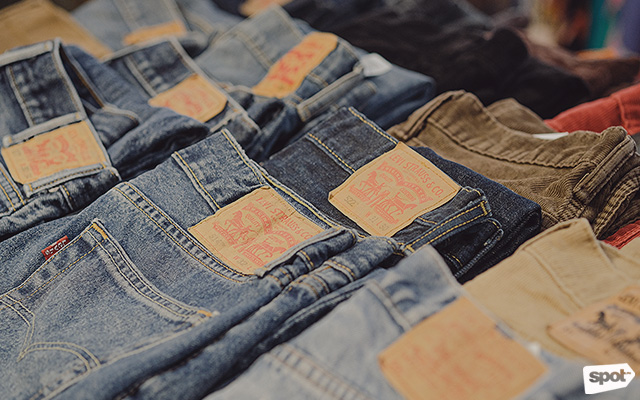 "I think what's interesting about the way people in Manila dress up is that it's very discreet."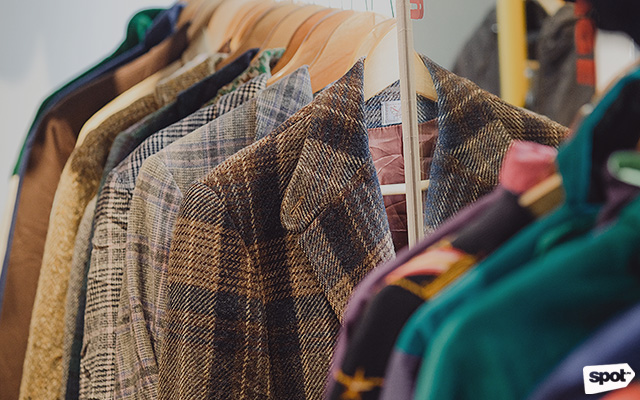 ADVERTISEMENT - CONTINUE READING BELOW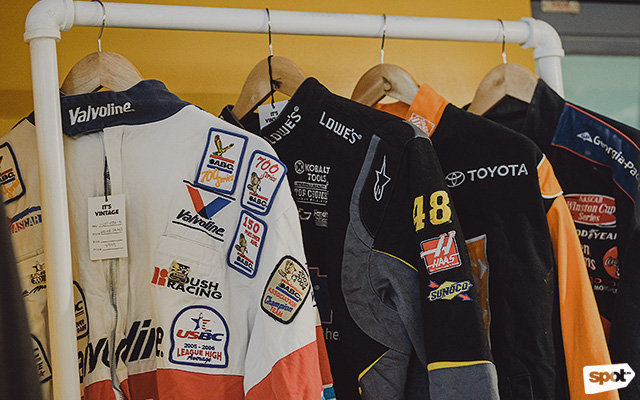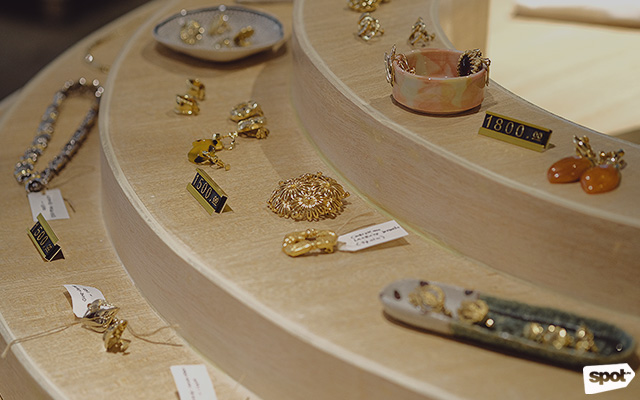 ADVERTISEMENT - CONTINUE READING BELOW
While browsing the store, you'll notice a particularly unique piece hanging separately in the center, above all the rest. Vintage shops around the world are usually known to have what is called a "grail piece"—a centerpiece of sorts that is both extremely rare and unique to the store, and one that helps mold its identity. For It's Vintage, the grail piece is a post-war jacket in an emerald green hue with a stylized Philippine archipelago intricately stitched onto the back, which Pua shares he actually found in Japan. He notes that while the piece might not have quite the same value elsewhere, it's a gem find for anyone from here because of its connection to our culture and history. "Grail pieces are very subjective," he says.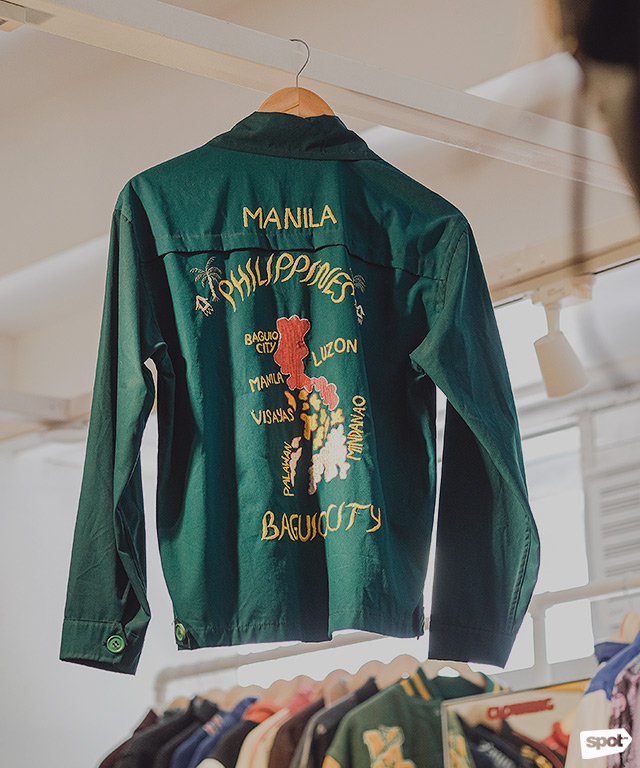 What Is Vintage Anyway?
ADVERTISEMENT - CONTINUE READING BELOW
Pua notes that the idea of what counts as vintage clothing is quite loose these days, especially in an era so preoccupied by nostalgia. "It means differently to so many people," he says. "For us, a Mariah shirt from 2003 or a Spice Girls shirt is already considered vintage," he points out, though it might be different for older generations.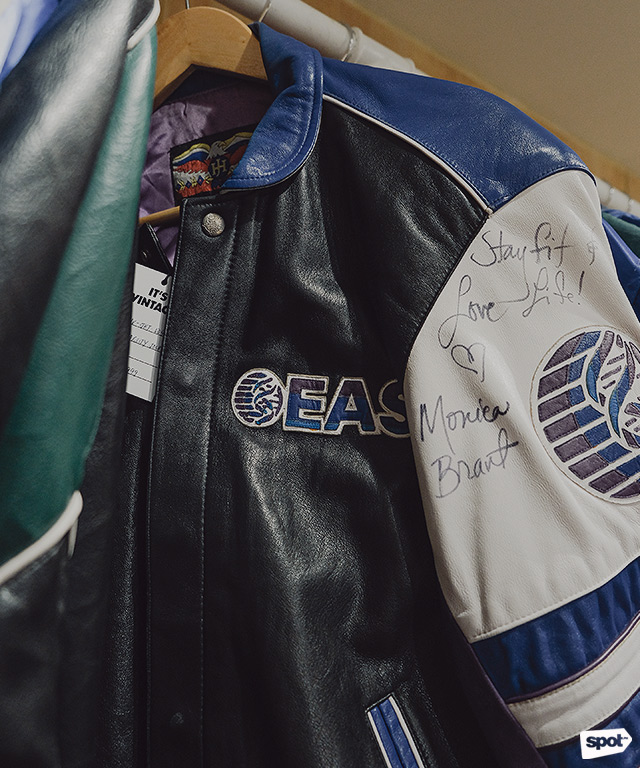 ADVERTISEMENT - CONTINUE READING BELOW
According to Pua, the store doesn't focus much on where and when its pieces are from, but instead, explores the idea that a story has lived through each piece of clothing. Though it can be difficult to trace a piece back to a certain place or period, Pua says that there's always an indication that it has lived through foreign experiences—and once it's yours, you get to create your own stories with it, too. "It feels so exciting to participate in that story," he says. "You continue the lineage of the story of the piece and it continues on. It's that lifespan of a [piece of] clothing that we think constitutes vintage."
Making Vintage Accessible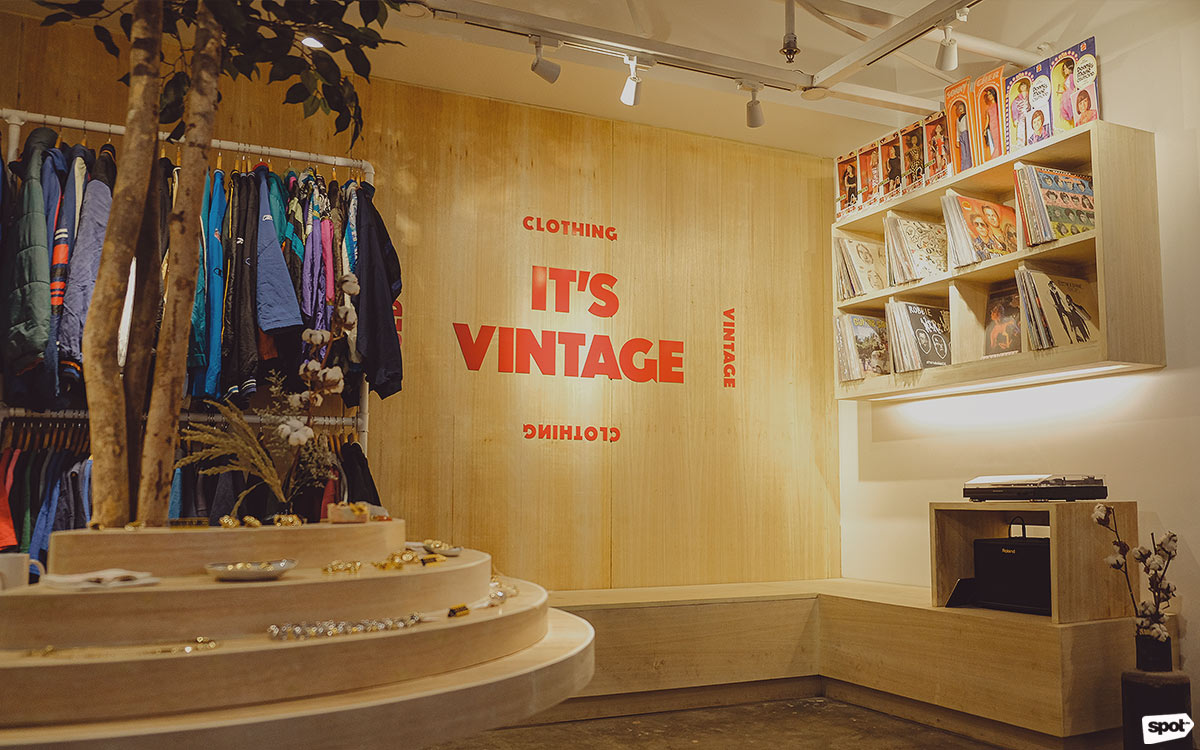 This corner of the store is the perfect chillout spot.
PHOTO:

Majoy Siason
"What we really want is to make [vintage clothing] accessible to people," says Pua. He knows that people can often get intimidated by the idea of shopping vintage, but he wants all of his customers to simply come in, enjoy the experience of browsing through time-worn pieces, and feel like they're part of the family. He credits his team for making the space feel as welcoming as possible. "Just come, we don't bite," he laughs.
ADVERTISEMENT - CONTINUE READING BELOW
"Even if you don't want to buy, just chill here. That's why we have this bench area near the music. Grab a coffee, talk to us about vintage, talk to us about music, art, whatever. If not, just sit," he says. "We're also introverts," he jokes. "We're trying to build a community [and] you're free to participate."
It's Vintage is at 2/F Planters Products, Inc. Building, 109 Esteban Street, Legazpi Village Makati City. It is open Tuesday to Sunday, 12 p.m. to 8 p.m.
For more information, log on to It's Vintage's Instagram page.
Photos by Majoy Siason.