SPOTTED: Hungry Shark on the Loose in Landmark Trinoma
And he's willing to stop for selfies!
(SPOT.ph) You've probably heard stories about animals in different parts of the world roaming the empty streets amidst worldwide quarantine measures, though many of them have since been debunked. Here in the Philippines, the human-free outside world has shown bluer skies and cleaner air. And more recently, some rare wildlife wandering about: this Facebook video shows a shark strolling around Landmark Trinoma in the early hours of Wednesday, April 1.
ADVERTISEMENT - CONTINUE READING BELOW
CONTINUE READING BELOW
Recommended Videos
The video was taken by Albert Labrador while the shark suit was worn by his friend Mario Gregorio Aglipay—you may remember the pair, along with their other friend Bong Manayon, from their viral video "hiking" up the GMA-Kamuning Station footbridge. According to Labrador, since their first video, which came out in April of 2019, the three have been stumped as to what their next shenanigan would be. That is, until Aglipay received a shark suit from a relative in the U.S. earlier this year. With the current state of things in mind, Labrador shares that they decided to use the suit as a makeshift piece of personal protective equipment, or PPE. He notes they had worries the night before that they would be arrested or not allowed to enter the premises.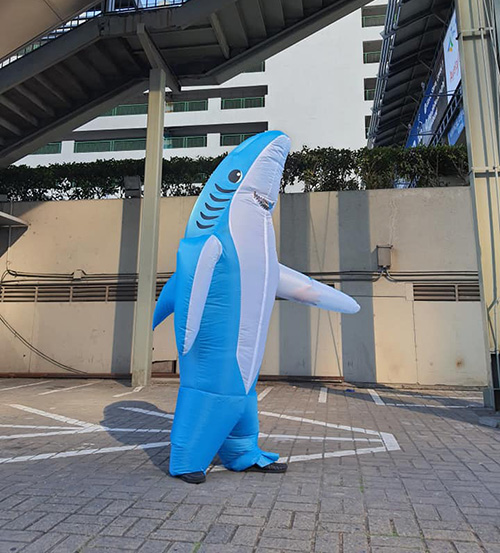 ADVERTISEMENT - CONTINUE READING BELOW
The three friends arrived at Landmark on the morning of April 1 separately and met at the parking lot. They made their way to the mall with Aglipay wearing the shark suit. Immediately, passersby began taking photos. Labrador notes that the guard stationed in the area "motioned politely to the shark to use the zebra crossing" as the three crossed the road and that a car even stopped and waved at the shark as he made his way to line up for the supermarket.
Here's a video of the shark crossing the road:
ADVERTISEMENT - CONTINUE READING BELOW
"The guard asked if the shark was shopping and he nodded politely," says Labrador. From there, the friends got in line to enter the grocery. Many people asked for selfies and the shark obliged, reminding shoppers to practice proper social distancing. Labrador shares that he jokingly reminded shoppers while waiting in line that "the shark might get hungry."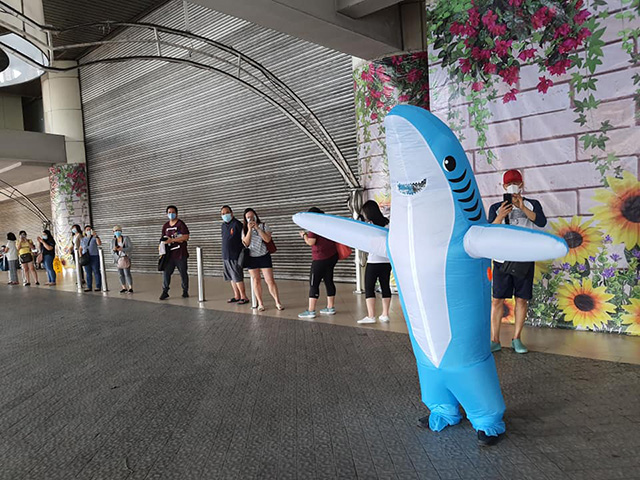 ADVERTISEMENT - CONTINUE READING BELOW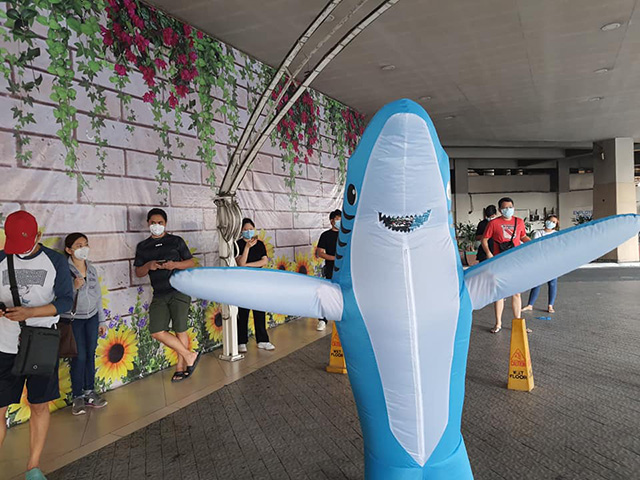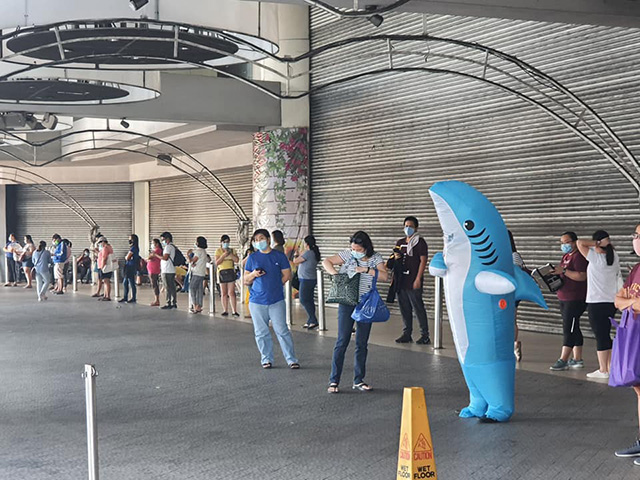 ADVERTISEMENT - CONTINUE READING BELOW
"The line [of shoppers and even guards] was all smiles...it was a great feeling seeing everyone laugh despite the crisis," recounts Labrador. "Mission accomplished," he says. "I guess, after all, that is the point of April Fool's—to make people smile no matter how terrible the situation."
Are you sure you want to delete this list?

Load More Stories