Online Groceries, Face Masks + More: Your Ultimate Guide to Shopping in Manila During Quarantine
Everything you need to know about buying the things you need during quarantine.
(SPOT.ph) A global pandemic would inevitably cause plenty of significant changes in the way we live our daily lives. Getting the things you need—whether it's food, home items, skincare products, and other essentials—has become trickier now that movement is limited to prevent the spread of the virus. It's a good thing, though, that more establishments are beginning to figure out how to operate given the situation—most shops are now offering delivery or are starting to setup their businesses online. There are even courier and concierge services you can book to get things done for you! If you're having a hard time shopping for your needs, department stores and hardware stores that deliver, laundry shops that are open, online groceries you can check out, where you can shop skincare products, courier services you can book, and even where to shop reusable face masks.
Ready to shop? Here's a quick guide: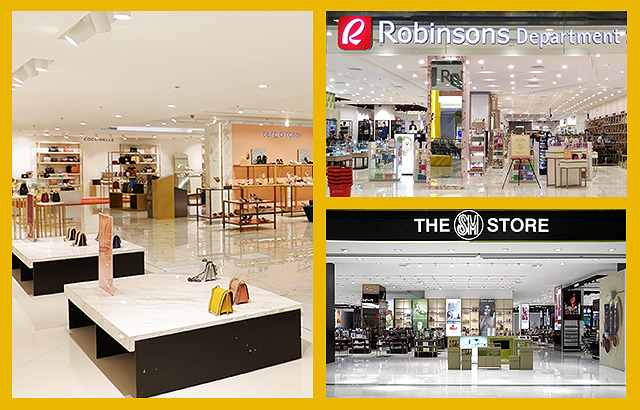 Department Stores
Being home for most of almost two months will give you an idea on the basic things that you need but still don't have—and if you're itching to buy some items that'll make living at home a bit better but not sure where or how to do it, we got your back. Check out these department stores that can deliver straight to your home:
ADVERTISEMENT - CONTINUE READING BELOW
Robinsons Department Store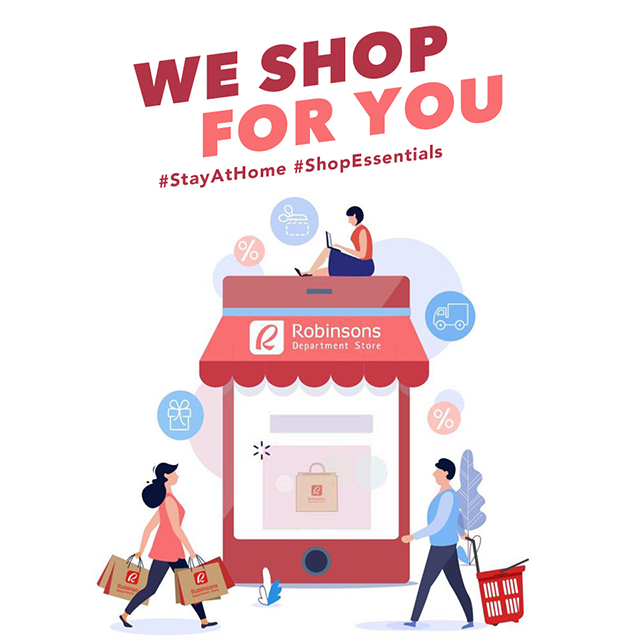 CONTINUE READING BELOW
Recommended Videos
Robinsons Department Store launched an initiative called "We Shop For You," which means you can shop from the department store online and have your items delivered straight to your door. All you have to do is browse through Robinsons Department Store's catalog of essentials (available on LazMart) and take note of the items you want to purchase. Then, contact the nearest branch to your home and send them your orders. Just send them your name, address, mobile number, preferred date of delivery, mode of payment, and your list of items. You may also inquire about other items through their branch representative. Note that you have to place your orders between 9 a.m. to 4 p.m. You can opt to pay with a credit or debit card, bank transfer, or cash on delivery. Note that you'll have to shoulder the delivery fee when booking your choice of courier. Pro tip: You can also order the items directly on LazMart.
ADVERTISEMENT - CONTINUE READING BELOW
The SM Store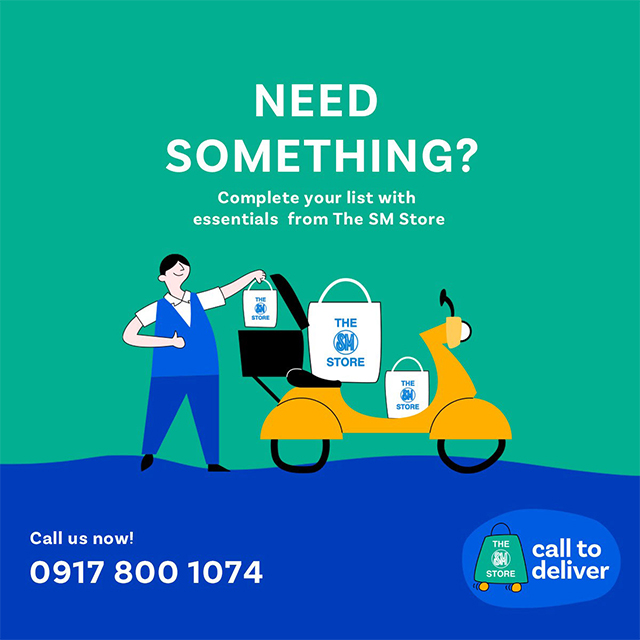 Need something from The SM Store? They just launched their "Call to Deliver" service that lets you shop essentials and have them delivered to your home. Just browse through their online catalog, choose your items, and call 0917-800-1074. You can ask the store representative for any additional items you might want to add to your order. After finalizing your items, wait for your order confirmation which includes the instructions for payment and delivery. Finally, send your proof of payment and wait for your package to arrive at your doorstep! You can place your orders from Monday to Friday, 9 a.m. to 3 p.m. only. 
Rustan's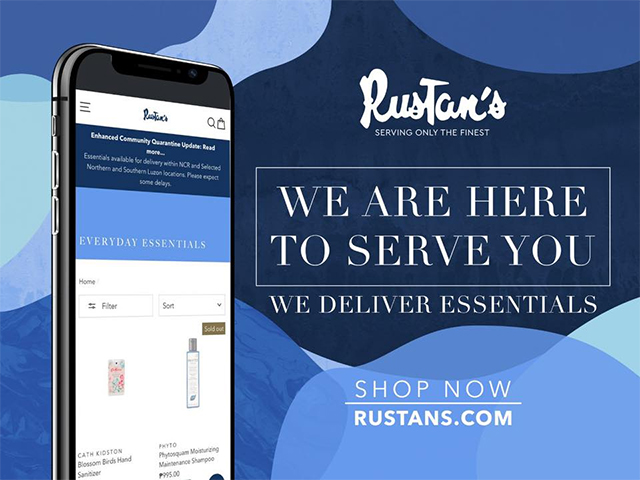 ADVERTISEMENT - CONTINUE READING BELOW
Titas and titas-at-heart will be glad to know that Rustan's is open for delivery during quarantine. Just visit the Rustan's website and check out the "Essentials" category to see what you can have delivered immediately to your home. This category includes items like hand soaps, hand sanitizers, skincare products, personal care items, and more. You also have the option to shop for non-essential items, but take note that delivery will take place after the enhanced community quarantine is lifted.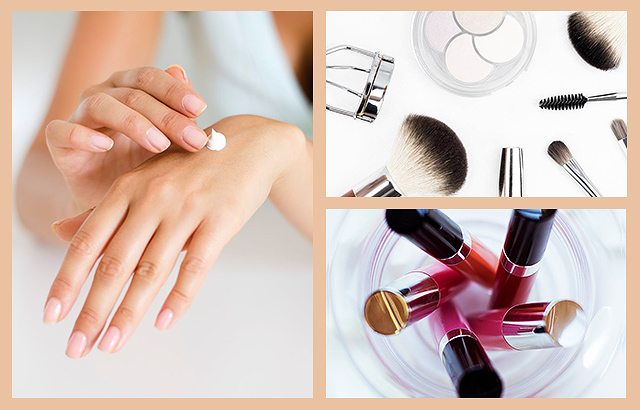 Beauty and Skincare
The stress of uncertainty and anxiety can really take a toll on your skin. If you're looking for products to help improve your skin condition or if you simply want to stock up on your skincare faves, these places deliver:
BeautyMNL
BeautyMNL announced on April 12 through their Facebook page that they will be "resuming delivery of essential products" and that they will "prioritize orders containing important items." That means you can choose from selected items on their website that you may need in your home. This includes personal care products like shampoo, soap, face wash, deodorant, and more—especially good news for those of you who may be running low on beauty essentials. They are also delivering medical and cleaning supplies, vitamins and supplements, and of course, food and drinks. The local online retailer has noted that they are still operating with a skeletal workforce, so you might experience some delays in delivery. They are also practicing a no-contact delivery protocol, so be sure to follow accordingly and disinfect all your items once they come to your doorstep.
ADVERTISEMENT - CONTINUE READING BELOW
Beauty Bar
You can now shop skincare, bath and body essentials, hair care products, and more from brands like Burt's Bees, Dear Klairs, Neogen, Bio Balance, One Earth Organics, Anastasia Beverly Hills, and more. This is especially great news for those who may have sensitive skin or very specific personal care needs. All you have to do is log on to Beauty Bar's website where they will be fulfilling online orders all throughout Luzon. As with many of the services in place in these trying times, expect delays in delivery as couriers are limited. Beauty Bar has assured its customers that they will be practicing proper sanitation protocol as well as sealing packages well for safety. We do suggest though that when packages arrive at your door—wherever they may be from—you wipe them down and disinfect them immediately, just in case. That way you can enjoy your skincare goodies with no worries!
ADVERTISEMENT - CONTINUE READING BELOW
The Body Shop
Good news, The Body Shop fans: They are now open for pick-up and delivery! Here are all the ways you can order their popular personal care products during the quarantine: First, you can shop online either through Shop SM, Lazada, or Shopee. Simply browse through their selection, add the items you want to buy to your cart, and checkout. The second way you can shop their products is by calling or sending a Viber message directly to a branch near you. That way, you can be sure that your package will be able to make it to your doorstep much quicker and with less fuss. If you're going to head out to run errands for your household, you can also opt to pick up your order at your nearest branch yourself. If you're contacting a branch directly, be sure to fill out their online order form beforehand for faster processing and payment. 
ADVERTISEMENT - CONTINUE READING BELOW
Innisfree
K-Beauty brand Innisfree is now accepting pick-up and delivery orders! Simply place an order through this online form where you can select from their available beauty products as well as input your complete delivery and contact details. You'll receive order confirmation and the total amount of your purchase (exclusive of delivery fee) through a text or Viber message. From there, they'll let you know how to properly settle your payment through either BDO or GCash. Once you send a screenshot of your proof of payment, they'll notify you about the delivery date. You have the option to get your packaged delivered with 2Go (which takes two to three days with a fixed courier rate of P130) or through a Grab or Lalamove delivery, which you must book yourself. If you live in the Pasay area, you can also opt to pick up your order yourself at Pacific Drive in SM Mall of Asia, right in front of SM Hypermarket. Note that order processing and pickup are only on Mondays to Fridays, from 10 a.m. to 4 p.m. 
ADVERTISEMENT - CONTINUE READING BELOW
The Face Shop
If you need to stock up on your faves from The Face Shop, you can now do so from the comforts of your home. Just fill out their online order form with your contact details, mode of payment (choose between GCash or BDO Online), and orders. They've got skincare goodies like cleanser, moisturizer, toner, face masks, serum, body wash, sunscreen, and more as well as makeup items like lippies, concealer, powder, eyeshadow, foundation, and more. Whether you need to restock your skincare collection, shop makeup for your online video calls and webinars, or even find gifts for friends celebrating birthdays in quarantine, you'll have lots to choose from. You'll be contacted through Viber to confirm your order and settle your payment. Once everything is settled, you can book a courier of choice to have your items delivered or have the store book one for you, which you'll pay for upon arrival. If you're in the BGC area, you can also pick up the items yourself.
ADVERTISEMENT - CONTINUE READING BELOW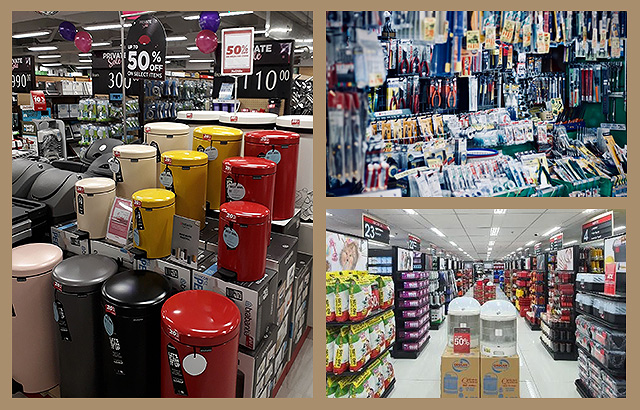 Hardware Stores
If you're starting to realize that there are some DIY projects you're going to have to take on during quarantine,  you're probably gonna need a few things you need from a hardware store. Whether you need to shop paint, tools, or electrical supplies, these hardware stores are open for delivery in Metro Manila:
Handyman
Handyman is open for delivery during the quarantine: All you have to do is call or text the nearest branch, place an order, wait for confirmation, pay via bank transfer, and book your preferred delivery service. Take note that stores have different operating hours.
For more information, log on to Handyman's Facebook page.
Ace Hardware
ADVERTISEMENT - CONTINUE READING BELOW
Ace Hardware has a website where you can shop your needs and have them delivered straight to your doorstep in one to three days. They also have a "Call and Collect" service so customers can call the nearest Ace Hardware branch and order whatever they need. All you have to do is check out their list of stores that offer the service, call your chosen branch, place an order, wait for confirmation, and choose your own courier.
For more information, log on to Ace Hardware's Facebook page.
True Value
You can check out True Value if you need to get home essentials delivered straight to your doorstep. Just call or text the nearest True Value store, wait for your order confirmation, and book your preferred delivery service. Note that orders can be placed from 9 a.m. to 3 p.m. only.
For more information, log on to True Value's Facebook page.
ADVERTISEMENT - CONTINUE READING BELOW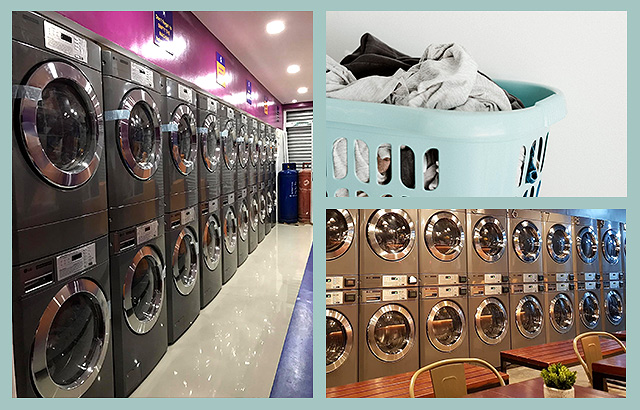 Laundry Shops
Have a hamper overflowing with dirty clothes and you don't know where to have your laundry done during quarantine? We list some laundromats around Metro Manila that are operational:
 

Mr. Jeff Laundry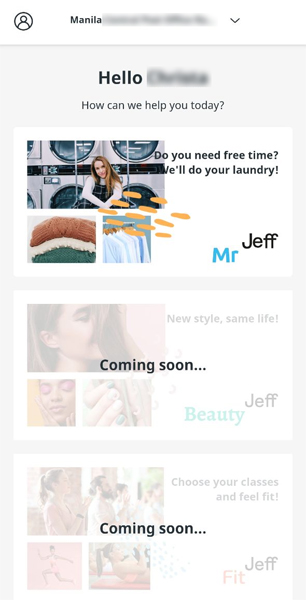 With most of us now staying home (and with the hottest summer upon us), you're probably already running out of the most comfortable pambahay. Before you suddenly start wearing pants while chilling on your couch, Mr. Jeff Laundry can pick up your dirty clothes and sheets and bring them back to you all clean within 48 hours. This app matches you with a Mr. Jeff Laundry branch near you. 
Lavada PH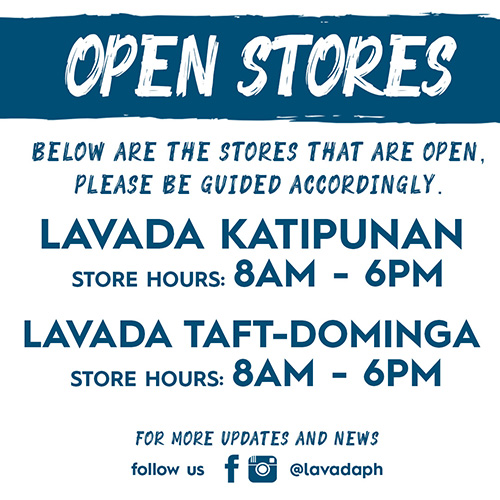 ADVERTISEMENT - CONTINUE READING BELOW
Lavada PH's branches are open for your laundry needs from 8 a.m. to 6 p.m. They offer pick-up and delivery in selected areas, but best to call up the branch nearest you to check whether your address is covered. Another option is to book a third-party courier like Grab or Lalamove, with a 24-hour turnaround time.
Lavada PH has branches in Crowne Building, Unit 7 Esteban Abada corner F. Dela Rosa Loyola Heights, Quezon City and 427 F. Martinez Avenue, Mandaluyong City. For more information, log on to Lavada PH's Facebook page.
The Lavendry Lounge
The Lavendry Lounge normally operates 24/7, but while the quarantine is in place, they will be closed from 8 p.m. to 5 a.m. in compliance with the implemented curfew hours. They currently only accept drop-off, full-service laundry (meaning no self-service). They note as well that they "are conducting periodic sanitation activities throughout the day" and "practicing self-hygiene and self-disinfection."
ADVERTISEMENT - CONTINUE READING BELOW
The Lavendry Lounge is at 486 Arayat Street, Barangay Malamig, Mandaluyong City.
LaundryMan Express
LaundryMan Express in Muntinlupa City continues to operate, but with rules for social distancing like requiring customers to wear masks. Only one customer is allowed inside the store at any given time while proceeding customers are requested to line up outside while waiting. Take note that folding of clothes and waiting inside the store is prohibited. Make sure to check out their Facebook page before you visit for announcements, as operating days and hours vary.
For more information, log on to LaundryMan Express' Facebook page.
CityCycle Laundry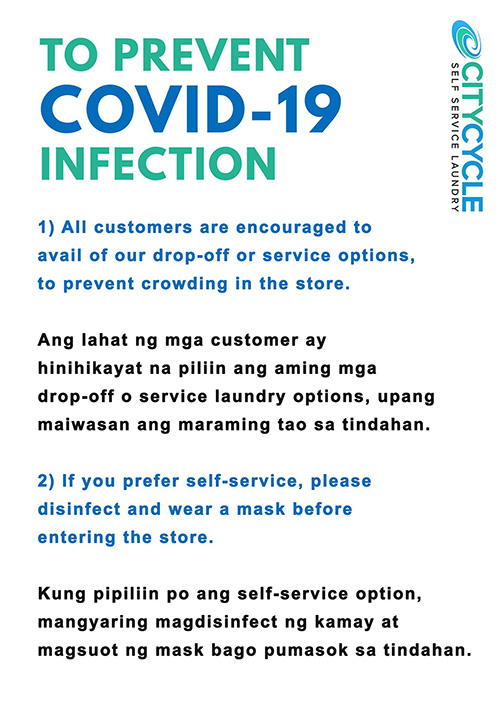 ADVERTISEMENT - CONTINUE READING BELOW
CityCycle Laundry remains open for both self-service laundry and drop-off options. Right now, they encourage customers to let them take care of your laundry to prevent people from crowding inside the store. Self-service is still available, but they can only accommodate three people at a time and customers must disinfect and wear a mask before entering the premises. Tl
CityCycle Laundry has branches at 65 15th Avenue, Murphy, Quezon City and Pioneer Center, Pioneer Street corner United Street, Kapitolyo, Pasig City. For more information, log on to CityCycle's Facebook page.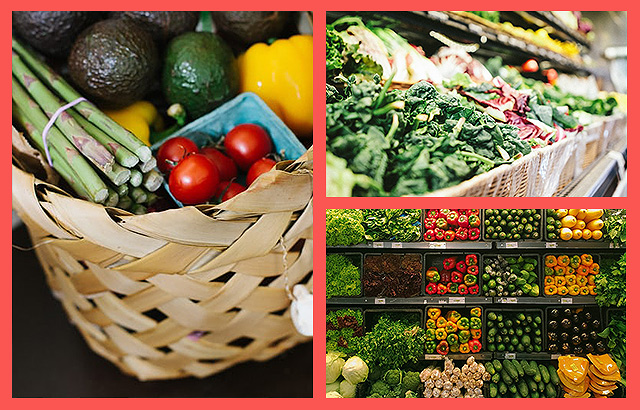 Essentials and Online Groceries
MetroMart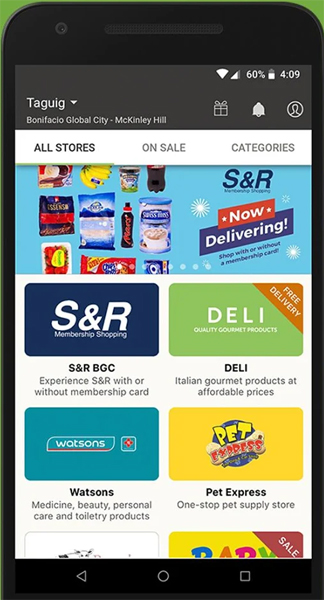 MetroMart lets you buy your groceries with a few clicks and swipes on your phone. It matches you with stores nearest to your location, including but not limited to a branch of Robinsons Supermarket, Rustan's Marketplace, S&R, Watsons, Generika Drugstore, and Shopwise. You can also choose your preferred delivery day and time, although this part may be a bit tricky especially with the high demand during quarantine. 
ADVERTISEMENT - CONTINUE READING BELOW
Session Groceries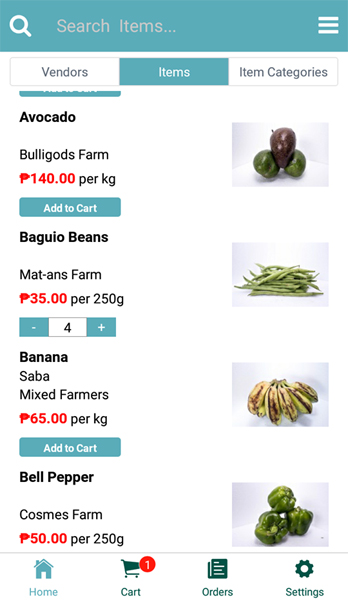 In early 2019, an oversupply in unsold produce left Benguet farmers with no choice but to dump their harvest on the road side. Local palay wasn't so lucky, too, ever since the Rice Tariffication Law was implemented and the market saw an influx in imported rice. In an effort to help farmers, Baguio-based online grocery store Session Groceries started accepting orders from customers in Metro Manila in January 2019; and now with the quarantine in place, the app has seen an influx of orders from people staying home. Shop for brown rice, strawberries, avocados, and other fruits and vegetables straight from the farms of the Cordilleras. 
AIDE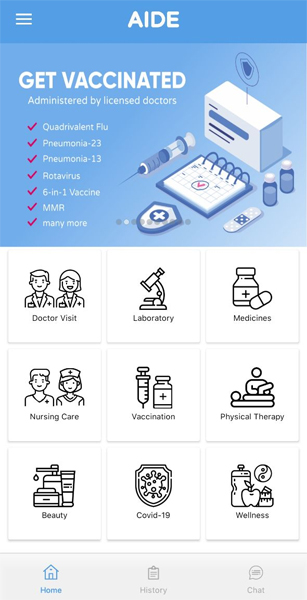 ADVERTISEMENT - CONTINUE READING BELOW
Unless it's for emergencies, going to the hospital is a very bad idea during a pandemic. So if you can't come to the doctor, AIDE lets the doctor come to you. They recently upgraded their system to feature online consultations with specialists, from OB-GYNs to pediatricians. Licensed physicians can also do home visits for vaccinations, including quadrivalent flu vaccine, rotavirus, and pneumonia.  
Healthy Options
So maybe you're just looking to nourish your body with nutritious eats, or, heck, you're just looking to try a different brand of chips from the usual. Here's some good news: Healthy Options launched their own online store, where you can get everything from snacks to different grains to supplements and natural beauty products delivered across the Metro. There's a minimum purchase of P1,500 with a lead time of at least five business days from the date your payment is confirmed. Payments can be made via Mastercard or VISA debit cards, credit cards, and Paypal.
ADVERTISEMENT - CONTINUE READING BELOW
To shop, log on to Healthy Options' website.
LazMart
Yup, you can shop groceries on Lazada, too! Lazada's online grocery, LazMart, has a wide selection of essential items, from home cleaning supplies, beauty and personal care products, foodand snacks, panry essentials, and more. To shop, just log on to LazMart on Lazada and add add what you need to your cart, and check out. Take note that they only accept credit and debit card payments.
Zalora
ADVERTISEMENT - CONTINUE READING BELOW
Zalora just launched their Essentials category and they're reopening their shop for delivery for these essential items! They've partnered with brands that supply food, medicine, personal care products, and household supplies so that shoppers can purchase these essentials on their website following government-mandated price ceilings. Whether you need home supplies, food, health and personal care items, or pet supplies, you can just add to cart and have them delivered to your home. To shop, just log on to Zalora's website. They accept credit or debit card payments, cash on delivery, as well as payments through Paypal and Google Pay.
Boozy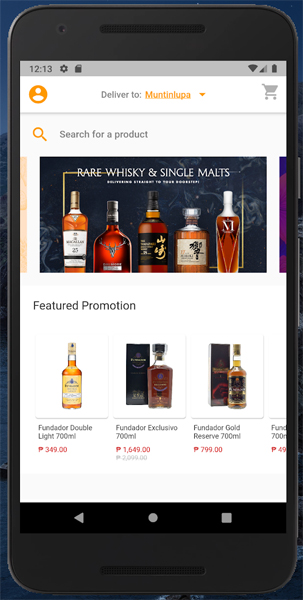 With everything that's happening right now, we bet all you want to do is chug down a bottle of beer. Boozy.ph offers same-day delivery of booze: you can get beer, wine, tequila, and vodka, among other alcoholic drinks. You can also order chips, softdrinks, and ground coffee from their app. They currently cater to parts of Makati and Taguig.
ADVERTISEMENT - CONTINUE READING BELOW
Available on Android.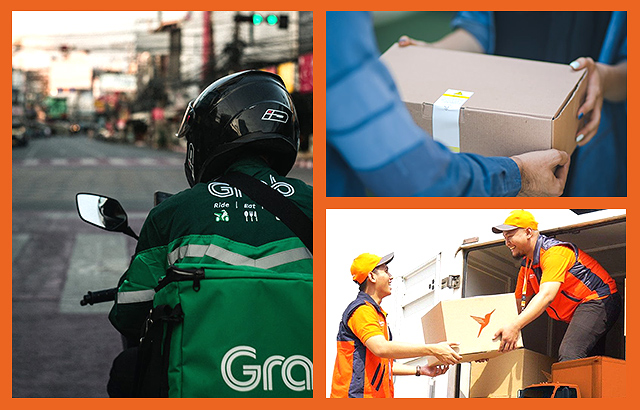 Courier Services
The pandemic has made it harder to move around the Metro freely because of the quarantine in place. Besides, no one really wants to be outside when there's a deadly virus going around, right? It's a good thing that more and more places are starting to deliver essentials straight to your doorstep. But what if you're the one who has something to send to friends, family, and loved ones? These are the couriers you can book to deliver items to your loved ones:
Widest Coverage: GrabExpress
Ride-sharing app Grab lets you book their GrabExpress service for same-day deliveries. Just open your Grab app, tap "Delivery" and input your parcel's pick-up and drop-off points—including contact information of the receiver—then hit book! When a driver accepts your request, you can track the trip on the app to see if your parcel has reached its destination. Grab riders are also asked to practice no-contact delivery to lessen the risk of infection. GrabExpress is currently available in cities within Metro Manila as well as Cebu City. 
ADVERTISEMENT - CONTINUE READING BELOW
Most Versatile: Lalamove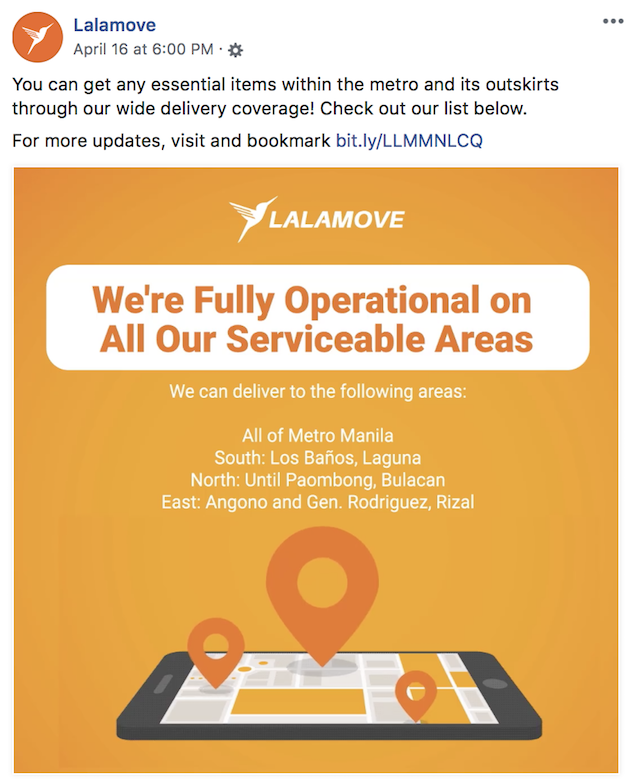 Lalamove continues to deliver essential items during the enhanced community quarantine. These essential items include food, grocery items, medicine, and water. You have a choice between a motorcycle, an MPV, or a light truck, depending on the size of your package. You just have to input both the pick-up and and drop-off location including the name and contact details of the receiver, then you're all set! If you're choosing the motorcycle option, you can opt for additional services like Insulated Box, Cash Handling, Queuing Service, and Purchase Service. They also practice no physical contact delivery which means you and the rider must be one meter apart when picking up and dropping off packages. Lalamove services cities within Metro Manila up until areas like Paombong, Bulacan, Los Banos, Laguna, and Angono and General Rodriguez, Rizal.
No-Nonsense: Angkas
ADVERTISEMENT - CONTINUE READING BELOW
We all know Angkas as the motorcycle-hailing app with a really fun Twitter personality (and, okay, a hero for most commuters), however, their services were halted as it goes against physical distancing. To help their riders sustain their livelihood, they launched their Angkas Padala service. The process of booking a rider is the same (input pick-up and drop-off), but with an extra step. Just make use of the "Notes to Driver" section when booking and be sure to input the following: name of recipient, contact number, complete address, item for delivery, and additional delivery instructions. 
Business-Friendly: Happy Move
Available on: iOS, Android, and online
ADVERTISEMENT - CONTINUE READING BELOW
Happy Move is a delivery service by the same folks behind JoyRide. Apart from those who want to send a package from point A to point B, they also cater to those who have large parcels and multiple packages to send out. Just download their app (or book online!) and choose the type of vehicle for your delivery. Then, input the pick-up and drop-off details and wait for riders to accept your requests. If your delivery requires an insulated bag, it's free! Just make sure to mention it in your delivery details.
A-Plus Assistant: JoyRide
Initially a ride-hailing app, JoyRide has expanded their service and launched JoyRide Delivery for food and essential items to help you get your needs during the enhanced community quarantine. Just select the "Delivery" option on their app and input the pick-up and drop-off details, input all the details the rider needs in the notes section, and confirm your booking. The app will match you with a driver and you're all set. Note that you'll have to transact with your chosen establishment prior to booking a JoyRide—your assigned rider's job is just  to pick up your item and deliver to your destination.
ADVERTISEMENT - CONTINUE READING BELOW
Cheapest: Mr. Speedy
Available on: iOS, Android, and online 
The newest same-day delivery service to pop up is Mr. Speedy, and they're currently making waves on social media for offering affordable rates—six pesos per kilometer to be exact. This means you get to save about 15% to 20% if you opt to use Mr. Speedy's delivery service, considering that industry standard is eight pesos per kilometer. They offer both motorbike and four-wheel vehicles and service areas within Greater Metro Manila. You can also make a booking through their website!
Concierge Service
With the modified enhanced community quarantine, more shops are expected to open, but measures related to physical distancing still apply. The safest bet, of course, is to stay home as much as possible. So here are apps for when you need to get errands done—from stocking your pantry to dropping off your dirty clothes at local laundry shops.
ADVERTISEMENT - CONTINUE READING BELOW
For all-day errands: MyKuya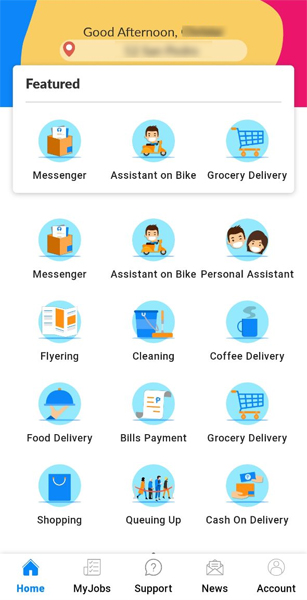 Founded in 2017, MyKuya is an on-demand service that matches you with kuyas (and also ates) who can do all your day's errands for you: getting your morning coffee from your favorite café, paying your bills, shopping, and doing your groceries. For multiple tasks, you have the option to input as many locations as you need—preferably starting at your house so you can give your grocery list and money for the items—and the chance to book the driver in advance. Costs are computed by the hour, with a minimum booking of two hours and an option to extend by 30-minute increments. Service fee is charged through Mastercard or Visa debit, credit, or prepaid card. 
For home repairs: Gawin.ph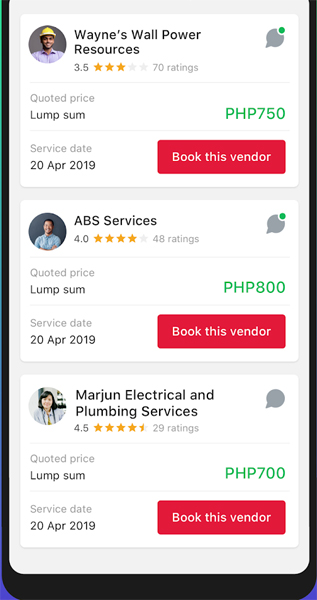 ADVERTISEMENT - CONTINUE READING BELOW
Gawin.ph has been around since 2015, connecting electricians, plumbers, and cleaners to customers in need of essential services for the home. You can still book professionals for repair jobs: whether it's for breaker or electrical wiring, air-conditioners, plumbing, refrigerators, and washing machines, even during quarantine. 
For quick purchases: GrabPabili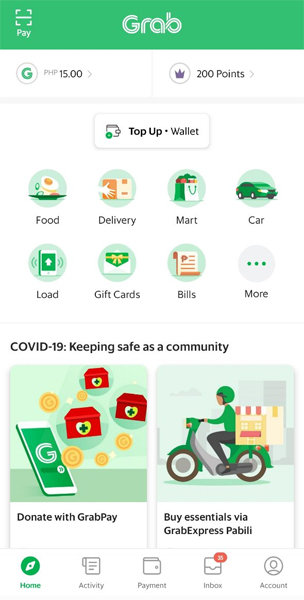 GrabExpress Pabili, formerly known as GrabAssistant, is an on-demand purchasing service where you can ask GrabExpress riders to buy your essentials from supermarkets or drugstores. Items to be bought should not go beyond P2,000, which you can pay for when the purchase has been dropped off to you. GrabExpress Pabili is limited to buying from one store only and there's no option to schedule your order in advance.
For cheap pabili: Lalamove's Purchase Service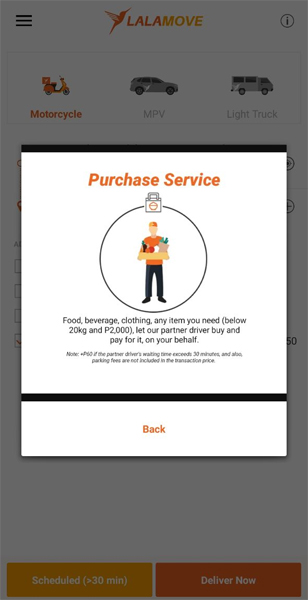 ADVERTISEMENT - CONTINUE READING BELOW
Lalamove Purchase Service, formerly known as Pabili Service, matches you with Lalamove drivers that can buy and deliver whatever you need—from random cravings like milk tea or chocolate cake to essentials like groceries and medicine—just as long as the total amount is not higher than P2,000. Pricing starts at P50 on top of delivery fee.
For carpentry and more: Goodwork.ph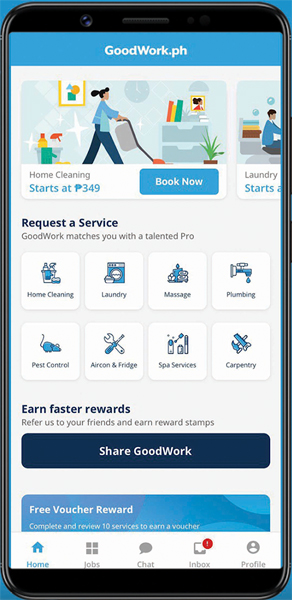 Does your home have leaking pipes? Or has your air-conditioner conked out? GoodWork.ph matches customers with professionals who carry out job requests such as plumbing, AC cleaning, carpentry, and laundry (in Taguig only). They also added telehealth services, which is perfect for medical consultations without having to leave home.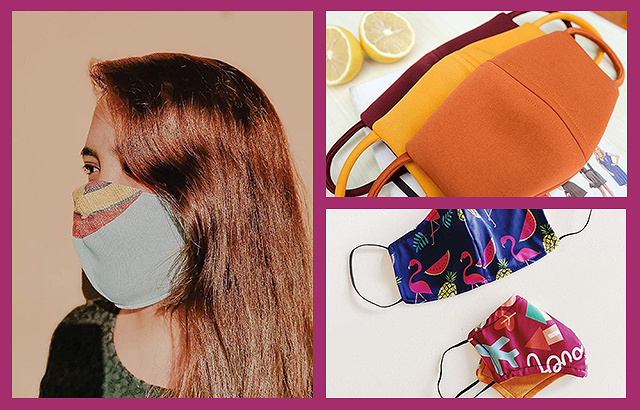 Where to Shop Face Masks
Wearing face masks is now required when going out. While there is a scarcity in surgical face masks and other protective equipment needed to contain the spread of COVID-19, local brands have been stepping up, creating washable masks that can be worn over and over again. So if you still haven't placed an order or if you're still on the hunt for face masks, you've come to the right place. Check out these online shops if you're looking for reusable face masks:
ADVERTISEMENT - CONTINUE READING BELOW
Rags2Riches x Earth, Too
Rags2Riches and Earth, Too have teamed up to create reusable face masks made with fabric donated by their upcycling partner Wanderskye. Not only are you protecting yourself from the pandemic, you're also being eco-friendly with this mask. Each face mask is handcrafted by Rags2Riches' artisans, so every purchase also helps sustain their livelihood. The masks are sold as a set of five for P225. 
Available online.
Apartment 8 
ADVERTISEMENT - CONTINUE READING BELOW
While Apartment 8 is popularly known for their gorgeous RTW dresses, they've shifted their focus and started producing reusable face masks—and just like their chic frocks, their masks come in the prettiest colors! Plus, each mask has an inside pocket where you can insert filters for an extra layer of protection and are properly sanitized before delivery. You can get a set of three for P300. Note that each set will contain assorted colors and you won't get to choose your preferred shade. 
Available online.
Anthill
Looking for something sustainable that can also keep you protected? Filipino brand Anthill is creating zero-waste face masks made from fabric scraps. Known for their handcrafted fashion pieces made by indigenous weavers, their masks feature patterns that are distinctly Filipino, adding a touch of local goodness to each one. The masks come with two filters that you can insert in their interior pockets for better filtration. Each mask is P70 each and the best part is you're also supporting the livelihood of Anthill's weavers and production partners.
ADVERTISEMENT - CONTINUE READING BELOW
Available online. 
Polo Loco
This menswear brand known for their cool button-downs are not producing what they call "Solidarity Masks" which are washable and eco-friendly. Each mask comes with a pocket inside where you can insert filters for added protection. Plus, they come in cool colors like red, black, army green, gray, and blue. The best part? They'll donate one set of masks to healthcare workers for every set purchased! Each set is priced at P200 and includes three face masks with 10 pieces of filter sheets.
Available online.
Threadsmith
ADVERTISEMENT - CONTINUE READING BELOW
Local clothing manufacturer Threadsmith is now producing reusable face masks. They come in cute colors like white, baby pink, yellow, teal, and more. The washable face masks are made with neoprene and all come with filter inserts for added protection. Each mask is priced at P100—and with for every purchase of one mask, three will be donated to frontliners!
Available online.
Sunnyside Clothing
Known for their dainty fashion pieces, Sunnyside Clothing now offers reusable face masks made with neoprene fabric. Each mask has a filter pocket inside so you can add filters like tissue paper for an extra layer of filtration. Each set is priced at P290 and includes three masks in assorted colors. Take note, though, that because of the limited supply of fabric, you won't be able to choose the colors of the masks you will be getting. 
Available online.
Style Ana
ADVERTISEMENT - CONTINUE READING BELOW
Style Ana's eye-catching face masks are made with weave scraps and they're all reusable and washable. Their masks reflect their fashion pieces' bold patterns, perfect for those who want to stand out from the crowd. Each mask has a compartment inside where you can put mask filters for added protection. You can get a set of three for P400. 
Available online.
Maison Metisse
Known for their ethically made fashion pieces, Maison Metisse has started creating their very own reusable face masks in light of the pandemic. Their two-ply face masks are washable and come with a filter pocket so you can add inserts for an extra layer of protection. Take note that their upcycled face masks are made in small batches using upcycled fabric from their previous projects. Each mask is hand-sewn, so it might take some time to get your hands on them but because their colors and prints are so #aesthetic, you'll be glad you waited. Plus, 50% of their proceeds will go to local communities of embroiderers and weavers, so you'll be helping out, too! One mask is priced at P100. 
ADVERTISEMENT - CONTINUE READING BELOW
Available online.
Pearlypop Swimwear
Local swimwear brand Pearlypop has hit the pause button in creating swimsuits and instead focusing their efforts on creating water-repellent face masks. They've created three designs and all of them come in a variety of colors. The masks, ranging from P35 to P60, come with filter slots for an extra layer of protection and are washable and water-repellent—just check out this cool video to see how they repel water!  
Available online.
Candid Clothing
ADVERTISEMENT - CONTINUE READING BELOW
Candid Clothing is a local brand known for their affordable and sustainable fashion pieces made with factory surplus fabric. Currently, they've shifted their efforts into creating reusable face masks which are made with moisture-wicking recycled bamboo cotton. Initially, they created the face masks for personal use using scrap fabric and donated some pieces to healthcare workers and other frontliners. Now, they're letting shoppers order their own reusable face masks to help support their garment makers as well as other displaced workers in Rizal. Each mask comes with an inside pocket where you can insert filters for an added layer of protection. One face mask is priced at P35 with a minimum order of 10 pieces. You can also get each for only P25 with a minimum order of 100 pieces.
Available online.
Eika Swimwear
Looking for a no-frills face mask? Eika Swimwear is selling reusable, two-ply face masks. They are made with non-woven water-repellent material with a polypropylene filter so you know you're protected. The masks come in lots of cute colors including neutrals like black and white as well as shades like pink, teal, powder blue, indigo, and more. You can get them for as low as P33 each! Note that you'll have to purchase at least five pieces: You can cop a pack of five for P200 (P40 per mask), a pack of 10 for P380 (P38 per mask), a pack of 20 for P700 (P35 per mask), or a pack of 50 for P1,650 (P33 per mask). They've also recently launched washable neoprene face masks (P100 per mask), made of two-ply thick neoprene material with insert provision for filter.
ADVERTISEMENT - CONTINUE READING BELOW
Available online. 
Peach
Local brand Peach is known for their cool fashion pieces with head-turning print accents. This time around, they're creating reusable face masks with the same aesthetic. Peach's face masks feature waterproof exteriors with soft interiors that provide both comfort and protection. The cotton material used for the interior of the masks is designed for high filtration efficiency. Plus, they all come with pocket inserts for added protection and filtration. The masks are priced from P150 to P200.
Available online.
Henry's Daughter
ADVERTISEMENT - CONTINUE READING BELOW
Local fashion brand Henry's Daughter started producing washable face masks for donation. They have donated thousands of face masks to frontliners and recently made them available on their website. Their face masks come in pretty floral prints, perfect for those who love dainty designs. One set is priced at P300 and includes five masks (two plain, three printed). They come in kids' sizes, too!
Available online.