Is It a Frame or Is It a TV? We Roadtest Samsung's The Frame
It looks like a piece of home décor!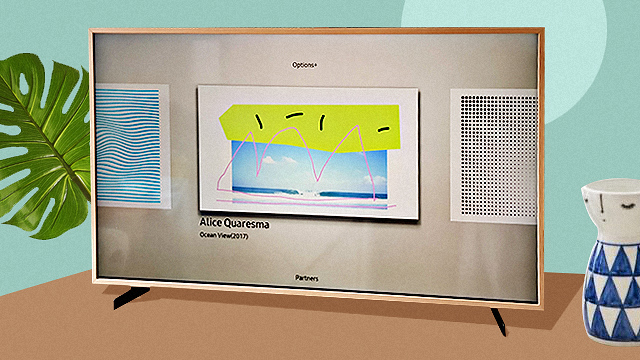 (SPOT.ph) When things just keep on getting design and feature updates year after year, it gets to a point when you start to wonder what's next. The television, for example, was once an appliance stashed away in a cabinet when not in use. Fast forward to now, the TV can actually be a piece of home décor and even a conversation starter.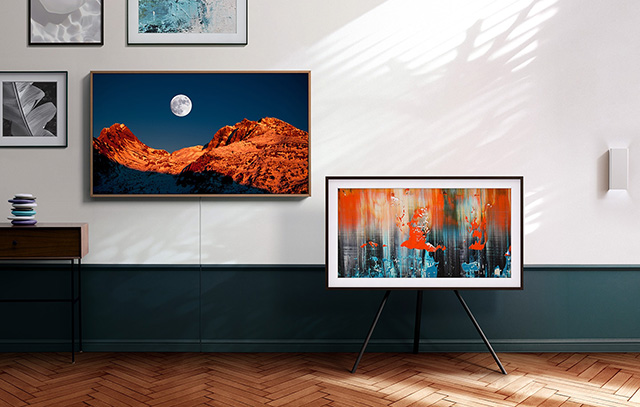 ADVERTISEMENT - CONTINUE READING BELOW
Samsung's The Frame breaks the mold of the usual TV. As the name suggests, The Frame looks like a frame, but it also works like the usual smart TV. Unlike the others, though, it comes with Art Mode, which allows it to display a wide collection of artwork—ranging from classic and contemporary art pieces from all over the world. With this TV, you get to be a serial binge-watcher and play art curator, if you will. 
Since The Frame puts a lot of focus on how it would look in your space, there are plenty of options to display it: the Standard Stand, which you insert at the bottom of the TV and is ideal for when you want to place the TV on top of a cabinet; the Studio Stand, where you can prop the TV like a canvas positioned in an easel; and mounting it on the wall like a real frame. It also comes with One Invisible Connection, a semi-transparent optical cable that blends in with the surroundings (no eyesores here!). It is used to connect the TV to the One Connect Box, where you can plug all other external devices.It's also possible to customize the frame of The Frame itself with customizable bezels in black, brown, beige, and white for P2,999 each. Each bezel clings to the TV magnetically.
CONTINUE READING BELOW
Recommended Videos
ADVERTISEMENT - CONTINUE READING BELOW
We were sent the 55-inch unit of The Frame for review to see what it's like to use a TV that sometimes makes you feel like you're in a gallery—which is a very escapist thing to say especially that we're still in quarantine—and here's what we discovered.
Connecting to the Internet
Before everything else, a quick detour: We ran into some problems connecting to the Internet in the first few days with The Frame. During the unboxing and demo with the Samsung team, it took several tries to wirelessly connect The Frame to the broadband Internet (there's a port for LAN, but you'll have to buy the cable separately), and we just resorted to connecting to a mobile hotspot just to get the account credentials set up. In one of those rare times that it actually connected, we took down notes of the network settings and applied those details manually the next time we used the TV. From then on, we didn't encounter any problems. A quick Google search shows that it is indeed an issue for TVs with Internet connection and not just limited to this model or even the brand.
Now, let's get to the fun part. Like the true-blue streaming junkies that we are (okay, let's just say streaming is a work-play balance kind of thing for us at SPOT.ph), the first thing we did was to check what the pre-installed streaming platforms were. Out of the box, there's Amazon Prime, Apple TV, HBO Go, Netflix, and Viu, as well as YouTube and Apple Music. The apps are on the bottom row of the screen when you hit Home, but only Amazon Prime, Netflix, and the built-in browser have dedicated keys on the remote control (yes, you can browse the Internet using the TV, too). You could always add other apps to the TV—we tried installing Spotify, which was as easy as installing apps on your phone. Other content sources include TV, AV, and Remote Access, but for purposes of the review, we focused on streaming shows and movies. 
ADVERTISEMENT - CONTINUE READING BELOW
As with other brands, ecosystems make for a more seamless user experience. A number of recent Samsung smartphones have an option called Smart View that lets you wirelessly mirror your phone's screen and play content on other devices such as speakers, a Chromecast device, or television units. It's a feature that's quite convenient for instances like spontaneously watching a YouTube video and deciding after the first 15 seconds that you plan to finish the clip, or for times when you want to show a slew of images to another person in full-screen glory. Just turn Smart View on, choose the TV from the devices listed, and see your phone's screen mirrored on The Frame. Multi-taskers would be glad to know that it's possible to watch a show and have your phone's screen placed side-by-side. For experiment's sake, we tried mirroring an Apple MacBook Pro via AirPlay but both devices weren't able to detect each other.
ADVERTISEMENT - CONTINUE READING BELOW
There's also Bixby, Samsung's intelligence assistant which is also found on most Samsung smartphones. Just press the button with the Mic symbol and instruct Bixby with voice commands to adjust the volume, open apps, or "Search 'Carly Rae Jepsen' on YouTube." At times, we found ourselves having to repeat words with better enunciation to make Bixby do things especially when searching content, but most of the time, typing the first few words of the title with the remote control seems to be faster.
Just How Clear Is It? 
The picture quality of The Frame is generally vivid and crisp, which may be attributed to Samsung's QLED display technology in 4K resolution. Subtle details are still noticeable even when the screen sometimes tends to be a tad too bright. It shows in the way Kim Tae Hee's skin is blindingly glowing when we binge-watched the tearjerker K-Drama that is Hi Bye, Mama! Midway into It's Okay, That's Love, we couldn't help noticing the faint speckled pattern on Jo In Sung's white polo (this, considering it was hard to look past this oppa's face). The screen somehow leans a bit cool in terms of color temperature in most conditions, but tinkering with the Picture Mode setting is an option for nitpicky viewers. 
ADVERTISEMENT - CONTINUE READING BELOW
Truth be told, it was when we rewatched Train to Busan that we realized how immersive the viewing experience could be: We had to stop because the stress of the zombies chasing after Gong Yoo and the gang got to us, despite already knowing how it all goes down. 
In the sound department, The Frame delivers good audio though it lacks a punch for beat-heavy tracks. You wouldn't feel the bass at times, but the vocals are clear as day. Should you want to take things further, there is also an option to hook The Frame up with external speakers or soundbars.
Playing Art Curator
The Frame gives you access to the Art Store, Samsung's art platform where you can choose works from 38 galleries all over the world. Out of the box, you can get 20 free art images and a one-month trial. The subscription costs P249 every succeeding month and can be paid via credit or debit cards or Paypal, though there is also an option to buy pieces separately.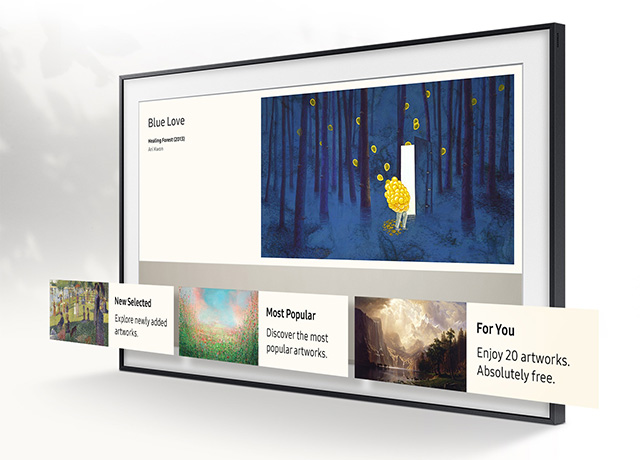 ADVERTISEMENT - CONTINUE READING BELOW
The fun lies in the choosing. There are around 1,200 works on the platform and are categorized according to curation, partners, subject, medium, and color in an easy-to-navigate layout so the experience does not get overwhelming. One of our favorite ways to choose was via partners (a.k.a. Galleries and museums Samsung has partnered with), because it lets you check out museums and galleries without leaving the couch.
We took a "stroll" (or should we say, scroll) at Albertina, a renowned art museum in Vienna, Austria and marveled at the masterpieces by the likes of Leonardo da Vinci and Paul Cézanne; then headed straight to the Van Gogh Museum in Amsterdam, where you'd find most of the pieces that were showcased in the Van Gogh Alive exhibit in 2019 alongside portraits of Paul Gauguin and Claude Monet's landscape paintings. We found ourselves alternating between the classics and abstract pieces by contemporary artists, changing it every so often.
ADVERTISEMENT - CONTINUE READING BELOW
Once you've selected an artwork, you can customize its mount style and colors and preview how it would look like when Art Mode is on. The motion sensor detects the movement in front of the TV and displays the artwork when no one's watching. The artwork looks realistic enough—with minimal glare—thanks to its Brightness Sensor that detects ambient light and automatically adjusts the color and brightness of the screen.
Turning a space in your home into an art gallery no longer sounds like a far-fetched dream with The Frame, but it comes with a hefty price tag. Be prepared to shell out P79,999 for a 55-inch The Frame (or a whopping P109,999 for the 65-inch version), which is more than double the price of other 55-inch television units in the market. But if size isn't an issue and you really want a TV that could pass off as a piece of art and be very good at it, the 32-inch version of The Frame, priced at P31,999, is your best bet. We can't say owning a stylishly designed TV with access to thousands of art pieces is a necessity, but the novelty is something that won't easily wear off, if at all.
Cons
A bit on the expensive side compared to TVs with the same screen size
You'll need to find a good spot to place the One Connect Box
Monthly subscription is required to obtain access to the complete Art Store portfolio
ADVERTISEMENT - CONTINUE READING BELOW
Pros
It's a sleek-looking appliance
It could easily blend as a framed object on your walls with the customizable bezels and the no-gap wall mount
Good cable management
Has an easy-to-navigate menu
Integration with other Samsung devices is a breeze
For more information, visit Samsung Philippines' website.
Share this story with your friends!
---
Help us make Spot.ph better!
Take the short survey
Load More Stories