FIRST LOOK: The Samsung Galaxy Z Fold3, Galaxy Z Flip3, and Galaxy Buds 2
Check out Samsung's latest line of high-tech devices.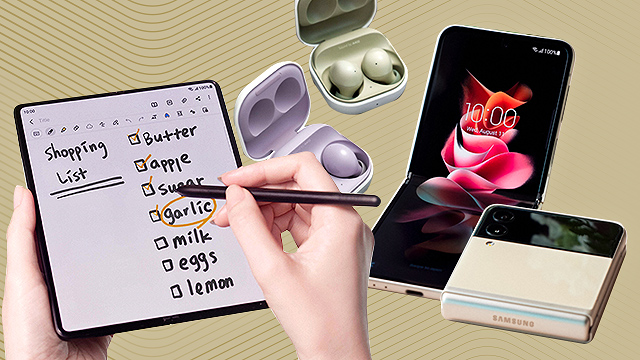 (SPOT.ph) In January, Samsung unveiled their highly anticipated S21 series, shortly followed by the updated A series in March and the tech giant isn't stopping there. The latest innovations to be added to their 2021 smartphone lineup are the Samsung Galaxy Z Fold3 and Samsung Galaxy Z Flip3, both of which were officially unveiled today, August 11. They also launched their new Samsung Galaxy Buds 2. Below, we take a closer look at each of the South Korean electronics company's new devices.
The Samsung Galaxy Z Fold3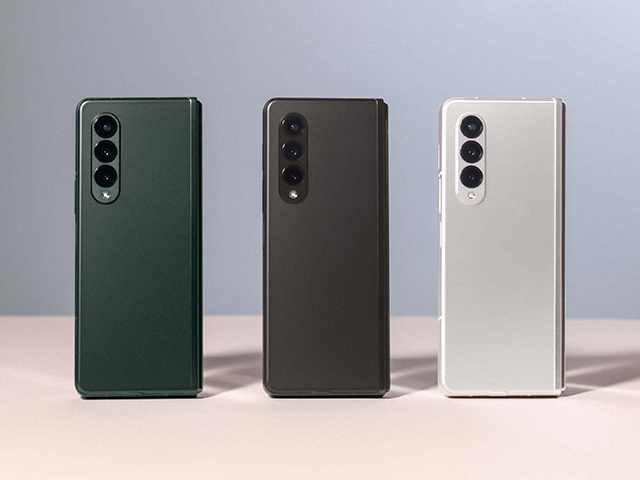 ADVERTISEMENT - CONTINUE READING BELOW
As its name suggests, the Galaxy Z Fold3 is the third model in Samsung's line of foldable smartphones, the first of which was released in 2019. When folded, the device resembles any state-of-the-art block-type smartphone that can fit right in your pocket. But unlike most phones, the Fold3 can be opened up like a book, revealing a large screen that makes it resemble a mini tablet more than a mobile device. This innovative design offers a variety of cool functions and features that most bar-type smartphones just don't provide. The foldable construction gives the user a versatility that combines maximum screen real estate with a compact size, resulting in a smartphone that's as close to a full-on laptop as possible. 
CONTINUE READING BELOW
Recommended Videos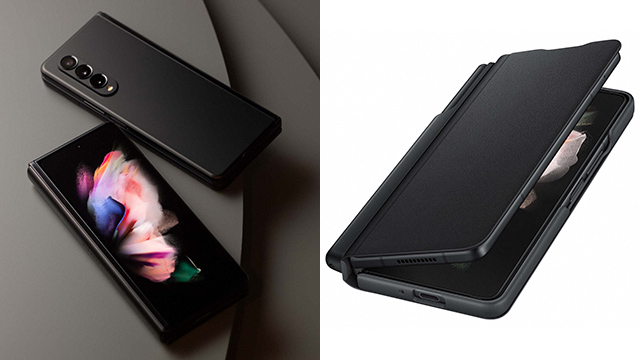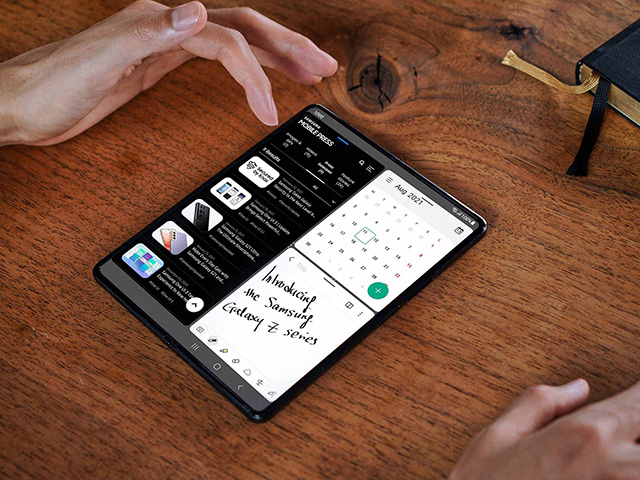 ADVERTISEMENT - CONTINUE READING BELOW
The Z Fold3 follows in the footsteps of its predecessors, improving upon the smartphone series' most coveted features with a larger design that prioritizes multitasking and ease of use. The device is available in three colors: Phantom Black, Phantom Silver, and Phantom Green.
The Benefits of a Foldable Phone
The Samsung Galaxy Z Fold3 does more than just provide you with a larger screen. Apps on the device are optimized to make the most of the display size. When folded, the Z Fold3 provides the same experience you might get on a classic bar-type smartphone—great for quick tasks and on-the-go usage—but unfolded, the device doesn't just more screen space, but a more efficient and comprehensive view of your apps. By providing all actions visible on one screen without the need for navigating back and forth between menus and interfaces, the Z Fold3 minimizes additional actions from the user, making overall usage quicker and more seamless.
For example, the inner screen can show an interface that features a handy menu bar on the left side for quicker and more seamless navigation—you may find this especially useful for scrolling through music-streaming apps or note-taking apps. E-reading apps would also work especially well with the device, which provides a book-like display with "pages" on either side of the screen.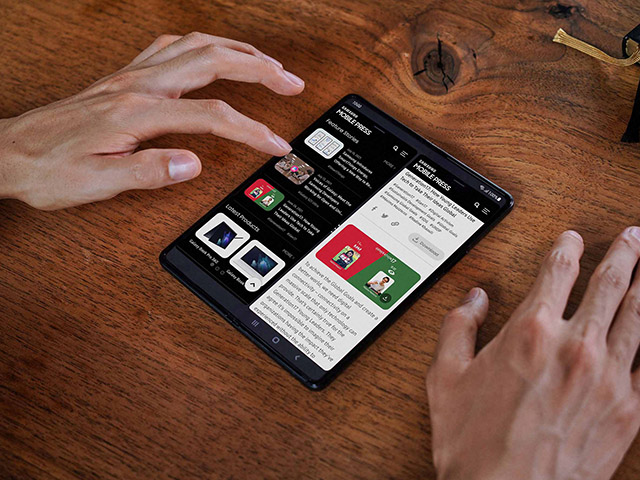 ADVERTISEMENT - CONTINUE READING BELOW
Now, imagine you're reading a news article or scrolling through a website. The Z Fold3 not only shows the content on a larger screen—which may let you view more information at a glance—it also gives you the option to split your screen between two sides. If, for example, you open a link on one website and direct it to a new window, instead of exiting your current window, the device will split your screen between the two, showing you both at one time. That way, you can read through two articles or browse two websites at once, thereby speeding up your research process or letting you fact-check text as you read it. The Z Fold 3 then, offers not just a more comfortable and dynamic viewing experience, but a more efficient user experience overall.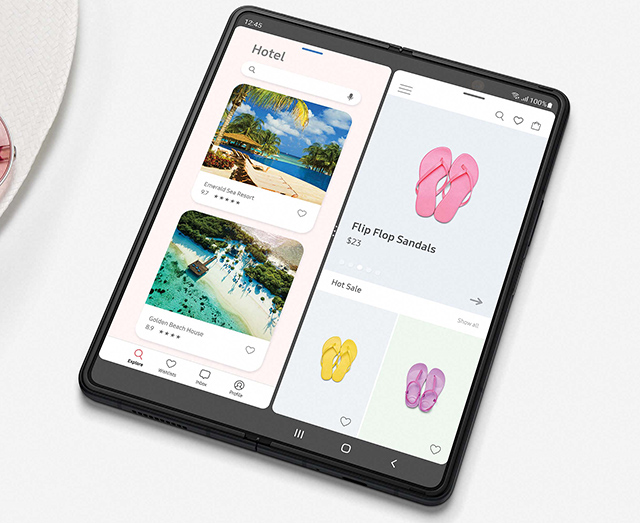 ADVERTISEMENT - CONTINUE READING BELOW
One of the main concerns when updating Samsung's foldable phone technology was multi-tasking, particularly for work-related functions. Samsung worked with MIcrosoft to optimize the working experience on the phone with a function that allows you to open a Microsoft Office app and work on two separate files (of the same type) simultaneously, making it easier to work on two Word documents or PowerPoint presentations.
The greatest merit of the foldable screen, however, will be for multimedia apps and games. Right off the bat, you'll be able to stream movies, watch videos, play video games, and more on a screen large enough to enhance the viewing experience.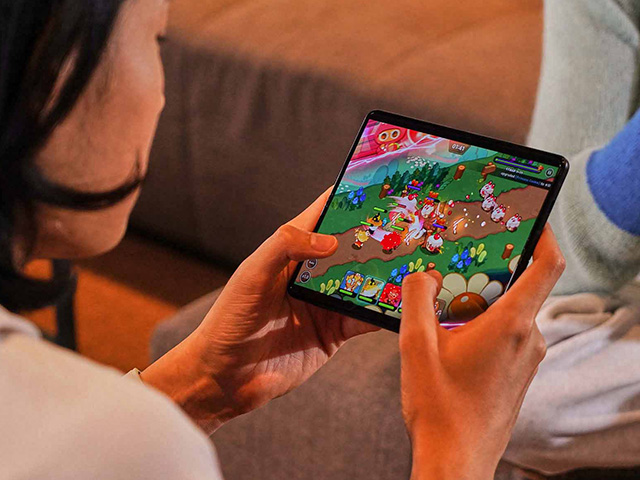 The Z Fold3's large and versatile design also encourages more creativity—after all, it almost resembles a journal or drawing pad when opened. To facilitate this, and to make the most of the tablet-like design of the device, say hello to the Samsung S Pen Fold Edition.
ADVERTISEMENT - CONTINUE READING BELOW
The Samsung S Pen Fold Edition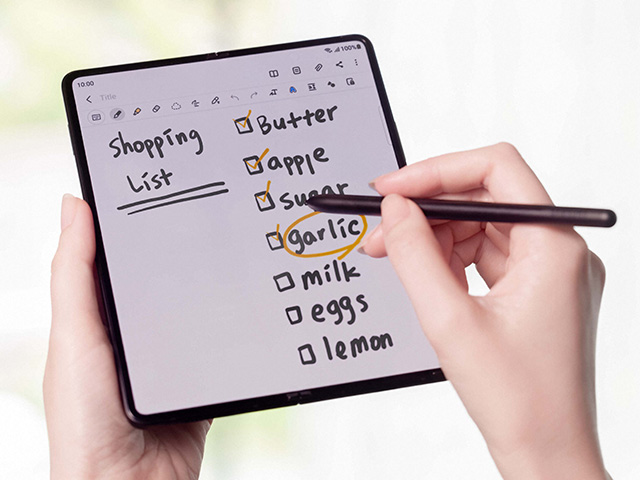 The biggest change and perhaps most exciting for loyal Samsung users in the brand's third lineup of foldable phones is the compatibility with the new Samsung S Pen Fold Edition. The smart stylus, typically compatible with devices in the Galaxy Note series and with Samsung tablets, is designed to facilitate gesture-like actions that make using a touch-screen device more natural to the hand—much like a real pen. It also allows you to use the screen as a "white board" of sorts wherein you can take notes and create artistic graphics with ease and precision.
Flex Mode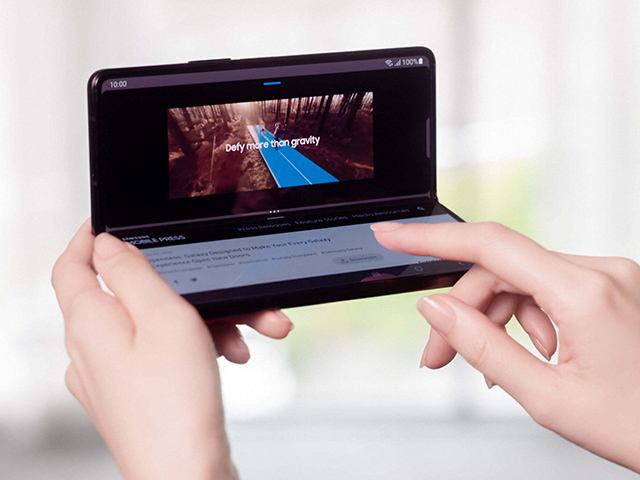 ADVERTISEMENT - CONTINUE READING BELOW
It's pretty obvious upon first inspection of the Z Fold3 that the device can be used in two main ways—folded down like a classic bar-type smartphone or opened up with a larger screen. However, there's another way to use the smartphone that allows for even more versatility. The Z Fold3 can be positioned almost like a laptop wherein the device is folded at a 90-degree angle. This position is known as Flex Mode and it provides you with a display that lets you see your screen's main contents up top while also showing menus and controls down below, allowing for maximum control and menu access when using apps without compromising on screen space.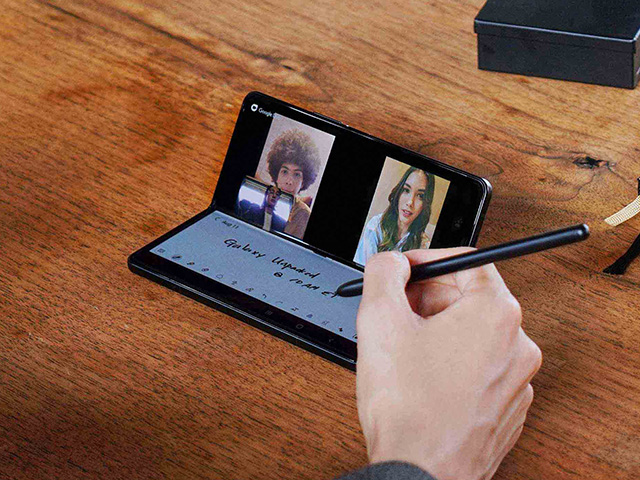 Flex Mode also provides you with more ways to multitask and maximize productivity. For example, you can listen to and watch a video call on top while jotting down important notes below.
Price
Samsung Galaxy Z Fold3 5G 256 GB
Available in Phantom Black and Phantom Silver
P87,990
ADVERTISEMENT - CONTINUE READING BELOW
Samsung Galaxy Z Fold3 5G 512 GB
Available in Phantom Black and Phantom Green
P95,990
The Samsung Galaxy Z Flip3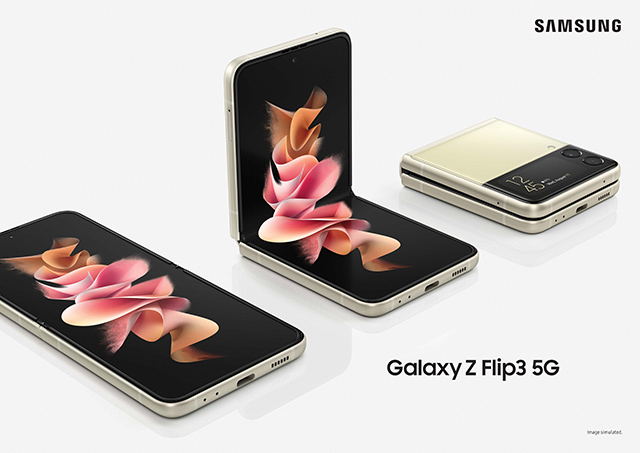 Along with the Galaxy Z Fold3, Samsung also unveiled the third edition of their flip phone series: Say hello to the Galaxy Z Flip3. The Samsung Galaxy Z Flip3 is about the size of a conventional smartphone, but can be folded down cross-wise to about half its length into a compact size that would slip right into even your tiniest pockets.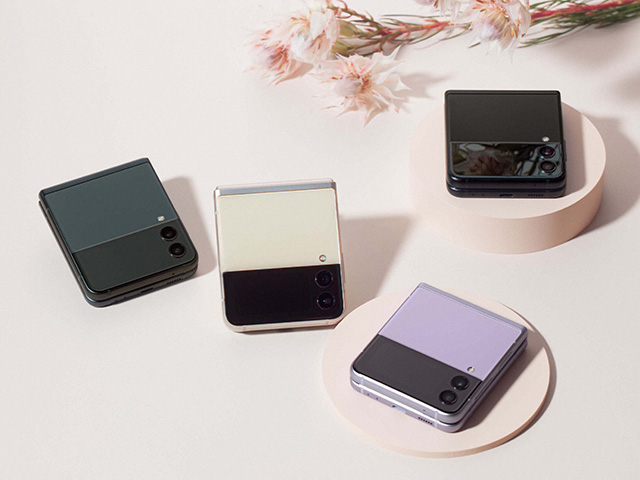 ADVERTISEMENT - CONTINUE READING BELOW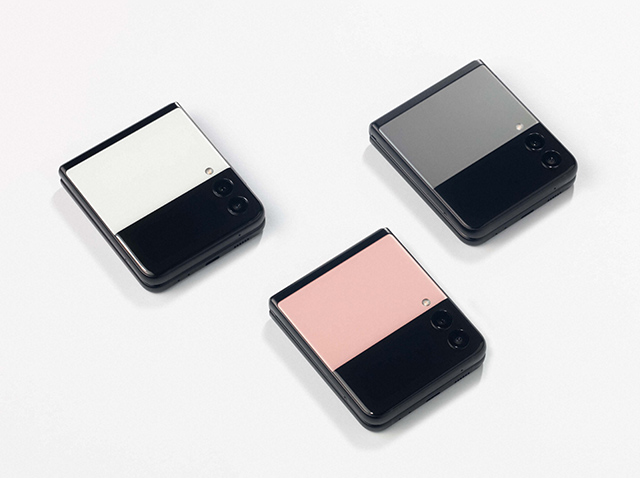 Samsung describes the Z Flip3 as a smartphone that allows users to express themselves and show off their individual tastes and styles—a necessity and fashion statement all in one. Fittingly, it's available in seven stylish colors: Phantom Black, Green, Lavender, Cream, Pink, White, and Gray with the latter three being online exclusives and featuring two-tone color combos.
Fast Facts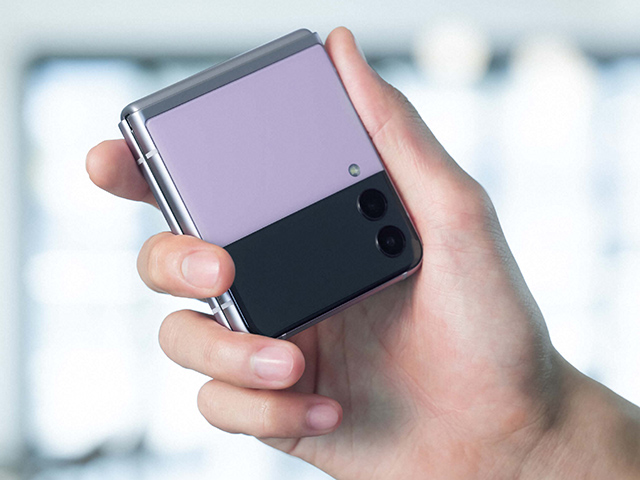 ADVERTISEMENT - CONTINUE READING BELOW
Main screen
Display: 6.7-inch Dynamic AMOLED
Resolution: 2640 x 1080, 425 ppi
Refresh rate: 120 Hz
Cover screen
Display: 1.9 inch-Super AMOLED
Resolution: 260 x 512, 302 ppi
Specs
Size when folded: 72.2 mm x 86.4 mm x 17 mm
Size when unfolded: 72.2 mm x 166 mm x 6.9 mm
Weight: 183 g
Water resistance rating: IPX8
Cover Screen
Perhaps the feature that really sets the Galaxy Z Flip3 apart from other smartphones—aside from the folding mechanism, of course—is its Cover Screen. When the device is fully shut in half, you'll see a small but powerful screen sitting along the bottom end of the top side. This is the Cover Screen and at 1.9 inches, it's four times bigger than the previous model's. Samsung combined the screen's placement with the back camera module, placing both on a single black area, creating a cleaner and sleeker look to the phone overall. Despite its itty-bitty size, this cover screen packs a punch.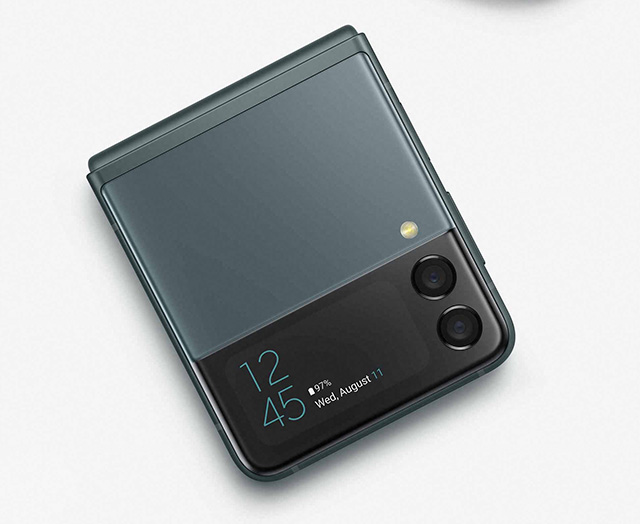 ADVERTISEMENT - CONTINUE READING BELOW
It's used to display the time and date, which can be customized with different clock styles, colors, and backgrounds—this is in line with Samsung billing the Z Flip3 as a phone that's all about expression. Those who love to add personal touches to their devices would love the Cover Screen's versatile settings.
Aside from the clock, the Cover Screen also displays your phone's notifications, meaning you won't even have to flip it open to read your messages and social media alerts, giving the user a convenient experience, especially on the go. The Cover Screen also offers its own widgets and comes with eight preloaded apps that you can customize later on, one being a widget for your music-streaming apps. That means you can skip through your songs or backtrack to previous ones all without opening your flip phone.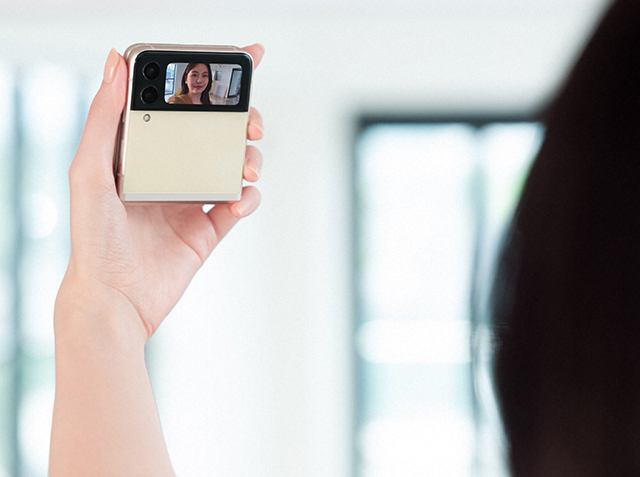 The Cover Screen can also be used as a camera screen. Since it's located alongside the rear dual-camera setup, you can take a selfie with your back camera and see how it looks right on your tiny Cover Screen.
ADVERTISEMENT - CONTINUE READING BELOW
Camera
The Galaxy Z Flip3 features a rear dual camera with one wide angle lens and one ultra-wide lens, both of which boast 12 megapixels each. Up front, there's a 10-megapixel camera for all your selfie needs.
Price
Samsung Galaxy Z Flip3 5G 256 GB
Available in Phantom Black, Cream, Green, and Lavender
P56,990
Samsung Galaxy Z Flip3 5G 128 GB
Available in Phantom Black, Cream, Green, and Lavender
P52,990
The Samsung Galaxy Buds 2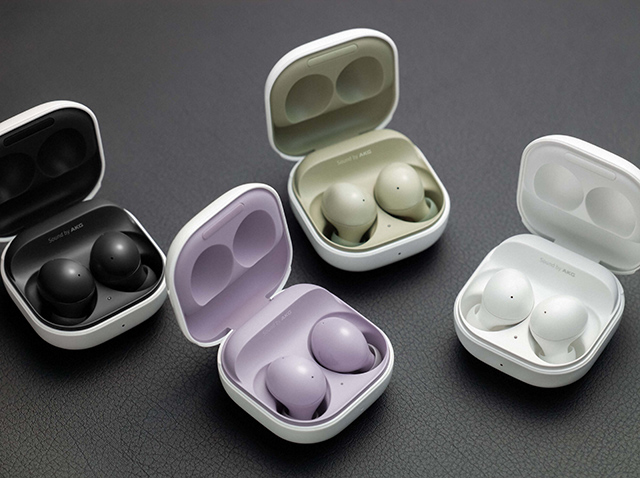 What's a good smartphone without a pair of wireless earbuds to level up the experience of your mobile device? Along with the aforementioned two new phone models, Samsung also unveiled their new Galaxy Buds 2, an updated version of their popular wireless earbuds. You can get the audio device in four chic colors: Lavender, Graphite, Olive, and White.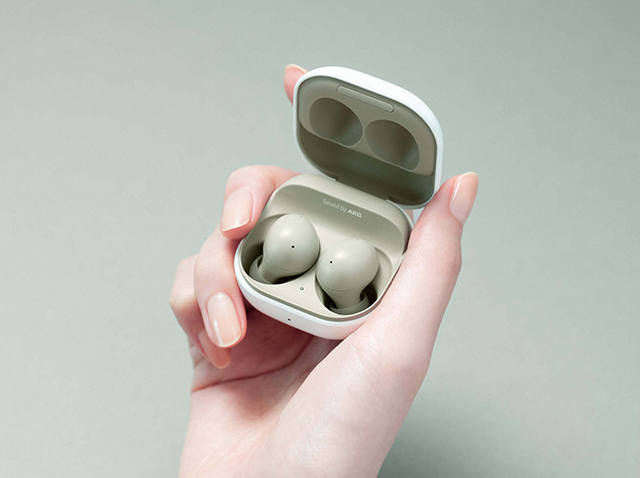 ADVERTISEMENT - CONTINUE READING BELOW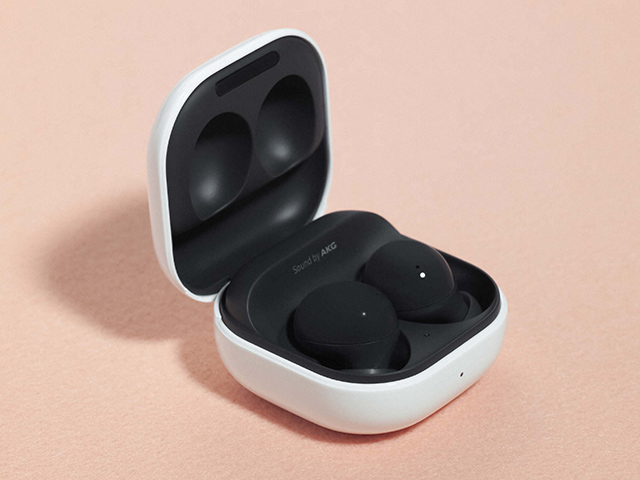 Each features an oh-so sleek design that looks straight out of the future with delicate curves, clean lines, and soft tones on both the buds and the charging case. They're priced at P6,990 per pair.
Hey, Spotters! Check us out on Viber to join our Community and subscribe to our Chatbot.
We are now on Quento! Download the app and enjoy more articles and videos from SPOT.ph and other Summit Media websites.
Share this story with your friends!
---
Help us make Spot.ph better!
Take the short survey
Load More Stories