SPOT.ph Roadtest: Is the Samsung Galaxy Watch4 Worth the Price Tag?
It's a feature-packed accessory for hardcore Samsung Galaxy fans.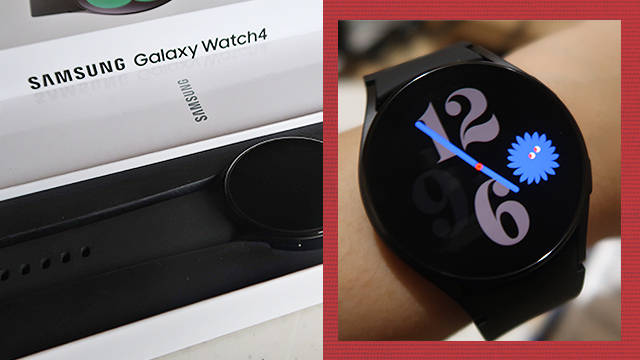 (SPOT.ph) Allow us to set the scene: It's only been a couple of minutes since you rolled out of bed and you snuck a look at your long list of to-dos. There are those back-to-back meetings at eight and nine, chores that just keep piling up, and oh, you have to pay that bill ASAP. Another appointment at three, and—oh no, did you just miss that important deadline? At this rate, scheduling some me-time is a good idea because it's clearly not going to happen if you don't pencil it in. It's easy to drown in your work and completely not notice that you haven't stood up from your chair in the past two hours.
ADVERTISEMENT - CONTINUE READING BELOW
Getting into the habit of stepping away from your laptop to rest your eyes or stretch a bit might be a challenge especially in a WFH setup, but it's one of those things you shouldn't overlook. It's important to keep moving and take breaks for your health, and in case you need a bit of a nudge, a smartwatch that reminds you to get moving for a bit—among other health- and fitness-oriented features—might just be right up your alley. 
Samsung's latest smartwatch goes by the name Galaxy Watch4. As with most smartwatches in the market today, it displays time, has a slew of health and fitness features, and can be worn every day—even while you sleep. It runs on Wear OS (an operating system built by Samsung and Google for the watch), has a touch bezel for navigating the watch menu, and alerts you when you've  been inactive for a while and suggests some short exercises as a break from sitting or being idle for long, among others. 
CONTINUE READING BELOW
Recommended Videos
ADVERTISEMENT - CONTINUE READING BELOW
This smartwatch was released alongside the Galaxy Flip3 and Fold3 phones and the Galaxy Buds2 wireless earbuds in August. The Galaxy Watch4 comes in two variants—40mm and 44mm—and three colors: Black, Silver, or the online-exclusive Pink Gold (as of writing, the button for purchasing said color on the Samsung site is grayed-out with a text that reads "Not for sale"). The 40mm model is priced at P12,990, while the 44mm variant goes for P14,990.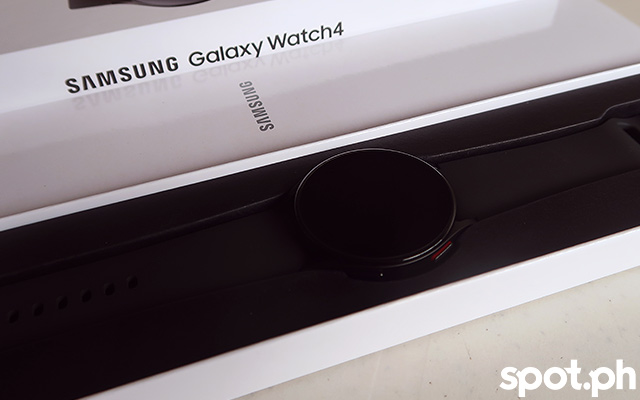 ADVERTISEMENT - CONTINUE READING BELOW
It also has a Classic version; this one has the same features as that of the Watch4 but with a rotating bezel, a stainless steel design and larger watch diameter sizes to choose from (42mm and 46mm). The Galaxy Watch4 Classic in 42mm goes for P17,990 while the 46mm model is at P19,990.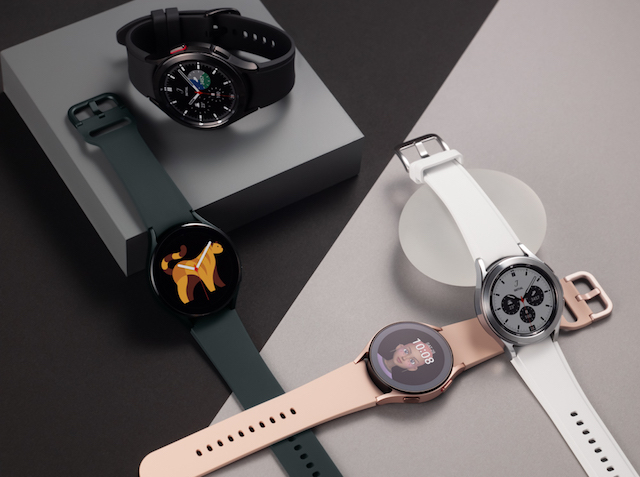 ADVERTISEMENT - CONTINUE READING BELOW
We got to try out the 40mm model of the Samsung Galaxy Watch4, and here are our thoughts on the smartwatch.
Also read: Buying a Smartwatch? Here Are the Most Important Features to Consider 
Here's everything you need to know about the Samsung Galaxy Watch4:
Samsung Galaxy Watch4: First Impressions, Design
Straight out of the box, you get the Watch4, a quick start guide, and a wireless charger. It doesn't deviate much from the design of its predecessors, save for a couple of things: the top button, which serves as the Home key, now has a red outline; and both the Home and Back buttons now have the same oblong shape, too. The strap attachment is slightly different from the Active 2—both ends of the strap are curved, closing the gaps from the smartwatch itself for a sleeker look.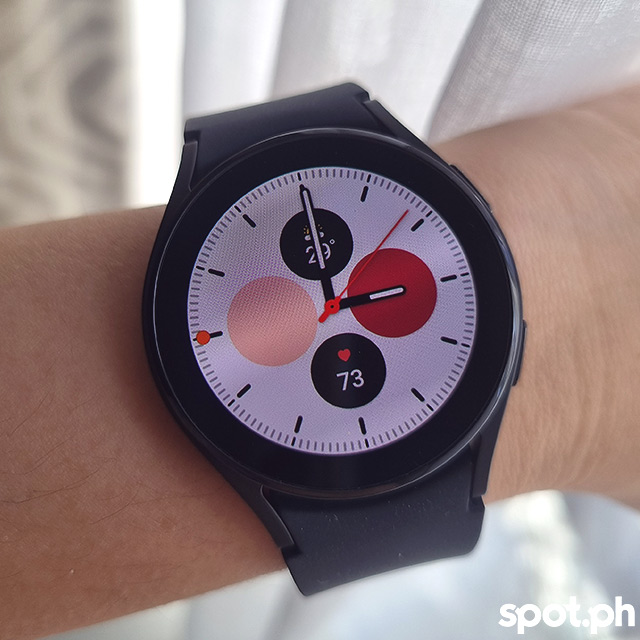 ADVERTISEMENT - CONTINUE READING BELOW
The Samsung Galaxy Watch4 runs on Wear OS and has a sensor, a microphone, and speaker, with a glossy display and matte edges. Unlike other smartwatches in the market, the Samsung Galaxy Watch4 doesn't come with an additional strap out of the box. If you're the type who wants to match accessories with your outfit, you'd need to buy straps in other styles separately. You can find Sport Bands in four colors and a Milanese Band-style strap on the Samsung website, and there are more options from third-party makers. Sartorial choices aside, the black silicone strap that came with our review unit is comfortable even when worn for extended periods, and feels solid enough that we think it'll last a long while. 
To use the smartwatch, you need to download the Galaxy Wearable app (available on Google Play Store). Setup was fairly easy, and for those who use Samsung smartphones, connecting the devices is a pretty smooth process. The data the Watch4 picks up will automatically sync with your Samsung phone's S Health app, but syncing to Google Fit is also an option. On the off-chance that you are an Apple iPhone owner eyeing this watch, it's been reported that the Watch4 will not pair with iOS devices. The Watch4 supports Android devices running 6.0 or higher, but there are key features that might not work as seamlessly as it should on non-Samsung phones. 
ADVERTISEMENT - CONTINUE READING BELOW
The bright Super AMOLED screen can display the time at virtually any angle, whether indoors or outdoors. The touch display and bezel are both very responsive to touch, so navigating the menus is fairly easy and quick. The Auto Brightness feature lets the screen adapt to either very bright or low-light situations, making the watch faces stand out even more. There are eye-catching watch faces available on the Watch4, with our top favorites being Cute Character and Big Number.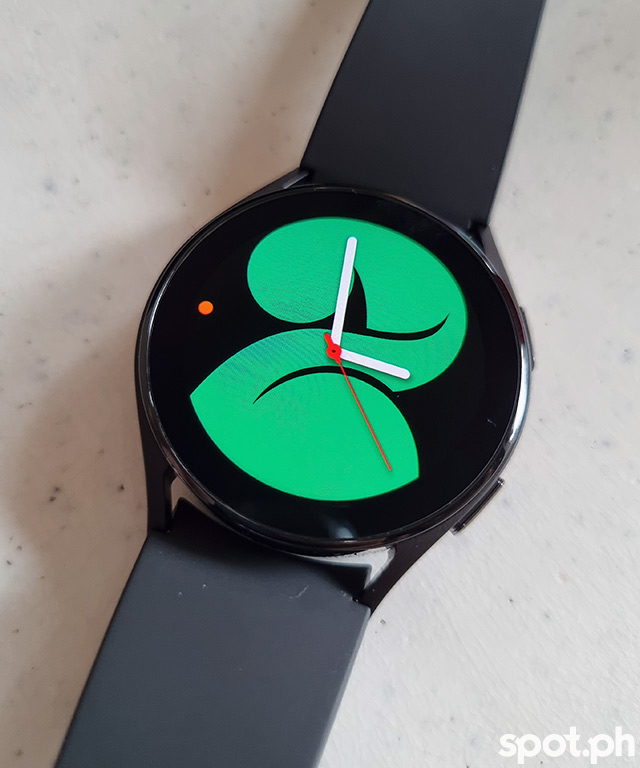 ADVERTISEMENT - CONTINUE READING BELOW
Most watch faces let you customize all out, from the indexes, hands, background color, second hand color, down to the complication or widgets that you want displayed alongside the time. You can opt to show a shortcut for your favorite workout, the weather, alarms, chronograph, and a stopwatch, among others. Previous iterations only have a limited selection of watch faces that allow for customization.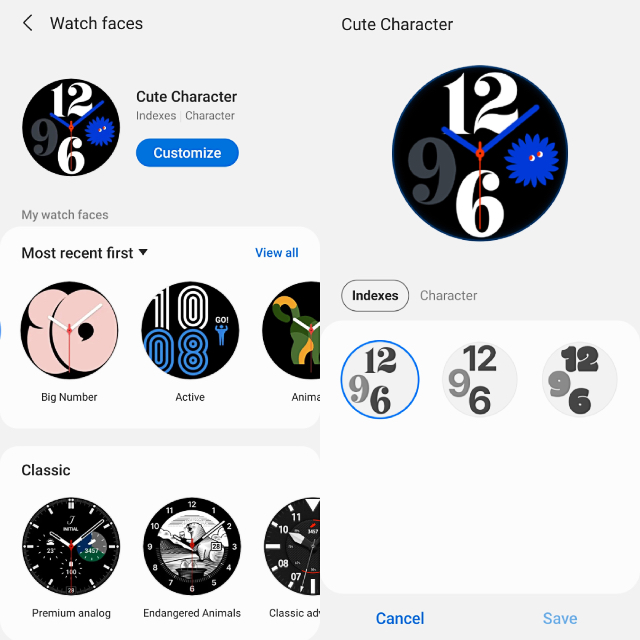 ADVERTISEMENT - CONTINUE READING BELOW
The Watch4's estimated battery life is said to be at 40 hours, but actual numbers are slightly far from the estimate. We fully charged the device for around two hours and connected it to our phone. We had the Always-On Display on, squeezed in a 30-minute workout, tested a couple of watch faces, and turned on Bedtime Mode once we hit the sack. The following day (or 22 hours and 30 minutes since its last full charge), we only had 11% battery left, or an estimated run time of two hours and 44 minutes left. It might be a bit of a letdown for those who do not habitually charge daily, empty battery or not, but like the Samsung phones, it comes with a Power Saving feature so you could make the most of the remaining battery juice should you not have a charger in tow. 
Samsung Galaxy Watch4: Notable Features
The Basics
ADVERTISEMENT - CONTINUE READING BELOW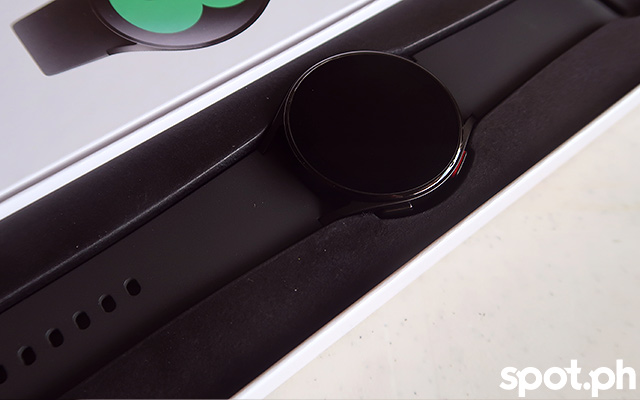 The Samsung Galaxy Watch4 serves its purpose as a timepiece pretty well—when you raise your wrist, it will automatically brighten the smartwatch's screen so you have a better view of the time. Alternatively, you have the option to tap the screen and display the time. As mentioned earlier, you have the option to turn Always-On Display on or off, the latter being less power-hungry than the former. Aside from the usuals like the always-on time display, timers, alarms, phone connectivity, and step and heart-rate counters, the Samsung Galaxy Watch4 is the first Galaxy smartwatch that measures body composition—this includes body fat percentage, skeletal muscle mass, body water, among others.
ADVERTISEMENT - CONTINUE READING BELOW
Health Trackers 
There are a couple of reminders to take note of before measuring your body composition using the Watch4, but the most important of which is to skip this feature altogether if you are pregnant or have an implanted cardiac pacemaker, defibrillator, or other electronic medical devices inside your body. 
If those do not apply to you, you can go ahead and measure your body composition via the Watch4. You need to input your current weight, then place the middle and ring fingers on the two keys of the watch, and stay still. The measurements are meant only as your personal reference and not medical advice—it's still best to consult a medical professional for your health concerns—but it's an interesting feature especially if you're being more mindful of your body fat percentage, body mass index, and skeletal muscle mass.
Early on, we mentioned how easy it is to forget about standing or stretching especially on a long workday. The Watch4 has inactive time alerts, which shows up on the screen after 50 minutes of inactivity. It would even suggest stretching movements with minimal reps to get you moving even for a couple of minutes. You can set the range of days and times for the alert to appear. 
ADVERTISEMENT - CONTINUE READING BELOW
When it comes to stress, there's also an option to measure your stress level based on your heart rate. We're not too sure how that exactly works though Samsung makes it clear that the stress measurements "don't necessarily reflect how you're feeling." The Stress widget comes with a Breathe shortcut that lets you set a certain number of breathing cycles. From there, you are instructed to inhale and exhale, with visual guides to boot.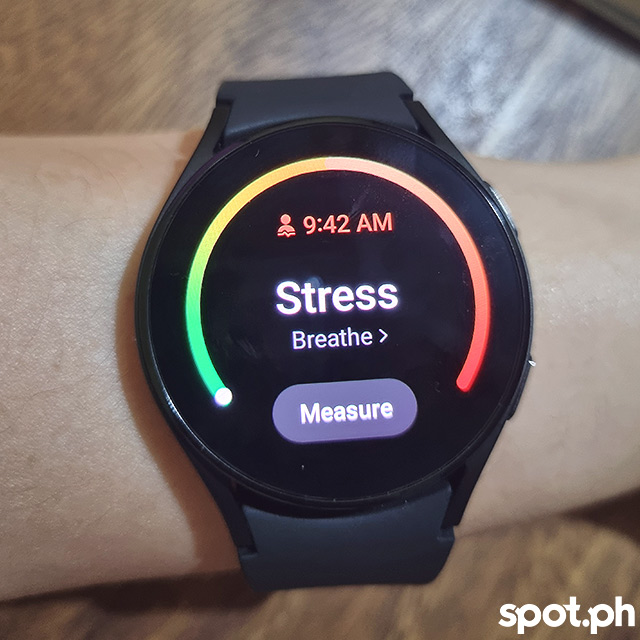 ADVERTISEMENT - CONTINUE READING BELOW
As for slumber, the Watch4 can track your sleep quality, actual sleep time, calories burned, and the stages of sleep. The Watch4 even alerts you when you've been falling asleep later than your target bedtime or when it's an hour before you should hit the sheets. You can choose Bedtime Mode to block all notifications except your alarm and to dim the watch's face as you doze off for the night.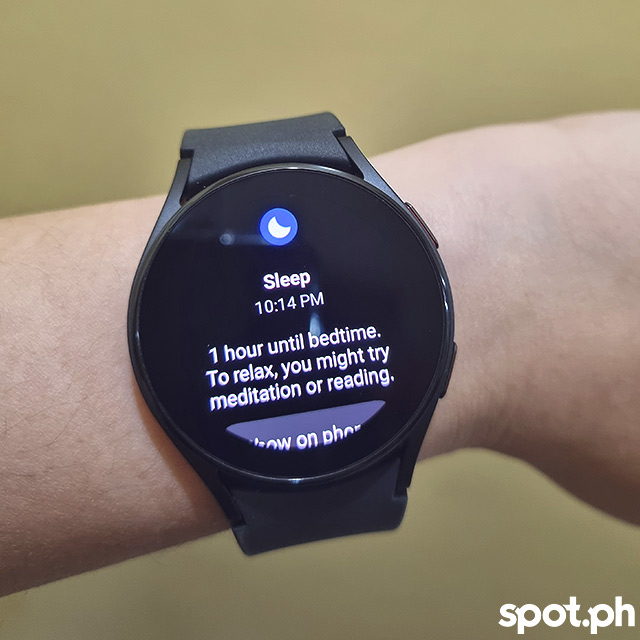 ADVERTISEMENT - CONTINUE READING BELOW
Aside from all these, the Watch4 can also track your blood oxygen, food and water intake, and menstrual cycles.
Connectivity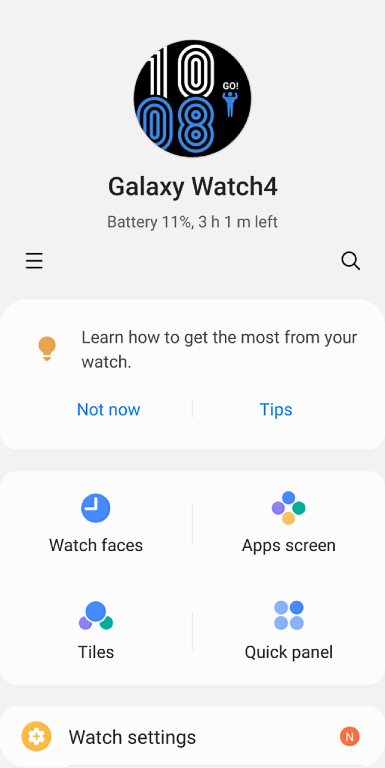 You can connect your Watch4 to a smartphone via Bluetooth, and get notifications as you would on the phone. It's ideal for when you've left your phone in another part of the house and you're too lazy to get it, or for when you need your hands free (e.g. while driving). You can make and take calls using the Watch4—there is both a built-in speaker and microphone in the smartwatch—and receive, read, and reply to messages, too. To reply to text messages, you can send an emoji, type your message on a condensed keypad that will remind you of how SMS was like decades ago, or draw each letter to compose your message. You also have the option to transfer the call or reply to the text message on your phone. And speaking of control, Galaxy Buds owners can have a Buds Controller widget on the watch. This lets you see your earbuds' battery status and toggle switches for active noise cancellation and touch controls.
ADVERTISEMENT - CONTINUE READING BELOW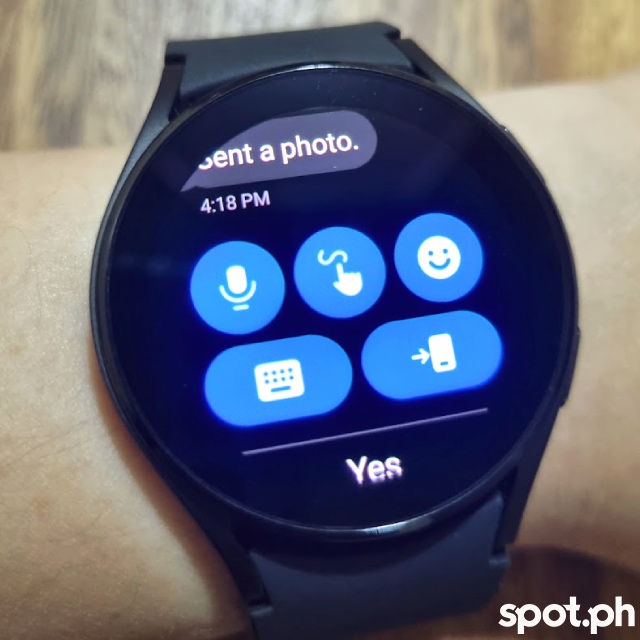 With the Watch4, you also get the ability to navigate with Google Maps. While you won't see the roads laid out like on the app version given the screen-size limitations, you'd still get turn-by-turn directions and the estimated time of arrival displayed on the Watch4. This comes in handy when you're jogging in a new part of your neighborhood or finding a restaurant while you're on the wheel.
ADVERTISEMENT - CONTINUE READING BELOW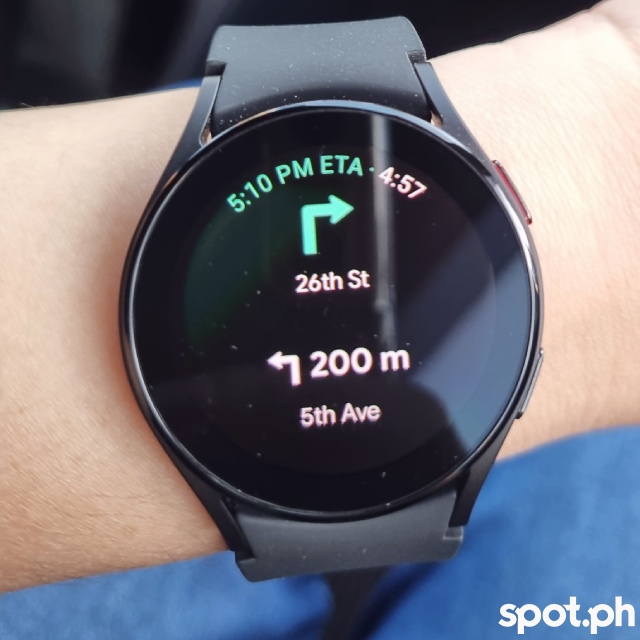 Aside from messages, you can also get notifications from your social media accounts, upcoming calendar alerts, and software updates. If you find the notifications pesky or you just want to concentrate on your task, you can turn on the Do Not Disturb mode.
ADVERTISEMENT - CONTINUE READING BELOW
You can also take advantage of personalizing the appearance of your watch via the Galaxy Wearable app. From here, you can change the watch face, rearrange the Tiles on the watch and the apps you see on the Apps Screen, and add, remove, or reorder the shortcuts you need on the watch's Quick Panel.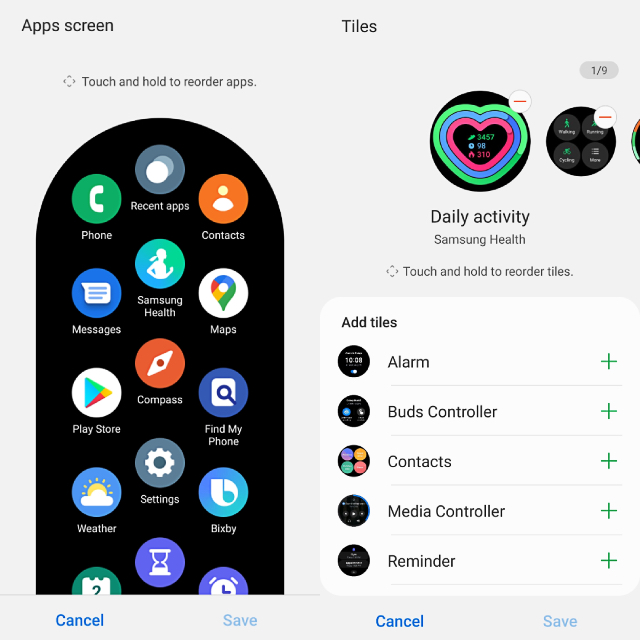 ADVERTISEMENT - CONTINUE READING BELOW
Exercise Guidance
The Watch4 can monitor a wide range of workouts, from walking, running, cycling, swimming, circuit training, and hiking, down to exercises that require equipment like the weight machine, exercise bike, treadmill, and elliptical trainer. In our experience, it automatically detected walking as a workout around the 10-minute mark, and you have the option to switch to manual mode to measure the details. Tracking also stops automatically when motion is no longer detected.  
At the end of each day, you can take a look at your stats on your watch or on the S Health app. Here, you can see a summary of your total steps, active time, activity calories, and even your best moment of the day. You can also set or modify your targets so they're aligned to your fitness goals.
Samsung Galaxy Watch4: Specs
Price: P12,990
Where to buy: Samsung website, Samsung Experience Stores
What's included: Samsung Galaxy Watch4, wireless charger, quick start guide
Available colors: Black, Silver
Display: Circular Super AMOLED, full-color Always On Display, Corning® Gorilla® Glass DX+
Display size: 1.2-inch (30.4mm)
Display resolution: 396x396 pixels
Battery life: 247mAh
OS: Wear OS Powered by Samsung
Memory: 1.5GB RAM and 16GB internal memory
Compatibility: Android 6.0 or higher, RAM 1.5GB above
ADVERTISEMENT - CONTINUE READING BELOW
The Verdict: Should you buy the Samsung Galaxy Watch4? 
A well-made smartwatch that isn't bulky, too technical or too sporty for everyday wear? The Samsung Galaxy Watch4 fits the bill. The battery life could be quite a letdown, unless you're the type who wouldn't mind charging it daily. 
If you've owned a Galaxy Watch before, the brighter display, wider scope of health trackers, and personalization options might just make you consider upgrading. To a new smartwatch user, it would come across as a wearable device that's feature-packed but not overwhelmingly so; every single feature doesn't need to be tinkered with for the watch to work. 
We recommend getting the Samsung Galaxy Watch4 if you are already a Samsung phone user or are planning to switch, as it plays really well within the Samsung ecosystem. Otherwise, you wouldn't be able to maximize all the features that the smartwatch could offer.
ADVERTISEMENT - CONTINUE READING BELOW
Hey, Spotters! Check us out on Viber to join our Community and subscribe to our Chatbot.
We are now on Quento! Download the app and enjoy more articles and videos from SPOT.ph and other Summit Media websites.
Share this story with your friends!
---
Help us make Spot.ph better!
Take the short survey
Load More Stories