(SPOT.ph) Imagine this: You're at an event, wearing an event-appropriate dress, whether formal, smart casual, or the like. You feel pretty (and you are) wearing said dress, especially as you're currently enjoying talking to folks or just vibing with the crowd. Unconsciously, your hands reach to your side, aiming to put your phone into a pocket when it hits you—your fabulous dress isn't equipped with any, nope, not even one. Your bag is on a table far away and you desperately want to free your hands to grab a bite or two, or just to have something new to do with them (shoutout to the socially awkward), but you're stuck there, pocketless. Sigh. 
Ladies, let's be real here: Dresses are amazing. They make us feel dainty and pretty, like queens and princesses—not that you aren't already. Dresses are the go-to if you don't have time to put effort into an outfit. Well, not until you realize that your fave dress doesn't have pockets, which means one thing only: it's time to shop for a new one complete with pockets. Yes, fortunately, dresses with pockets do exist and we've rounded up shops in Metro Manila you can cop them from. It's time to practice your "Thanks, it has pockets!" line.
ADVERTISEMENT - CONTINUE READING BELOW
Also read:
SPOT Approved: This IG Shop's Form-Fitting Dresses Work Great on Any Body Type
You can cop dresses with pockets at these shops in Metro Manila:
Out and About Manila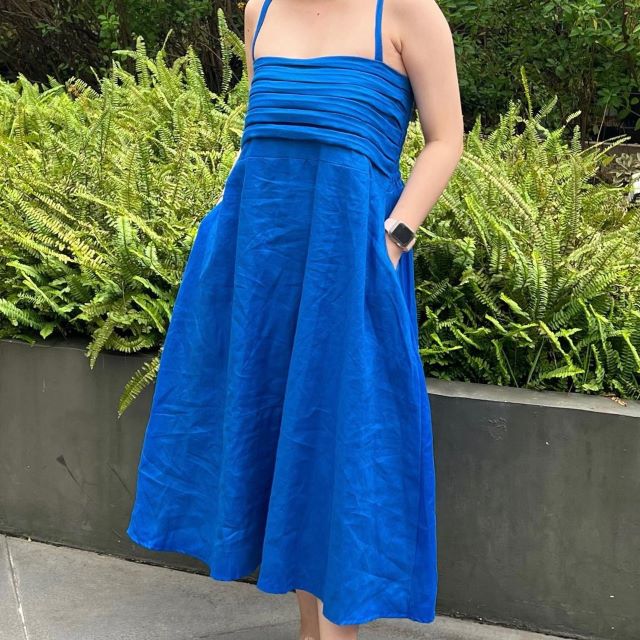 This online shop is full of different silhouettes in bright hues that will add a playful pop of color to your wardrobe. We've got our eyes on the simple and versatile Maria Midi Dress; peep that full-volume skirt paired with a bandage-like top. This out-of-the-box design is just one from the sweet, sweet range of dress styles to pick from, yes, with pockets! Out and About MNL also has a variety of tops in unique and playful combinations bound to catch your eyes, too.
Available online and on Shopee. 
Twill Cavern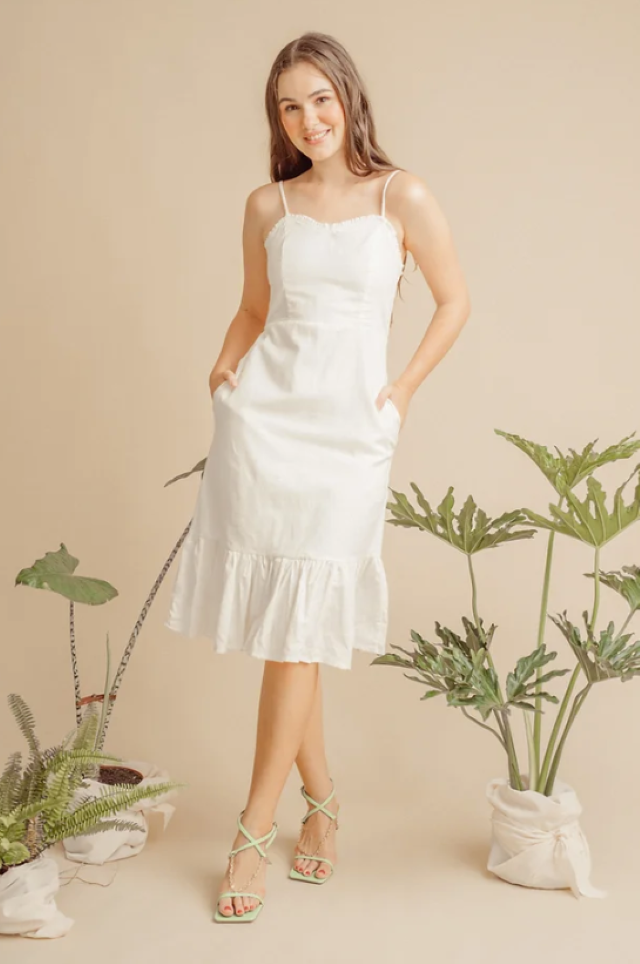 Walk into any room with panache thanks to Twill Cavern's dresses. Think calm and neutral hues dancing in classy styles and silhouettes. The best example is their Nadine Midi Dress, which comes with a subtly frilled sweetheart neckline, adjustable tie-straps, and most importantly, hidden pockets. Twill Cavern also carries tops, bottoms, sets, and even playsuits that will give you extra charm. Love floral? You'll find a garden here.
ADVERTISEMENT - CONTINUE READING BELOW
Available online.
Love, Bonito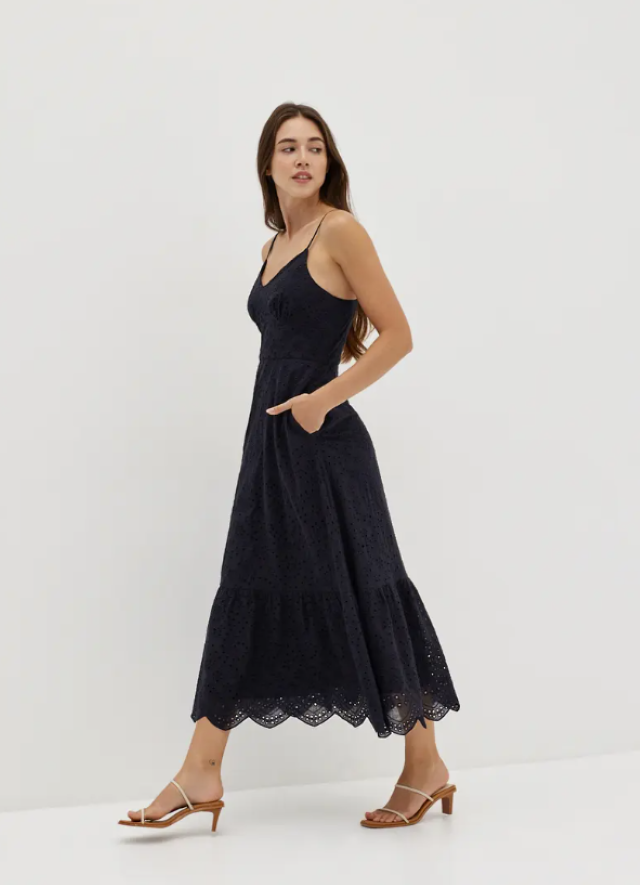 Made with the modern, everyday woman in mind, Love, Bonito combines functionality and sophistication in their pieces. This Singapore-based brand has an assortment of elevated wardrobes and accessories in high-quality. We spotted dainty and minimalist dresses with pockets for whatever occasion or season, so there'll be something that will suit your taste.
ADVERTISEMENT - CONTINUE READING BELOW
Available online.
Candid Clothing Co.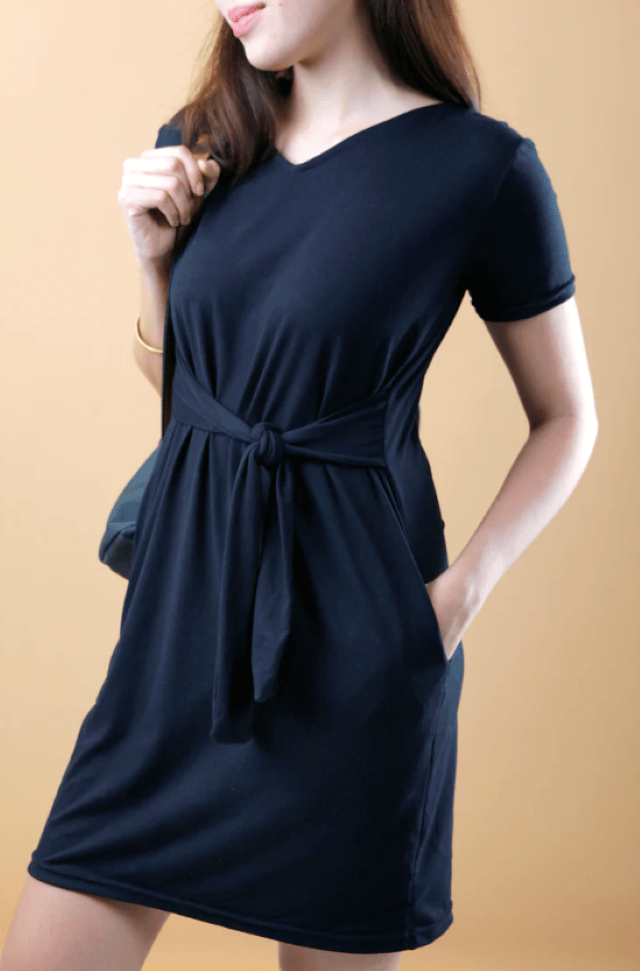 Hold up, clothing that is versatile, affordable, and sustainable? You can find it at Candid Clothing. Their chic and effortless styles—from basic tops, bottoms, sets, to multi-way and reversible pieces—deserve to have a spot in your wardrobe. Tired of wearing the same old style? You can switch it up without having to buy a new one. Yup, that includes their Make the Shift dress that you could style four ways, giving you four dresses in one. Throw in functionality to the mix of that first sentence, too. 
ADVERTISEMENT - CONTINUE READING BELOW
Available online.
Uniqlo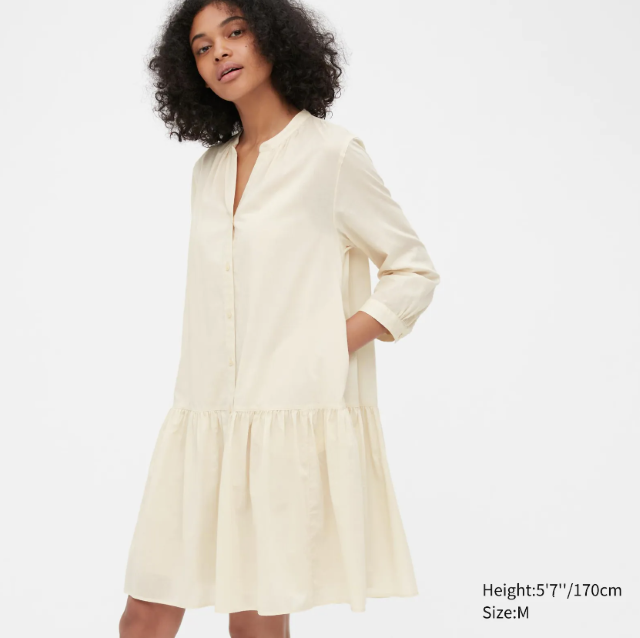 When it comes to basic lifewear, Uniqlo is top of mind. The Japanese apparel brand has no lack of effortless and comfortable dresses with side pockets that you could slip into anytime for any ocassion, usually in neutral tones. There are styles that emulate a long and comfy shirt—you probably own one of those by now—but Uniqlo also has a good chunk of dresses in different styles if you want to mix it up. 
ADVERTISEMENT - CONTINUE READING BELOW
Available online.
Zanzea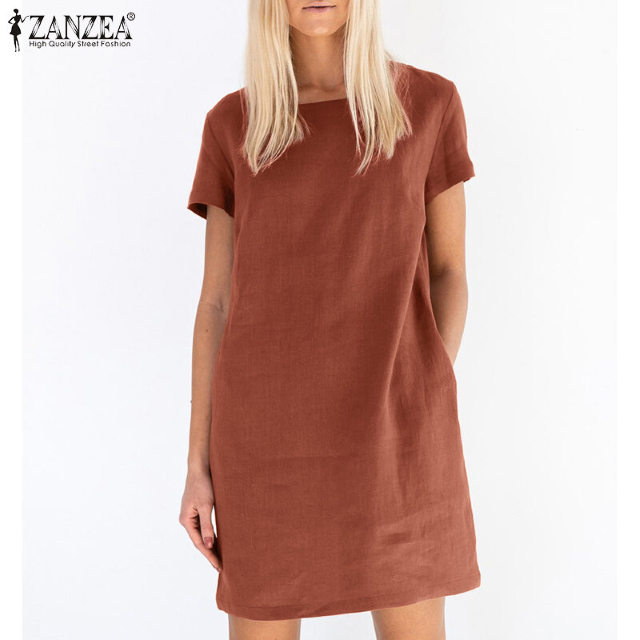 If you're going for a simple look, we spotted this classic style at online shop Zanzea. It's a cotton mini shift dress that you can style up or down, depending on where you're headed; what matters is that you're going to have pockets wherever you end up. This online shop also has an extensive range of women's apparel so you can find dresses with pockets in different styles and prints. 
ADVERTISEMENT - CONTINUE READING BELOW
Available online.
Anika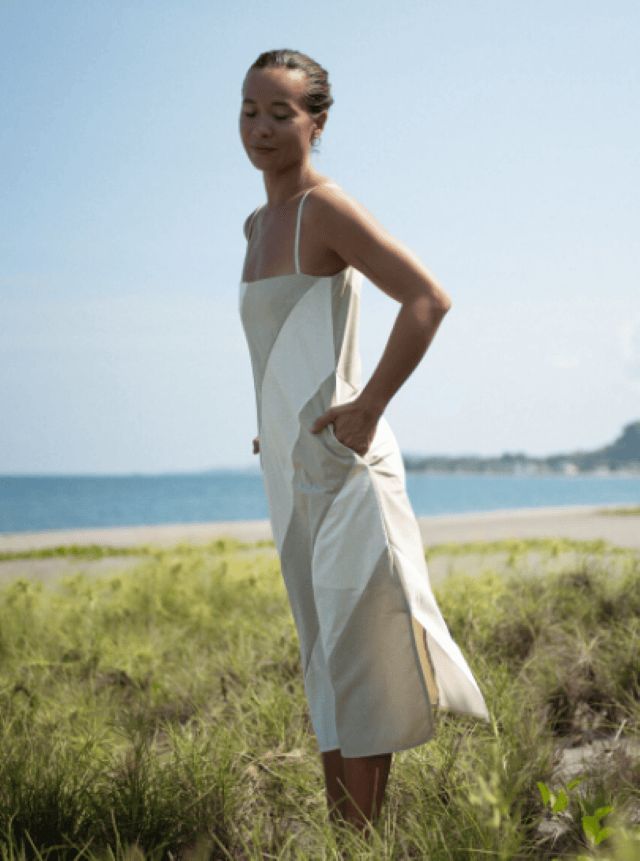 Want it laid-back and yet oozing a luxe vibe? Shop at local brand Anika. We spotted classic dresses with side and even front pockets. Their silhouettes play with nature-inspired and neutral tones; some sport distinct styles and designs like polka dots if you want a little on the wilder side of the spectrum. Whatever you "add to cart," Anika's silhouettes rock that balance between sophisticated, feminine, and relaxed. And hey, there's something for your little ones as well. Time to go matchy-matchy.
ADVERTISEMENT - CONTINUE READING BELOW
Available online.
Revival The Label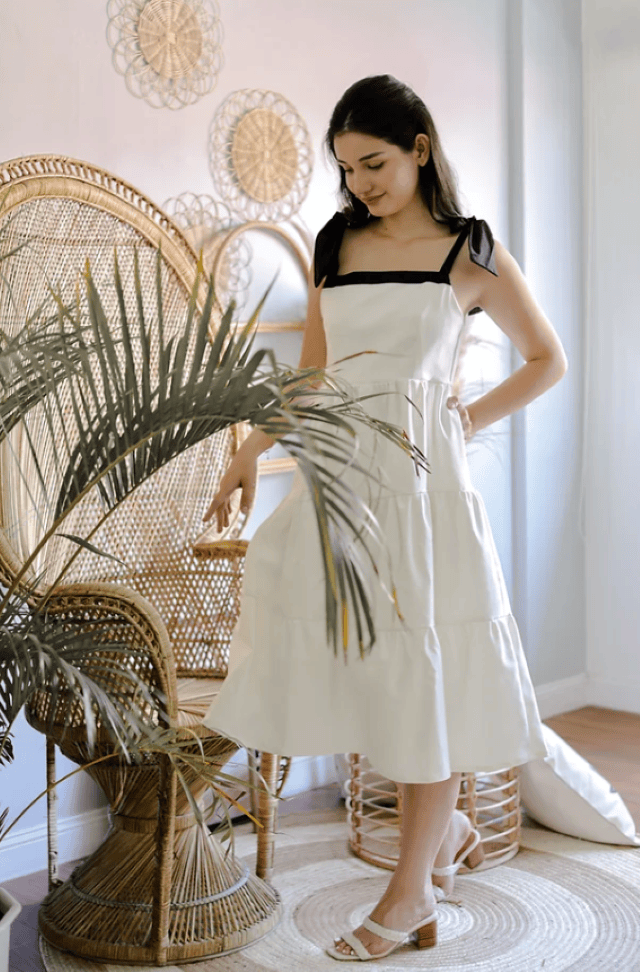 This local brand is all about the dresses. From plain and basic hues to polka dots, floral prints in various styles and colors, to a lot more, Revival The Label has something for you. Have a fun Sunday brunch planned out with the girls? You can waltz in with this two-toned square neck Coleen Dress to make heads turn. Peep that low-key cute ribbon detail on its shoulders for a little personality. 
ADVERTISEMENT - CONTINUE READING BELOW
Available online.
Bocu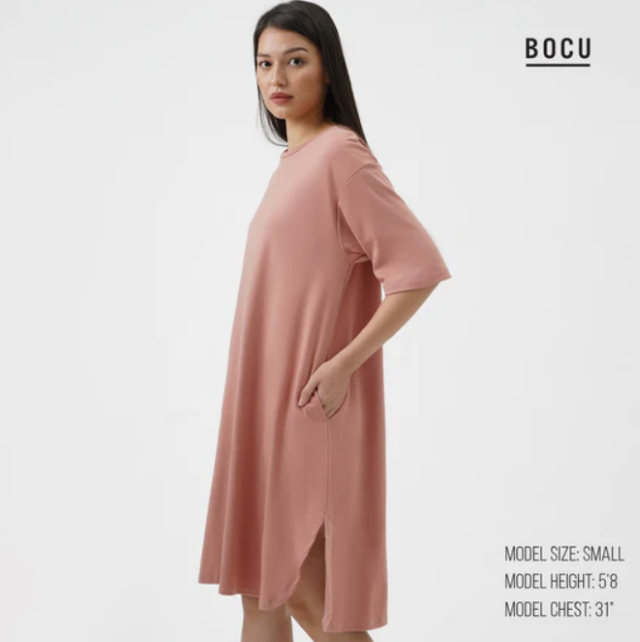 It's another win for the basics. According to their site, Bocu Lifestyle is "where minimalism meets modern classics." So yes, expect a lot of classic and simple styles in this shop. If you want a more relaxed and comfortable vibe, say, a casual and fun hangout with friends, you might want to go to Bocu Lifestyle store for this Knee-Length dress made out of 100% cotton. You can put your own twist on it, say, some accessories. A hat, a jacket, or a small purse, maybe? Just add your chosen power piece and you're good to go. Plus, we're loving the rather unexpected oomph from the small slits on either side of the hem.
ADVERTISEMENT - CONTINUE READING BELOW
Available online.
Wear Sundays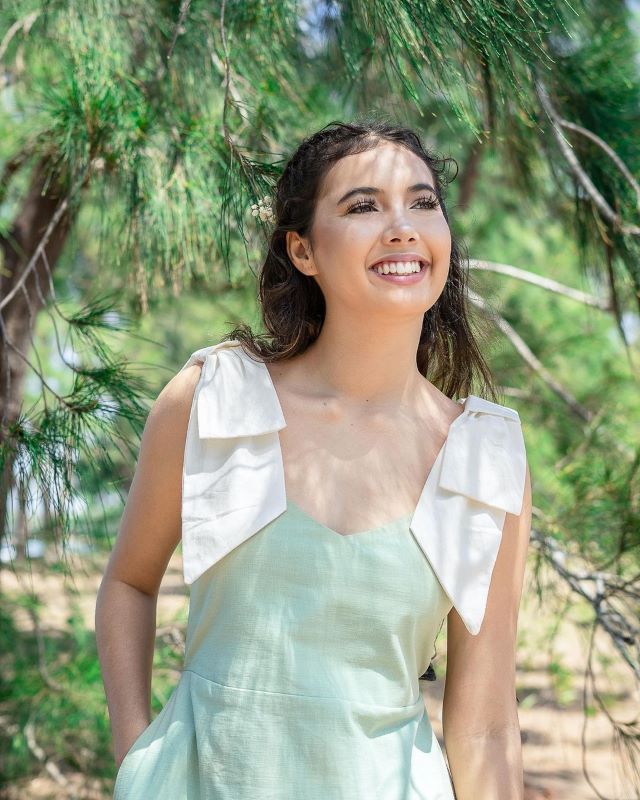 You can find a dress for every occasion at Wear Sundays. Their elegant silhouettes, from casual and summery to sophisticated and modern, will give your closet the flair and the breath of life it needs. Take for example this Ilka two-way dress with adjustable straps and a detachable shoulder ribbon detail, and yes, we can't not mention the functional side pockets. Wear Sundays also has the daintiest collection of tops, bottoms, jumpsuits and co-ords.
ADVERTISEMENT - CONTINUE READING BELOW
Available online.
Share this story with your friends!
---
Help us make Spot.ph better!
Take the short survey
More Videos You Can Watch
Load More Stories