10 Philippine Festivals for Your Bucket List
We list the most unmissable ones! Which ones have you been to?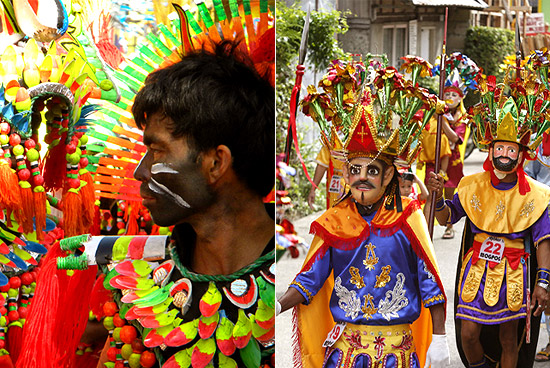 (SPOT.ph) When you attend a local festival, you discover more about a place, its people, cuisine, and history. The fact that it only happens once a year makes it even more special.
No idea where to start? Don't worry. The Philippines is a hodgepodge of colorful fiestas so you'll never run out of festivals to experience. From the mouth-watering Longganisa Festival in Vigan, to the fascinating—and sometimes shocking—Baliw Baliw Festival of Cebu, there's a festival out there that suits your taste and budget.
Also read: 10 Bizarre and Fascinating Philippine Festivals
Sinulog Festival
When: Every third Sunday of January
Where: Cebu City
Sinulog is when Cebu transforms into one big party place. A spectacular showcase of colorful costumes, floats, and lively music await tourists who are eager to experience this festival held in honor of the Sto. Niño. It kicks off during the third day of January, which includes a grand parade and street dancing to put everybody in a festive mood. You have two options to experience Sinulog: Watch the presentations inside the sports arena or go to the streets and join the fun.
Ati-Atihan Festival
When: Every third week of January
Where: Kalibo, Aklan
The Lonely Planet describes Ati-Atihan as our country's "biggest and best Mardi Gras." Some even call it the "Mother of All Philippine Festivals" for starting the trend adopted later on by Cebu's Sinulog. The Ati-Atihan Festival culminates on the third Sunday of January, during which the best street dancers paint themselves black and shout "Hala Bira! Pwera Pasma!"—a tribute to their Negrito ancestors who started it all. Truly a history lesson and cultural feast rolled into one.
ADVERTISEMENT - CONTINUE READING BELOW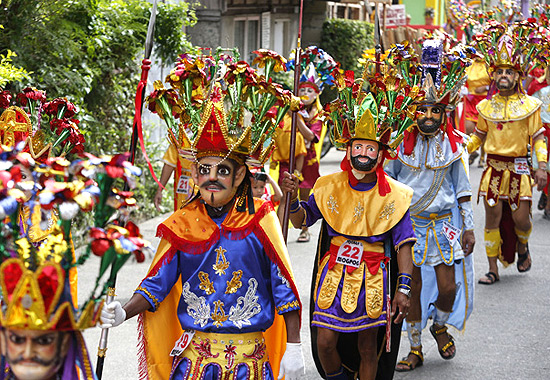 CONTINUE READING BELOW
Recommended Videos
Moriones Festival
When: Holy Week (Palm Sunday to Easter Sunday)
Where: Marinduque (municipalities of Boac, Gasan and Mogpog)
Moriones Festival puts the spark on an otherwise ordinary Holy Week celebration. It's during this time when locals dress up as Roman soldiers to reenact the life and death of the half-blind centurion named Longinus, who was miraculously healed after a drop of Jesus Christ's blood hit his eye. The week-long celebration is a panata for the Marinduqueños, while a riveting show of faith and culture for the curious tourists. Witness colorful display of Roman costumes and wooden masks as the festival culminates on Sunday with the theatrical performance of the pugot (beheading of Longinus). And while you're there, don't forget to try Marinduque's arrowroot cookies—it melts in your mouth and tastes divine!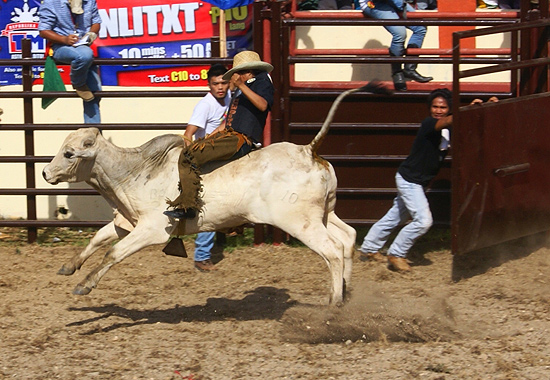 ADVERTISEMENT - CONTINUE READING BELOW
Rodeo Masbateño
When: Second week of April
Where: Masbate City
No need to go to Las Vegas to watch cowboys or cowgirls battling their way to rodeo supremacy. With the province being the cattle center of the country, it should come as no surprise that a world-class rodeo festival was born in Masbate City. A grand horse parade, barn dance showdown, beef-cooking contest, and the thrilling National Rodeo Finals are just some of the things in store for those who want to get a taste of the 'Wild, Wild East.' Getting booze at the Beer Plaza is a must-try on the eve of the festivities. So are the authentic ranch tours where you can milk cows, ride horses, and herd cows, among other unforgettable experiences.
Masskara Festival
When: Every third weekend of October
Where: Bacolod City
An explosion of colors and smiles is what defines Masskara, Bacolod's unique festival that has cemented its reputation as the "City of Smiles." Established in the 1980s as a way to lift people's moods amidst looming economic crisis and a recent sea tragedy, Masskara soon blossomed into a grand showcase of local culture. Highlights of the festivities include the Masskara Street Dance Competition where locals dress in costumes ranging from aquatic to exotic dance to the tune of lively Latin music. Also bursting with excitement are the garden show, food festivals, musical concerts, and the beauty pageant carnivals that will make your trip to Bacolod truly memorable.
ADVERTISEMENT - CONTINUE READING BELOW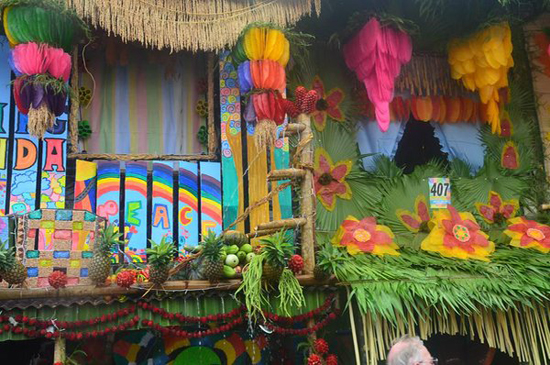 Pahiyas Festival
When: May 15
Where: Lucban, Quezon
Pahiyas is both a visual and culinary delight. A harvest festival that pays homage to the farmers' patron saint San Isidro Labrador, the Pahiyas entices visitors with houses and establishments adorned with fruits, vegetables, and the colorful leaf-shaped kiping. Made from ground rice flour, the edible kiping is the star of the Pahiyas decorations, easily transformed into all sorts of shapes and sizes—from multi-colored flowers to a chandelier locally known as arangya. Join the locals as they cap off the festivities with a spectacular parade teeming with higantes, carabaos, and floats. You can then head over to Tiyangge sa Lucban where you can buy handicrafts and taste various local delicacies including Lucban longganisa, puto seco, and broas.
Kadayawan Festival
When: Third week of August
Where: Davao City
Kadayawan is a celebration of Davao's ethnic roots and a thanksgiving for the city's bountiful harvests. Get up close and personal with the indigenous tribes who have become the driving force behind Davao's rich culture and heritage. Watch them outdo each other in a friendly competition called Hiyas sa Kadayawan, or marvel at their fantastic display of cultural practices at the Indigenous People's Performance. Kadayawan won't be complete without the much-awaited Indak-Indak sa Kadalanan, a visual and cultural feast which features some of Davao's best street performers. Other highlights include grand floral parades, the Pahalipay concerts, and incredible tribal performances that will keep you coming back in the years to come.
ADVERTISEMENT - CONTINUE READING BELOW
Dinagyang Festival
When: Every fourth weekend of January
Where: Iloilo City
It's impossible to visit Iloilo in January without catching the "Dinagyang Fever." Streets of Iloilo suddenly become the stage of world-class street performances held in honor of the Sto. Niño and to celebrate the city's rich history. Over the years, the Dinagyang has earned various recognitions for starting great innovations including the carousel performance, which means competing street dancers perform simultaneously, and Dagoy, the country's first ever festival mascot. Apart from the heart-pounding excitement offered by the street dancing competition, Dinagyang also has a lineup of other great activities to keep you engaged. This includes the Miss Iloilo Dinagyang pageant, a music festival, fluvial parades, and fireworks display, among others.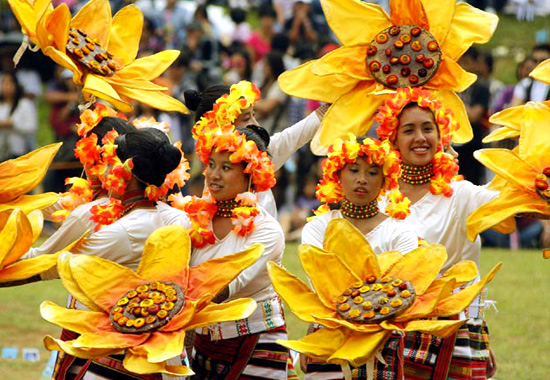 Panagbenga Festival
When: February
Where: Baguio City
Millions flock to the country's Summer Capital every year not just to enjoy its cool climate but to take part in an event that could rival international flower festivals. Popularly known as Panagbenga which literally means "season of blooming," it is a month-long celebration held in February during which most flowers of the highlands are in full bloom. The unique festival kicks off with a parade of competing representatives from 20 districts in Baguio, all of whom are clad in colorful costumes and dancing to the tune of modern and traditional music. It sets the mood for all other activities that will keep your short stay in Baguio worthwhile: a kite-flying challenge, landscaping competition, fireworks display, and the festival's best attractions—the grand dancing and float parades.
ADVERTISEMENT - CONTINUE READING BELOW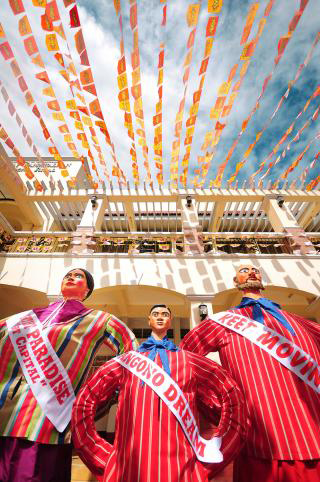 Higantes Festival
When: November 22 to 23
Where: Angono, Rizal
The Higantes Festival is probably one of the reasons why Angono is known as the "Arts Capital of the Philippines." This festival, now a cultural icon, uses giant paper mache effigies as high as 12 feet to showcase the local traditions and creativity. Making these giants is an art in itself, as local craftsmen produce colorful characters—ranging from historical to political—out of recycled newspapers, wheat paste, and rattan poles. Higantes starts with Bisperas Mayores, a parade of marching bands and astonishing giants. It then culminates in a fluvial procession at the Laguna de Bay in honor of San Clemente, the patron saint of fishermen. Art lovers can also make a side trip to the Blanco Family Museum where you can trace the roots of the festival and immerse in the local history.
Luisito E. Batongbakal Jr. is the blogger-in-chief of FilipiKnow.net. He has a fetish for local trivia, unsolved mysteries, and all things creepy.
ADVERTISEMENT - CONTINUE READING BELOW
Photos from GMA News (Moriones Festival, Pahiyas Festival, Panagbenga Festival, Higantes Festival), and ABS-CBN News (Rodeo Masbateño)
Share this story with your friends!
---
Help us make Spot.ph better!
Take the short survey
Load More Stories