The Ayala Triangle Gardens is the heart of the bustling Makati business district, a lush sanctuary for rest and recreation. The 4.9-acre refuge, inaugurated in 2009, forms a triangle that connects three main roads: Ayala Avenue, Makati Avenue, and Paseo de Roxas.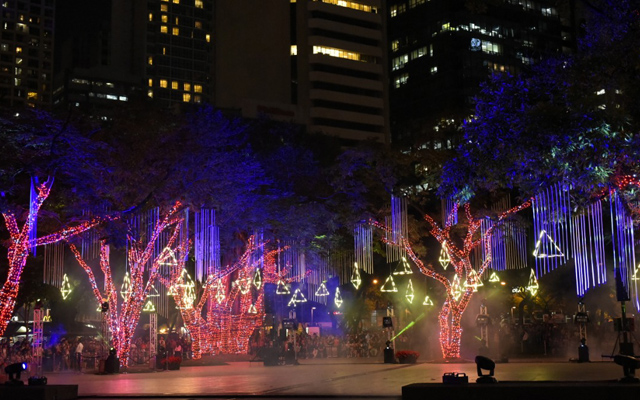 ADVERTISEMENT - CONTINUE READING BELOW
Steeped in history
The verdant space actually holds a kernel of interesting history: Its land was once a part of the hundred-acre lot of Nielson Field, Manila's airport before World War II. When the airport was decommissioned and transferred to Nichols Field, the land was returned to the Zobel de Ayala family. Eventually, the airport's runways were converted into the roads we know today.
According to Philstar, the master plan was designed by Ayala Land's Innovation and Design group, led by chief architect Joel Luna, while the landscape's design was helmed by E-Group. Apparently, Makati's nature hub was inspired by well-known parks around the world.
The gardens were "inspired by the many public spaces, plazas, and parks in many parts of the world such as New York's Stanley Park," Luna said. "The theme was dictated by several things-the existing mature trees that we had to preserve, the context of the site given that it is where the center of Philippine business is located, the history of the property as a former airstrip during WWII, and benchmarks of successful public outdoor places in other countries."
Rich in culture
It's clear that the gardens have embodied that vision of embracing Filipino culture and the city's rich history. Now, the place is home to over a hundred trees of varying species, including kamuning and podocarpus. There are artworks by Filipino artists scattered everywhere, and monuments celebrating heroes like Benigno Aquino, Jr., Gabriela Silang, and Muhammad Kudarat, the latter two designed by sculptor José M. Mendoza.
But if there's anything that truly encapsulates the joy of being Filipino, it's Christmas; and the gardens have become an important part of that since Ayala Land launched the very first Festival of Lights in 2009.
Every night for two months, the gardens transform into a magical spectacle featuring colorful lights, lasers, and festive music. This annual event has become a must-see for locals and tourists alike because each year boasts of a unique theme that incorporates Filipino elements.
Here, we revisit all the wonderful light shows that never failed to amplify the city's holiday spirits and give joy to Filipino families:
ADVERTISEMENT - CONTINUE READING BELOW
2009
A Christmas song begins to play, and vines of lights swaying from the trees start to glow. It was the very first light show that beguiled visitors and sparked a Filipino family tradition.
2010
It was a night of dancing parols and multicolored lights. The gardens looked like heaven on earth with "a thousand stars," the year's theme.
2011
In 2011, Ayala used energy-efficient lights, life-sized stars, and meteor lights that were beautifully choreographed to the music of Jazz Nicolas of Itchyworms and Mikey Amistoso of Ciudad.
2012
While Filipino Christmas carols filled the air, the gardens' trees changed colors and glowing orbs pulsated to the rhythm. The sequence gave new life to beloved songs such as Noche Buena, Pasko Na Naman, and Ang Pasko ay Sumapit.
2013
Video by Michael Joseph Ko
The year 2013 was a devastating one for the country, as Typhoon Haiyan had affected thousands of homes. In solidarity with the victims in Visayas, the Christmas light show also provided donation boxes so that people could lend a helping hand to their fellow Filipinos. It was truly a season of giving, and more importantly, of hope. 
ADVERTISEMENT - CONTINUE READING BELOW
2014
Flashing lights in rainbow colors bobbed to the tune of international Christmas songs that were rendered in a techno-pop way. 
2015
In 2015, the dazzling light show was a medley of sights and sounds with the theme, "Beats and Hues." Three sequences were accompanied by jazz music that had visitors travel back in time, another played African drums for an upbeat vibe, while the last blasted electronic dance music for a funky twist.  
What's more, along Ayala Avenue were 10 magnificent light installations that were replicas of the oldest Philippine churches. These were amplified by adorning palm trees with capiz shells and parols. 
2016
The year 2016 gave visitors another heady mix of festive tunes, including beats inspired by Rio de Janeiro, epic songs from heroic period films, and a magical Disney repertoire. The tunes came alive as bright lights sparkled and the gardens once again transformed into a Christmas wonderland. 
ADVERTISEMENT - CONTINUE READING BELOW
2017
The gardens were ablaze with 1.6 million LED lights, while three distinct themes reinterpreted how the holiday cheer could be like. Pinoy Fiesta by Roy del Valle captured the Filipino spirit, while Traditional Christmas by Von De Guzman brought back childhood memories. Lastly, Techno by Tris Sunguitan turned the landscape into one big dance party.
2018
Disney and 'magic' are practically synonymous, so it was fitting for Ayala Land to partner with the brand to celebrate the company's 30th anniversary, as well as the 10th anniversary of the Festival of Lights. True enough, the gardens were nothing short of magical. The place was a whimsical wonderland with a large Mickey Mouse light installation, and everyone's favorite Disney songs were played to celebrate another joyous milestone. 
2019
This year, the light show was grander than ever before with a new addition to the spectacle: a 3D mapping video projected onto the entire dome of Ayala Tower One and Exchange Plaza. The ceiling turned into a digital fresco, with following displays of stained glass windows, and a bright blue sky. This came as a wonderful surprise after guests were treated to the classic, colorful light show at the gardens. It was an immersive art experience that encapsulated the theme, "Gallery of Lights."
ADVERTISEMENT - CONTINUE READING BELOW
Gallery of Lights is on display at the Ayala Triangle Gardens, Makati Avenue corner Ayala Avenue, Makati City. The show runs from 6 p.m. to 10 p.m. until January 12, 2020. For updates, follow Make it Makati on Facebook.
Share this story with your friends!
---
Help us make Spot.ph better!
Take the short survey
More Videos You Can Watch
Load More Stories