(SPOT.ph) With more than 150,000 restaurants (230 of them with Michelin stars!) calling Tokyo home, it's safe to say that this bustling metropolis is the ideal destination for anyone who loves to eat. 
From sushi and ramen to pizza and pastries, Tokyo's food choices are as diverse as the city is big. Whether you hit up Tokyo's most famous spots or try your luck at any of the hole-in-the-wall restaurants that line the city's back alleys, you're only really scratching the surface of what the capital has to offer. Hopefully this list will help you hit the ground running, whether you're in Tokyo for the first time or you already call the metropolis your second home. 
Also read:
10 Cool Things You Can Do for Free in Tokyo
10 Cool Stores to Check Out the Next Time You're in Tokyo
Here are 10 places in Tokyo, Japan if you just can't stop eating:
Ameyoko Market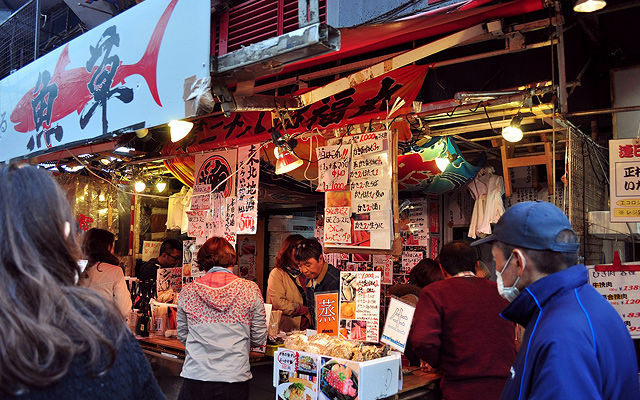 ADVERTISEMENT - CONTINUE READING BELOW
Ameya Yokocho, better known to locals as Ameyoko, started as a black market during the years after World War II. But these days, instead of selling smuggled American goods, the stalls have turned to selling traditional snacks, fresh fruit, and all kinds of seafood. This street food market also offers a varied selection of international cuisine, ranging from Chinese, Korean, and Middle Eastern fare, as well as all sorts of local souvenirs. 
Ameyoko Market is at 4 Chome-9-14 Ueno, Taito City. Operating hours vary per stall, but most are open daily from 10 a.m. to 8 p.m. 
Tsukiji Outer Market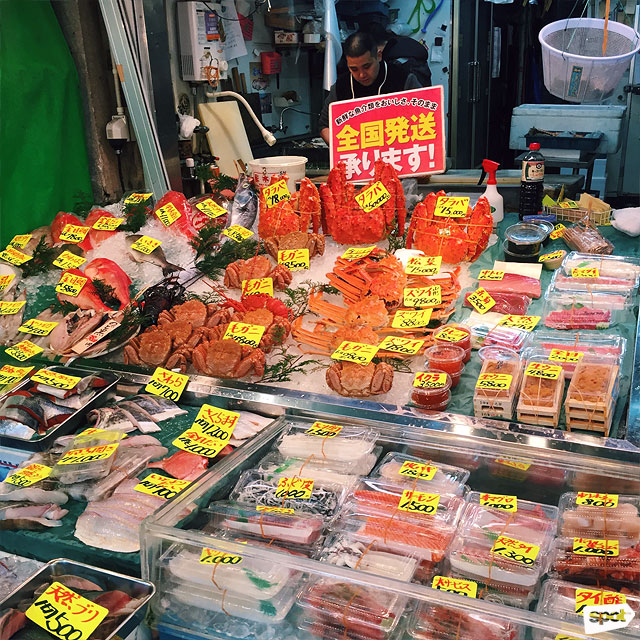 They say you didn't really visit Tokyo if you didn't check out the famous Tsukiji Fish Market. While the original market, along with the famous tuna auction, has since moved to a different location, the streets surrounding Tsukiji are still very much bustling with activity. You can grab some sushi for breakfast or lunch from any of the local restaurants, treat yourself to some freshly grilled scallops or crabs and melt-in-your-mouth tamagoyaki (Japanese omelets) from any of the street stalls, or just gawk at the fresh wasabi and extra-sharp chef's knives that they have on sale in the specialty shops. 
The Tsukiji Outer Market is at 4 Chome-16-2 Tsukiji, Chuo City, Tokyo, Japan. Operating hours vary per establishment. 
Toyosu Market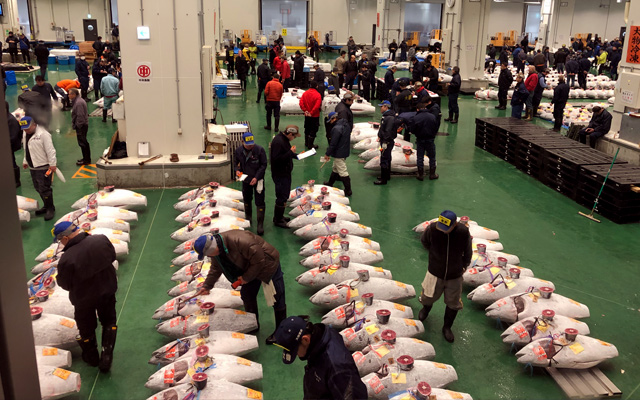 ADVERTISEMENT - CONTINUE READING BELOW
Toyosu Market opened in late 2018, taking over from Tsukiji as the new location for Tokyo's famous fish market. If you're an early riser, consider heading to this place by 5:30 a.m. to observe the tuna auction, where Tokyo's best restaurants try to outdo each other just to get their hands on the freshest fish. Not a morning person? You can still grab some of the best seafood Tokyo has to offer at the market's sushi restaurants. 
Toyosu Market is at 6 Chome-3 Toyosu, Koto City. It is open daily from 5 a.m. to 5 p.m. 
Takeshita Street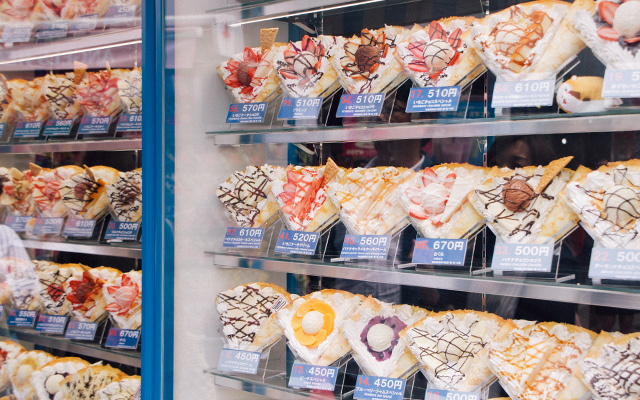 ADVERTISEMENT - CONTINUE READING BELOW
The Harajuku district is known to many as an eclectic fashion hub, but did you know that it's also home to some of the best street food in the city? Takeshita Street is lined with numerous restaurants and cafés that serve everything from sweet treats like crepes, cotton candy, and soufflé pancakes, to traditional Japanese food like sushi and gyoza. And like everything else in this trendy district, all of them are pretty Instagram-worthy. 
Takeshita Street is at 1 Chome-17 Jingumae, Shibuya City. It is open from 10 a.m. to 8:30 p.m. on weekdays; 10 a.m. to 9 p.m. on Saturdays; and 10 a.m. to 8 p.m. on Sundays. 
Sunamachi Ginza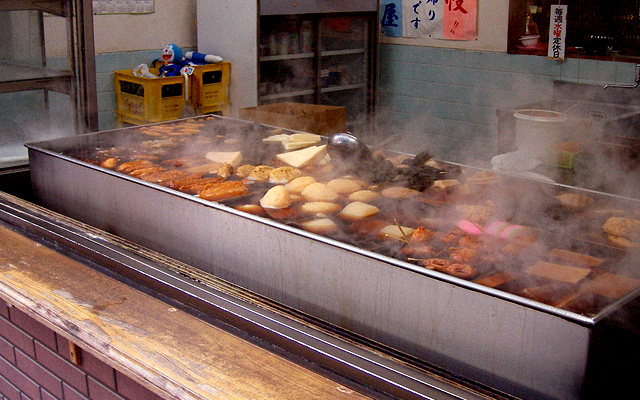 ADVERTISEMENT - CONTINUE READING BELOW
Little known even to locals, Sunamachi Ginza stands in stark contrast to the rest of futuristic Tokyo. This traditional shopping street is home to dozens of mom-and-pop stalls, many of them being family-owned for years. The stores here focus squarely on traditional Japanese food like tempura, yakitori, and inarizushi, or sushi rice stuffed into sweet tofu skin. There's even one stall that only sells 400 pieces of inarizushi per day, so better head here early to get your hands on this unique Japanese treat. 
Sunamachi Ginza is at 4 Chome-18-14 Kitasuna, Koto City. Operating hours vary per establishment. 
Nakamise-Dori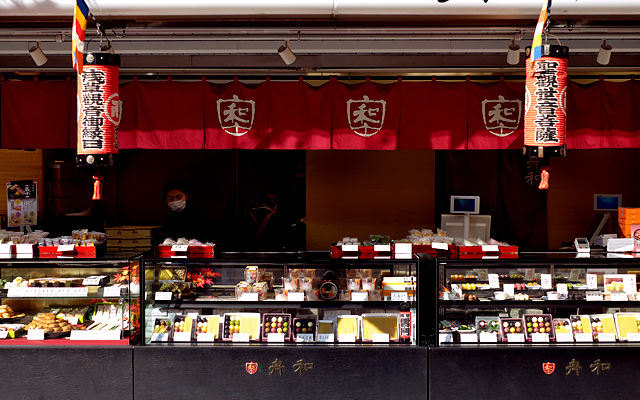 ADVERTISEMENT - CONTINUE READING BELOW
Located just a few steps away from the oldest temple in Tokyo, this old-school shopping street is lined with stalls selling everything from souvenirs to traditional Japanese snacks. Make sure to follow your nose to find sweet treats like dango, or skewered dumplings made with mochi, and daifuku, or mochi balls stuffed with red bean paste or custard. Also not to be missed are the freshly baked melonpan, some of which are as big as your face! 
Nakamise-Dori is at 1 Chome-20 Asakusa, Taito City. It is open daily from 10 a.m. to 5 p.m. 
Tokyo Ramen Street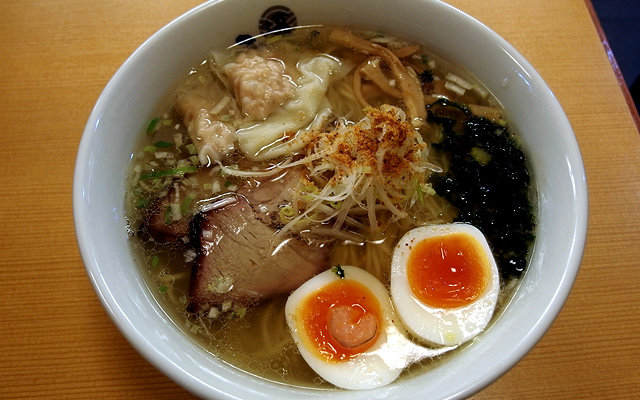 ADVERTISEMENT - CONTINUE READING BELOW
Underneath the labyrinth that is Tokyo Station is a corner that's dedicated to the ultimate Japanese comfort food: ramen. Tokyo Ramen Street is made up of eight restaurants, each putting their own unique twist on the noodle dish. Some favorites include Rokurinsha, which is said to have invented the concept of tsukemen, where noodles are dipped in a separate bowl of soup; and Ikaruga, which offers a three-cheese ramen. Vegans are also welcome here, with Soranoiro Nippon offering plant-based options. 
Tokyo Ramen Street is at B1 First Avenue Tokyo Station, 1-9-1 Marunouchi, Chiyoda-ku. Operating hours vary per establishment. 
Omoide Yokocho (Piss Alley)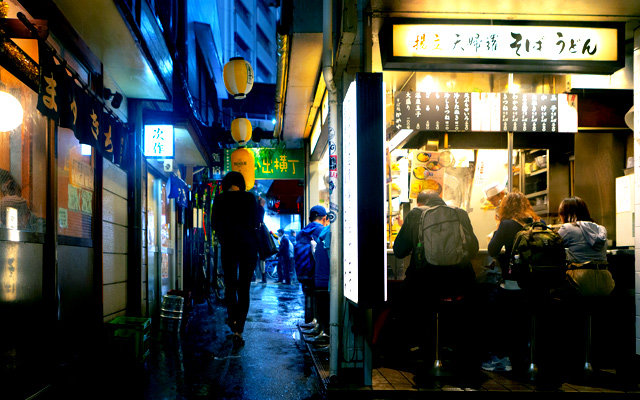 ADVERTISEMENT - CONTINUE READING BELOW
Better known by its colorful nickname Piss Alley, Omoide Yokocho is an alleyway made up of izakayas or Japanese pubs. These bars mainly specialize in yakitori or grilled meat skewers, and nikomi, a type of beef tendon stew, as well as cheap beer and sake. Expect to rub elbows with salarymen if you come here after working hours on weekdays, as these izakayas are extremely tiny—it's not recommended for the claustrophobic. 
Omoide Yokocho is at 1 Chome-2 Nishishinjuku, Shinjuku City. Operating hours vary per establishment. 
Isetan Shinjuku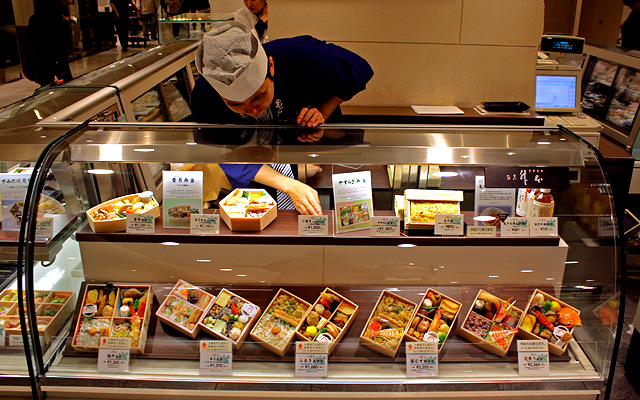 ADVERTISEMENT - CONTINUE READING BELOW
Some of Tokyo's best food can be found in the basement of a department store. Isetan Shinjuku's food hall, known locally as a depachiku, is pure luxury. There's premium Jamon Iberico, fresh caviar, and French macarons artfully arranged alongside tempura, tonkatsu, and soba noodles. Take a bento box up to the department store's rooftop garden for a meal with a view. Here's another tip: Wait until the food hall is about to close to get 50% off on some of the items. 
Isetan Shinjuku is at 3 Chome-14-1 Shinjuku, Shinjuku City. It is open daily from 10 a.m. to 8 p.m. daily. 
Convenience stores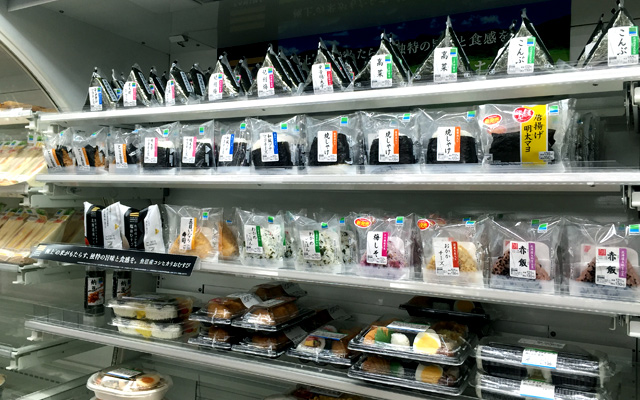 ADVERTISEMENT - CONTINUE READING BELOW
Much has been said about the convenience stores in Tokyo, and for good reason: The Japanese have elevated it to an art form. Each major chain has their own specialty: 7-Eleven for its coffee and instant ramen, Lawson for their fried chicken and egg salad sandwiches, and FamilyMart for their desserts and pastries. If you're traveling to Tokyo on a budget, you could easily eat like a king at any of the konbini that populate the city.
Share this story with your friends!
---
Help us make Spot.ph better!
Take the short survey
More Videos You Can Watch
Load More Stories