(SPOT.ph) When you think of Indonesia, what probably comes to mind are surf spots in Bali, temples in Central Java, and shopping malls in Jakarta. But this archipelago has so much more to offer. It has more than 17,000 islands after all, so you can just imagine the diversity of things you can do—from diving deep into shipwrecks to climbing some of the country's highest mountains. It just takes a sense of adventure to go beyond the usual.
Also read:
10 Romantic Places in Bali for Newlyweds
10 Places in Bali for the Artsy Traveler
10 Places in Bali for the Solo Traveler
The Best Things to See and Do in Bali in 24 Hours
Here are 10 exciting things to do in Indonesia:
Lounge around a pink-sand beach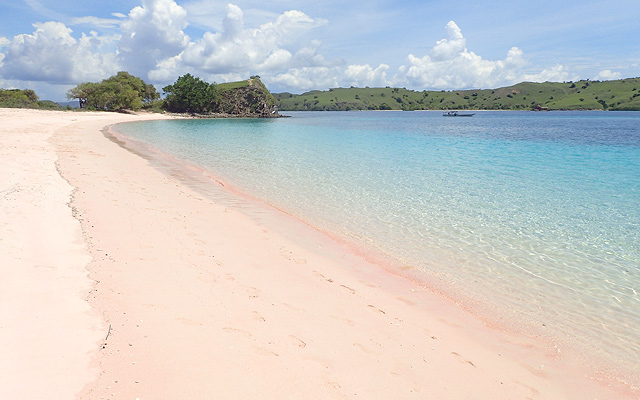 ADVERTISEMENT - CONTINUE READING BELOW
This UNESCO World Heritage Site is known for its teal waters, green hills, and striking stretch of pink sand. Microscopic organisms produce the coral's red pigment, which breaks down into the white sand. The result is a stunning pink beach that has understandably become one of the most popular destinations on Komodo Island. While here, you can enjoy the undeveloped shoreline or the underwater scenery. The best time to visit is at sunset between the months of April and June, or September and November.
Rappel down an ancient cave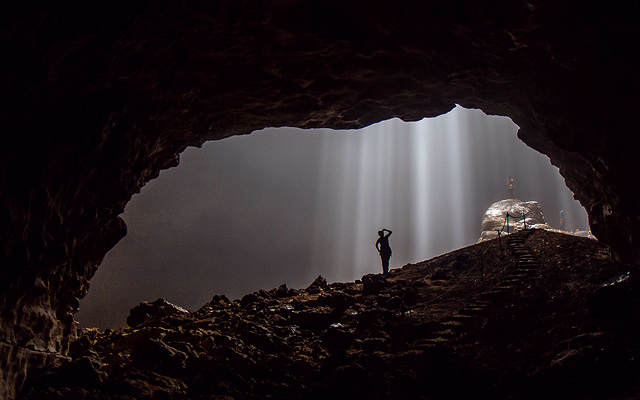 Just outside the city of Yogyakarta, adventurers can go spelunking in Jomblang Cave. To explore this vertical cave, you'll have to rappel down a 30-meter well that leads to a perpetually rain-soaked trail. While the slippery path can be challenging, the literal light at the end of the tunnel will be rewarding enough. Once in the cave, you'll be bathed in a shaft of golden sunshine that will give you a truly breathtaking experience. Note that only 80 people are allowed to visit this location per day, so to guarantee a slot, make your booking ahead of time.
Pretend you're in the middle of the desert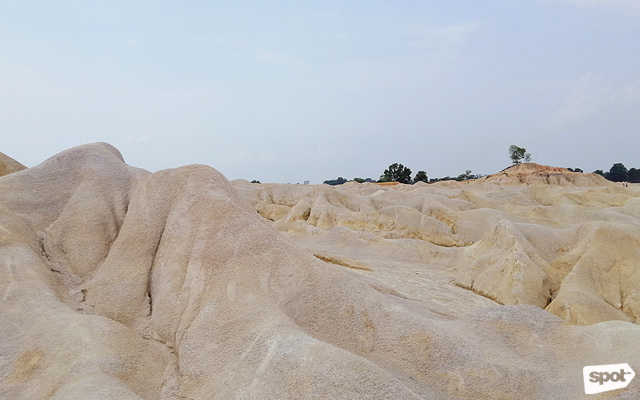 ADVERTISEMENT - CONTINUE READING BELOW
The Arabian desert may be thousands of miles away, but Indonesia also has an expanse of dunes in their own backyard. Gurun Pasir Busung on Bintan Island is an abandoned mining site for bauxite—a sedimentary rock that's high on aluminum content. While geo nerds will have a great time spotting the area for varying shades of red (proof of iron oxides), everyone else will have a fun afternoon taking photos of the mini-desert.
Sign up for a batik-making class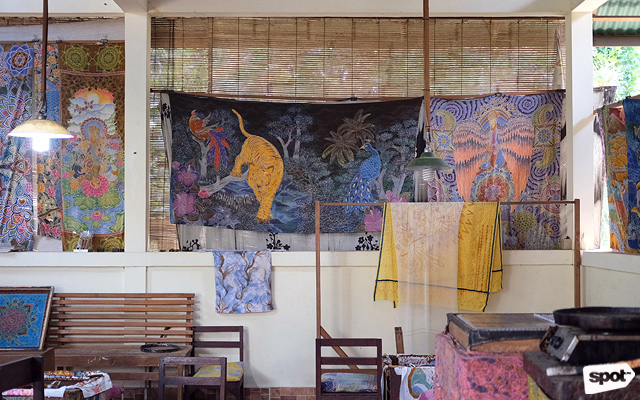 ADVERTISEMENT - CONTINUE READING BELOW
Flex your creativity as you learn the traditional craft of batik-making. Book a half-day workshop (generally, no more than three hours long) to learn the history of the pattern-dyeing process from a batik guru, while discovering techniques, tools, and dyes. These workshops typically culminate in creating your own design, which you can then bring home with you. Batik studios, like Deking Batik Class along Bedulu Main Road, are abundant in Ubud. Just walk up to one and sign up for a three-hour class.
Watch the sunrise amid expansive rice paddie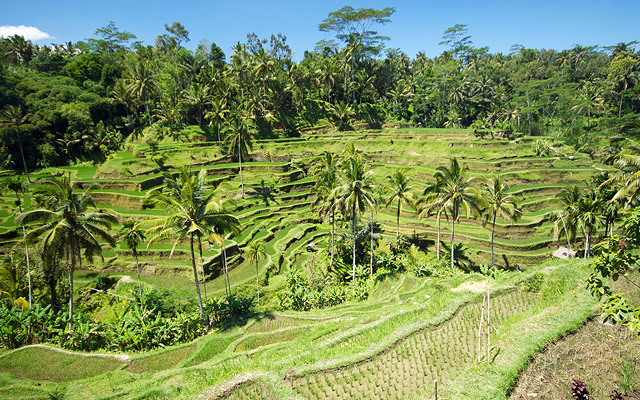 ADVERTISEMENT - CONTINUE READING BELOW
The best spot to watch the sunrise in Bali is the Tegalalang Rice Terrace—and for good reason. Photographers flock to this idyllic spot to take in the soft morning light as it drapes over verdant rice terraces dotted with coconut palms. Of course, to do this, you will have to wake up before the break of dawn and endure the chilly scooter ride to the terraces. However, once the light crests over the tree-lined horizon, you'll be glad you did!
Look down on a sea of clouds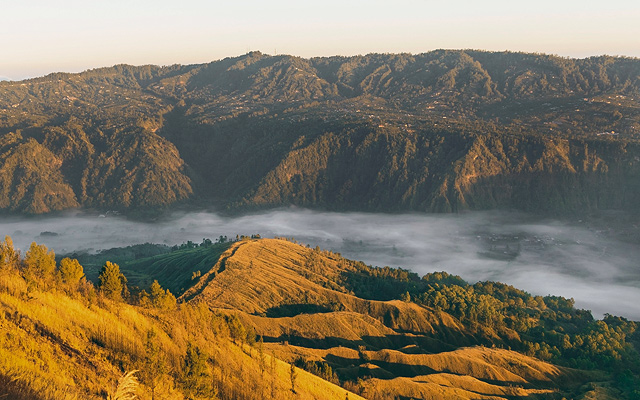 ADVERTISEMENT - CONTINUE READING BELOW
For a heavenly experience, wake up early to catch the sunrise at the top of Mount Batur. One of Bali's most active volcanoes, this sacred spot is best experienced at the end of a twilight trek with a small group of close friends. Ideally, you will reach the summit at daybreak to catch a spectacular view of clouds beneath your feet, with the island's mountaintops breaking through.
Marvel at the blue-tinged fumes of Lake Ijen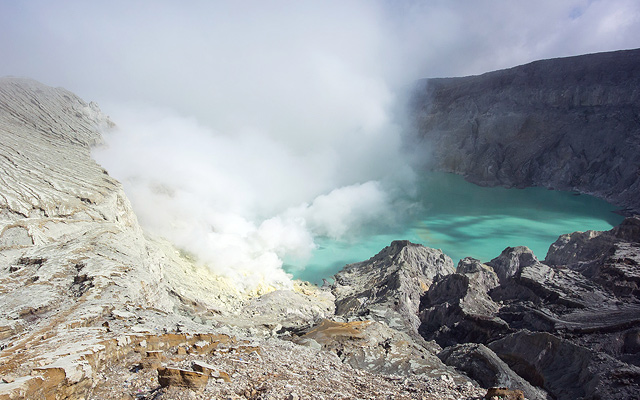 ADVERTISEMENT - CONTINUE READING BELOW
Perhaps visiting the largest highly acidic lake in the world does not sound very inviting. But trust us—you'll want to see the famed blue flames of the caldera lake at Kawah Ijen Volcano. The cool electric fire is caused by volcanic gasses and molten sulfur. When they mix with the earth's oxygen-rich atmosphere, it results in a blue flame. Because it is difficult to see the blue flames during the day, it is best to take in the otherworldly landscape in the evening.
Explore a ship wreckage from World War II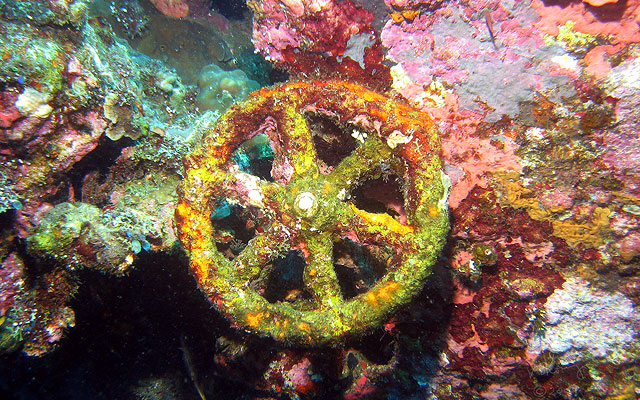 ADVERTISEMENT - CONTINUE READING BELOW
If you're looking for an underwater adventure, get the necessary training and certification to go wreck diving in Bali. There are a handful of sunken ships around Indonesia that are destination dive spots. However, the oldest and most interesting ones are in Bali—and date back to World War II. Down the coast, you'll find a Japanese wreck at Amed Beach. No one is sure if this ship is actually from Japan because the structure is broken beyond recognition. But one thing is for sure, this dive site—which goes as deep as 12 meters—boasts particularly colorful coral and marine life, which any sea lover will enjoy exploring.
Take Instagram-worthy shots of a blue-colored lake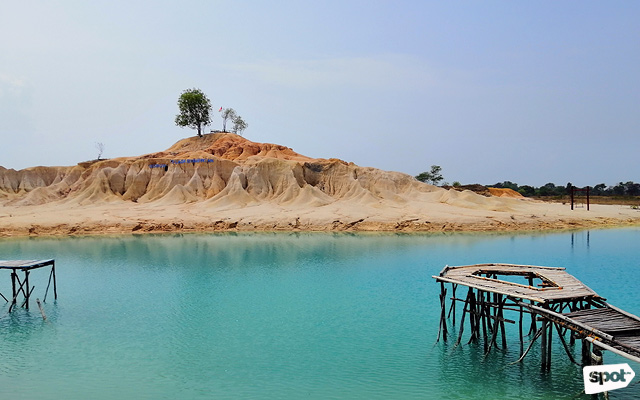 ADVERTISEMENT - CONTINUE READING BELOW
Surrounding the sand dunes of Gurun Pasir Busung on Bintan Island are a few blue-colored lakes. And when we say blue, we mean shades of cyan: blue-green, cerulean, electric blue, robin egg blue, and sky blue. (Your 64-piece box of crayons is shookt!)
Enjoy the island life in Nusa Penida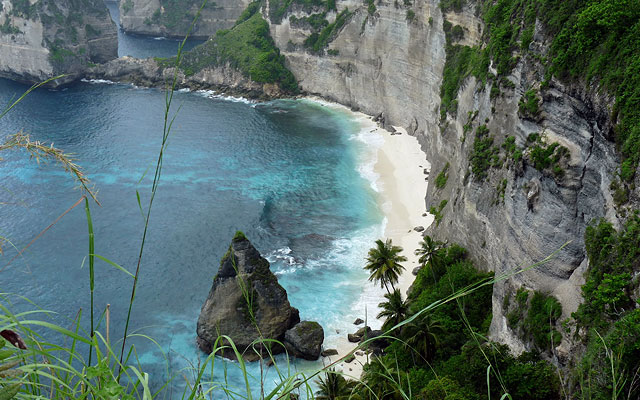 ADVERTISEMENT - CONTINUE READING BELOW
The island is a tourist favorite for its view of a T-Rex-shaped peninsula just out into turquoise waters. But the forest-covered limestone island is more than just eye candy. Here, you can enjoy the best of the island life by trekking cliffs, swimming in the open seas, exploring the local bird sanctuary, and scuba diving in the many surrounding reefs. Just across the Badung Strait from the island of Bali, it is relatively easy to access—and it's worth the trip!
Share this story with your friends!
---
Help us make Spot.ph better!
Take the short survey
More Videos You Can Watch
Load More Stories