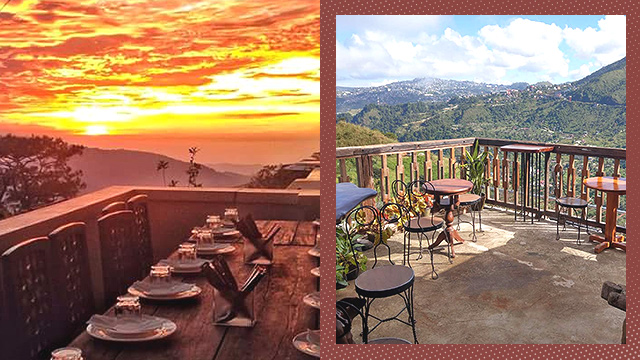 (SPOT.ph) Crisp and nippy evenings to early mornings are great in Baguio all year round, especially when the city's blanketed by mist. But on clear days, sunrises and sunsets are glorious and picture-perfect, especially when the sky is transformed into a palette of orange, red, and yellow. These moments are made even more memorable if you see them from various vantage points in the City of Pines' terrain. Plus, because of the 180-degree view in most of these spots, you may get front-row seats to the best panorama from dawn until dusk.
Get your cameras ready and head to these Baguio view decks: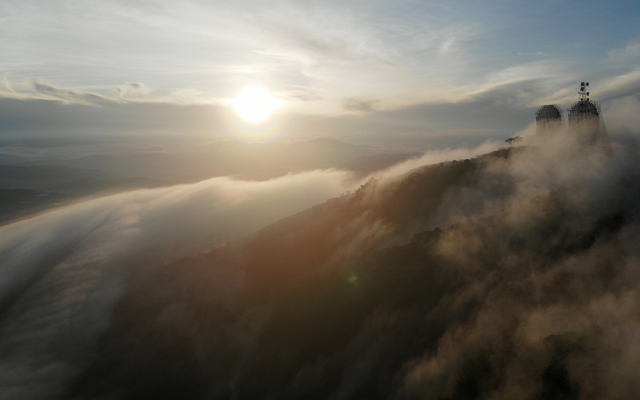 ADVERTISEMENT - CONTINUE READING BELOW
Café in the Sky
Sto. Tomas-Mt. Cabuyao Road, Tuba, Benguet
So high up that you can also see the Baguio radars (or what some joke are the AC units that cool the city) almost up close, some people bike here for the sunrise. But just in case waking up early is out of the question, Café in the Sky also has some of the best sunset views. The terrace has an absolutely wide view of the mountains and you'll feel like you're part of the sky when you're surrounded by clouds. Sip a cup of their local coffee as you appreciate the view.
How to get there: Although some jeepneys ply the area, it is more convenient to ride a taxi or take a private vehicle.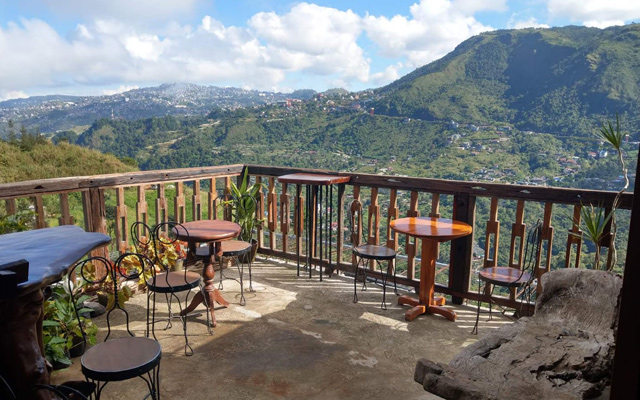 Tan-aw sa Alang
Begis, Tuba, Benguet
You can sit by huge glass windows or at the terrace for an unobstructed view as you catch the sun making its way down and the sky changing from light to dark. Technically, this café is located outside Baguio, but it's not so far away from the city and definitely worth the trip down Ben Palispis Highway. Enjoy a steaming cup of brewed coffee or hot cocoa (paired with a slice of banana bread) as you marvel at the sight of the clouds blanketing the sunset. Even on a cloudy day, you will not be disappointed by the views here.
ADVERTISEMENT - CONTINUE READING BELOW
Recommended Videos
How to get there: You can hop on a jeepney to Taloy with terminals along Otek Street (near Good Taste restaurant) that can take you to the café (for an additional charge). But getting back to the city, especially after dusk, may pose quite a challenge. Alternatively, you can take a taxi or private vehicle.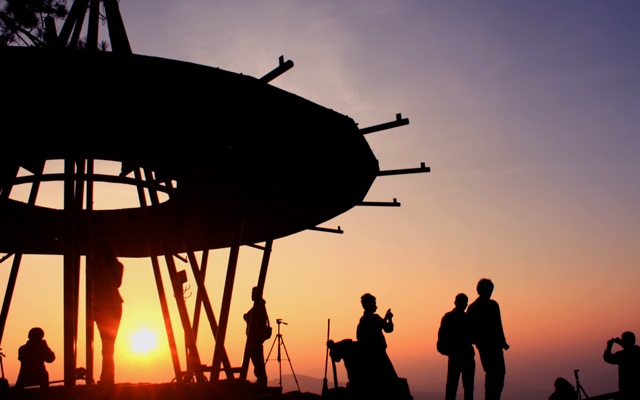 Mines View Observation Deck
Mines View Park, Baguio City, Benguet
The areas are rich in gold and other metals, and so, in the early 20th Century, several mining companies operated here and other parts of Benguet. This vantage point has been accessible to the public for generations and yet, the views of the mountains and sky—and the point where they meet—never get old. Add to that, the myriad of shops that sell food and souvenirs on the way there. Just be patient while waiting for your turn to take photos and videos as a lot of people probably have the same idea as you.
ADVERTISEMENT - CONTINUE READING BELOW
How to get there: You'll find jeepneys headed to Mines View Park just off lower Session Road.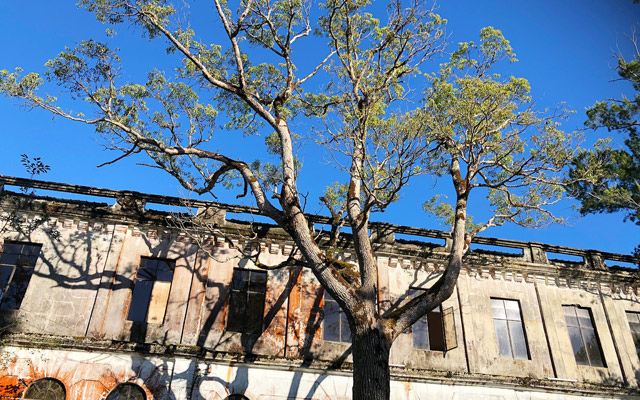 Dominican Heritage Hill and Nature Park Garden
Dominican Hill, Diplomat Road, Baguio City, Benguet
From being a vacation house of the Order of Preachers (a.k.a. Dominicans) in the early 20th century to a hotel and—um—a controversial health destination in the 1970s and 80s, Diplomat Hotel's imposing edifice has withstood devastation during WWII and the 1990 earthquake. Its reputation for being haunted has also endured. If you like thrills and chills, come up to view the panoramic sunset—if you don't get a ghost sighting, at least you'll enjoy the way the golden hour plays with the sky and casts light on the ruins. After going through rehabilitation initiated by the local government and cultural advocates, it's now called the Dominican Heritage Hill and Nature Park Garden, where various art events are often held.
ADVERTISEMENT - CONTINUE READING BELOW
How to get there: Take a jeep at Kayang Street near the Baguio City Public Market bound for Dominican-Mirador Hill. The drivers will know where to drop you off if you tell them you're headed to Diplomat Hotel. You can also take a taxi to the top.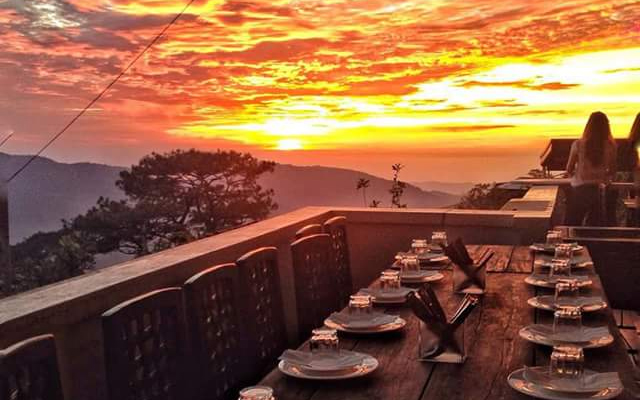 Foggy Mountain Cookhouse
172 St. Joseph Street, San Carlos Heights, Baguio City, Benguet
Prior reservation is required and it's advisable you come with a group—and very hungry! Reviews are mixed about the meats, but their roast chicken is a safe bet. They usually open for the evening crowd at 5 p.m., but can be requested to open a bit earlier for your party so you can settle in before appreciating the sunset views from the terrace.
How to get there: Find jeepneys bound for San Carlos Heights along Magsaysay Avenue near the Baguio City Public Market. You can alight at a walking distance from the gate.
ADVERTISEMENT - CONTINUE READING BELOW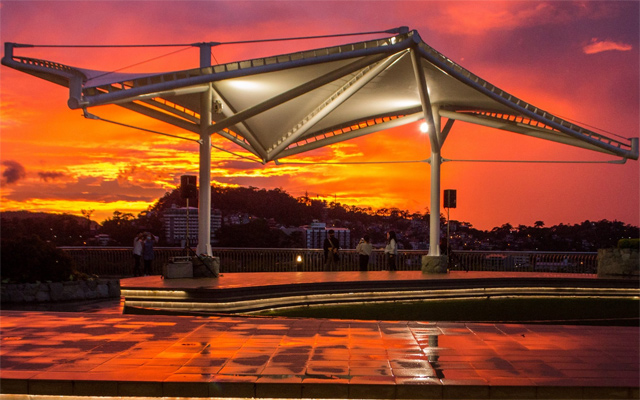 SM City Baguio's Sky Terrace
Luneta Hill, Upper Session Road, Baguio City, Benguet
Of course, if you don't manage to leave the city center before sunset, you can always go to the top floor of the centrally-located SM mall and view the sunset from a good distance there. There are many nooks where you can take selfies against the backdrop of the changing sky.
How to get there: Many different jeepney routes pass the mall, dropping you off at a waiting area just at the foot of the hill. Or you can get a cab to take you right to the entrance.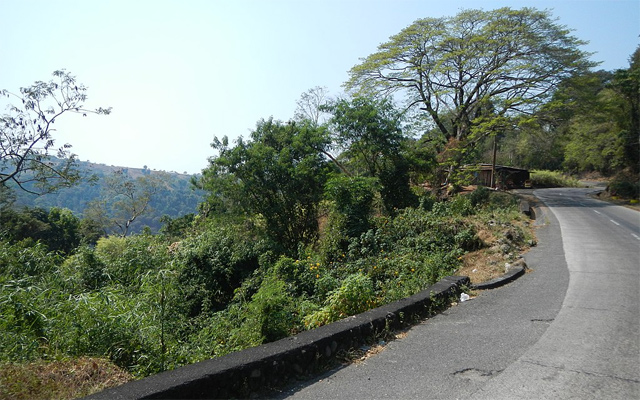 ADVERTISEMENT - CONTINUE READING BELOW
Naguilian Road
Officially called President Elpidio Quirino Highway, Naguilian Road takes after the name of one of the La Union's towns that it traverses. It was the first and only road that connected Baguio City to the lowlands, until Kennon Road was built in 1901. Drive down in a private vehicle with the music up and your windows down, and enjoy the road trip while you try to catch the perfect sunset views at different spots.
How to get there: Follow the road down the direction of Irisan and towards La Trinidad in Benguet.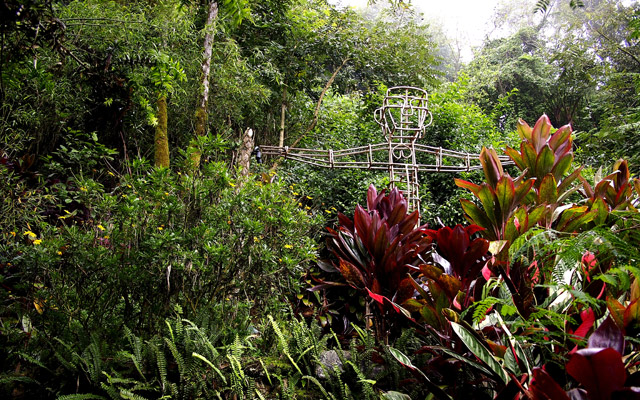 Tam-awan Village
366-C Long-Long Benguet Road, Pinsao Proper, Baguio City, Benguet
If you get to the highest level view deck of Tam-Awan and crane your neck at sunset on a clear day, you will be rewarded with an amazing view. The trail can be tiring, but it's all worth it in the end. Best to get there early, so you can enjoy the artworks and indigenous houses representing the varied peoples that call the Cordillera region home.
ADVERTISEMENT - CONTINUE READING BELOW
How to get there: Jeepney terminals are along Kayang Street. Find the ones headed to Long-Long or Tam-Awan.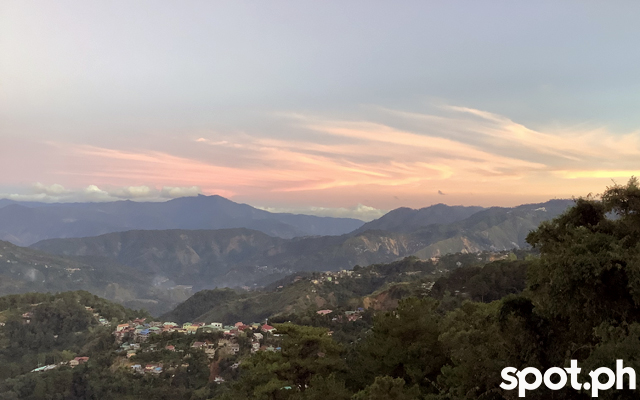 M&N View Deck Café
139 Eastern Link Circumferential Road, Kadaclan Village, Loakan-Apugan, Baguio City, Benguet
The 180-degree view of the mountain range and panoramic views of the sunset are worth the leg exercise as you descend the stairs to the café. Have some brewed coffee and an all-day breakfast as you wait for sundown. Besides, you need to fuel up to make the ascent back to the main road.
How to get there: Find the jeepneys near Harrison Street (between Session Road and Burnham Park) that are headed to Kadaclan-Loakan. Most drivers know this area, just say "View Deck."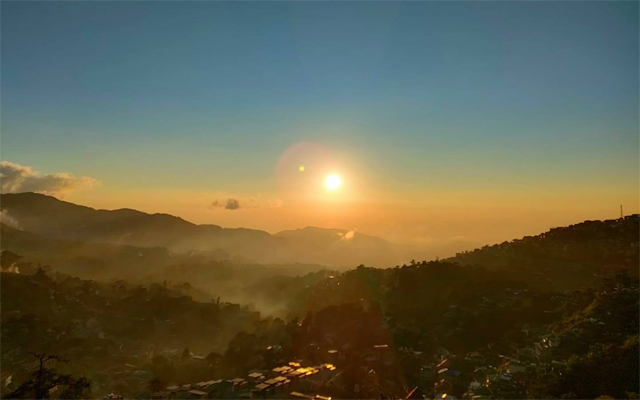 ADVERTISEMENT - CONTINUE READING BELOW
Mirador Jesuit Villa Retreat House and Eco-Park  
The Jesuit villa has witnessed generations of sunsets from its perch atop Mirador Hill. Now, guests can also explore the Eco-Spirituality Park. Arrive with at least an hour and a half to spare before sunset to explore. If you fancy having some lemongrass tea and exceptional turon, grab a seat at the outdoor area of Café Inigo as you wait for the sunlight to change colors and make you feel as if you're floating above a sea of clouds.
How to get there: Take a jeepney from Kayang Street near the Baguio City Public Market to the foot of Mirador Hill. Then, ascend the stairs leading to the Lourdes Grotto—note that you still have to climb beyond that point. Alternatively, you can take a taxi or private vehicle up to the entrance of the Jesuit Villa.
We are now on Quento! Download the app and enjoy more articles and videos from SPOT.ph and other Summit Media websites.
Share this story with your friends!
---
Help us make Spot.ph better!
Take the short survey
Load More Stories