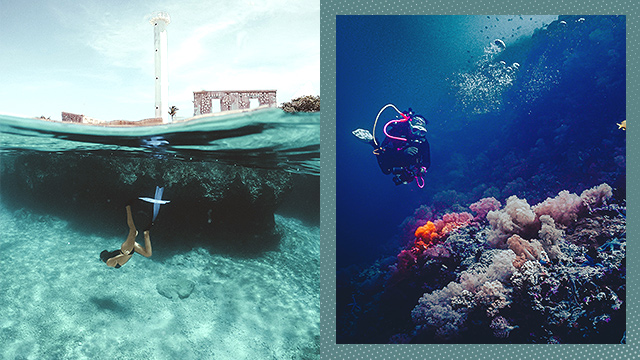 (SPOT.ph) With 7,641 islands, located in what is known as the Coral Triangle—a marine area in the western Pacific Ocean and the center of the world's marine biodiversity—the Philippines is home to over 500 species of corals and 2,000 species of reef fish. These are some of the reasons why the Philippines is among the top destinations when it comes to diving spots. Our spots regularly appear in international diving magazines, some of which are located right in the Visayas region. So if you're looking for the next magnificent experience, dive right into this list of the ten best spots in the Visayas.
ADVERTISEMENT - CONTINUE READING BELOW
Also read:
10 Picture-Perfect Dive Sites in the Philippines
10 Places for Snorkeling in the Philippines
Check out some of the best Philippine dive sites in the Visayas:
Pescador Island (Moalboal, Cebu)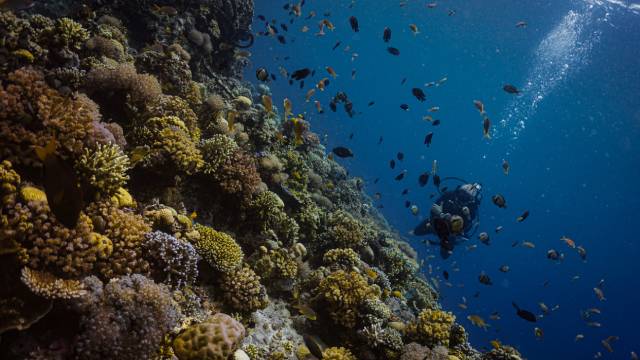 Setting off this list is one of Cebu's most popular destinations: Moalboal. Aside from the popular white beach of Basdako, the area is also known for its diving spots. The best draw of this place is Pescador Island, which is an islet near the town. The island is a protected marine park that is perhaps most famous for its breathtaking sardine run, a not-to-be-missed sight indeed among divers. You'll be surrounded by thousands of schools of sardines at a depth of over six hundred meters. It's also the home of hammerhead sharks. Aside from the rich marine life, divers can also enjoy exploring the underwater caverns and tunnels. It's definitely a gateway to diving.
How to get there: From Cebu City, take a two-hour bus ride to Moalboal. A tour boat can take you to Pescador Island.
Malapascua Island (Daanbantayan, Cebu)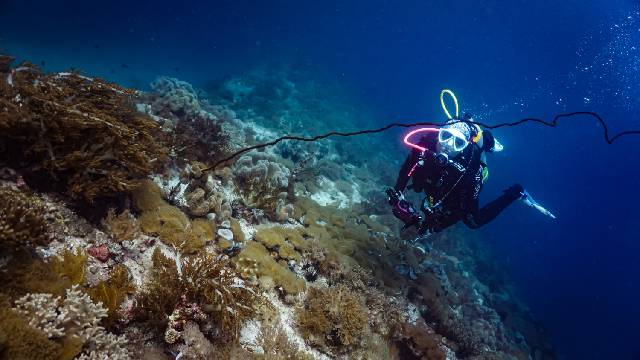 Another place known for its pristine beaches, Malapascua is not far behind when it comes to diving. As a matter of fact, it's thought of to be an excellent spot for beginner divers. There are plenty of diving centers in the area to help you get started. Perhaps the best feature of Malapascua diving is the thresher sharks in Monad Shoal. In case you don't know, Malapascua has the most consistent thresher sharks sightings worldwide; and depending on the time of year, you can also spot reef sharks, manta rays and devil rays, and sea critters like pygmy seahorses and blue-ringed octopus in this shoal. Aside from this, the place has virtually untouched reefs and coral gardens.
ADVERTISEMENT - CONTINUE READING BELOW
How to get there: From Cebu City, take a four-hour bus ride to Maya in Daanbantayan. From there, take a 45-minute boat ride to Malapascua.
Mactan Island (Lapu-Lapu City, Cebu)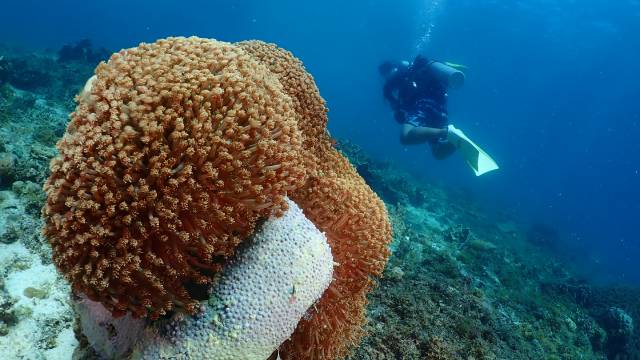 If you're looking for a quick escape from the city to be among the cool waters, then Mactan is definitely worth a try. The island is easily accessible from Cebu City and promises a memorable diving experience. Like Malapascua, Mactan is great for beginners too, and there are also many diving schools to choose from. The diving experience here is unique as you don't have to venture too far. There are plenty of sites to explore—from marine sanctuaries, underwater caves, and wrecks to the diverse marine species of tuna, squirrelfish, barracuda, and more.  
ADVERTISEMENT - CONTINUE READING BELOW
How to get there: From Cebu City, ride a jeepney or van to Mactan Island. The dive sites are on the eastern side, easily reachable from any of the diving centers in the area.
Balicasag Island (Panglao, Bohol)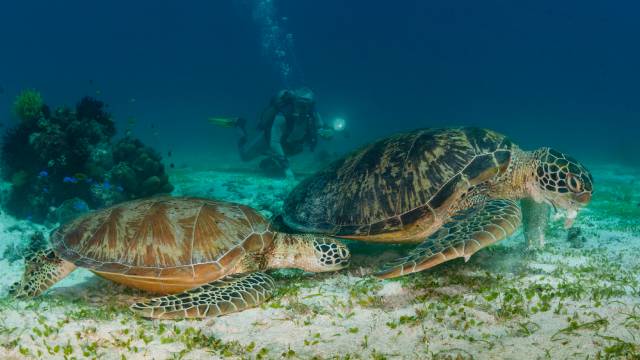 Panglao in Bohol may be synonymous with luxurious beach resorts, but its diving spot is also something to take note of. The island of Balicasag in Panglao boasts a marine sanctuary that stretches for four hundred meters, where the crystal-clear water lets you enjoy swimming amongst the schools of fish and thriving corals. You may even catch sea turtles lounging near the floor of the ocean. If you're visiting in the December to March season, you may get to see whale sharks too.
ADVERTISEMENT - CONTINUE READING BELOW
How to get there: From Cebu City, board a ferry bound for Tagbilaran. From Tagbilaran, ride a van to Alona Beach in Panglao. From Panglao, take a 30- to 45-minute boat ride to Balicasag Island.
Hermit's Cove (Aloguinsan, Cebu)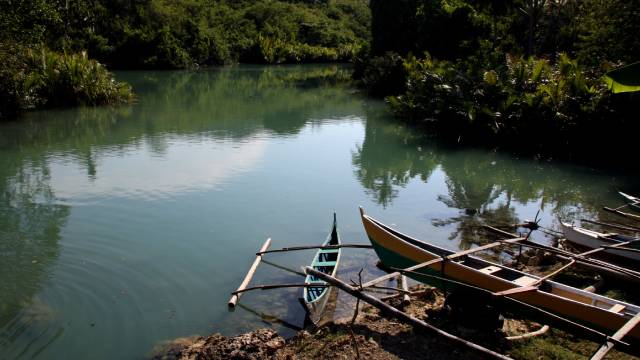 Hermit's Cove in Aloguinsan is a newcomer among the others on this list when it comes to diving. However, it's already fast becoming a favorite amongst visitors. It's a perfect place to dive in if you'd like to experience swimming in untouched underwater paradises. Plus, the cove is a sight to behold, tucked below a cliff that overlooks the waters of Tañon Strait. Once you're done diving, you can lounge on the "hidden" white beach and behold the sunset.
ADVERTISEMENT - CONTINUE READING BELOW
How to get there: From Cebu City, take a two-to-three-hour bus ride to Aloguinsan. From there, take a motorcycle ride to the cover, which should take around 45 minutes or more.
Dauin, Negros Oriental and Apo Island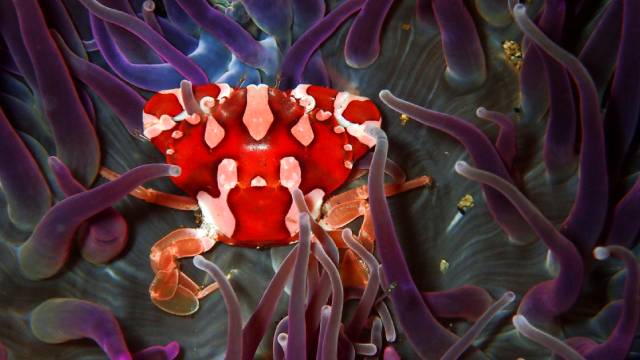 Along Dauin's shores are eighteen dive spots, famous for coral and muck diving, for tiny-alien-like creatures, which are rare to find anywhere in the world and even in the Philippines, but only seen in Dauin.
ADVERTISEMENT - CONTINUE READING BELOW
Dauin is a diving town that extends all the way to Apo Island, and this getaway needs no introduction when it comes to diving. It's already world-famous for its wide variety of underwater marvels, from jungles of lush corals and rich marine life to options for muck diving, which is diving close to the sandy bottom to look for tiny interesting creatures that make their home there. It's said to be a rewarding experience. Plus, it's perfect if you're into underwater photography!
How to get there: From Cebu City, go to Dumaguete by ferry. You can also fly to Dumaguete from Mactan Airport. From Dumaguete, book transportation to Malapatay, the jumping-off point to Apo Island. The island is a one-hour boat ride from the mainland.
Siquijor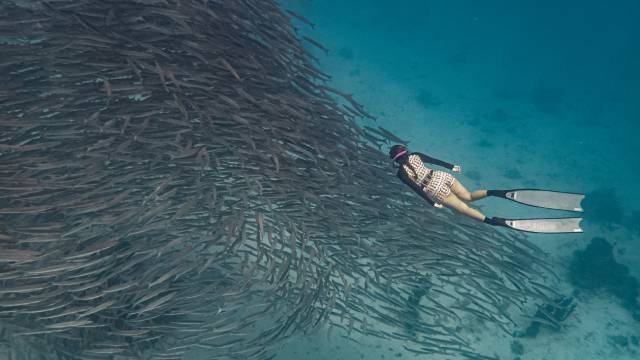 ADVERTISEMENT - CONTINUE READING BELOW
Siquijor is a haven for divers with its offer of twenty-three dive sites. Plenty of spots to choose from! The sites are filled with corals in full bloom in addition to dazzling species of fish. Paliton Wall is a popular site, with its seven to forty-meter drop. It's covered with corals and features a cave and a gorgeous, huge overhang. If you're in for a challenge, try Tonga Point, a reef that starts off with a gentle slope then drops off to sixty-five meters. Fret not, for you'll be rewarded handsomely with different types of coral, barracuda, turtles, and even blue-spotted rays.
How to get there: From Cebu City, take a bus ride to Liloan Port in Santander. From there, book a ferry ride to Siquijor.
Camotes Islands (San Francisco, Cebu)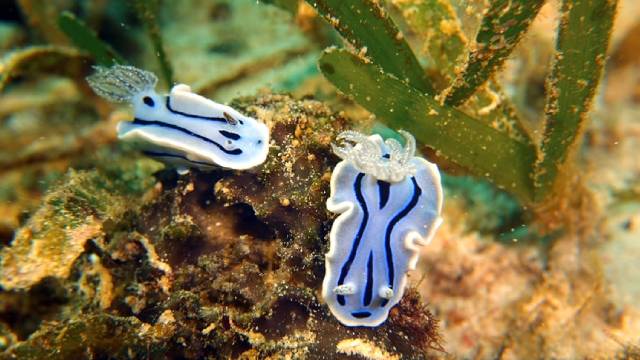 ADVERTISEMENT - CONTINUE READING BELOW
The Camotes Islands are considered to be "virgin" when it comes to diving. This is because the diving spots are not as easily accessible as the others on this list, which have many diving centers. However, it's definitely a must-try. Scattered around the coast of the Camotes Islands are over twenty dive sites. Sites like the Talisay Point and Hanazono Wall in Santiago Bay and Cloud 8 and Parola Point in Tulang Island are abundant with gorgonians and colored sponges, not to mention the different species of fish swimming amongst the diverse corals. It's highly recommended to bring along an underwater camera, as the colorful sights on the ocean floor are worth recording forever. Sea creatures often sighted are a blue-ringed octopus, giant frogfish, ghost pipefish, nudibranch, giant clam, urchin shrimp, crinoid shrimp, lionfish, Orangutan Crab, clingfish, boxer shrimp, bubble coral shrimp, clownfish, porcelain crab, and whip coral shrimp.
ADVERTISEMENT - CONTINUE READING BELOW
How to get there: From Cebu City, travel to the port of Danao by bus. From there, ride a ferry to the port of Consuelo in Camotes.
Capitancillo Island (Bogo City, Cebu)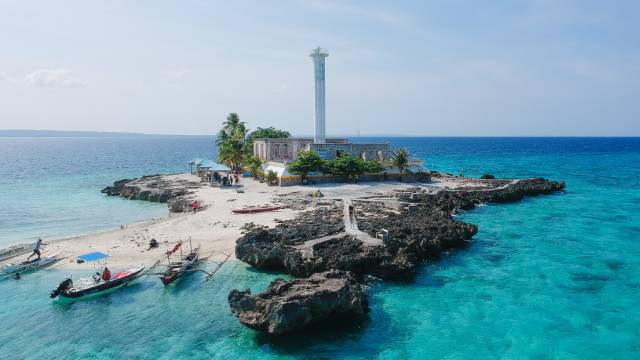 Capitancillo is an islet located off Bogo City in the northern part of Cebu. Its diving site has a depth of 50 feet, packed with tons of scenery to feast your eyes on. There are various reef fishes, vibrant corals, and large shoals. There are also sharks of the grey reef and white tip variety. It's considered an underwater safari that can boast big species of fish, such as yellowfin tuna, mackerels, and schools of jackfish. Don't miss the Rendez-Vous, a stunning wall that stretches down to 180 feet, with plenty of flourishing ocean flora and fauna.
ADVERTISEMENT - CONTINUE READING BELOW
How to get there: From Cebu City, take a two-to-three-hour bus ride to Bogo. From there, book a twenty-minute boat ride to Marangog Cove.
Olango Island Group (Cordova, Cebu)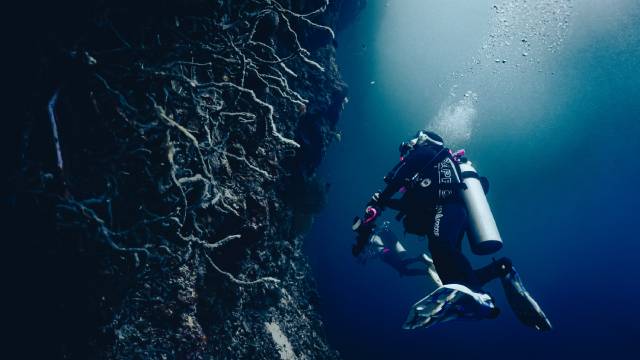 Besides being a birdwatcher's favorite, the Olango group of islands is also a set of apples to a diver's eye. One thing to note, though: these six islands may appeal to more experienced divers since the currents are quite stronger. So if you're done earning your beginner's badge, try heading to the Olango Islands to level up your diving experiences and skills.
ADVERTISEMENT - CONTINUE READING BELOW
Here you can fill your diving itinerary with several marine sanctuaries and dive sites, like the famous Mabini Point, Talima and Nalusuan Sanctuaries, and Santa Rosa. But perhaps the most notable among experienced divers is the Kansantik, an underwater mountain at the center of the Olango Channel. This site is an open-water dive, with a maximum depth of 165 feet and visibility at 130 feet. It packs sweeping currents, so better tackle this spot as a group. In this diverse underwater kingdom, you can see a variety of corals and sponges and other sea creatures like snappers and Moorish fish roaming around the submerged mountain. Some divers agree that it's a diving expedition of a lifetime.
How to get there: From Cebu City, ride to Hilton Port in Mactan, and there take a one-hour boat ride to Olango Island.
Share this story with your friends!
---
Help us make Spot.ph better!
Take the short survey
More Videos You Can Watch
Load More Stories