(SPOT.ph) Though a lesser-known travel destination compared to the neighboring Boracay Island, Roxas City has a laid-back vibe, rich history, and bounty of seafood that make Capiz' capital worth a slot in your local bucket list.
 "You should visit the city for pure relaxation and enjoyment of the culinary seafood experience," local tour guide Jose Maria Jon Arcenas said. "It's a relaxed city where you can easily go around on a tricycle. Go where the locals go, and eat where the locals eat—from street food to popular restaurants."
Also read:
10 Places to Visit in Aklan Aside From Boracay
10 Exciting Things to Do in Iloilo
And with the help of his expertise, we round up the things you can do not only at the many Roxas City tourist spots but also all over Capiz:
Feast on unlimited fresh oysters and crabs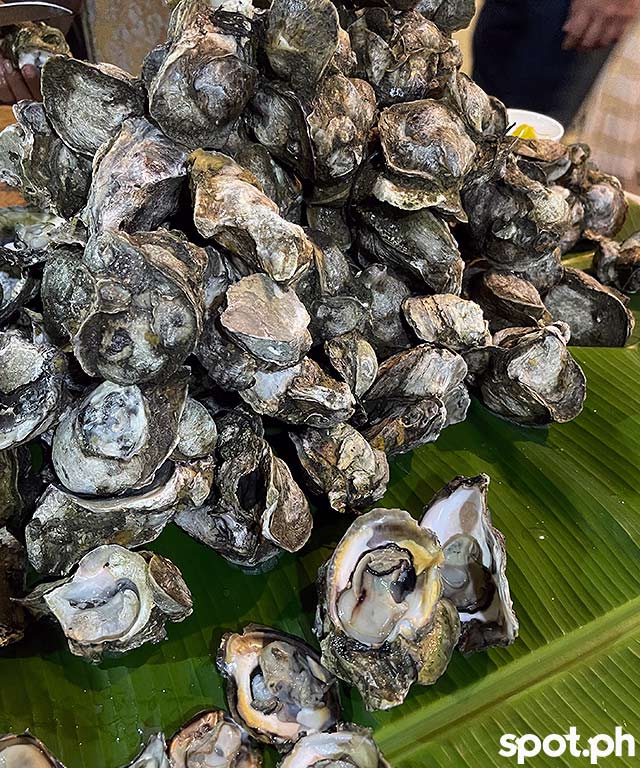 ADVERTISEMENT - CONTINUE READING BELOW
True to its reputation as the seafood mecca of the country, you can't pass on the fresh bounties of the sea that Roxas City has to offer. Even the humblest of eateries could serve up a mean sinigang na isda or inihaw na pusit. 
Balay ni Nanay Lording is an excellent place to feast on seafood. You can get the seafood buffet for only P378/head, or add just a few hundred pesos for unli-oyster and crabs.
After eating, check out the house-turned-restaurant's living area, where the owner, Vicky Baes, has an interesting collection of knick-knacks from different time periods in Philippine history. This vibe complements its location along Calle Revolucion, the second oldest street in the Philippines after Cebu City's Colon Street. 
Balay ni Lording is along Calle Revolucion, Barangay Poblacion Ilawod, Panay, Capiz.
Go on a heritage walking tour
Though a small city, Roxas is packed with so much history. A great way to get a glimpse of this is by going on a heritage walking tour with the Roxas Plaza area as your starting point.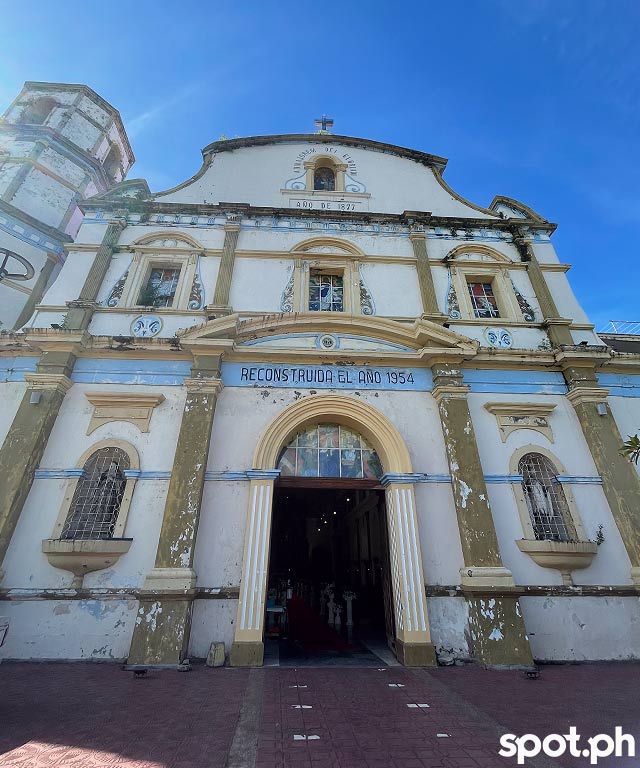 ADVERTISEMENT - CONTINUE READING BELOW
From there, you're only a short walk away from the most important historic spots of the city like the Ang Panublion Museum, President Manuel A. Roxas' monument and birthplace, the Immaculate Conception Metropolitan Church (or Roxas Cathedral), Capiz Bridge, Panay River, Jose Rizal Monument, and the charming Capiz Provincial Capitol.
Arcenas recommended going at night when the government buildings, the bridge, and other important structures are all lit up.
Wait for Roxas City's famous sunset by the beach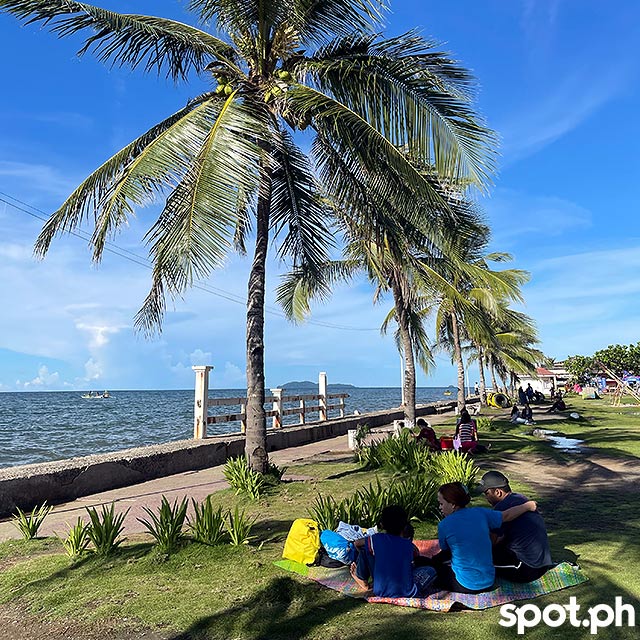 ADVERTISEMENT - CONTINUE READING BELOW
Though not known as a beach destination, Roxas City's less crowded Baybay Beach is ideal for swimming, boating, kayaking, and skimboarding. The black-sand beach is only three kilometers from the city proper and is a stone's throw away from restaurants and bars. If you're lucky, you'll see the fine sand dotted with seasonal torotot shells during low tide.
"Stay at the beach in the afternoon or in any of the nearby restaurants in what I would call our Sunset Strip where you can wait for the sunset," Arcenas advised.
Check out Roxas City's tallest statue of Jesus Christ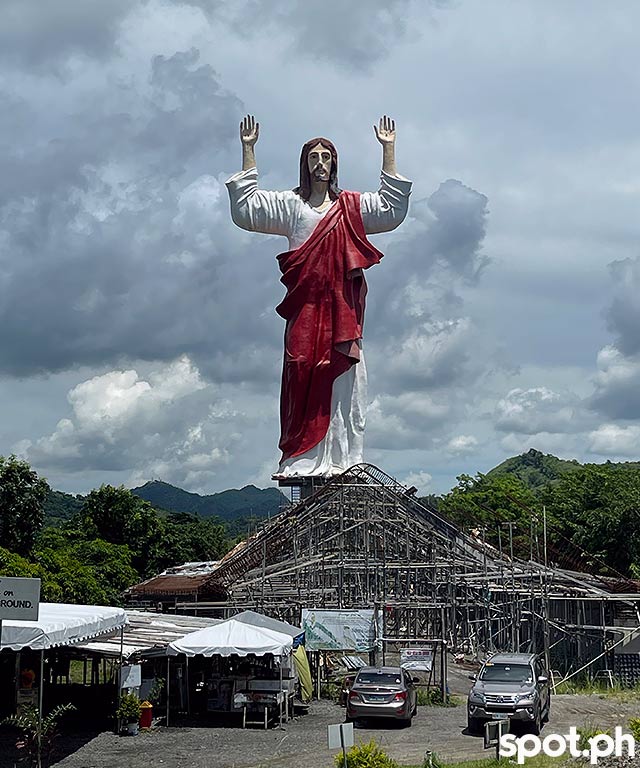 ADVERTISEMENT - CONTINUE READING BELOW
Unknown to many, Roxas City has the tallest statue of Jesus Christ in the Philippines. Standing at a towering 31 meters or 102 feet (a total of 132 feet with the 30-foot pedestal), this giant monument on Lawaan Hill has become a popular pilgrimage site for Catholics since it was erected in 2015.
Even if you don't share the faith, a hike up the hill affords you a stunning 360° view of the surrounding hills and mountains and the sea a bit further beyond.
Hear the bell toll from one of the country's oldest churches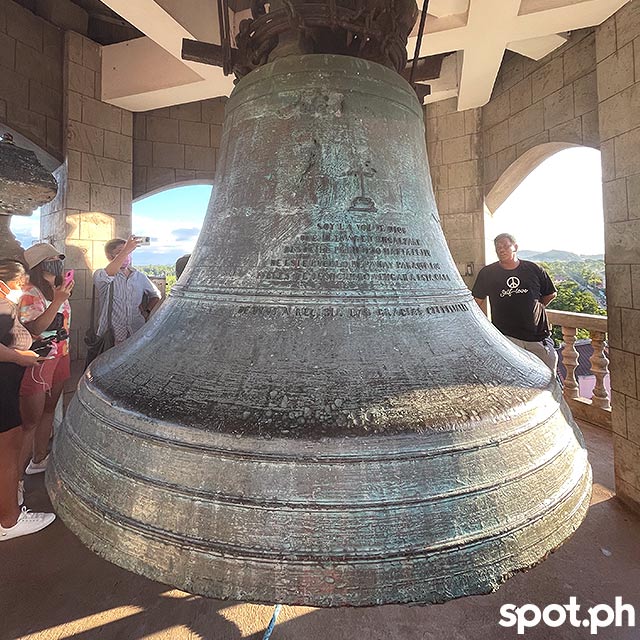 ADVERTISEMENT - CONTINUE READING BELOW
Less than an hour away from Roxas City is the municipality of Pan-ay, which is home to Santa Monica Church. It is one of the Philippines' oldest Catholic churches and is declared a landmark by the National Historical Institute of the Philippines. 
Go up the five-storey belfry to see its most prized treasure—a massive bell said to be the largest in Southeast Asia and the third biggest in the world. Surrounding it are eight other smaller bells. 
Seven feet tall, five feet wide, and weighing 11.4 tons, the bell is made of 70 sacks of bronze coins tinged with silver. The coins were donated by the faithful townsfolk who could hear the massive bell tolling as far as eight kilometers away. 
Entrance to the church and belfry is free, but donations are welcome. 
Santo Monica Church is along Roxas City-Panay Road, Panay, Capiz.
Witness a crab trade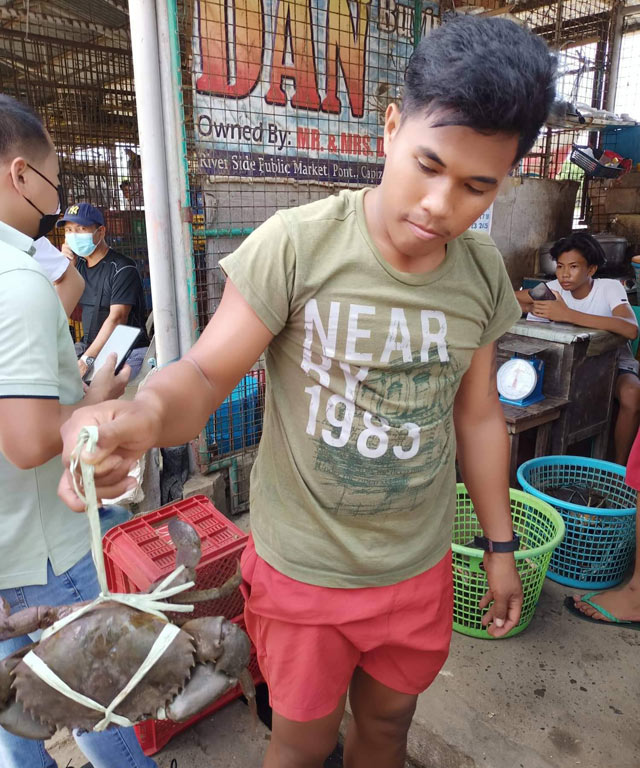 ADVERTISEMENT - CONTINUE READING BELOW
Visit the riverside town of Pontevedra, the mud crab capital of Capiz, and witness the lively crab trade in the morning. If you're familiar with the bulungan in Parañaque City, then this sight may add an interesting experience to your early morning in Roxas City. 
"About five or 10 tons of crabs are traded there for export and the local market," said Arcenas. The morning's catch is also supplied to nearby tourist destinations such as Iloilo City and Boracay.
Have a laid-back afternoon through a river cruise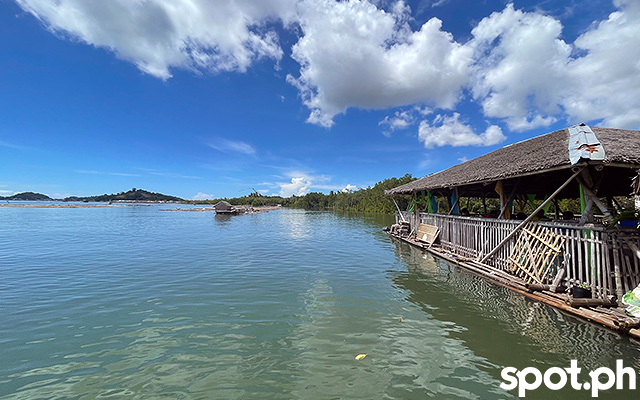 ADVERTISEMENT - CONTINUE READING BELOW
Roxas City is known for its scenic and relaxing river cruises. One of the best is the one offered by Palina Greenbelt Ecopark, an ASEAN awardee for Sustainable Rural Cooperative. 
Hop on one of the bamboo raft huts where you'll enjoy a seafood spread of sinigang na bangus, oysters, and skewered chorizo among other dishes. If you're fortunate enough, you can have a taste of diwal or angelwing clams, a seasonal delicacy that's unique to Capiz. 
Palina Greenbelt Ecopark is in Sitio Cablatan, Barangay Cagay, Roxas City, Capiz.. It is open daily from 8 a.m. to 5 p.m. Fees are P10/head (entrance), P1,500 (stationary floating cottage for four hours), P1,500 (river tour/hour for 15 pax), and P2,000 (one-hour river tour with a stationary floating cottage for two hours). 
Spend the day at an eco-cultural park 
You can spend a whole day frolicking amid nature and discovering more about the indigenous people of the province and beyond in Capiz Ecology Park and Cultural Village, which is located about an hour away from Roxas City in the town of Cuartero. The 14.6-hectare property houses a collection of tribal houses from Bontoc in the Cordilleras to the ones in Bukidnon. 
ADVERTISEMENT - CONTINUE READING BELOW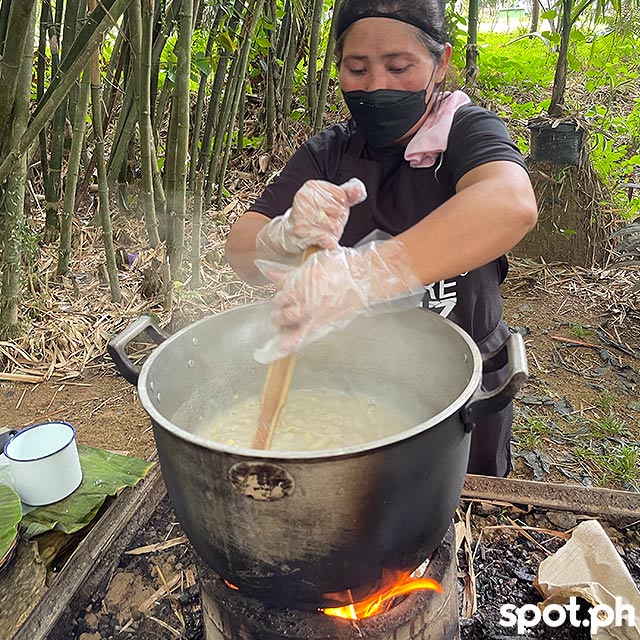 The local indigenous cultural communities called the Ati and the Panay-Bukidnon conduct demonstrations on weaving and rice pounding. By arrangement through the park's official Facebook page, you can meet with a cultural master or have members of the local communities perform their cultural dances and chanting. They also showcase native dishes such as wik-wik or the Capiznon version of ginataan sa bilo-bilo and nilupak through cooking demonstrations. 
ADVERTISEMENT - CONTINUE READING BELOW
For those seeking a dose of adrenaline, they have areas for trekking and wall climbing. Those looking for a more relaxing activity can experience the traditional hilot at the park's wellness hut. 
Capiz Ecology Park and Cultural Village is in Cuartero, Capiz. Entrance to the park is free. 
Extend your food trip
More than just its seafood, Roxas City also has a burgeoning food scene that will delight even the most discerning of taste buds. 
Must try is Mang Inaso, a popular carinderia which uses ingredients fresh from the market where it's located. Bestsellers are its soup-based or sinabawan dishes and grilled fares like inihaw na isda and liempo. Sometimes they also offer ginataang pagi (stingray in coconut milk) and sinabawang pating or shark. 
"You should also catch the sunset at either Tabai Coffee or Wayfarer Restaurant. The best pizza is at Yellow Box Pizza, which is comparable to those in Manila," Arcenas recommended. 
ADVERTISEMENT - CONTINUE READING BELOW
He also said that Teodoro Arcenas Trade Center, a seafood market, is worth a visit. "Around it one can try local kakanin and delicacies like bayi bayi, suman sa latik, butong butong, tira tira, puto, our version of bibingka, cassava cake, and many more."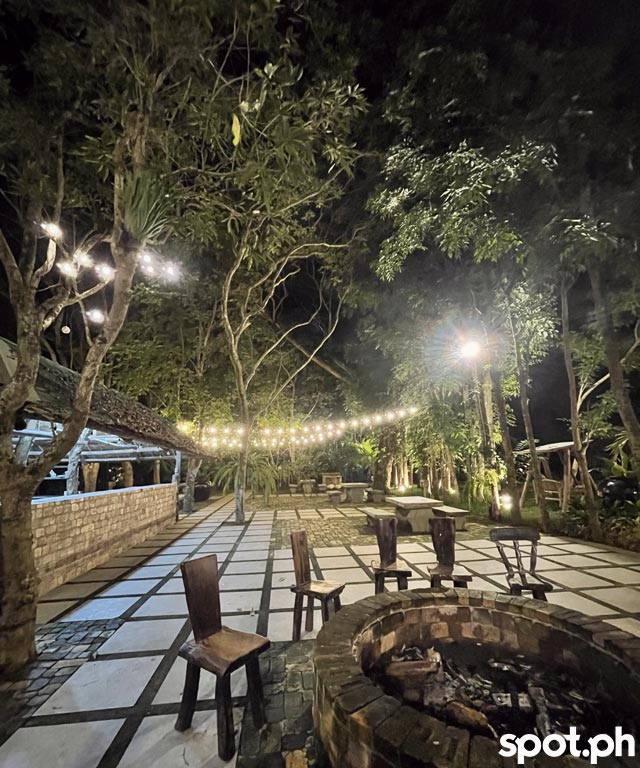 ADVERTISEMENT - CONTINUE READING BELOW
A little further afield in Pan-ay is Istorya Forest Garden, an intimate resto-bar that's not only a feast for the palate but also for the eyes. It has a diverse menu which includes local and international favorites as well as some fusion dishes. Its bar also has an impressive lineup of alcoholic drinks. The eight-hectare property doubles as a resort which has 23 rooms and four villas. 
Spend a day in paradise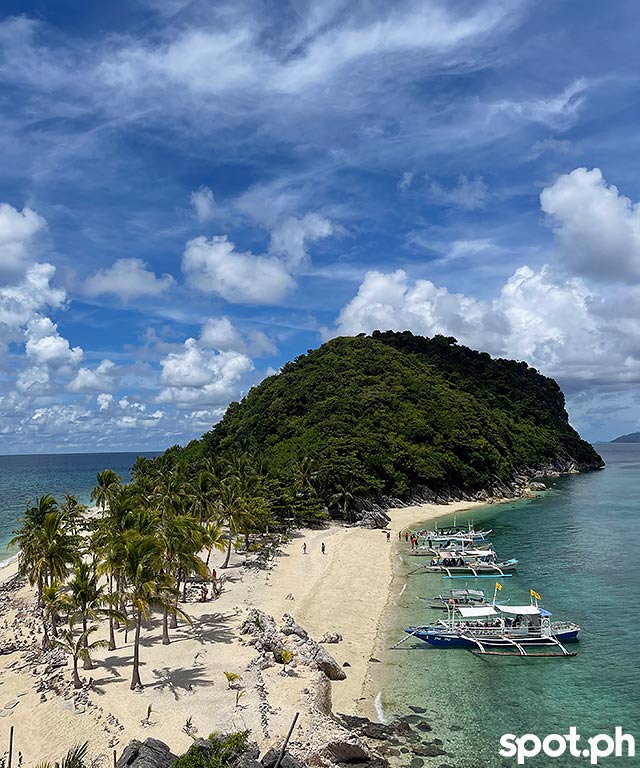 ADVERTISEMENT - CONTINUE READING BELOW
Roxas City is the most convenient gateway to Iloilo's Islas de Gigantes. Travel time to Gigantes Islands is from three to from hours from Iloilo City, while it only takes about two hours from Roxas City. 
Islas de Gigantes is a group of about 10 islands off the coast of the Ilonggo towns of Carles and Estancia. Each island has its own distinct characteristic, some come with a stunning white-sand beach while one has an enchanting saltwater lagoon surrounded by soaring limestone cliffs. Must-see places, which can be covered in a day, are Cabugao Gamay Island, Tangke and its lagoon, Antonia Beach, Bantigue Island, and Pawikan Cave. 
How to Get There
 AirAsia launched their inaugural flight from Ninoy Aquino International Airport-Terminal 4 to Roxas Airport on June 16. Flights are three times a week (Tuesday, Thursday, and Saturday). Travel time is from 45 minutes to an hour.
Share this story with your friends!
---
Help us make Spot.ph better!
Take the short survey
More Videos You Can Watch
Load More Stories