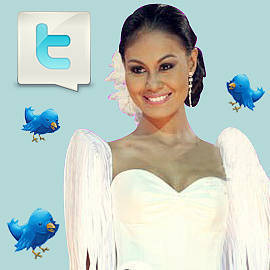 Ms. Universe 2010 4th runner-up, Venus Raj
Pepe Diokno tweets Maria Ressa regarding media covergae of the Manila bus hostage taking incident:
Pepe Diokno, writer and filmmaker:
- To Maria Ressa: A journalist must knw whn to police himself. Yes PNP must take control of the sitation, but tht is independnt of ur coverage
-. @maria_ressa For the good of the country, please read this. Poynter: Guidelines for Covering Hostage-Taking Crises http://bit.ly/bdyx8Y
- . @maria_ressa I still disagree. Coverage is one thing; showing it live when you know the hostage-taker is watching is another.
- . @maria_ressa I also think the public's right to know takes a back-seat to the lives & well-being of human beings within a crisis situation
Maria Ressa, journalist:
- Poynter Inst guidelines work in a western setting where law enforcement officials set clear rules before sitn reaches crisis point.
- In phil, where some officials even turn to journalists to negotiate, the rules are very different. Hostage sitns vary with culture & context
ADVERTISEMENT - CONTINUE READING BELOW
Jackie Chan, international movie star:
- I come back to hk & I hear terrible news about what happened in filippines. A lot of things dont happen to your own country you don't pay attention
- this kind of things always happen around the world. It happened to hk's people, the whole hk is talking about it. Its really sad.
- If they killed the guy sooner, they will say why not negotiate first? If they negotiate first, they ask why not kill the guy sooner? So sad
- HK is a nation built by a lot of different people..don't worry! We do not hate!
- I remember the day before in korea we talked about how people should love each other. We already have so many natural disasters..typhoon, tsunami, everything. Humans should be united and not kill or hate each other
Atom Araullo, TV reporter:
- Various reactions about media coverage of hostage taking. We offer no excuses. Hopefully we all have lessons to learn after this tragedy
Kara David, TV journalist:
- Learn from lessons. Be humble enough to admit mistakes. Pray and be thankful. Hope, inspite of everything
- Everyone will have an opinion. What went wrong. Who's to blame. But no one will take the blame. Our egos always ruin ourselves
Bianca Gonzales, TV host:
- this isn't the first time we've faced a hostage-taking-in-a-bus right? shouldn't we have learned what to do already?
- GOD BLESS THE PHILIPPINES. we are a great people, we should know better and stick to doing things to make our country proud.
- <3 RT @erickcsalud Wag na maging fault finder. Venus has made us proud of what she has achieved despite the unfortunate events in our country
ADVERTISEMENT - CONTINUE READING BELOW
Recommended Videos
Kris Aquino, actress and TV host:
- I was on treadmill- literally napatalon when Venus Raj was last name called for TOP 15. Our country needed some good news. Thank u God!
-Came from Mass in Edsa Shrine. Will go visit remaining confined in Manila Doctors after Win na Win. I told my sisters that will do this to express our compassion & concern. Will be joined by PCSO chairman Juico.
- Going to Ospital ng Maynila to visit the Pinoy bystander, then PGH then Manila Doctors. Praying that the Hong Kong Chinese don't hate the Philippines.
Carlos Celdran, performance artist and Manila tour guide:
- says OK. Even if she does not win. At least she is top five. I am OK with that. Time to get to work.
- is wondering why Luneta flag is NOT half mast. Mayor Lim! Wake up! The hell!?
- is moving back to more serious matters. Seriously, guys. Beauty pageants are sexist. We have bigger prizes to win and problems to solve.
- is calling for Mayor Lim's resignation. You have obviously become useless. Please give up the pride and retire.
Ruffa Gutierrez, TV host and Ms. World 1993 Second Princess:
- What would I answer if I was Venus? With my past mistakes i have sooo many 2 choose from. Mag-iisip muna ako in a MAJOR MAJOR way! LOL! :)
- Gosh naluma ang GRABE, OVER, CHORVA, BONGGA! The "IN" word for today is "MAJOR, MAJOR"! Thanks 2 Venus Raj who captured our hearts! GO GIRL!
- After @miriamq its only Venus who made it to the top 5-after a decade! Come home w/your head held high. Congrats! That was no easy feat! :)
ADVERTISEMENT - CONTINUE READING BELOW
Miriam Quiambao, TV host and Ms. Universe 1999 1st Runner-Up:
- Hope we can all help find ways to turn this around. God help us.
- @itsmeHosni I think it will even put more attention to her. I trust that God is in control and that he will grant her wisdom.
- Congrats Venus! We're still proud of u!
Charlene Gonzalez-Muhlach, TV host and Binibining Pilipinas Universe 1994:
- busy the wholeday.Only 2see on tv now a tragic incident.so sad tht lives were taken.will pray 4 the souls of the deceased&peace inourcountry
- For me!!! Venus is still a winner.. She made us proud, the fact she made it tht far!!! Wow!! Were proud of u!!!! Good job Venus!
Tim Yap, TV host, tweets his would-be answer:
- My answer: "I was born proud to be Filipino, and it just so happened my papers didn't say so, but I believe that papers don't prove your pride of place. And I am happy to represent my country, the beautiful archipelago of the Philippines. I now have the passport, and my beautiful people to prove it.
- Or this-- "I fought hard to win my crown back. There was a mistake in my papers, but I corrected it--I am who I am, proud to be Filipino."
- Miss Phils Venus Raj's journey from the rice fields of Camarines Sur to Mandalay Bay in Las Vegas is a feat in itself. She made us proud!:-)
- Now that the pageant is over...WHO IS THAT HOST AND WHY IS HE WEARING A BANDANNA?!!!
- Even if we are fluent in English, I suggest that Filipinos answer in Filipino. Where we can express ourselves better is how we should answer
ADVERTISEMENT - CONTINUE READING BELOW
Divine Lee, real estate heiress and model:
- Ok, baka wala naman talagang major major na problem. Minor minor lang. Come on Venus! We can do this!!!
- Venus! Thank you for lifting the Filipino spirits in a major,major way :) we are so proud of u!
Artwork by Warren Espejo. Photo by Noel Orsal of PEP.ph.
Share this story with your friends!
---
Help us make Spot.ph better!
Take the short survey
Load More Stories