(SPOT.ph) For the first time since its inception in 2013, Art Fair Philippines 2022 is having a hybrid set-up. While there are virtual shows available through their website, special exhibitions—including the /Projects and /Photo installations—are having a physical show at the Ayala Triangle Gardens in Makati City. This outdoor venue in the middle of the bustling Makati Central Business District is transformed into an arts hub from 10 a.m. to 8 p.m., from March 23 to April 1.
Also read:
Everything You Need to Know About Art Fair Philippines 2022
10 Artists to Watch at Art Fair Philippines 2022
Here's that to expect at the IRL version of Art Fair Philippines 2022:
First thing to do is make a mental note that this isn't your usual Art Fair Philippines. There's no influx of a crowd in an enclosed space, no going up and down four flights of stairs, and no overwhelming number of works of art that you have to soak in in just a day. This year's edition of ArtFairPH is more laid-back, pandemic-safe, and summer-friendly—especially with the open space and patches of green around to boot.
ADVERTISEMENT - CONTINUE READING BELOW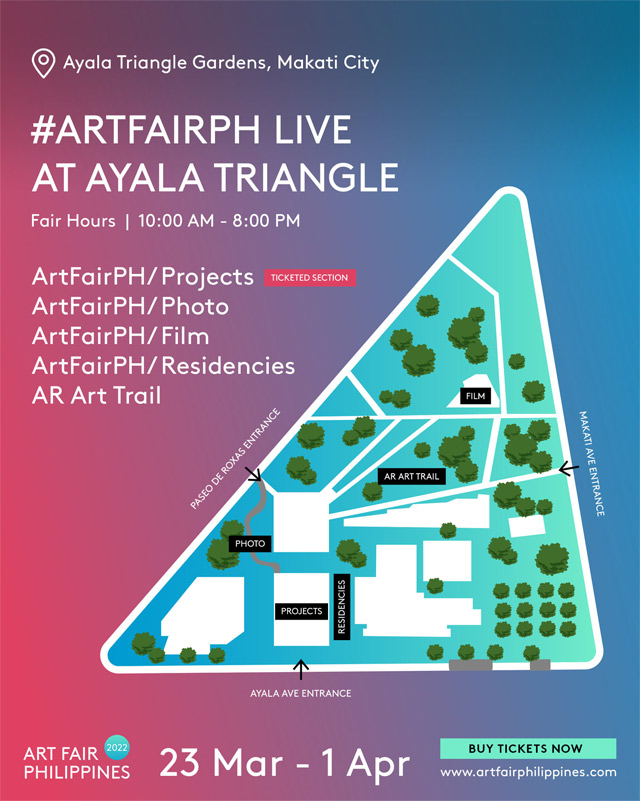 The next thing to take note of is where you can enter. While memories of packed elevators and long queues of pre-pandemic Art Fair Philippines are still fresh in our minds, there's none of that at Ayala Triangle Gardens. There are three gates: one along Ayala Avenue and beside Ayala Tower One, one alone Paseo de Roxas and near the bike racks, and another one along Makati Avenue amid towering trees.
ADVERTISEMENT - CONTINUE READING BELOW
ArtFairPH/Projects
If you enter along Ayala Avenue (which is Ayala Triangle Garden's Main Gate if you pin it on Waze or Grab), the first thing to see is ArtFairPH/Projects at the Ayala Tower One area. This ticketed section (P150/head) is designed by Ed Lacson Jr. and curated by Norman Crisologo.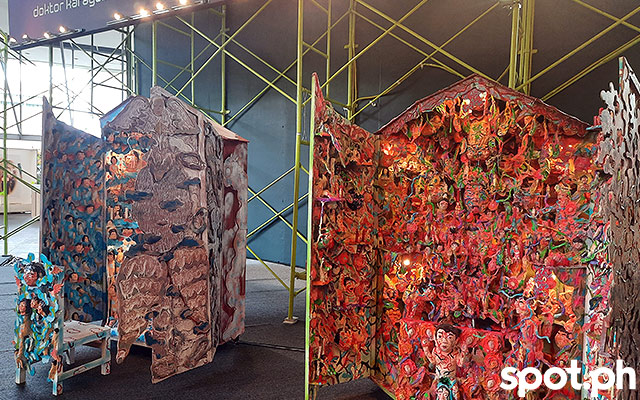 ADVERTISEMENT - CONTINUE READING BELOW
Doktor Karayom's Sariling Sulok gives visitors an eerie welcome. A handful of life-sized installations face each other in a roundabout set-up. Each piece reminds you of a retablo, an elaborate wooden structure that's often seen in traditional Catholic churches. But instead of oil paintings of Jesus Christ or the Blessed Virgin Mary, Doktor Karayom's retablo-like pieces show disturbing renditions of angels, humans (including babies), and other religious figures. They can also be compared to confession boxes in a church, especially with the presence of chairs in each structure—thus the title.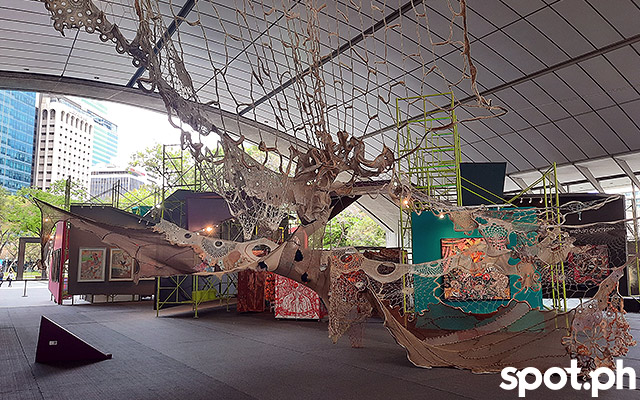 ADVERTISEMENT - CONTINUE READING BELOW
Aze Ong's massive crochet piece hangs at the center of ArtFairPH/Projects. Titled Transcendence, it's made from silk-blend yarn in monochromatic tones of pearl, alabaster, bone, and ash. Every few inches, color-bordered holes—such as lavender (the artist's favorite), red, and orange—appear along with the outstretched piece, forcing viewers to pause and wonder.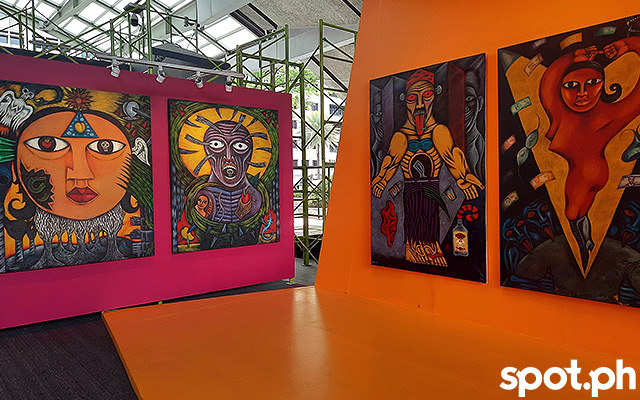 ADVERTISEMENT - CONTINUE READING BELOW
Then there's Nune Alvarado's Once Upon A Time in Negros, which is a quick survey of works by the social realist painter from Sagay City, Negros Occidental. He has eight paintings up for display for ArtFairPH.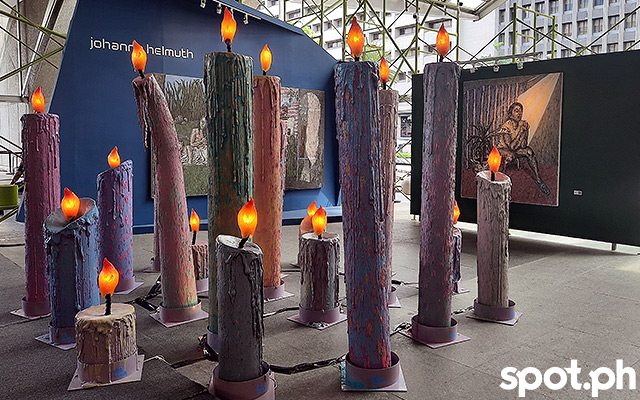 ADVERTISEMENT - CONTINUE READING BELOW
On opposite corners of ArtFairPH/Projects are Johanna Helmuth's Nakasalalay sa Lakas ng Dasal, which features large-scale sculpted resins and three massive paintings on canvas; and Wyndelle Remonde's Aftermath, which are fantastic reimaginations of the future.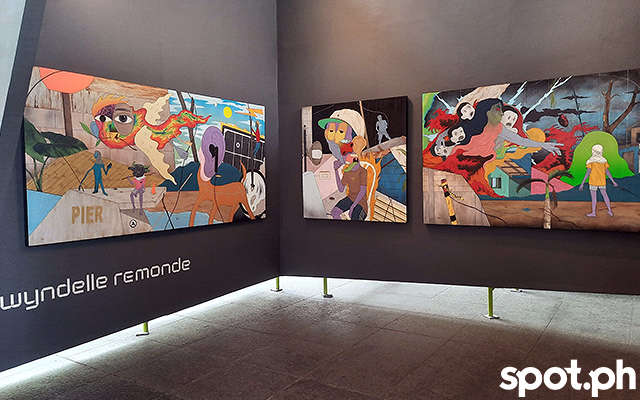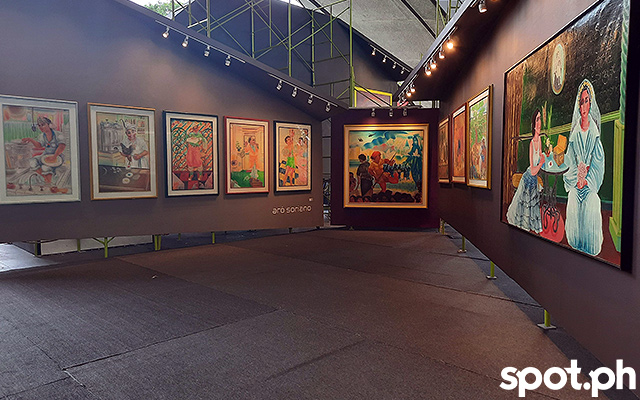 ADVERTISEMENT - CONTINUE READING BELOW
Significant space is dedicated to a mini-retrospective called The Elephant in the Room: The Irrepressible Wit and Art of Arô Soriano. Lazaro Salamat Soriano (1943 to 2020) was a painter, sculptor, and art restorer. Recognized as one of the CCP Thirteen Artists Awardees in 1992, he was known for his works that celebrated Filipino folk traditions, including community songs, proverbs, folklore, street games, and rituals.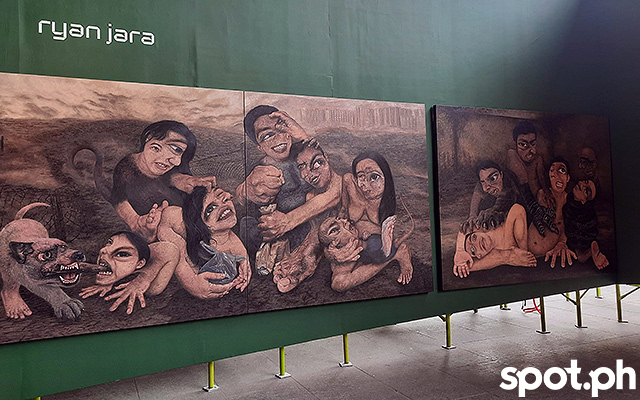 ADVERTISEMENT - CONTINUE READING BELOW
Ryan Jara has three massive pieces for Mga Kwento, Panaginip, at Panalangin, which shows his signature style of realism mixed with cubism. The sepia-toned canvases all show human portraits with exaggerated facial features, toying with the idea of human relationships.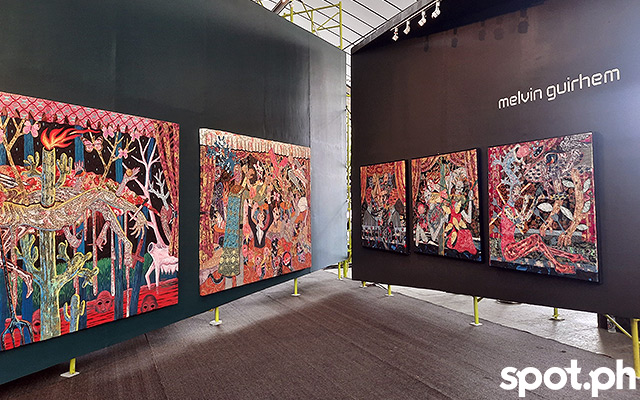 ADVERTISEMENT - CONTINUE READING BELOW
Melvin Gurheim is the Karen H. Montinola Selection's featured artist for 2022. His works are collectively called Entablado, which seems to be a play on human's penchant for performativity—and how it's doing more harm than good.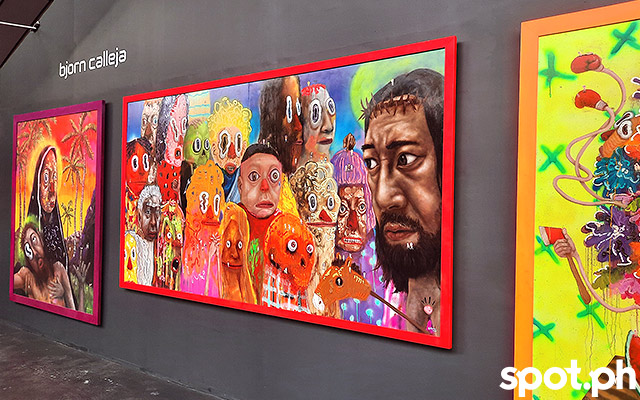 ADVERTISEMENT - CONTINUE READING BELOW
Bjorn Calleja brings his signature kitsch in four pieces for ArtFairPH. His works are mounted on an elevated part of ArtFairPH/Projects, just above and beside Tyang Karyel's neon-colored installation called Playtime Paradiso.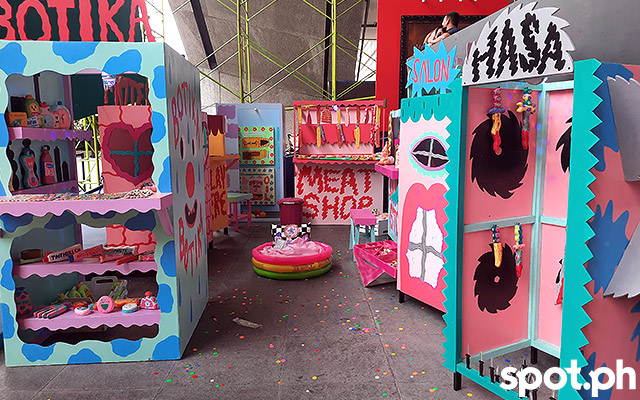 ArtFairPH/Residencies
Alongside the ticketed section are works from the ArtFairPH/Residencies, which was launched in 2021 when the fair called on artists to apply for a residency program project.
ADVERTISEMENT - CONTINUE READING BELOW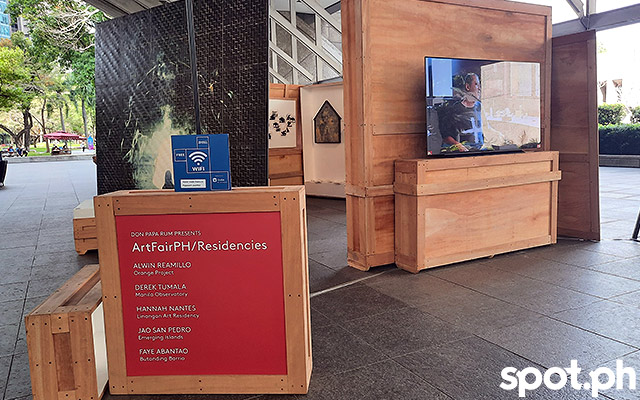 Five artists were selected and paired with different art spaces in the country: Derek Tumala at the Manila Observatory in Quezon City, Hannah Nantes for the Linangan Art Residency in Cavite, Jao San Pedro for Emerging Islands in La Union, Alwin Reamillo at The Orange Project in Bacolod, and Faye Abantao at Butanding Barrio in Puerto Princesa. 
ADVERTISEMENT - CONTINUE READING BELOW