Jellyfish Kisses on Creating a Safe Space Through Art
His work for Art Fair Philippines 2020 is a curious take on fashion.
(SPOT.ph) As with all its editions, Art Fair Philippines' roster of featured artists often gives us a glimpse of the past, present, and future of the local art scene. It's something that's evident in this year's selection, which includes established and familiar names like Jaime de Guzman and Onib Olmedo, younger personalities like Gene Paul Martin, and artists from outside Manila, like Perry Argel and Neil Pasilan. Then there's Jellyfish Kisses, a name that would inevitably your attention. "It's a persona," the artist tells SPOT.ph in an interview.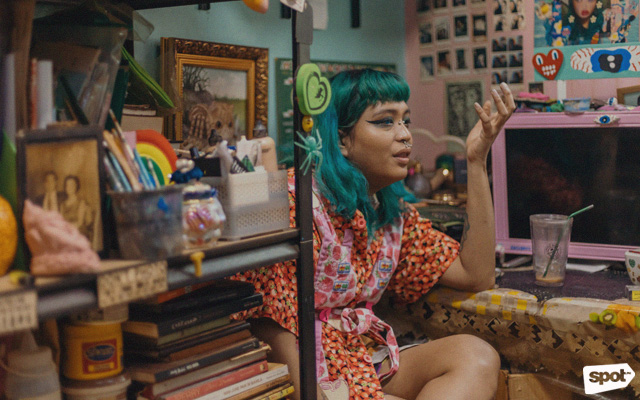 The Creation of a '50s Housewife
Jellyfish Kisses, who still uses his real name Anton Belardo and responds to either "he" or the singular "they," is a character that the artist uses and projects himself into to overcome social situations. "Nag-start siya as a persona pero ngayon parang isa na lang [ako at] siya. May issues pa rin ako sa pagiging awkward ko socially pero ngayon kasi nahanap ko na 'yong gusto ko talagang i-express sa sarili ko through Jellyfish Kisses," Belardo explains. This persona isn't afraid to go out of the house wearing a neon green wig, blue face paint, a nose ring, a DIY skirt with mismatching quilt patterns layered over a pair of pants, and high-heeled shoes. "Gusto ko i-try i-present ang sarili ko sa perception ko of myself on the inside."
ADVERTISEMENT - CONTINUE READING BELOW
But Jellyfish Kisses wasn't Belardo's first persona. "Matagal ko na siyang ginagawa, lagi nga akong nagpapalit ng name before. Pero ito 'yong nag-stick talaga. I think ito 'yong pinaka-authentic version ng sarili ko. Mas feminine na, talagang pinush ko na 'yong queerness ko."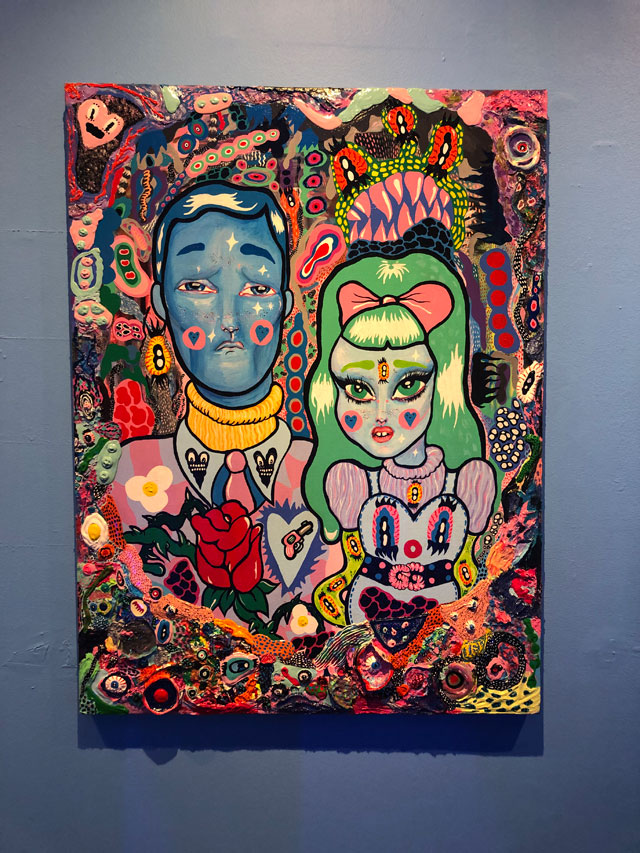 CONTINUE READING BELOW
Recommended Videos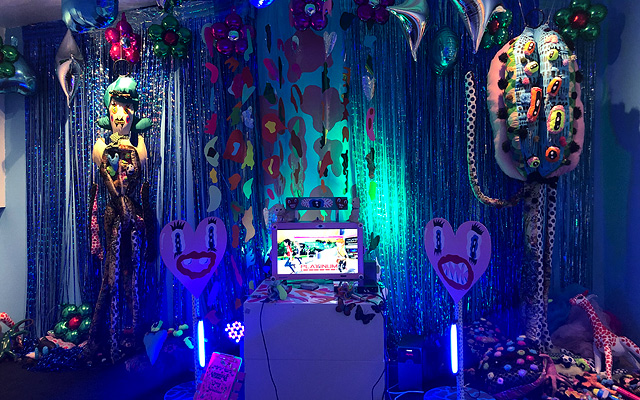 ADVERTISEMENT - CONTINUE READING BELOW
Jellyfish Kisses' everyday look, which is also reflected in his art, is inspired by the aesthetics and ideals of the '50s and '60s—"very  candy-coated, glass-like, perfect pero behind it, there is sadness." He adds that it's very reminiscent of the 2002 movie and Michael Cunningham novel The Hours—a copy of which he has in his shelves.
It's not a surprise that Belardo's outfit is typically met with raised eyebrows among the conservative public. But Jellyfish Kisses' bright-pink eye shadow is stronger than all the side eyes. "Ngayon kasi malakas na 'yong loob ko. Naso-zone ko out ko na 'yong mga tao." He has created a safe space for himself as a genderqueer, and he wants to share the same warmth of acceptance with everyone through his art.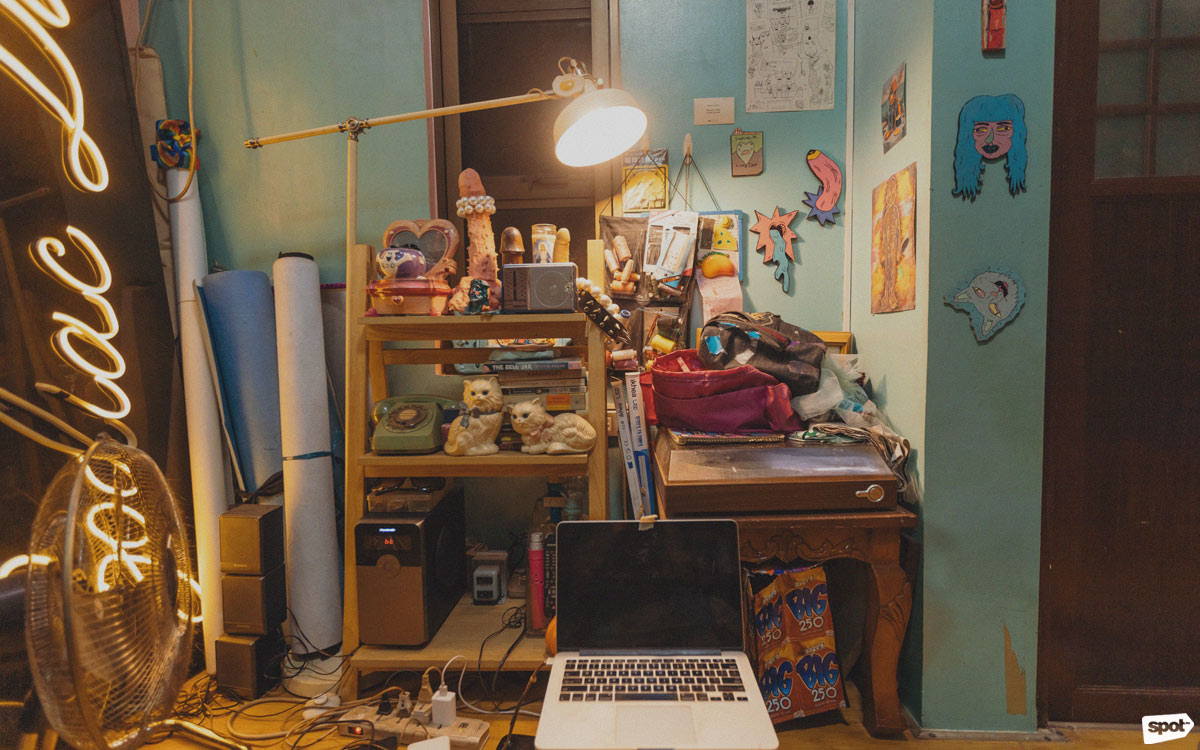 Jellyfish Kisses isn't afraid to share his safe space.
PHOTO:

Jilson Tiu
A Safe Space For and From Jellyfish Kisses
"I guess being a queer individual, I know the importance of safe spaces so I always create safe spaces for the audience," he tells us. For Art Fair Philippines, he creates a fashion line worn by doll-like soft sculptures—"Soft Punk Spring/Summer 2020." It's a play on two opposing ideas: the radicalism and aggression of the punk movement and femininity. "But it works together," he says. It's the same thing for Belardo's overall art philosophy. "Very kitschy, candy, perfect. Pero 'yong topics ko mostly taboo, depression, anything to do with complex human emotions," he says about the themes he explores.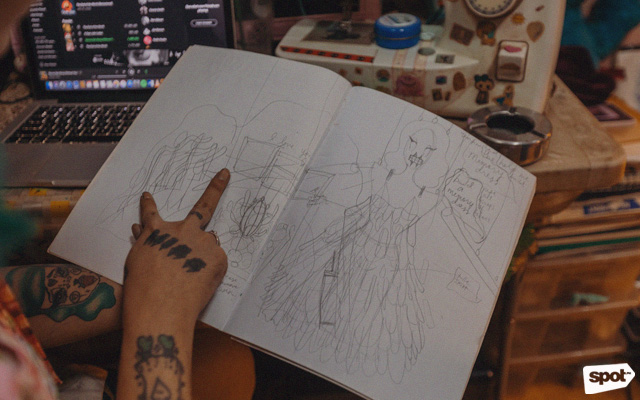 ADVERTISEMENT - CONTINUE READING BELOW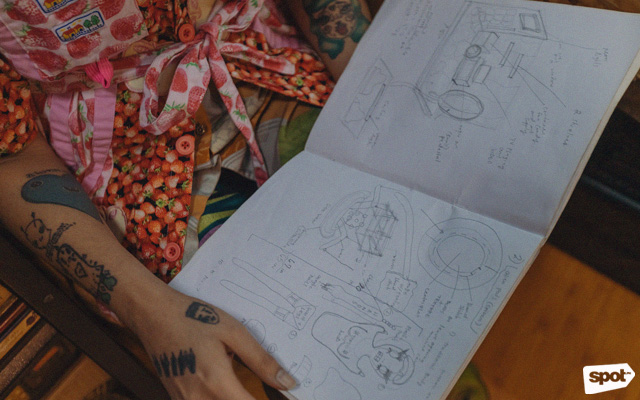 The 10 dolls with otherworldly clothes portray the "struggle of expressing yourself as an individual, especially as someone who doesn't fit [into] society." For Belardo, clothing is a big part of his identity as as a gender-nonconforming individual who grew up in the '90s and early 2000s. "Buying clothes was hard kasi babastusin ka. Hindi mo pwede isukat 'yong damit kasi wala daw men's size kahit pinag-ipunan mo 'yong outfit."
Clothing, for him, was a hindrance to expressing his truest self; and it is very much part of his origin story. It's also why he eventually found solace in creating his own clothes, mixing and matching textiles that work for him. In fact, Belardo got into fashion styling and designing before he worked full-time as a visual artist.
ADVERTISEMENT - CONTINUE READING BELOW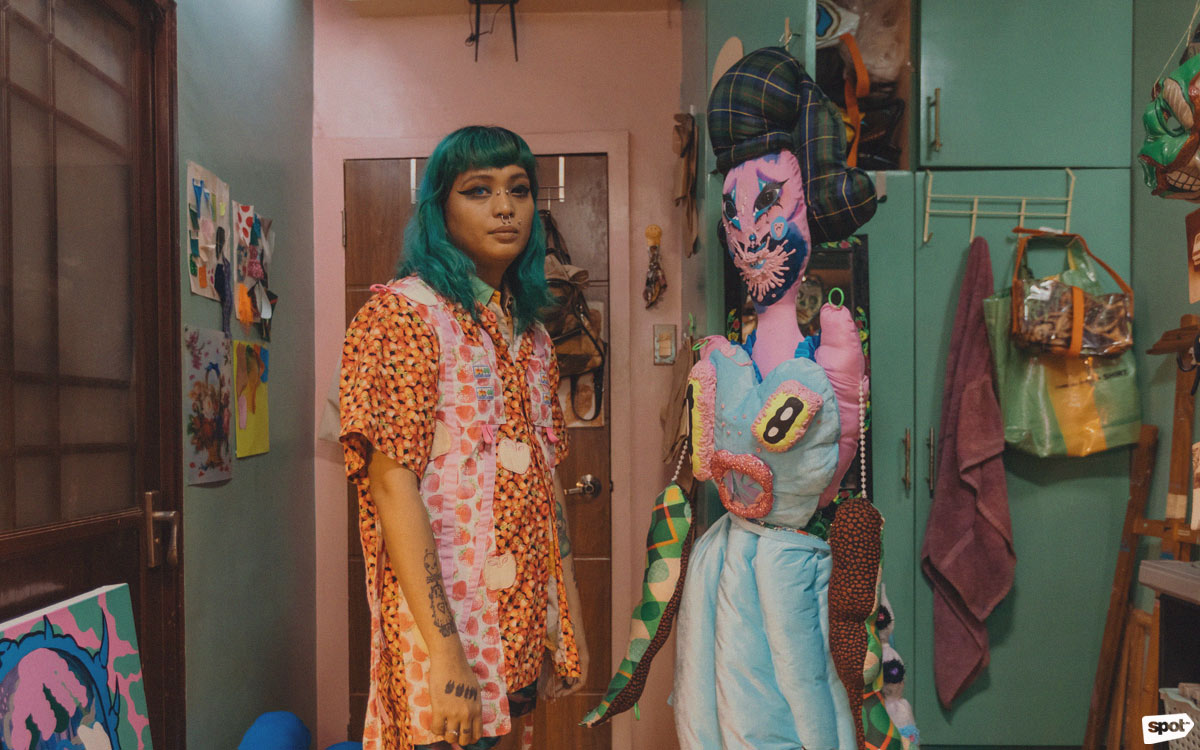 Expect to see life-sized dolls at his space for Art Fair Philippines.
PHOTO:

Jilson Tiu
Making the Personal Bigger Than Himself
But "Soft Punk Spring/Summer 2020" is not just Belardo's own story. Though his work is always "very personal" and presented as a revelation of his deepest and darkest secrets, it is also often so much more. "It starts with me, but it becomes something else."
During the three-day Art Fair, Belardo wants the audience to find comfort in their own identity and origin story—or at least, start to. The 11th doll in his collection arrives at The Link naked, waiting to be dressed up by passersby through patches of cloth.
"I think art is making people see the same things in a different way, making people feel new things. I think 'yon ang pinaka-end goal." And with that, he hopes that by creating a safe space through his art, a bigger and better space will open up for everyone, everywhere.
Art Fair Philippines 2020 runs from February 21 to 23 at The Link, Parkway Drive, Ayala Center, Makati City. Tickets, priced at P350, are available through Art Fair Philippines' website.