(SPOT.ph) If you have ever found yourself in the islands of El Nido, or have at least seen a postcard (or more likely, an IG post), then you're familiar with the unique karst-rock formations of the area. Tall and looming, jutting out of the seas like ancient secret-keepers, they invite you to conquer them. Which is exactly what artist Faye Abantao did the first time she ever set foot in El Nido—with the spontaneity of the action marked by the fact that she was wearing Crocs at the time. Veni, vidi, vici, she might have said. 
"If you scan through my works, it mostly deals with nature. Hindi naman harap-harapan but it's something that's inspired by," the Negrense artist tells SPOT.ph. "It's the feeling."
Abantao had always looked to nature as her escape. Growing up in the urban wilds of Bacolod City, quiet moments in a tree-filled lot not far from her home or, as she grew older, in her escapes to the Danjugan Island reserve, nature was always where she could get some peace of mind, a little reprieve—a feeling she evokes through her art works.
Also read: Everything You Need to Know About Art Fair Philippines 2022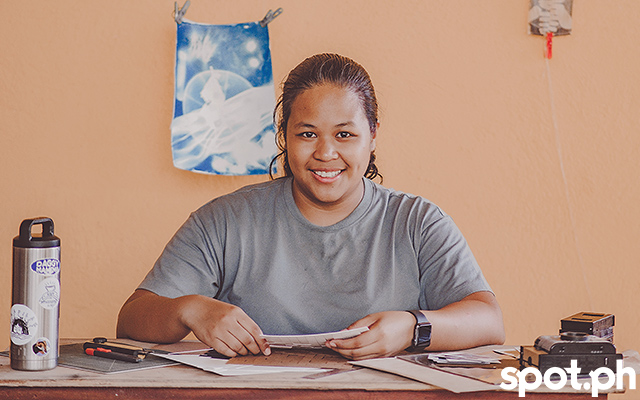 ADVERTISEMENT - CONTINUE READING BELOW
Paper Meets Digital 
Abantao's works may look like traditional paintings from afar; a closer look reveals much more. She found her start in the art world a few years back when a few college friends invited her to be part of an exhibit. At the time, she was already working full time in the advertising world—still, it was an opportunity to hearken back to an old childhood love: origami. It was an opportunity she took, landing her squarely at the heart of the art scene—she is now an active part of the Orange Project collective in Bacolod—and one that she has never looked back from.
There's a certain texture to Abantao's works that adds a layer of breath, almost. Arguably, it can be found in the mixture of old and new techniques: paper-folding, film photography, digital editing, and more. Abantao folds and glues together paper into a sort-of woven canvas, and upon it, transfers digitally altered and printed images that she typically takes using an old film camera. "I make [the images] in digital, I print them on paper, then I transfer them on a surface with a gel medium."