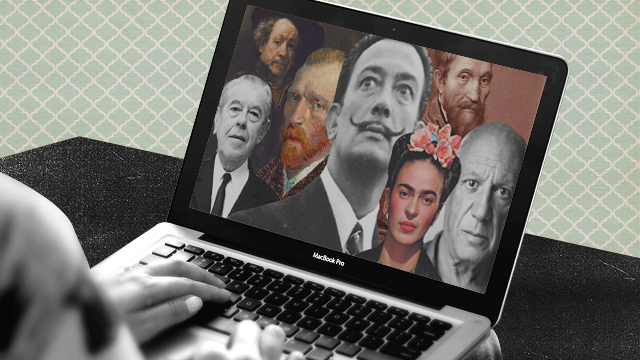 (SPOT.ph) We've all been there: The social media blackhole where we unproductively scroll through Facebook, Instagram, and Twitter without realizing the number of hours we lose each day. It's perfectly fine to be updated on what's happening around the world, but make sure to remind yourself that the Internet is also a vast resource for things you can do or learn for a little self-improvement—and we all need that once in a while. For example, did you know you could take all sorts of interesting art courses online?
ADVERTISEMENT - CONTINUE READING BELOW
Here are just some of the most interesting art-related courses from respected institutions around the world. Most of them are for free, with some requiring a monthly fee only if you want to receive a certificate at the end of the program.
Also read:
10 YouTube Channels to Make You Smarter
Online Learning in the Time of COVID-19: A Day in the Life of a College Student
Check out these art workshops you can take for free online:
Modern Art and Ideas
Offered by: The Museum of Modern Art
Time to complete: 11 hours
Art Fair Philippines hangover? Can't get enough of Art in the Park? The Museum of Modern Art's crash course on Modern Art and Ideas is a good start to learn more about contemporary art. It's dedicated to those who are just starting to dive into the mind-boggling themes and techniques of the Modern Art Movement, including the Impressionist art of Vincent Van Gogh, the Abstract art of Piet Mondrian, and the Realist art of Edward Hopper. It also discusses important works of art that were created in response to the social, cultural, and political issues of their time.
Cameras, Exposure, and Photography
Offered by: Michigan State University
Time to complete: 17 hours
While some people may be satisfied with Instagram filters and camera apps on their mobile phones, many are still interested in taking photography as a serious hobby, which could perhaps lead to a change in career in the long run. Cameras, Exposure, and Photography is a good start for those who would like to learn the differences among the different types of cameras and how to understand technical elements such as aperture, ISO, and shutter speed, among others. The course assists beginners in framing a subject and choosing a perspective. At the end of every lesson, you can ask your peers (i.e. students from other parts of the world) to comment on your work. What could be better than sharing your love of photography with other enthusiasts around the globe?
Modern and Contemporary American Poetry
Offered by: University of Pennsylvania
Time to complete: 59 hours
ADVERTISEMENT - CONTINUE READING BELOW
Tired of reading hugot poetry but too intimidated (or bored) to learn Western canon? Well, here's a chance for you to learn poetry in the most fun and educational way possible. Modern and Contemporary Poetry or ModPo, taught by University of Pennsylvania's Al Filreis, is one of Coursera's most popular courses. It shows you how literature's form and structure can change through time by doing close readings of works by Emily Dickinson, Wallace Stevens, and Allen Ginsberg, to name a few. Assignments are assessed through peer evaluation and video lectures featuring Filreis and his team from UPenn's Kelly Writers House. The format will make you feel like you're in an actual writing workshop!
Fundamentals of Graphic Design
Offered by: California Institute of Arts
Time to complete: 14 hours
Graphic design is one of the most sought-after skills in the freelance industry, and if you're interested in learning the basics, this course is for you. Fundamentals of Graphic Design gives the lowdown on colors, patterns, design rhythms, typeset texts, and more. It includes video lectures, readings, and even quizzes. Who knows? One day you might be designing a billboard displayed along EDSA!
ADVERTISEMENT - CONTINUE READING BELOW
How to Make a Comic Book
Offered by: California Institute of Arts
Time to complete: 20 hours
A hands-on and project-centric course, How to Make a Comic Book teaches you to finally put together that superhero concept you've been toying around with. The syllabus starts with writing your comic script, constructing thumbnails for your panels, penciling and inking, and finally hitting comic conventions. It also features an interview with comic-book legend Mark Waid, who worked on several DC titles like Batman and Flash.
The Art of Music Production
Offered by: Berklee College of Music
Time to complete: 17 hours
Perfect for beginners, The Art of Music Production lets students understand and appreciate what it takes to produce good music. The college, after all, once housed famous musicians like John Mayer and Charlie Puth. It teaches you how to really listen, both in terms of emotional effectiveness and technical evidence. Lectures are done through videos. Just like in an actual classroom, there are assigned readings and quizzes to take. By the end of the course, there will be a practice exercise on defining the sonic signature of your song!
ADVERTISEMENT - CONTINUE READING BELOW
Video Game Design History
Offered by: Rochester Institute of Technology
Time to complete: 15 hours
Make your dreams of becoming a video game designer come true through EDX's course on video game design. It teaches how video games evolved, starting from an arcade game of tic-tac-toe to the fully immersive virtual reality interface. It also points out how the often-ignored Pinball is important in the history of video games. Before you know it, you'd be so engrossed that you'd want to develop a game of your own. Careful though, you wouldn't want to end up like Stefan Butler (from Netflix's Bandersnatch), would you?
Fashion as Design
Offered by: The Museum of Modern Art
Time to complete: 21 hours
Fashion is much more than the glamorous parties, OOTD posts on Instagram, and gorgeous models walking the ramp. It is connected to history and culture, which many of us don't realize until we understand how Catriona Gray's "Lava Gown" became so effective. This course will teach you how the people all over the world wear clothes and how they are often tied to identities and their place in the society. Videos documenting fashion stalwarts from London to Los Angeles are part of this lecture. It's like watching Project Runway with an educational twist!
ADVERTISEMENT - CONTINUE READING BELOW
Introduction to Typography
Offered by: California Institute of Arts
Time to complete: 10 hours
Apple's Steve Jobs took calligraphy lessons because he was frustrated by how fonts and typesets for earlier computers were produced. His devotion to typography is perhaps one of the reasons Apple's products became so popular. In this Coursera program, you will understand the history of typography, why we use different font types for different things, and why spacing and proportions are vital in designing a font.
Roman Architecture
Offered by: Yale University
Time to complete: 54 hours
Given the length of the study before completion, Roman Architecture is a comprehensive course and will help you understand why Rome is always cited for examples on urban architecture. Learn about ancient city planning and how Pompeii was carefully structured, only to be destroyed by a volcanic eruption. The course also offers a look at Roman Interior Design and the transition of using materials such as brick to marble. This is definitely a must-take course for all architecture lovers.
ADVERTISEMENT - CONTINUE READING BELOW
Share this story with your friends!
---
Help us make Spot.ph better!
Take the short survey
More Videos You Can Watch
Load More Stories