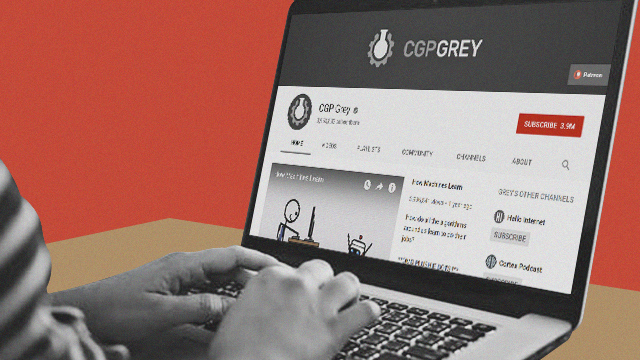 (SPOT.ph) Nowadays, information is literally at your fingertips. A little bit of Googling, and you've got everything you need to know. There are a lot of sites that serve as a great bank for knowledge, but if you need some visual representation, there's always YouTube. Need to learn how to tie a tie? Easy. You can find a tutorial on YouTube! Need some help on how to cook? YouTube can help. Unfortunately, there is a lot of misinformation out there, so one always has to be careful on what they're watching. There's always something new to learn every day, and we've rounded up channels that can add to your knowledge.
ADVERTISEMENT - CONTINUE READING BELOW
Also read:
10 Must-Watch YouTube Channels for Cinephiles
10 Cooking Vlogs That Might Just Make You Want to Cook
Here are 10 YouTube channels that are worth watching:
CGP Grey
CGP Grey is an educational YouTube channel that explains a variety of things that range from history, to politics, to technology. Through cute, basic animation and stock photos and footage, Grey simplifies and makes complicated topics fun. For example, you can find out how machines learn to form algorithms, or understand what the European Union is. The channel offers both quick five minute, bite-size educational videos to longer, near-20 minute videos for more in-depth topics.
Vsauce
Vsauce is a channel created by comedian and educator Michael Stevens. His background gives his videos a funnier, lighter take on important topics. Dealing with subjects like physics, math, and general knowledge, Vsauce brings fun energy to learning and seeing things from different perspectives. He also dares to ask some really unique questions like "How Much Does a Shadow Weigh?" or "Did the Past Really Happen?" and answering them using stories and tangential facts that both inform and entertain the viewer.
Crash Course
The Fault in Our Stars author John Green and brother Hank Green (YouTubers collectively known as the VlogBrothers, as well as authors) started Crash Course in 2012 to post educational videos. Initially, it was mainly world history and biology, but the channel has since grown to include other subjects like computer science, statistics, and theater. Like a college campus right on YouTube, each subject has a different teacher, and each teacher has a different style. The Greens, for example, blend humor with their teachings, making for some really fun classes.
Wisecrack
Wisecrack deals with philosophical ideas such as nihilism, depression, fascism, and more, but they discuss these topics through the lens of pop culture: film, TV, video games, and others. Whether it's using BoJack Horseman to talk about how loneliness affects us, or how we can learn from the philosophy referenced in The Good Place, Wisecrack is all over it. Check out their popular video series, "Deep or Dumb?", where they breakdown a seemingly complex film—like Interstellar or Donnie Darko—and discuss its themes and complexities, deciding whether the film really does tackle some deep subjects or is just not very smart at all.
ADVERTISEMENT - CONTINUE READING BELOW
Veritasium
On the quest for the truth, Veritasium asks bizarre and over-the-top questions that demand large-scale experiments for answers. If you've ever wondered if complete and total silence can make you go crazy, or what the world's lightest solid object there is, this channel does the research for you and takes you along for the ride. Host Derek Muller conducts the experiments and tries everything just to help you learn something new.
Drunk History
Started as a webseries that grew into a very popular series on Comedy Central and is now simultaneously posted on YouTube, Drunk History has drunk narrators tell historically accurate stories about famous historical figures. Yes, everything from the dates to the places is correct, but the dialogue—not quite. As these drunk narrators tell the stories of the famous names of the past, some famous names of the present re-enact them. Aubrey Plaza as Cleopatra? Seth Rogen as Vlad the Impaler? Kristen Dunst as Agatha Christie? Drunk History has them all. It may sound silly and unserious, but these short comedic clips tell some very important stories that will stick with you.
ADVERTISEMENT - CONTINUE READING BELOW
Minute Physics
Minute Physics doesn't exactly take one minute to explain scientific topics, but they try to explain physics-related things in the shortest amount of time, as concise as possible. These fairly short videos that only feature the narrator using pencils, markers, and paper to draw what is being discussed. This is not your classroom physics, as topics are a bit more unique. Topics range from complex things like parallel universes, to more practical things like whether it's better to run or walk in the rain.
Smarter Every Day 
Smarter Every Day, created by engineer and science enthusiast Destin Sandlin, is a channel that likes to "explore the world using science." With a Bachelor's degree in mechanical engineering and a Master's degree in aerospace engineering, Sandlin definitely knows his stuff. A variety of scientific topics are discussed on his channel, such as things about NASA, and explaining what the sound barrier is. They sound complicated, but Smarter Every Day makes sure to really explain every angle of the topic at hand. Like the channel title, these videos will definitely make you smarter each day you watch them.
ADVERTISEMENT - CONTINUE READING BELOW
The School of Life
As their introductory video states, there are many avenues for kids to learn math, for people to do their jobs well (like pilots landing planes), and so on, but rarely is there a physical school to teach people about the troubles of life, emotionally and psychologically. Run by an organization "dedicated to emotional intelligence and well-being," The School of Life focuses on understanding one's self, finding calm in everyday life, and improving relationships in life and career. It's not a school per se, but it does help you learn how to live better and healthier.
Smarthistory
If you're more inclined to learn about art, Smarthistory is the place to be. They bring in viewers inside actual museums that many won't be able to visit, from the Guggenheim in New York City to the Mauritshuis in The Hague, Netherlands. Smarthistory discusses the art inside, detailing its history, and how to interpret the images that we see. This simple but world-class channel really opens up museums for everyone to just get a quick look and a deep study on some of the most famous art pieces in the world.
ADVERTISEMENT - CONTINUE READING BELOW
Share this story with your friends!
---
Help us make Spot.ph better!
Take the short survey
More Videos You Can Watch
Load More Stories