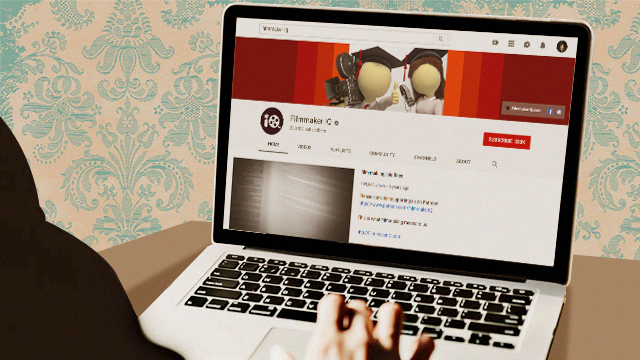 (SPOT.ph) When filmgoers really love a movie, the next step after leaving the cinema is usually to do as much research as you can about it. Maybe read some theories, some behind-the-scenes stuff, learn about the film and the filmmaking process, and so on. Over the past few years, however, a subset of YouTube has grown, catering to massive movie fans who want to learn more about film and cinema in general. From listicles that discuss what these channels think are the best of the decade, to in-depth, extremely detailed, and well-researched video essays about specific films or filmmaking techniques, Film YouTube is vast and informative: a free film or film studies school right at the tip of one's fingertips.

Here's a list of 10 YouTube channels that film buffs should check out:
WatchMojo
Looking for fun, interesting, and funny top 10 videos about your favorite films? There's quite a few major channels that offer that (like ScreenRant and Cinefix), but none are bigger than WatchMojo, with 21 million subscribers, the biggest of them all. Though the channel also does lists on other media like video games and television, as well as on history and more, their film lists are just as in-depth, as they look into moments, easter eggs, and more. Spider-Man star Tom Holland counts himself among the channel's many fans, and it's no surprise why. WatchMojo has easy, breezy commentary for a fairly quick and informative watch.
ADVERTISEMENT - CONTINUE READING BELOW
Every Frame a Painting
The art of the film video essay was pretty much perfected by Tony Zhou and Taylor Ramos of Every Frame a Painting. Like reading a beautifully written research study on films and filmmaking, Every Frame a Painting uses movie clips, interviews, in-depth research, and great cinematic examples to support different hypotheses. One of their most popular videos, the one about director Edgar Wright's films, makes the case for the director's use of visual comedy. In another, there is a deep focus on why Marvel films lack in the musical score department. The channel has also gone deep into different aspects of filmmaking, from editing to sound. Every Frame a Painting has since shuttered its doors, but its impact has remained, with numerous channels starting in its wake (Film Drunk Love and Now You See It are some great ones, as well as several on this list) and the channel's playlist that remains on YouTube are some of the best video essays one will ever see.
Lindsay Ellis
Lindsay Ellis loves to pick apart popular things and reveal some truth behind them, often in a tongue-in-cheek kind of way. With a degree in cinema studies from New York University and an MFA in Cinematic Arts from the University of Southern California, she is incredibly well-educated, and her videos show this. Superbly researched, full of great information, but told in a funny and light way, her videos—from the ones about Disney (her favorite topic) to a massive video series about looking at Transformers through film studies—are unique and wonderful.
CONTINUE READING BELOW
Recommended Videos
Filmmaker IQ
If you're looking for something a bit more on the technical side, then you should go through Filmmaker IQ's videos. Though his more recent fare have focused on host John Hess' podcast, once in a while, the channel has a wide selection of informative videos about certain filmmaking tools or aspects. From film history, exposure, movie title sequences, perspective, focus, CGI, directing, and more, Filmmaker IQ likes to get deep into the technical stuff with diagrams and examples. It's a free film school, basically!
Screen Junkies
Known for their massively popular Honest Trailers series, Screen Junkies loves pop culture so much that it perfectly parodies it. From beloved classics like The Lion King and Batman Returns, to massive blockbusters like the entirety of the Marvel Cinematic Universe to cult favorites like The Room, no one is safe from Screen Junkies' hilarious, well-written, and, well, honest takes on films. There is a whole subset of channels that like to focus on what movies do wrong (CinemaSins, Movie Mistakes, Your Movie Sucks, How It Should Have Ended among them), but Screen Junkies does it in a way that isn't too negative, keeping it lighter than others. Screen Junkies also has its Movie Fights show, a great series where pop-culture aficionados go head-to-head to discuss movie news as well as theoretical questions like "What Character Could Kill John Wick?"
Criswell
There is a good number of channels that do video essays on modern films, and while Criswell does the same, they also like to go deep into film history, tackling the French New Wave, Andrei Tarkovsky's filmography, and more. This channel sees film through its own history and the cinematic experience that these films had. Criswell also has an entire series about storytelling told through different aspects of filmmaking, whether it's visual composition, editing, or even color. The channel's creators have since shuttered Criswell, but have started a new channel connected to it called Cinema Cartography, an extension of the work done on Criswell with deeper dives into more theoretical and symbolic content in film.
ADVERTISEMENT - CONTINUE READING BELOW
Channel Awesome: The Nostalgia Critic
The Nostalgia Critic is exactly what his name suggests—he reviews films that came out just a few years ago using modern criticism with a nostalgic twist. What makes Nostalgia Critic different is his detailed discussion of the films he reviews, often in a hilarious way, that really engages viewers despite the lengthy running time of his videos.
Movie Trivia Schmoedown
Think you know a lot about movies? Test your skills during the Movie Trivia Schmoedown. Formerly known as SchmoesKnow, the Movie Trivia Schmoedown is a competition league where movie trivia geeks battle it out per episode in geek battle for supremacy. This is game night right in your home, as topics like the Marvel Cinematic Universe, Star Wars, Harry Potter, and more are discussed, and champions and challengers battle it out to be the ultimate movie geek. The questions range from easy to obscure, and it's as if all Jeopardy categories were about movies. It's fun, informative, and exciting, and also a way to impress your friends with your movie knowledge.
The Nerdwriter
A page that honors film, art, and more, The Nerdwriter takes an academic approach to his video essays. Creator Evan Puschak's videos are well thought-out, engaging, and often quick to the point, talking about different aspects of the filmmaking process such as sound, technique, music, and more. There is a sense of really talking about something he loves in his videos, and the essays become sort of these reports about different films. Much like Every Frame a Painting and others like it, The Nerdwriter helped shape the video essay and how it mixes research and writing into visual storytelling—much like a film.
ADVERTISEMENT - CONTINUE READING BELOW
What It All Meant
It's okay to admit that sometimes, we don't quite often know right away what a film means or what the director is trying to say. Focusing on the meaning of a film via the dialogue, motifs, and symbolisms, What It All Meant looks to peel back the curtain and help viewers understand what's really going on in the movies they know and love, from the classics like Pulp Fiction to more recent releases like the animated film Anomalisa.
Share this story with your friends!
---
Help us make Spot.ph better!
Take the short survey
Load More Stories