(SPOT.ph) One of the greatest gifts that the Marvel Cinematic Universe has given us—apart from the heart-stopping storylines and awe-inducing visuals—has got to be our friendly neighborhood "spoiler-man" Tom Holland. With a repertoire that dates back to 2008, during the West End runs of Billy Elliot the Musical, no less, the young British actor is no amateur to the entertainment industry. Which is why we have to ask: How is he so bad at keeping secrets?
Maybe it's the obvious fact that he still can't believe he plays Spider-Man in what is possibly the world's biggest franchise, or maybe it's the obvious fact that he gets blown away by all the amazing talent he gets to work with, or maybe it's just that his pure shining heart is unable to keep secrets—also an obvious fact, BTW—but Holland has become the number-one guy to watch out for, in all possible meanings. He's lasted this long, with Spider-Man: Far From Home to hit local cinemas today, July 3, so let's take a look at some of the blunders he's had before.
Here are 10 times Tom Holland nearly (or successfully) spoiled the Marvel movies:
When he told everybody about the lake-dunking scene.
ADVERTISEMENT - CONTINUE READING BELOW
Critics agree that Holland's first recorded leak happened while he was discussing Spider-Man: Homecoming live on Facebook. He was talking about the crazy things his stunt double had to do. "There was, like, some time where they dangled my poor stunt double under a helicopter and dunked him in a lake." Obviously, it wasn't something he was supposed to talk about as it gave away a pretty crucial scene. Holland immediately backtracked, but it set off one of the best running jokes ever.
When he told everybody about the movie we didn't even know was going to happen.
At a press tour for Homecoming, he managed to let slip that this Spidey franchise will get three movies. When the interviewers from French outlet AlloCiné asked about the story's development—at this point we only knew about the Homecoming and Far From Home—Holland gamely answered, "There is still a lot of room for Peter Parker—and Spider-Man especially—to grow in the next two movies." It took the interviewer himself to say, "We knew about the second one but not the third one," before he realized what he'd done.
CONTINUE READING BELOW
Recommended Videos
When Benedict Cumberbatch was put on babysitting duty.
Clearly they had to stop poor Tom Holland from letting out all their secrets, which is why they got Doctor Strange (Benedict Cumberbatch) to join him at almost every media event for Avengers: Infinity War. What we got was a hilarious reel of Cumberbatch trying to keep Holland from saying something he wasn't supposed to.
When he dropped the term "quantum realm" in an interview and the Internet went crazy.
Cumberbatch did his best to keep this from happening, but Holland proved to be too much even for Doctor Strange. In an interview for Avengers: Infinity War, Holland let it drop that Doctor Strange's dialogue talked about the quantum realm. Once Infinity War came out, this small detail led fans to theorize that the Avengers would use the quantum realm against Thanos at some point, and as we know now, they were right.
ADVERTISEMENT - CONTINUE READING BELOW
When he managed to spoil Infinity War while surrounded by cast members.
Yes, Holland managed to let out a plot point while surrounded by cast members. He and the cast were discussing the fake scripts given to them to prevent information leaking out, and when it was Holland's turn, he mentions that Spider-Man ends up in space in Infinity War, a fact that wasn't known—until then.
When he dropped a spoiler in a theater full of movie goers.
The Twitter video is a little confusing, but here's the gist: At a special screening of Avengers: Infinity War, Holland thinks the crowd he's talking to had just finished watching the film. Thing is, they were actually just about to. So when he optimistically quips that Spider-Man is alive, he accidentally let slip a pretty huge part of the ending.
When he showed everybody the Infinity War poster when he wasn't supposed to.
ADVERTISEMENT - CONTINUE READING BELOW
This one's a little fishy. At this point, Holland was known for his inability to keep secrets, so when the Incredible Hulk, sorry, Mark Ruffalo, sent him a package with the poster for Avengers: Infinity War—and Spidey decided right then and there to open it live on Instagram—it felt a little staged. Doesn't mean we didn't fall for it, hook, line, and sinker, though.
When he burned his Avengers: Infinity War script to prevent any future blunders.
Well, not that it was effective, but we appreciate the effort! The general rule is that actors are supposed to return the script for safekeeping, but that doesn't apply to Holland. To really make sure that nobody gets wind of what was to happen, he set his script on fire.
When he thought he had uploaded an entire movie to Twitter.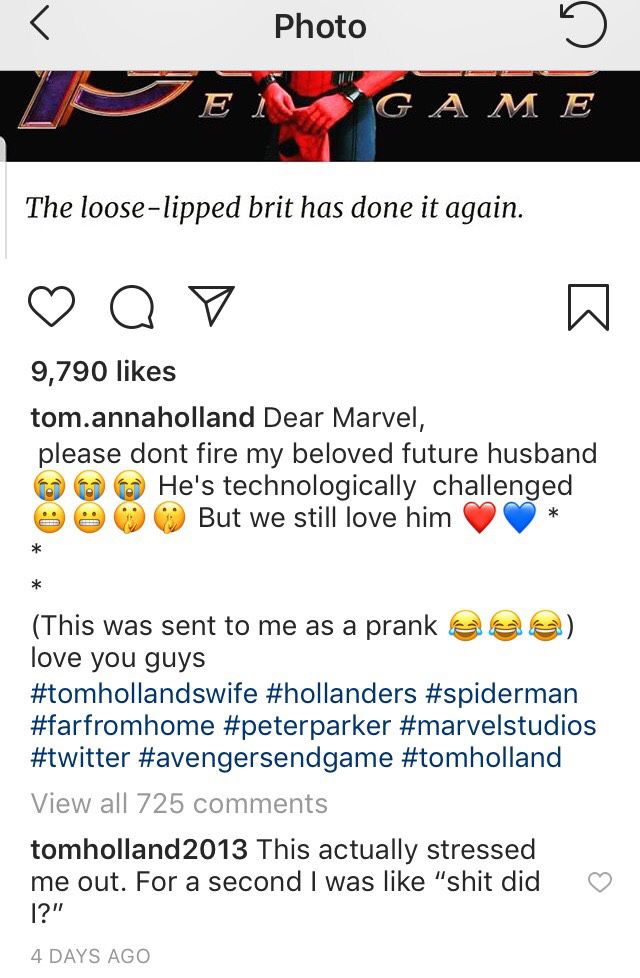 ADVERTISEMENT - CONTINUE READING BELOW
Holland must've been pretty paranoid himself if he fell for this one! A satire piece on him accidentally uploading an entire movie to Twitter made the rounds on the Internet, with Spidey himself commenting on an Instagram post of the article, "This actually stressed me out. For a second I was like, 'S**t, did I?'"
When he accidentally revealed the title for the second Spider-Man movie.
Whether a clever PR stunt or an adorable blunder, it's up to you to decide. In this Instagram video he posted to his account, Holland talks about the script he just received for the next Spidey movie. He explicitly states, "I wanted to apologize because there's no real revelations coming out this weekend about 'Spider-Man 2,'" which clearly meant he was about to drop something, and he didn't disappoint! Holland then held up the tablet with the movie's name on it, clear as day, "Spider-Man: Far From Home."
ADVERTISEMENT - CONTINUE READING BELOW
Main image from IMDb.
Share this story with your friends!
---
Help us make Spot.ph better!
Take the short survey
Load More Stories