(SPOT.ph) It's official—Robert Pattinson is stepping into Batman's leather boots in the new adaptation by director Matt Reeves. The Twilight actor is succeeding Ben Affleck as the caped crusader in what will reportedly be a new trilogy. Scheduled for release in 2021, the new movie is reportedly set in the '90s, focusing on Batman's early years.
While Pattinson's name immediately brings to mind the Twilight saga, the actor has been flexing his acting skills and taking on a wide range of roles since the first Twilight movie premiered 11—yes, count that, 11 years ago. From teen heartthrob, he has transformed into an indie darling, with critics applauding his performances and film choices.
With his robust roster of roles lately—and even during his Twilight years—it will be interesting to see his take on the caped crusader and how it will stack up against his predecessors including Affleck, Christian Bale, George Clooney, and Michael Keaton.
ADVERTISEMENT - CONTINUE READING BELOW
Here are 10 of Pattinson's movies you should watch before the upcoming Batman film:
The Twilight Saga (2008 to 2012)
Let's start with his breakout movie series. Based on the best-selling books, the teen vampire romance is a worldwide phenomenon with five films to its name. Pattinson plays brooding, sparkling vampire Edward Cullen opposite Kristen Stewart's human Bella Swan. While it's a love-it-or-hate-it franchise, the Twilight saga gave Pattinson his big break and made him a household name around the world. It's worth noting that prior to the vampire series, he was most known for playing young wizard Cedric Diggory in 2005's Harry Potter and the Goblet of Fire.
How to Be (2008)
Released in the same year as the first Twilight movie, indie film How to Be shows a very different Pattinson. He plays Art, a long-haired, self-conscious 20-something going through a quarter-life crisis—the very opposite of Edward Cullen, you could say. Dumped by his girlfriend, he is forced to move back into his parent's home in England. He then uses his inheritance money to fly in a Canadian self-help expert to help him figure out his life. Fun fact: Pattinson sings in the movie, and the official soundtrack includes three songs performed by the actor.
Little Ashes (2008)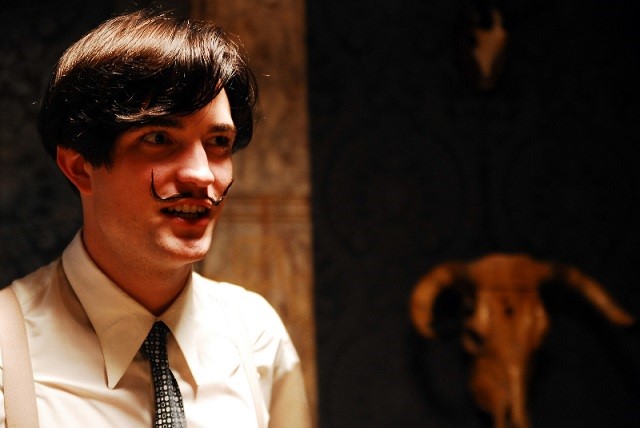 Another film released in the same year as Twilight, this drama shows Pattinson as the famous painter Salvador Dali with his iconic mustache. It follows the surrealist painter in his university years, when he met filmmaker Luis Buñuel (Matthew McNulty) and poet-playwright Federico Garcia Lorca (Javier Beltrán). Little Ashes explores the long-speculated sexual connection between Dali and Lorca, and won the GLAAD Outstanding Film in the Limited Release category that year.
ADVERTISEMENT - CONTINUE READING BELOW
Bel Ami (2012)
After a string of romance dramas post-Twilight, including Water for Elephants with Reese Witherspoon and Remember Me with Emilie de Ravin, Pattinson takes on a character who romances women in 1890s Paris. In Bel Ami, he plays Georges Duroy, a penniless soldier-turned-budding writer thrown into high society. There he meets and eventually manipulates influential ladies played by Uma Thurman, Christina Ricci, and Kristin Scott Thomas, to the ire of their wealthy husbands.
Cosmopolis (2012)
A slick change from Pattinson's previous projects, Cosmopolis is a drama-thriller that takes place mostly in a billionaire's limo traveling through gridlocked Manhattan. The actor plays asset manager Eric Packer, who meets various people—his startup partner, his wife, his women on the side—on the way to the barber. He preaches about cyber capitalism and humanity—or lack thereof—as he goes down a path of self-destruction, loses his fortune, and faces death itself. The film is directed by David Cronenberg of the body horror genre, whom Pattinson reunited with two years later in the Hollywood family dramedy Maps to the Stars.
ADVERTISEMENT - CONTINUE READING BELOW
Life (2015)
Going behind the camera, Pattinson plays the photographer who campaigned to shoot James Dean, an unknown at the time, for Life magazine. As Dennis Stock, he has an easy chemistry with Dane DeHaan, who plays the iconic movie star. Starting off with a strained professional relationship, the two men develop a friendship as they go on a road trip from California to Indiana before Dean shot to fame.
Good Time (2017)
After his limited but memorable screen time playing an explorer in 2016's The Lost City of Z—for which he dropped 35 pounds—Pattinson flexes his acting skills once more in Good Time. He plays a bank robber who will do anything to get his brother out of jail in the gritty crime drama. Set in one crazy night in New York, Good Time follows Connie, his character, as he desperately scrounges up the last 10 grand he needs to bail out his brother. It's full of twists and turns, and critics applauded Pattinson's ability to propel and ground the narrative at different turns.
ADVERTISEMENT - CONTINUE READING BELOW
Damsel (2018)
As a cowboy with a Western accent, Pattinson is almost unrecognizable in the comedy Damsel. Set in the Wild West in the 1870s, the movie follows Samuel Alabaster (Pattinson) as he embarks on a journey to marry the love of his life and assumed damsel-in-distress of the story, Penelope (Mia Wasikowska). But Penelope is the opposite of a damsel-in-distress, and Samuel is not quite the hero of the story. A tongue-in-cheek take on cowboy movies, Damsel is a riot to watch. It features Pattinson's vocal chops, too; in one campfire scene, he sings a love song for Penelope endearingly called "Honeybun."
High Life (2018)
Venturing out of his acting comfort zone even more (in fact, all the way out into space) Pattinson plays a father on a suicide mission in this sci-fi thriller. He plays Monte, a character originally meant for the late Philip Seymour Hoffman, who is unwillingly traveling towards a black hole as a criminal-turned-scientific guinea pig. As flashbacks show the rest of the crew dying in disturbing ways, his only companion is his baby daughter—who was artificially conceived on the ship without his knowledge or consent. Another unique feather in Pattinson's cap, High Life messes with your head in more ways than one.
ADVERTISEMENT - CONTINUE READING BELOW
The Lighthouse (2019)
Opposite veteran actor Willem Dafoe, Pattinson holds his own and then some in this gripping, genre-defying drama about two stranded lighthouse keepers. Patterson plays apprentice Ephraim Winslow who is bullied—to put it lightly—by Dafoe's Thomas Wake. The only characters onscreen for the most part, they battle the unforgiving elements, their own demons, and even each other.
The black-and-white film was one of the buzziest movies at the 2019 Cannes Film Festival, and is set for a global release. It's interesting to note that it was around the Cannes Film Festival when Pattinson's Batman role was officially confirmed, but he politely declined to answer questions other than those about The Lighthouse.
Share this story with your friends!
---
Help us make Spot.ph better!
Take the short survey
More Videos You Can Watch
Load More Stories