Revisiting Favorites: Panaderia Dimas-Alang
SPOT.ph blogger Angelo Comsti talks about a 95-year-old bakery that always reminds him how good pan de sal can be.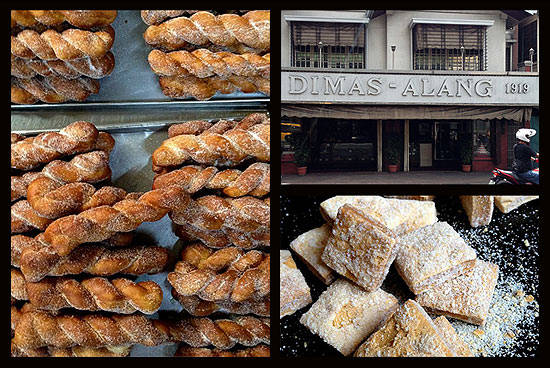 (SPOT.ph) I almost forgot how good the pan de sal at Panaderia Dimas-Alang is. Each amazing bun, heavy with the delicious aroma only a pugon oven can impart, is light and pillowy underneath the toasted goldness. I remember enjoying it with a thick slather of peanut butter or, at times, melted butter with a dusting of sugar. Never on its own for a kid with an untameable craving for sweets. Now, as I revisit the 95-year-old bakery, appreciating the freshly baked pan de sal for what it is, I am reminded of how good our pambansang bread can be.
ADVERTISEMENT - CONTINUE READING BELOW
CONTINUE READING BELOW
Recommended Videos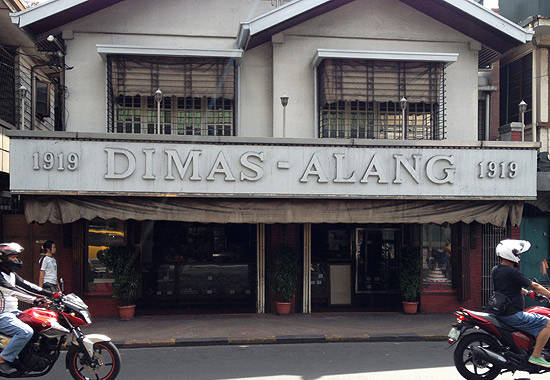 When my family was still residing in Sumilang, Pasig, my parents and grandmother would often bring us to Panaderia Dimas-Alang on the way to our relatives, the city market, or the church. It was a designated pit stop for brown bread made with molasses and Bonete in a paper bag. By the time we'd arrive at our destination, the bag would only contain crumbs. When we moved away, the trips to the bakery became fewer, farther in between, and soon only intentions. On my recent visit, I noticed the shelves stacked with loads of breads and pastries, with more coming out from the kitchen. Had it always been that busy?
ADVERTISEMENT - CONTINUE READING BELOW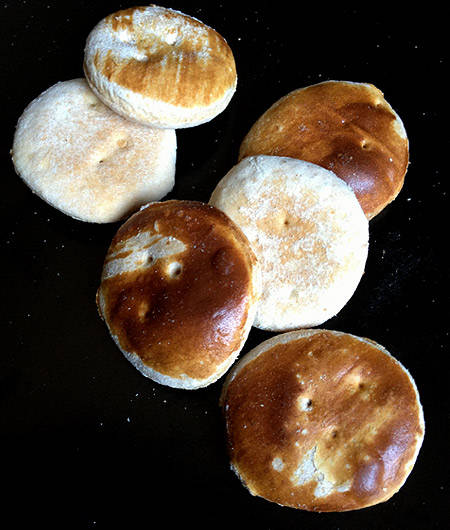 Aglipay (P35)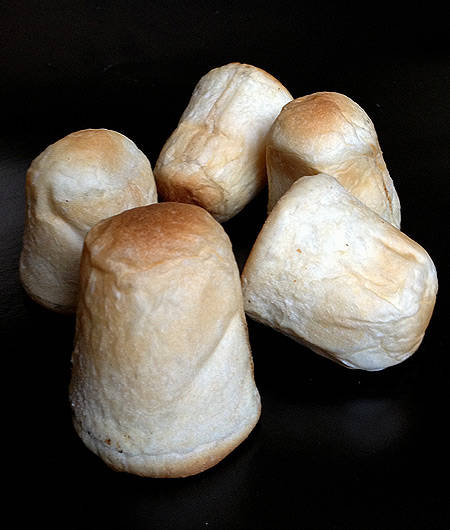 ADVERTISEMENT - CONTINUE READING BELOW
Bonete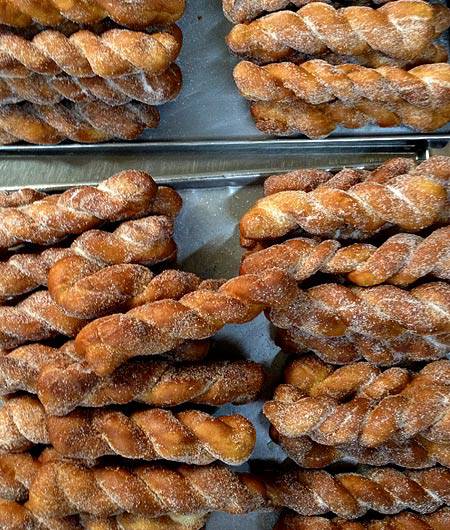 Bicho Bicho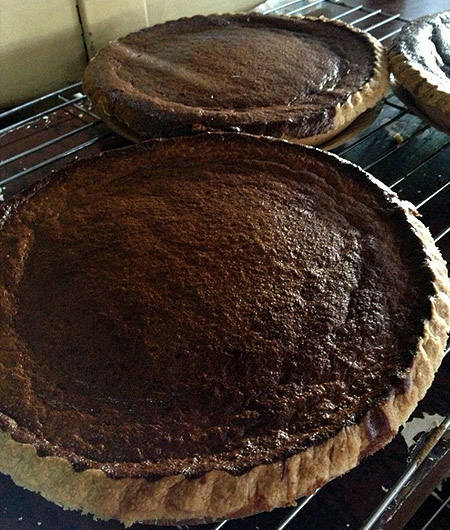 ADVERTISEMENT - CONTINUE READING BELOW
Egg Pie
"The quantity of bread types must have been really small (then) because Pasig in 1919 was very provincial and the target of the shop must have been the immediate neighborhood," says Manolo Lozada, who inherited the business upon the passing of his mother in 1980. It was his widowed grandmother Teresa Raymundo, along with her four small children, who had kept Dimas-Alang alive, updating the initially few offerings as the years passed.  Now, they have old favorites like biscocho, kababayan, camachile, and Tinapay ni San Nicolas as well as ensaymada, monay putok, and the popular pan de sal in varying sizes. Apple bread, choco cinnamon babka, and brownies also share shelf space with turonnes that come in flavors like chocolate, pineapple, yema, and pandan. There are egg pies and ube cakes, as well as chicharon bituka and sugarless pastries. Still the bestselling goods are the bonete, which is like a shrunken popover roll, and the Hindi Ko Akalain, a sugary pastry the size of Scrabble tiles.
ADVERTISEMENT - CONTINUE READING BELOW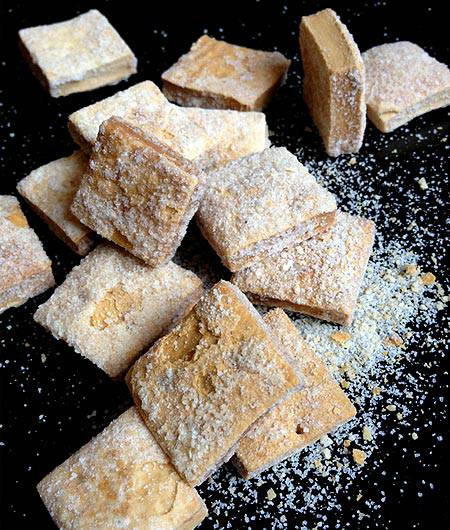 Hindi Ko Akalain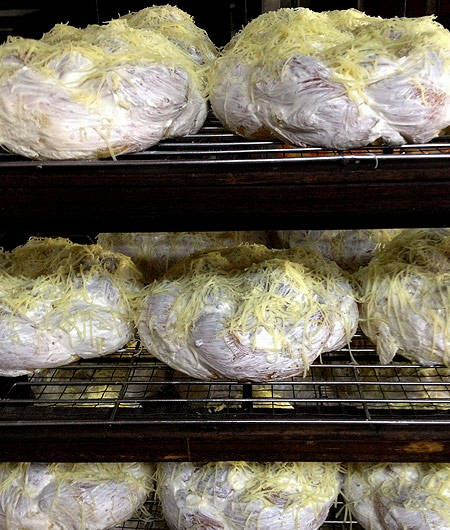 ADVERTISEMENT - CONTINUE READING BELOW
Giant ensaymada
In their commitment to maintain the old-fashioned way of baking-using wood-fuel that enhances the taste of doughy breads-Panaderia Dimas-Alang had to discontinue other favorites due to complexities in production, time constraints, labor, and newer confections. Londres, Galletas de Patatas, Gorgoria, and Pasencia are noticeably absent, but it just proves how some things have to be left behind in order to move on.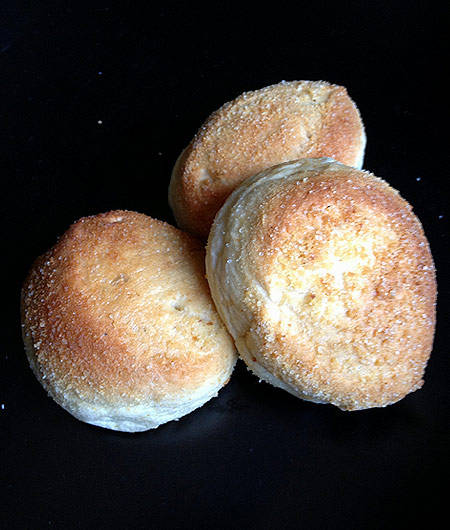 ADVERTISEMENT - CONTINUE READING BELOW
Cheese bread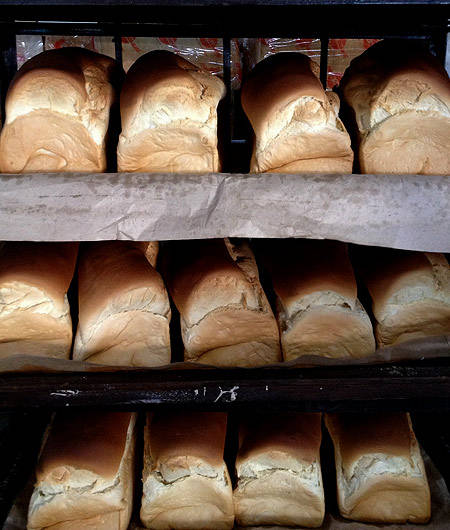 Egg loaves
That this bakery will be turning a century old in five years is reassuring, especially since it came close to ceasing operations. "Anyone inclined to art would naturally initially wish to be extricated from the business, but loyalty to our family roots and the justifying thought that bread-making could be art as well, was the clincher," confesses Manolo whose family has always been into the arts. His mother was a piano professor, his uncle a bandleader and music composer, and his sister is the celebrated violinist Carmencita Lozada. It's a good thing Pasig's oldest panaderia lives on-and is kept in the family.
ADVERTISEMENT - CONTINUE READING BELOW
Dimas-Alang is more than just a bakery. It has become an institution and, more importantly, a living proof that good things do last.

Panaderia Dimas-Alang is at 52 Mabini Street, Kapasigan, Pasig City. Contact them at 641-0408 or 463-5645.
Angelo Comsti writes for Yummy magazine in addition to other publications. He studied at Le Cordon Bleu Australia. Grab a copy of his bestselling cookbook From Our Table To Yours for a collection of generations-old heirloom recipes from some of the country's best cooks and chefs.Follow Angelo on Instagram (@fooddudeph) to catch more of his food discoveries.
Load More Stories