Ruby Wong's Godown Bar
Address: Admiral Hotel Manila, 2138 Roxas Boulevard, Malate, Manila
Contact: 02-5318-9000, 0917-863-6614
Facebook: https://www.facebook.com/AdmiralHotelManila/
Open Tuesdays to Sundays from 5 p.m. to 1 a.m.
(SPOT.ph) Malate. The area has always been known for, well, many things, both good and bad. Yet for all the color this place contains, there are a few specific spots where things take on a different hue—you'll see what we mean when you visit a new speakeasy that just opened up at the start of 2023 in Admiral Hotel Manila. Tucked into a hidden nook at the lower floor of the hotel is Ruby Wong's Godown Bar, and trust us, this spot makes Malate all the more magical.
Entering Ruby Wong's is possible in two ways: From sun-kissed Roxas Boulevard is a separate doorway next to the lobby's. That will take you to a small foyer-like area with an elevator and a mirrored wall highlighting the staircase. If you can, we say take the latter path; after all, "Godown" is literally in this bar's name. Now if you're coming in from the hotel's lobby, things get a little more exciting. You'll spot an ordinary-looking bookshelf if you turn left from the lobby's doors. Come a little closer.
ADVERTISEMENT - CONTINUE READING BELOW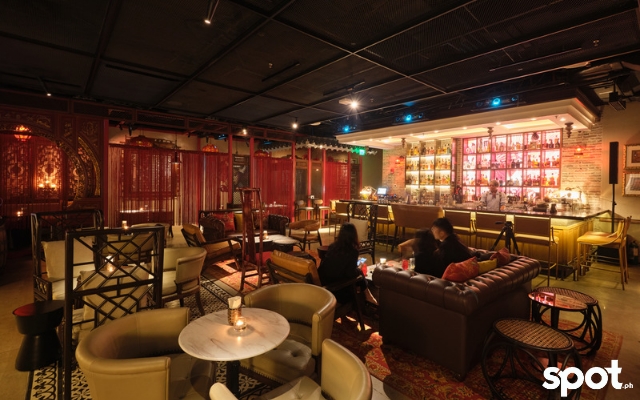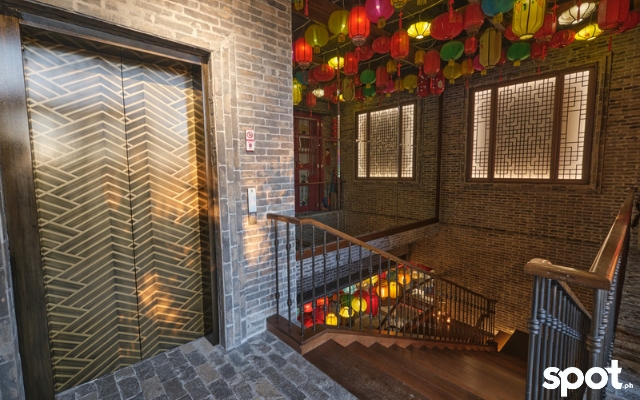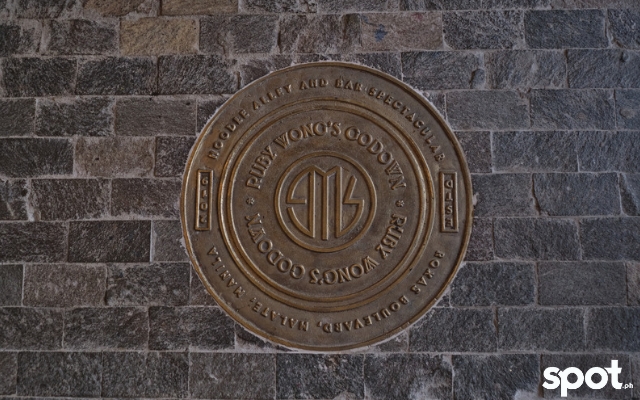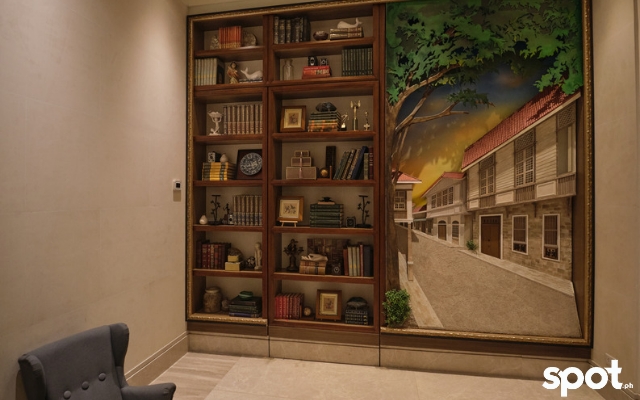 ADVERTISEMENT - CONTINUE READING BELOW
Once you've found your way to Ruby Wong's, you'll come in through ornate Chinese doors and into what can only be described as a whole new world. Think old-school underground hangout touched by a bit of modernity, complete with red-thread curtains, cushioned booths, and standout furniture—all gravitating around the backlit bar that beckons with its goodies.
Also read: This Secret Bar in Alabang Will Be Your New Favorite Hideout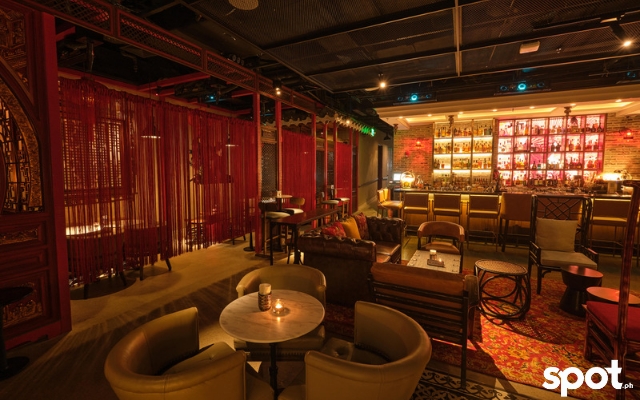 ADVERTISEMENT - CONTINUE READING BELOW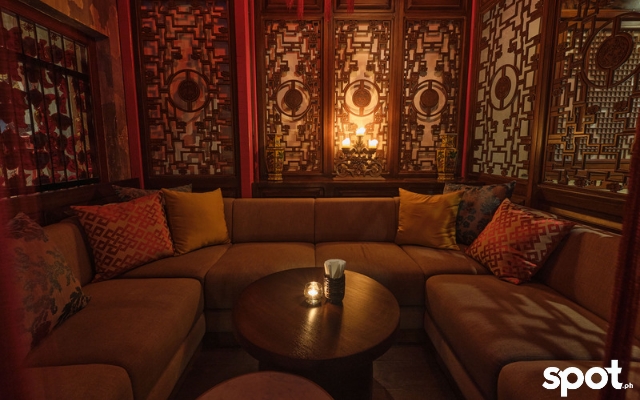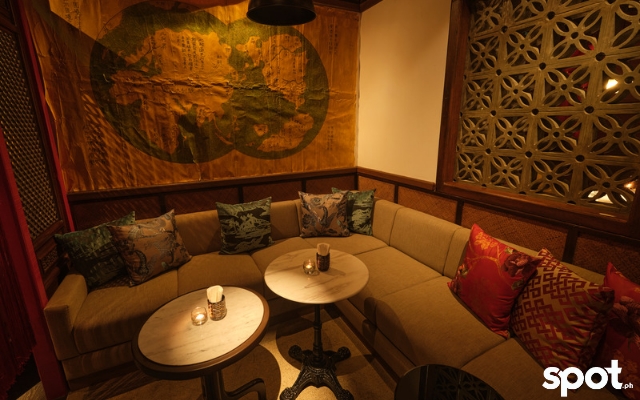 ADVERTISEMENT - CONTINUE READING BELOW
Drinks and chow go down easy at Ruby Wong's  Godown speakeasy in Malate
And trust us when we say the bar beckons. Ruby Wong is serious with its drinks, while knowing how to have fun. Hang around the bar for a bit and you'll see what we mean. Chat with bar manager Duane Legaspi and head mixologist John Silva, who are more than happy to share the thought process behind the making of each drink, in addition to, of course, making one for you. Who can't deny the joy of watching someone skilled doing what they do best?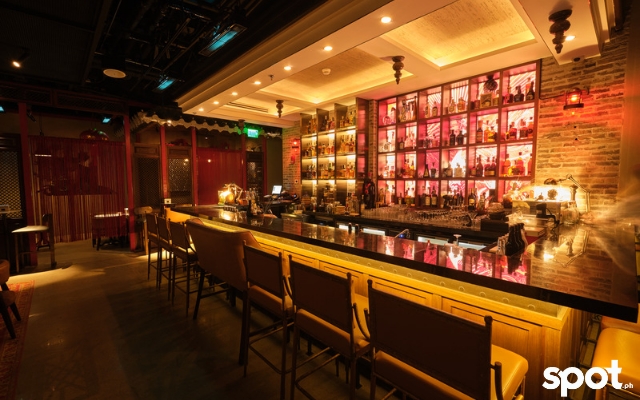 ADVERTISEMENT - CONTINUE READING BELOW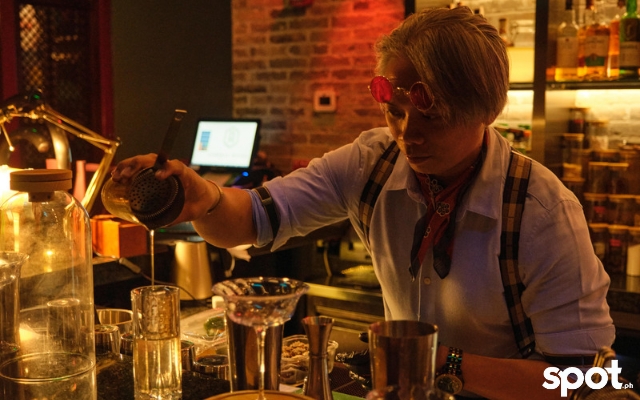 We're starting with one hell of a showpiece: the Fiery Dragon (P500). This orange drink is served in its own glass dome, a la the Beauty and the Beast rose, which is filled with hickory smoke. Be sure to plant yourself by the bar to see the bartender work their magic—the unveiling is just as theatric, with a specific technique for the lifting. This fiery beast is made with Mezcal Durango, bell pepper cordial, and lime and grapefruit juice, making for a bright yet deep drink. Think different flavors hitting your tongue with every sip, like waves on the shore. Don't miss out on the salted rim either, as that's Ruby Wong's housemade sriracha salt, giving the softly piquant drink a spicy edge.
ADVERTISEMENT - CONTINUE READING BELOW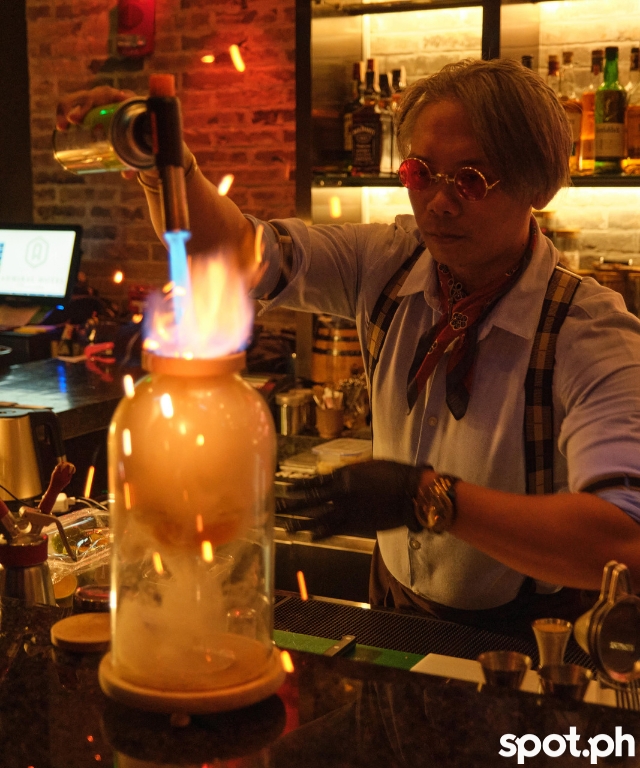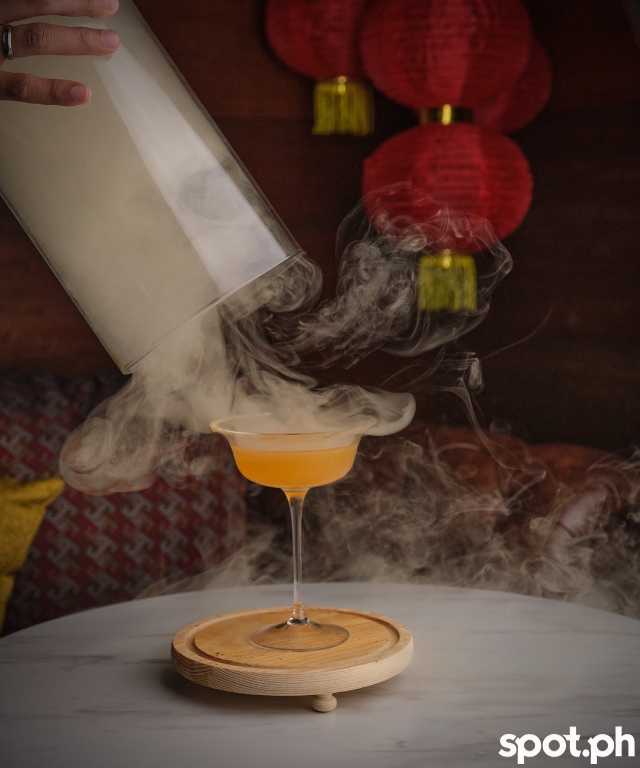 ADVERTISEMENT - CONTINUE READING BELOW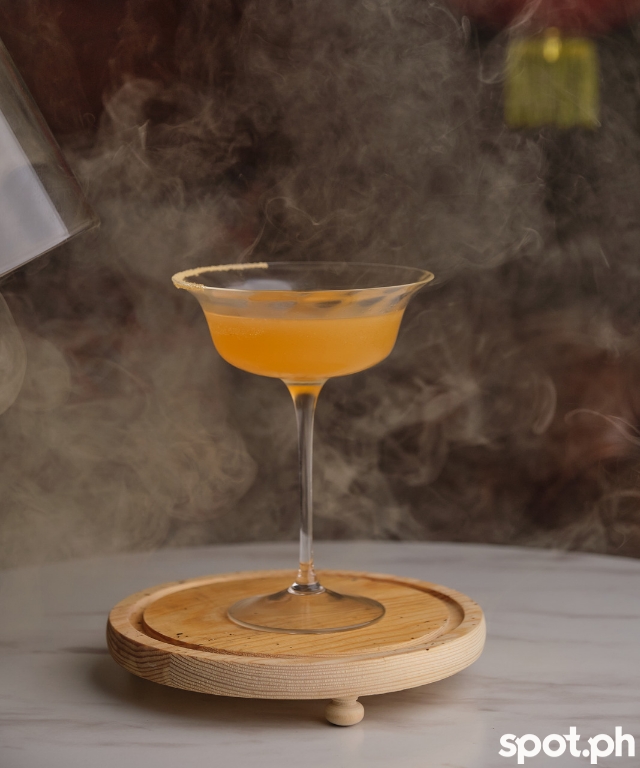 Now if you want something more stately and with a ton of gravitas, The Queen's Fashion (P600) is the right choice. The Ruby Wong take on the Old Fashioned, this cocktail may look all sweet but hits pretty hard; don't say we didn't warn you. A lesson in not taking things at face value, what with its burnt orange hue and dried apricot garnish, this Royal is a relatively thicker and decidedly more hardhitting concoction of Sazerac Rye, blossom syrup, and vanilla tincture. It's the type of glass that asks you to sit, slow down, and take your sweet, sweet time.
ADVERTISEMENT - CONTINUE READING BELOW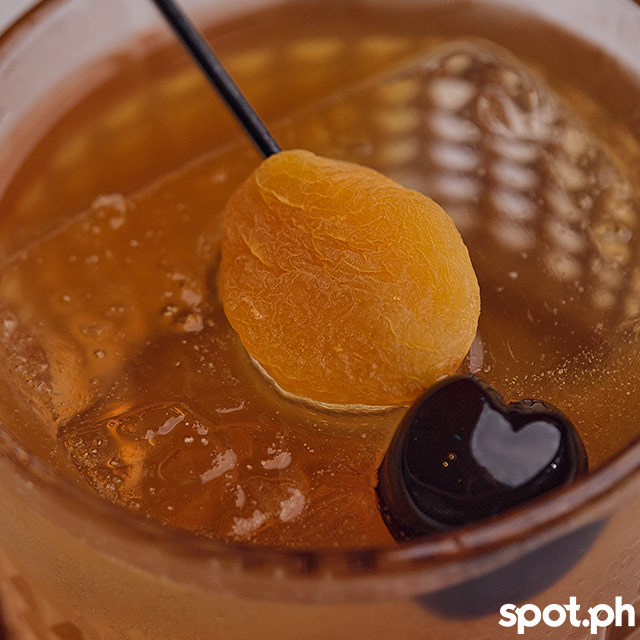 Okay, so an "opium" drink at an underground den risks being a little too on the nose, in a manner of speaking, but the showstopping Green Opium Heaven (P800) hits just the right notes. What you get is a palm-sized skull-head's worth of Jasmine-infused Roku, Tanqueray No. 10, sage-infused Mancino Blanco, and Kaffir tincture pandan, all mixed together and ready for you to pour into a wide-rimmed glass—alongside an herb cigarette. Yup, a garnish you're meant to smoke before sipping on your drink. In it are legal herbs, don't worry—think lavender and the like—whose smoke highlights how much the drink tastes like a literal bouquet, earthy with low tones of floral.
ADVERTISEMENT - CONTINUE READING BELOW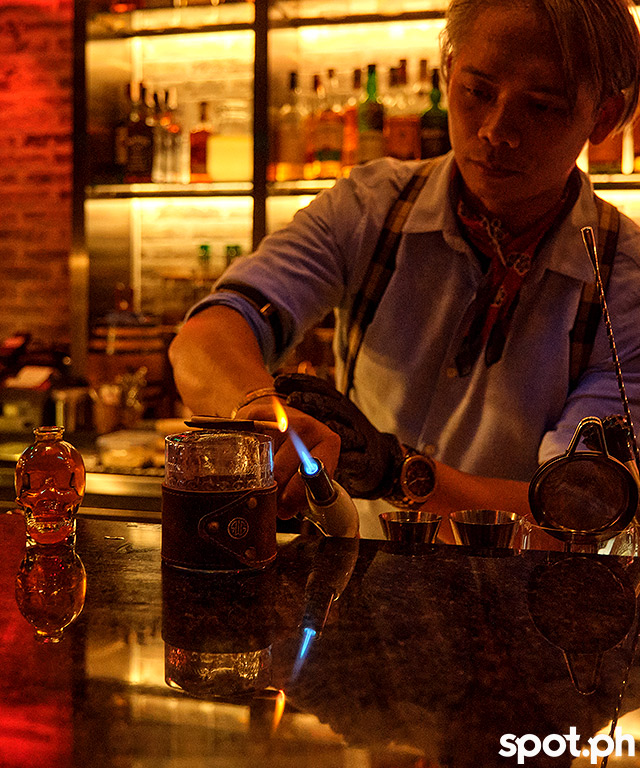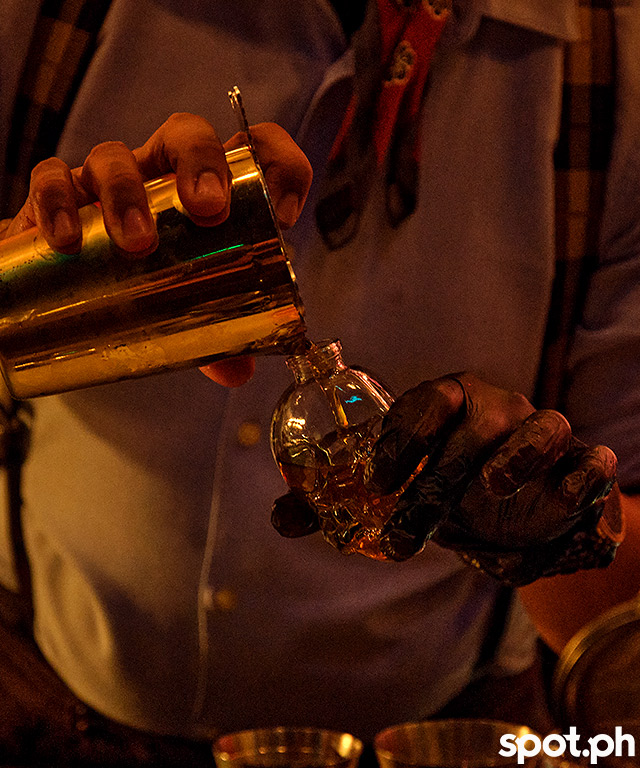 ADVERTISEMENT - CONTINUE READING BELOW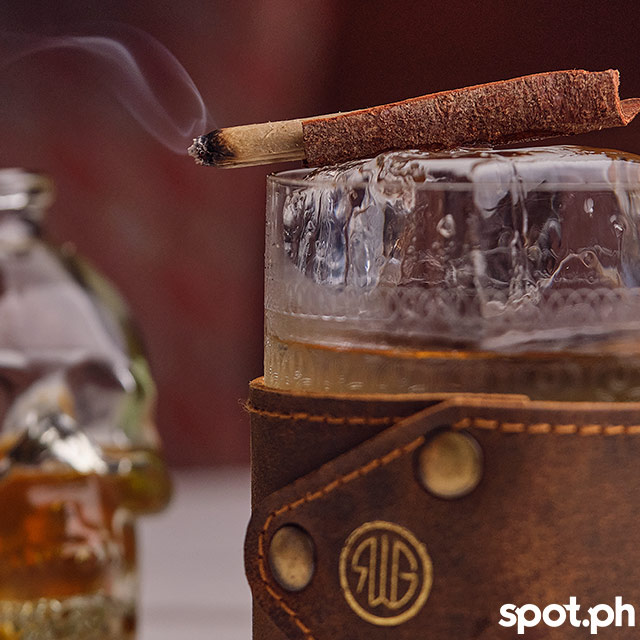 To prove just how seriously Ruby Wong takes their cocktails, you need to give the Avant Garde (P650) a try. This mix won Ruby Wong's Legaspi and John Silva the Remy Martin Barrel-Aged 2023 competition—and one sip is all you need to understand why. Building on the Rémy Martin 1738 Accord Royal, this winning drink is mixed with Japanese Umeshu plum liqueur and Bianco Ambrato, a concoction that is then aged for 36 days in a barrel. The resulting mixture is placed in a glass with two special ice cubes, one diamond shaped and acts as a coolant as you sip, with leather kiwi as a finishing touch. What you get is liquid gold in a cup, touched with a hint of earthy sweetness and the slightest undercurrent of tang. We know cognac can be a pretty intimidating drink, but Avant Garde practically lulls you with the subtlety of its flavors. Note that they've got limited supply of this drink so best get a sip while you can.
ADVERTISEMENT - CONTINUE READING BELOW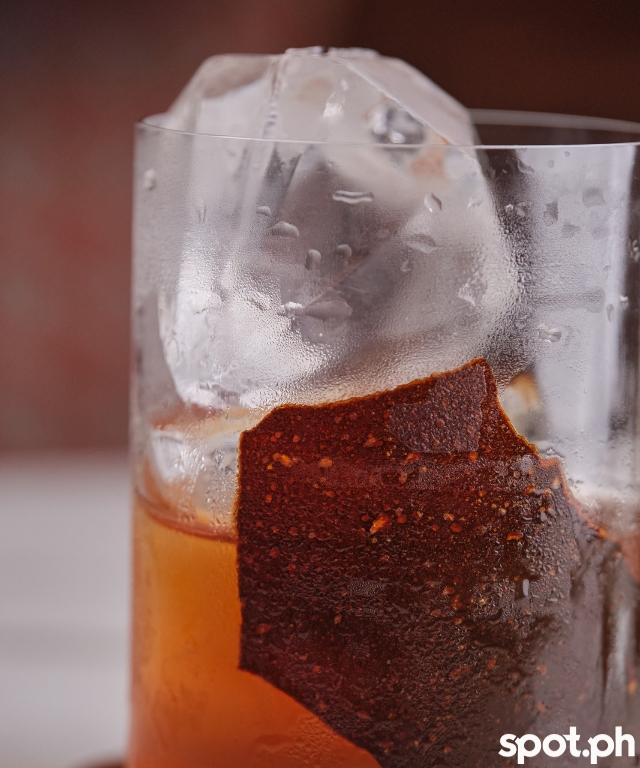 Also read: Everything Falls Into Place for Gallery-Slash-Speakeasy Owner Indy Paredes
Once you're happily sipping away, just remember that Ruby Wong delivers on the grub side of things, too. Over on the seafood end of the spectrum, give the Soft Shell Crab Batter (P690) and Salmon Crudo (P750) a try. The former has to be some of the softest soft-shell crab we've ever tried, and with the combination of fresh meaty crab and light, tempura-like batter, cut by a stellar tartar dip, this dish simply hits home. The salmon is perfect if you're looking for something less stuff-your-face and more savored-in-refined-bites. Served in four little spoons, each is best eaten in one go, giving you a complex mix of depth from the salmon, crisp from bits of radish and beetroot, earthiness from shiso leaf, and a zing from spicy sesame-ponzu sauce. Think of it as a flavor bomb, albeit gentle.
ADVERTISEMENT - CONTINUE READING BELOW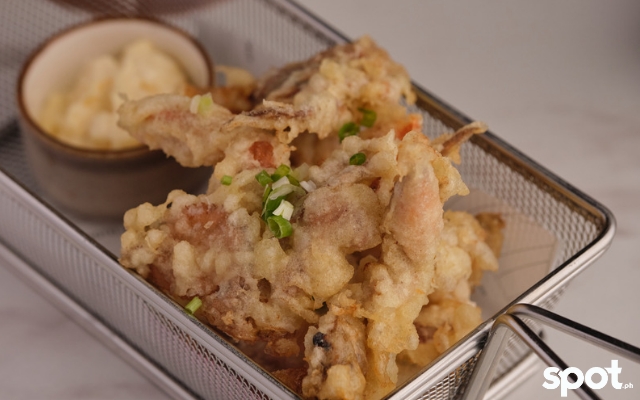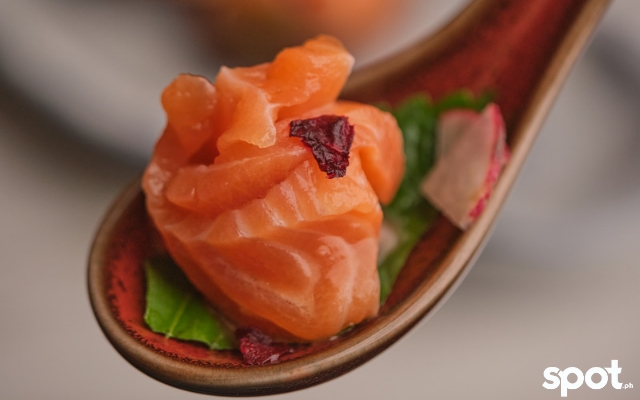 ADVERTISEMENT - CONTINUE READING BELOW
In need of something familiar in a new place? The Crispy Chicken Fingers (P490) will bring you right back. Crisp on the outside and moist on the inside, these chicken fingers are prime examples of doing something simple extremely well--when paired with their dip, though? It brings the classic grub to a new level. The mayonnaise base is hit with a spicy zing that makes it hard to stop grabbing one cutlet after the other. Now for something still in the fried category but with a little more flavor, order the Thai Fish Cakes (P520). Served as crisp balls of fish meat on lemon-grass skewers, these savory treats sit on an avocado and mango salsa to give it a fresh and fruity edge.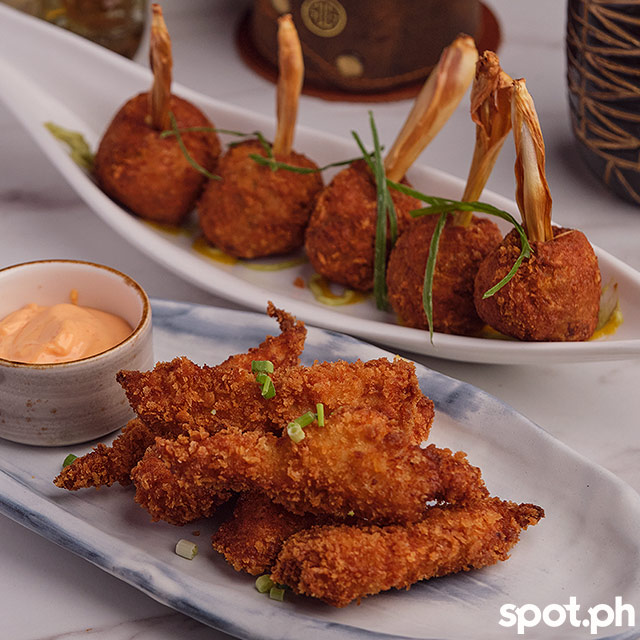 ADVERTISEMENT - CONTINUE READING BELOW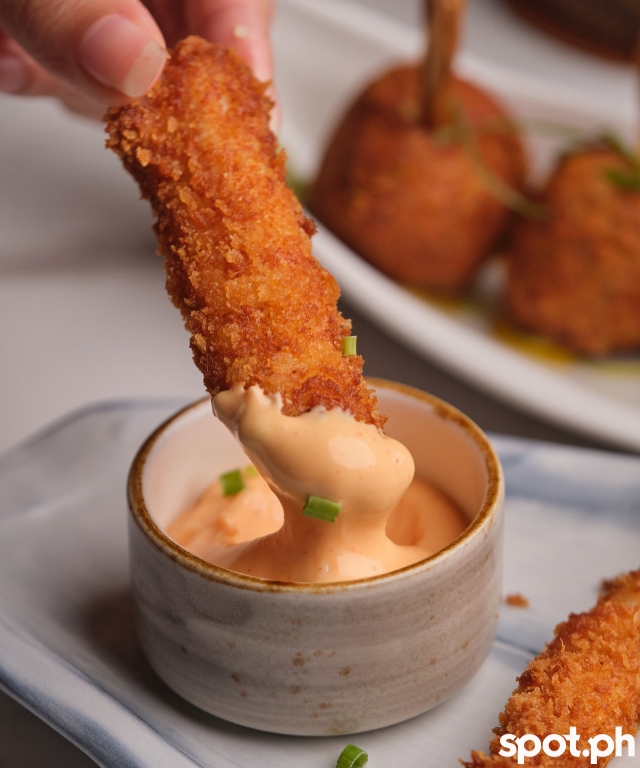 If there is one bar chow you absolutely must have at Ruby Wong's, it is the Smoky Chili Choco Chicharrons (P450). There's no way you can miss out on this plateful of chicharon—at different levels of fat-to-rind ratio—with some dipped in melted Auro chocolate, then sprinkled with chili flakes. There's something to be said about polar flavors--spice, fat, and deep, deep chocolate--melding in your mouth with every crunch, and that something is "Oh, yes." We know you might bat an eyelid at first glance; your tastebuds, though? They'll thank you at first bite.
ADVERTISEMENT - CONTINUE READING BELOW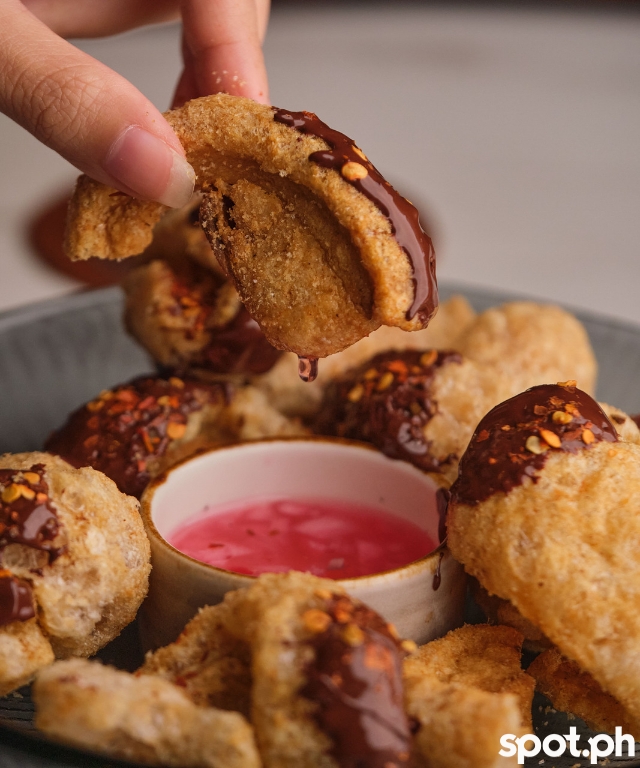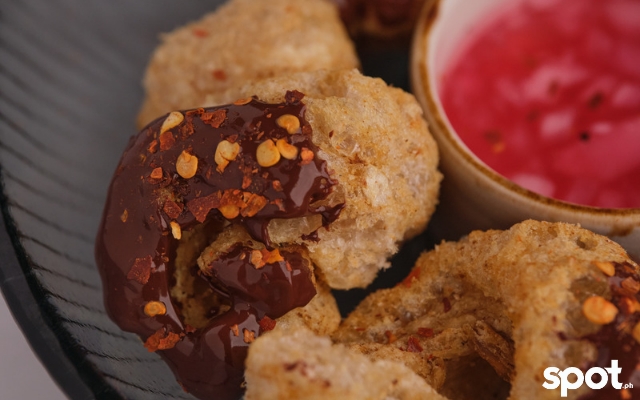 ADVERTISEMENT - CONTINUE READING BELOW
Ruby Wong's Godown isn't really a here or there type of place. It may be part of Admiral Hotel's stellar ecosystem, and it might be in historic Malate, but it is the type of gem you wouldn't expect to stumble into, or down to, in either. It's easy to forget where you are at Ruby Wong's, sipping and munching away, forgetting, if only for a moment, the rest of the world. 
Photos by Hans Fausto
Your guide to thriving in
this
strange new world.
Share this story with your friends!
---
Help us make Spot.ph better!
Take the short survey
More Videos You Can Watch
Load More Stories