Kodawari
G/F Adamson Centre, 121 L.P. Leviste Street, Salcedo Village, Makati City
Contact: 0906-351-9120
Facebook: www.facebook.com/kodawari.ph 
Open from 11 a.m. to 9 p.m., Monday to Sunday
(SPOT.ph) The pandemic was, on one hand, the era of reduced dine-in—and on the other hand, the era of the rise of delivery-only food businesses. And then came the advent of revenge dining, which—if you've noticed the rapid opening of new restos and fully booked tables at existing ones last year—signalled a new epoch. Not all delivery purveyors have managed to survive given these shifts. But there are a few that are adapting to the changes—and staying strong for it.
Kodawari is one of those gems. The brand made its debut in late 2020, making waves for its untraditional but damn-delish gyudon. Fast-forward to March this year, Kodawari's finally moving to the dine-in realm with the opening of their physical restaurant in Makati.
ADVERTISEMENT - CONTINUE READING BELOW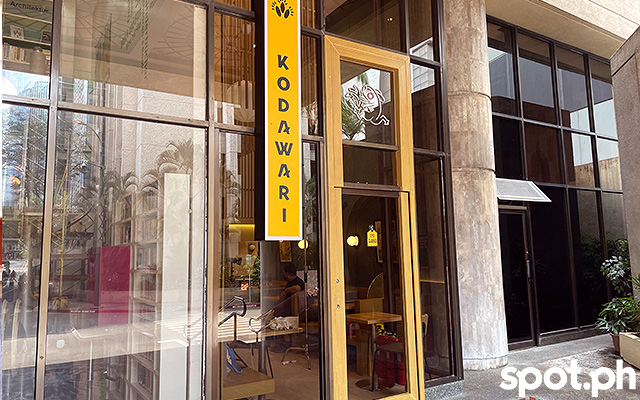 Also read: IG-Famous Gyudon Seller Kodawari Is Opening a Dine-in Resto in Makati
Here's what to try from Kodawari's recently opened gyudon restaurant:
"Money," Kodawari chef and owner Jake Aycardo jokes when asked about his reasons for starting the brand. This isn't entirely untrue—the Masterchef Asia alumn (who's also worked the kitchen at Wildflour!) previously owned food concepts in food halls that catered to office workers, but was forced to close these as the pandemic set in. Still wanting to provide for his staff, Aycardo started experimenting with new ventures. "The gyudon was probably like, the fifth or sixth thing I tried to sell," he says, explaining that it takes after a similar gyudon he used to sell at a food park.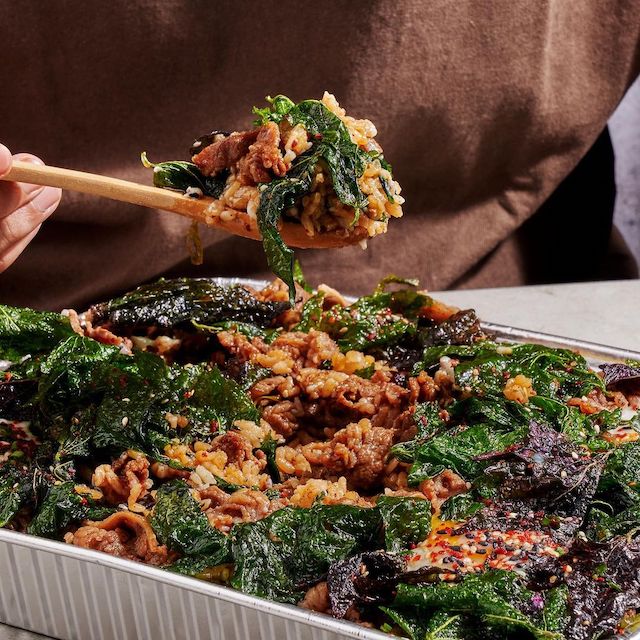 Purists might balk at the said gyudon's decidedly untraditional character, being comprised of beef that's seared before simmering; a 63-degree egg; Japanese rice; and—notably—a topping of fried talbos ng kamote leaves, in an effort to make use of affordable produce available in abundance. "I'd say it's even closer to tapsilog, so we're not striving for authenticity," shares Toni Potenciano of And a Half design studio, who did their branding—more on that later. "It's not trying to be authentically Japanese, but it does take a lot of influence from Japanese culture." They also sold it not in actual bowls (never mind that gyudon is a portmanteau of gyu or beef, plus don for donburi or rice bowls), but in trays meant for sharing.
ADVERTISEMENT - CONTINUE READING BELOW
"Honestly, I [just try to] make it good," says Aycardo when asked about his approach to his dishes. "Y'know, [I want to make] something I feel people would wanna eat." It's simple-sounding philosophy on paper—but the proof is in a pudding (the gyudon in this case) ad a spoonful delivers a sensation that's well beyond just "good." Hell, this is sublime stuff, what with the deeply savory beef (searing the meat gives you those Maillard reactions, a.k.a. flavor), perfectly runny yolk on the eggs, and the added earthiness and subtle crunch from the talbos (not dissimilar to Korean kimbajan or seasoned seaweed flakes). One-of-a-kind as their version of the Japanese dish is, it's ultimately comforting and balanced—no wonder they've managed to gain a following and grow their fair share of fans. And though Aycardo was literally cooking—and doing pickups from—his own home in Quezon City, they soon had partner Ryan Serrano join the team and open their own commissary in Brixton, Pasig, followed by a second commissary in Cebu.
ADVERTISEMENT - CONTINUE READING BELOW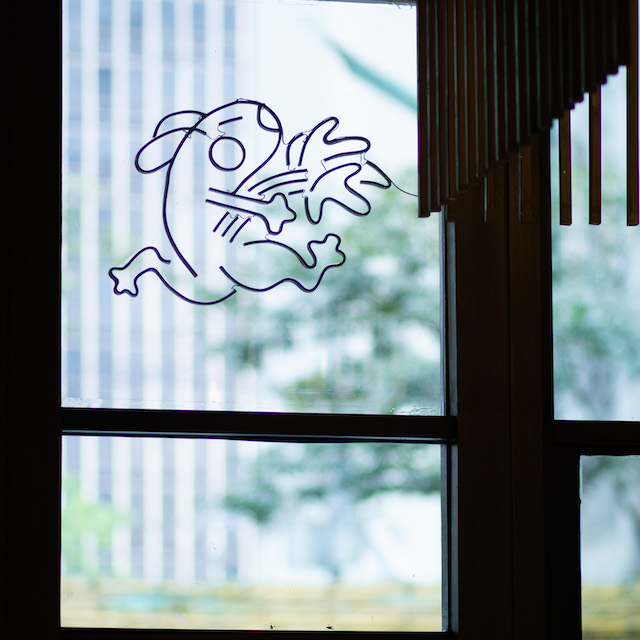 Come 2022, the team sought to explore the idea of opening Kodawari's physical dine-in restaurant. This, Aycardo shares, was not necessarily something he had planned when he started the business, admitting that a lot of what they've achieved has come about serendipitously. Though Kodawari got offers to open from malls, they decided to seize the opportunity to open along Leviste street in Salcedo Village, allowing them to cater to the office-worker crowd looking for satisfying options for lunch. It was also a sort of way of paying ode to Aycardo and Serrano's backgrounds prior to F&B, having worked in offices near the areas in previous years themselves.
ADVERTISEMENT - CONTINUE READING BELOW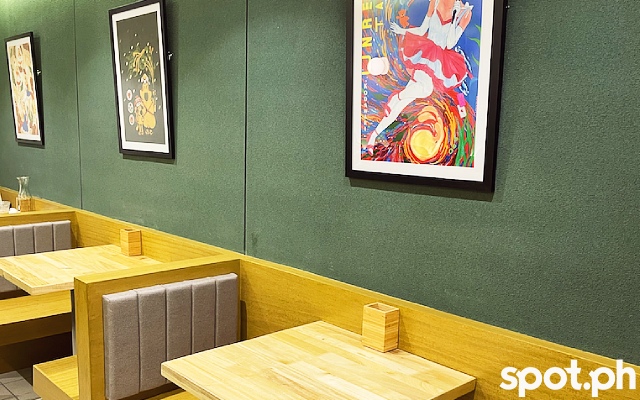 Located on the ground floor of Adamson Centre—same building as the Goethe Institut—with a yellow sign bearing their moniker, Kodawari isn't at all hard to spot. Salcedo Village is, of course, littered with dining spots, but Kodawari immediately stands out with their playful Japanese motif courtesy of And a Half. The design studio—with which they've been partnered up since Kodawari's beginnings—played up the Japanese theme and gave Kodawari a distinct hip, quirky look incorporating elements of Japanese pop culture. They've extended the theme from Kodawari's social-media feed and onto the Makati restaurant: Retro J-Pop tunes play from their speakers, and Japanese-esque artwork (including vintage anime posters) hang from their moss-green walls. The wooden block chairs and tables are similarly a nod to the Land of the Rising Sun.
ADVERTISEMENT - CONTINUE READING BELOW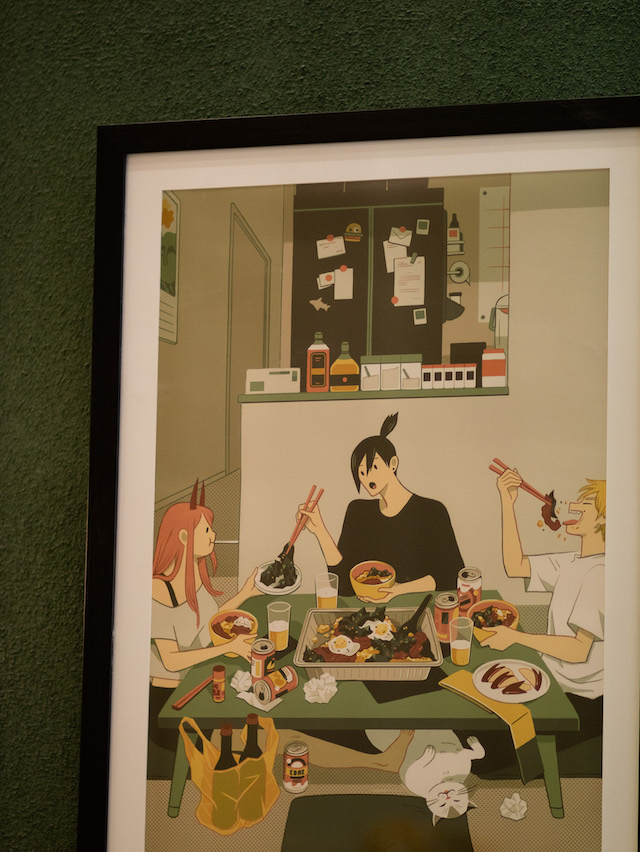 The OG dishes Kodawari's come up with—and have been known for—from the delivery-only days are happily on the restaurant's menu, now in single-serve bowls complete with your rice, protein (or protein-adjacents), and veg. We don't need to tell you that the Gyudon (P385) is a must-order, whether you're a Kodawari virgin or loyalist; there's also the Chashudon (P390) with pork belly if porcine is your meat of choice. 
ADVERTISEMENT - CONTINUE READING BELOW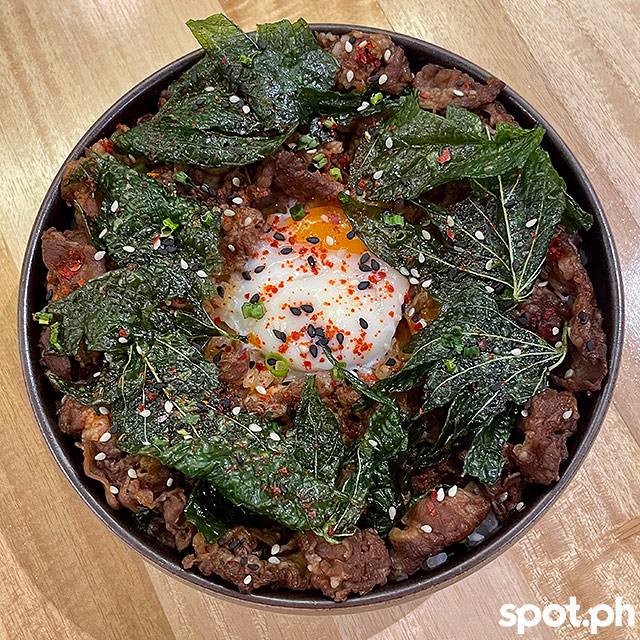 Another fan fave from Kodawari is the Shroomdon (P525), which is also present for dine-in and good as ever. This soulful bowl delivers plenty of earthiness and a meaty bite sans meat, what with four kinds of mushrooms (braised shimeji, shiitake, and King Oyster varieties plus fried enoki mushrooms) that each have their own distinct tastes and textures, sitting atop hot Japanese rice. Crack open the 63-degree egg and watch the yolks flow out like lava; don't forget to get a bit of that crisp, earthy talbos ng kamote in your spoonful. (Yes, spoonful; Kodawari gives you spoons and forks by default, with Aycardo explaining it's the most conducive to their donburi and to the kind of rice they use. But you can request for chopsticks.)
ADVERTISEMENT - CONTINUE READING BELOW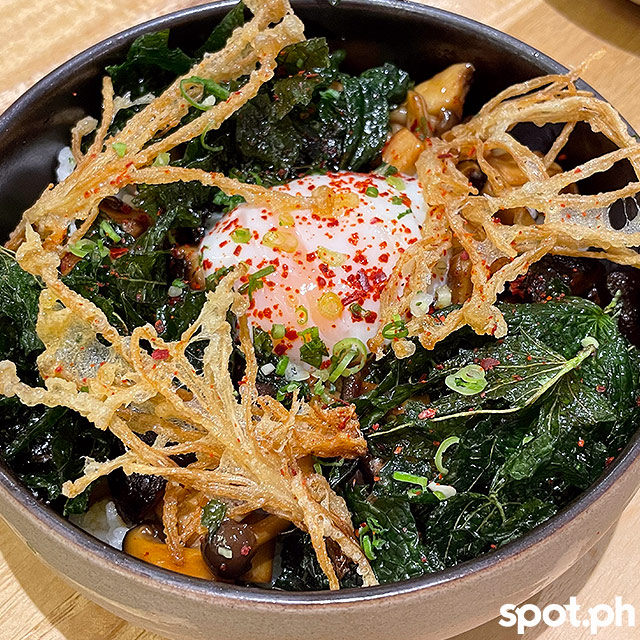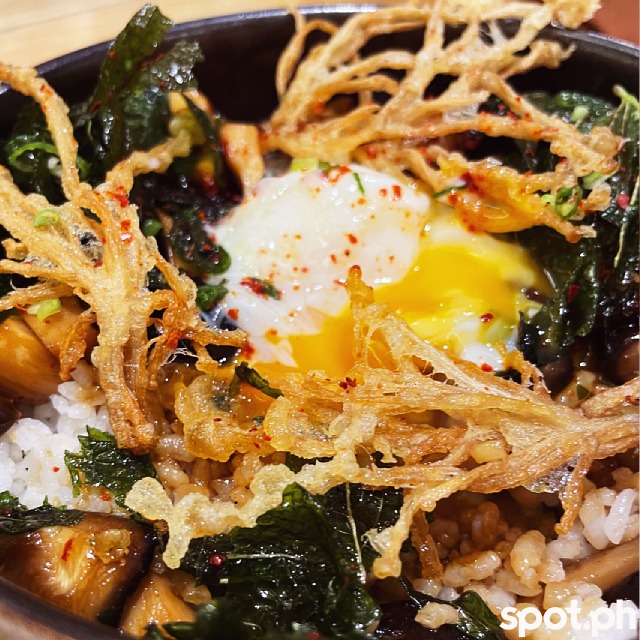 ADVERTISEMENT - CONTINUE READING BELOW
But the dine-in resto is also home to newcomers, of which is the standout Salmon Mentai Don (P850). Featured here is a slab of the fish, cooked sous-vide then torched—rendering the outsides lightly crisp and the insides succulent (and pink!). Dollops of mentaiko aioli plus tobiko give you pops of creaminess and umami; wakame underneath amp up the savoriness; and fried pako leaves deliver crispness while making for a perfectly picturesque bowl.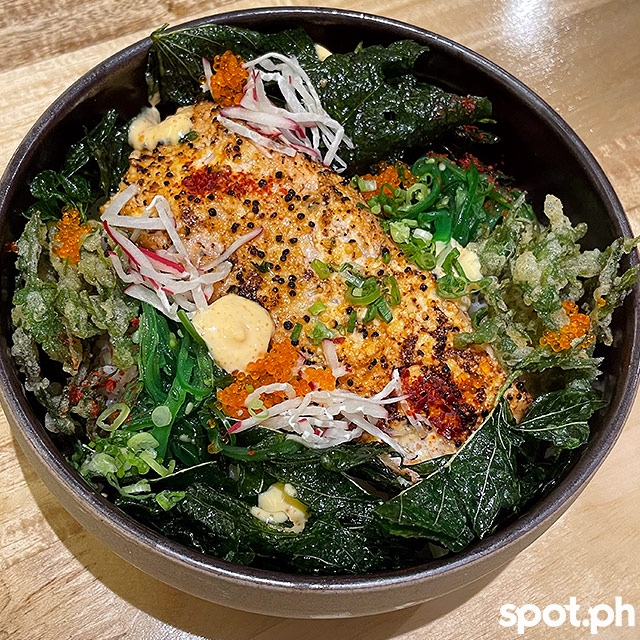 ADVERTISEMENT - CONTINUE READING BELOW
Well worth the splurge, too, is the Steakdon (P1,100). We'd stop here and just let the photos do the talking, because it is a sexy sight to behold, alright, but it also rightfully delivers in the flavor department. Kodawari employs Australian Wagyu zabuton and gives it a quick sear while the centers juicy and medium-rare—then serves it in slices, drizzling over their special steak sauce with akamiso for natural umami that brings out, but doesn't take over, the taste of the beef.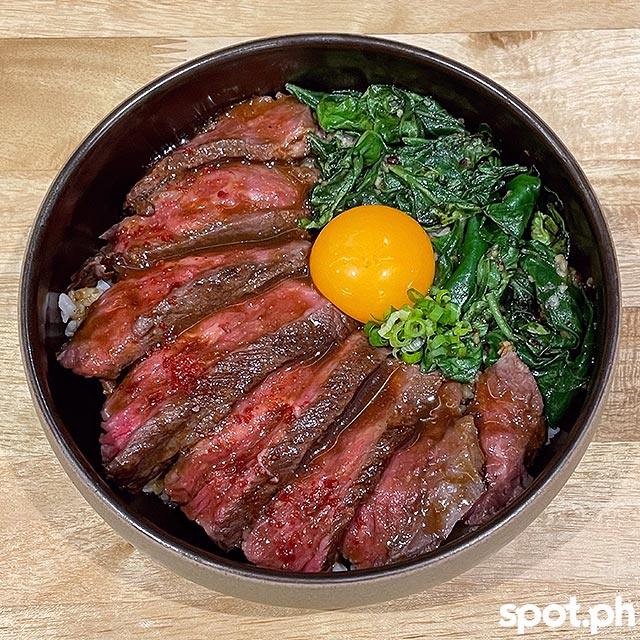 ADVERTISEMENT - CONTINUE READING BELOW
Considering their flagship is their beef bowl, you'd be surprised to know they have a great hand on veg; the Cauliflower (P280) is great proof of this, with cauli pieces fried for a crisp-charred exterior and soft, naturally sweet interior, then dressed with a Southeast Asian-leaning dressing of sesame, fish sauce, and lime. In the same vein, the Baby Corn (P265) is mind-blowing stuff. The oft-ignored vegetable is reimagined in a feisty light here, being torched for smokiness and to bring out its natural sweetness, then topped with a rich-umami party of mentaiko aioli, crispy nori, and tobiko.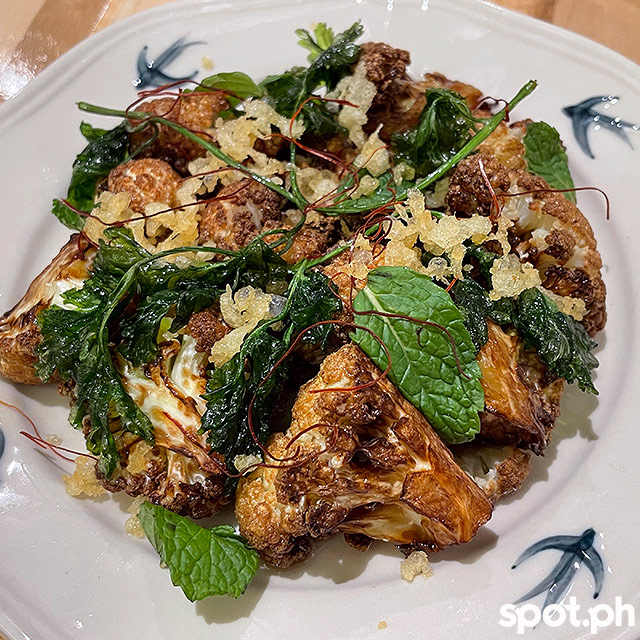 ADVERTISEMENT - CONTINUE READING BELOW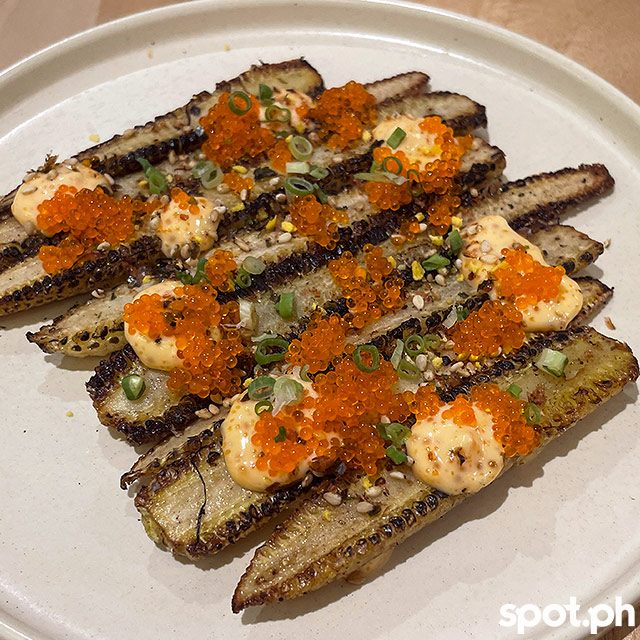 The Kodawari team makes it a point to keep the menu tight with no fillers just for the sake of having fillers—but there's still ample variety that you can switch up or rotate orders with every visit (they do want people dropping by regularly, Serrano shares). Apart from their plant-forward plates, they've also got slurp-worthy noodles of the likes of the Chilimansi (P355)—which is several steps above the prepackaged stuff with their use of fresh noodles. Other nibbles that you can pass around as a starter or have as a side include the Spicy Salmon (P365), served with chips for dipping nachos-style; and the Saba Misoni (P420) or shime saba lent spunk by a miso sauce, served atop wakame.
ADVERTISEMENT - CONTINUE READING BELOW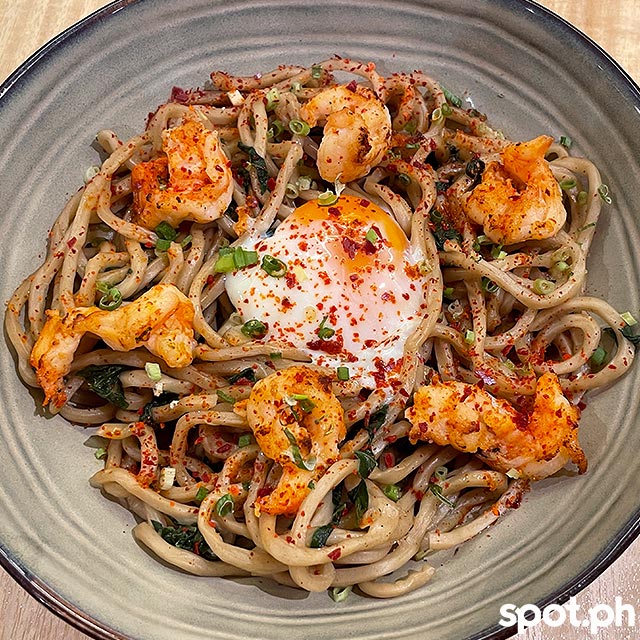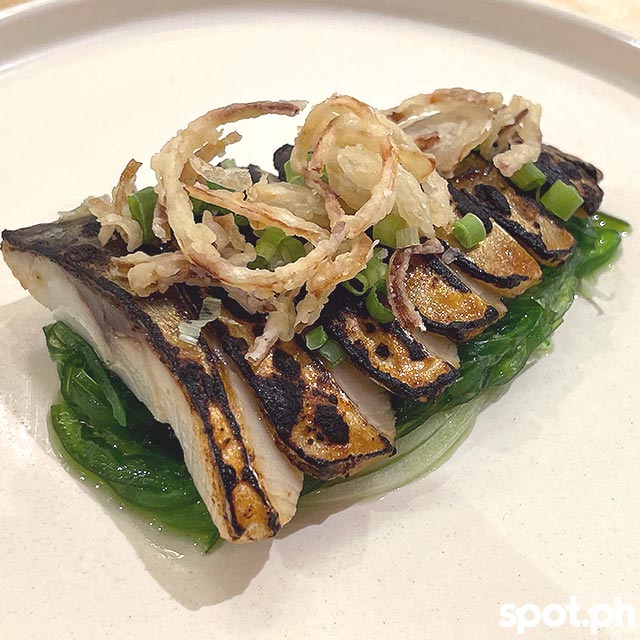 ADVERTISEMENT - CONTINUE READING BELOW
Kodawari's grown in many ways, as they now take on the beast that is the world of dine-in with new dishes to boot. Still, there's comfort in knowing that they're making it a point to retain the core of the brand—that is, the offbeat, whimsical disposition of their food and design that speaks of the team's creativity. Kodawari's allowing their metaphorical tree grow and branch out, so to speak—thankfully, in a way that doesn't let go of their roots.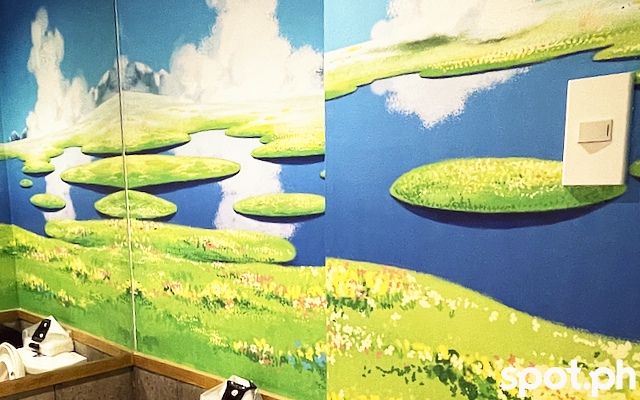 ADVERTISEMENT - CONTINUE READING BELOW
Hey, Spotters! Check us out on Viber to join our Community and subscribe to our Chatbot.
Share this story with your friends!
---
Help us make Spot.ph better!
Take the short survey
More Videos You Can Watch
Load More Stories