Top 10 Hot Chocolate in Manila
Welcome rainy weather with the ultimate in warm, feel-good, kid-friendly drinks.
(SPOT.ph) There's nothing more comforting (and kid-friendly) than a cup of hot cocoa when the rain begins to pour. When you're looking for an instant pick-me-up but feel that the calories of a cake-fest may be too much, a small cup of hot chocolate can easily put you in a good mood. Creamier than the traditional tablea, mixed with the richness of whipped cream or a serving of cookies, restaurant-served hot chocolate is a cut above your standard homemade Swiss Miss and can bring a huge amount of happy.
All SPOT.ph Top 10 lists are researched, paid for, tested, and selected by the writers and editors. They are discreetly conducted without any notice made to the restaurants or their owners.
Also read: Top 10 Tsokolate (2013 Edition)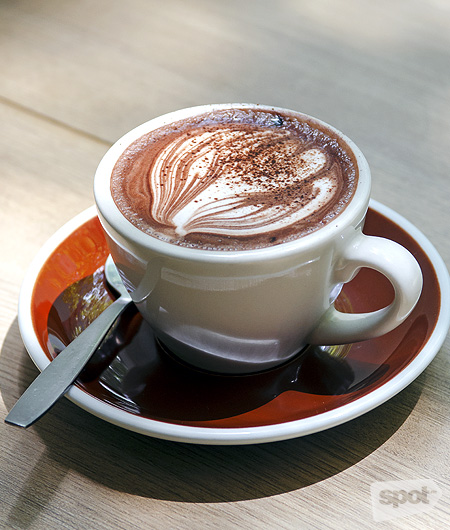 10. Yardstick's Hot Chocolate (P150)
Yardstick's mochas offer an exceptional chocolate taste, so sampling their hot chocolate is a must. While not as rich or full-flavored as their coffee, this cup is delicious in its own right. It's light enough to pair well with pastries, but you could also try asking for a dollop of whipped cream if you're looking for something with a little more weight.
ADVERTISEMENT - CONTINUE READING BELOW
Yardstick is at Esteban Street, Legazpi Village, Makati City. Read more about Yardstick.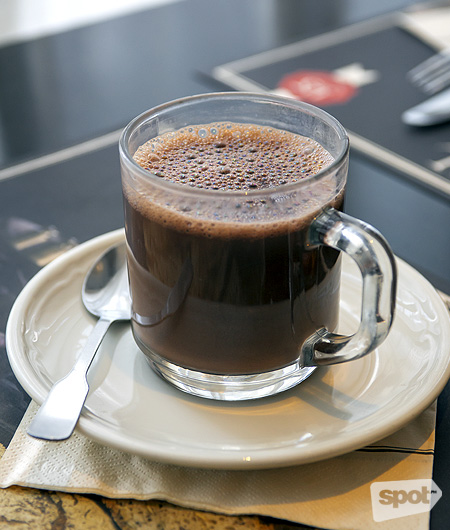 CONTINUE READING BELOW
Recommended Videos
9. Paul's Chocolat Chaud PAUL (P185)
If you prefer a thinner blend, then Paul's standard hot chocolate will give you a pleasantly light texture paired with great chocolate taste. A perfect way to cap a full meal or a nice complement to one of their desserts, this drink won't leave you feeling full. If you're in for something a little thicker, their Chocolat Viennois adds whipped cream to the mix. Still a cut above making your own mug of chocolate at home, this is a good try.
Paul has branches at SM Aura Premier, Bonifacio Global City; Bench Tower, Rizal Drive corner 30th Street, Bonifacio Global City. Read more about Paul.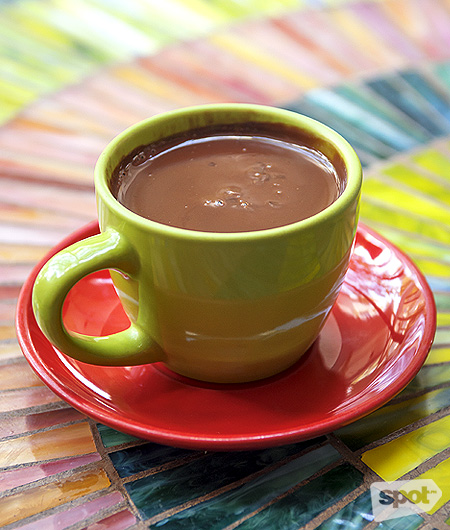 ADVERTISEMENT - CONTINUE READING BELOW
8. Mary Grace's Hot Chocolate (P121)
Mary Grace Café offers a huge selection of hot chocolates from Valencia to Mexicana to even a local Tsoknut flavor. Their stalwart cup, however, is the Hot Chocolate which provides a mild and understated flavor for those looking for something to up their afternoons, complement it with their ensaymada or cheese roll. Comforting without being overpowering, this cup goes best with a sweet treat on the side.
Click here for a list of Cafe Mary Grace branches.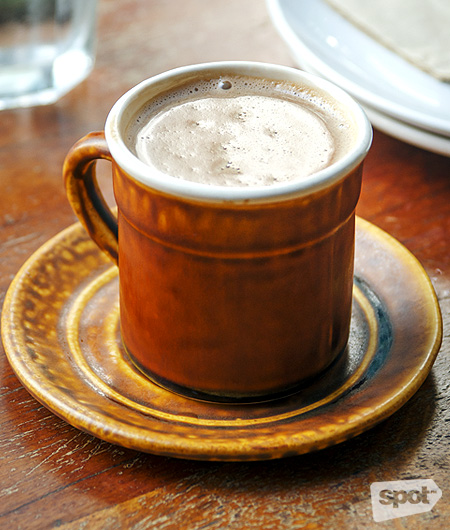 7. Wildflour's Hazelnut Hot Chocolate (P160)
Ferrero Rocher and Nutella lovers, this cup is perfect for you. Wildflour's hot chocolate mixes perfect hot chocolate consistency with a fun shot of hazelnut sweetness. The first sip may come as a big surprise—especially for those who favor not-too-sweet blends, but the initial sugar shock does die down so you're left with a pleasantly unique flavor.
ADVERTISEMENT - CONTINUE READING BELOW
Wildflour has branches at Net Lima Building, 4th Avenue corner 26th Street, Bonifacio Global City; The Podium, Mandaluyong City; 125 L.P. Leviste Street, Salcedo Village, Makati City; Rada Street, Legazpi Village, Makati City. Read more about Wildflour.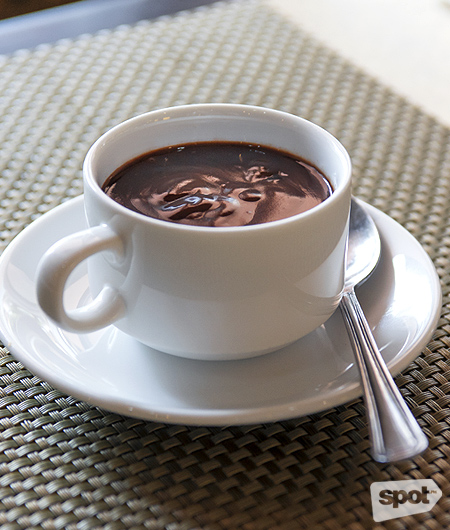 6. Dulcinea's Spanish Chocolate (P80)
Way before the churros trend hit the city, Dulcinea has been churning out the sweet treats and Spanish goodies for years. Their hot chocolate is available to order with their signature churros, but it is also available in single servings. Dulcinea's Spanish Chocolate gets everything right. The flavor is sharp and bold, its texture is the right thickness, the serving size is neither wanting nor overwhelming. While most people have this with the churros, it's a substantial dessert on its own. An added bonus? The surprisingly affordable price point.
Click here for a list of Dulcinea branches. Read more about Dulcinea.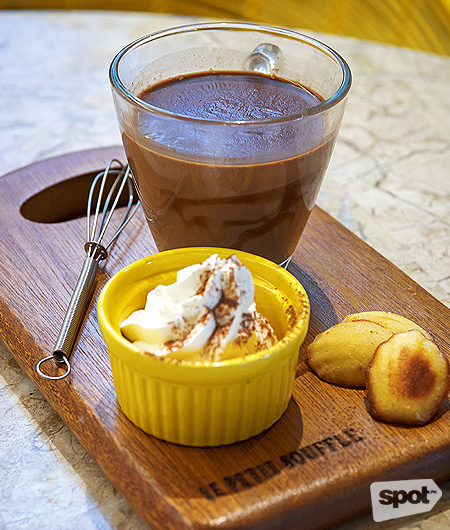 ADVERTISEMENT - CONTINUE READING BELOW
5. Le Petit Souffle's Hot Chocolate (P230)
This French-Japanese restaurant is charming and dainty—which is exactly what anyone can expect from its hot chocolate, too. There is no mistaking good, solid chocolate and you get nothing less from Le Petit Souffle because it uses Valrhona for this blend. Every cup comes with a serving of fresh whipped cream topped with a sprinkling of cocoa powder. The plate also comes with a mini whisk to keep you in control of just how thick you want your chocolate to be. Another plus are the bite-sized Vanilla Madeleines that come with each order.
Le Petit Souffle is at Century City Mall, Kalayaan Avenue, Makati City. Read more about Le Petit Souffle.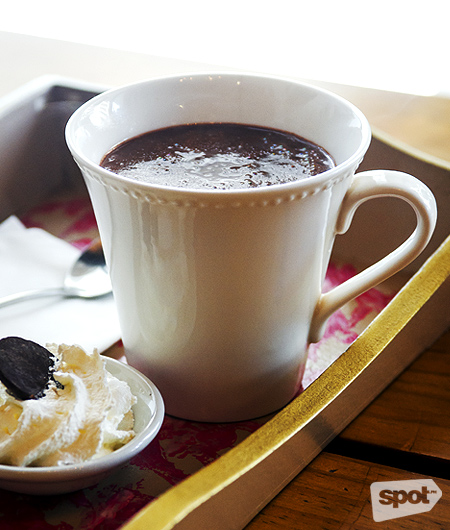 4. La Creperie's Angelina (P210)
La Creperie has a big selection of hot chocolate, covering everything from Spanish bittersweet to French with native tablea. Angelina's is its premium creation—rich hot chocolate with dark chocolate couvertures plus a side of whipped cream make this drink both a sweet treat and a gastronomic experience. Popping the small pieces of chocolate into the drink and stirring the fresh whipped cream allows you control over the thickness. The serving is incredibly hefty, providing you with a rich flavor that does not overwhelm the senses.
ADVERTISEMENT - CONTINUE READING BELOW
Click here for a list of La Creperie branches.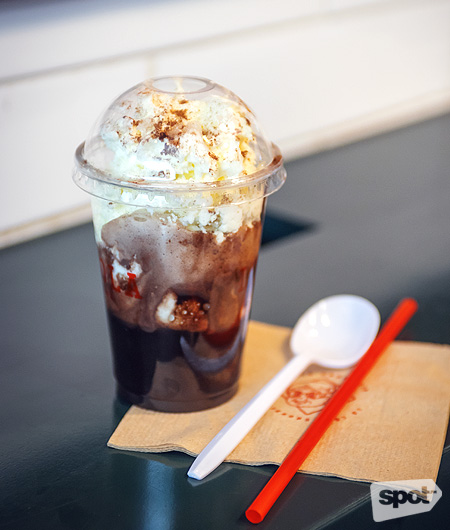 3. La Lola's Chocolate Suizo (P120/six-ounce, P220/12-ounce)
If you're already part of the droves of people that head to this churreria every weekend, you'll know just how good their dipping chocolate is. Take that mini cup and turn it into a regular drink, and you get an out-of-this-world hot chocolate that defies all the other cups. A little too thick to be drunk straight out of the cup, the six-ounce Chocolate Suizo is poured into a plastic cup, and topped with whipped cream twice its height. Best shared, all you need is one sip of this extremely rich blend to knock your socks off.
La Lola Churreria has branches at Power Plant Mall, Makati City; SM Aura Premier, Bonifacio Global City; and UP Town Center, Quezon City. Read more about Churerria La Lola.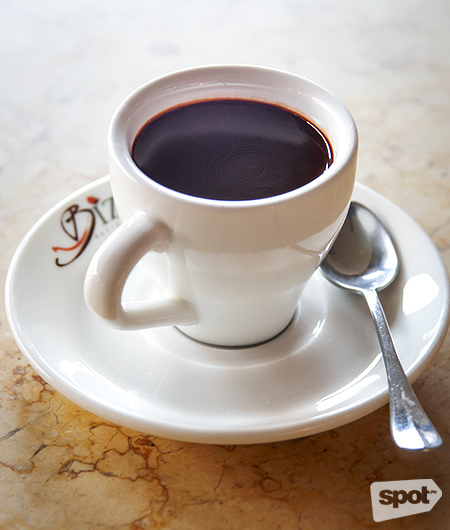 ADVERTISEMENT - CONTINUE READING BELOW
2. Bizu's Thick Hot Chocolate (P135)
Bizu gives you a choice between a thick hot chocolate in a demitasse cup (also known as the espresso), or a thinner, more watered-down blend (the latte). The Espresso may come in a tiny cup, but like an espresso shot, its small serving packs a mighty punch. Thick enough to be eaten by the spoon while it's delivered piping hot, it's also liquid enough to be guzzled down in one go (you'll love it so much you'll want to lick the cup).
Click here for a list of Bizu branches. Read more about Bizu.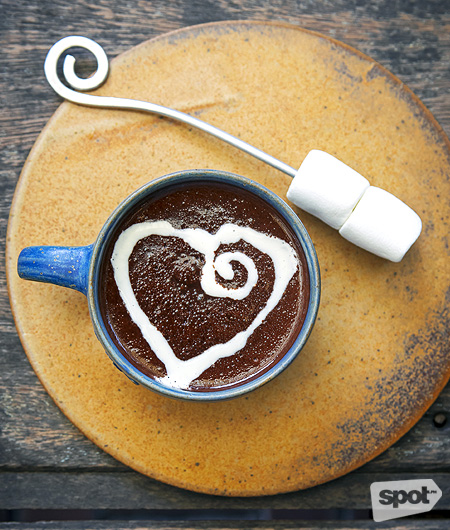 1. Xocolat's Taza de Xocolat (P175)
This neighborhood chocolaterie has been around for years and with good reason—its signature cup of hot chocolate. Made fresh and well worth the wait, the Taza de Xocolat delivers a rich and bold flavor that will satisfy those looking for pure chocolate without too much sweetness. Substantially thick but good enough for a slow sip, the cup also comes with skewered marshmallows (if only there were graham crackers too!). Bonus: Xocolat offers exemplary customer service, too. Make this your go-to cocoa treat.
ADVERTISEMENT - CONTINUE READING BELOW
Xocolat has branches at B. Gonzales Street, Loyola Heights, Quezon City; and Promenade, San Juan City. Read more about Xocolat.
Photos by Toto Labrador
Also read: Top 10 Tsokolate (2013 Edition)
Share this story with your friends!
---
Help us make Spot.ph better!
Take the short survey
Load More Stories