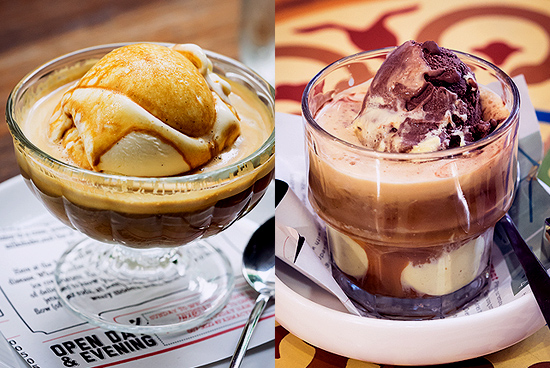 (SPOT.ph) We have the Italians to thank for the affogato, an ingenious coffee concoction that melds two of everyone's favorite treats—ice cream and espresso. When a steaming Americano only adds to the season's sweat factor, and a scoop of ice cream can potentially lead you to a carb crash mid-day, this alternative gives you the best of both worlds. Get your caffeine jolt without losing the icy, creamy goodness that only ice cream can offer by making the affogato your go-to beverage this summer.
ADVERTISEMENT - CONTINUE READING BELOW
We round up your best bet against the mind-numbing heat of summer.
All SPOT.ph Top 10 lists are researched, paid for, tested, and selected by the writers and editors. They are discreetly conducted without any notice made to the restaurants or their owners. Hotel-run restaurants were not considered for this list.
Also read: Top 10 Affogato (2012 Edition)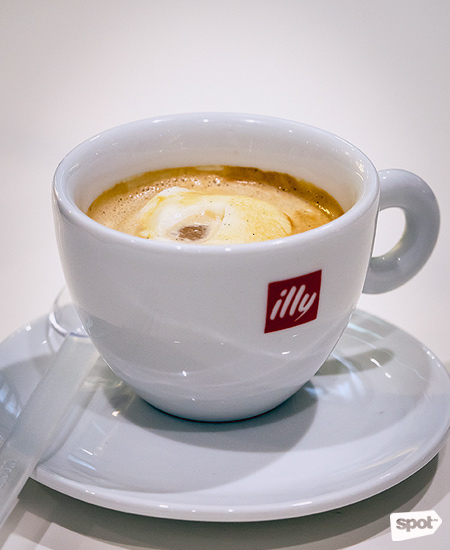 ADVERTISEMENT - CONTINUE READING BELOW
Recommended Videos
10. BONO Gelato's Affogato (P250)
It's customer's choice, as far as what flavor of gelato goes into your beverage. The folks behind the counter, however, recommend the best-selling Tahitian Vanilla Bean. The serving size is pretty good, given the hefty price tag. BONO's gelato can get a little icy in some bites, but because affogato is technically a beverage, this is actually an advantage.
Click here for a list of BONO Gelato branches.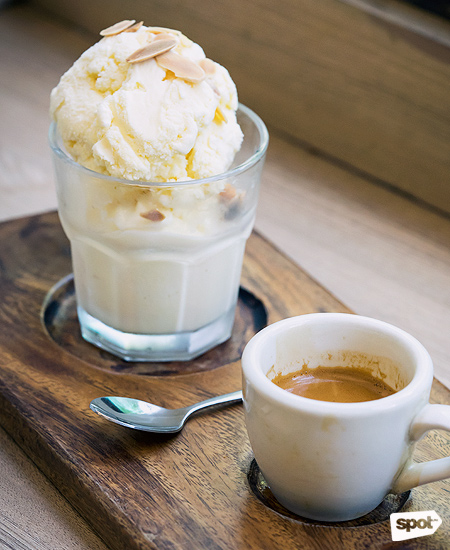 ADVERTISEMENT - CONTINUE READING BELOW
9. Yardstick's Affogato (P185)
Yardstick is one of the more talked-about local coffee brands, and its take on affogato is boosted by exceptional coffee. The café uses a huge serving of Big Scoop vanilla ice cream for this concoction. Warning: If you're looking for more coffee than ice cream, then you're better off just ordering a regular cup of joe. Their affogato leans towards milkshake territory, so ice cream fans will not be disappointed. The almond slices on top make for a nice touch, too. Messy eaters, spoon your espresso over the ice cream rather than pouring it in one shot.
Yardstick is at G/F Universal LMS Building, 106 Esteban Street, Legazpi Village, Makati City. Read more about Yardstick.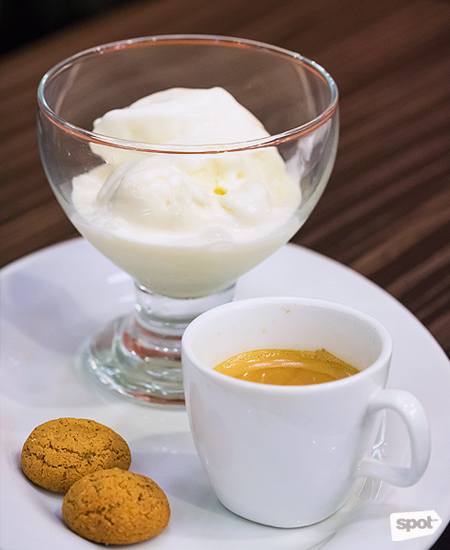 ADVERTISEMENT - CONTINUE READING BELOW
8. Va Bene Pasta Deli's Affogato (P240)
It only makes sense to head to one of the city's most authentic Italian restaurants to find delicious affogato. Va Bene's strong but well-balanced espresso blend is complemented by perhaps the creamiest, richest vanilla ice cream we've ever tasted. While this concoction errs on the more pricey side of the scale, you do get a nice touch with the side of almond biscotti. After a full meal at Va Bene, we can only imagine that their affogato is best shared (unless you can chug all that creamy goodness all on your own).
Va Bene Pasta Deli has branches at 3/F Cinema Level, Central Square, Bonifacio High Street, Bonifacio Global City; Circuit Lane, Makati City; and Petron Gas Station, EDSA corner A. Arnaiz Avenue, Makati City. Read more about Va Bene.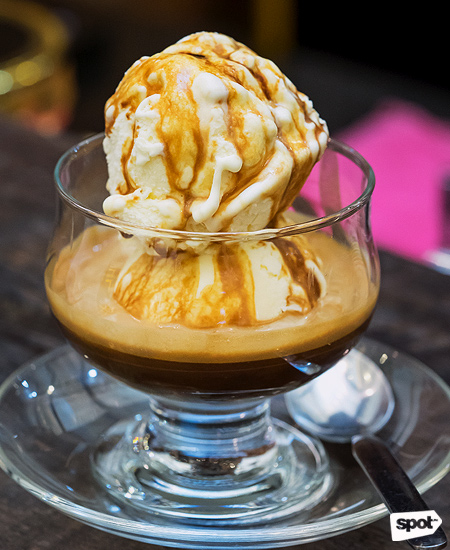 ADVERTISEMENT - CONTINUE READING BELOW
7. Craft Coffee Revolution's Affogato (P160)
If you're a fan of Craft's strong, bold coffee, you won't want to miss their affogato. More coffee than ice cream, this will give you the kick you're looking for to get you through the day. The vanilla ice cream is slightly icy, which works since the summer heat almost begs for a little more ice and a little less cream. One other thing that merits big props is Craft's excellent presentation. This affogato deserves an Instagram moment.
Click here for a list of Craft Coffee Revolution branches.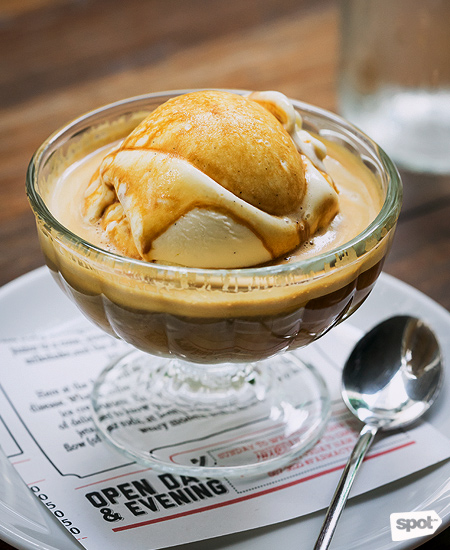 ADVERTISEMENT - CONTINUE READING BELOW
6. Farmacy's Affogato (P261+)
You can't go wrong with affogato from an ice cream parlor known for its homemade ice cream. If you're looking for more ice cream than espresso (think: milkshake), make this your go-to drink. Served in a sundae cup, you can opt for the espresso to be poured over by the staff or yourself (the latter can get pretty messy). Mixing the two delivers an almost burnt-buttery flavor that you won't find anywhere else. You'll want to take this extremely rich drink fast because it melts faster than you can say affogato.
Farmacy is at G/F Net Lima Building, 4th Avenue corner 26th Street, Bonifacio Global City. Read more about Farmacy.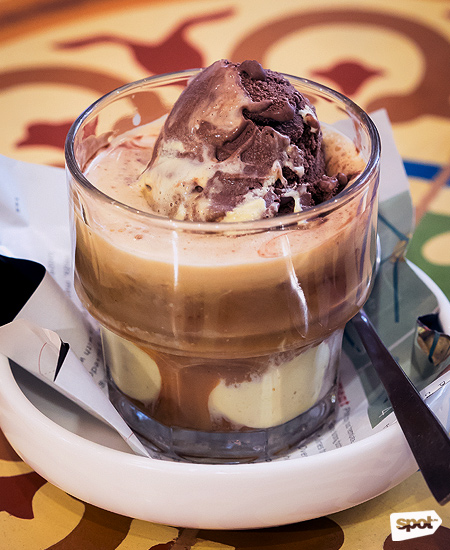 ADVERTISEMENT - CONTINUE READING BELOW
5. Café Publico's Black and White Affogato (P185)
This little restaurant in Greenhills is known for its gelato selection, which is the perfect boon to an espresso-based beverage. Café Publico's Black and White takes a bold and fun step away from the typical affogato by using their Vanilla Bean and Dark Belgian Chocolate gelato along with their signature Publico blend espresso. Their gelato is extremely smooth—we especially love the little chocolate bits in the chocolate ice cream. It comes out to be more mocha than plain espresso, something that works in this café's favor.
Café Publico is at Promenade, Greenhills Shopping Center, San Juan City.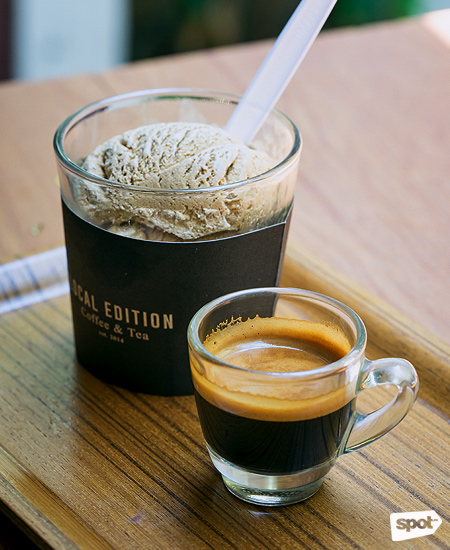 ADVERTISEMENT - CONTINUE READING BELOW
4. Local Edition's Affogato (P135)
Local Edition makes an impression for being more rustic than polished, more laidback than dressed up, and more casual than prim and proper. Their affogato reflects this easygoing atmosphere—it combines its very potent and powerful local blend with a unique ice cream choice: salted caramel, which provides a subtle counterpoint to the strong coffee flavor. The ice cream holds up—your beverage doesn't turn into an instant milkshake once you pour the espresso over your ice cream, giving it more bite than most other concoctions.
Local Edition is at 116 Perea Street, Legazpi Village, Makati City. Read more about Local Edition.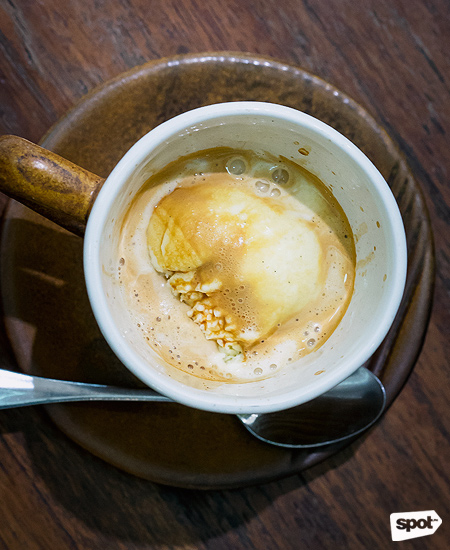 ADVERTISEMENT - CONTINUE READING BELOW
3. Wildflour's Espresso + Single Scoop Ice Cream (P240+)
Wildflour's affogato is not on the menu, but ask for it and the staff will deliver. Presentation isn't all that great—you get your scoop of vanilla ice cream already dunked in a mug that's filled with their espresso. Simple and no-nonsense, those looking for aesthetics will be slightly pleased to see the vanilla bean speckles dotting the scoop of ice cream. Appearances aside, Wildflour offers exactly the right coffee to ice cream ratio—something that'll give you the best amount of both ingredients to leave you awake and cooled down.
Click here for a list of Wildflour branches. Read more about Wildflour.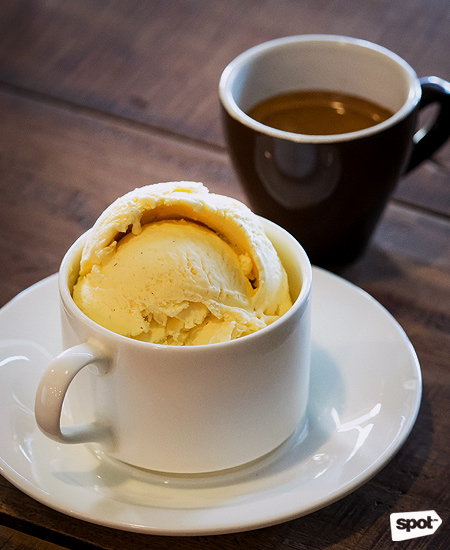 ADVERTISEMENT - CONTINUE READING BELOW
2. Epic Café's Affogato (P160)
Before all the artisanal ice cream brands began cropping up everywhere, Epic's wide range of homemade ice creams in interesting flavors drove crowds to the little coffee shop. It's no surprise then, that their affogato delivers a rich, bold, and well-rounded flavor. Their vanilla bean ice cream is dense—slightly icy and provides the perfect backdrop for the accompanying shot of espresso. Not only do you get a perfectly balanced mix of the two ingredients, Epic provides a generous serving of both coffee and ice cream.
Epic Café is at 7th East Building, 102 East Capitol Drive corner Santa Rosa Street, Kapitolyo, Pasig City. Read more about Epic Café.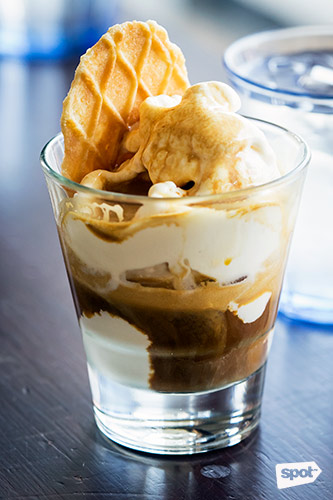 ADVERTISEMENT - CONTINUE READING BELOW
1. Magnum Opus' Wafflegato (P160)
People from the south are lucky to have this little coffee shop right at their doorstep. Not only is their coffee ace in itself, their unique waffle + affogato combination brings the best of all worlds together in one sumptuous sip and bite. Magnum Opus one-ups your typical affogato with a thin and crispy waffle—a little heftier than a flaky barquillo, but not at all bready or heavy. The Wafflegato is well-proportioned—it has just the right amount of ice cream to balance their espresso shot. At the end of the day, the make-or-break of any affogato would be the coffee, and with Magnum Opus' blend, you know this beverage is worth the calories. People from the north should make the trip down to this café—we did, and it was well worth the toll and traffic.
Magnum Opus Fine Coffees is at 2/F The Prime Building, 115 Aguirre Avenue, BF Homes, Parañaque City. Read more about Magnum Opus Fine Coffees.
ADVERTISEMENT - CONTINUE READING BELOW
Photos by Toto Labrador
For other Top 10 lists, check out SPOT.ph's Top 10 Everything Food Lists 3rd Edition. Co-presented with C2 Cool and Clean, it's priced at P195, available at major bookstores.
Share this story with your friends!
---
Help us make Spot.ph better!
Take the short survey
Load More Stories