Top 10 Restaurant Fries in Manila (2016 Edition)
Sur-fries! Your favorite side dish takes centerstage.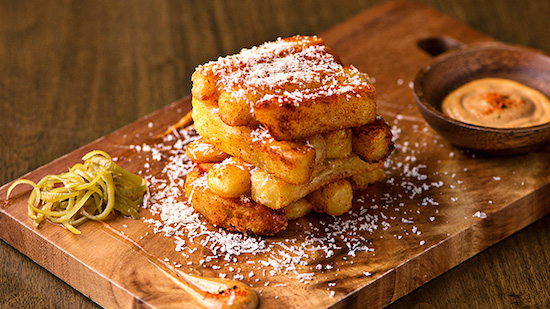 (SPOT.ph) French fries are common food fare—usually playing a bit acting role in the full-blown stage production that is your restaurant meal. Either they're bundled with a dish (providing filling carbs in lieu of rice) or ordered as an afterthought. But have we stopped, smelled the potatoes, and truly savored these well-loved snacks? In this list, we share some incredibly tasty baked and deep-fried picks, appreciating the effort that goes into preparing exceptional french fries that stand out in a gastronomic sea of run-of-the-mill starchy sticks.
ADVERTISEMENT - CONTINUE READING BELOW
CONTINUE READING BELOW
Recommended Videos
And before a potato-fueled uproar takes place online, we'd like to assure you that we have not forsaken the ever-reliable, delish quick-fix fries from McDonald's, Jollibee, KFC, and Potato Corner. They remain near and dear to our hearts and bellies. 
So, whether you prefer your fries thin or thick, crispy or soggy, skin-on or bare, salty or spicy—we've got your tater-loving taste buds covered.
All SPOT.ph Top 10 lists are researched, paid for, tested, and selected by the writers and editors. They are discreetly conducted without any notice made to the restaurants or their owners.
Also read:
Top 10 Truffle Fries in Manila
SPOT.ph Round-Up: 10 Unique French Fries in Manila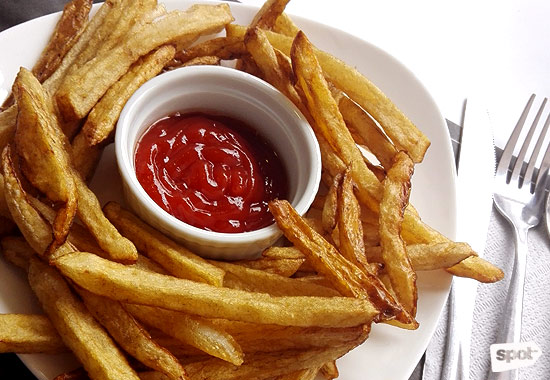 ADVERTISEMENT - CONTINUE READING BELOW
10. Diner On 16th's Skin-On Fries (P55)
Gimme some skin—on my potato, that is. If you're the type of french fry fiend who prefers the earthy flavor and chewy texture of potato skin, then this dish is for you. These Skin-On Fries are served hot, fresh, slightly soggy (great if you're not into the crunchy type), and able to sop up ketchup.
Diner on 16th's is at 16 United Street, Kapitolyo, Pasig City. Read more about Diner on 16th.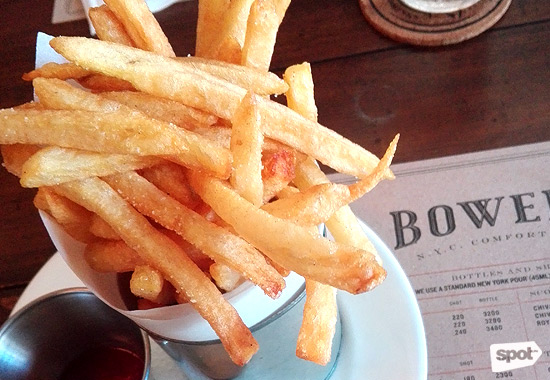 ADVERTISEMENT - CONTINUE READING BELOW
9. The Bowery's French Fries with Lemon Aioli (P80)
Are you hankering for some comfort food or post-hangover meal? Then head over to The Bowery so you can unwind and dine. They're already known for having good breakfasts but their fries aren't a pushover either. These potatoes are fried to a pretty golden-yellow hue that pairs well with the garlicky acidity of the lemon aioli.
The Bowery is at G/F Rizal Driver corner 29th Street, Burgos Circle, Bonifacio Global City. Read more about The Bowery.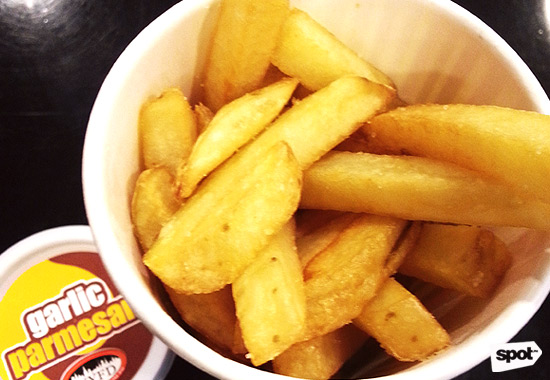 ADVERTISEMENT - CONTINUE READING BELOW
8. NYFD's Fries (P90/regular, P115/large, P150/grande, P205/giant)
A classic snack for moviegoers and concert attendees, these fries may not be as famous as fast-food fries but they are still popular. Enjoy savory chunks of thick-cut fries in a handy cup that are way more filling than just biting into thin, hollow taters. Every bite gives you a generous amount of potato filling. They taste even better with their wide variety of dips. It's not too crispy and not too soggy—these fries are juuust right.
NYFD's fries are usually served fresh off the fryer so they're best enjoyed leisurely in one of their sit-down branches. (Not that eating them while watching a movie makes them less delicious.)
Click here for a list of NYFD branches.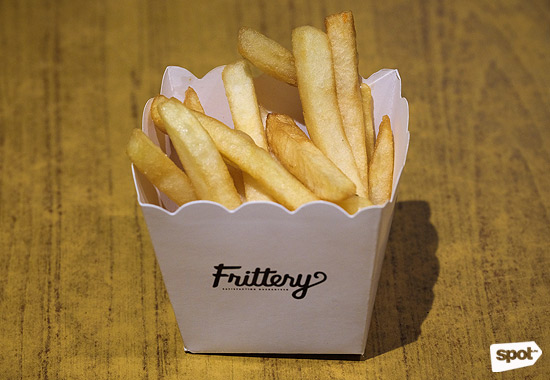 ADVERTISEMENT - CONTINUE READING BELOW
7. Frittery's Classic Belgian Fries (P55/medium, P85/large, P115/grand, P155/epic)
The Frittery stall may seem small and unassuming with its stark-white aesthetic, tucked away in the busy food court area. Don't be fooled. The few dishes on their menu—like sliders, hotdogs, and fries—will be your instant snack faves once you try them. We've already talked about their awesome hotdogs so is it any wonder that the fries are just as good? Bite into the crispy french fry shell and enjoy a mouthful of soft, real potatoes.
Frittery is at Promenade, Greenhills Shopping Complex, San Juan City.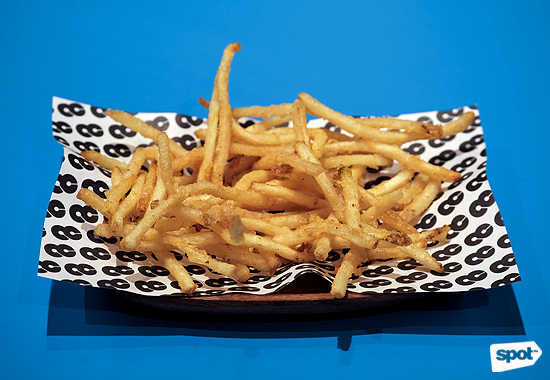 ADVERTISEMENT - CONTINUE READING BELOW
6. 8 Cuts' Skinny Fries (P55)
These fries may come in thinner-than-usual versions but they're big on that classic salty, starchy flavor. Skinny Fries are encased with an extra layer of crispy batter, giving each piece more texture. It's the best partner for 8 Cuts' juicy burgers.
Click here for a list of 8 Cuts branches. Read more about 8 Cuts Burger Blends.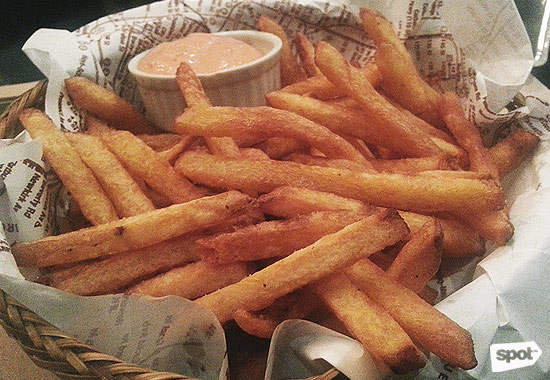 ADVERTISEMENT - CONTINUE READING BELOW
5. Borough's Fries in a Basket (P150)
The amount of fries in this basket may seem intimidating because after all, it's meant for a group. But once you've taken a bite, you'll want to keep them all for yourself. Borough's version is thick-cut, well done, and fried golden-brown. These fries come with a special Odessa sauce, which makes it even more flavorful. (Because pulutan food shouldn't be a half-baked effort)
Borough is at G/F The Podium, Mandaluyong City. Read more about Borough.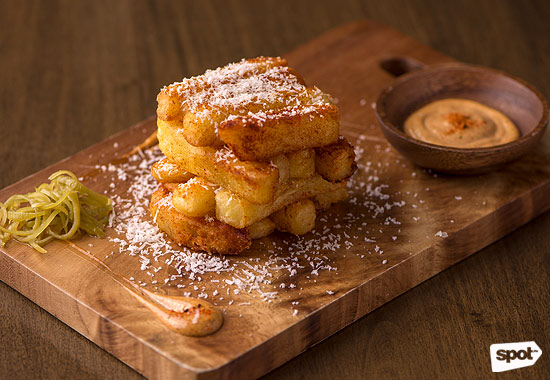 ADVERTISEMENT - CONTINUE READING BELOW
4. Desiderata (DTA) Lounge's Parma Fries (P290)
French fries are usually associated with side dishes, movies, fast-food, and the like—but as a fancy appetizer? DTA's Parma Fries are a unique take on the potato we know and love. The fries are served in a batonette cut (making them look like logs), dusted in paprika, and they come with Parmigiano sauce that's stylishly arranged on a wooden board. With a starchy, smooth filling so thick—not to mention having the consistency of mashed potato—that you could cut it with a knife without any chunks getting in the way. On second thought, you should probably use a knife and fork in order to eat this dish. It's a picture-perfect treat that's worthy of your Instagram feed. (Are you feeling classier already just by looking at it?)
Desiderata Lounge is at G/F The Inifinity, 25th Street, Bonifacio Global City. Read more about Desiderata Lounge.
ADVERTISEMENT - CONTINUE READING BELOW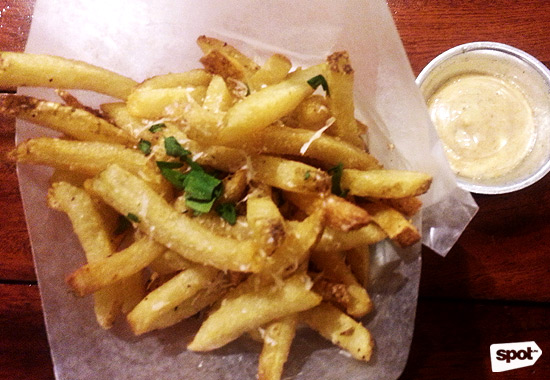 3. Green Pastures' Crispy Fresh Fries (P150)
The next time somebody shows concern over your potato choices in life, show them this dish and assure them that you're going organic. Green Pastures, the source of farm-to-table eats, does not slack off on the effort of making their side dish stand out as well.
ADVERTISEMENT - CONTINUE READING BELOW
Sprinkled with Parmesan shavings and parsley bits, the Crispy Fresh Fries (true to its name) tastes...well, clean, baked, and fresh. You can also dunk it in cumin mayo sauce, which comes with the order. These fries also happen to be gluten-free so, yes, you can give yourself a pat on the back for trying the healthier alternative.
Click here for a list of Green Pastures branches. Read more about Green Pastures.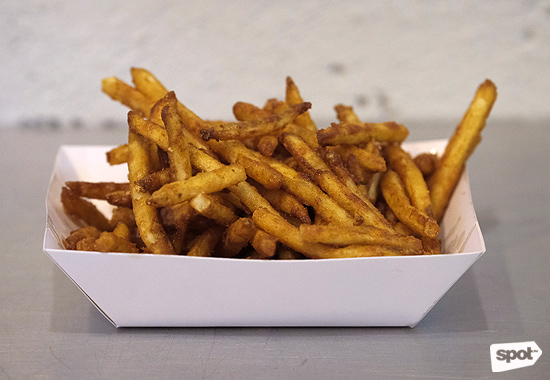 ADVERTISEMENT - CONTINUE READING BELOW
2. Army Navy's Freedom Fries (P75)
For a restaurant that sells Pinoy-style burritos, Army Navy's most popular dish is apparently their side dish. And we definitely understand the hype. The Freedom Fries are thin, crispy, and packed with a lot of peppery, zesty flavor—tasting like a spicier, thinner version of a popular fast food joint's offering. Rest assured that these fries shall not attack your taste buds with the dreaded umay. In fact, Freedom Fries have an addictive quality that'll make you reach its cardboard container for more starchy goodness until you're eventually grabbing at air. It's impossible to have just one. By that, we mean one order.
Click here for a list of Army Navy branches.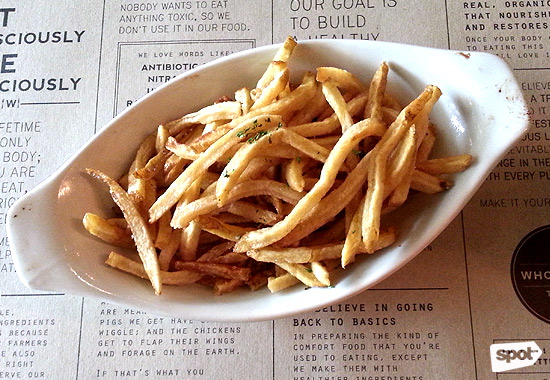 ADVERTISEMENT - CONTINUE READING BELOW
1. The Wholesome Table's Regular Fries (P120)
Wholesome Table's fries are far from the regular restaurant staple. Lightly salted and sprinkled with fragrant herbs, these french fries are not weighed down by sauces, dips, batter, or rubs that could overpower it. The dish sings harmoniously in all its carb-filled, starchy potato glory. Munching on these fries will give you a satisfying crunch with every bite. Once consumed, these fries do not leave you feeling heavy in the belly. You know that terrible feeling of day-old frying oil settling in your stomach? Nope, you don't get any of that when chowing down on these taters. Instead, you are left feeling hungry for more of these fries.
Click here for a list of The Wholesome Table branches. Read more about The Wholesome Table.
For other Top 10 lists, check out SPOT.ph's Top 10 Everything Food Lists 3rd Edition. Co-presented with C2 Cool and Clean, it's priced at P195, available at major bookstores.
ADVERTISEMENT - CONTINUE READING BELOW
Photos by Louie Manay (8 Cuts, Frittery, and Army Navy), Grace Marcellana (The Bowery, Diner on 16th), and Karen Mae de Vera (Green Pastures, Borough, Wholesome Table, NYFD)
---
Help us make Spot.ph better!
Take the short survey
Load More Stories