10 Restaurants You Need to Try This June
The latest places to check out in Manila.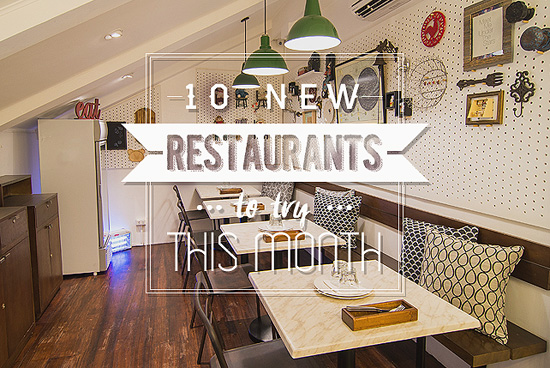 (SPOT.ph) Stumped for ideas on where to eat? Are there too many choices? We're breaking down Manila's extensive dining landscape with a list of places to try every month. Always keep your restaurant index fresh!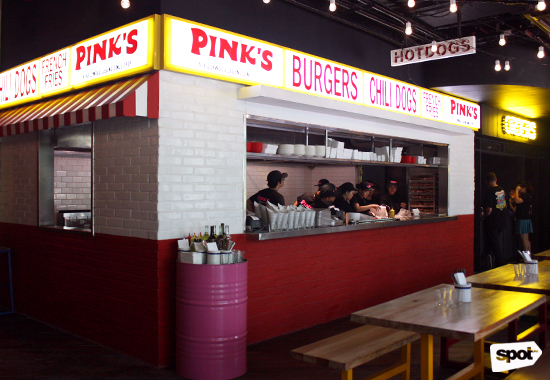 ADVERTISEMENT - CONTINUE READING BELOW
CONTINUE READING BELOW
Recommended Videos
Pink's Hot Dogs
Right now, there's only one hotdog on the menu, but perhaps it's the most important one. The chili dog is, after all, what started everything for this Hollywood legend back in 1939. Pink's was brought to the Philippines by the Wildflour group and they've done an excellent job of recreating that Pink's experience—plus a little extra. The ingredients are imported, but the crucial hotdog is made on-site to assure freshness. To drive that street-side vibe further, they even installed a Kombi inside the restaurant solely dedicated to Farmacy ice cream!
Pink's Hot Dogs is at Shangri-La at the Fort, 5th Avenue, Bonifacio Global City. Read more about Pink's Hot Dogs.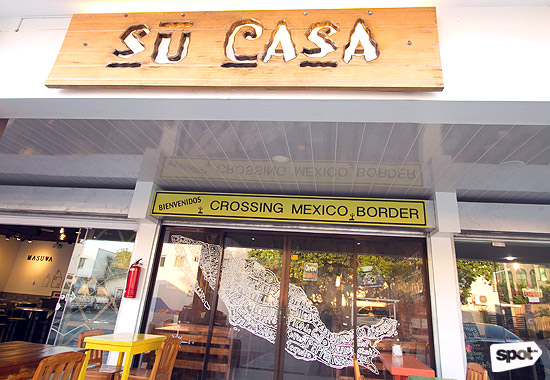 ADVERTISEMENT - CONTINUE READING BELOW
Su Casa Mexican Grill
Owner Richard New has brought California-style Mexican food to Manila. Using local ingredients, Su Casa puts up a fiesta of flavors, from the quesadillas to the soft tacos to the burritos (the Barbacoa is currently ranked No. 2 on SPOT.ph's Top 10 Burritos). The place, which means "your home" in Spanish, goes for that neighborhood atmosphere and it's impressive how the first-time restaurateur ambitiously preps everything from scratch.
Su Casa Mexican Grill is at La Huerta Village Center, Multinational Village, Parañaque City. Read more about Su Casa.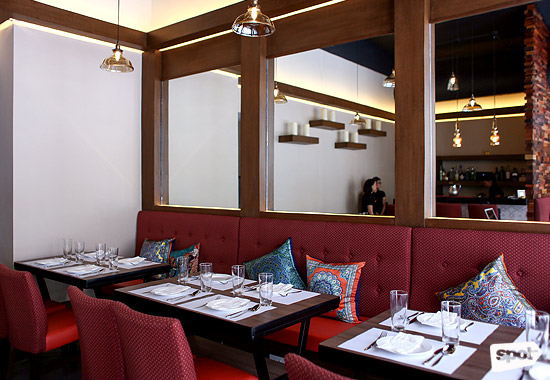 ADVERTISEMENT - CONTINUE READING BELOW
Mantra Bistro
Ranjit Chimni has been wanting to open a restaurant most of his life, and now his dream has come true. Mantra Bistro highlights the colorful flavors of North Indian cuisine, which, he explains, features more tomatoes and onions compared to the coconut-based specialties in the south. You'll fall in love even with the more veggie-heavy options, like the Green Pea Tikki, which is a patty made with green peas and cheese. Many of his dishes are cooked in a tandoori oven, which gives his food a tasty touch of smokiness.
Mantra Bistro is at Grand Midori, Bolanos Street, Legazpi Village, Makati City. Read more about Mantra Bistro.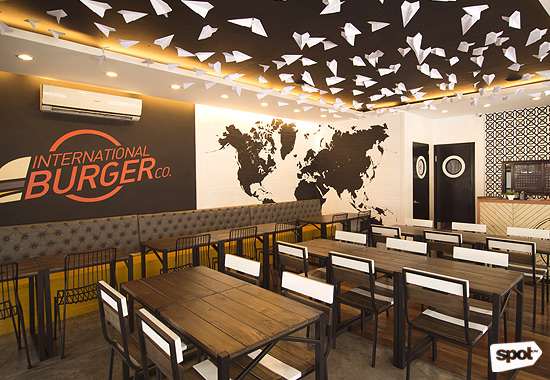 ADVERTISEMENT - CONTINUE READING BELOW
International Burger Co.
The seven burgers on their menu take your taste buds on a wild ride around the globe. The owners understand that burgers offer universal comfort and they channeled that to appeal to any type of palate. The strategy? They a country's signature dish and convert it to burgers: croque madames represent France, margherita pizzas for Italy, and sisig for the Philippines, for example.
International Burger Co. is at Citiplace Building, Jose Abad Santos Street, San Juan City. Read more about International Burger Co.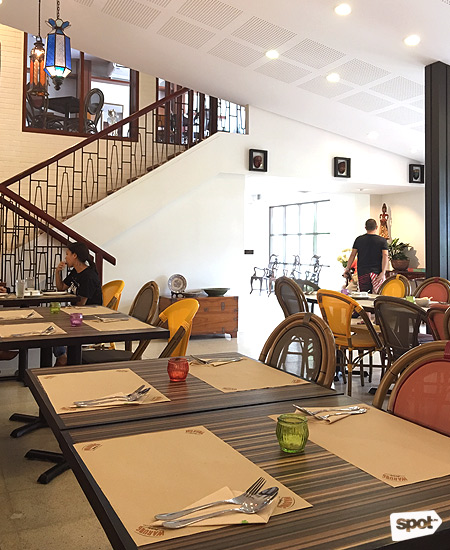 ADVERTISEMENT - CONTINUE READING BELOW
Warung Warung
The former Legazpi Sunday Market favorite is now a full-fledged restaurant, serving their home-cooked Indo meals in an actual home. Their Kapitolyo spot is big and airy—it feels like a secluded resting house, actually. Servers are attentive, carefully and quickly refilling appetizer bowls and water glasses. Owners Tess Doctora and Louh Decena are always around, bouncing from table to table like lovable and doting titas.
Warung Warung is at 83 East Capitol Drive, Kapitolyo, Pasig City. Read more about Warung Warung.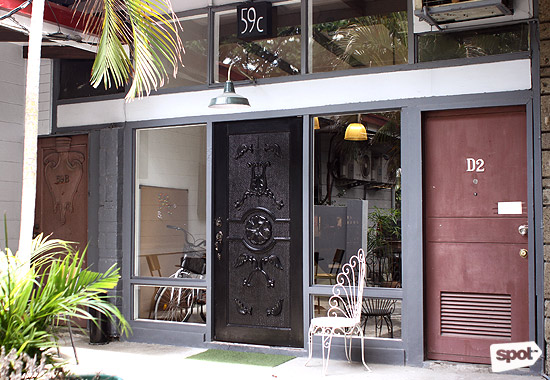 ADVERTISEMENT - CONTINUE READING BELOW
Paseo 59C
The owners of Good Earth Roasts do a good job adjusting their flair for Asian comfort fare to current tastes. The menu, which has everything from snacks to cocktails, may resemble G.E.R. favorites, but this space is intended as a co-working environment. Tables have dividers for privacy and there is even a relaxing al fresco lounge for those who need to take a breather. 
Paseo 59C is at 59C Paseo de Roxas Avenue, Makati City. Read more about Paseo 59C.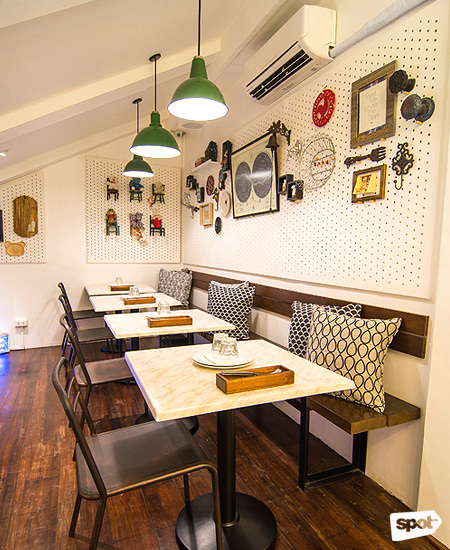 ADVERTISEMENT - CONTINUE READING BELOW
Little Bear Diner
The former Melt Collective has grown into a restaurant, but they've scaled down their 15 varieties of grilled cheese to a more focused five (six, if you count the featured special of the day). This allowed the owners more wiggle room to include other inventive takes on comfort food. Chef Bear Pau Pastor doesn't hold back, and he opts for the maximum flavor experience every single time. We hope they bring back their unlimited grilled cheese deal. 
Little Bear Diner is at 23 East Capitol Drive, Kapitolyo, Pasig City. Read more about Little Bear Diner.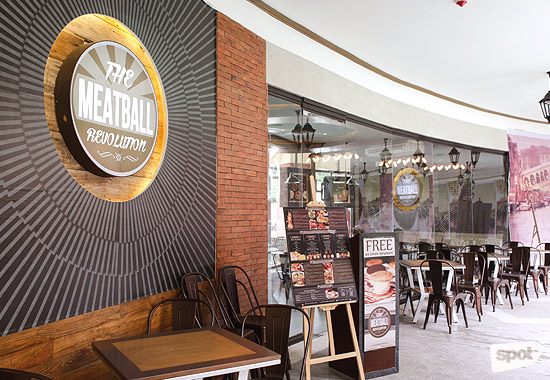 ADVERTISEMENT - CONTINUE READING BELOW
The Meatball Revolution
Life is a ball at this restaurant where the humble meatball takes center stage. The Meatball Revolution is a fun food adventure that allows you to build your own comprehensive meatball meal. Start from the carb base (rice, pasta, or bread), the meatball flavor (they have an entire library of options), and the toppings (yet another library of choices). If you're not in the mood for creativity, they also have a ready line of dishes and sides that make for a more convenient experience!
The Meatball Revolution is at G/F Grand Canal, McKinley Hill. Read more about The Meatball Revolution.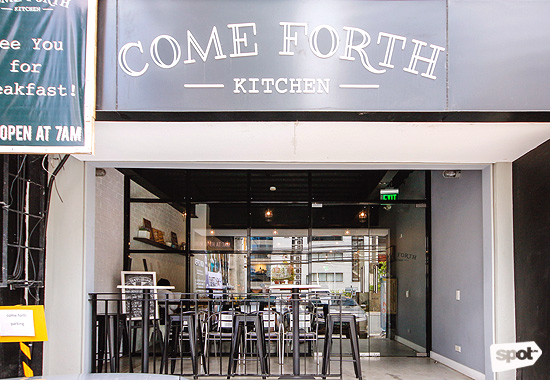 ADVERTISEMENT - CONTINUE READING BELOW
Come Forth Kitchen
You have to read it out loud to get it. Come Forth is a play on "comfort" and that's exactly the type of cuisine they serve. The restaurant is a family affair and the dishes are personal favorites based on childhood experiences. One of the owners hails from Bulacan, so Calumpit longganisa is highlighted on the menu. The pulpog, on the other hand, represents another owner's trips to La Union growing up. Pro tip: Don't ignore the desserts!
Come Forth Kitchen is at 120 Jupiter Street, Bel-Air 2, Makati City. Read more about Come Forth Kitchen.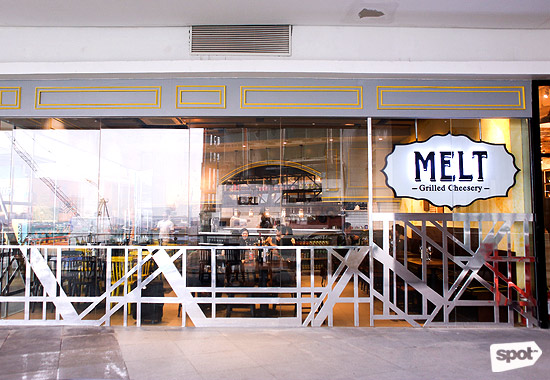 ADVERTISEMENT - CONTINUE READING BELOW
Melt Grilled Cheesery
We can imagine cheese lovers going weak in the knees right about now. This bright spot dedicates itself to the rich and gooey wonders of grilled cheese. They come in different flavors (with bacon, with pot roast, with chicken, and more), including a spectacular dessert version (it's called Dulce de LeCheese). Diet be damned, indeed.
Melt Grilled Cheesery is at Uptown Place Mall, Uptown Bonifacio. Read more about Melt Grilled Cheesery.
Load More Stories