Top 10 Xiao Long Bao in Manila (2017 Edition)
Find out where you can find the best soup dumpling in town.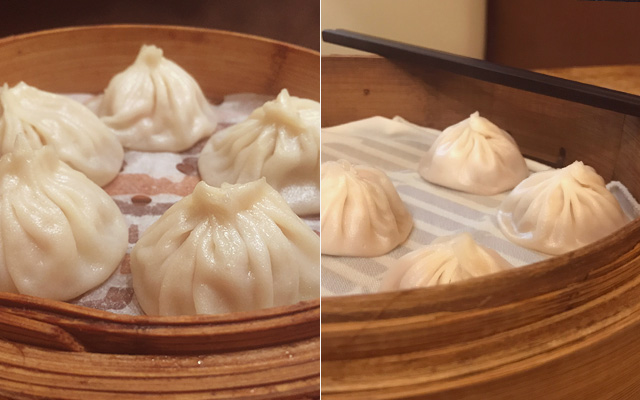 (SPOT.ph) Xiao long bao is a perpetual favorite among diners across the world. This scrumptious soup dumpling, which literally means "little basket bun," is steamed in a traditional bamboo basket called xialong until it releases a gelatinous soup. The tasty treat is enjoyed in many ways, but perhaps the most common is to first pierce the small dumpling's delicate wrapper so its steaming hot soup bursts onto your spoon. Try to resist munching down the entire dumpling until you've had a sip of its savory light broth—once done, you can eat to your tummy's desire. There's not one right method of having it and regardless of how you want to enjoy it, a xiao long bao will always be one lip-smacking indulgence.
Here, we've narrowed down the 10 best pork xiao long bao in Manila and ranked them according to quality, value for money, and overall taste.
ADVERTISEMENT - CONTINUE READING BELOW
All SPOT.ph Top 10 lists are researched, paid for, tested, and selected by the writers and editors. They are discreetly conducted without any notice made to the restaurant owners.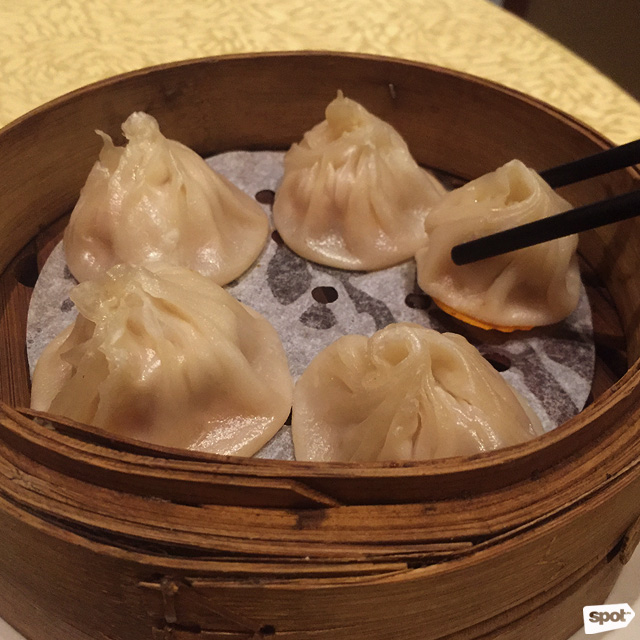 10. Crystal Jade Dining IN's Xiao Long Bao (P187.50/five pieces)
With its delightfully sweet and sour xiao long bao, Crystal Jade remains a favorite of many. While its wrapper can turn a bit soggy, it manages to hold its distinctly yellow-orange broth and filling well. The pork has a chewy texture to it, lacking that melt-in-your-mouth feeling, but it's tasty enough to fulfill your soup dumpling cravings.
Crystal Jade Dining IN is at 7th Avenue, Bonifacio High Street, Bonifacio Global City.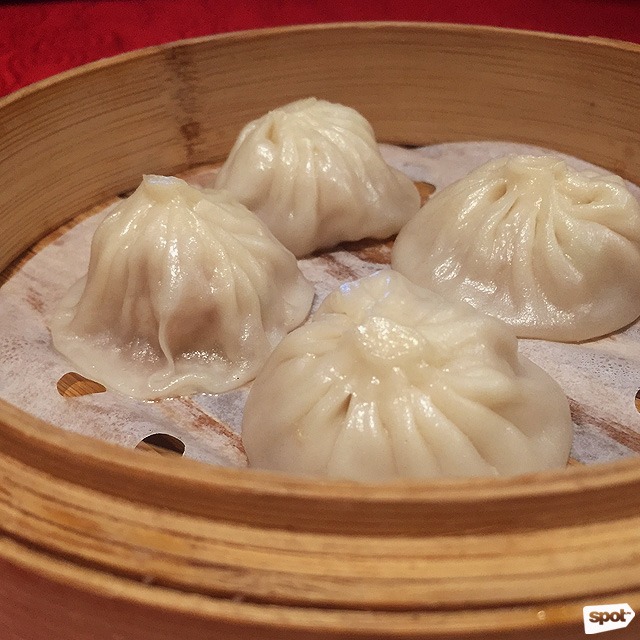 CONTINUE READING BELOW
Recommended Videos
9. Choi Garden's Xiao Long Bao (P130/four pieces)
Get ready for some mouthwatering goodness with Choi Garden's version of the famous soup dumpling. Its rich broth is denser than the others on this list, which may or may not work for you. But it has a great soup-to-meat ratio and has a perfect blend of ginger integrated into the filling. The gingery spice is a welcome break, as it is tasty but not overpowering. The wrapper is thick and holds everything together well, so be ready to chew this tasty xiao long bao until the last bite.
Choi Garden has branches at 12 Annapolis corner Purdue Street, Greenhills Center, San Juan City; and 924 Antonio Arnaiz Avenue, Makati City.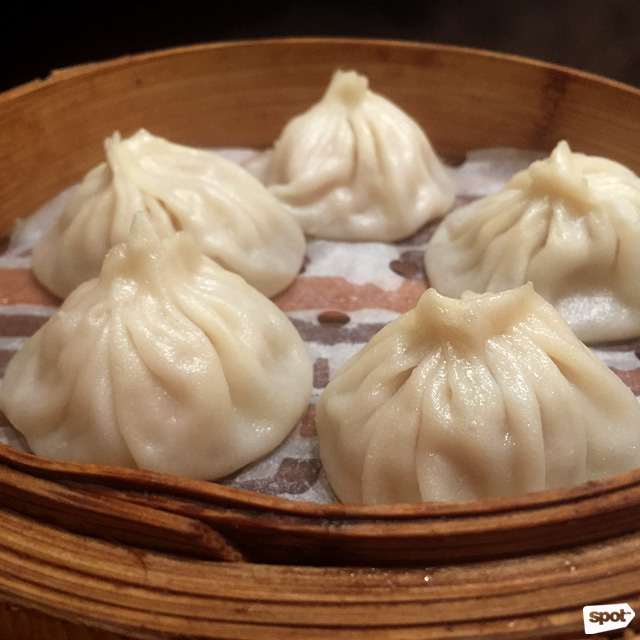 8. Fat Fook's Xiao Long Bao (P138/five pieces, P198/eight pieces)
These sticky soup dumplings are fresh and soothing. The wrapper is thin but it does an effective job of holding everything in. The soup bursts out when you bite into the dumpling, and the fibrous pork inside flaunts bold flavors. If you're looking for something lighter, though, maybe this isn't the one for you.
ADVERTISEMENT - CONTINUE READING BELOW
Fat Fook is at UG/F Main Building, SM City North EDSA, Quezon City.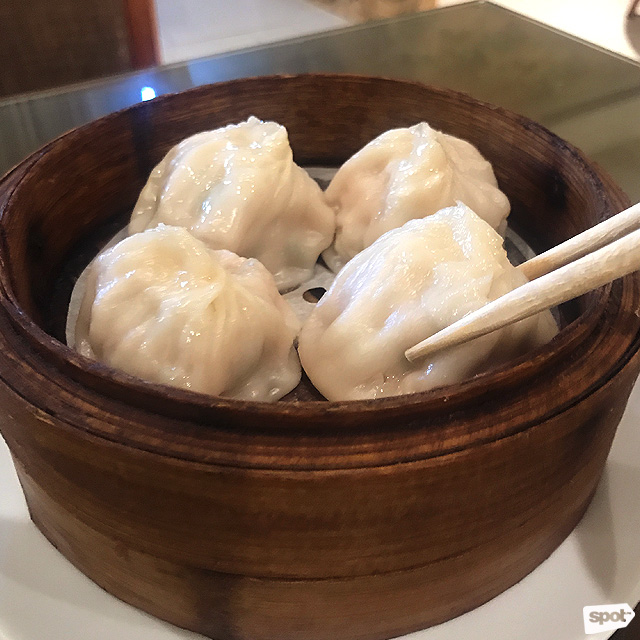 7. Gloria Maris' Siao Long Pao (P130/four pieces)
This is not the xiao long bao you're used to. Larger than the usual, with more meat than soup, Gloria Maris' soup dumplings are a break from the traditional. It might not have a lot of broth, but what little soup it has is delectably sweet, the pork succulent—and, boy, is there a lot of pork in there. Because of its portion of protein, the wrapper doesn't hold in the best way, breaking easily and coming off like a piece of molo. But the true star is the pork that just melts in your mouth and blends well with a nice mix of spring onions.
See a list of Gloria Maris branches.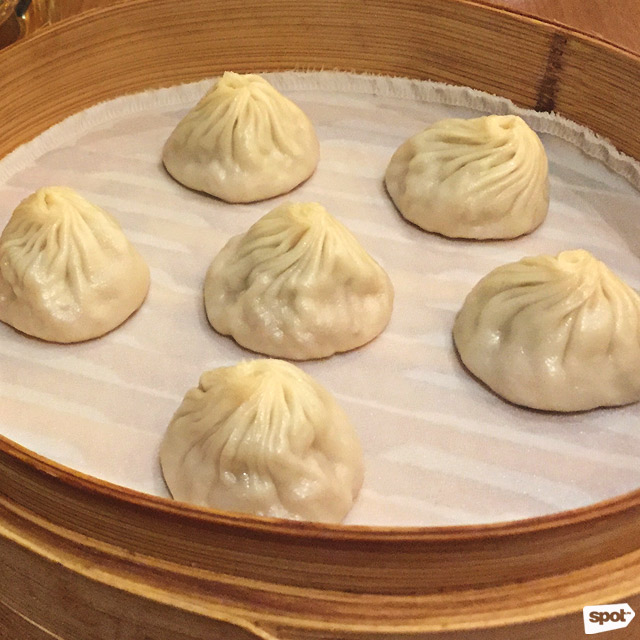 ADVERTISEMENT - CONTINUE READING BELOW
6. Paradise Dynasty's Xiao Long Bao (P188/six pieces, P298/10 pieces)
Paradise Dynasty is more popularly known for their colored xiao long bao, which is really a feast of soup dumplings in various flavors including truffle, foie gras, Szechuan, cheese, and more. The basic pork xiao long bao is no slouch, either. While a bit frumpy-looking, with a smaller-than-usual filling, the ground pork is flavorful and the broth is somewhat sweet and salty. The wrapper is also chewy, allowing you to enjoy every mouthful.
Paradise Dynasty is at 2/F S Maison, Conrad Manila, Seaside Boulevard Corner Coral Way, Mall of Asia Complex, Pasay City.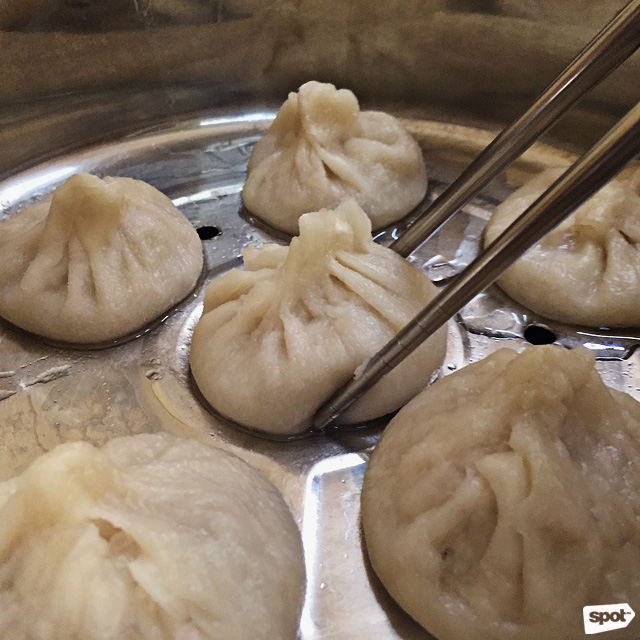 5. Dong Bei's Xiao Long Bao (P150/six pieces)
This popular hole-in-the-wall in Chinatown might have you queuing because of the minimal seating, but we guarantee it's worth the wait. These handmade little gems are not the most intricate or graceful-looking but their flavors are stunning. Slurp the sweet soup, and then enjoy the fresh soft filling, brightened by hints of kutsay. Dong Bei's Chinatown delights may lack proportion and finesse, but everything that they do have works perfectly well together.
ADVERTISEMENT - CONTINUE READING BELOW
Dong Bei is at 642 Yuchengco Street, Binondo, Manila.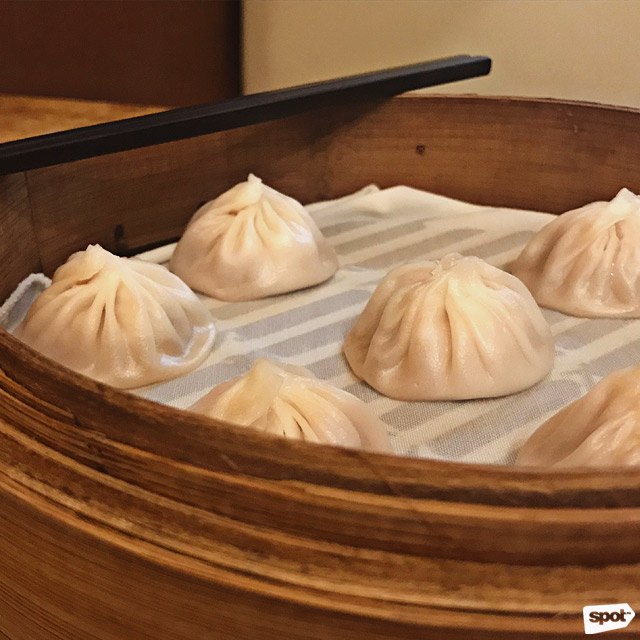 4. Shi Lin's Xiao Long Bao (P170/six pieces, P188/10 pieces)
Don't let the size fool you, Shi Lin's xiao long bao packs quite the punch. The soup has diverse flavors that are rich but not overpowering. Its chewy wrapper and luscious filling in the center make for a wonderful meal. The sour soup blends well with the sweet pork, and their proportions are practically perfect for a quick bite. If you want something heftier, maybe go for the 10 pieces, but either way, you're in for a treat.
See a list of Shi Lin branches.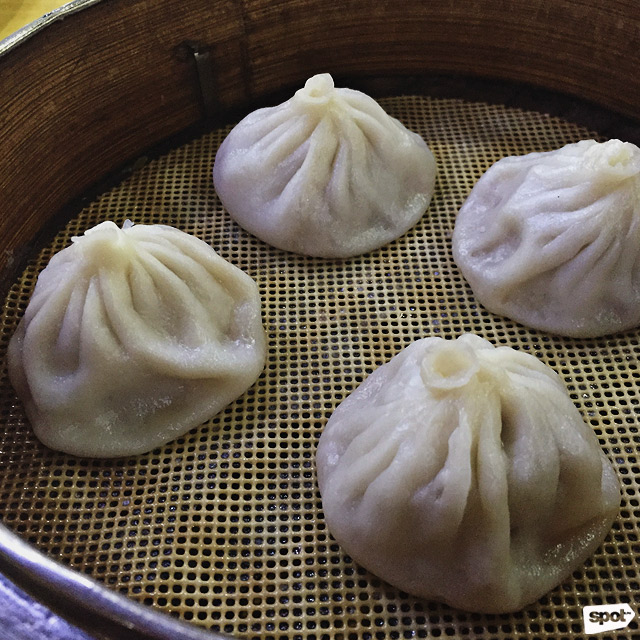 ADVERTISEMENT - CONTINUE READING BELOW
3. Suzhou Dimsum's Xiao Long Pao (P120/four pieces)
These plump and generously sized xiao long baos may have a thick and chewy skin, but once you nibble through, it's a marvel. The ground pork is seasoned beautifully and full of flavor with every bite, so its boldness makes eating this soup dumpling a unique experience. Packing a flavorful punch makes this quite an unmissable treat—equal parts sweet, sour, salty, with just a hint of heat.
Suzhou Dimsum has branches at A. Mabini Street, Malate, Manila; and A. Mabini Street, Mandaluyong City.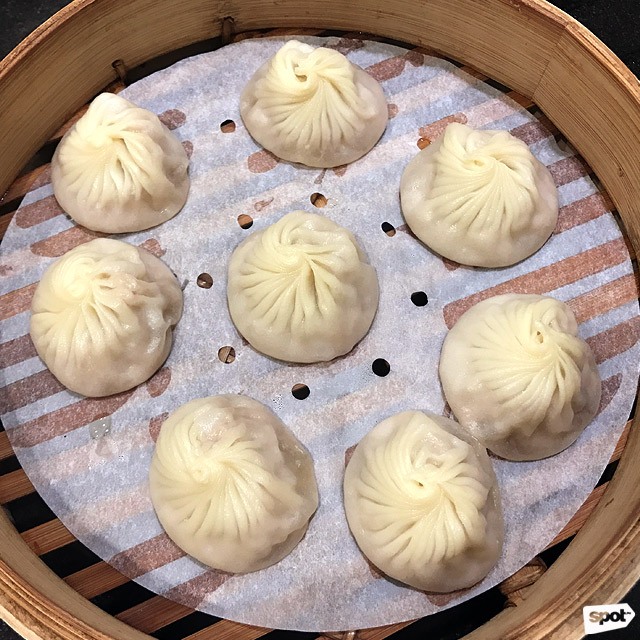 2. Lugang Café's Xiao Long Bao (P248/eight pieces)
Perfectly sized with a filling that just melts so beautifully in your mouth, Lugang's famed xiao long bao may be on the pricier side but they're well worth shelling out the cash for. The soup strikes just the right balance between indulgently rich and amazingly addictive. It's bold and thick in the most appealing way, while the pork not only melts, it's also seasoned with a perfect mix of onion and ginger. Even with eight pieces, you won't struggle to finish an entire serving.
ADVERTISEMENT - CONTINUE READING BELOW
See a list of Lugang Café branches.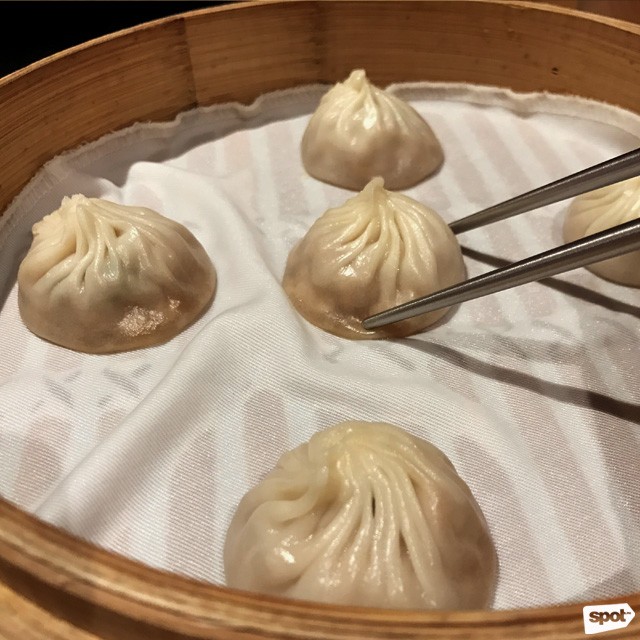 1. Din Tai Fung's Xiao Long Bao (P160/five pieces, P315/10 pieces)
You can't really beat a classic. Din Tai Fung's famous xiao long bao comes to your table looking elegant, lovely, and pure as crystal. Looking at it is like looking at an art piece, with its delicate folds and pristine white casing. It's hard to not describe Din Tai Fung's xiao long bao as "clean," because that's what it looks and tastes like. It's got the best parts of what makes a soup dumpling great: A delicate and mild broth that doesn't feel heavy, a delectable but sturdy wrap that does its job and even tastes great, a well-proportioned soup-to-meat ratio, and an appetizing filling that practically melts on the tongue while lavishing it with the right balance of salty and sweet. Din Tai Fung serves a perfect xiao long bao that's always going to be worth coming back for.
ADVERTISEMENT - CONTINUE READING BELOW
Din Tai Fung has branches at G/F Mega Fashion Hall, SM Megamall, Mandaluyong City; and C1 Bonifacio High Street, Bonifacio Global City.
For other Top 10 lists, check out SPOT.ph's Top 10 Everything Food Lists 3rd Edition. Co-presented with C2 Cool and Clean, it's priced at P195, available at major bookstores.
Share this story with your friends!
---
Help us make Spot.ph better!
Take the short survey
Load More Stories