Kusina
Hilton Manila, 1 Newport Boulevard, Newport City, Pasay City
Contact: 239-7788
Open from 6:30 a.m. to 10:30 a.m. and 6 p.m. to 10:30 p.m. (Monday to Sunday)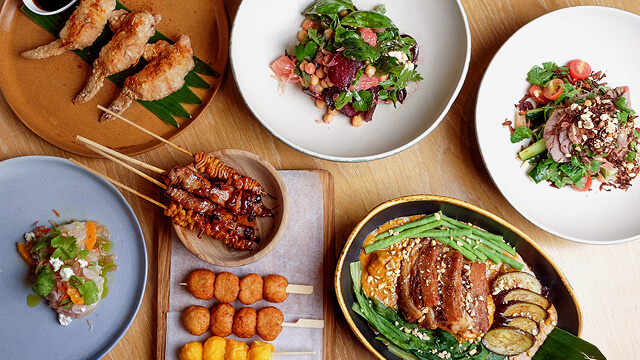 (SPOT.ph) Adventure is out there for those who love to travel, and part of each journey is embracing native culture and local, traditional cuisine. This is where the concept of Kusina comes from, according to Hilton Manila's Executive Chef Dennis Leslie. "From the start, we had a massive focus on what Filipinos like to eat. We really wanted to focus on Kusina as a restaurant for Filipino food and Filipino culture because this is a restaurant for Filipinos."
What to Expect at the Hilton Manila Buffet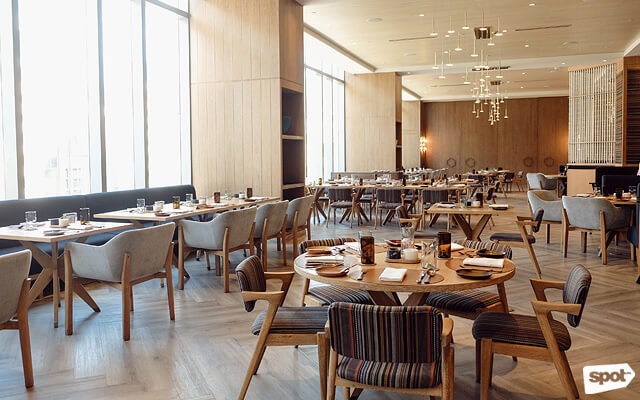 ADVERTISEMENT - CONTINUE READING BELOW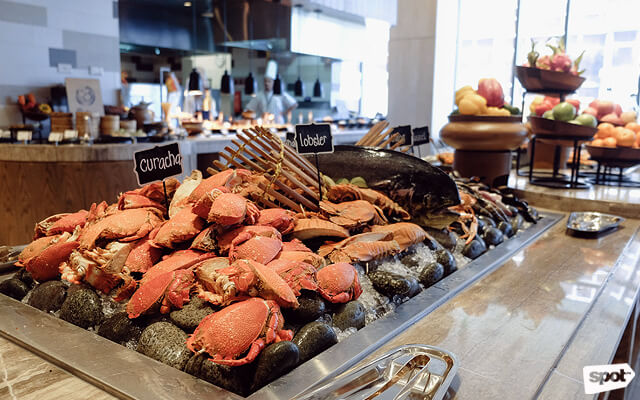 It can be said that the Filipino home revolves around the kitchen. Thus, everything about Kusina revolves around Filipino food and tradition that stands on its own in the culinary world. With high ceilings, the airy interiors of Kusina evoke warmth and hospitality, reminiscent of entering into the familiar and spacious Filipino home of someone you love.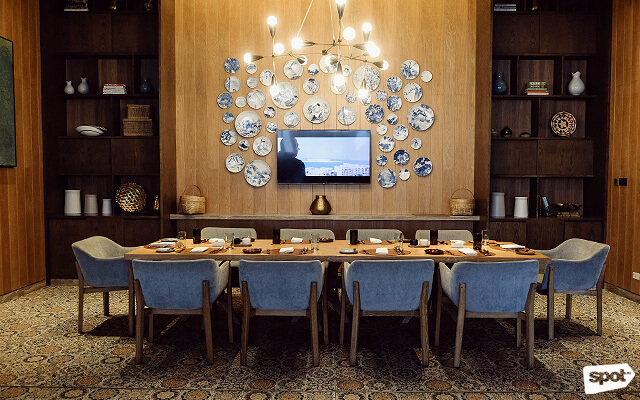 The restaurant has touches of indigenous handwoven fabric on the chairs, distinctive handmade stoneware from Antipolo by Lanelle Abueva-Fernando, and as an ode to the earth-friendly, upcycling movement that Hilton Manila is very much a proponent of: repurposed wine glasses from recycled wine bottles. They are a regular part of the 180-seater restaurant, as well as placemats made with recycled leather and old rubber tires. Eco-sustainability is not just a design element, but is very much the love language here.
Kusina wants to share the typical Pinoy eating experience with their guests, from crowd-favorite street-food selections, to ordering fresh seafood at the talipapa.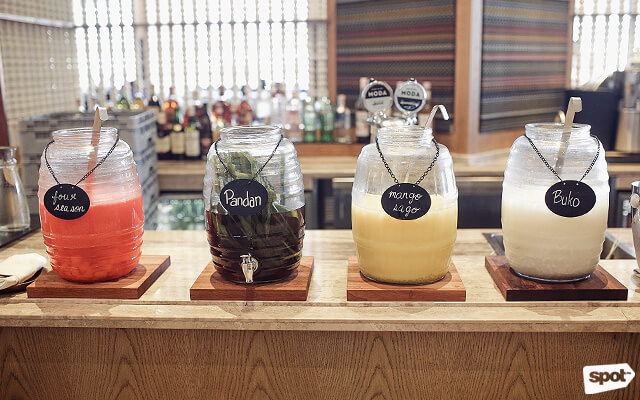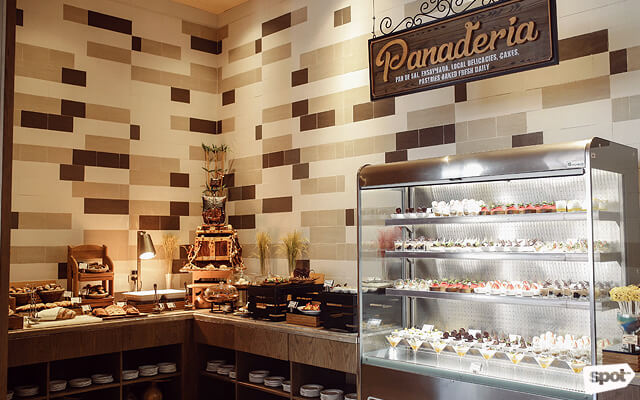 ADVERTISEMENT - CONTINUE READING BELOW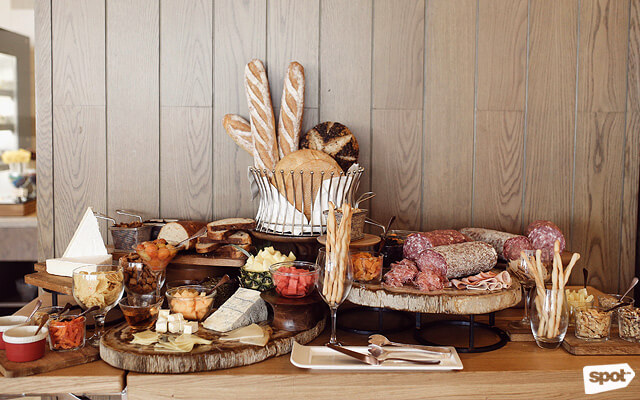 Entering Kusina, you are greeted by the Samalamig (local refreshments) station where, reminiscent of how Filipino street vendors sell their cold drinks, various thirst-quenching options like fresh buko, mango sago, fresh pandan, and four seasons are in a colorful, refreshing row.
The Panaderia station has local pan de sal, bread rolls, ensaymada, kakanin like puto and kutsinta and international pastries baked fresh daily. If you catch the daily breakfast buffet, you may even see the roving panadero who walks around the restaurant with a warm basket of freshly baked pan de sal.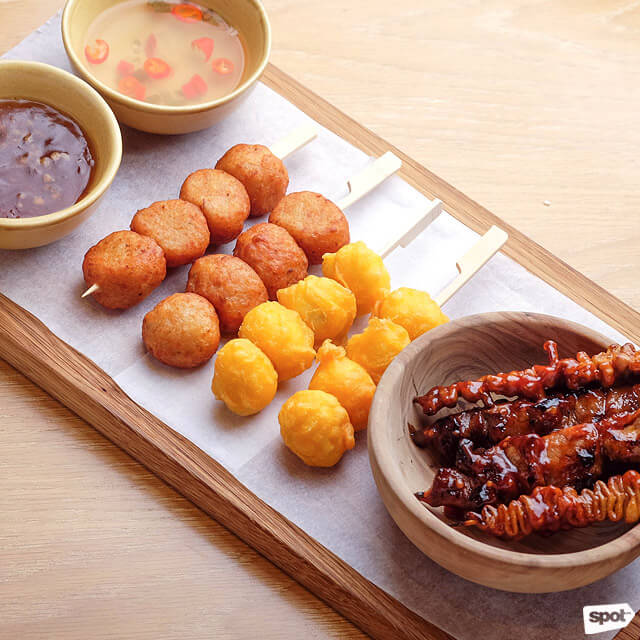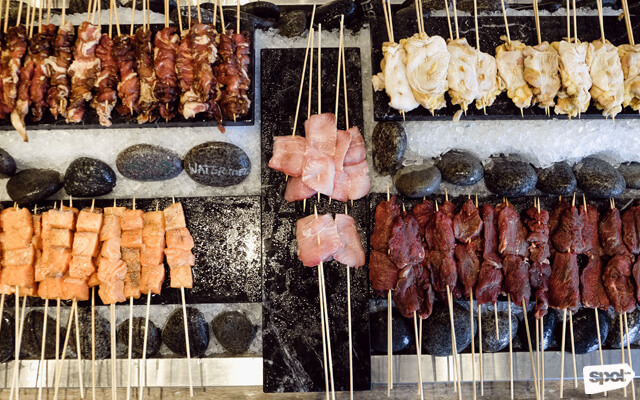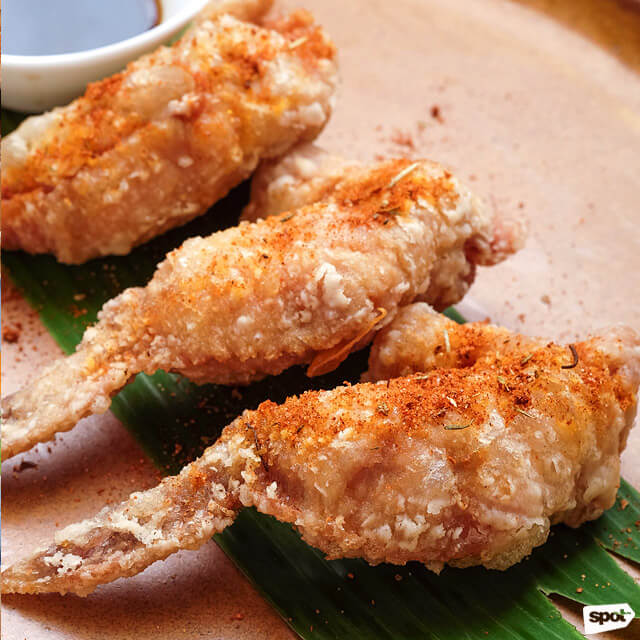 ADVERTISEMENT - CONTINUE READING BELOW
For guests who don't have the time or energy to experiment with the food finds on the streets of Manila, Kusina has their own version of the Filipino Street Food Taster (P450) with isaw, pork barbecue, chicken skewers, fish balls, and kwek-kwek, all prepared in-house with sawsawan also made from scratch, not to mention Kusina's own version of Pinoy banana ketchup. 
Filipinos love chicken wings as an appetizer and Kusina's take are the Stuffed Chicken Wings (P500), which have pork, chicken mince, and local prawn stuffing mixed with fresh herbs and shallots that have been sautéed in butter and folded with whipped cream. After a coat of potato flour and a quick fry with a spicy Cajun rub, the wings are served with Chinese red vinegar.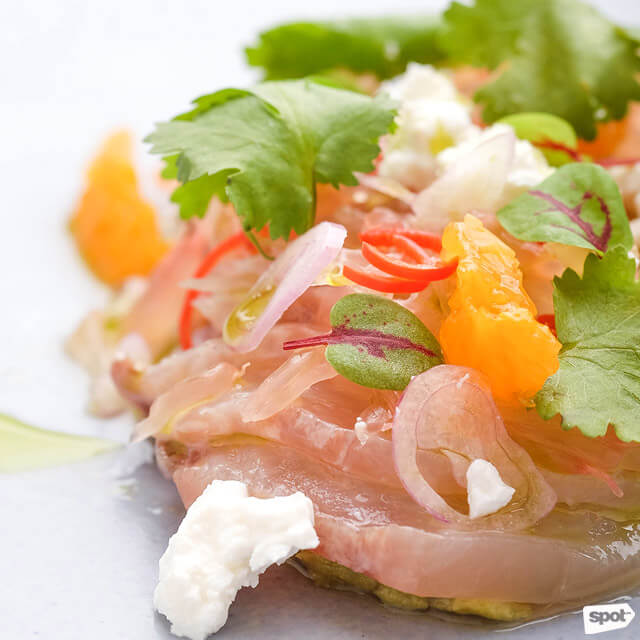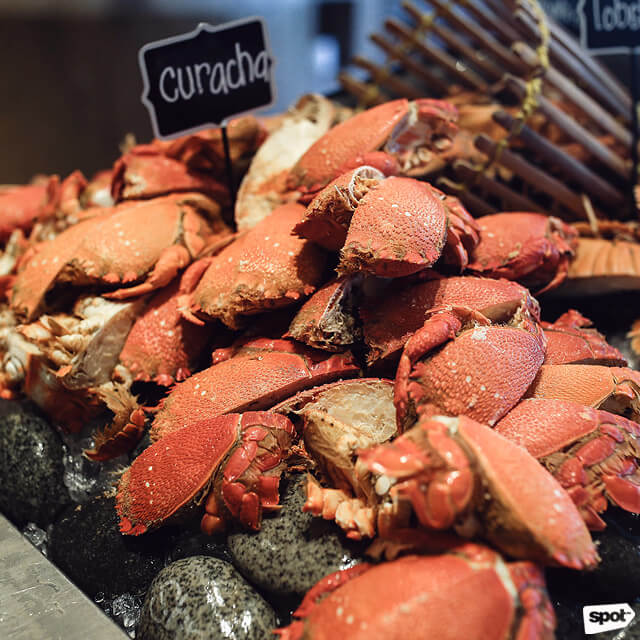 For ceviche lovers, the Tanigue Kilawin (P380) is a simple dish with a citrusy, pungent punch. It has local tanigue on a bed of avocado purée, calamansi juice as the souring agent, and chèvre (or goat's-milk cheese). Adding to the acidity is chili skin with no seeds, pomelo, and it also has coriander and extra virgin olive oil. This intensely flavored small plate would start off any meal quite nicely.
Classic Filipino main-course favorites like crispy bagnet, which crackles with each savory bite, lechon paksiw, ginataang alimasag, and chicken afritada are a few of the rotating dishes in the mains section. There is also a Grilled Food station where freshly prepared skewers of chicken inasal, pork barbecue, mahi-mahi, and salmon are conveniently laid out for one's grilled-food fantasies. 
ADVERTISEMENT - CONTINUE READING BELOW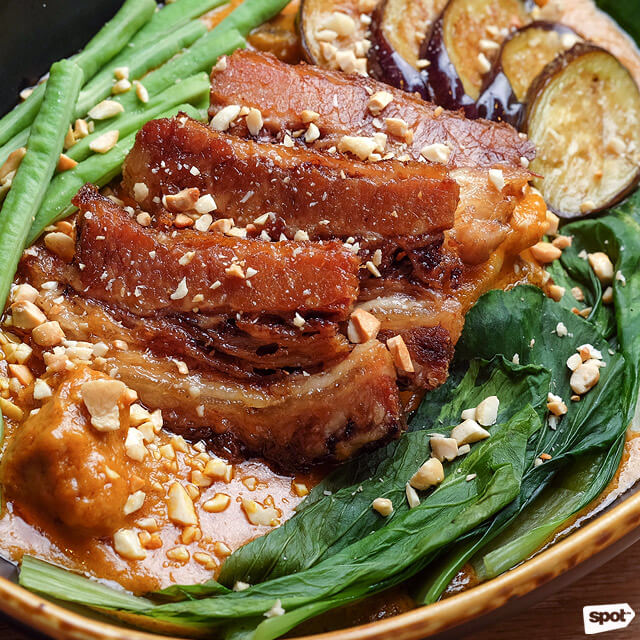 According to Chef Leslie, the star of the show at Kusina would have to be the Kare Kare (P700) with a sweet-savory peanut sauce, oxtail, beans, okra, pechay, eggplant, garlic rice, and shrimp paste on the side. Here's a secret: It might just be as good as your mom's.
Everything in Kusina's Kare Kare is meticulously made from scratch: The in-house stock from the beef that's braised in their kitchen, the annatto oil and the fresh peanuts that are ground daily for the sauce that is thickened with fresh toasted rice. The bagoong is sourced from a local supplier that does not use any preservatives or MSG. And like all the Filipino dishes on Kusina's menu, the Kare Kare is cooked the traditional way, evoking tastes and flavors of familiar Pinoy food that always reminds one of the comforts of home.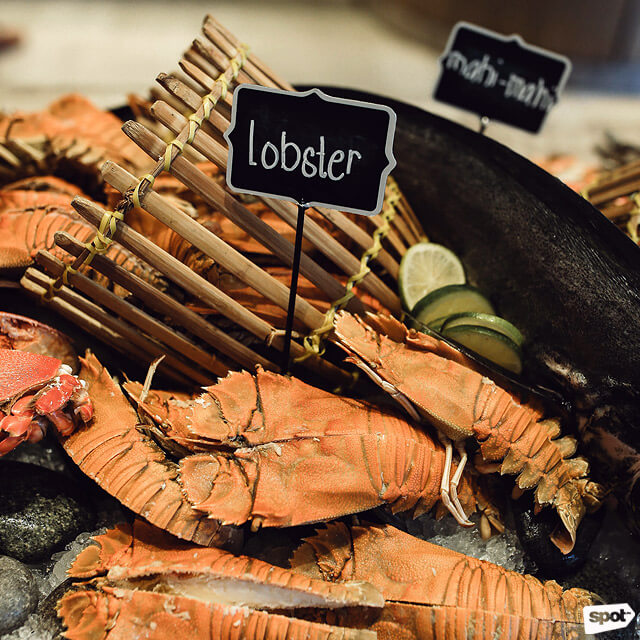 But it is in the Dampa Paluto/Seafood Market (Sea Kitchen) station where Kusina really shines in the culinary sun, with its selection of Filipino food specialties that can whet one's appetite. 
The Talipapa (Fresh Market) is where you'll find fresh local catch, with diners having the option of choosing your own mussels, ulang (giant freshwater shrimp), squid, mahi-mahi, or lobster to be prepared in any way you like: Grilled, baked with cheese and garlic, pan-fried with butter; your imagination is the limit.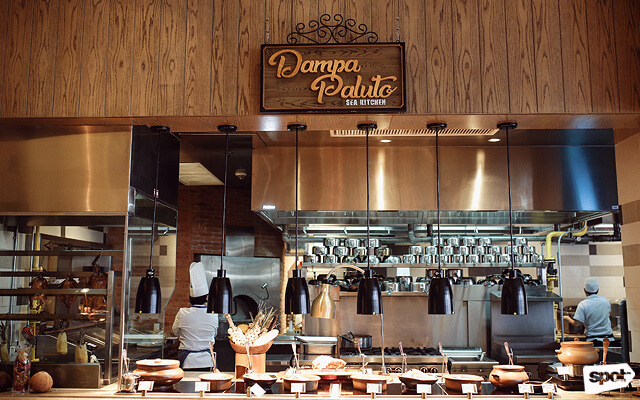 ADVERTISEMENT - CONTINUE READING BELOW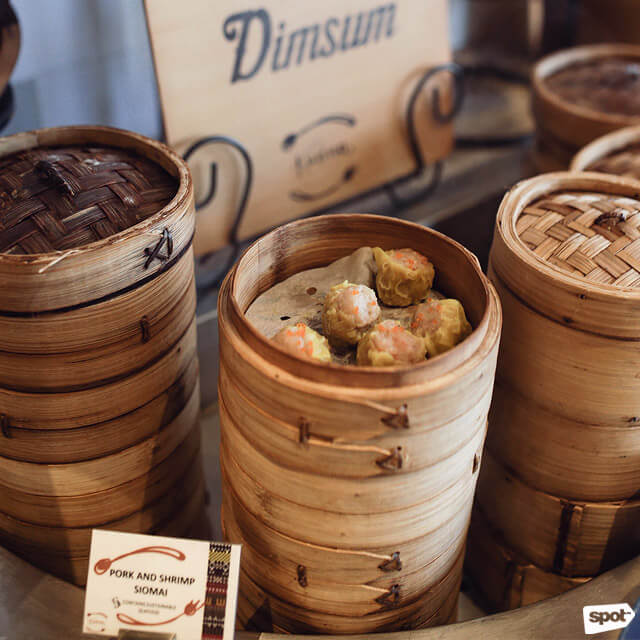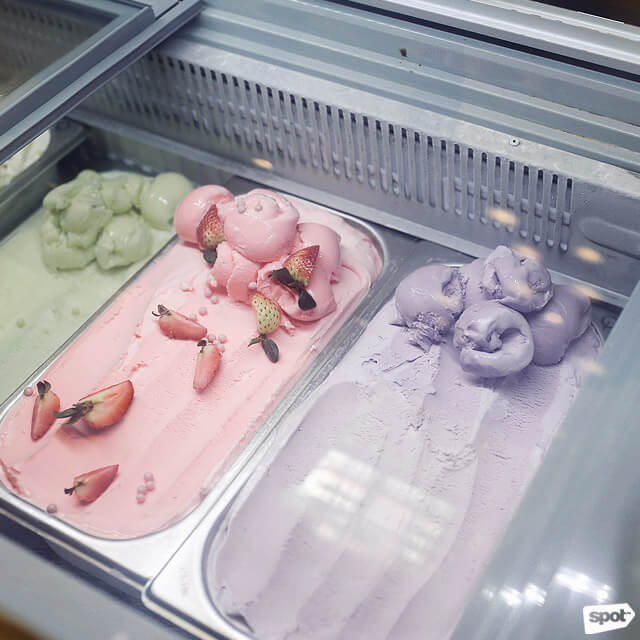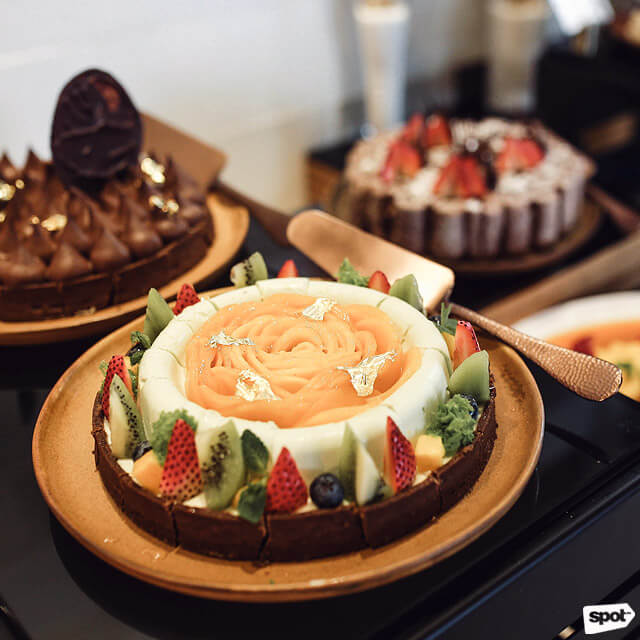 For the health-conscious eaters, check out the Fresh Lumpia, Kinilaw at Iba Pa station, as well as the Salad Bar and Japanese Sushi Station. In support of an eco-conscious lifestyle, ingredients are sourced from local farmers whenever possible.
To sweeten the whole Pinoy feast experience, the "Dirty" Ice Cream Cart with various local flavors like Ube, Strawberry, and Pandan is parked beside the Bibingka and Puto Bumbong station. No need to wait for the Christmas holidays to eat these two favorite Simbang Gabi staples.
Ensuring that Filipino food stands side by side with the best of global cuisine, the International Kitchen station has favorite main dishes from around the world, like Roasted Beef, Thai Stir-Fried Chicken, Beef Rendang, and Fish Curry, among others.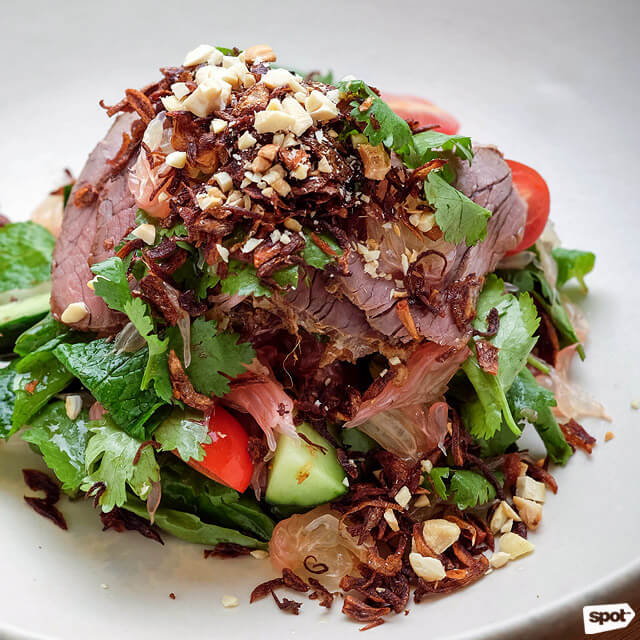 ADVERTISEMENT - CONTINUE READING BELOW
If à la carte is your preference, you can also order the Thai Beef Salad (P700) with char-grilled Australian beef fillet that is marinated with Thai spices like galangal, shallots, garlic, chili, and coriander root, before being slow-cooked to tender perfection. The local cucumbers, tomatoes, pomelo, and crispy shallots make a perfectly balanced base for the meat, accompanied with the house-made Thai dressing.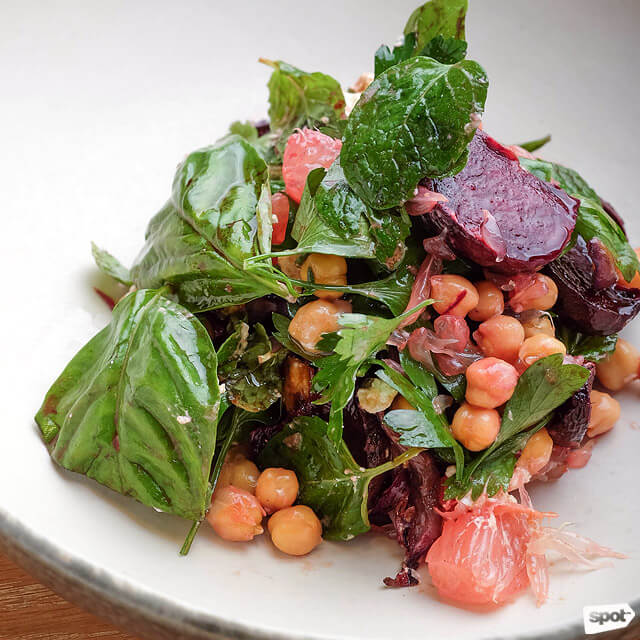 For veggie lovers, the Roasted Beetroot and Chickpea Salad (P680) is a refreshing choice with pomelo, pomegranate, Danish feta, mixed fresh herbs of mint, basil, and flat-leaf parsley, roasted red onions with extra virgin olive oil, all tossed in a vincotto (cooked wine) dressing. The dark, sweet, and syrupy consistency of the vincotto lends a lovely prune-like flavor, enhancing all the fresh flavors of this healthy salad.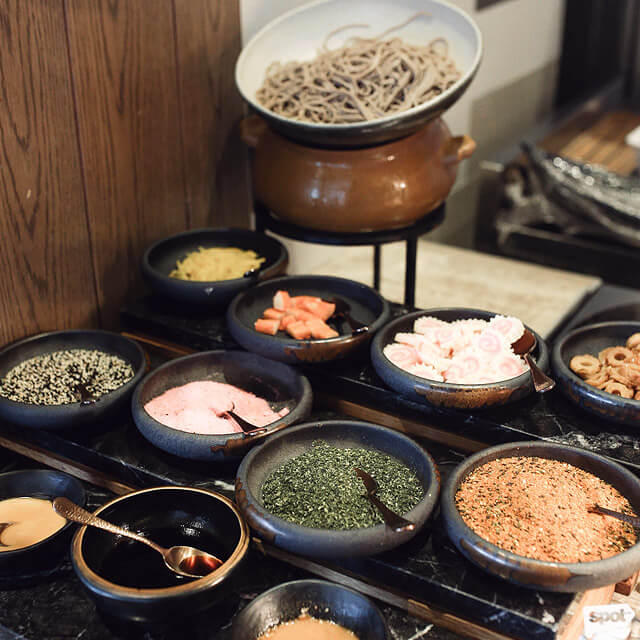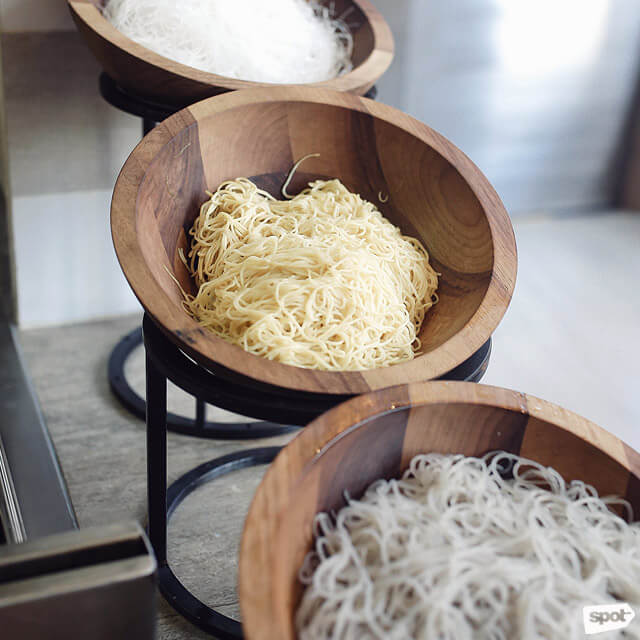 The Noodle Station (Pho, Ramen, Laksa) is where you can concoct your own top secret-recipe noodle dish from an assortment of Asian noodles, house-made soup bases, and fresh condiments.
ADVERTISEMENT - CONTINUE READING BELOW
"We don't use any MSG in the entire hotel; everything is from scratch. From our stocks, our soups, our sauces. It's all about teaching our chefs to use and develop their skills to make sure they are producing top-quality food, so nothing comes out of a packet," shares Chef Leslie.
For your next Filipino-food craving, it's nice to know that there's a friendly Kusina that you can count on to have your old-time favorites done right. 
Kusina's Monday to Thursday lunch buffet is at P2,200 while the dinner buffet is at P2,395. Friday to Saturday lunch is at P2,700 and dinner at P2,700. Sunday Brunch is at P2,700 while Sunday dinner is at P2,395. All buffet prices are inclusive of government taxes.
Photos by Majoy Siason
Share this story with your friends!
---
Help us make Spot.ph better!
Take the short survey
More Videos You Can Watch
Load More Stories