How Theo & Brom Is Bridging Two Worlds Through Chocolate
The traditional tablea gets a Belgian twist.
(SPOT.ph) While many of us grew up having powdered malted chocolate drinks with breakfast, the tsokolate tablea holds a special place in every Filipino's heart. The dark-chocolate tablets—a literal translation of the Spanish name—are usually made with dried local cocoa beans and muscovado sugar. When dissolved in hot water (or, if you're feeling extra luxurious, milk), the resulting drink is dark, rich, and has a toasted sweetness to it. The hot tsokolate is a Christmas staple, and it's almost impossible not to feel a tinge of nostalgia while having it.
Marielle Moens found herself craving the comforting beverage when she moved to Belgium—even though she was already in, arguably, the country of chocolate. "We just moved to Belgium about a half a year ago and we ended up talking about tablea," she shares. "I asked, 'Oh, you guys must know chocolates. Have you heard of tablea?' And they were like, 'No, we've never heard of it.'"
ADVERTISEMENT - CONTINUE READING BELOW
CONTINUE READING BELOW
Recommended Videos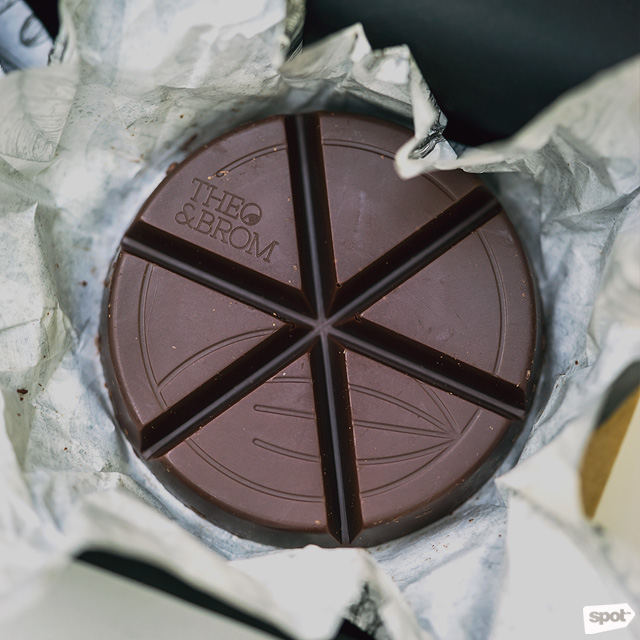 That was when it hit her: if she couldn't have the dark-chocolate tablets within reach, she could make her own. "[My husband, Matthias] and I were talking about ideas for our e-commerce business," says Marielle. "So I said, 'I guess we could make our own version.'" This became Theo & Brom, which they describe as "Belgian tablea."
ADVERTISEMENT - CONTINUE READING BELOW
Belgian tablea may seem like a combination of words that don't make sense—after all, wasn't tablea supposed to be Filipino or even Spanish? But to Marielle, it was perfectly clear: She and her husband were already in Belgium, so she decided to combine the Belgian method of chocolate-making with cocoa beans from the Philippines. "There's a contrast between Belgian chocolate and the tablea," she explains. "Ours is very rough ground, and it's been the same since the Spanish first brought it to the Philippines. So we wanted to refine it into something different."
The Up-and-Coming Stars of the Chocolate World
Though Marielle and Matthias were producing their tsokolate tablea in Belgium, they knew from the get-go that they were going to use cocoa beans from the Philippines. "[The Philippines] is an emerging source of fine cocoa in the bean-to-bar world," says Marielle. "We're the up-and-coming stars of the chocolate world. Just last February, when we went to a cocoa festival in Amsterdam, the speakers were Filipino makers. They had their time on stage, [they were] speaking to Europeans, and we were like, 'Wow, this is awesome.' They're creating a lot of buzz."
ADVERTISEMENT - CONTINUE READING BELOW
So when it came to choosing which Philippine farm to get their beans from, the Moens knew they had their work cut out for them. "Before we started this chocolate business, we thought, 'Well, cacao is cacao,'" says Mattias. "It's all going to be very similar in taste. And then you start tasting different beans, and it's as if you're drinking whiskey or wine or beer. You eat a lot of chocolates, and then you start to differentiate different tastes like red wine or raisins."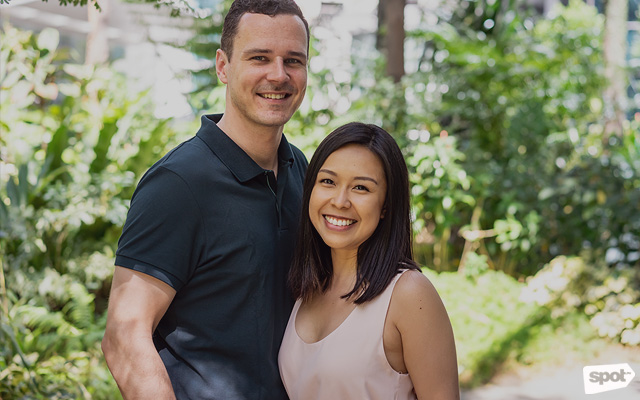 ADVERTISEMENT - CONTINUE READING BELOW
Luckily for the couple, they found someone to hold their hand through what could have ended up being a maddening search. "We actually have a cocoa adviser," shares Marielle with a laugh. "She's a scientist and she's one of the few people in the world who understands post-harvest processing. She invented the protocols to create fine cocoa for several farms in Latin America and Africa, and now she works with Philippine farmers."
You support farmers so they can upgrade their ways of harvesting, taking care of crops, and creating beans that are of export quality, and then they could actually charge the right prices. And it comes full circle: you get good cocoa, you get to produce a great chocolate bar with those beans.
The Moens' cocoa adviser is Dr. Zoi Papalexandratou, who connected the couple to Single Estate Dela Serna Beans from Davao. "The trend now for fine cocoa is the smaller the area where it's from, the better," says Marielle. "So it's no longer single origin; it's single estate." And Dela Serna Beans was making a name for themselves internationally—in 2018, a Japanese bar made with 65% Philippine Dela Serna won bronze in the International Chocolate Awards: Asia-Pacific.
ADVERTISEMENT - CONTINUE READING BELOW
Most importantly, the Dela Serna beans had the flavor profile that Marielle and Matthias were looking for. "We actually also experimented with Nicaraguan beans—those had a fruitier, red-wine like flavor while the Dela Serna blend tasted more like caramelized molasses," explains Marielle. "You could tell the difference when you taste them side by side. It's very Filipino."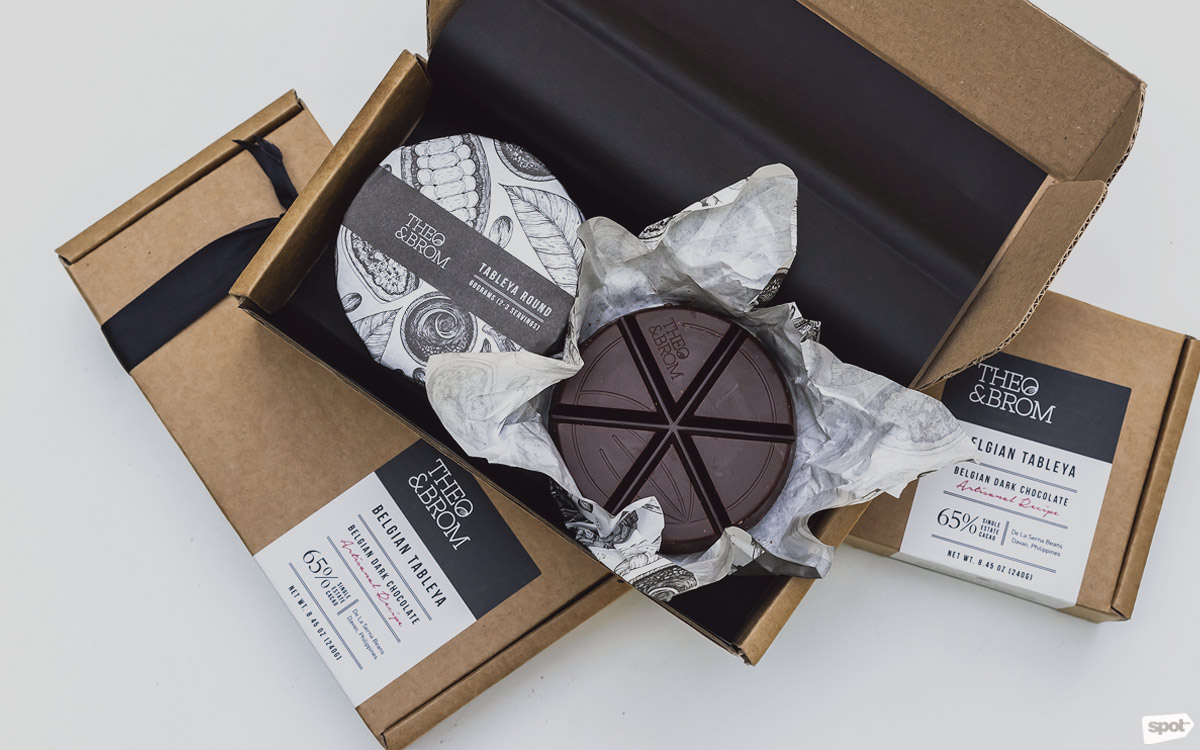 "Good chocolate has a lot to do with the beans," she adds. "It has to be fine quality beans. And I guess that's where the idea of becoming a social enterprise comes in. You support farmers so they can upgrade their ways of harvesting, taking care of crops, and creating beans that are of export quality, and then they could actually charge the right prices. And it comes full circle: you get good cocoa, you get to produce a great chocolate bar with those beans."
ADVERTISEMENT - CONTINUE READING BELOW
Surprisingly, the Moens have yet to meet their partner-farmer, David Dela Serna. "We work with [local chocolate brand] Auro, and they're the ones who meet with him. But we have to make that trip to Davao," muses Marielle. "We're going on another trip back here to visit his estate."
Tablea You Can Bite Into
The goal for Theo & Brom was to produce a tsokolate tablea that was so fine and rich, you could eat it on its own—like a regular chocolate bar. For the Moens, this was the key for their product to be appreciated, not just by Filipinos, but also by Belgians.
"I once took a bite of tablea," shares Matthias, who is Belgian. "And it's pure cacao! So it was kind of grainy. And I thought, 'If we sell this, we need to refine this for an international audience.'"
With beans as good as the ones they have from Dela Serna, Marielle and Matthias found it important to find a chocolatier who would treat the beans with the care they deserved. "We're not chefs or chocolate makers," says Marielle. "We don't have any background in this industry, but we made it a point to choose someone who also believed in the concept."
ADVERTISEMENT - CONTINUE READING BELOW
This someone is Mario Vandeneede, a Belgian chocolatier who specializes in bean-to-bar chocolate making and owns Belgian chocolate brand Chocolatoa. Operating in the small village of Ruiselede in Belgium, Vandeneede focuses on creating micro-batches of chocolates to maintain the quality of the bars he produces, which is exactly what Marielle and Matthias wanted.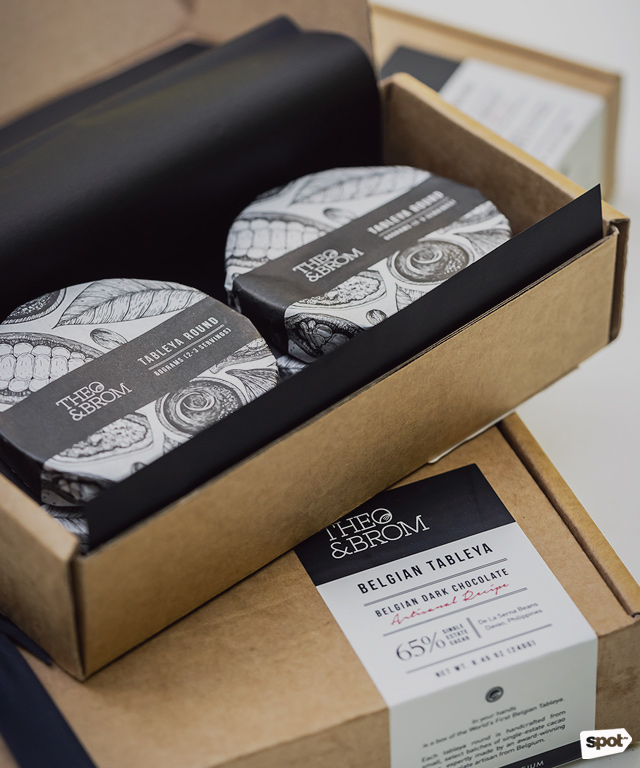 A Taste of Two Homes
ADVERTISEMENT - CONTINUE READING BELOW
Theo & Brom offers their tablea in rolls or boxes, in straightforward packaging that looks good enough for gifting. The Moens recommend dissolving the tablea in milk to get a full-bodied, dark-chocolate drink that's rich and smooth. It doesn't have the slightly grainy texture you get from the usual tablea, but the homey, almost nostalgic warmth is there. And yes, you can bite into a disc and munch on it like a chocolate bar—but given how hefty each 60-gram piece is, finishing a disc in one sitting can be a challenge.
"We're going to come up with Belgian tablea bites," shares Marielle. "They're going to be around eight grams each, Curly Tops-sized so people can munch on them like a snack."
While they did want to produce only small batches of Belgian tablea, the demand for Theo & Brom has become bigger than they had first anticipated. "We honestly thought this was going to be a one-time thing," says Matthias. "We'll do it then afterward, we'd never hear from anyone again. But then we [went] from producing 10 kilos of chocolate at a time to 300 kilos now."
ADVERTISEMENT - CONTINUE READING BELOW
"We were surprised," adds Marielle. "We knew it was going to be okay but we were surprised that everyone's so excited with the whole thing."
She also shares that so far, most of their customers have been Filipinos: "[Tablea] connects to any Filipino. You don't need to explain what tablea is. But when [Belgians] see that it's Belgian chocolate, they think 'Okay, this must be good.' We just put the two things together to create something new."
With more and more Filipinos like Marielle putting down roots all over the world, home isn't a single place anymore, and you could say that Belgian tablea is a reflection of that. Theo & Brom is still a taste of home—it just so happens that home can be wherever you decide it is.
Theo & Brom tablea are available in rolls (good for about six cups of hot chocolate) at P849, or boxes of four discs (good for about 12 cups) at P2,100. For orders, visit Theo & Brom's official website.
ADVERTISEMENT - CONTINUE READING BELOW
Photos by Toto Labrador