Elephant Grounds
LG/F One Bonifacio High Street Mall, Bonifacio Global City
Open daily from 7 a.m. to 10 p.m.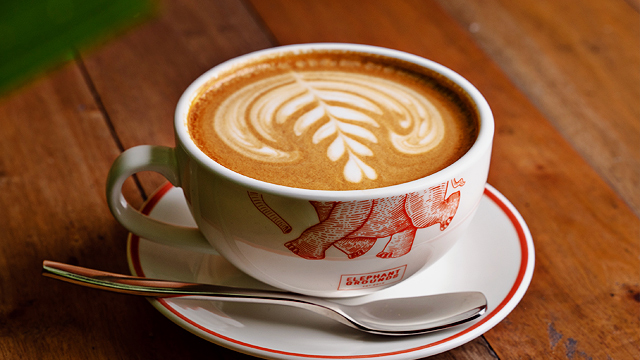 (SPOT.ph) With more and more restaurants from abroad opening in Manila, it seems there isn't that much reason now for a foodie to still head out of the country simply to try out a specific establishment. On the flip side, we're now more keen to travel, spending our off time on international trips that, more often than not, include sampling the best dishes a country has to offer.
What then can a restaurant from abroad—whether it's a homegrown eatery or a huge international franchise—offer a seasoned traveler and diner who has most likely been to their original location? Should they simply replicate their original branch here in Manila? After all, there are a lot of folks who look at how closely a restaurant can stick to their menu and experience even in a new location, seeing it as a good thing. Or should they try to offer something new, working on the assumption that many have already visited the franchise abroad, and are hankering for a new experience?
ADVERTISEMENT - CONTINUE READING BELOW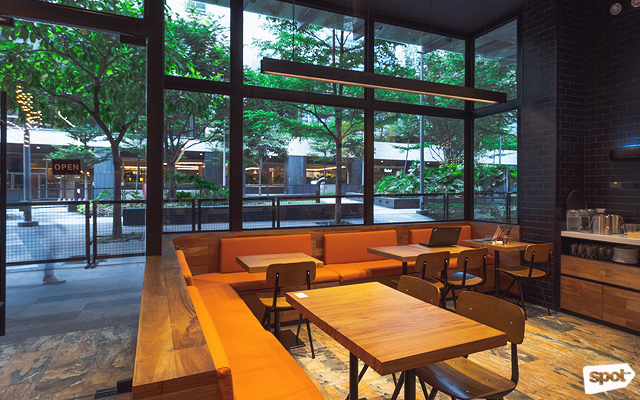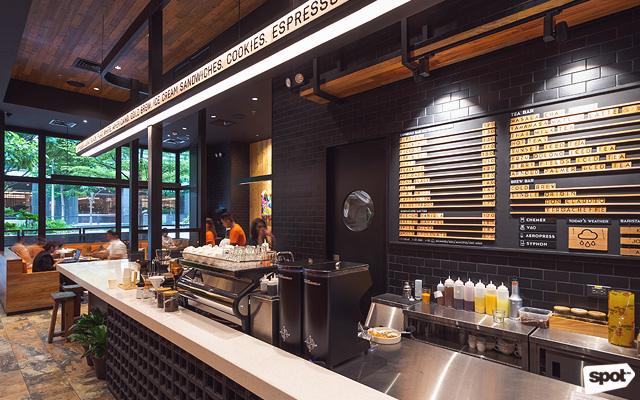 Elephant Grounds, a café from Hong Kong well-known for their independently roasted coffee and unusually flavored ice-cream sandwiches, balances both sides at their new branch in Bonifacio Global City—which, incidentally, is also their first international outpost. It's largely thanks to a willingness from the Hong Kong purveyors to give The Standard Group (also behind Ippudo, Yabu, and Mighty Quinn's) lots of leeway and creative freedom.
ADVERTISEMENT - CONTINUE READING BELOW
Recommended Videos
It's not surprising that when it comes to introducing their brand to a new country, Elephant Grounds is pretty chill. The café started in 2013 in Hong Kong as an antithesis to the mainstream coffee shops on the island, combining retail with great quality coffee, ice cream, and café food. It's a laid-back, hip concept that allows for freedom in interpretation.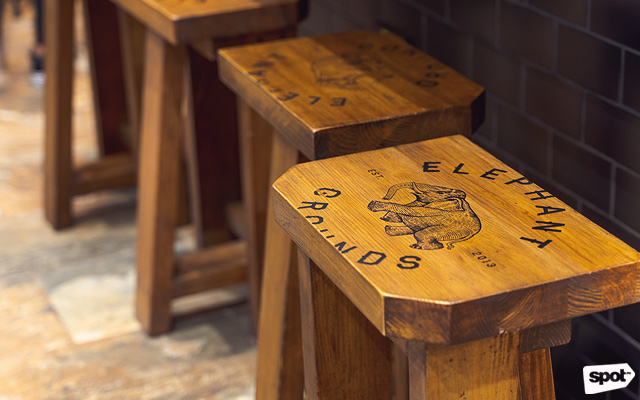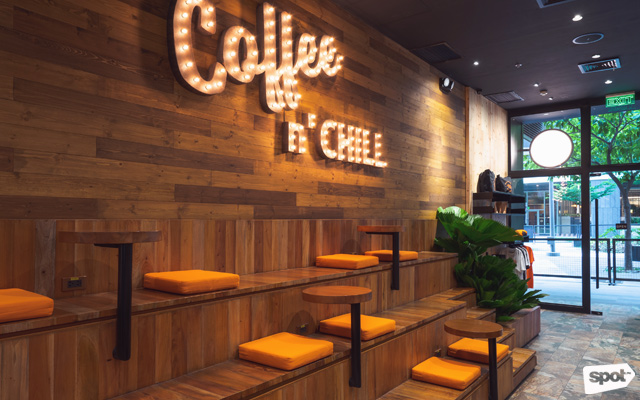 ADVERTISEMENT - CONTINUE READING BELOW
There are, of course, some non-negotiables—things that make up the core of Elephant Grounds. The wood-heavy interiors with lots of space and plenty of plants were designed by JJ Acuna / Bespoke Studio, which also worked on the Hong Kong branches. The stools are silk-screened with Elephant Grounds' vintage-inspired logo—done by HK-based artists Start From Zero.
But everything else, especially the menu, was adapted locally. This allowed The Standard Group to collaborate with Chef Nicco Santos in creating their menu, which focuses on brunch classics. "There were a lot of parameters we had to be careful with," shares Chef Nicco, "but I'm happy that the brand is letting us create what we think will work [locally]. We have some creative freedom."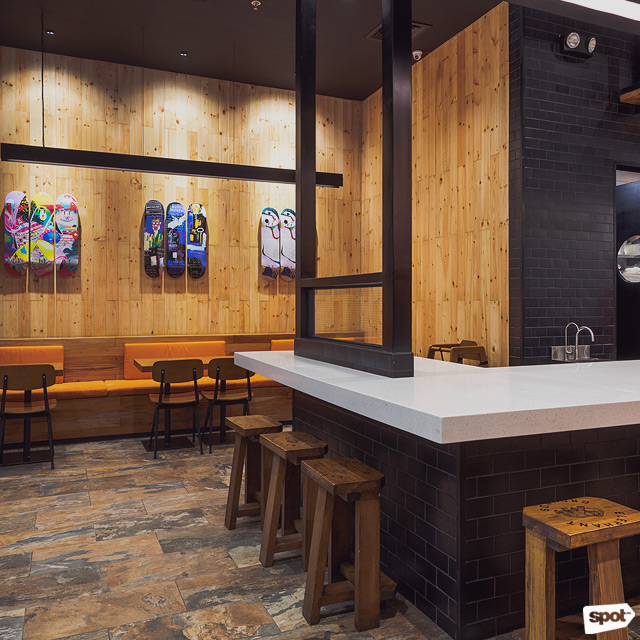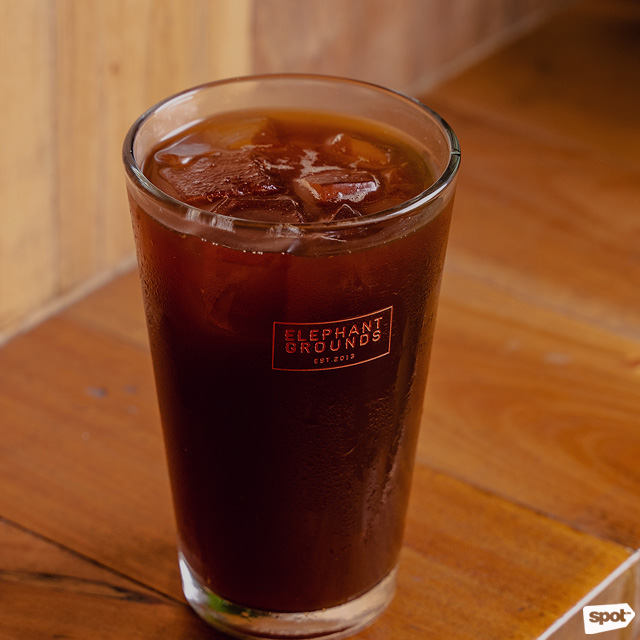 ADVERTISEMENT - CONTINUE READING BELOW
There are three main elements to Elephant Grounds' menu: coffee, ice cream, and food. Though at its core the menu is similar to Hong Kong's—toasts, rice bowls, and other breakfast fare—using local produce allows the Manila branch to leave their own stamp on the dishes. "The menu is simple but we chose to work with amazing suppliers and local farmers," says Chef Nicco. "We tried to have a relationship [with them] so we get the best produce and what's in season."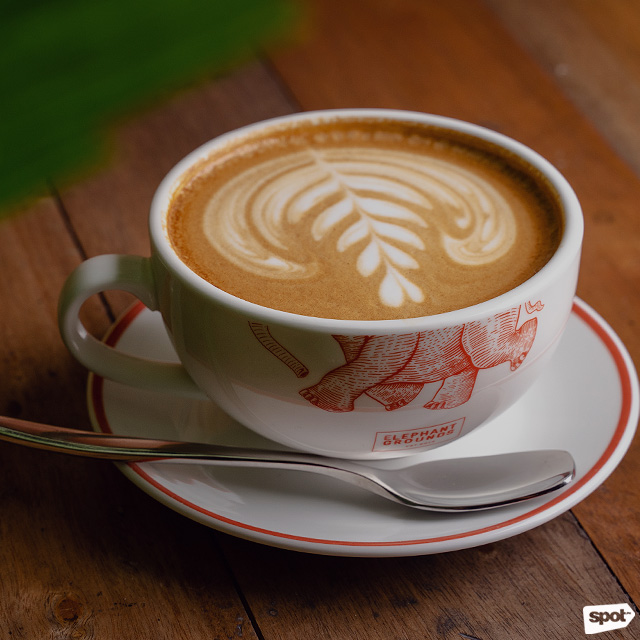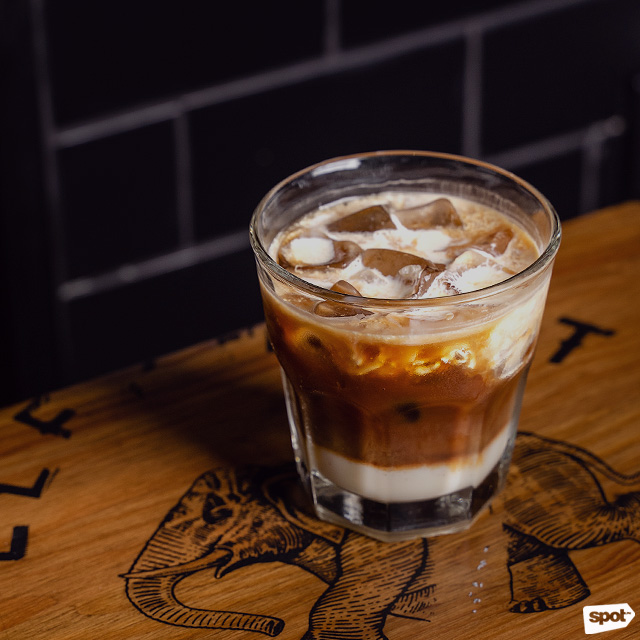 ADVERTISEMENT - CONTINUE READING BELOW
They make almost everything in-house: from the baking of the bread and the churning of the ice cream to the roasting of the coffee beans and the curing of the salmon. "I can't have my team not be challenged by the idea of making everything from scratch," explains Chef Nicco. "I think that's part of the pride of being a cook. Even though [a dish] is simple, it needs to be executed well so we're always on our feet. Because the simplest things are also the easiest to screw up."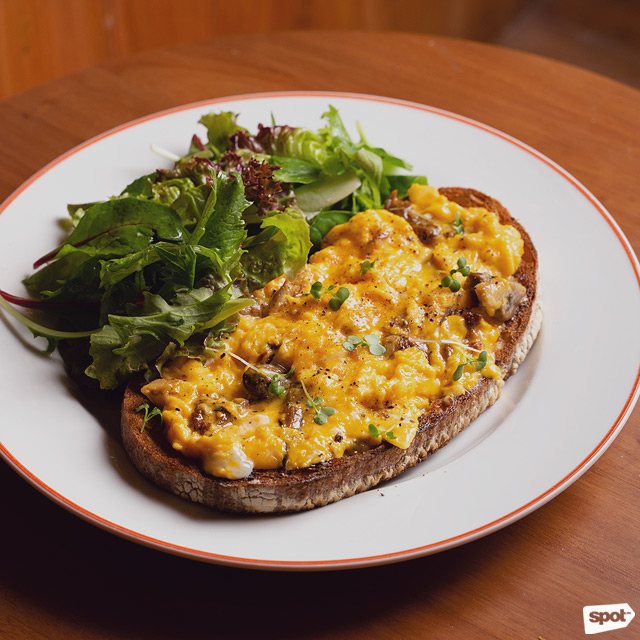 This attention to freshness elevates their hearty brunch fare and sets them apart from the rest. The scrambled eggs of the Egg Scramble (P320) have that vibrant yellow hue that let you know these are incredibly rich eggs, and a mix of smoked tinapa, smoked tomatoes, and mushrooms add just the right burst of umami. All these on top of freshly baked, springy sourdough bread.
ADVERTISEMENT - CONTINUE READING BELOW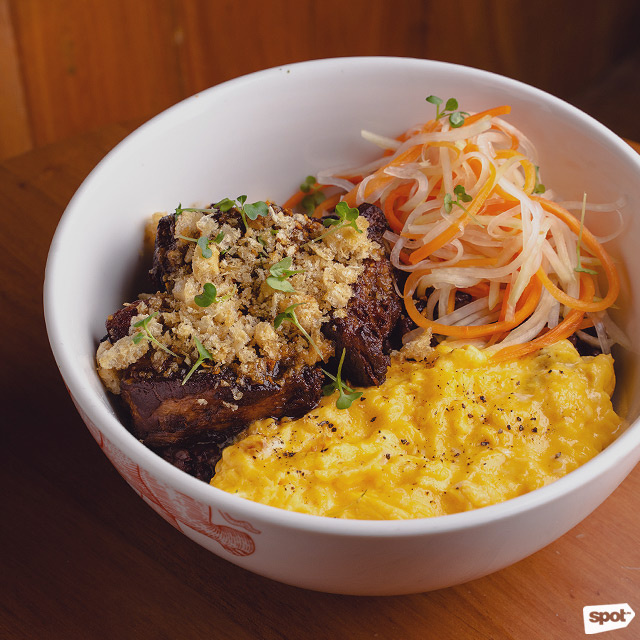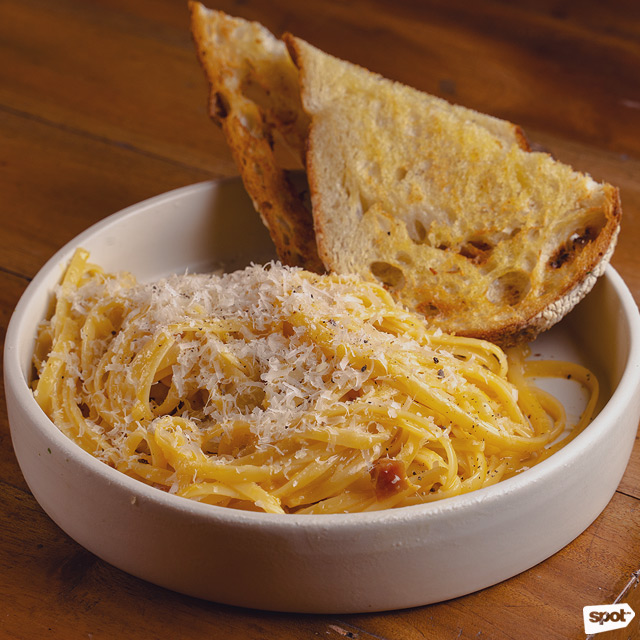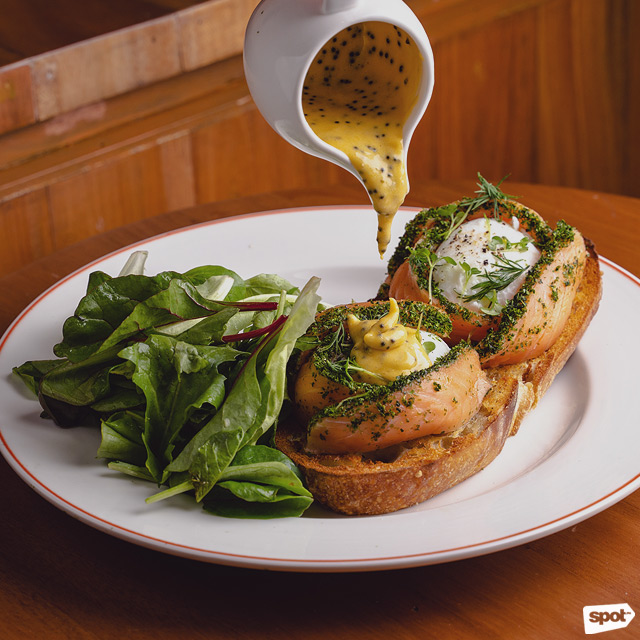 ADVERTISEMENT - CONTINUE READING BELOW
The Yuzu Salmon Eggs Benny (P495) is an incredibly luxurious way to start your day, with perfectly poached eggs, a silky Hollandaise sauce, and tender, briny salmon topped with a sprinkling of chives for complementing freshness. But for something extra hearty, have the Twice Cooked Adobo Pork Belly (P370), with fork-tender pork slices on a bed of garlic black rice.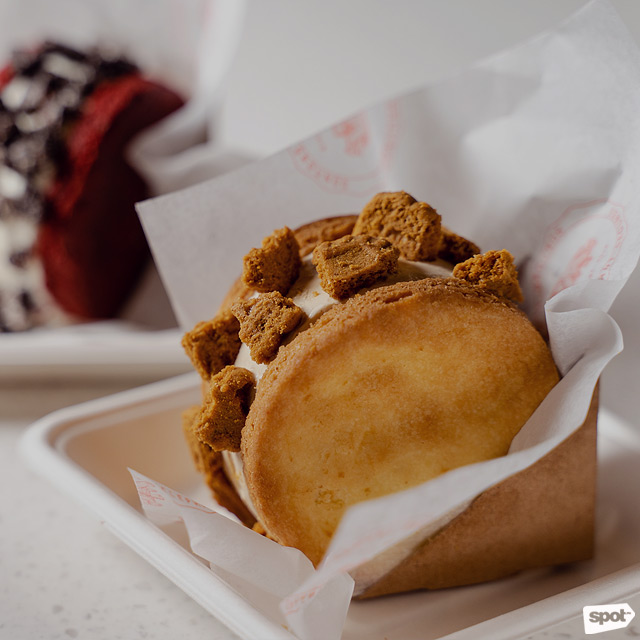 Elephant Grounds is also popular for their ice cream—have a cup and it's easy to see why. The café churns their own ice cream using Holly's Milk, and again there's that attention to freshness. No other flavor exemplifies this more than the Earl Grey (P150). Tea leaves are steeped in the milk before churning, resulting in ice cream with that distinctive earthy flavor—it's like milk tea in ice cream form.
In Hong Kong, Elephant Grounds strives to embody a "Made in Hong Kong" spirit, but allowing their BGC branch the freedom to localize meant that the brand had to evolve, melding both Hong Kong and Manila into their identity. If you're a longtime fan, it's probably not what you'd expect—and that's exactly why you're probably going to love it.
ADVERTISEMENT - CONTINUE READING BELOW
Photos by Patrick Martires
*Elephant Grounds is opening on May 31
*Update (May 27, 10 a.m.): According to the owners of Elephant Grounds, the opening has been moved to June 5, 6 p.m. Also the name of the architectural company who designed the branch has been corrected.
Share this story with your friends!
---
Help us make Spot.ph better!
Take the short survey
Load More Stories