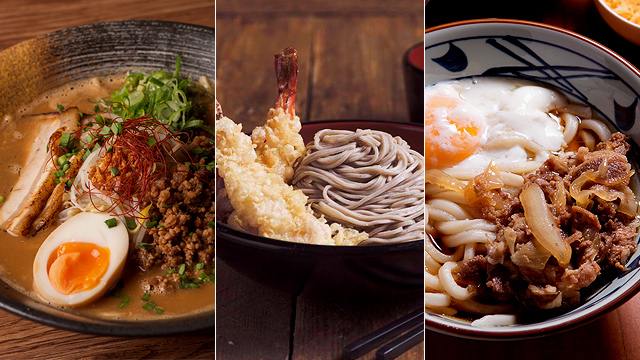 (SPOT.ph) For as long as anyone can remember, Japanese food has had a strong foothold in the local food scene. Even for the most casual of foodies, it's almost impossible to not have had ramen at least once while those who are more inclined to seek newer stuff would have had, or at least have heard of, udon and soba. While the three types of noodles are vastly different from each other, it can be easy to mix up them up. Need a refresher? We break down what ramen, udon, and soba are, plus where you can get them in Metro Manila.
ADVERTISEMENT - CONTINUE READING BELOW
Ramen
One of the most popular Japanese dishes, ramen is easy to find in the Metro. The Japanese noodle soup dish uses ramen noodles, or pulled wheat noodles which are usually thin and firm (though a lot of ramen shops let you choose thickness and firmness). Ramen is typically categorized by its soup base. What you'll commonly find in local ramen shops are shio (a light clear broth flavored with salt), shoyu (a clear brown broth flavored with soy sauce), miso (soybean paste-flavored broth), and tonkotsu (pork bone-flavored broth). 
Aside from noodles and broth, ramen also comes with meat and vegetables. Common add-ons are chasu (fatty slices of braised or roast pork), menma (salty bamboo shoots), negi (leeks), tamago (egg, usually soft-boiled), and kamaboko or naruto (fish cakes). Some ramen even come with a pat of butter to make the broth richer.
From these base flavors and toppings, ramen joints all over Manila have crafted their own versions so no two places are exactly alike. You've most likely been to the popular ones like Ramen Nagi, Ippudo or Mendokoro Ramenba, but here are several more ramen-ya (that's ramen shop in Japanese!) to check out.
Ramen Shokudo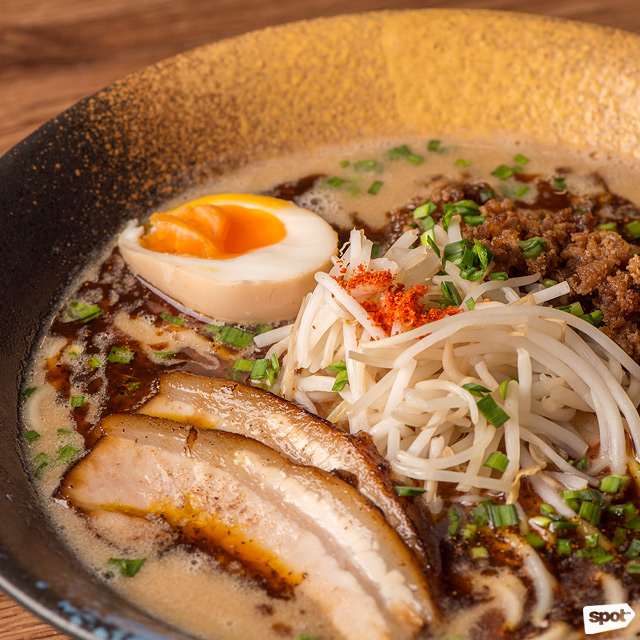 Ramen Shokudo offers the classics at their quaint and cozy spot in the north of the Metro. You can choose between Toriton Shoyu (P360) and Toriton Shio (P360), which pretty much have the same toppings of chasu, menma, leeks, egg, and more—the former has a chicken-pork broth flavored with soy sauce while the latter has the same broth but flavored with salt for a lighter finish. Aside from these two basic flavors, Ramen Shokudo also offers the spicy Toriton Tan-tanmen (P380) with a rich and nutty broth and Toriton Miso (P380) with a smooth, slightly salty broth.
ADVERTISEMENT - CONTINUE READING BELOW
Ramen Shokudo is at 401 Banawe Street, Santa Mesa Heights, Quezon City.
Ohayo Maki and Ramen Bar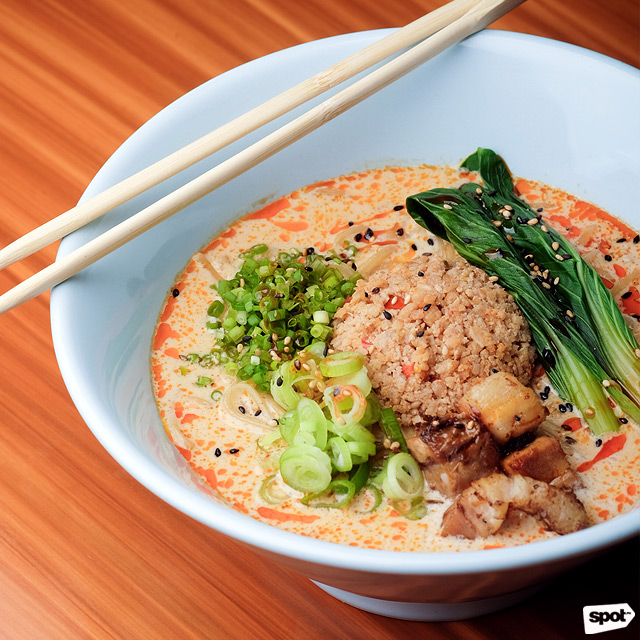 Ohayo's cozy branch in New Manila is easy to miss but more than worth the search. While they offer lots of fun maki options and even particularly tasty gyoza, leave lots of space for their ramen. Aside from traditional ramen flavors like Shio Ramen (P270) and Shoyu Ramen (P290), they also have a rich Tantanmen (P350), which has small chunks of succulent pork belly instead of a large slice of chasu. The secret to Ohayo's flavor-heavy ramen is their broth, which comes from a mix of pig parts plus chicken bones. This mix is simmered for 24 hours until they get the full concentrated flavor in jelly form, which they then boil upon order.
ADVERTISEMENT - CONTINUE READING BELOW
Ohayo Maki and Ramen Bar is at 30 Granada Avenue, Villa Ortigas II, Barangay Valencia, Quezon City; and 108 Maginhawa Street, Teachers Village, Quezon City.
Tongara Ramen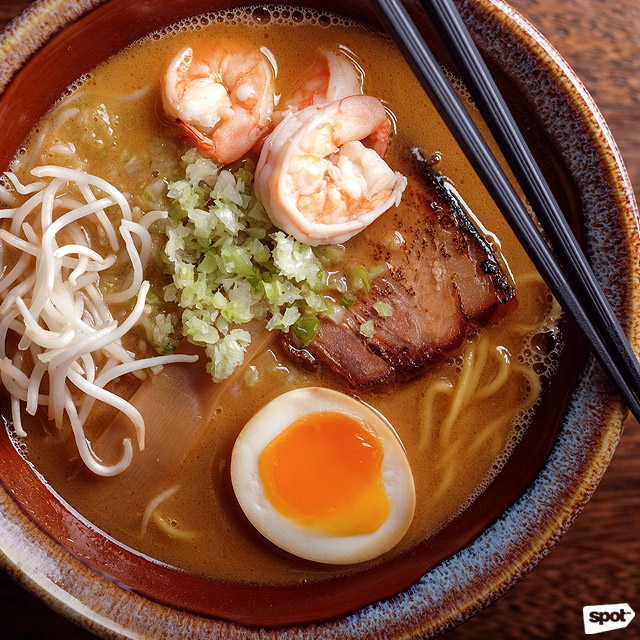 Tongara Ramen is a Marikina gem. Their bowls stand out because of their broth, which has the distinctive sweet-savory flavor of chicken from a mix of chicken and pork bones (hence, tongara, which is a combination of tonkotsu for pork and torigara for chicken). Tongara Seafood Ramen (P490) lets you enjoy their signature broth mixed with seafood broth flavored with aged soybean and topped with chasu, negi, menma, and ajitama. If you want bolder flavors and more toppings, get the Tongara Ebi Miso Ramen (P495), which has a clean, briny flavor that levels up the broth. This bowl also comes with tender shrimp, chasu, and bamboo shoots.
ADVERTISEMENT - CONTINUE READING BELOW
Tongara Ramen is at Lamp Quarters, Gil Fernando Street, Marikina City.
Kureji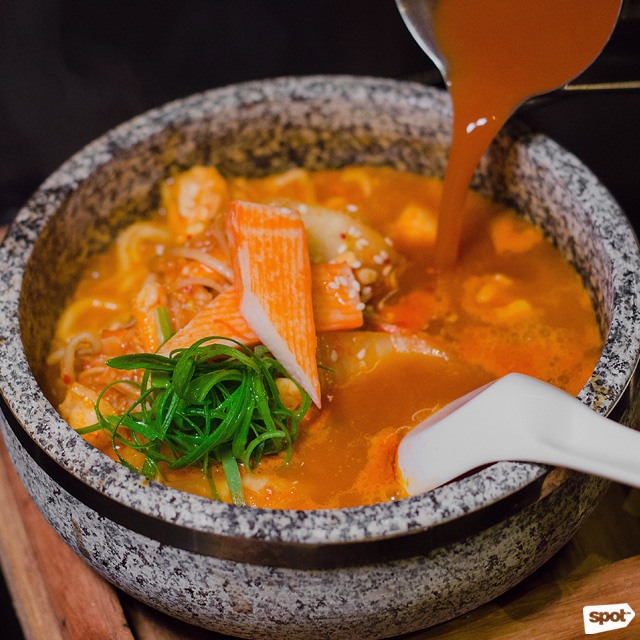 For ramen that isn't like your usual bowl, head to Kureji—you can expect wildly creative stuff at a restaurant named after the Japanese word for crazy. Their specialty is sizzling ramen or ramen that is served in a stone bowl with sizzling broth. Each order is served with an extra bowl of soup and a minute timer, so you know when to pour in the broth in your bowl and get the full sizzling experience. The adventurous diner should have the Sizzling Tomato Seafood Ramen (P420). Kimchi and tomato in the broth give it a spicy-tangy flavor, which is then topped with salmon, squid, shrimp, and kani.
ADVERTISEMENT - CONTINUE READING BELOW
See a list of Kureji branches.
Soba
While soba noodles have the same thickness as ramen, it has a distinctive browner shade that comes from a mix of buckwheat and wheat flour. The noodle can be served hot or cold, with hot dipping broth on the side. The average Filipino is probably less familiar with the different kinds of soba dishes—popular ones are tempura soba, which has the noodles topped with tempura, zaru soba or chilled soba paired with a simple dipping sauce (called tsuyu) made of mirin, soup stock, and water on the side, and kake soba or soba in a hot clear broth. Drop by an izakaya or any Japanese restaurant that offers a menu more extensive than the usual, and you could find soba on the menu, but, admittedly, this noodle dish is harder to find in Manila. Here are some options:
Nihonbashi Tei
ADVERTISEMENT - CONTINUE READING BELOW
This izakaya is one of the older Japanese restaurants in the Metro. They have an extensive menu of sashimi, sushi, tempura, curry, ramen, and soba. The Kitsune Soba (P250) has hot soba topped with pan-fried tofu, while the Curry Soba (P250) has a rich curry-flavored broth. You can also have cold soba like Zaru Soba (P230), cold soba paired with a dipping sauce or the Cha Soba (P230), with green-tea flavored soba noodles.
Nihonbashi Tei is at 1030 Arnaiz Avenue, Makati City; and 483 Pedro Gil Street, Manila.
Nadai Fujisoba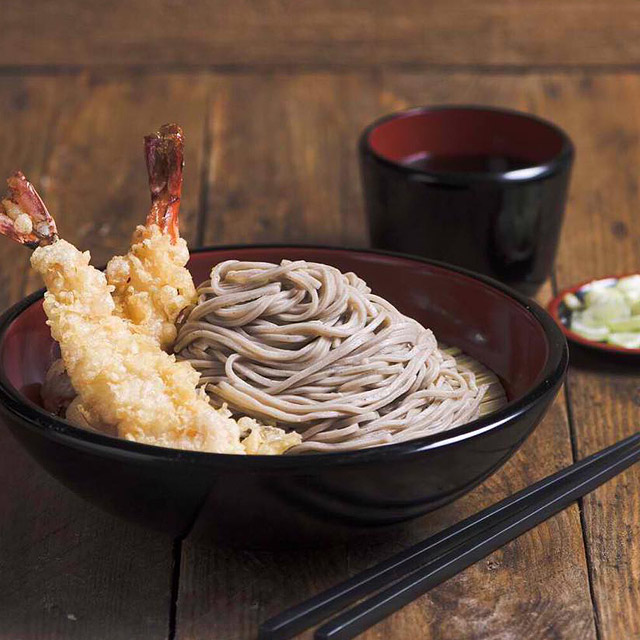 ADVERTISEMENT - CONTINUE READING BELOW
Nadai Fujisoba from Shibuya made waves in Manila when they opened in 2015 for offering a menu without ramen. Instead, their menu focuses on soba and udon, then (and still) underrated Japanese noodles in Manila. They offer lots of options from a simple yet flavorful Kake Soba (P180) or soba noodles in a hot broth flavored with onion leeks and wakame seaweed to Hiyashi Niku Fuji Soba/Udon (P320), with your choice between cold soba and udon, sliced savory beef, wakame seaweed, wasabi, onion leeks, a soft-boiled egg, and a side of cold tsuyu. They also pair cold soba with different kinds of tempura, like ebi, chikuwa (fish cake), ika (squid), and kisu (fish). 
Nadai Fujisoba is at Food on Four, 4/F SM Aura Premier, C5 corner 26th Street, Bonifacio Global City. 
Menya Kokoro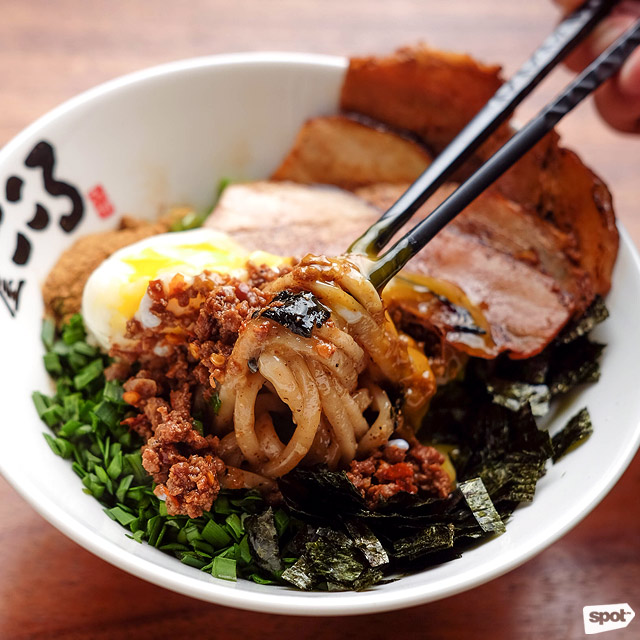 ADVERTISEMENT - CONTINUE READING BELOW
While Menya Kokoro uses soba noodles, they introduce a different take on the dish: the mazesoba or what they call "soupless ramen." This just means that they combine the usual flavors of ramen with soba noodles, minus the broth. The simplest bowl on the menu, their signature Tokyo Mazesoba (P350) is already overloaded with toppings like kokoro or minced meat cooked in a secret blend of spices, plus chives, spring onions, chopped nori and a soft-boiled egg. The soba noodles are flavored with a sauce made using chicken paitan broth cooked for six to eight hours, oil flavored with sakura ebi (small pink shrimp), soy sauce, sesame seeds, and saba (mackerel) fish powder, then the soba is bruised with a wooden stick so the noodles absorb this sauce. Another must-try is the Cheese Mazesoba (P430), which comes covered in gooey, melted mozzarella cheese.
Menya Kokoro is at 3/F Uptown Mall, Uptown Bonifacio.
ADVERTISEMENT - CONTINUE READING BELOW
Udon
Udon is the noodle that usually gets mixed up with soba, mostly because most Japanese restaurants offer both under one section on their menu. Generally, udon is thicker and chewier than soba and ramen noodles and gets its white color from wheat flour. Like soba, you can get udon in hot and cold dishes. A lot of soba dishes have udon counterparts: There's the zaru udon or cold udon that's served with a cold tsuyu or dipping sauce, kake udon or udon in a hot mirin-flavored broth that's topped with onion leeks, udon paired with tempura, and udon served in a hot Japanese-curry broth. But udon is a versatile noodle—kind of like pasta—and many Japanese restaurants around the Metro mix it with other, less traditional toppings like cream or uni.
Marugame Udon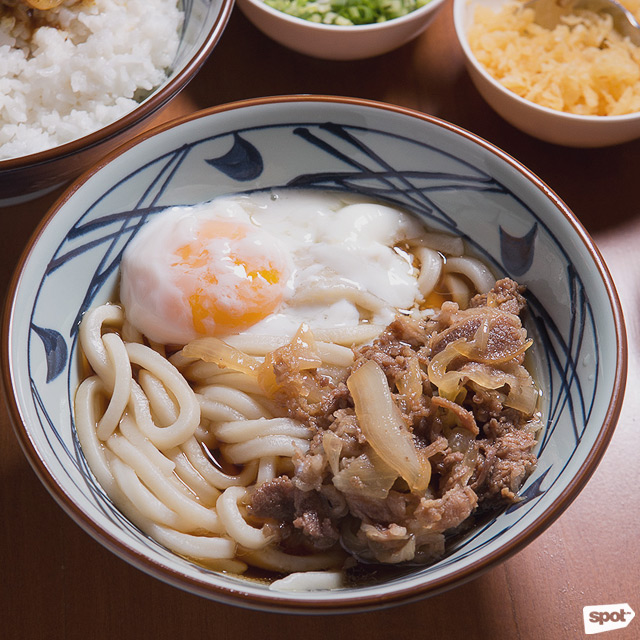 ADVERTISEMENT - CONTINUE READING BELOW
It's easy to spot a Marugame Udon branch—just look for a snaking queue that extends outside the resto. The Japanese franchise is a hit because of their self-service cafeteria-style counter, where you can order your choice of udon and pair it with your choice of tempura, maki or musubi. Their bestseller is the Beef Ontama Bukkake Udon (P210/regular, P260/large), which you can have either hot or cold. This crowd favorite has chewy udon noodles which is topped with marinated beef strips brimming with a savory flavor from a sauce of sweet onions, soy sauce, and dashi. For a lighter bowl, have the Chicken Paitan Udon (P200/regular, P250/large), with chicken broth, sautéed chicken, a soft-boiled egg, and cracked pepper on top.
See a list of Marugame Udon branches.
Yutaka Izakaya
ADVERTISEMENT - CONTINUE READING BELOW
Yutaka Izakaya is a low-key Japanese eatery in Sta. Mesa that offers an extensive Japanese menu, which includes a lot of udon options at affordable prices. Their Kake Udon (P155), their most affordable option, is a hearty bowl of udon in a hot broth flavored with dashi and mirin and topped with fish cakes. Their bestseller, the Nabeyaki Udon (P330), is the perfect cure for cold rainy days—the hot-pot has udon in a dashi broth plus crisp vegetables, mushrooms, tender beef strips, and two pieces of ebi tempura. 
Yutaka Izakaya is at Unit A, Aurora Arcade, 41 Aurora Boulevard, Santa Mesa, Quezon City.
Ooma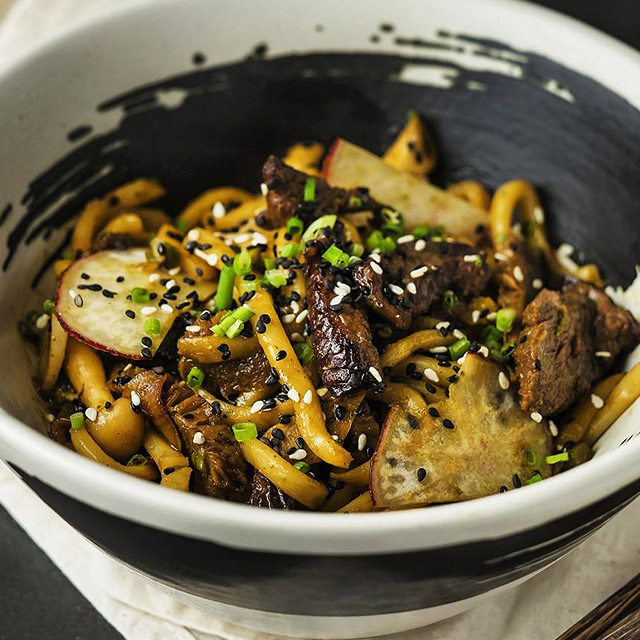 ADVERTISEMENT - CONTINUE READING BELOW
If you love Ooma for their inventive maki, you can expect the same level of creativity for their udon. They offer four bowls, all packed with bold umami flavor. The rich Uni Udon (P495) tastes like a treat-yourself bowl, with a creamy uni sauce and fresh uni, plus shrimp, nori crumbs, scallions, and mushrooms. The Buta Kakuni Udon (P365) features slow-roasted, fork-tender pork belly while the Tori Udon (P395) is a flavor bomb with sous-vide chicken and black garlic cream. The hearty Beef Udon (P395) with sous-vide beef benefits from the bright citrus flavor of chimichurri. 
See a list of Ooma branches.
Share this story with your friends!
---
Help us make Spot.ph better!
Take the short survey
More Videos You Can Watch
Load More Stories