(SPOT.ph) From athleisure to animal print, no trend ever really dies. The same holds true for milk tea, which we first saw a rise in popularity back in the late 2000s. It may have died down for a while, as some people moved on to milkshakes and frozen yogurt, but milk tea still remains, and the craze is perhaps even wilder than before. 
Milk tea has become synonymous with Taiwan and for good reason: It's almost impossible to move a block in Taipei without stumbling upon a milk-tea shop. Arguably the drink's most popular variant is bubble tea or pearl milk tea—tea mixed with milk, sweetened with sugar, and often served with ice. But did you know that this beverage was not invented until the late 1980s?
ADVERTISEMENT - CONTINUE READING BELOW
Chun Shui Tang still offers their Original Pearl Milk Tea. 
There is controversy regarding who first invented pearl milk tea or boba milk tea involving two teahouse chains: Chun Shui Tang in Taichung and Hanlin Tea Room in Tainan. It is popularly believed that Liu Han-Chieh and Lin Hsiu Hui of Chun Shui Tang first thought of making cold milk tea in the early 1980s. Inspired by a trip to Japan where he noticed the popularity of iced coffee, Liu experimented with cold tea, adding candied fruit and syrups. But it was his product manager, Lin Hsiu Hui, who first thought of adding tapioca balls into her iced tea in 1988. She dubbed their creation "bubble milk tea" because of the tapioca balls' resemblance to bubbles.
On the other hand, Hanlin Tea Room argued that they have been serving pearl milk tea since 1986 after their founder Tu Tsung-ho spotted tapioca balls in the local market. He then added these balls to iced tea, naming the new drink "pearl milk tea" after the translucent nature of the tapioca balls.
In any case, both tea shops were unable to patent their creations, so many tea houses soon followed suit, offering not just white tapioca pearls but also a brown-sugar variant. In the late 1990s, machines that automatically sealed cups with a plastic cover arrived in Taiwan, introducing a signature look for the drink that exists to this day.
Chun Shiu Tang and Hanlin Tea Room are both still around up to this day. Though they now have multiple branches around Taiwan, Chun Shui Tang's original store is on 30 Siwei Street, Taichung—and waiting time to get a drink can last for more than 30 minutes. Hanlin Tea Room also has multiple branches all over the country.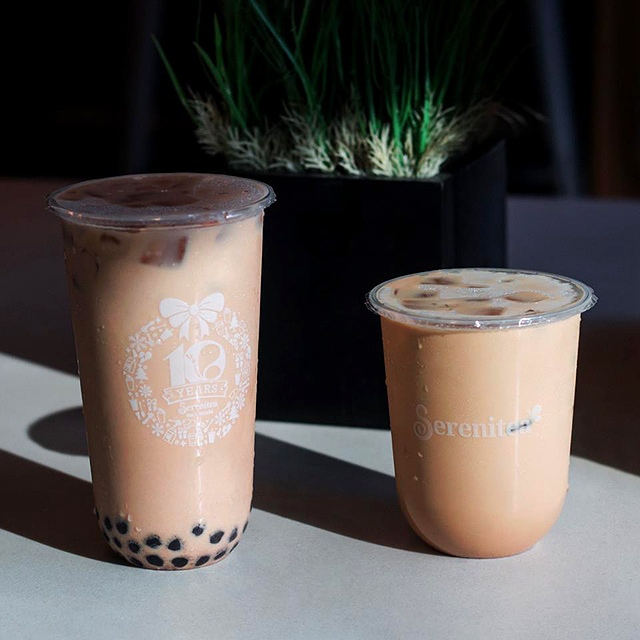 ADVERTISEMENT - CONTINUE READING BELOW
In Metro Manila, you can credit Serenitea, which opened its first branch in San Juan in December of 2008, for starting the local milk-tea craze. International chains in the Metro started popping up years after: Happy Lemon in 2010, and Chatime and Gong Cha in 2011.
It might come as a surprise to many that CoCo Fresh Tea & Juice, one of the chains that sparked the return of the milk-tea mania, has actually been around since 2013, opening their first branch at Techno Plaza in Eastwood City, Quezon City. Milk tea became buzzy again in 2017, especially with the arrival of more milk-tea chains: Macao Imperial Tea, Yi Fang, and more.
What Goes Into Milk Tea