The Serious List: Your Comprehensive Guide to Milk Tea and Where to Get It in Manila
We're still thirsty for this drink!
(SPOT.ph) From athleisure to animal print, no trend ever really dies. The same holds true for milk tea, which we first saw a rise in popularity back in the late 2000s. It may have died down for a while, as some people moved on to milkshakes and frozen yogurt, but milk tea still remains, and the craze is perhaps even wilder than before. 
Milk tea has become synonymous with Taiwan and for good reason: It's almost impossible to move a block in Taipei without stumbling upon a milk-tea shop. Arguably the drink's most popular variant is bubble tea or pearl milk tea—tea mixed with milk, sweetened with sugar, and often served with ice. But did you know that this beverage was not invented until the late 1980s?
ADVERTISEMENT - CONTINUE READING BELOW
Chun Shui Tang still offers their Original Pearl Milk Tea. 
There is controversy regarding who first invented pearl milk tea or boba milk tea involving two teahouse chains: Chun Shui Tang in Taichung and Hanlin Tea Room in Tainan. It is popularly believed that Liu Han-Chieh and Lin Hsiu Hui of Chun Shui Tang first thought of making cold milk tea in the early 1980s. Inspired by a trip to Japan where he noticed the popularity of iced coffee, Liu experimented with cold tea, adding candied fruit and syrups. But it was his product manager, Lin Hsiu Hui, who first thought of adding tapioca balls into her iced tea in 1988. She dubbed their creation "bubble milk tea" because of the tapioca balls' resemblance to bubbles.
On the other hand, Hanlin Tea Room argued that they have been serving pearl milk tea since 1986 after their founder Tu Tsung-ho spotted tapioca balls in the local market. He then added these balls to iced tea, naming the new drink "pearl milk tea" after the translucent nature of the tapioca balls.
ADVERTISEMENT - CONTINUE READING BELOW
Recommended Videos
In any case, both tea shops were unable to patent their creations, so many tea houses soon followed suit, offering not just white tapioca pearls but also a brown-sugar variant. In the late 1990s, machines that automatically sealed cups with a plastic cover arrived in Taiwan, introducing a signature look for the drink that exists to this day.
Chun Shiu Tang and Hanlin Tea Room are both still around up to this day. Though they now have multiple branches around Taiwan, Chun Shui Tang's original store is on 30 Siwei Street, Taichung—and waiting time to get a drink can last for more than 30 minutes. Hanlin Tea Room also has multiple branches all over the country.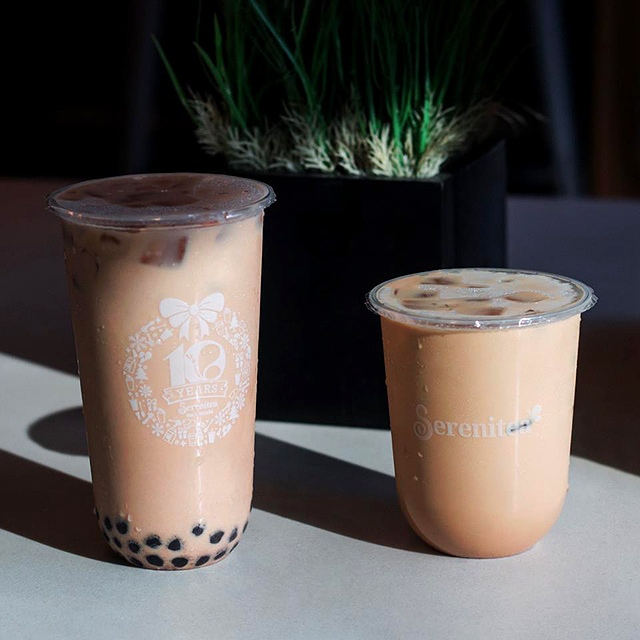 ADVERTISEMENT - CONTINUE READING BELOW
In Metro Manila, you can credit Serenitea, which opened its first branch in San Juan in December of 2008, for starting the local milk-tea craze. International chains in the Metro started popping up years after: Happy Lemon in 2010, and Chatime and Gong Cha in 2011.
It might come as a surprise to many that CoCo Fresh Tea & Juice, one of the chains that sparked the return of the milk-tea mania, has actually been around since 2013, opening their first branch at Techno Plaza in Eastwood City, Quezon City. Milk tea became buzzy again in 2017, especially with the arrival of more milk-tea chains: Macao Imperial Tea, Yi Fang, and more.
What Goes Into Milk Tea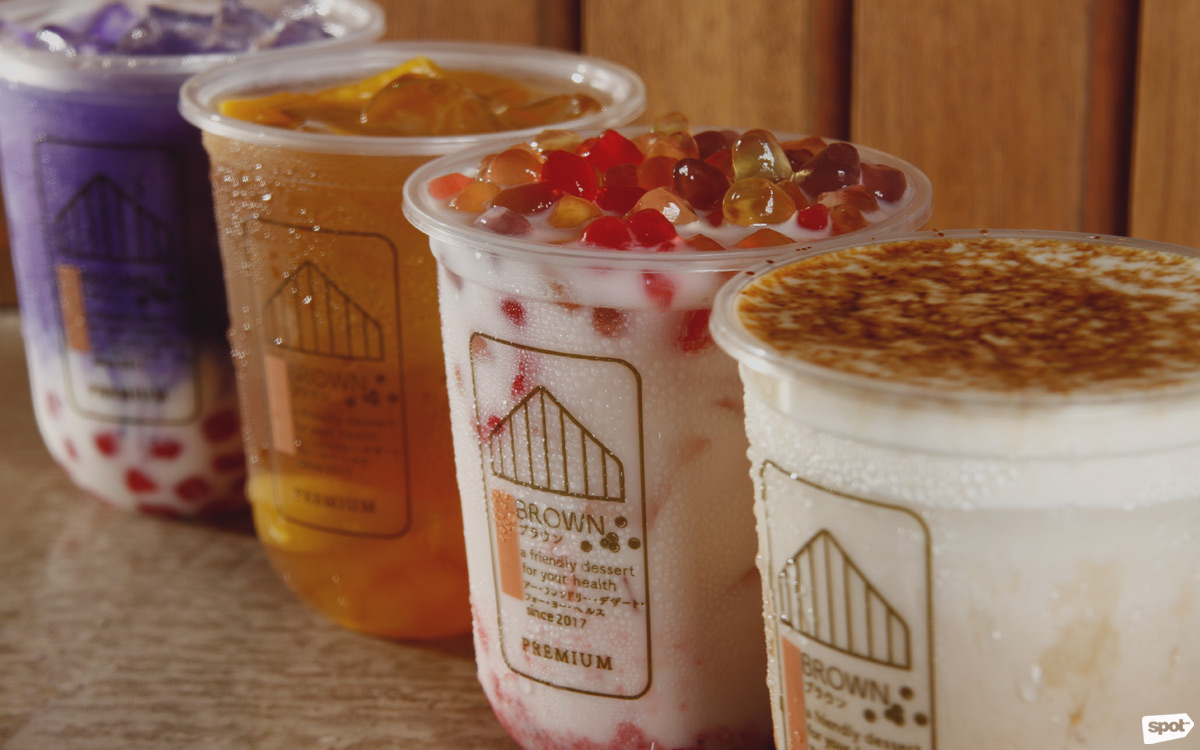 PHOTO:

Vincent Coscolluela
At its most basic form, milk tea is simply tea, milk, and ice. Most milk-tea shops have their own signature tea blend, which serves as the base for their drinks. This can be black tea, which can be a full-bodied, high-in-caffeine variant like Assam (common in milk-tea shops), Earl Grey, or English Breakfast; green tea like Oolong; or white tea like chamomile or jasmine, which is more floral. A lot of milk-tea joints create their own signature blend with two or more teas while also offering beverages that use only black, green, or white. Most of the time, the menu indicates this, but it's still best to ask!
ADVERTISEMENT - CONTINUE READING BELOW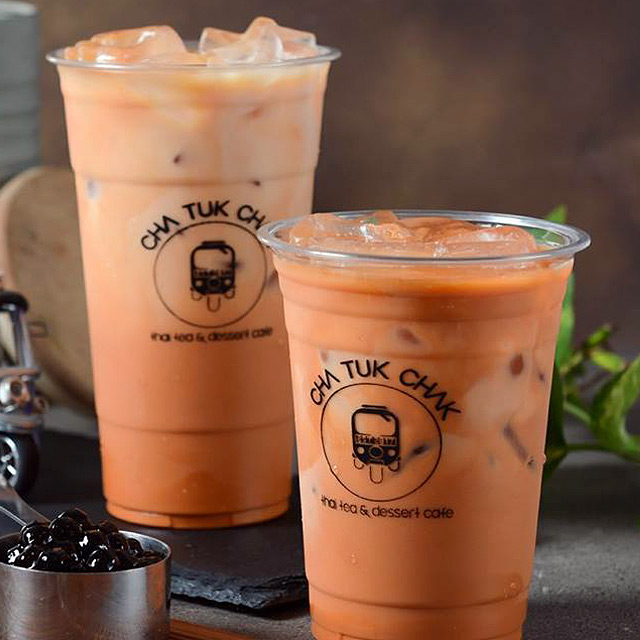 To this tea base, milk is then added—a good milk-tea shop will use fresh milk for extra richness. The Hong Kong version of milk tea, nai cha, uses evaporated milk over strong black tea, while Thai milk tea, which you can get now get in more places around the Metro like Cha Tuk Chak and Khun Thai Tea, uses condensed milk, which adds both creaminess and sweetness to temper the spiced boldness of the traditional Thai tea blend.
ADVERTISEMENT - CONTINUE READING BELOW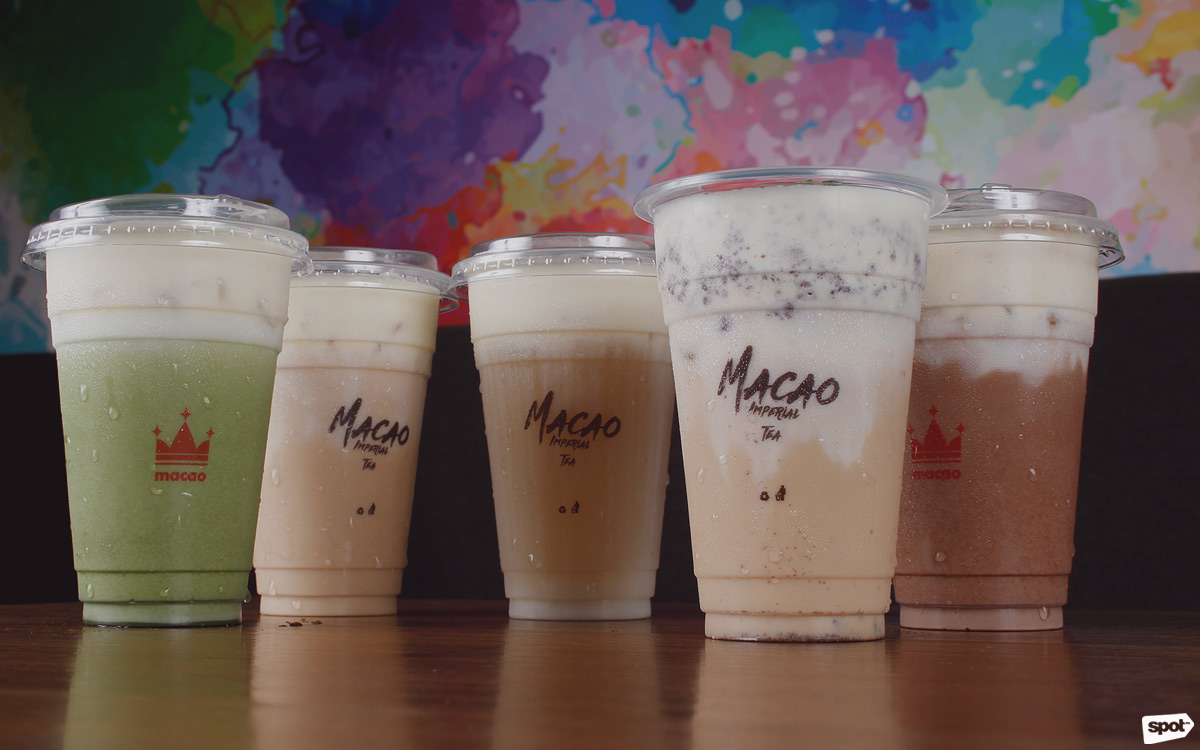 Macao Imperial Tea is popular for their Cream Cheese Series
PHOTO:

Vincent Coscolluela
For extra creaminess, you can also get milk tea topped with sweet-salty cheese cream. For Cheese Milk Tea, you can't go wrong with Happy Lemon, which is particularly popular for its Rock Salt and Cheese series. The Cocoa with Rock Salt and Cheese (P109/large, P129/jumbo) is a classic sweet-salty combo that works excellently. The rich cream cheese also pairs well with the earthy flavor of green tea in the Matcha with Rock Salt and Cheese (P109/large, P129/jumbo).
If you want an extra decadent cheese tea drink, go for Macao Imperial Tea and their Cream Cheese Series. For fans of Oreo cookies, the Cream Cheese Oreo Milk Tea (P140) comes with cookie bits, but you also can't go wrong with a straightforward Cream Cheese Milk Tea (P135).
Aside from tea and milk, most milk-tea shops use some kind of sweetener. Often, this is a simple sugar syrup or honey. Most shops will also allow you to adjust the sweetness level of your drink—we're sure you already have your own preferred percentage. Some drinks have identities that revolved around what kind of sweetener they use, hence you might not be able to adjust its sweetness. When you see Okinawa Milk Tea on the menu, expect a drink with the full-bodied, toasty sweetness of Okinawa brown sugar. This is not to be confused with brown-sugar milk tea, which is a completely different animal.
ADVERTISEMENT - CONTINUE READING BELOW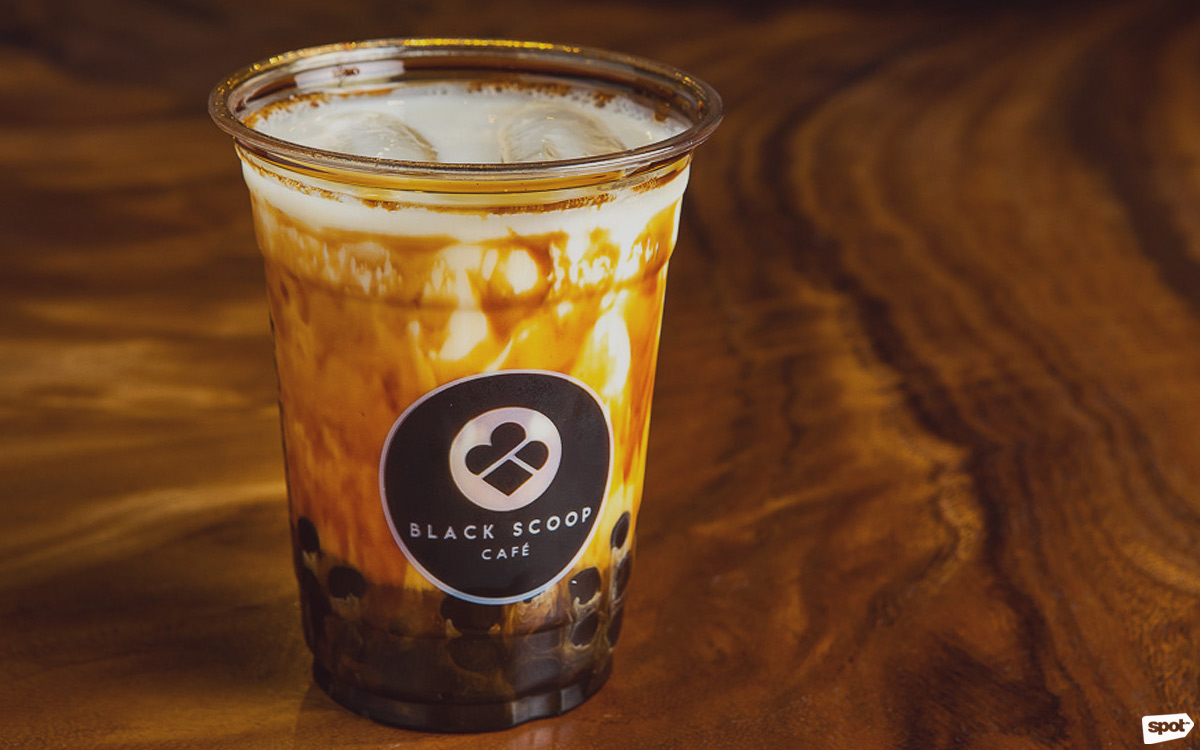 Brown-sugar milk tea is a newer variant of milk tea that also originated in Taiwan—the Michelin Guide credits Tiger Sugar with inventing the drink, which has pearls cooked in brown sugar, creating tiger stripes of caramel when poured on top of fresh milk (and sometimes, tea), when they first opened in 2017.
Tiger Sugar was also the first to bring the craze to Metro Manila when they opened their first branch in Bonifacio Global City before the end of 2018 to long queues that used to span hours. Since then, many others from Taiwan followed suit, like Xing Fu Tang and The Alley, while the chains that were already open in the Metro came up with their own versions of the sweet, creamy treat. In fact, we rounded up 10 places in Metro Manila where you can get the drink and also ranked the best 10 brown-sugar milk drinks in the Metro. Don't know where to start? Here are three noteworthy places where you can get this drink:
ADVERTISEMENT - CONTINUE READING BELOW
Tiger Sugar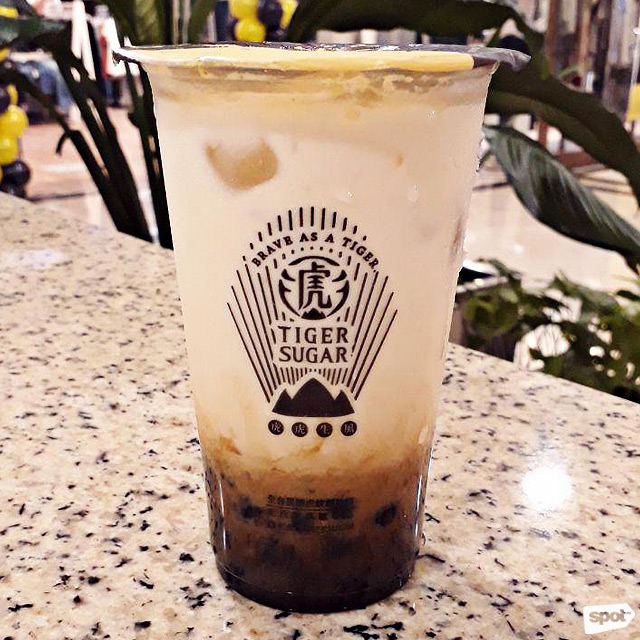 It's best to taste brown-sugar milk from the place where it all began. From a little kiosk in Bonifacio High Street, this milk-tea shop has since opened even more branches all over the Metro. Be sure to check out their Brown Sugar Boba Milk With Cream Mousse, which uses fresh cream instead of milk for an even richer, creamy flavor.
ADVERTISEMENT - CONTINUE READING BELOW
See a list of Tiger Sugar branches.
Black Scoop Café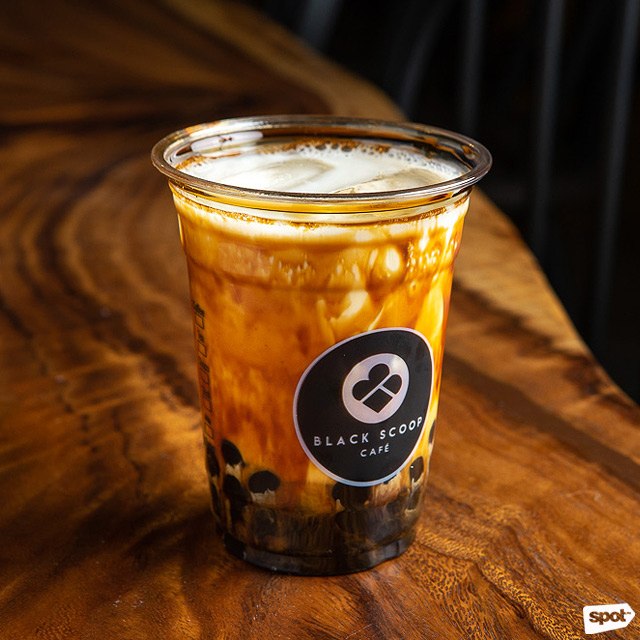 Black Scoop Café deserves a shoutout for being a homegrown milk-tea café—you can be sure they know what they're doing because they are the same folks behind Infinitea. While they've since become buzzy for their unique soft-serve flavors, you shouldn't miss their decadent Brown Sugar Latte, a creamy concoction laced with muscovado syrup.
ADVERTISEMENT - CONTINUE READING BELOW
See a list of Black Scoop Café branches.
Xing Fu Tang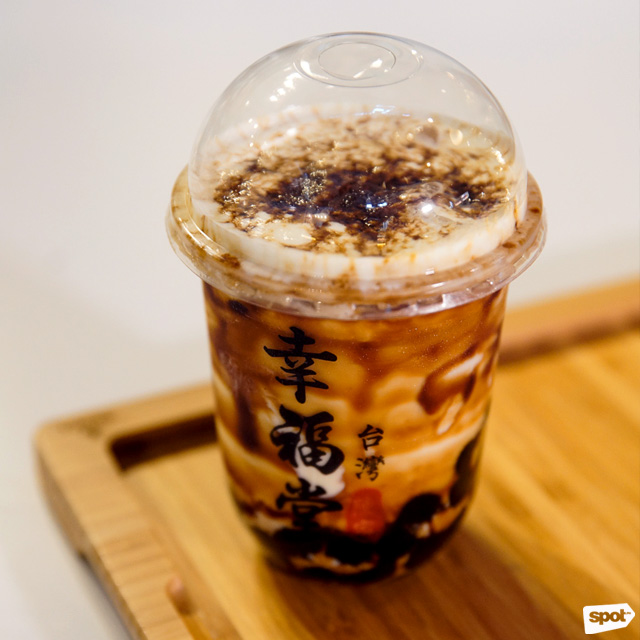 This is our current choice for the best brown-sugar milk in Metro Manila, and for good reason. This milk-tea shop from Taiwan stir-fries their pearls in brown sugar, resulting in pearls with a velvety mouthfeel but still with that tender chew. Fresh milk is added to these pearls, which is then topped with cream and a generous sprinkling of brown sugar that's toasted for extra crunch. It doesn't get more decadent than this.
ADVERTISEMENT - CONTINUE READING BELOW
Xing Fu Tang is at 5/F The Podium, 12 ADB Avenue, Ortigas, Mandaluyong City; and G/F Promenade Mall, Greenhills, San Juan City.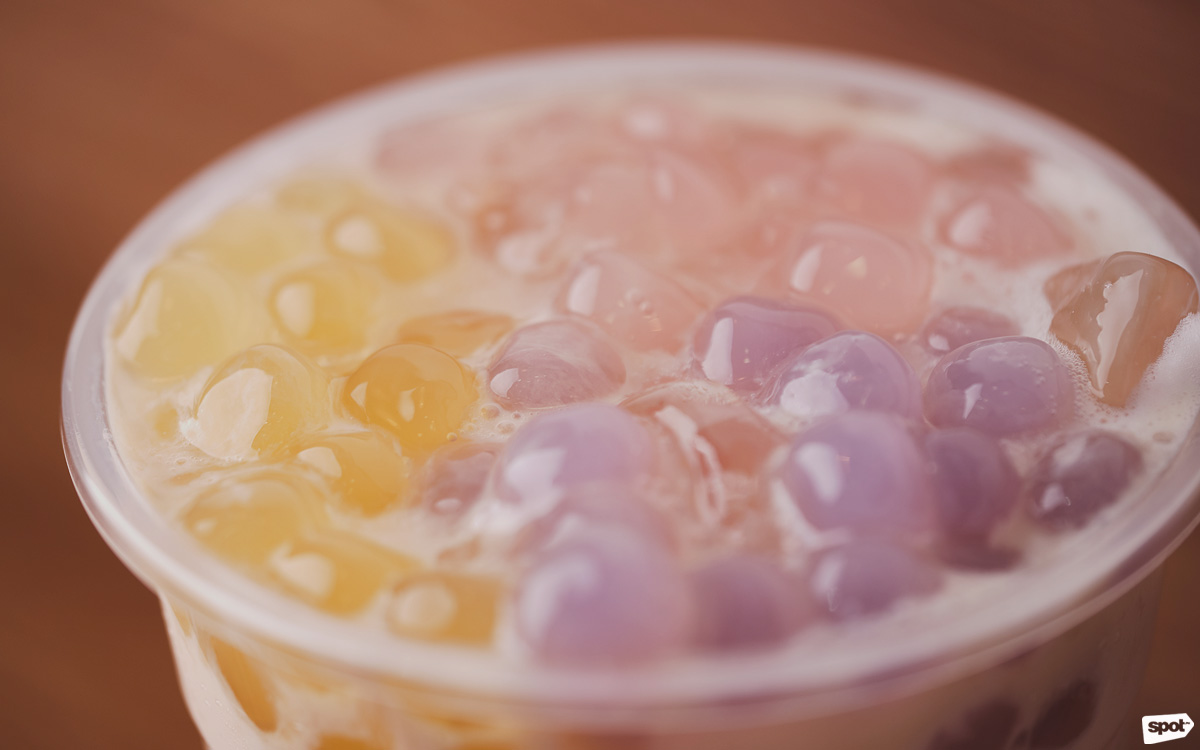 One Zo is known for their flavored pearls
PHOTO:

Hans Fausto
Aside from pearls, other sinkers—also called "QQ," which means chewy in Taiwan—you can get are white sago (CoCo is popular for this), coconut jelly, pudding, aloe vera, fruit jelly, and more.
Where to Get Milk Tea in Manila
With all the milk-tea places that have popped up (and continue to) all over the Metro, choosing where to get your fix can be confusing. The plus side is you can always get your milk tea from the most convenient option, but if you want to try out the best, we've ranked the 10 best places for milk tea in Metro Manila. Here are our three of our picks:
Gong Cha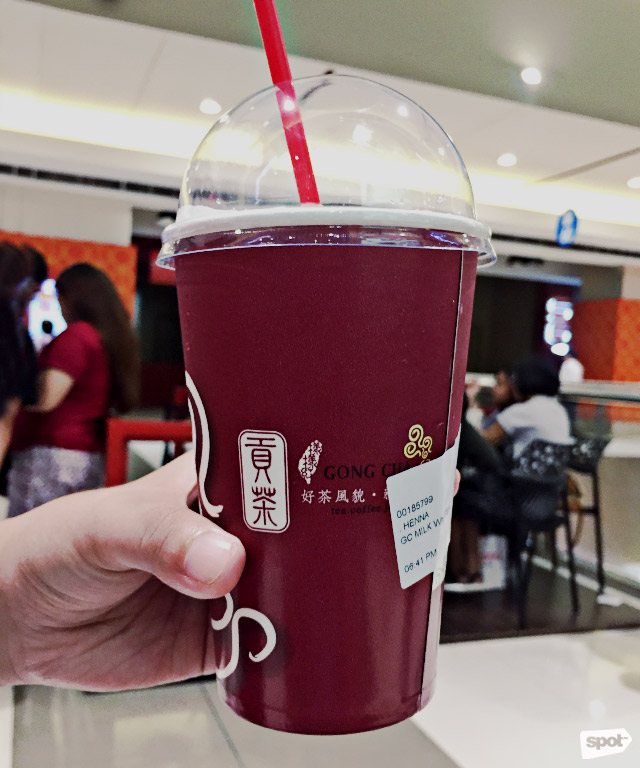 ADVERTISEMENT - CONTINUE READING BELOW
On third place sits Gong Cha, which has always been a favorite since they first opened in Metro Manila in 2011. They offer a wide range of drinks and sinkers—even non-traditional ones like Oreo crumbs or a scoop of ice cream, but they've always been best known for their Milk Winter Melon (P90/medium, P105/large), topped with thick cream, and Winter Melon Milk (P85/medium, P100/large), where the fruity, caramel-like flavor of wintermelon is more prominent.
See a list of Gong Cha branches.
Macao Imperial Tea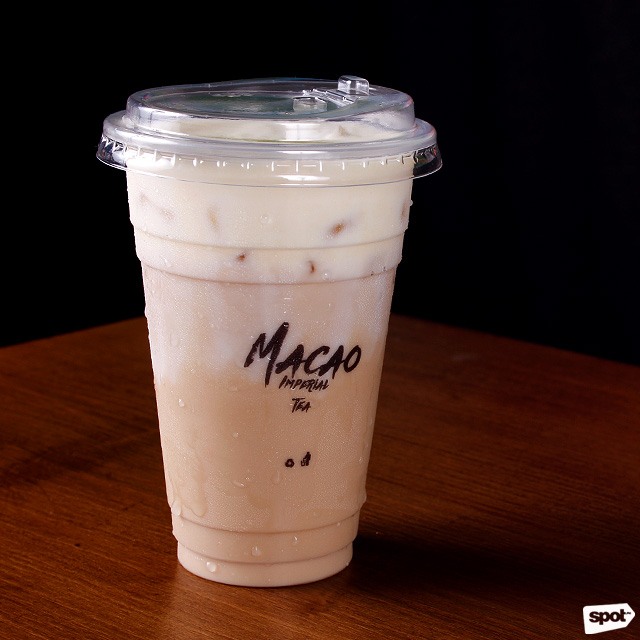 ADVERTISEMENT - CONTINUE READING BELOW
Though one of the newer chains to hit the Metro, this milk-tea chain from Macau made it to second place in our top 10 list. A must-try is their Cream Cheese Milk Tea (P120)—with jasmine milk tea topped with cream cheese, this is easily one of the most decadent drinks you can get in the Metro. You can also choose from fruit teas, milk teas, coffee, and their own housemade soda. Pair your drink with Taiwanese snacks like Garlic Sausage (P75), which are peppery and spicy.
See a list of Macao Imperial Tea branches.
CoCo Fresh Tea & Juice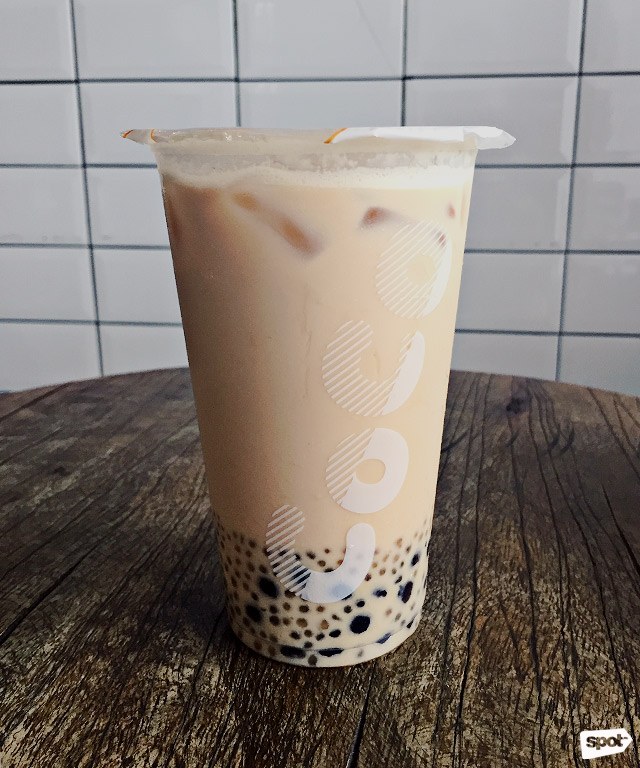 ADVERTISEMENT - CONTINUE READING BELOW
CoCo took the top spot of our milk-tea places list in 2018. Their milk tea has the perfect balance of creaminess and sweetness without overpowering the floral notes of their tea. One of their most popular drinks is the Panda Milk Tea (P90/regular, P100/large), which will get you black pearls and smaller white tapioca balls for a great contrast in texture. If it's your first time to try CoCo, you should check out the list of their 10 bestsellers, which we got straight from the chain.
See a list of CoCo Fresh Tea & Juice branches.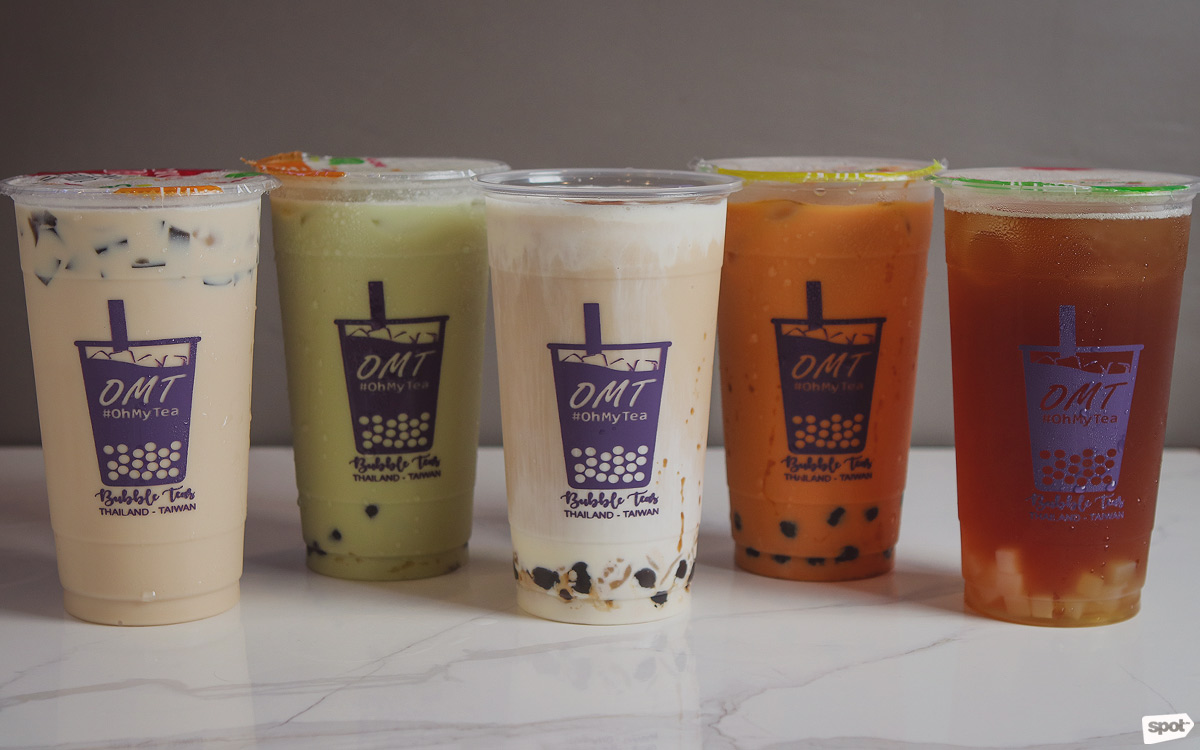 PHOTO:

Jericho San Miguel
Aside from the milk-tea giants, Metro Manila also has a lot of milk-tea joints that you might have missed—a lot of them are cozy enough to double as cafés for you to hang out at. We've rounded up 10 milk-tea shops that might have flown under your radar, but here are three you should check out first:
ADVERTISEMENT - CONTINUE READING BELOW
Oh My Tea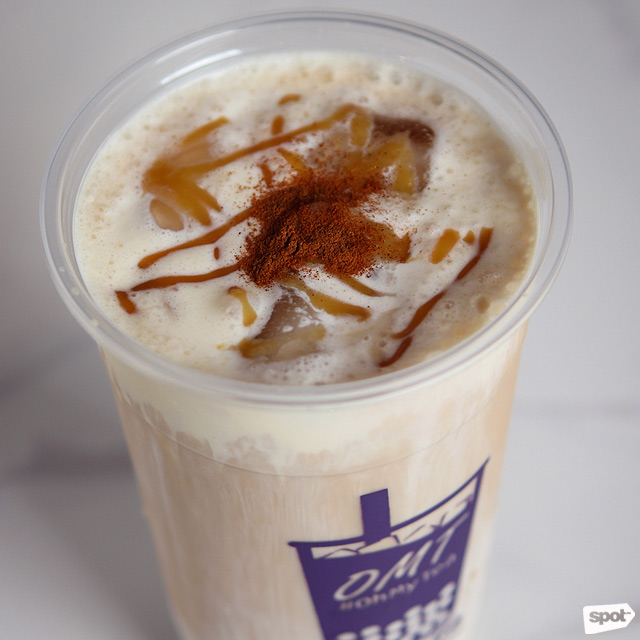 This milk-tea shop in Maginhawa is open until 11 p.m., so you can have your milk-tea fix even late at night. They offer both Taiwanese and Thai milk tea, with owner Ryan Honoras getting his recipe for Thai milk tea from a friend who had a milk-tea shop in Thailand. For those with a sweet tooth, go for the Assam Sweet Caramel Cream (P140), which has an Assam base that's topped with cinnamon powder, caramel syrup, and a thick layer of cream. 
ADVERTISEMENT - CONTINUE READING BELOW
Oh My Tea is at 111 Maginhawa Street, Teachers Village, Quezon City.
One Zo Tapioca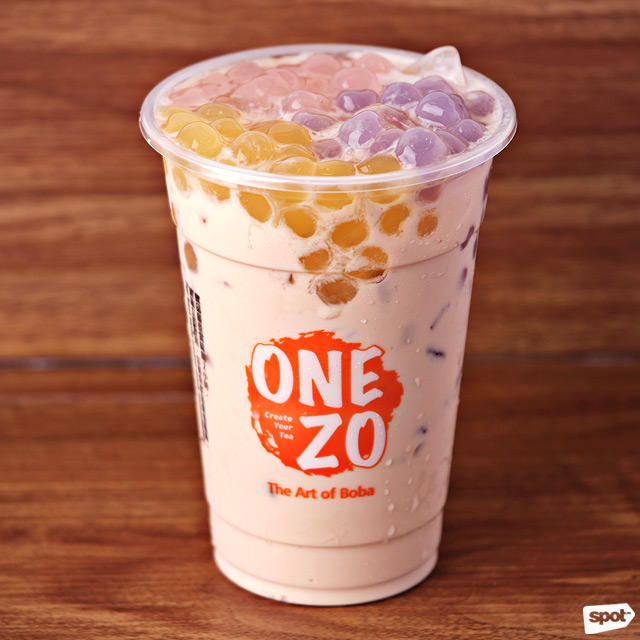 This milk-tea shop from Taiwan stands out because of their flavored tapioca balls, which they make on the spot—you can even take a peek at the process behind the counter. They have five different flavors of pearls to choose from, each with their own color: green for matcha, pink for strawberry, yellow for mango, brown for brown sugar, and purple for taro. While you can choose which pearls go into your drink, the menu also offers tried-and-tested combinations like Taro Delight (P110/medium, P130/large), which has a taro-milk base and a generous heap of taro sinkers. You can also choose any three pearls for the 3-in-1 Milk Tea (P120/medium, P140/large)—the colorful pearls look extra pretty in the milk-tea base.
ADVERTISEMENT - CONTINUE READING BELOW
One Zo Tapioca is at G/F Promenade Mall, Greenhills Shopping Center, San Juan City.
Brown Café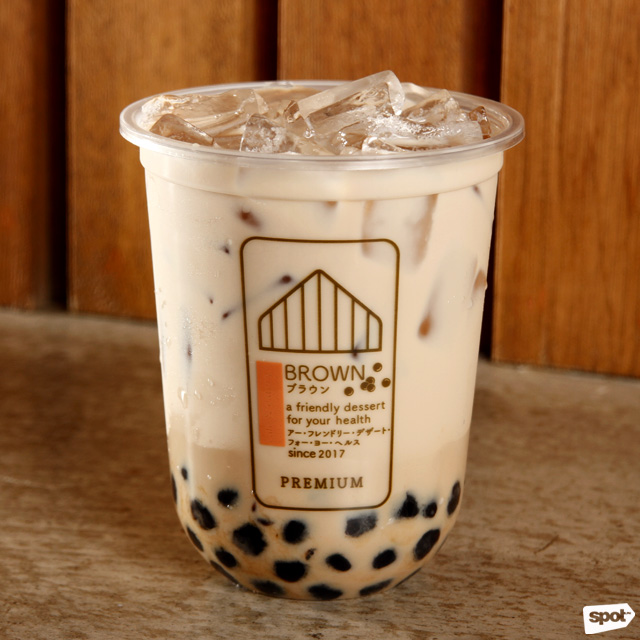 One of Metro Manila's newest milk-tea shops is Brown Café in Serendra. This café from Thailand offers collagen pearls in different flavors, which they call bubbles. Using collagen instead of tapioca gives the bubbles a texture similar to jelly, but with a bit of crunch to them, too. Their signature Royal Premium Milk Tea (P85/cup, P100/bottle) uses Assam tea for a creamy-nutty flavor plus bubbles in Original. Brown Café also offers drinks that are exclusive to Manila: The Ube Latte (P125/cup) has ube-flavored milk and strawberry bubbles while the Cocoa Latte (P125/cup) uses cocoa powder from Davao.
ADVERTISEMENT - CONTINUE READING BELOW
Brown Café is at G/F Serendra, Bonifacio Global City.
Something we can also credit to the steady popularity of milk tea is how easy it is to now to get the drink delivered—check any delivery app like LalaFood, GrabFood, or FoodPanda, and you're sure to find a milk-tea chain near your area that can bring your drink right to your doorstep. Here's a handy guide for the next time you're craving and just can't be bothered to leave the house.