(SPOT.ph) Mac and cheese is an accessible, universally loved, and easy-to-make treat. Whether your taste buds are tickled by boxed mac and cheese—something even a kid can make at home—or you're more of a gourmand who appreciates a sophisticated mix of cheeses and al dente noodles, a simple bowl of macaroni doused in creamy, gooey cheese can warm your heart.
Filipinos have caught on to this worldwide trend, and many of the city's restaurants have stepped it up with quality cheese, burnt edges, and add-on ingredients. We surveyed the scene for firm noodles, a perfect cheesy mixture, and a dish that provides you with satisfying gustatory comfort without the cloying richness.
Also read:
Top 10 Mac and Cheese in Manila (2017 Edition)
All SPOT.ph Top 10 lists are researched, paid for, tested, and selected by the writers and editors. They are discreetly conducted without any notice made to the establishments or their owners.
ADVERTISEMENT - CONTINUE READING BELOW
Here are the best mac and cheese in Manila:
10. Baked Mac and Cheese from Borough's (P310)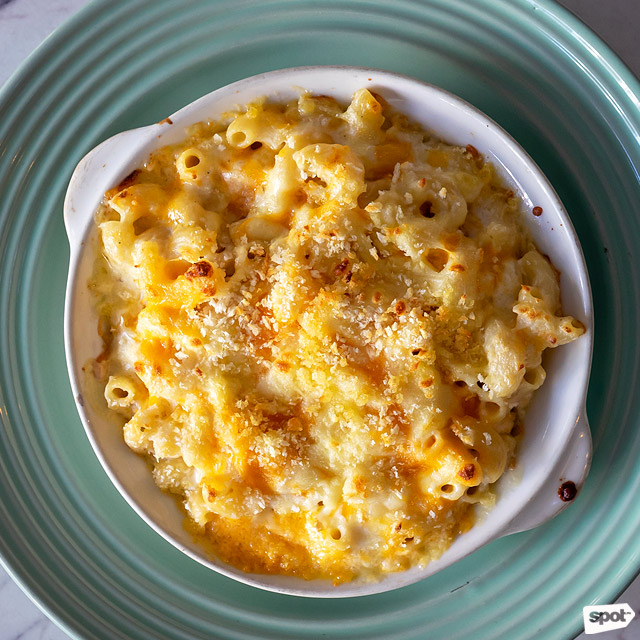 Borough's blend of gruyere, cheddar, and mozzarella actually tastes aromatic. Subtle and festive in flavor, it is well worth the wait—you know you're getting it fresh out of the oven. To add texture to the melt-in-your-mouth dish, you also get a sprinkling of delicate panko crumbs up top. Borough's macaroni tends toward the soft side, so the additional crunch is welcome. Bacon lovers will be delighted to know that you can mix some meat into this dish for just an additional P60.
Borough is at U/G C2 Bonifacio High Street Central, 7th Avenue, Bonifacio Global City.
9. Mac and Four Cheese from Kettle (P299)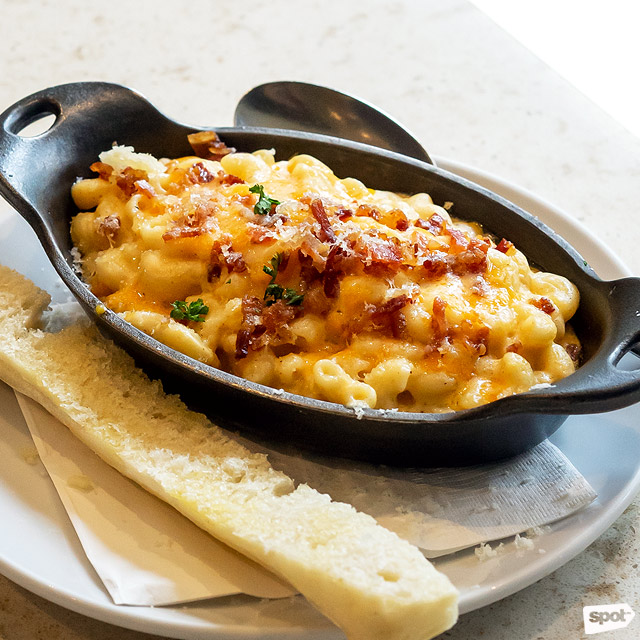 Kettle gets it right when it comes to serving size, because their skillet-served Mac and Four Cheese is hefty enough to leave you satisfied without the cheese overload. Its many layers of creamy, gooey flavor takes your taste buds through a journey—your first bite starts out fragrant, turns peppery, and then takes a sharp turn with a hit of cheddar. Bacon bits are dispersed evenly through the dish and don't take away from the four cheese taste. The petite noodles of this dish are exactly what you need to satisfy your craving for a salty treat.
ADVERTISEMENT - CONTINUE READING BELOW
Kettle is at 5/F Shangri-La Plaza East Wing, Mandaluyong City.
8. Mac N' Cheese from Wildflour (P420)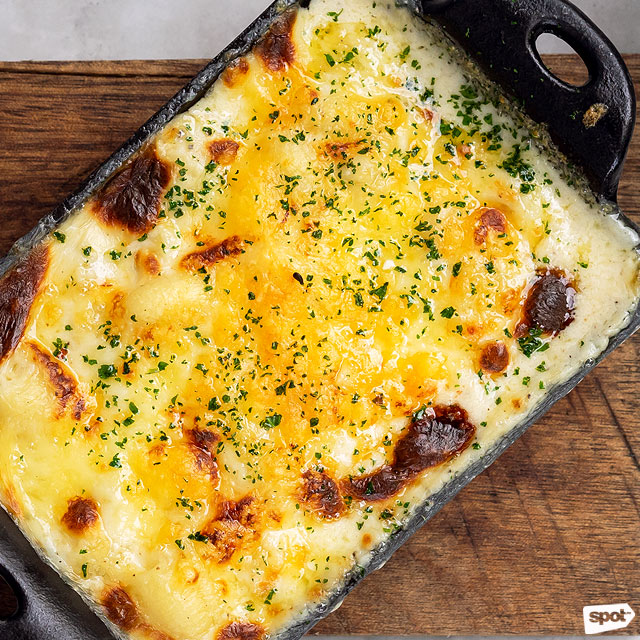 Wildflour consistently gets things right, and their Mac N' Cheese is another dish that knocks it out of the park. Made with perfectly al dente fresh gnochetti pasta, gruyere, and emmental cheese, the dish is delightfully peppery. Those who are sticklers for texture will love the extremely chewy cheese—you get a lovely tutong on top this skillet-served pasta dish. Wildflour's concoction may look like a single serving, but be warned—you'd do better to share this dish, which can easily overpower your taste buds with its strong, cheese taste.
ADVERTISEMENT - CONTINUE READING BELOW
See a list of Wildflour branches.
7. Mac & Cheese from Elbert's Diner (P300)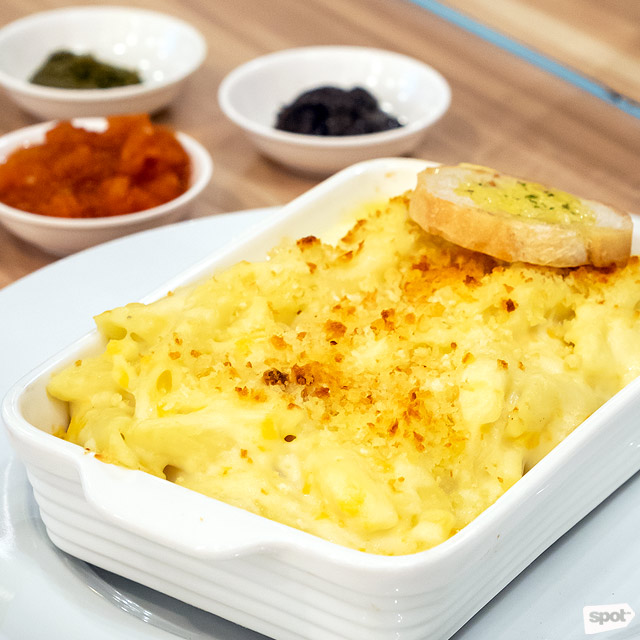 Elbert's take on diner Mac & Cheese wins points for uniqueness. The menu offers three different sauces that you may opt to pair with your Mac & Cheese—a truffle sauce (P80), pesto sauce (P60), or a smoked tomato sauce (P50 and our personal favorite). The dish is penne-based and uses bechamel, an extremely good mozzarella fior di latte, and English cheddar. Baked and gratinated, it offers a mild and friendly flavor that will please both kids and adults. The sauces are the cherry on top of this delicious dish because it afford you the ability to dress it up to suit all tastes.
ADVERTISEMENT - CONTINUE READING BELOW
Elbert's Diner is at R2 Power Plant Mall, Rockwell Center, Makati City.
6. Truffle Mac & Cheese from Mama Lou's Italian Kitchen (P350)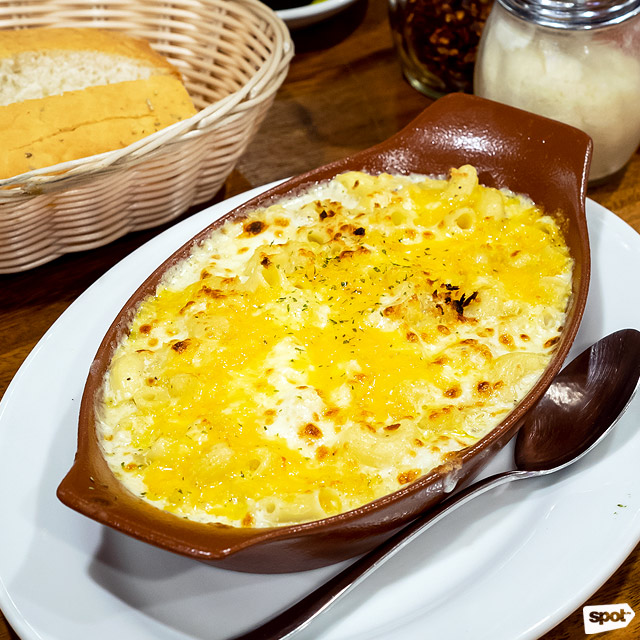 Truffle in any dish can be tricky—put in too much and it's the only thing you taste. Mama Lou's gets its truffle cream mixed with cheese just right and complements it with a generous sprinkling of pepper to boot. Its melted mozzarella and cheddar cheese topping is also extra special because it provides an ooey, gooey texture that is a lovely foil to its firm elbow macaroni. If you like your pasta extra saucy and extra creamy, this one's for you. Dig in with a spoon and bring someone to share this dish with.
ADVERTISEMENT - CONTINUE READING BELOW
See a list of Mama Lou's Italian Kitchen branches.
5. Mac n Cheese from Bad Café (P350)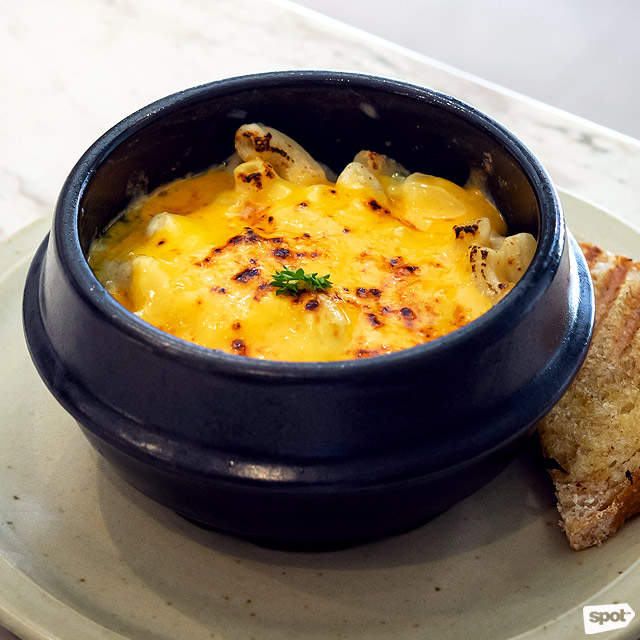 If you're a fan of anything gooey and slightly crunchy, the pleasantly toasted top of Bad Café's Mac n Cheese will definitely be a treat for your taste buds. Their homemade three-cheese tortellini is wonderfully al dente and offers up a strong hit of smokiness with every bite. Despite that, Bad Café has managed to create a very mild flavor that is complemented by some green pepper mixed in. It's also sized well and will make a substantial single serving to someone who's got a strong craving for cheesy goodness.
ADVERTISEMENT - CONTINUE READING BELOW
Bad Café is at G/F Windsor Tower, Legazpi Street, Legazpi Village, Makati City.
4. Truffle Mac & Cheetos from The Fat Seed Café + Roastery (P325)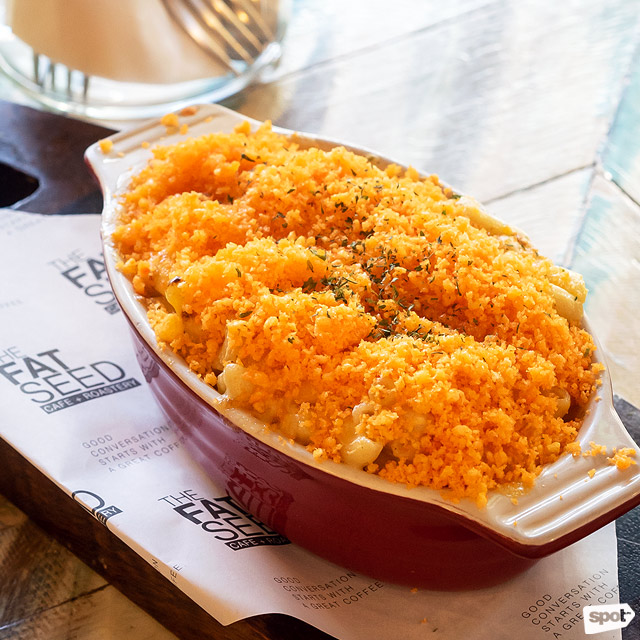 The Fat Seed Café + Roastery made a comfort food fave even better by adding a full layer of more comfort food—crushed Cheetos. Their mix of American cheddar and mozzarella serve as a substantial base for the stars of the show, the truffle oil (you can sniff it as the dish approaches your table) and the Cheetos. Perfect for sharing, this beautiful dish is almost angry-looking with the signature artificial orange of its generous Cheetos topping. If you like your cheese sharp, you'll love this iteration of mac and cheese—the tang will hit your tongue with an unmistakable pang.
ADVERTISEMENT - CONTINUE READING BELOW
The Fat Seed Café + Roastery has branches at G/F UP Town Center, Katipunan Avenue, Quezon City and One Maridien, 27th Avenue, Bonifacio Global City.
3. Shrimp Truffle Mac & Cheese from The Bowery (P890)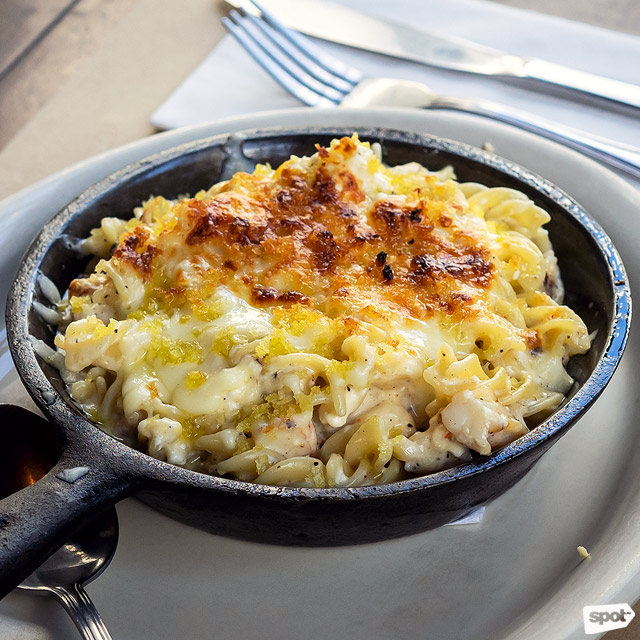 Go sophisticated with your Mac & Cheese with The Bowery's significantly more expensive, but also more delicious tasting ingredients. They bring together a beautiful crème fraiche, cream cheese, cracked black pepper, garlic, mozzarella, and truffle oil for a delectable medley of flavors you won't mind dropping your bucks on. While there is a no-shrimp option (P600), we highly recommend getting it with the seafood because the plump shrimp portions offer a great bite to the dish—something that isn't available anywhere else. You also have the option to add smoked bacon (P80), or substitute to gluten free ziti (P60). This Mac & Cheese will certainly make you go "wow" as soon as you take your first bite—don't say we didn't warn you.
ADVERTISEMENT - CONTINUE READING BELOW
The Bowery is at G/F Rizal Drive corner 29th Street, Rizal Drive, Bonifacio Global City.
2. Luxe Mac & Cheese from Lusso (P645)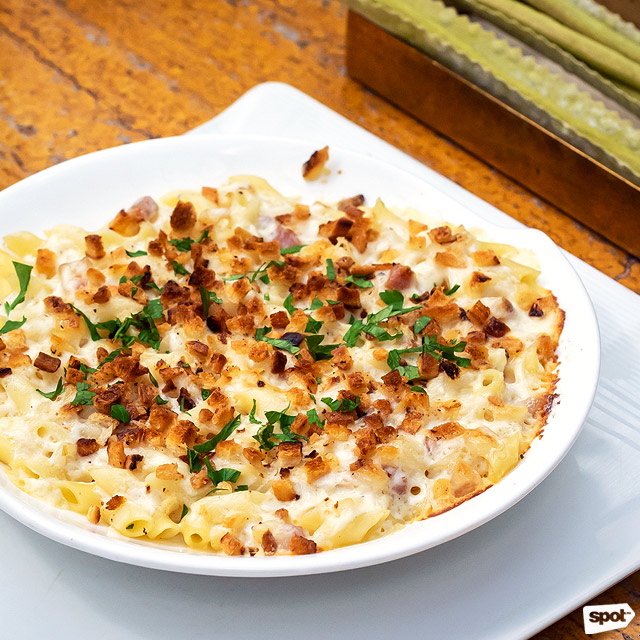 Lusso's Mac & Cheese has garnered a reputation for years now. Part of that is because of its incredibly luxurious mouthfeel: The noodles are a perfect size and so is the entire plate—mac and cheese isn't typically a dish you'd order just for yourself, but Lusso offers a version that you certainly won't want to share with the rest of the table. The formaggio trio is complemented well by a light-handed serving of pancetta, which gives the entire dish surprising bursts of saltiness and luscious fat. Topped with greens and bread for crunch, this peppery dish is the perfect luxe treat for when you know you deserve some pampering.
ADVERTISEMENT - CONTINUE READING BELOW
Lusso is at G/F Greenbelt 5, Ayala Center, Makati City.
1. Truffle Lobster Mac & Cheese from Bun Appetit (P796)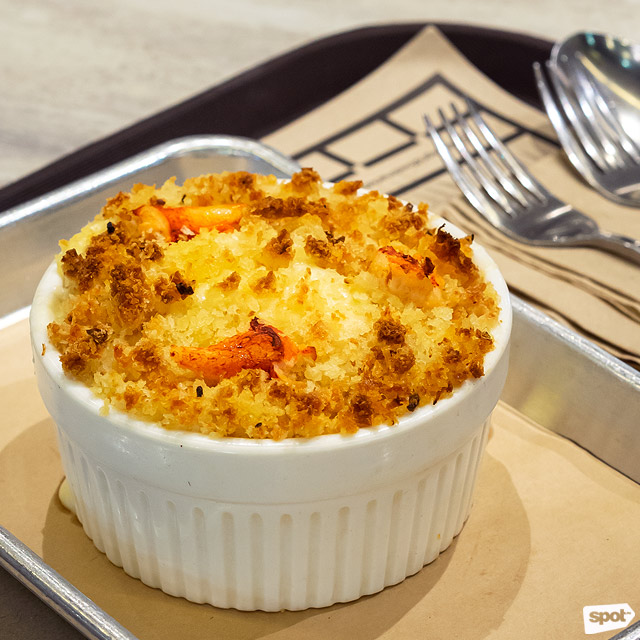 Savor the 20 minutes it takes to prepare this dish; the wait for this full-flavored treat is worth it. Bun Appetit's Mac & Cheese has a strong truffle scent that wafts as soon as your tray is ready for pick-up. Served in a ramekin, this mac and cheese is so creamy it's practically a soup—but don't worry, that's actually a good thing. The amount of cheese in this dish is just right—it's enough to not be overpowered by the truffle flavor, and works well with the nicely firm macaroni shells. You'll find that they don't scrimp on the lobster either—not just on top of the dish, you'll get a taste of it in practically every bite, making this dish worthy of its price point. Topping the dish is a crunchy bread crumb top that's burnt to absolute perfection. You'd be hard-pressed to find a better mac and cheese in Manila.
ADVERTISEMENT - CONTINUE READING BELOW
Bun Appetit is at The Grid, Level R2, Power Plant Mall, Rockwell, Makati City.
Photos by Toto Labrador
Share this story with your friends!
---
Help us make Spot.ph better!
Take the short survey
More Videos You Can Watch
Load More Stories