10 Essential Restaurants in Puerto Princesa City, Palawan
Forget white-sand beaches, have you ever tried a hot bowl of chaolong?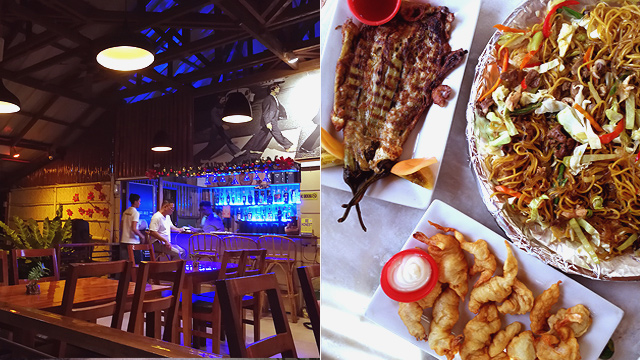 (SPOT.ph) For some, food can make or break a trip. Could you imagine spending hours at the Louvre, marvelling at masterpiece after masterpiece, then having your memory of the Mona Lisa absolutely spoiled when you bite into a burnt croissant after? Oddly specific example, we know, but we're sure you get it. This is especially true for Filipinos, who treat eating time not as part of the itinerary, but as the actual itinerary itself. And when you're in the paradise of Palawan, food is definitely not something you want to miss out on.

At the main port city of Puerto Princesa—once a Spanish penal colony, a military base for both Japanese and American forces, a resettlement site for Vietnamese refugees, but always a home for Pinoys from Cuyo, the Visayas, and everywhere else—food is just as integral to your trip as the white-sand beaches and karst formations found elsewhere in Palawan. Sure, the capital isn't as blessed with natural wonders as the rest of the province, but one food-hopping trip is more than enough to convince you to come back, or maybe even stay.
ADVERTISEMENT - CONTINUE READING BELOW
There are more than a couple dozen Puerto Princesa restaurants worth making time for on your trip, but for this list we're including the absolute must-tries. All these restos were built from the ground up by locals—including those whose families have called Palawan home since colonial times to tourists who ended up retrenching their entire lives—and proudly carry the different flavors of the city. From tourist essentials to local secrets, these restaurants will round out your Puerto Princesa experience.
Also read:
The SPOT.ph Guide to El Nido, Palawan
10 Best Places to Stay in Coron
Palawan Is Still One of "World's Most Beautiful Islands"
Here are must-try restaurants when in Puerto Princesa, Palawan:
Three Dames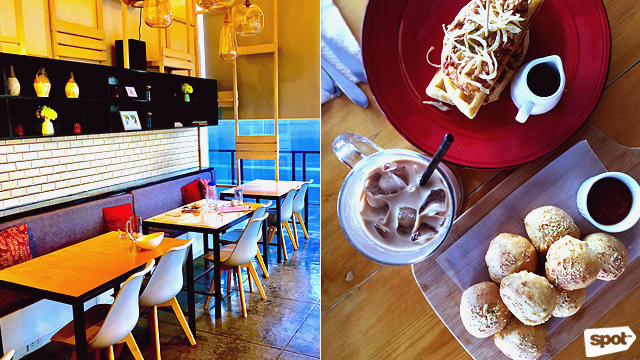 A chic and modern café isn't exactly what you'd expect to be a defining experience in Puerto Princesa, but this spot proves that this isn't the rural settlement it once was. Named for the three Palawan locals behind the café—they also do all the baking, cooking, and whatever else—Three Dames is decked out in clean, minimal, interiors, and even a multi-level lounge area for those wanting to just zone out and soak in the air-conditioning. 
CONTINUE READING BELOW
Recommended Videos
It's the food that really takes the cake, and Three Dames goes beyond having a café menu. They've got meals like the satisfyingly umami Braised Pork (P245), and the sweet and salty classic Chicken and Waffles (P230). But one look at the tall and almost imposing Blackout Cake (P175/slice) is enough to have you starting with dessert. Layers of moist, dark cake hide a rich layer of chocolate cheesecake in the middle, with a delightful cookie crust hidden somewhere between as well, all encased in dark fudge icing. All the variations of chocolate help keep the cake from being cloying, so you may want to watch your fork.
For a quick energy boost and hopefully to help you avoid a food coma, give the Iced Mocha Latte (P160) a try. And don't forget to bring a friend as the servings are quite large (though we won't judge if you'd rather go solo!). 
Three Dames is at 2/F Malvar Square, Malvar Street, Puerto Princesa City.
Haim Chicken Inasal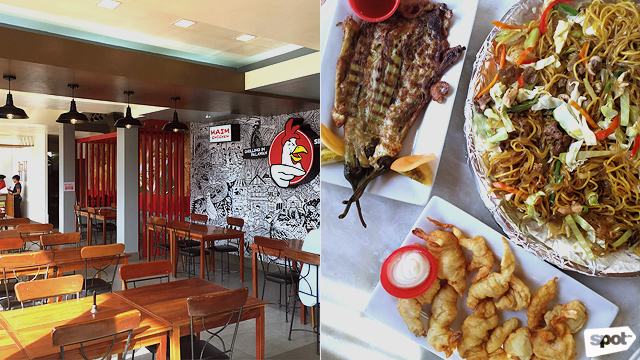 ADVERTISEMENT - CONTINUE READING BELOW
Yup, you might find your favorite variation of the famous Bacolod inasal in Puerto Princesa. What started as a simple kiosk along Manalo Extension 21 years ago is now a mainstay of Puerto Princesa, with two branches added to their original one. Locals flock to Haim for a good, hearty meal: meaty, juicy, and slightly sweet charcoal-grilled chicken, and of course, a steaming cup of rice. Add your choice of sawsawan—Haim tables come with calamansi and patis, but you can request your go-to if that isn't it—and you've got an unbeatable meal.
If you're looking for the full Haim experience, we recommend going to the original branch along Manalo. The restaurant complex is full of kubo-style huts decked out with works and pieces done by local artists. After ordering—a chicken leg meal is at P102 while the wing is P117—you can take a look around and check out all the paintings, wood works, and even animatronic art strewn around. Plus, if you've got the whole family with you, try the savory Pansit Bam-e Bilao—a combination of sotanghon and canton (P499/small).
You may want to reserve the kubo complex for dinners as the Palawan heat is on another level. If you've got a midday hankering for inasal but can't live without air-conditioning, you can still head to their branches at NCCC grocery store or Robinsons Place Palawan. Those branches may have more of a fast-food vibe, but their food still keeps the homemade taste and feel.
ADVERTISEMENT - CONTINUE READING BELOW
Haim Chicken Inasal has branches at 294 Manalo Extension, Bancao-Bancao; at 1/F NCCC Mall; and 1/F Robinsons Place Palawan, National Highway, Puerto Princesa City.
Noki Nocs Savory House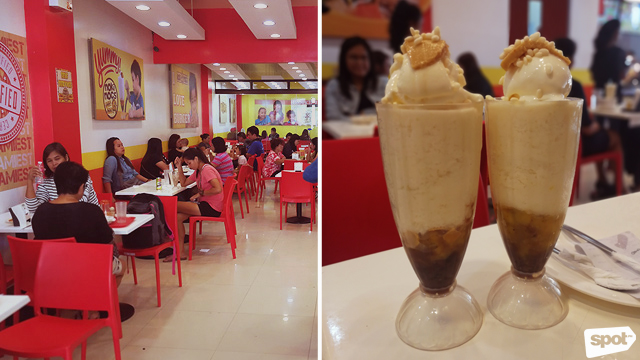 We know the name says "savory," but trust us, you have to try their Halo-Halo (P100/regular, P110/with ice cream). Naturally, the most important factor to the perfect halo-halo—we're willing to defend this statement, BTW—is the ice. Make it too chunky and it could water down the entire concoction; too fine and you get a sludge, but over at Noki Nocs, the ice comes smoother than freshly fallen snow, and the best part? It's made from milk so the flavor base can never be ruined. 
If you're not—for some godforsaken reason—into creamy leche flan, jellied fruits, and soft beans mixed into frozen flakes of milk, you can take the simpler route and get the Mais Con Hielo (P100). Sweet corn kernels, syrup, and crunchy cornflakes really let the shaved-milk ice take center stage—and yup, you can get extra ice for just P10.
ADVERTISEMENT - CONTINUE READING BELOW
Once you're done with dessert, you can try out their full meals, too. Noki Nocs is kind of like a canteen, where you can line up and get different kinds of Pinoy home-food on the daily, turo-turo style. If you spot it, we suggest grabbing a serving or two of the extra juicy but still firm, perfectly grilled Inihaw na Bangus or Pork Barbecue. Set meals come with rice, entree, and either one (P125) or two side dishes (P155) of either veggies or more carbs—you deserve it. For those on a budget, their Lomi (P130) does wonders to warm the stomach and heart, and we're not kidding when we say one serving is good for five people.
Noki Nocs has branches at Puerto Princesa North Road corner Rizal Avenue; at 1/F Eastville Complex, National Highway, San Pedro; and at DCRM Building, San Manuel, National Highway, Puerto Princesa City.
El Txoko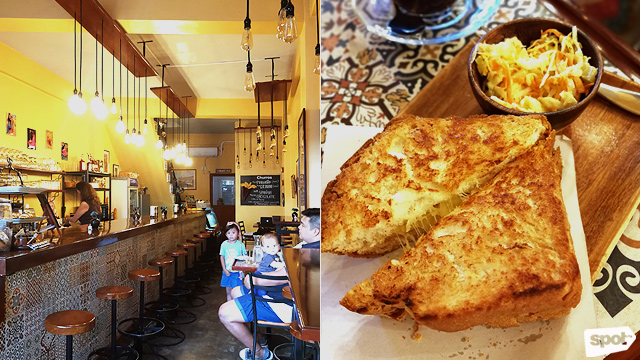 ADVERTISEMENT - CONTINUE READING BELOW
Another unexpected find, El Txoko is probably the only place in all of Palawan that has an actual churro-making machine. This small, homey, and cozy resto looks straight out of an Iberian town, and is named after the centuries-old Basque tradition of a txoko, or, to put it simply, groups of people who like to gather together and eat good food—which is exactly what you can do at El Txoko. They serve all types of coffee—the Cold Brew Float (P185) dances between drink and dessert with strong coffee and lots of vanilla ice cream, while the Grilled Three Cheese (P190) is all cheese goodness without being cloying.
The churros are fried fresh with every order—a Piqueno has three churros for P60 while the Grande has six pieces for P110—but the wait is definitely worth it. Perfectly crisp on the outside and soft on the inside, with a batter base that's just slightly on the sweet side, El Txoko's churros make for a great "treat yourself" moment. You can also get dark chocolate, white chocolate, or strawberry truffle dips for P50 each, but since you're already there, we suggest getting the indulgent Hot Spanish Chocolate (P120). The dark, full-bodied chocolate is so thick it will leave the cup in a slow crawl, forcing you to tilt your head all the way back—looks funny, but it's so, so worth it.
El Txoko is at G/F ARL Building II, Rizal Avenue Extension, Puerto Princesa City.
ADVERTISEMENT - CONTINUE READING BELOW
Artisans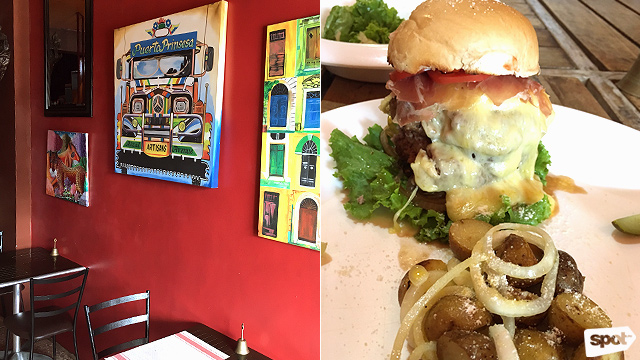 Located right next to El Txoco, this pair of restos proves Western fare in Puerto Princesa isn't as rare as you would think. Artisans is owned by a couple that really loves food and has a passion for sharing it with people. This is the type of place you could enter while it's still light out, and then end up leaving well past nightfall. Make sure to check out all they have to offer behind the counter, as there are usually surprises from all over the globe: think European beer, snacks, and different kinds of freshly baked bread.
Though Artisans specializes in Tex-Mex cuisine—the Muy Grande Chimichanga, which you can have with veggies (P295); pork, chicken, or white fish (P350); or beef or salmon (375), is big in size and flavor—the extensive menu has everything from Bulgarian Yogurt (P295) to Artisans Signature Burgers. Try the Royale (P350) which comes with prosciutto, egg, and a smothering of cheese. 
ADVERTISEMENT - CONTINUE READING BELOW
Artisans is at G/F ARL Building II, Rizal Avenue Extension, Puerto Princesa City.
McCoy's Pizza House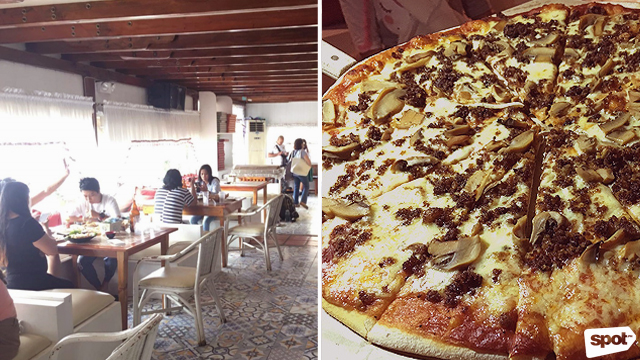 Arguably the biggest homegrown restaurant to date, eating here is practically a rite of passage for a Puerto Princesa local. McCoy's Pizza House started as a casual place, the type that had lounge beds with little tables and hearty meals and desserts. The original branch of McCoy's has since expanded with a second floor full of function rooms for all the locals who've made it their go-to place for any kind of meeting or celebration that called for good food and, of course, a good time. The first floor has kept the original chill atmosphere, though the place can get very busy during meal times.
Go for classic flavors with the Beef and Mushroom Pizza (P861/20 inches, P577/18 inches, P430/14 inches, P279/10 inches)—it's got enough savory cheese to make you almost believe in "too much cheese." The Chicken in a Basket (P420) has perfectly crisp and satisfyingly salt chicken—and we're sure the thick-cut potato chips that come with it are worth fighting over. But if you really don't feel like sharing, they've also got the Tuscan Pork Chop (P195) or Tuscan Chicken (P199). Just imagine it: huge cuts of soft meat covered in herbs and ground pepper served on a hot plate with a cup of white rice. 
ADVERTISEMENT - CONTINUE READING BELOW
McCoy's Pizza House has branches at Puerto Princesa North Road, San Miguel, near the airport; and at 4/F SM City Puerto Princesa, Malvar Street, San Miguel, Puerto Princesa City.
Rene's Saigon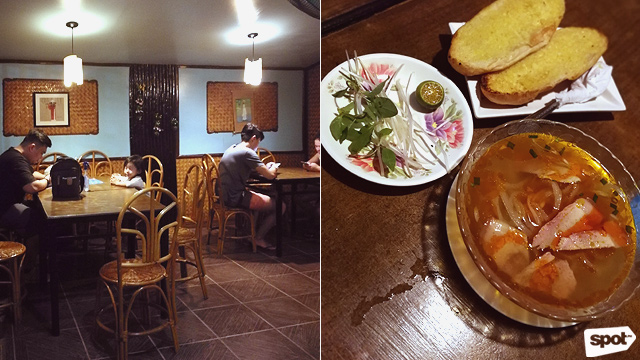 Puerto Princesa has no end of "chaolongans," the colloquial term for restos serving up Vietnamese beef stew—though in a clear lost-in-translation moment, an authentic chao long is actually more similar to goto than the beef and noodles in a sweet-savory, achuete-infused broth Palawenos are familiar with. But back to Rene's Saigon, this humble kubo-style restaurant located in a quiet backroad is arguably one of the best places to get a steaming hot bowl of chaolong, a.k.a. Beef Stew (P90), which is usually served with sprigs of mint and fresh mung bean sprouts, along with an assortment of sauces.
The Rene in question is a descendant of a Vietnamese who sheltered refugees in Puerto Princesa's resettlement area during the Vietnam War. His restaurant has been a mainstay for those in the know for more than a decade now, serving up a rather simple menu with distinctive Vietnamese flavors. The French Bread—popular in the city and is like a much shorter, fluffier version of a baguette—is also a must-try and is a necessary partner to the Beef Stew. We know you know garlic bread, but one bite of the one at Rene's—only P45 for a hefty piece—should be enough to wipe clean all memories you've ever had of it; replacing it with the crunchy-but-chewy, meltingly warm and garlicky slice.
ADVERTISEMENT - CONTINUE READING BELOW
Rene's Saigon is at Rizal Avenue Extension, Puerto Princesa City. It is located past the old airport terminal and the World War II Museum. Heading towards the bay, it will be at your left; If you hit the port, you've gone too far. 
All-In-One Resto Bar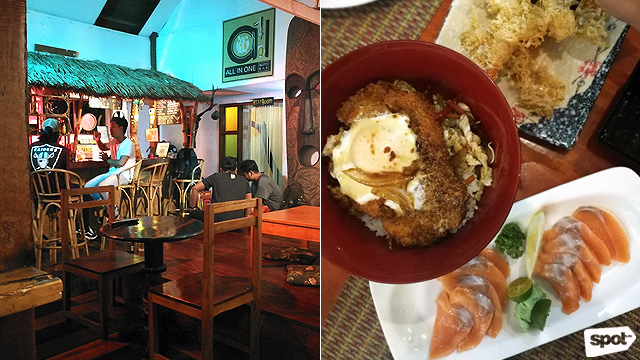 If All-In-One were a person, they would be that guy with an identity crisis who manages to somehow makes it work. This restaurant has somehow successfully managed to combine Japanese and Filipino food, reggae music, beach-bar feels, and bahay-ni-lola vibes all in one place. Located along the stretch of Rizal Road that has restaurants, bars, and shops, all lined up in a row—with majestic hardwood trees in between—All-In-One stands out thanks to good food and an authentic and genuine vibe. 
Make sure you've got your stomach ready for their signature dish, the All-In-One Ramen (P455). It has beef, pork, and tempura in one huge bowl, complemented by a rich broth and perfectly chewy noodles. For lighter fare, the classic flavors of the Ebi Tempura (P195) is hard to beat. Light and crunchy batter, fresh shrimp, and a bit of dipping sauce; who says simple can't be delicious? Plus, the Salmon Sashimi (P195/10 pieces) is the way to go when it's late at night and you're downing a couple drinks with friends. 
ADVERTISEMENT - CONTINUE READING BELOW
All-In-One Resto Bar is along Rizal Avenue, Dagomboy, Puerto Princesa. It is near the old airport terminal.
NomNom Comfort Food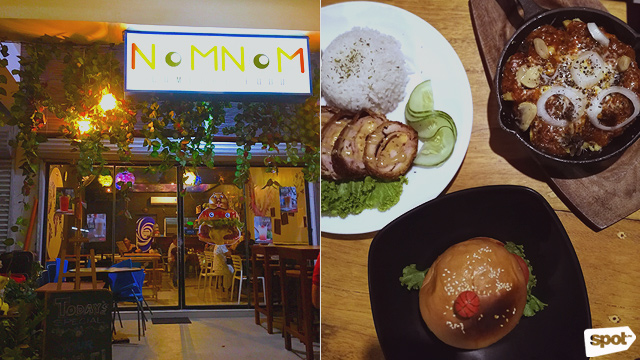 If you've got a kid with you, or are a kid-at-heart yourself, then you have to visit NomNom. It's decked out with multi-colored clouds, with a world map adorning one wall, plus there are board games available for use—just try not to make too much noise when playing Jenga. There isn't really any other place as vibrant and playful as NomNom's, and its location between the main road of Rizal and SM Puerto Princesa (not to mention across two funeral parlors, ironically enough) really liven it up. Plus, the owner sometimes gives out puns along with their burgers!
True to its name, the food is as hearty and filling as it can get, with a great selection of mostly Western comfort food. The Primero Burger (P185) has a thick and juicy quarter-pound patty blanketed with cheese and some veggies. You would be hard-pressed to find a tastier patty in the Capital; It's so good the Asian in you will be craving rice in place of buns. Thankfully, they have the Burger Mushroom Steak (P215) if you want the patty as ulam. 
ADVERTISEMENT - CONTINUE READING BELOW
The Chicken Cordon Bleu (P215) is a winner for kids and adults alike. The chicken is tender on the inside, crisp on the outside, with gooey cheese and ham. Order one for the kid, and one for you, too. Or teach them the importance of sharing with the Pizza Fries (P288).
NomNom Comfort Food is at ARL Building 6, Baltan Street, San Miguel.
Digi Ako Resto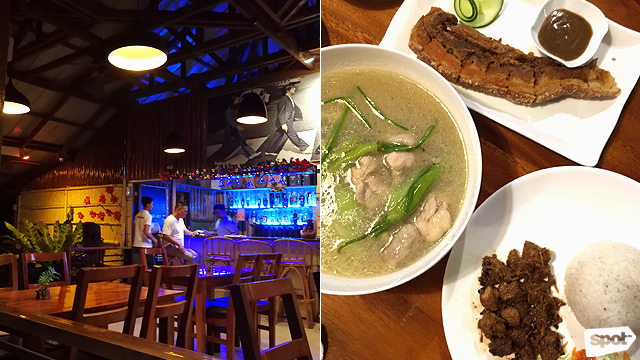 Cuyonon for, you guessed it, "Nandito Ako," this restaurant is the place to go if you're looking for some down time. Aside from all the puns and potentially confusing conversations, what makes this place special is that it's the quintessential chill-out place. Think acoustic background music, breeze-in-your-hair, beer-in-your-hand, type of feeling. There are nipa huts on one end and open wooden pavilions on the other, with fresh air all around. Most times, there are zero flies or mosquitoes, and the landscaping shows an evident obsession for cleanliness and neatness, without sacrificing the relaxing tropical foliage. As it is on the quiet side of town, noise pollution is at its lowest, and the crowd size is just perfect. 
ADVERTISEMENT - CONTINUE READING BELOW
Digi Ako Resto is a little bit farther from the city center but still very accessible—you just need to take a tricycle. Taste familiar comfort with the Chicken Tinola (P225), which has a good, clean broth with just a hint of a kick from green chili, and the ever-reliable Lechon Kawali (P205), a big slab of pork belly deep fried to crisp, golden perfection. For a taste of Palawan's fresh seafood, the Sinigang (P245) has chunks of soft Lapu-Lapu in a mildly sour broth, and the meltingly good Tuna Belly in Butter (P70/100 grams).
Digi Ako Resto is along Wescom Road, San Pedro. It is in front of the Filinvest Subdivision.
Share this story with your friends!
---
Help us make Spot.ph better!
Take the short survey
Load More Stories