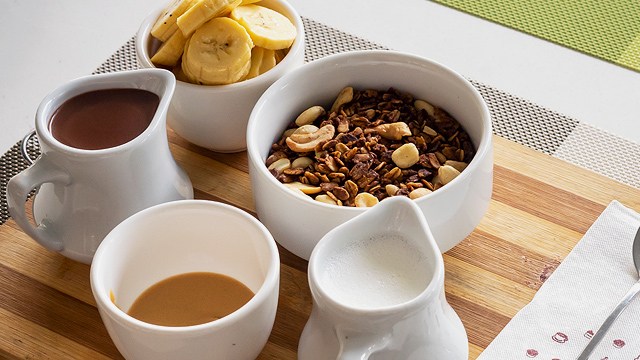 (SPOT.ph) There's nothing like the tasty kick of nostalgia offered by a warm, hearty bowl of champorado. The rich, heavy-textured chocolate and sticky rice pudding is mixed with milk and sugar, and is typically served for breakfast or merienda. This signature Filipino dish is known for filling the belly with its heartwarming, bittersweet tablea taste.

ADVERTISEMENT - CONTINUE READING BELOW
Every grandmother has a particular way of cooking up a bowl of champorado—which makes judging this dish especially challenging. "Mas masarap 'yong sa lola ko," is a typical reaction after one orders champorado from a restaurant. But we scoured the city for bowls that hit the spot—family recipes notwithstanding. These champorados delivered on chocolate richness, rice texture, appealing add-ons, and warmth.
Also read:
Top 10 Champorado
Champorado: Ang Comfort Food ng Pinoy
All SPOT.ph Top 10 lists are researched, paid for, tested, and selected by the writers and editors. They are discreetly conducted without any notice made to the restaurants or their owners.
Here's where you can get the best champorado in Manila right now:
10. Chocnut Champorado with Tuyo from Kanto Freestyle (P99)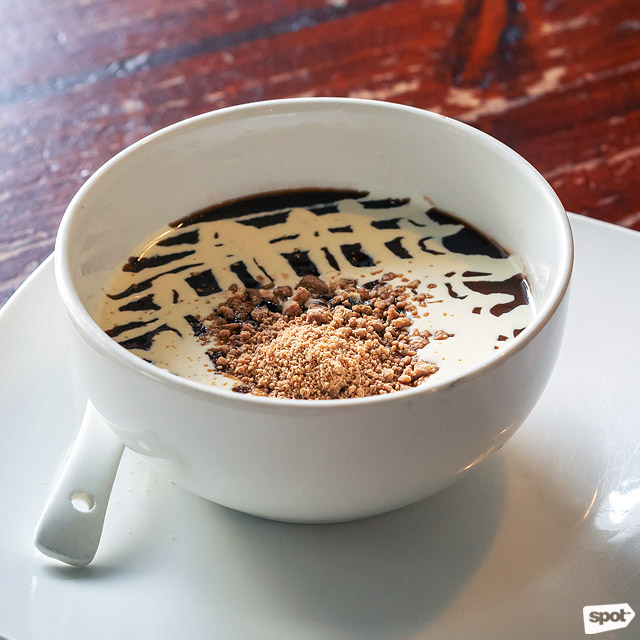 Kanto Freestyle found a way to make champorado even more of a Pinoy treat—by grinding some Choc-Nut into a fine powder and sprinkling a hefty serving of it on top of the bowl. The Choc-Nut is the genius ingredient that ups this dish's flavor profile. The actual rice pudding is mild and borders on the bland side, but is helped by a very generous serving of milk. Try not to get all the Choc-Nut on your first bite—you'll want it to last till you reach the end of the bowl. While it's a bonus that this dish comes with tuyo, its Choc-Nut taste is so overpowering, it drowns out the dried fish saltiness. Overall, a winner for Choc-Nut fans and balikbayans who miss the popular Pinoy candy.
See a list of Kanto Freestyle branches. 
9. Yin & Yang Champorado from Early Bird Breakfast Club (P275)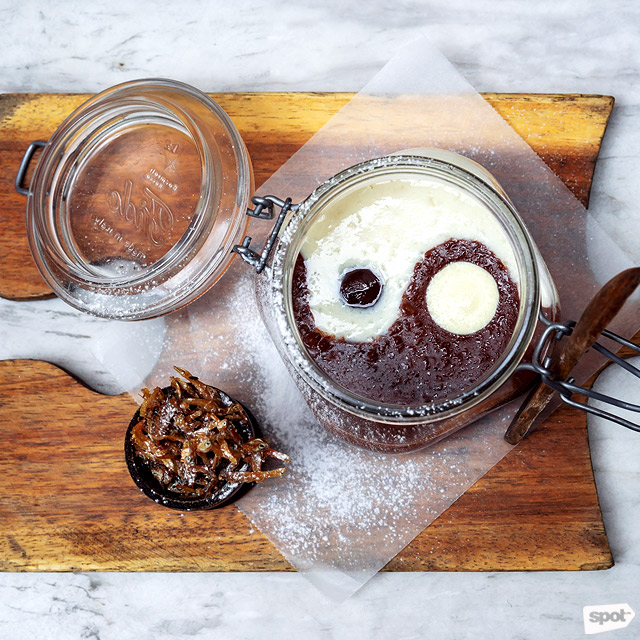 ADVERTISEMENT - CONTINUE READING BELOW
For fans of both dark and white chocolate, Early Bird Breakfast Club's Yin & Yang version provides flavor choices not available anywhere else. The most hipster champorado this side of town, the black-and-white dish is served in a mason jar, complete with a wooden spoon and a petite pot of dilis. If you like your champorado heavily textured, you'll enjoy this dish, which gives you chunky bites of rice with each spoonful. Our suggestion—alternate between the dark and white chocolate and try not to mix the two. The dark chocolate is traditionally bitter, while the white chocolate will satisfy your sweet tooth. The extra dilis is also more sweet than salty, making this champorado a substantial dessert option.
See a list of Early Bird Breakfast Club branches. 
8. Chocolate Champorado from Manam (P155)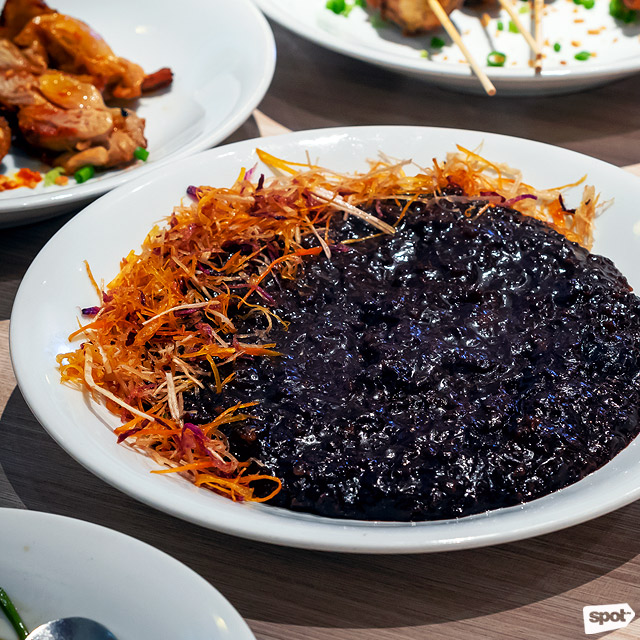 ADVERTISEMENT - CONTINUE READING BELOW
If you're looking for a pronounced chocolate taste, head straight to Manam for their Chocolate Champorado. Be warned—the bowl is enormous. You'd do well to share this with fellow champorado fans. The chocolate may look incredibly dark, but once you take a bite you'll find that it's sweeter than it looks. Served smoking hot, this gloopy version of champorado gets the texture of homemade champorado right—thick and easy to manage even with a toothache. In place of the usual dried fish, this champorado is served with a trio of sweet potato, gabi, and ube—we find the root crops more of an aesthetic addition than anything else, however. Their taste immediately disappears behind the strong chocolate flavor of the champorado.
See a list of Manam branches. 
7. Champorado ni Speedy from Locavore (P190)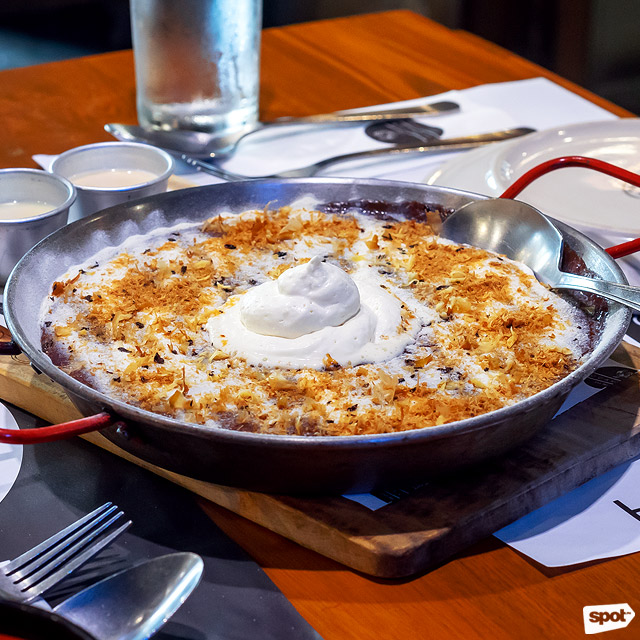 ADVERTISEMENT - CONTINUE READING BELOW
Champorado is a pretty basic, anyone-can-do-it dish…which is why Locavore's extremely complex combination of flavors and ingredients is pretty impressive. Show-stoppingly huge and presented with panache, this dish is a medley of flavors involving champorado, tsokolate sauce, powdered milk (tastes like childhood!), fish floss, cheese, cream cheese mousse, grated tsokolate, milk, and condensed milk. It's striking how you actually see every one of these ingredients and will be able to taste each one, one by one. Eating this champorado is quite an experience. You're initially hit by the salty floss, and then the sweetness of the chocolate and milk start to filter through. Every bite is rounded out by the cream-cheese mousse, which adds a sophisticated edge to this dish. You don't really need to complicate champorado, but the risk Locavore has taken was well worth it.
See a list of Locavore branches. 
6. Spanish Champorado with Tuyo Flakes from Angel's Kitchen (P288)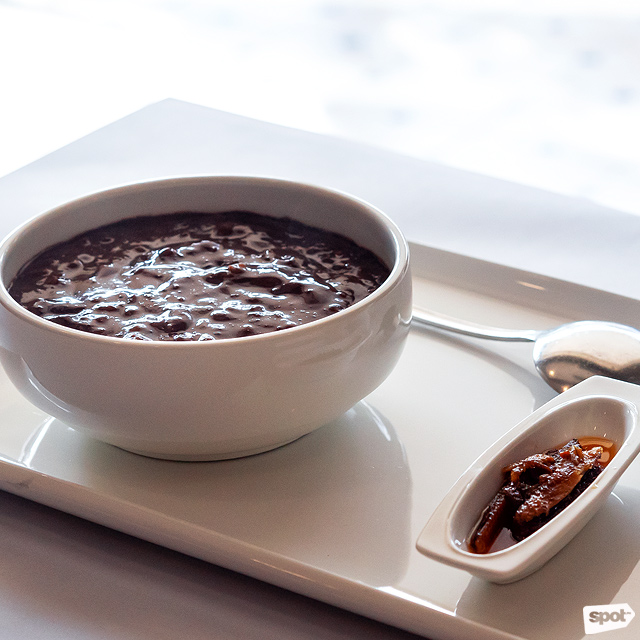 ADVERTISEMENT - CONTINUE READING BELOW
Spanish chocolate is dark and bitter, and that's the flavor that pervades throughout this champorado dish. Perfect for people who seek full-bodied chocolate taste, Angel's Kitchen's champorado tastes like someone went really generous with the number of tablea tablets they put in the mix. Robust and boldly flavored, order this for breakfast (it's only available from 7 a.m. to 10:30 a.m.) if you want to start the day full, powered up, and with that chocolate craving absolutely satisfied.
Angel's Kitchen's champorado comes with juice or coffee, and spicy tuyo, too. The tuyo flakes are essential because you'll want to take the edge off the super strong chocolate after every couple of bites. This version of our chocolate sticky rice pudding is good enough to transform even the most hardened anti-champorado person into a fan. 
Angel's Kitchen is at Connecticut Street, Greenhills, San Juan City.
ADVERTISEMENT - CONTINUE READING BELOW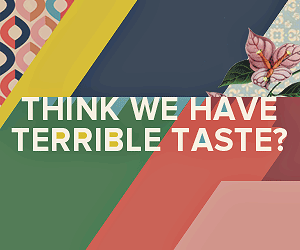 5. Champorado from Max's Restaurant (P130)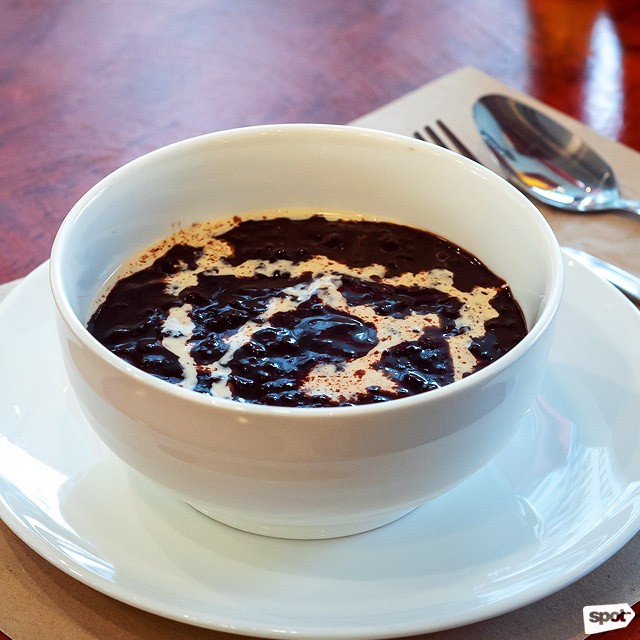 If there's one local chain that has perfected Pinoy taste to a tee, it would have to be Max's. Their breakfast and merienda menus are still being updated, so the champorado is an off-menu item right now. Order it anyway—if there's one dish that's good enough to make you ignore your no-rice New Year's resolution, this would be it.
ADVERTISEMENT - CONTINUE READING BELOW
Max's champorado offers a huge bowl of bold, uncomplicated, straightforward chocolate. They've measured out the right amount of milk for the dish for you too, so you don't have to figure out exactly how much milk is the perfect amount to pour into the bowl. With smooth chocolate and rice that isn't overly grainy, you get a texture that's almost like a chocolate mousse. With this recipe, you know not to mess with a classic.
See a list of Max's Restaurant branches. 
4. Champorado from Risa Chocolate (P165)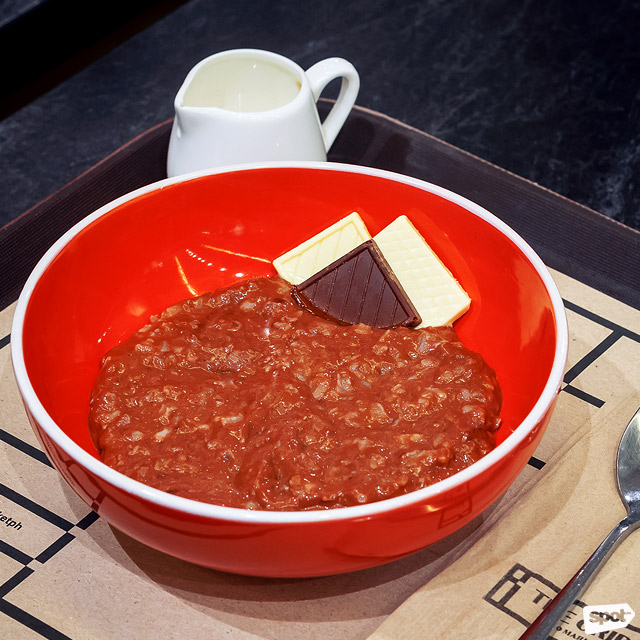 ADVERTISEMENT - CONTINUE READING BELOW
Risa Chocolate has figured out the exact size of champorado to serve to leave you satisfied and not saturated. It's the perfectly sized serving to keep your taste buds happy, without filling you up to the point of umay. Their champorado strikes a pleasing balance between coarse and silky—you can feel the sticky rice with every bite, but not have to give your jaw a workout to down every spoonful. The chocolate itself is bittersweet and will likely satisfy those with a preference for anything dark. The dish derives its sweetness from the dark and white chocolate blocks that are served on the side. It's a good thing—to be able to control exactly how sweet your champorado is by way of how much chocolate you include in every bite.
Risa Chocolate is at The Grid Food Market, 2/F Power Plant Mall, Rockwell, Makati City.
3. Champorado from Slice (P168/regular; P210/Belgian chocolate)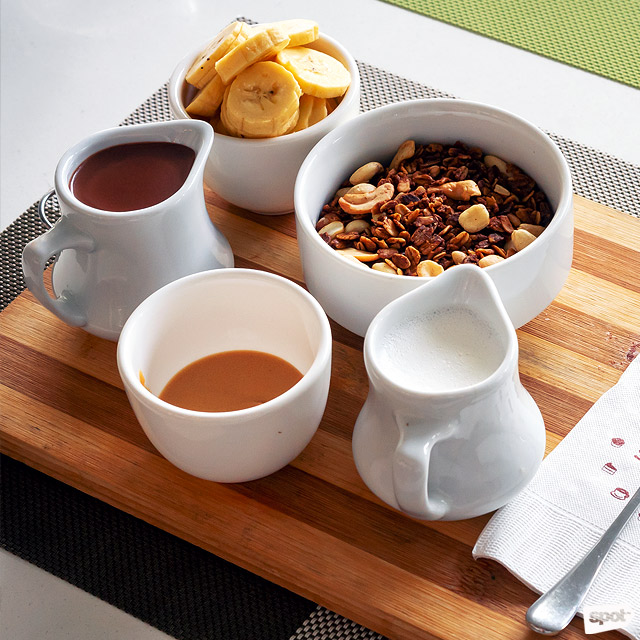 ADVERTISEMENT - CONTINUE READING BELOW
Slice gives rice-averse folks a chance at champorado with this grainy, nutty version of the Filipino dish. Instead of traditional rice, you get a cup of granola, served with sliced bananas and peanut butter on the side, plus a pot of either milk or Belgian Chocolate (servers recommend the milk-chocolate version). This is essentially a chewy, heavy-on-the-belly dish that you can "water down" depending on how much milk you pour into the bowl. Slice absolutely veers away from what everyone expects from a champorado, but still gives you an unmistakably healthy, sweet, breakfast taste. The peanut butter is smooth with a little bit of grit, while the banana offers a fruity smoothie-like sweetness and mush to the dish. One of the best things about Slice's champorado is your ability to control how much of each element you want in every bite.
See a list of Slice branches.
2. Champorado from Little Flour (P240/small, P440/large)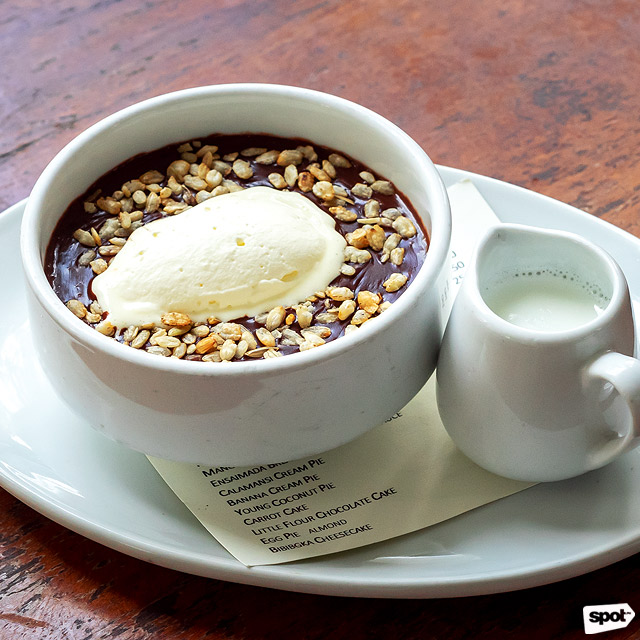 ADVERTISEMENT - CONTINUE READING BELOW
Champorado relies heavily on the quality of chocolate used for its flavor,and with Little Flour's 61% Dark French Chocolate Couverture, there is no way you can go wrong. If you're willing to take a "go big or go home" attitude when it comes to your champorado, this is the one you should go with because of its decadence, its richness, and its Carabao Milk creaminess. You get options, too, when you order this dish. If the salty-sweet element is important to you when it comes to your champorado, you can add traditional Fried Danggit (P220) or a sinful serving of Crispy Bagnet (P160) on the side. Little Flour's champorado has added texture from crispy rice bits: pinipig doesn't just go with halo-halo, it works well with a steaming hot champorado too—it is a wonderful, crunchy foil to the softness and lusciousness of the chocolate and sticky rice.
ADVERTISEMENT - CONTINUE READING BELOW
See a list of Little Flour branches. 
1. Champorado from Verse Café 3:16 (P225)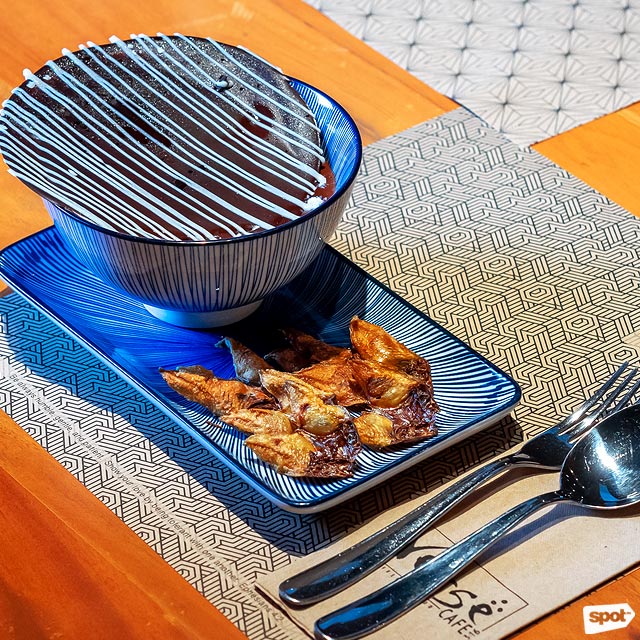 This neighborhood café in San Juan goes all out with its champorado, presenting its dark chocolate rice pudding topped with a beautifully glossy chocolate disc that slowly, dramatically melts into your bowl. Served absolutely hot and fresh off the pan, the champorado is rich, creamy, and exquisite—not for the light-hearted, this is a must-try for anyone who's ever experienced an intense hankering for anything rich, luxurious, and chocolate-flavored.
ADVERTISEMENT - CONTINUE READING BELOW
Eating this champorado is an experience in and of itself. Underneath the melting chocolate disc, you'll also find a nice layer of milk powder, which gives each bite a delicate grittiness and a fun throwback to childhood. Verse offers their champorado with a generous serving of crispy danggit, too. You'll find that the dried fish is a must, given the decadence of the chocolate. The layer of brittle saltiness delivered by the danggit is exactly what you need to keep you steadily working on your champorado (and you'll savor every last drop!).
Verse Café 3:16 is at 137 Araullo Street, Addition Hills, San Juan City.
Share this story with your friends!
---
Help us make Spot.ph better!
Take the short survey
More Videos You Can Watch
Load More Stories