Hey, Poblacion: Kampai Is Back and It's Like They Never Left
But the new look and new menu tell you what they've really been up to.
Kampai
5857 Alfonso Street corner Fermina Street, Poblacion, Makati City
Open daily from 6 p.m. to 4 a.m.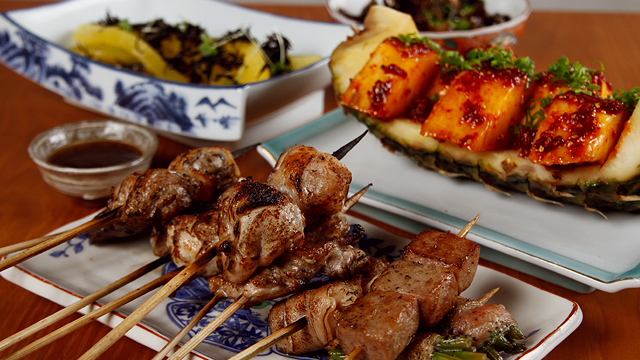 (SPOT.ph) The original Kampai stood along Tambai Alley, back when Poblacion was a much quieter neighborhood in Makati and the young'uns had yet to call it "Pobla, pare." Situated on the second floor of an old house, owner Marco Viray remembers that when they opened their original izakaya, it was a tiny, homey place; he and his partners had no idea that it would take off the way it did. "The wooden floors would shake," Viray recalls, laughing, referring to when people started packing into their Little Bar That Could back in the day. But that Kampai went out without so much as a wave goodbye two years ago. But now, like the proverbial phoenix, Kampai rises again, bigger and better than before.
ADVERTISEMENT - CONTINUE READING BELOW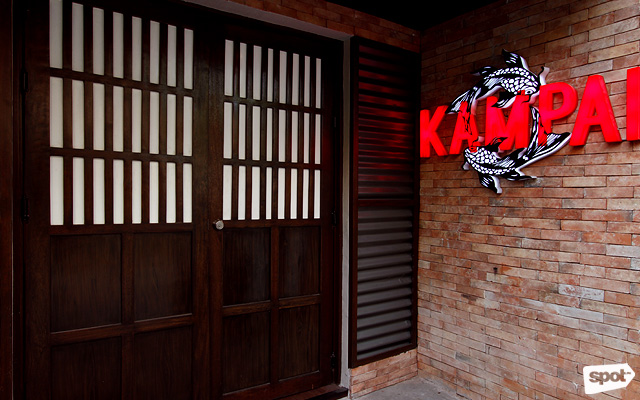 On a nondescript brick façade on Fermina Street, opening the Japanese-style slat door leads you into a cozy sit-down dining area on the ground floor with an elegant copper-top bar. This area is for the steady dining crowd that prefers to sit in a comfortable spot to enjoy their drinks and the food. However, once you climb the stairs to the second floor, one could almost feel like you've returned to the old Kampai, with its red koi signage glowing at your back and the familiar, shiny disco ball spinning on the ceiling, welcoming you. 
ADVERTISEMENT - CONTINUE READING BELOW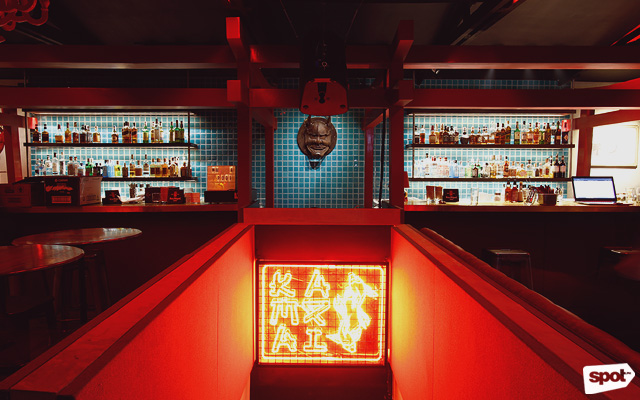 But this is an obvious upgrade from the teeny, rickety original back in the day. It's certainly roomier, with comfortable-looking leather seating against one wall. Devilish Japanese hannya and tengu decorative masks adorn the place, together with some Japanese-inspired artwork. The mood is very relaxed, with space for dancing during DJ nights or just chatting and catching up with good friends over some drinks. And the meticulous sound-proofing of the entire place means that there's no noise pollution from inside or from the outside world (a.k.a. the neighbors).
ADVERTISEMENT - CONTINUE READING BELOW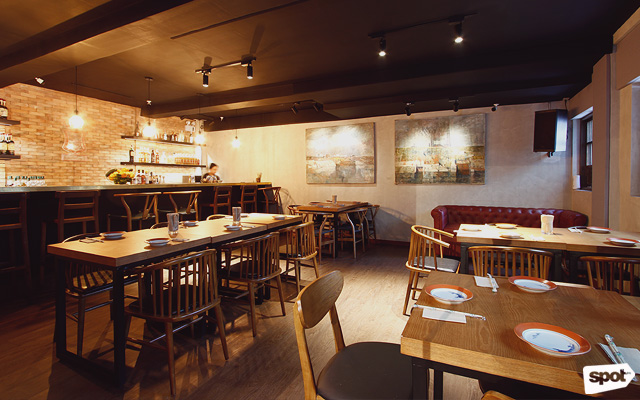 What makes Kampai different this time around is the carefully curated Japanese food from Chef Kel Zaguirre (Locavore, Bad Bowl, Ovo Manila). Planning the menu for Kampai took Chef Kel at least a year, with trips to Japan and local Japanese restaurants for some intensive recipe development. "Having a distinct character for Kampai is important because we don't want to just be a normal bar, we want people to come here to eat our redefined Japanese bar food. Nothing too fusion or modern, staying true to the Japanese spirit but at the same time calling it our own," confides Chef Kel. Kampai's casual menu was chosen in the pick-me-up, pulutan-style, making easy dinner meals for an even easier night out. Kampai's version of a spicy tuna maki is the Spicy Tuna Tostada (P350). Zaguirre uses the Edomae-style sushi where the tuna is cured in kombu (seaweed) for 24 hours and aged for another three days, until the fish has a gelatin-like texture. The tuna is chopped up, mixed with shoyu, sesame oil, tobiko and then served with a spicy dressing. The pièce de résistance is the crispy puffed rice cracker with sesame seeds—ideal for dipping, and for groups.
ADVERTISEMENT - CONTINUE READING BELOW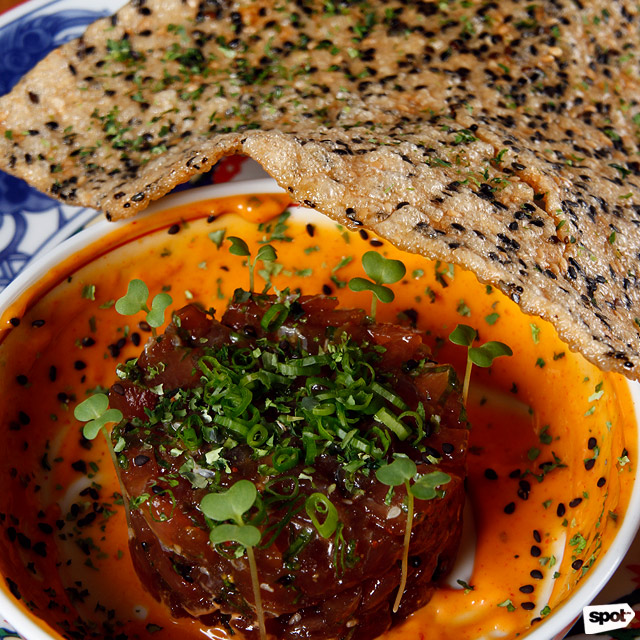 The Tuna Tataki (P320) is cured, then seared and served with a sauce of kimchi ferment, Japanese vinegar, brown sugar and gochujang (red chili paste). The delicate slices are served with cucumbers, edamame, charcoal oil for smokiness and spring onion negi oil. This light and flavorful dish starts off your evening out perfectly. 
ADVERTISEMENT - CONTINUE READING BELOW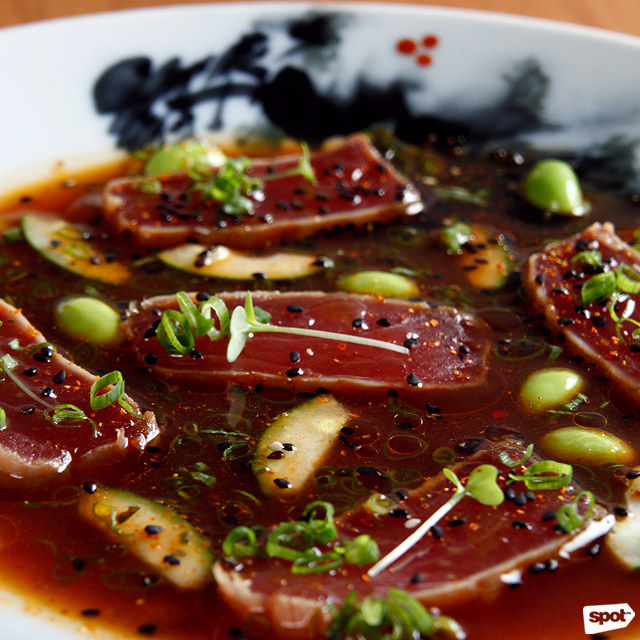 Chef Kel takes special pride in the Kushiyaki/Yakitoris because the preparation is a daily labor of love. The chicken is freshly butchered at 3 a.m. (no frozen chicken here), portioned and skewered, ready for grilling, but not before basting each piece with schmaltz (clarified chicken fat) for extra flavor. Each order of two sticks is served with tasty Tare sauce made from chicken stock, shoyu, sake and mirin. The chicken is nicely grilled and crispy on the outside but juicy on the inside, and you can order them by parts: Chicken Breast (P170), Thigh (P170), Drumette (P150), Wingette (P150), Tail (Php 120), Cartilage (P120). If you're not a chicken fan, there are beef and pork yakitori options as well in the Beef Oyster Blade (P190), Wagyu Cubes (P280), and Pork and Asparagus (P150).
ADVERTISEMENT - CONTINUE READING BELOW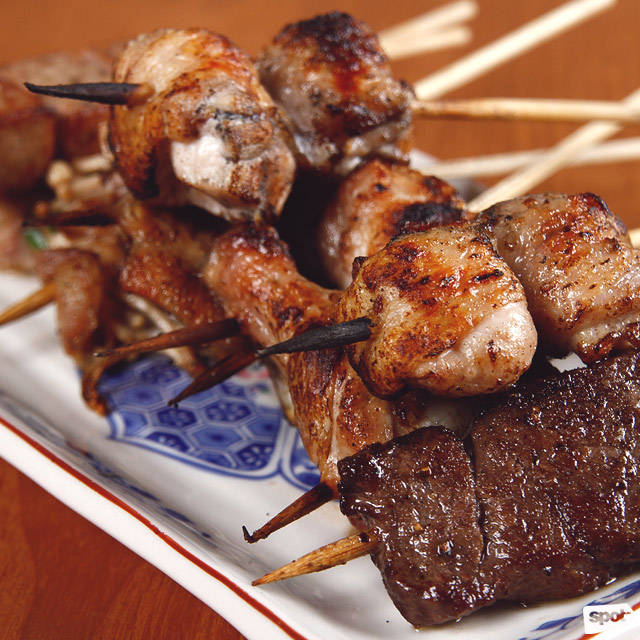 A recommended food pairing with the assorted Kushiyaki options are the various Homemade Pickles as a side dish. The Pineapple Kimuchi (P180) is beautifully presented and the refreshing sweet of the pineapple with the sour of the kimuchi (Japanese-style kimchi) is a strange pairing when you think about it, but makes sense with your first bite. The Daikon and Hijiki (P220) with the pickled radishand seaweed cleanses the palate and cuts some of the oil from the grilled chicken with shmaltz. The Mushroom and Mizkan (P200) is a good choice for people who don't want too much sharp sourness with their kimuchi but want the oomph that a pickled side brings to the table. These pickled options are also good for those looking for bar chow with a vegetarian option that are healthy, refreshing and light to snack on while enjoying your drink of choice.
ADVERTISEMENT - CONTINUE READING BELOW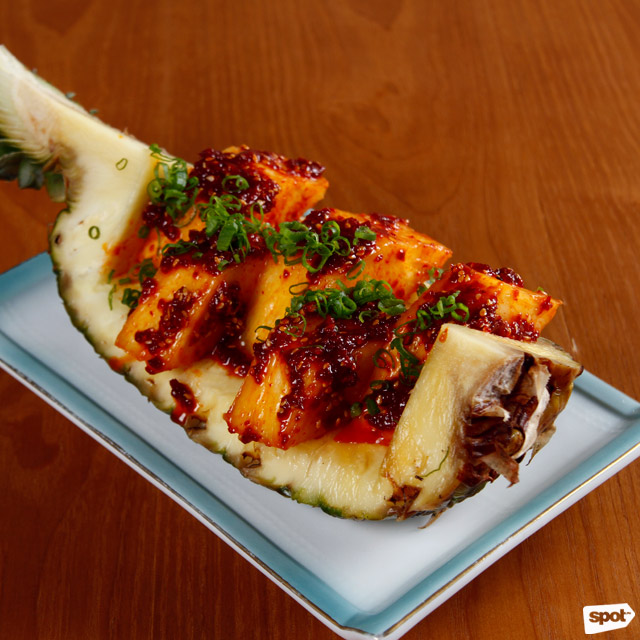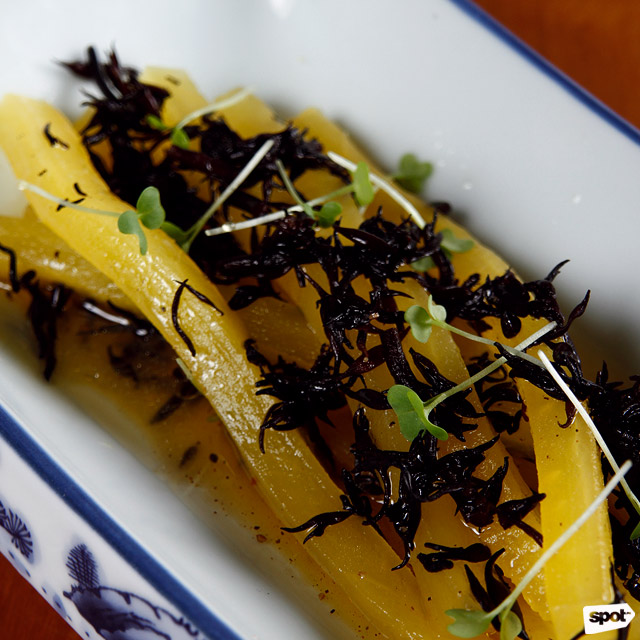 ADVERTISEMENT - CONTINUE READING BELOW
Chef Kel always knew from the start that he wanted Japanese Curry on the Kampai menu and says the Street Food Curry (P350) was inspired by the neighborhood fishball vendor and tasty Hong Kong curry pots. Assorted surimi (lobster balls, squid balls, kikiam, fish cakes) and quail eggs are served in a dish of bubbling hot Japanese curry in a bowl garnished with pickled ginger. This is a dish where double-dipping is definitely encouraged to sop up every last drop of the deliciously appetizing curry sauce—drunk food at its finest.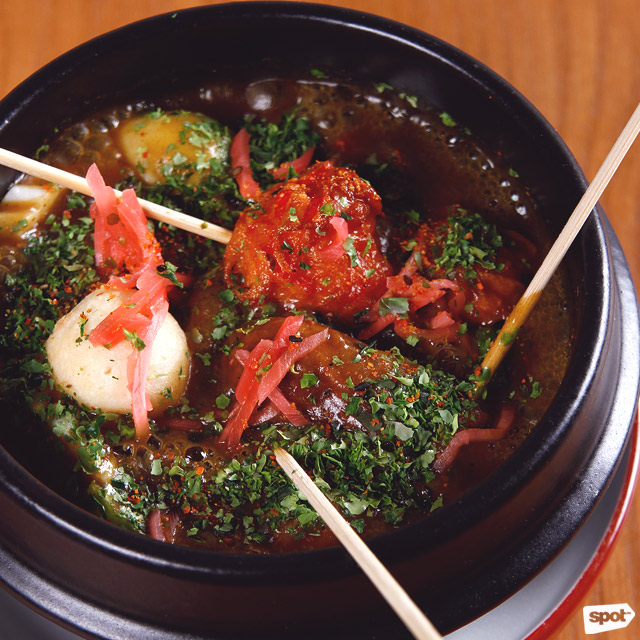 ADVERTISEMENT - CONTINUE READING BELOW
For the Japanese, "Wafu" means "Japanese style" in which they put their own take on some Western favorites. The Sausage Pan (P390) is Kampai's Wafu homage to a children's birthday party—a carb-on-carb sandwich with a poached and then pan-grilled sausage, mustard, Japanese mayo, and Japanese spaghetti Naporitan (their version of the Neapolitan spaghetti) or "ketchup spaghetti." All that sits atop a warm brioche bun with steamed, melty American Cheese. This sandwich gives real meaning to the phrase "party in your mouth."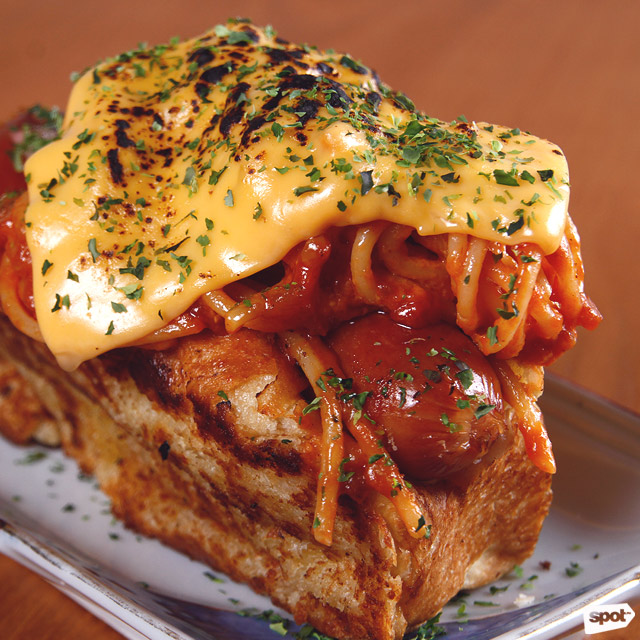 ADVERTISEMENT - CONTINUE READING BELOW
For those looking for a heartier meal for their night out, the indulgent Steak Rice & Foie (P540) is a guaranteed crowd-favorite with tender Kitayama beef fillets, garlic, steak rice with Wagyu fat, negi (leeks), a sous vide egg and luxurious foie gras for that extra rich and buttery flavor.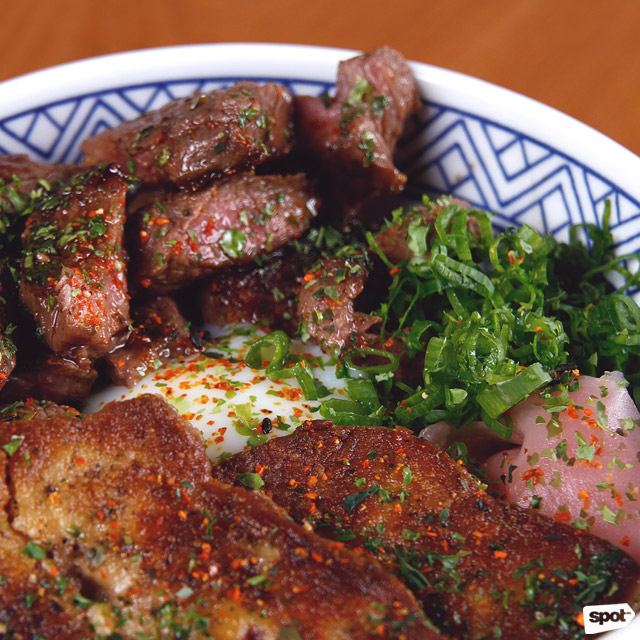 ADVERTISEMENT - CONTINUE READING BELOW
The Unagidon (P650) is Kampai's take on a specialty rice bowl; the scrambled egg is poached in tasty tentsuyo (tempura dipping sauce) before being put on top of the steamed rice, infusing it with all that flavor. Then it's lovingly crowned with some perfectly grilled eel, and sprinkled with chives to balance out all the umami goodness.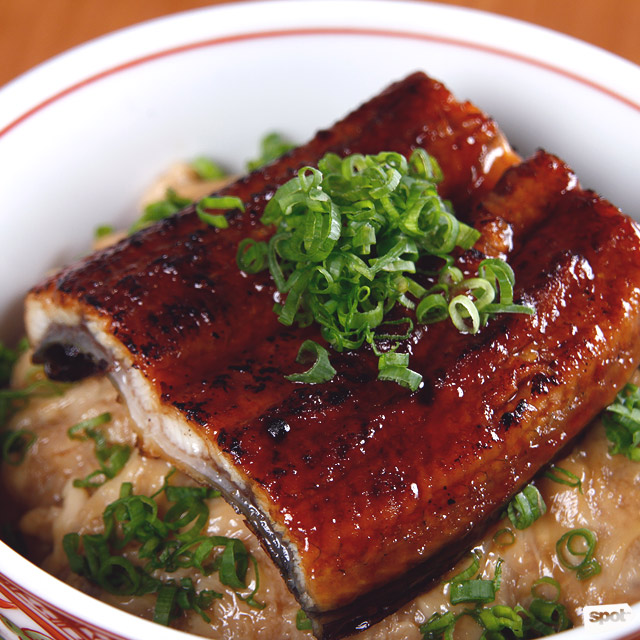 ADVERTISEMENT - CONTINUE READING BELOW
For a sweet end to all that food, there is the Matchamisu (P190), a Japanese Green Tea Tiramisu served in a delicate tea cup. Have this with a matcha-inspired cocktail, the Matcha Murakami (P320) with a Chivas Regal base, for a creamy, earthy-sweet match made in heaven to satisfy your sweet cravings.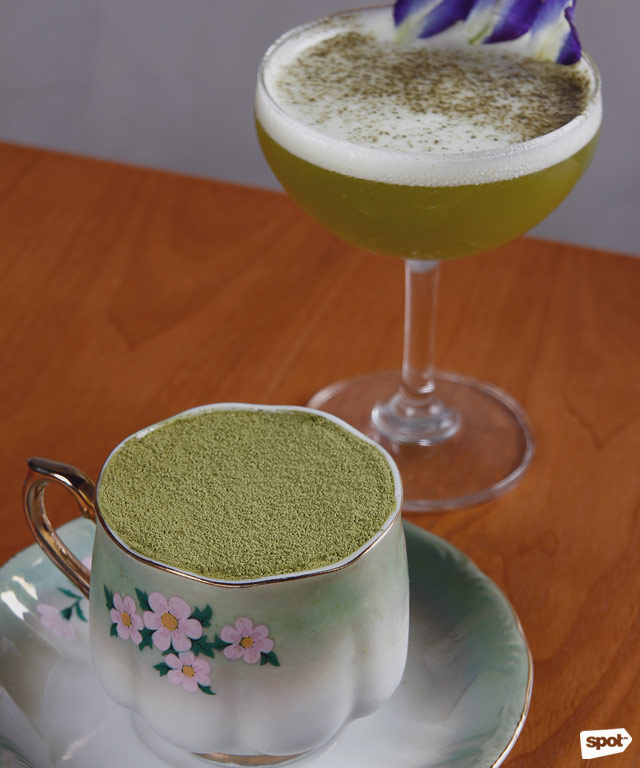 ADVERTISEMENT - CONTINUE READING BELOW
And it wouldn't be Kampai without some top-notch cocktails. For the particularly adventurous, there's the Red Kimono (P320) with whisky, sweet vermouth, pomegranate, a bit of Japanese vinegar, and lemon juice; the Shochutini (P320) with shochu (Japanese distilled hard liquor), gin, bitters, and ice is garnished with a cucumber slice and sushi gari (Japanese pickled ginger), keeping things super chill.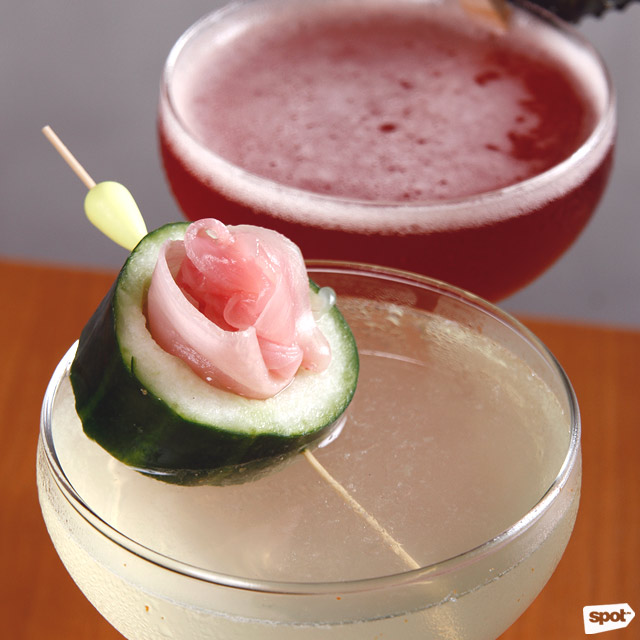 ADVERTISEMENT - CONTINUE READING BELOW
The Sakura (P320) is bright, citrusy, and refreshing with its vodka base, garnished with petals of a sakura flower that unfurl elegantly when dropped into the glass. On the other hand, the Murasaki Gin Fizz (P320) is a frothy gin-based drink with a creaminess reminiscent of yakult. The heavy cream is shaken with egg, lavender syrup, yuzu juice and lemon juice for a foamy effect.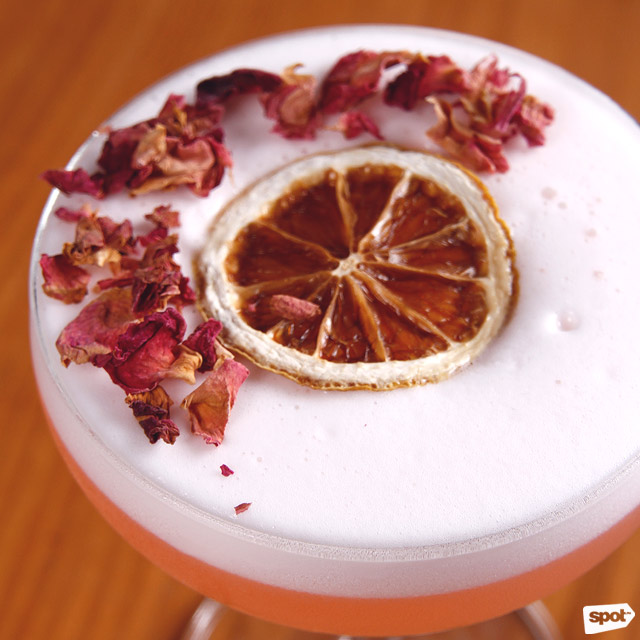 ADVERTISEMENT - CONTINUE READING BELOW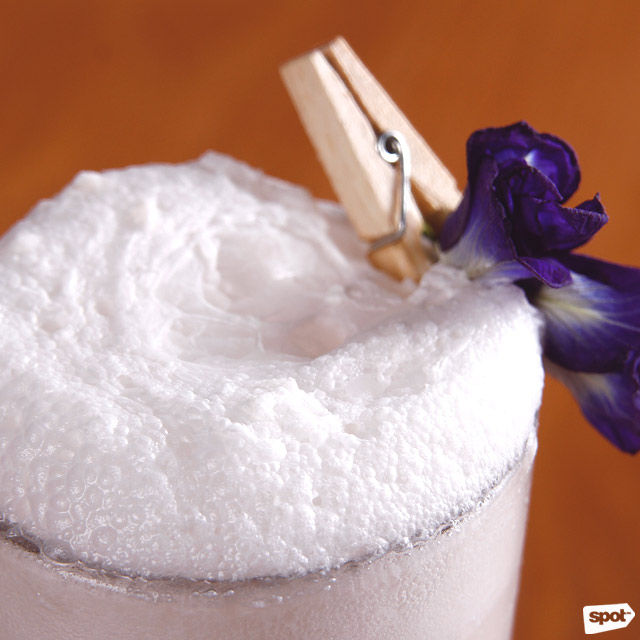 There's a cheesy old saying that goes something like, "Let them go. If they come back, then they were always yours." We think that applies now—it took a while to get there, but Kampai is finally open again, and it's like our husband has returned from the war. With gin. And we love him.
ADVERTISEMENT - CONTINUE READING BELOW
Photos by Vincent Coscolluela
CONTINUE READING BELOW
Recommended Videos
Share this story with your friends!
---
Help us make Spot.ph better!
Take the short survey
Load More Stories