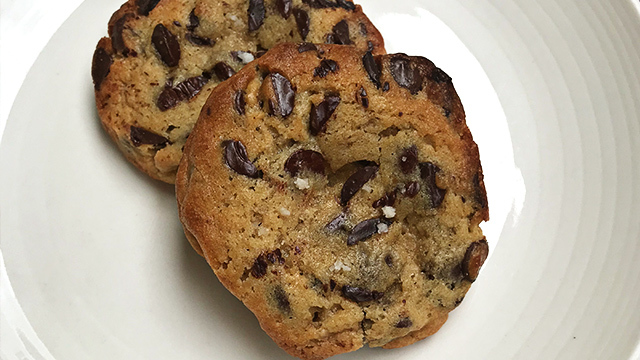 (SPOT.ph) Chocolate chip cookies may sound like a basic bakery staple—it's one of the first few confections most people somehow learn to make, and you can find them just about anywhere—but a truly good chocolate chip cookie can definitely topple even the most complex of pastries out there. While it's always been well-loved, it seems the obsession with chocolate chip cookies has increased tenfold in the past few years, with more and more restaurants and home bakers offering their own versions and even Instagram accounts dedicated to reviewing cookies popping up.
ADVERTISEMENT - CONTINUE READING BELOW
In finding the best chocolate chip cookies in Manila, we included in our selection chocolate chip cookies by restaurants, online shops, small businesses, and home bakers. While different cookies go by different styles—some are bigger than your palm and some are bite-sized, some are crisp and some are chewy, some are delicate and some are sturdy, and so on—we think a good version can be defined by a good cookie base and good chocolate. The cookie base should be flavorful enough to be able to stand on its own but also accommodate the chocolate (of which the dark kind is preferable, but it should still let the dough come through!). A hint of saltiness is also welcome (if not necessary, in balanced amounts), as are other mix-ins like nuts if they complement the basic parts. Ultimately, the different components should bring out the best of each other for a harmonious whole.
ADVERTISEMENT - CONTINUE READING BELOW
Recommended Videos
We tried all cookies the day that we got them (for optimum freshness), both at room temperature and heated—though pretty much all chocolate chip cookies are improved by being warmed, and we think a good version should be able to impress even at room temperature.
Also read:
The Best Chocolate Chip Cookies You Can Get Delivered Right Now
Top 10 Chocolate Chip Cookies in Manila (2018 Edition)
Top 10 Chewy Chocolate Chip Cookies in Manila (2013 Edition)
All SPOT.ph Top 10 lists are researched, paid for, tested, and selected by the writers and editors. They are discreetly conducted without any notice made to the establishments or their owners.
These are our 10 favorite chocolate chip cookies in Manila:
10. Moloko Handcrafted Cookies' Chips n' Chunx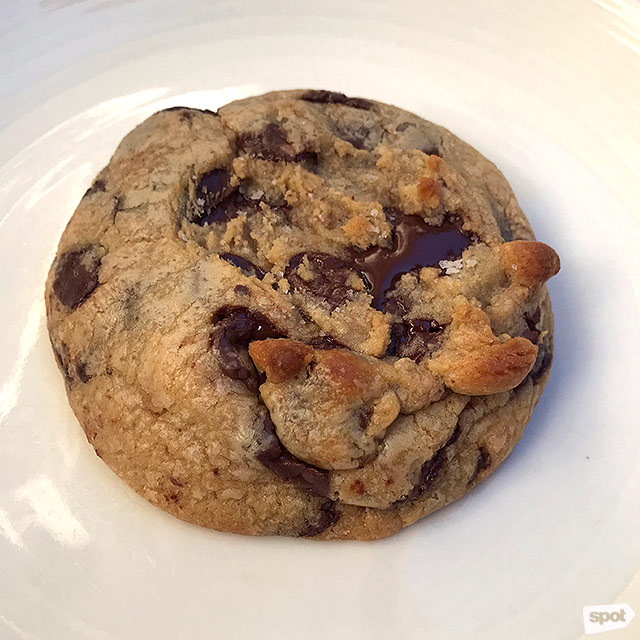 ADVERTISEMENT - CONTINUE READING BELOW
The Chips n' Chunx (P575/three pieces, P1,100/six pieces) cookies are part of Moloko Handcrafted Cookies' NY-style cookie line, which is their take on the thick, chunky cookie style popular in the Big Apple. On one hand, we find the cookie base a tad one-note in flavor. But this cookie shines for its generous amount of great-quality Belgian chocolate—there's chocolate scattered all throughout the cookie, as well as a gooey, melty pool of more chocolate in the center. The chocolate seems to be a blend of different cacao percentages as well, so some bites turn out more on the semi-sweet side while others turn out more on the bittersweet side—which keeps things exciting. Texture-wise, the cookie base is crisp on the outside, and dense yet soft and chewy on the inside, which is the perfect foil to all the chocolate it contains. It also becomes dangerously melt-in-your-mouth when heated.
ADVERTISEMENT - CONTINUE READING BELOW
Check out Moloko Handcrafted Cookies' Facebook page.
9. Banhof.ph's Choco Chip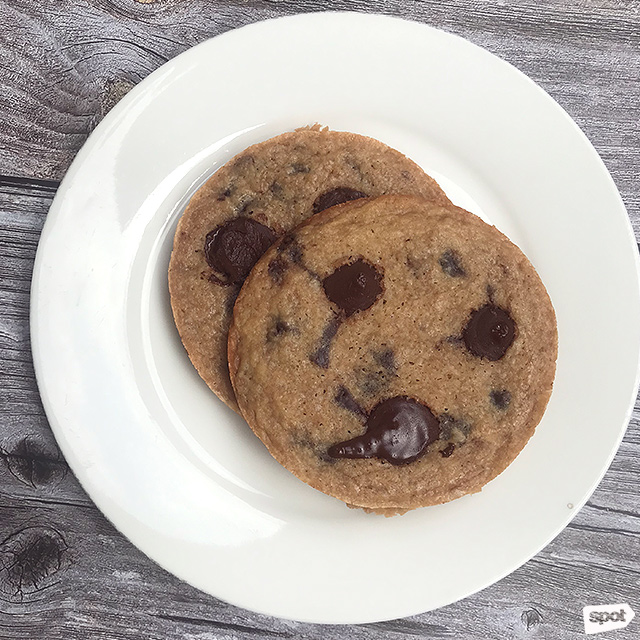 Banhof.ph's Choco Chips (P300/box of five) aren't like any other versions you've likely seen, being wide and relatively flat (about a seventh or so of an inch). They're crisp around the edges and perfectly chewy inside—we'd liken the texture to the edges you'd get when you bake brownies—and the flatness means there's a high ratio of those caramelized edges. There's plenty of good, buttery and toffee-like flavors in the dough base, and a good amount of just-dark-enough, melty chocolate as well. This cookie proves that—when done right—being different can mean being special in your own delicious way.
ADVERTISEMENT - CONTINUE READING BELOW
Check out Banhof.ph's Facebook page.
8. CHIP's Classic Break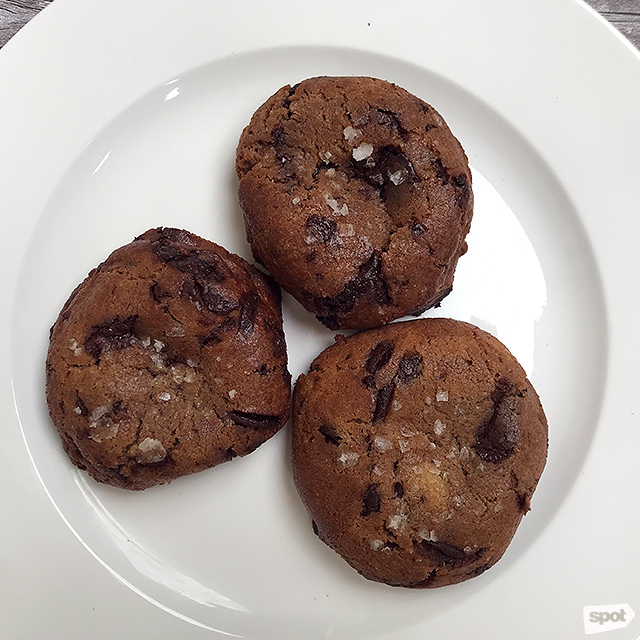 CHIP's Classic Break (P450/box of nine) has a cookie base with a relatively deep brown color, hinting at its dark, toasty, and brown-sugary flavor. The edges of the cookie are a bit puffy, but they're chewy and ultra-gooey inside, especially at the center. These cookies are generous on chocolate chips, which—being of the 60% and 63% cacao percentage sort—have a satisfying bittersweetness. We also love that there's a good amount of salt for balance, both in the dough and atop the cookie.
ADVERTISEMENT - CONTINUE READING BELOW
Check out CHIP's Facebook page.
7. Mo' Cookies' The Chocolate Chip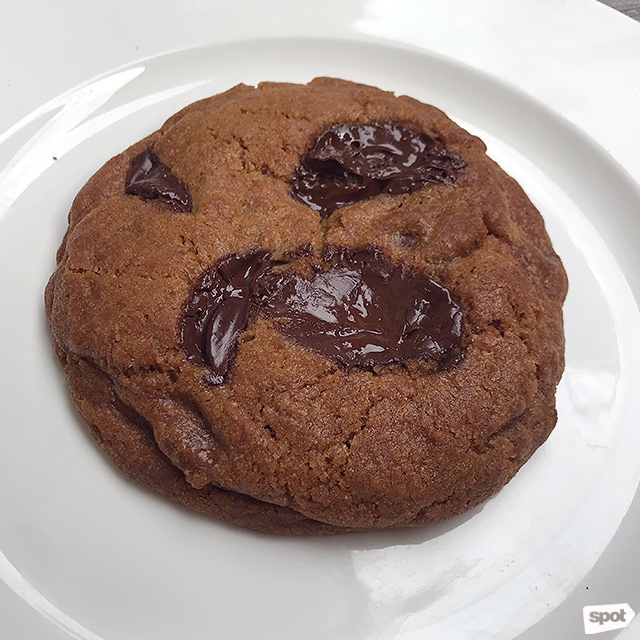 Mo' Cookies' palm-sized The Chocolate Chip (P135) has a cookie base that's sturdy and crisp on the outside and chewy on the inside, with toasty edges and plenty of caramel-y, buttery flavor. The chocolate they use has an earthy profile, and is right smack dab being in the semi-sweet and bittersweet ends of the spectrum. Overall, this is a solid and reliable cookie option anytime the chocolate-chip cookie hankering hits, and the fact that it's super convenient to order is a plus.
ADVERTISEMENT - CONTINUE READING BELOW
See a list of Mo' Cookies branches. You can also order for delivery through Moment Food or by finding Mo' Cookies on GrabFood.
6. Apéritif's Ooey Gooey Chocolate Chip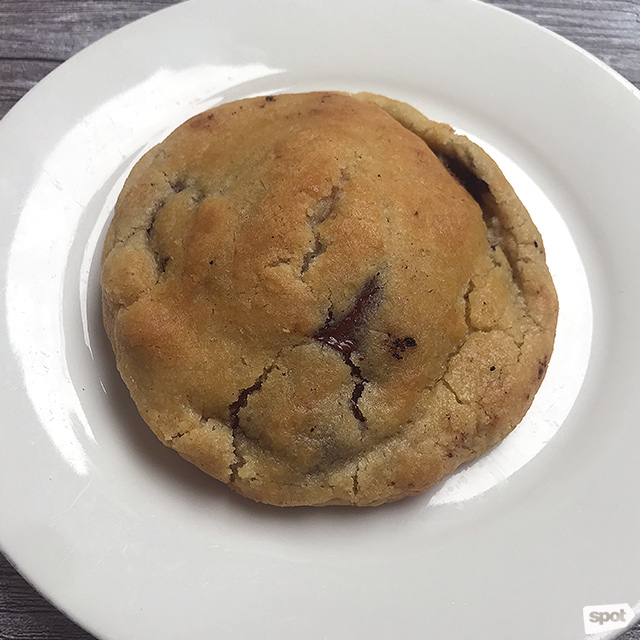 Don't judge Apéritif's Ooey Gooey Chocolate Chip cookies (P720/box of four, P1,080/box of six, P1,440/box of eight, P2,160/box of 12) from its mound-like outer appearance. The chocolate on these thicc cookies is excellent—it's seemingly of the couverture sort, with a smooth mouthfeel and complex, somewhat fruity, fine flavor that's truly topnotch. The chocolate comes as huge drops that aren't as well-distributed as they would be if they were chopped smaller, but overall, there's a lot of it here. The cookie base could use more flavor—it's a tad floury-tasting and not particularly complex—but texture-wise it's spot-on, with a thin and crisp crust making way to a soft, thick, and doughy interior that's great even at room temperature (but even more so when heated).
ADVERTISEMENT - CONTINUE READING BELOW
Check out Aperitif's website.
5. Os Muyco's Dark Chocolate Cookies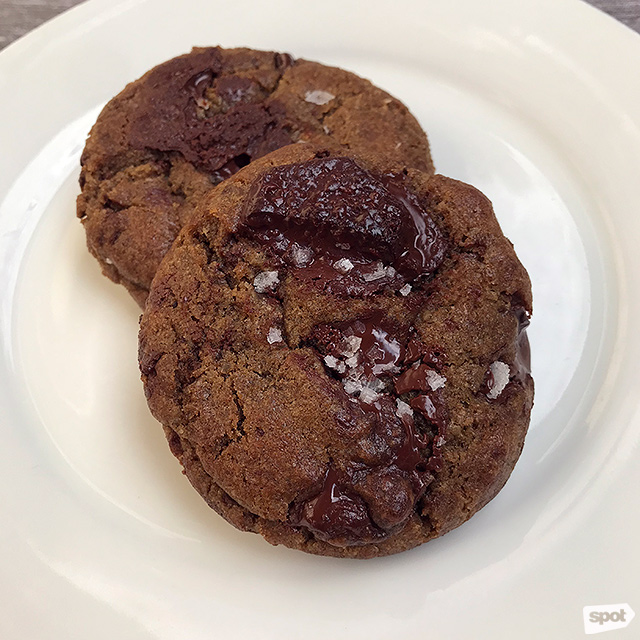 Home baker Os Muyco gives the classic chocolate chip cookie a adult-pleasing spin in her Dark Chocolate Cookies (P315/six pieces). The dough base is chewy and made with a blend of white, rye, and freshly-milled wholegrain flours that make for a nuttiness and decidedly rustic texture; plus browned butter, which lends it a deep and complex flavor. There's also a hint of chai spice, which adds warmth without overpowering the butter-caramel profile. And then there's the chocolate—an earthy and very bittersweet (it's the darkest-tasting of the bunch!) mix of 77% and 85% local dark chocolates that add even more complexity—and a sprinkling of flaky sea salt on the top seals the deal. The result? A most intriguing cookie that'll take you out of your comfort zone. Muyco only offers these cookies on selected weekends and has very limited slots, but it's worth watching her Instagram page for the next drop.
ADVERTISEMENT - CONTINUE READING BELOW
Check out Os Muyco's Instagram page.
4. Brandless Treats' Dark Chocolate, Bourbon, and Sea Salt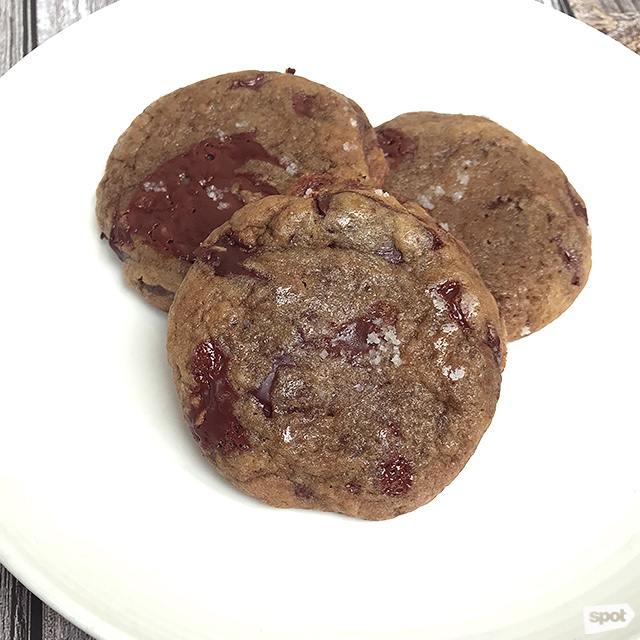 Here's another mature take on the classic: Brandless Treats' Dark Chocolate, Bourbon, and Sea Salt cookies (P960/dozen). As the name implies, these are made with bourbon in the mix, which add an intriguing and complex backbone to the cookie base. It has a texture that's soft but still dense and chewy, especially as you get to the center. The chocolate is also on the very dark side with a roasted note to it, and the chocolate and dough are almost integrated with each other, but you still get rich pockets of chocolate every so often. The amount of salt is just about perfect, too.
ADVERTISEMENT - CONTINUE READING BELOW
Check out Brandless Treats' Instagram page.
3. Cookie Maison by Fluffyummy's Salted Dark (Palm-Size)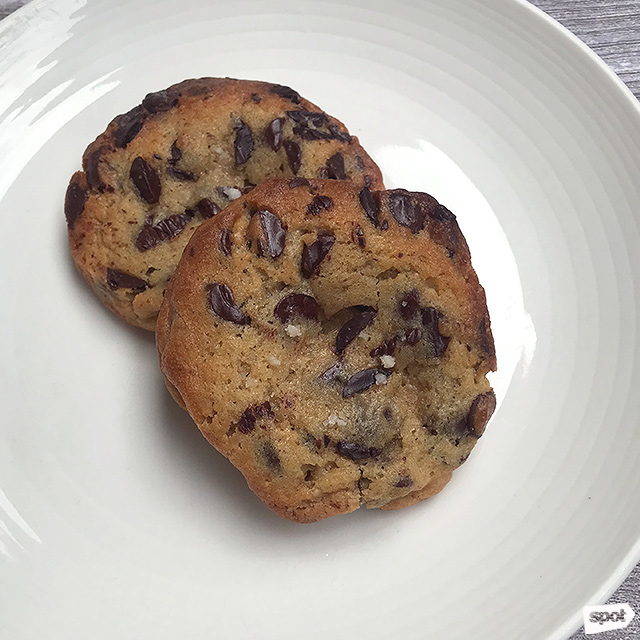 Headed by French pastry chef Kevin Ibert, Cookie Maison bakes a variety of baked goods which include their Salted Dark cookies (P550/box of six palm-sized cookies). These roughly 3/4-inch thick cookies have a crisp exterior and soft and chewy interior which taste of good butter (think shortbread, but with the chewy texture desirable in chocolate-chip cookies). The chocolate is melty and on the dark-enough side, and because they come as small chips, they're distributed evenly across the cookie such that you get a good ratio of cookie base and chocolate in each bite. There's an ample amount of salt, too. If you prefer your cookie with nuts, you can also go for their NYC Dark variant, which has walnuts and pecans mixed in with the chocolate.
ADVERTISEMENT - CONTINUE READING BELOW
Check out Cookie Maison by Fluffyummy's Instagram page.
2. W Bakehouse's Dark Chocolate Sourdough Cookie (Palm-Size)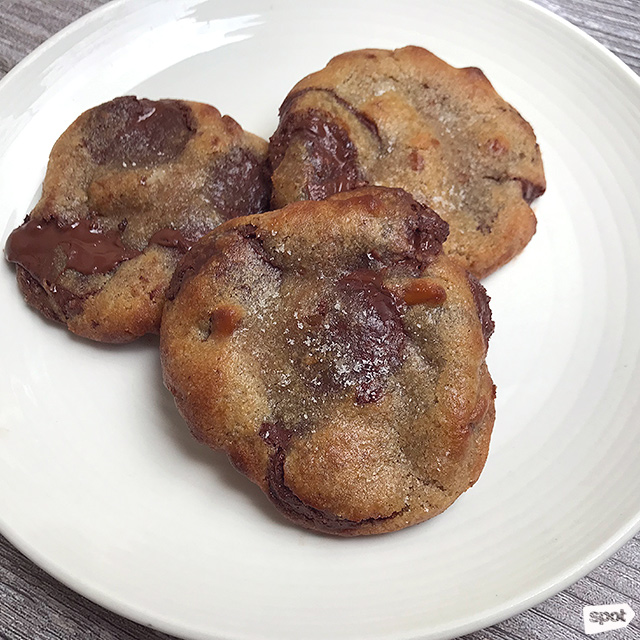 W Bakehouse is primarily known for their sourdough breads, but their Dark Chocolate Sourdough Cookies (P500/box of six) deserve to be in the spotlight, too. These are distinct in that they're made with a sourdough starter—fear not, this doesn't actually make them taste sour, though it does contribute to what we think is a peculiar backbone (we'd describe it as subtly "yeasty", in a good way) that balances out the cookie's richness and sweetness (though overall, it isn't too sweet). The cookie base is ultra-chewy in a sturdy way, and is wonderfully gooey in the middle with a brown-butter depth. They made use of Auro Chocolate's 55% dark chocolate, which has an earthy and robust flavor that really adds character to this cookie. It's also got pretzels mixed in, which we wish were crisper, but add an interesting textural contrast nevertheless. Finally, there's a sprinkling of sea salt, which ties all the other parts together.
ADVERTISEMENT - CONTINUE READING BELOW
Check out W Bakehouse's Facebook page.
1. GourmetFinds' Chocolate Chip Walnut Cookie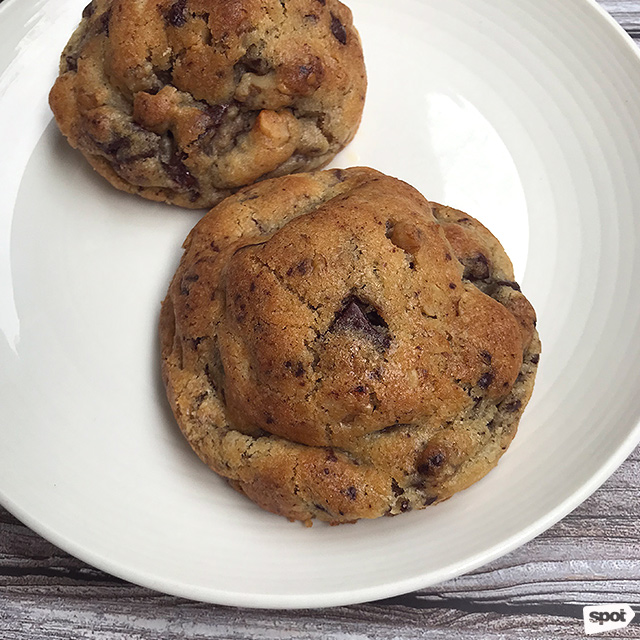 This Makati-based baker produces superb pastries, among which is their Chocolate Chip Walnut Cookie (P230/box of one, P460/box of two, P920/box of four). Before you scoff at the price, know that each cookie weighs a whopping 170 grams each (like Levain's famous version in New York!), and the quality speaks for itself. The dough has a great balance of a thin, crisp exterior and soft, chewy, slightly doughy (but not undercooked) interior, and you can really taste the topnotch butter. The chocolate used is on the semisweet side, but it's of very high quality and there's a generous amount of it that you get a bite of chocolate from corner to corner. It's also got walnuts, which add a welcome buttery crunch. All in all, it's a cookie that wows from edge to center, and the harmony between parts is simply unmatched.
ADVERTISEMENT - CONTINUE READING BELOW
Check out GourmetFinds' Facebook page.
Hey, Spotters! Check us out on Viber to join our Community and subscribe to our Chatbot.
Your guide to thriving in
this
strange new world.
Share this story with your friends!
---
Help us make Spot.ph better!
Take the short survey
Load More Stories