An Ode to Binignit, the Cebuano Holy Week Staple
It's more than just the Cebuano counterpart of ginataang halo-halo.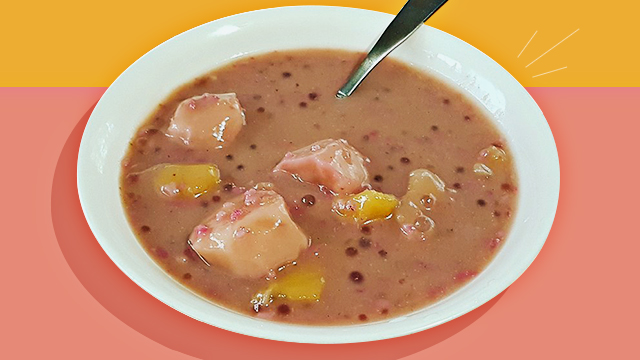 (SPOT.ph) April 2020 was the time of what was dubbed the binignit incident in Cebu—that is, when photos of people flocking to (and ignoring social-distancing rules) Cebu's Carbon Market to buy ingredients for the said dish went viral on social media. Binignit, after all, is no small deal in the said province, especially during Holy Week. This warm, stick-to-your-ribs meryienda is a Lent staple in Cebu (particularly on Good Friday), when families or even neighbors cook up batches to be shared and savored.
Here's what you need to know about Binignit Cebu:
What Is Binignit?
Binignit refers to a sweet and hearty stew of various ingredients—often sweet potato, saba bananas, sago, gabi, jackfruit, and palm flour jelly balls called landang—in coconut milk. It's a dish that's appealing in many ways, as you get a mix of distinct flavors and textures from the different ingredients, coming together for a harmonious whole.
ADVERTISEMENT - CONTINUE READING BELOW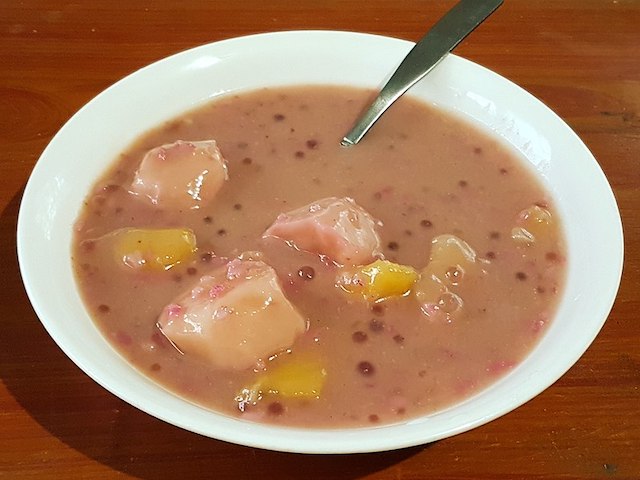 CONTINUE READING BELOW
Recommended Videos
Binignit vs. Ginataan
If the description above sounds familiar to you, it's probably because it brings to mind what Tagalog folk call ginataan (a.k.a. ginataang halo-halo or ginataang bilo-bilo). The latter is thought to be its Luzon or Tagalog-region counterpart. Andre Allen Suarez of doughnut store Brick Lane Doughnuts is a Cebuano local who moved to Manila for college, and he recounts how he would see what he thought was binignit being served. "I would be like, 'Oh, it's binignit!'—and everyone looks at me and they're like, 'No. it's ginataan.' But I'm like, 'yeah, binignit!'" shares Suarez.
While they have similar ingredients, Cebuano Chef Myke Tatung Sarthou explains that unlike ginataang halo-halo or bilo-bilo, binignit contains none of the bilo-bilo (glutinous rice balls) that's customary to the former. The use of landang is also distinct to binignit—Sarthou describes it to have a texture similar to mini sago, as well as a subtle aroma that's difficult to describe.
ADVERTISEMENT - CONTINUE READING BELOW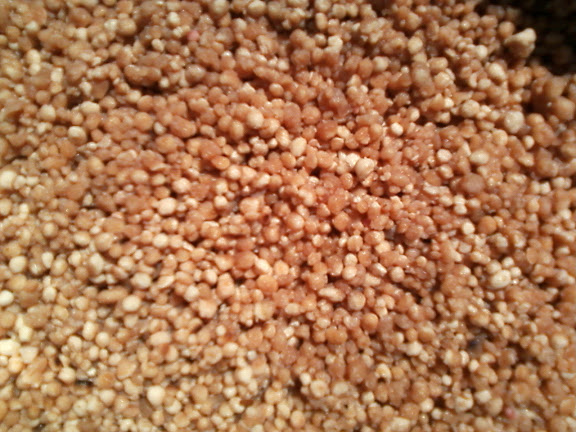 Binignit and Holy Week
Interestingly, there's no clear verdict on how binignit came to be a Holy Week staple. In fact, in a 2016 Cebu Daily News article, travel writer and rural tourism advocate Boboi Costas theorizes that Filipinos have been eating root crops and fruits even before the Spaniards came to our shores—thus suggesting that binignit may have been around before they introduced Christianity (and the idea of Lent). Some simply link the association to the Catholic practice of abstaining from meat during Holy Week, with binignit being meatless.
ADVERTISEMENT - CONTINUE READING BELOW
Either way, its impact during Lent is widespread. "It's a whole-year-round thing [for me, but] it's a staple talaga for Holy Week," says Suarez. Meanwhile, Cebuanos Christelle Barte of mochi shop Mochinoy and Tantan Fortich would down bowls of the dish during trips to their mothers' hometowns—Argao, Cebu and Negros, respectively—during the Holy Week.
Binignit As a Mode of Bonding With the Community
As Barte would travel to Argao, their neighbors and relatives would come together to prepare binignit. "There were always big pots, and I would always be assigned to give bowls to people," she shares. While she hasn't tried making the dish herself, she does try and help during the preparation. "I don't think we have a 'special' way of making it, but what is special about it is that we get to bond and enjoy eating the binignit together as a family because everyone is home and we are all in one table."
ADVERTISEMENT - CONTINUE READING BELOW
For Fortich, the cooking of binignit was mostly done by their kusineros, and they would share servings with their relatives and neighbors. "We live in a small province, and then there's the neighbors around... and [we want to be] very neighborly." They would make a big batch, and whoever wanted a serving would just knock on their door; this would usually happen after the Way of the Cross. (Fortich admits it's been two years since they've done this, however, due to the lockdown.)
Why and How Cebuanos Love Their Binignit
As with anything deeply personal, different locals have different preferences as far as binignit goes. Suarez, for instance, prefers his binignit with a deep-grayish color. "There has to be a certain darkness to it… if it was whitish, parang, hmm... it's not good." He also personally dislikes the gabi, which he would leave to the side of his bowl, though he recognizes it being essential for the soup's thickness.
Meanwhile, Barte enjoys homemade binignit—and specifically loves the version her mom and aunt would make for her. "It's the right sweetness and I love the components that they mix with it. I especially love the camote and banana."
Last but not least, Fortich likes hers on the not-too-sweet, "soupy-and-[slightly]-sticky" side, and prefers it the "traditional" way—i.e., sans the food coloring that some commercialized places use. "I associate [binignit] with being in the province [and living] a very slow life," Fortich shares. "It's not just eating it or enjoying the food; it's also the memories that come with it, like being with my grandmother and cousins."
ADVERTISEMENT - CONTINUE READING BELOW
How to Make Binignit
Binignit (that's distinctly binignit and not ginataan) can be hard to find in restaurants in Manila, so your best bet is to make your own. A classic version you can find online is the recipe on Cebu Daily News; it calls for gabi, camote, ube, saba banana, langka, sugar, coconut milk, and landang. If you can't find landang, you can find it on Shopee.
If you can't get hold of landang (which can be hard to come by in this part of the country), try the version of Chicago-based Filipino food blogger Panlasang Pinoy, which subs in tapioca pearls instead.
It's always tastier savoring a dish when you know you're taking part in something that has great meaning to a particular culture. Whether you're Catholic or not, or Cebuano or not, you can always pay respect to their customs and traditions with a warm bowl of binignit.
ADVERTISEMENT - CONTINUE READING BELOW
Hey, Spotters! Check us out on Viber to join our Community and subscribe to our Chatbot.
Share this story with your friends!
---
Help us make Spot.ph better!
Take the short survey
Load More Stories