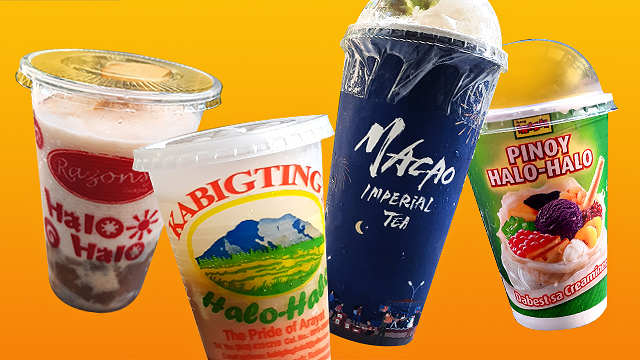 (SPOT.ph) Summer may be winding down, but the heat is certainly showing no signs of letting up just yet. Fortunately, there are still a few familiar ways to stay cool—and one way to do that is to eat that perennial summer staple: the almighty halo-halo.
ADVERTISEMENT - CONTINUE READING BELOW
There's a wide range of ingredients that can be found in this all-inclusive dessert, yet a cup of halo-halo still needs to hit certain marks to make it good. You want it to be packed with all the usual treats, sure, but do they taste great together overall? Does the halo-halo have a harmonious blend of textures or are you left wondering what exactly you just bit into? How good is the crushed ice? Do all the mix-ins hold their own in the avalanche of ingredients? Is it too sweet or just right? It's not an exact science, honestly, and how good a halo-halo really is often reveals itself when you eat it.
We scoured restaurants (entirely online, of course) for the best halo-halo around, contacted them, and they delivered. Literally. Before we begin, just a quick note: Not every restaurant that serves halo-halo delivers, and to whittle the list further, some didn't have the ingredients at the time (gee thanks, COVID-19) or they were too far away from us. So consider this a collection of the tastiest and most refreshing batch that were fortunately able to deliver to our place.
For maximum enjoyment, make it a point to order from a place that's closer to where you are, particularly because from what we saw, none of the restaurants provide any special packaging or insulation for their halo-halo. While ordering halo-halo to eat at home might not be the best way to enjoy this frozen treat, it's still better than having none. To paraphrase a common saying these days, the best dessert is the one that you can get. 
A quick reminder: If halo-halo is all you're ordering, be prepared to pay a small order fee of P30 if you're using GrabFood; that's on top of the delivery fee.
All SPOT.ph Top 10 lists are researched, paid for, tested, and selected by the writers and editors. They are discreetly conducted without any notice made to the establishments or their owners.
Also read:
Top 10 Vietnamese Coffee in Manila (2020 Edition)
Top 10 Iced Coffee for P150 and Under in Manila
ADVERTISEMENT - CONTINUE READING BELOW
Cool down with the best halo-halo in Manila that you can get delivered:
10. Cheesecake Halo-Halo from Macao Imperial Tea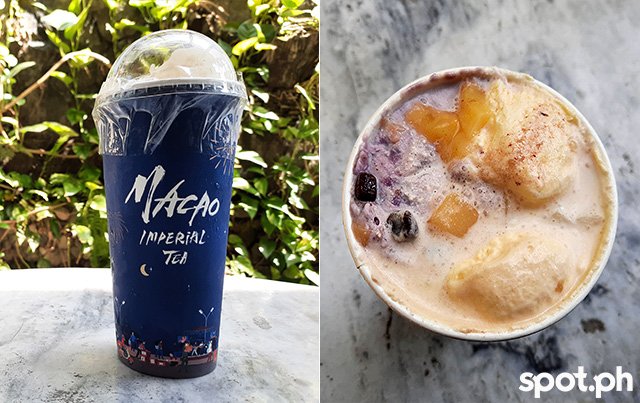 This fairly new concoction combines the joys of milk tea and the fun medley of assorted ingredients that only having a cup of halo-halo can offer. Combining their signature milk tea with a dollop of cheesecake cream, pudding, a slew of jellies, a dash of taro bits, and a generous helping of black pearls, Macao Imperial Tea's Cheesecake Halo-Halo (P175) is a decadent halo-halo experience like never before—you get to drink your halo-halo and enjoy the varied textures of this treat with every sip.
ADVERTISEMENT - CONTINUE READING BELOW
Post-transit: As expected, the ice had melted slightly when our cup arrived. But that's not really a con here; it just meant we could gulp this 23-oz. bad boy down faster. Also, our order came in a more subdued blue cup, not the clear version that would have put its contents on display.
9. Halo-Halo Ice from Aling Banang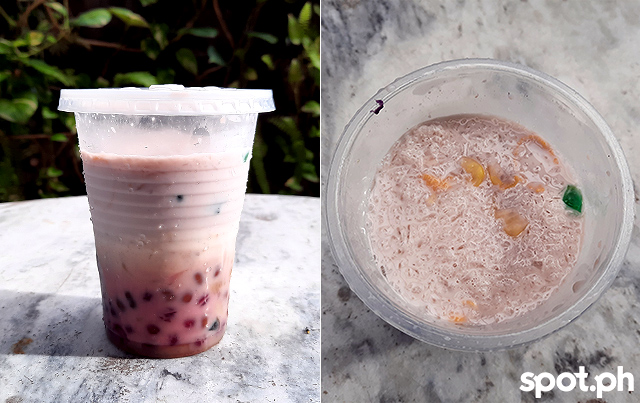 ADVERTISEMENT - CONTINUE READING BELOW
Aling Banang's take on the dessert might be the closest thing to a homemade halo-halo that you can order. It might not come in a flashy cup, but it has all the usual suspects without adding anything too radical—macapuno, sweetened beans, jellies, leche flan, langka, and ube. it's nice, familiar, and every bit as capable of cooling you down as the flashiest drinks and frozen desserts out there.
Post-transit: Our order didn't hold up well on the journey to our place, but there were bits of ice left at the end of its trip, keeping it just a few steps away from being considered a shake. A good reminder to get your orders from a restaurant within a five- to seven-kilometer range!
8. Halo Halo from Max's Restaurant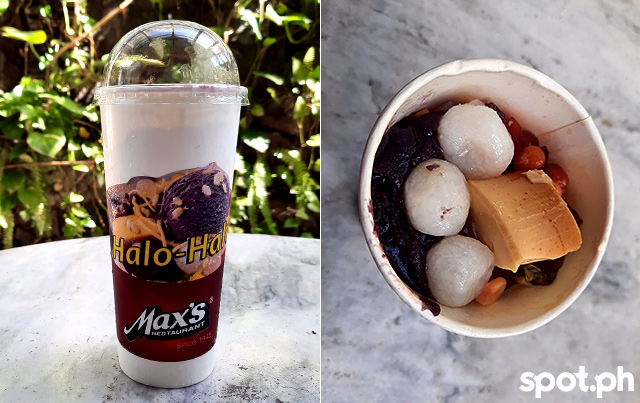 ADVERTISEMENT - CONTINUE READING BELOW
Max's Restaurant means Filipino comfort food for a lot of people and has been a go-to place to get their favorite dishes and desserts for decades now. That said, their Halo-Halo (P125) contains the usual fruit preserves and fixings you'd expect from a typical halo-halo cup but with ingredients with a bit more pizzazz. The macapuno balls they use alone make it worth ordering. While not the gimmickiest halo-halo, Max's take on the dessert will make you feel at home.  
Post-transit: There's bound to be a Max's close to your home, so your order will arrive as quickly and look as nice as ours did. 
7. Halo Halo from Kabigting's Halo Halo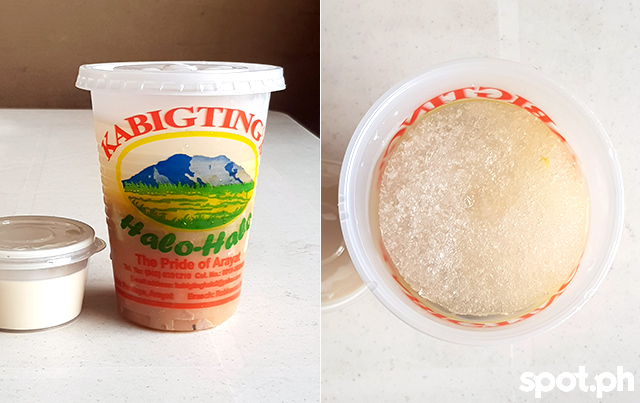 ADVERTISEMENT - CONTINUE READING BELOW
Kabigting's Halo-Halo (P115) contains only shaved ice, milk, mashed sweetened white beans, corn kernels, and pastillas made from carabao's milk. But despite being one of the halo-halo with the fewest ingredients on our list, this one packs a lot of punch. The pastillas in particular suffuses everything with an extra layer of richness and creaminess. 
Post-transit: Shaved ice doesn't do well in transit and ends up clumping together, so you'll have to use a bit more muscle to break them apart. 
6. SuperSangkap Halo-Halo from Chowking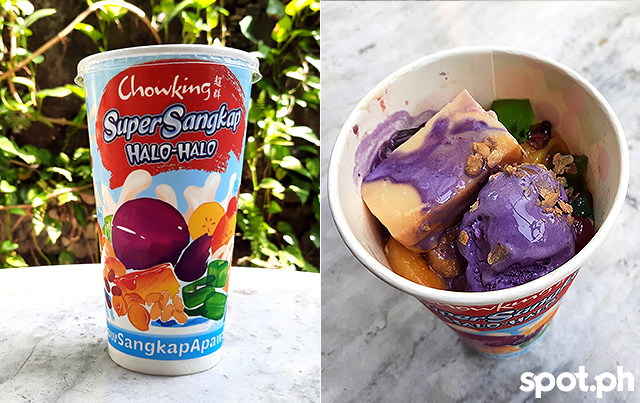 ADVERTISEMENT - CONTINUE READING BELOW
With 14 halo-halo favorites (sweetened beans, caramelized saba, leche flan, halaya, a scoop of ube ice cream, to name a few), Chowking's SuperSangkap Halo-Halo (P63/small, P95/medium, P119/large) rightly earns the "super" in its name. Honestly, we think their halo-halo is what most people picture when they think of this dessert. Serving all the classic halo-halo ingredients per cup and taking into account the ubiquity of their stores, we think that's justified. Anyone looking for a good and easily accessible cup of halo-halo to beat the summer heat will not be disappointed with this fast-food chain's sangkap-filled offering.     
Post-transit: Because there are Chowking stores everywhere, our order arrived fast and in near-perfect condition.
5. Extra Creamy Halo-Halo from Mang Inasal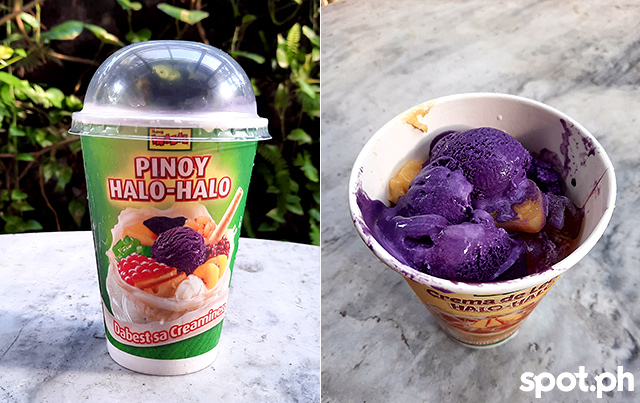 ADVERTISEMENT - CONTINUE READING BELOW
Mang Inasal's Extra Creamy Halo-Halo (P64/small, P86/regular) is no less satisfying. You still get all the essentials like kaong, macapuno, langka, and ube plus a nice little barquillo (for that satisfying crunch) with every order but in more, shall we say, prudent quantities. If you just want a quick dessert and you don't really need a gigantic cup to help you beat the heat, Mang Inasal's version is the perfect afternoon treat.
Post-transit: Because there are also Mang Inasal stores everywhere, our order arrived in practically no time at all, without compromising the halo-halo's presentation.
4. Halo Halo ni Crisostomo from Crisostomo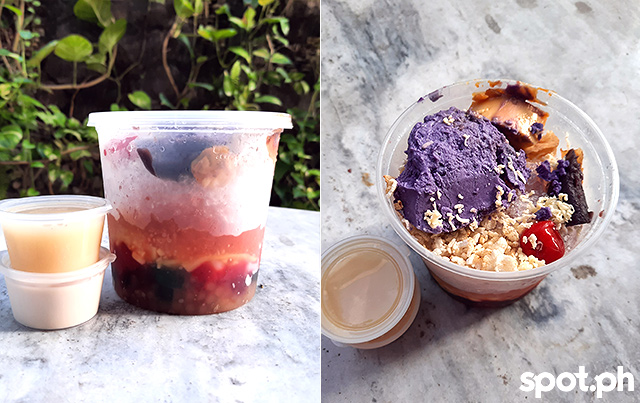 ADVERTISEMENT - CONTINUE READING BELOW
All of our other orders came in cups, but Halo Halo ni Crisostomo (P135/regular, 185/special) came in a tub. By looks alone, we immediately knew that they had a lot more to offer. For one, it adds banana chips, some cherries, and a sprinkling of cheese to an already robust roster of ingredients. The banana chips and cheese provide a crunchy and salty relief that cuts through the sweetness and gives everything a nice contrast. Their halo-halo also comes with a cup of evaporated milk and a cup of condensed milk. 
Post-transit: Crisostomo's halo-halo container looks like a self-contained cooling unit so we don't think a trip of less than 30 minutes will give it any problems.  
3. Duo Halo-Halo Espesyal from Kuya J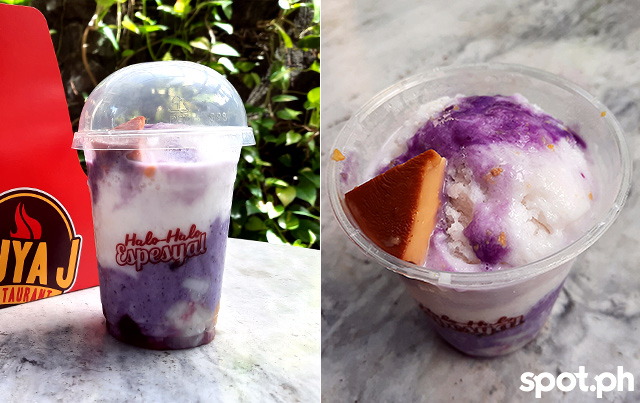 ADVERTISEMENT - CONTINUE READING BELOW
Kuya J's Duo Halo-halo Espesyal (P132), a hybrid of the Ube Halo-Halo Espesyal and Halo-Halo Espesyal, offers an extraordinarily rich, smooth, creamy, and fluffy dessert thanks to its frothy milky ice layered on top of ube ice, which serve as a satisfying cushion for its ingredients. 
Post-transit: We thought we would get a messy, shake-like halo-halo because of the distance our rider had to cover, but our order arrived in excellent condition. The ice melted a bit, sure, but that only really meant that our order was a lot creamier when it finally made it to our doorstep.    
2. Halo Halo Special from Aristocrat Restaurant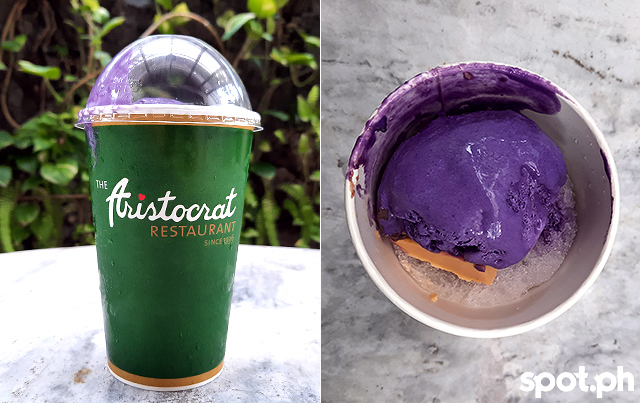 ADVERTISEMENT - CONTINUE READING BELOW
We're going to cut to the chase: Aristocrat Restaurant's Halo-Halo Special (P209) ranks this high on our list because of how fresh the ingredients they used in our order tasted. Their bean, banana, and jackfruit preserves didn't feel dried out apart from being flavorful. On top of that, their leche flan, ube halaya, and ube ice cream were so rich and lip-smacking that we truly got a surprisingly, er, aristocratic halo-halo eating experience. 
Post-transit: The ice cream on our order melted a little bit. But now that we're thinking about it, that's not really a bad thing, is it?  
1. Halo Halo from Razon's of Guagua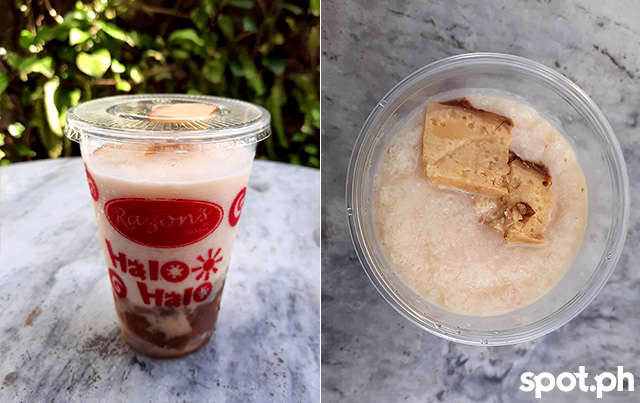 ADVERTISEMENT - CONTINUE READING BELOW
While multi-ingredient halo-halo cups provide that "Ooh, I wonder what tasty delight I'm going to find next!" level of excitement, Razon's of Guagua's Halo-halo (P145) gives a not-so-flashy yet balanced and satisfying dessert. With just shaved ice, sweetened saba, macapuno, milk, and a few slices of leche flan on top, Razon's created the best halo-halo cup in our opinion. Not too cloying, not too creamy, and with ingredients that aren't fighting for your mouth's attention, this halo-halo exudes a much more refined, but satisfying, dessert experience compared with its more flamboyant peers.
Post-transit: Despite taking around 20 minutes to get to us, our order actually held up pretty well in transit. The shaved ice was packed together tightly, so you'll have to cajole it a bit to break it apart. But other than that, it's almost like having it at their store.      
ADVERTISEMENT - CONTINUE READING BELOW
Hey, Spotters! Check us out on Viber to join our Community and subscribe to our Chatbot.
Your guide to thriving in
this
strange new world.
Share this story with your friends!
---
Help us make Spot.ph better!
Take the short survey
More Videos You Can Watch
Load More Stories