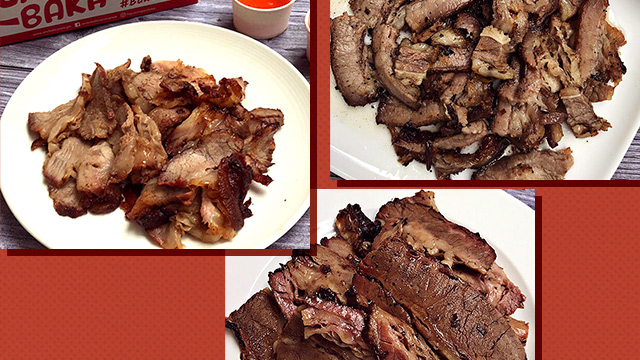 (SPOT.ph) The Filipino-style roast beef or calf known as lechon baka has been around for some time now, often associated with celebrations. But it recently made quite the comeback as well-loved lechon manok brand Andok's came out with their own version in late May, and quickly went viral. Aside from Andok's, other brands that have introduced their own versions (which have gained them their own set of fans) are Rico's Lechon and Let's Get Litson. But how do these roasts compare in terms of taste, texture, dip, and availability?
Also read:
Why Is Everyone Talking About the Litson Baka From Andok's?
At First Bite: We Found Another Strong Contender in the Lechon Baka War
Check out which three famous lechon baka brands in the Metro wins this showdown:
Andok's: Litson Baka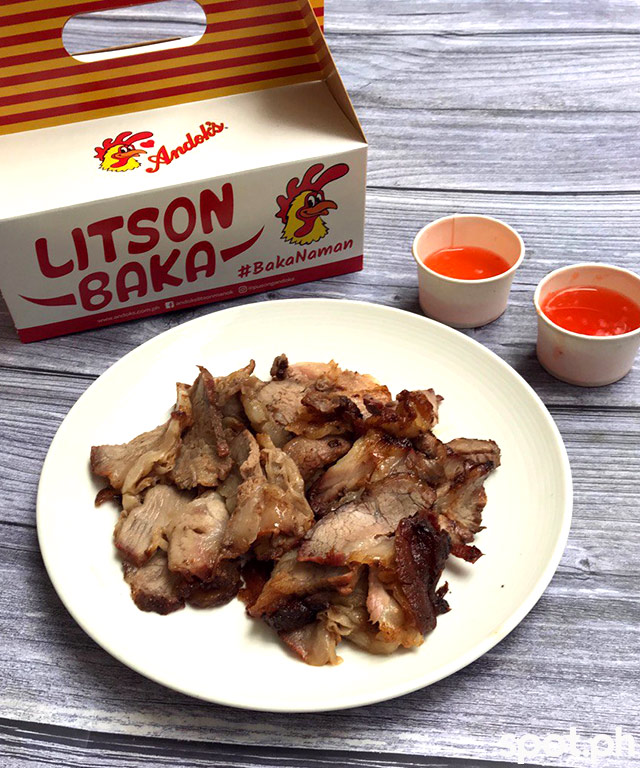 ADVERTISEMENT - CONTINUE READING BELOW
Roast-chicken shop Andok's may not have invented lechon baka, but they can definitely be credited to bringing it back to fame this 2021 with their Litson Baka (P350). This could very well be the most popular version today, with many Filipinos clamoring for a taste. It's only on the menu at selected branches, which one of the reasons why you'd see long lines at certain Andok's branches at peak hours.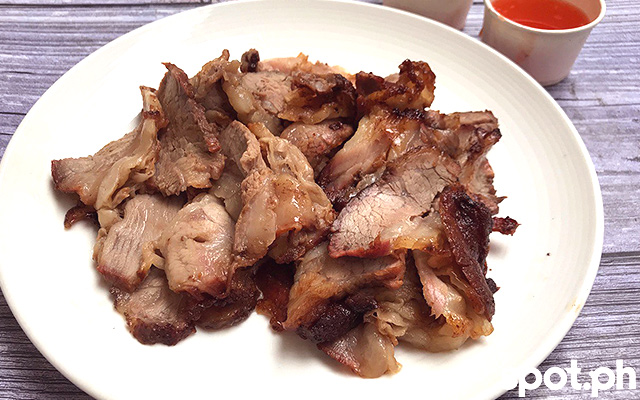 Taste: 5
Smokiness, pepperiness, a mild soy sauce-like umami note, and a touch of sweetness come together to give character to the just-fatty-enough slices of beef without overwhelming the whole thing. It's seasoned enough that you can enjoy it on its own, but you could also pair it with your carb of choice, whether it's a generous helping of steaming-hot fluffy rice, or a soft, fresh-from-the-toaster piece of bread. You'll also find charred edges on some slices, and these bits tend to have more concentrated flavor.
Texture: 4.5
While this is no Wagyu, you get mostly thin slices (with the occasional thicker bits), moist and succulent with just the right amount of fat. Some slices have more fat than others, but other than that, the ratio of lean to fat parts is mostly balanced and the overall sensation you get is a tender one. The thinness of most slices can be a downer if you're the type who enjoys the feeling of sinking your teeth into, say, steak—but it contributes to the tenderness, and you can always go for multiple slices in each forkful.
Dip: 5
Andok's includes a spiced vinegar similar to what you'd find at fishball stands, for a mix of tangy, slightly-sweet, and slightly-spicy. We don't think it's necessary to enjoy your meal, but it does match the beef's smokiness really well. If you're up for a bit of a flavor boost (specifically in the piquant direction), then by all means give your beef a dip.
Availability: 4
Andok's Litson Baka is only currently available at selected outlets, but the roster covers most parts of the Metro: Quezon City, Pasig, Makati, Manila, Las Pinas, Marikina, Caloocan, Navotas, Valenzuela, and Muntinlupa. Plus, you can order via GrabFood; just note that a box is priced at P385 on the app.
Total: 18.5
Rico's Lechon: Lechon Baka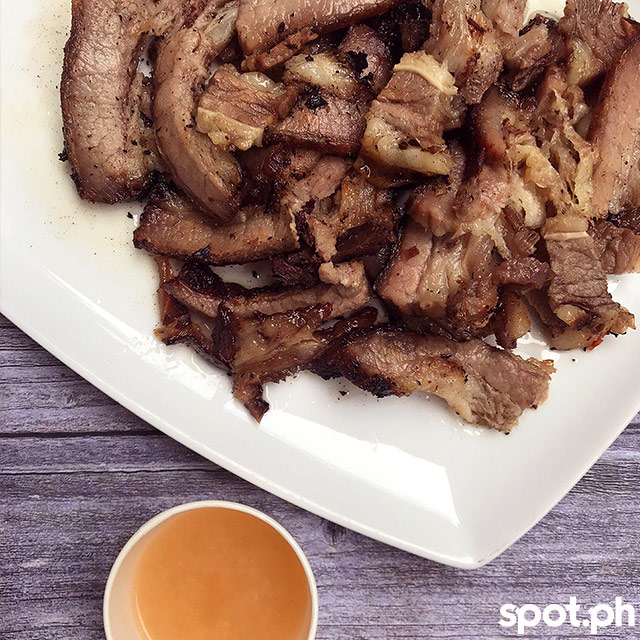 ADVERTISEMENT - CONTINUE READING BELOW
Rico's Lechon is an institution known for their Cebu-style roasted pig, and they introduced their own lechon baka in early June. It comes in both Regular and Spicy versions; both are hand-sliced, which is said to help keep its juiciness intact. We went with the Regular (starts at P350/Junior).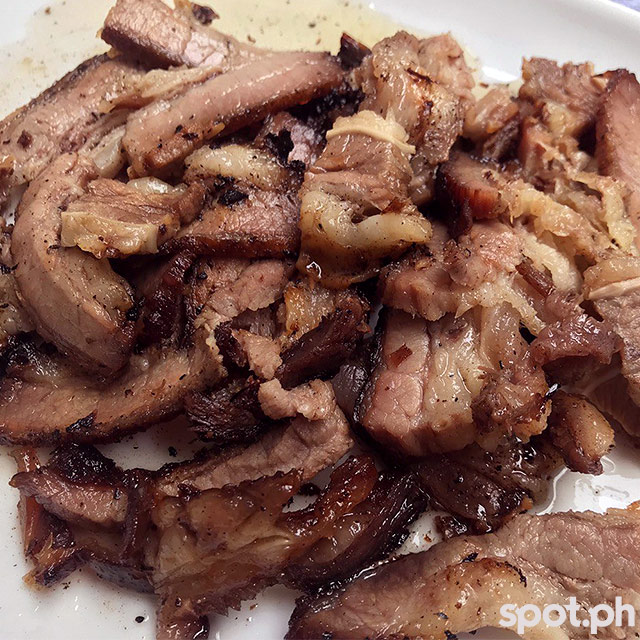 Taste: 4.5
The lechon baka at Rico's Lechon has a smoky aroma, though in terms of taste the smokiness is less pronounced. Instead, this version highlights the fairly fatty taste of the beef in such a way that's more subtle and less salty, with a natural sweetness toward the end. This is not a bad thing at all—in fact if you're a beef purist, this could very well be the version for you—though as we're talking specifically about Filipino lechon baka, we find ourselves looking for something with a bit more character. In any case, its relative neutrality makes it a great pair with anything: Have it plain, sprinkle on salt and pepper, or give it a quick dunk in the Sukalami vinegar included with every order (more on that below).
Texture: 4
Rico's serves their beef hand-sliced, so you're likely to get relatively uneven pieces, giving it a more homemade feel. But this also means that—though for the most part this beef is definitely tender—some parts are tougher and chewier and fattier than others, and we can't help but wish for more consistency in this arena. There's also a substantial amount of oil in our package; sure you can just discard it, and you could argue that the oil makes for a fantastic topper for rice (as it moistens the grains), but it's also a tad off-putting.
Dip: 5
To go with their Lechon Baka, Rico's Lechon includes a small tub of their Sukalami (a.k.a. their house-blend vinegar), which brings forward a slightly fruity, somewhat malty acidity. The vinegar pairs beautifully with the beef's smokiness and cuts through its fat—and while it lacks heat, it matches the subtler and cleaner taste of the meat.
Availability: 4
Though initially sold only at selected branches, Rico's Lechon's Lechon Baka is now available at all their branches in Metro Manila—namely BGC, Glorietta, Tiendesitas, UP Town Center, SM Mall of Asia, and SM North Edsa. They're on GrabFood as well, where the Junior order of the original flavor goes for P385. The slight catch is that not all branches are open every day—e.g., the UP Town Center store only operates from Wednesdays to Sundays. (You can view the list of branches and their operational days here.)
ADVERTISEMENT - CONTINUE READING BELOW
Total: 17.5
Kraver's Canteen: Let's Get Litson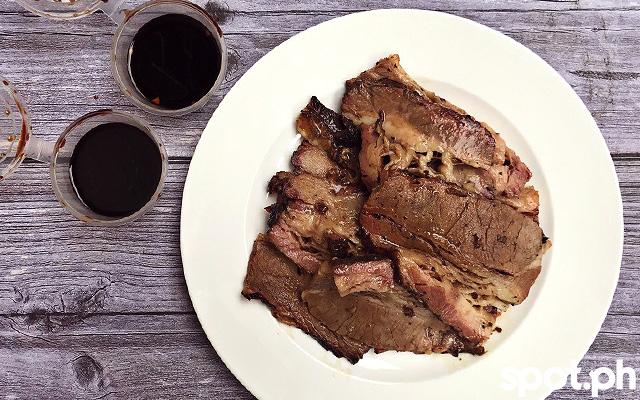 The ingeniously named Let's Get Litson hails from cloud kitchen Kraver's Canteen. Their take on Litson Baka (P359/all-meat tray) differs from the previous two in that they use USDA beef belly, which they marinate for 24 hours, smoke, and slow-cook for six hours.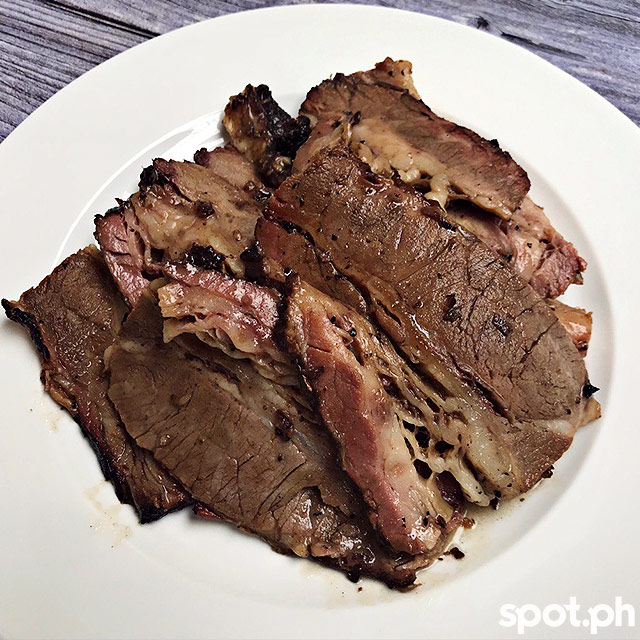 Taste: 4
As mentioned, Let's Get Litson uses beef belly—which arguably makes it veer a tad far from being like Pinoy-style lechon baka and more toward Western-style roasted beef belly (just sans the usual herbs). But it's great in its own right. It showcases smokiness—you smell the smoky aroma the moment you open the package. This smokiness melds wonderfully with the beef belly, which has the right amount of fat. But the said smokiness can also be a tad overwhelming, and we found ourselves in need of more flavor balance overall.
Texture: 5
Texture is where Let's Get Litson shines, as its use of beef belly makes for a more tender, borderline-melt in your mouth litson baka—plus it comes in thicker cuts than the other two, which is satisfying to sink your teeth into. There's also a small amount of what seems to be a sauce of sorts pooled toward the bottom of the package, and this helps moisten the beef even further.
Dip: 4
An order comes with two tubs of sauce—in this case, a Filipino-style number that combines soy sauce, vinegar, garlic, and chili. It's not bad, but you'll want to go easy on the dipping as the taste of the soy sauce can overpower the beef.
Availability: 4
Let's Get Litson opened their first (cloud) outlet in Parañaque, which was open only 4 p.m. onwards; they were on GrabFood but if you were outside the covered area you had to fill out a form and book your own courier. But they've now also got branches in Kapitolyo, San Juan, Fairview, and Maginhawa, which open at 10 a.m. On one hand, it's still fewer areas covered around the Metro compared to Andok's and Rico's Lechon; on the other hand, they're on more apps—namely GrabFood, Booky, and Pickaroo.
ADVERTISEMENT - CONTINUE READING BELOW
Total: 17
And the winner is...
Seasoned just right with a smoky-savory profile, Andok's Litson Baka emerges as the winner in this showdown. It's the kind that has a rustic, smoky, umami character to set it apart from Western-style roast beef—but it still highlights the taste of the beef so it doesn't get lost in the mix. It sure doesn't hurt that it's got a piquant dip to match and it's more widely available in the Metro.
This is not to say the other two aren't good in their own ways. Rico's Lechon's straightforward approach and uncomplicated flavor really puts the spotlight on the beef, plus, that Sukalami is divine. And while Let's Get Litson's beef-belly version almost crosses over to Western roast-beef territory, it's still an excellent version that any meat lover would appreciate.
It was a close fight, with Andok's getting 18.5, Rico's Lechon earning 17.5, and Let's Get Litson scoring 17 (all out of the maximum score of 20). Differences aside, these are all great takes on lechon baka that are well worth a try. For a lechon baka party, perhaps?
Hey, Spotters! Check us out on Viber to join our Community and subscribe to our Chatbot.
Your guide to thriving in
this
strange new world.
Share this story with your friends!
---
Help us make Spot.ph better!
Take the short survey
More Videos You Can Watch
Load More Stories