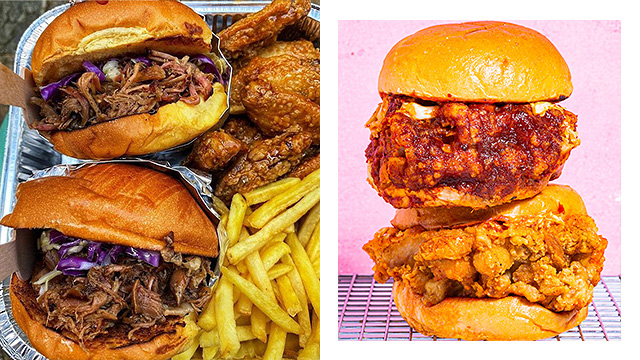 (SPOT.ph) We Filipinos sure love our rice—but we say sandwiches also deserve some love! With bread plus all kinds of fillings, it's a versatile dish that almost every culture has their own version of; there's practically no limit to what ingredients you use or what flavor profiles you go for here.
For the most part, sandwiches are handheld, making it a convenient choice to eat on the go. You just need to hold it in your hands, take a big bite, and relish in the experience as the ingredients mingle together in your mouth! But there's nothing wrong with noshing on a good sandwich even if you're just chilling out at home—and if you're looking for A+ versions that you can order for delivery, we've got you covered.
Trade your utensils for your fingers and try these great-tasting sandwiches available in Manila:
Tocino Croissandwich from Panaderya Toyo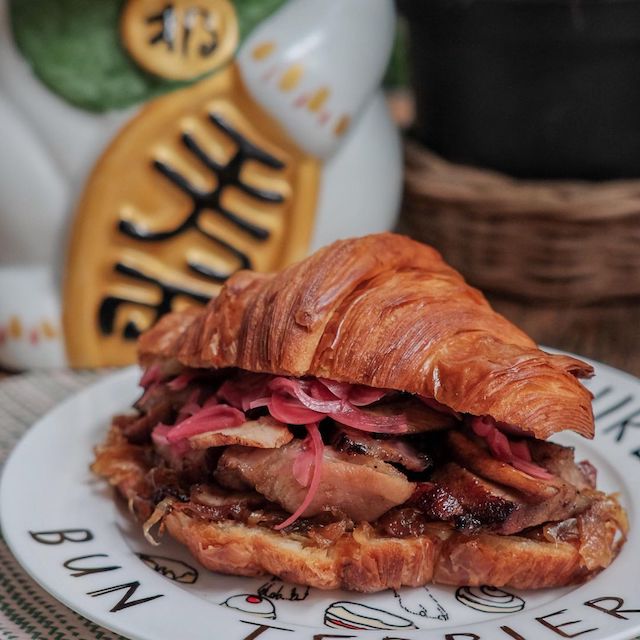 ADVERTISEMENT - CONTINUE READING BELOW
Tocino? In a sandwich? Yup, Panaderya Toyo gives you a new way to have the Filipino breakfast meat. For the Tocino Croissandwich (P380), the homegrown bread shop makes their own tocino from scratch, and stuffs it along with pickled onions into their own flaky, buttery Sourdough Croissant. Taken all together, this sandwich as rich and meaty as it is just lightly piquant, and it's worth noting that their tocino's got a natural-tasting profile—one that isn't too sweet. Just message Panaderya Toyo through mobile or e-mail for orders.
For orders, contact 0917-720-8630 or send an e-mail to may@toyoeatery.com. You can also check out their Instagram page.
Caesar Bun from Bamba Buns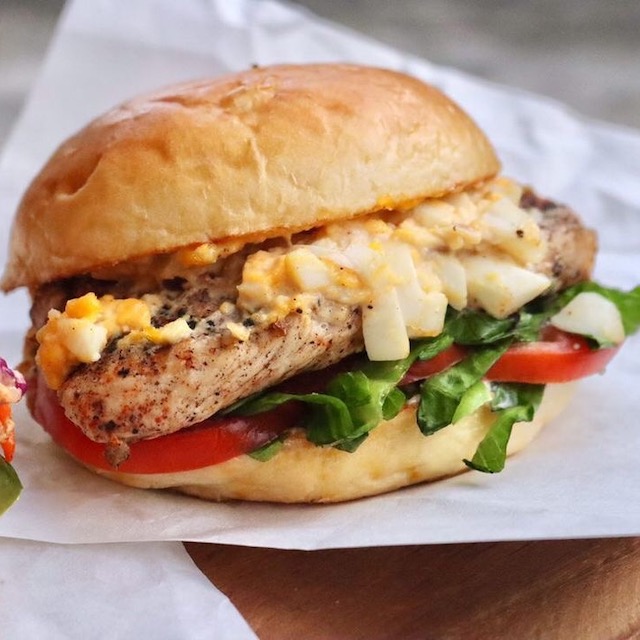 The flavors of caesar salad aren't just for, well, salad. They make for a great sandwich as well—and if you're not convinced, let Bamba Buns' Caesar Bun (P300) show you exactly that. It goes for a simple combo of grilled chicken, a caesar-egg salad, bacon, and lettuce on their homemade buns (which are soft but amazingly don't get soggy!)—but take a bite and you'll see how zesty, tangy, creamy, smoky, crisp, and pillowy worlds collide into a cohesive whole. Sure doesn't hurt that the fillings come generous here. You can message them on social media to order; their fried-chicken sandwich (dubbed the Bamba) and Texas BBQ sandwich shouldn't be missed, either.
For orders, send a message to Bamba Buns on Facebook or Instagram.
Fried Chikin Sandwich from Yang Gang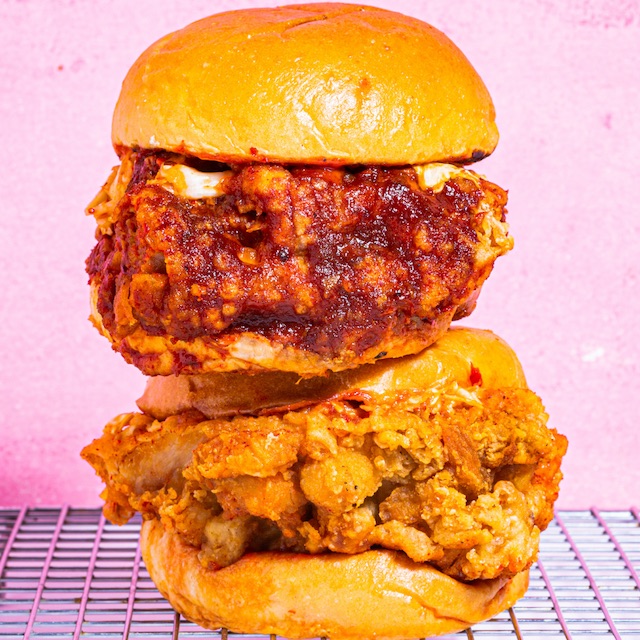 Fried-chicken sandwich meets Hallyu flair in Yang Gang's version (P250), which is made with their own Korean-style fried chicken! They use juicy boneless chicken thighs and fry it to a perfect crisp that's crackly yet makes a resounding crunch; it's then coated in your choice of flavoring, which includes the umami-rich OG, the spicy Fire OG, the sweet-savory Soy Garlic, and more. A spicy kimchi slaw and gochujang mayo breathe even more flavor, creaminess, and crispness into the mix, and each sandwich comes cradled in buttery brioche buns. You can visit MadEats' website for orders.
For orders, visit Yang Gang on MadEats' website. You can also check out their Facebook page.
No. 5 from Gang Green Falafels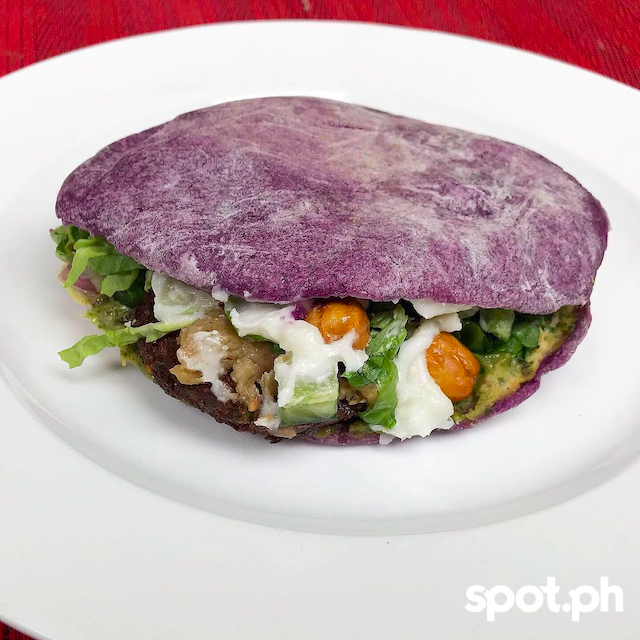 ADVERTISEMENT - CONTINUE READING BELOW
The Middle East is home to all kinds of sandwiches and wraps (we'll let you decide on whether the latter counts as one of the former), and falafel sandwiches rank pretty high up as one of the best. Manila is home to a couple of shops that make great versions, but it doesn't get any more creative than Gang Green Falafels, who remixes the dish with all sorts of untraditional yet totally ingenious combos that work! In particular, you'll want to try the No. 5 (P320), which goes for a zesty-meets-robust mix of edamame falafel, baba ganoush, green tahini, black tahini, and ricotta in an ube pita. Feel free to message them on social media for orders.
For orders, send a message to Gang Green Falafels on Facebook or Instagram.
Smoked Beef Lechon Sandwich from Beefier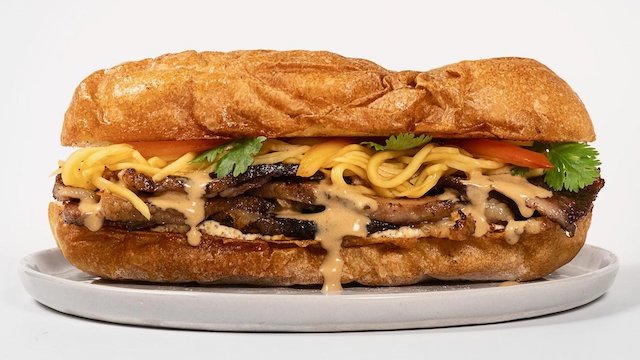 We say lechon baka is here to stay, and what's great about the Filipino-style roast beef is that it's uber-versatile. Sure you can have it plain or with rice, but it's also a great sandwich stuffer! Beefier's Smoked Beef Lechon Sandwich (P490) proves just that: It goes for a loosely banh-mi esque combo of their own smoked beef lechon, a creamy-meets-zippy lechon sauce, wholegrain mustard, and a crisp and tangy papaya salad in between soft schiacciata bread. Sure doesn't hurt that each sandwich is good for two people—though we won't judge you for finishing the whole thing! Just head over to the website of their parent company Lowbrow Casual Restaurant for orders.
For orders, visit Beefier on Eat Lowbrow's website. You can also check out Lowbrow Casual Restaurants' Facebook page.
Salmon Belly Sando from Kazunori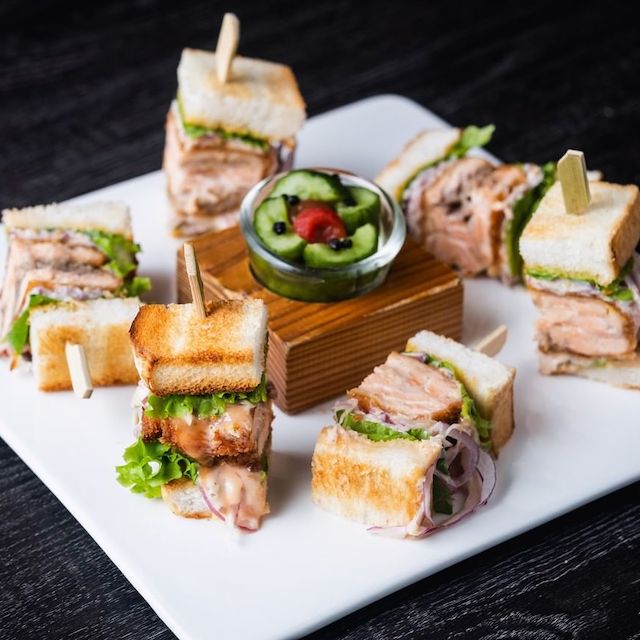 ADVERTISEMENT - CONTINUE READING BELOW
The Japanese may love their rice (just as we do!), but they've also got their own distinct style of sandwiches dubbed the sando. These come in a variety of fillings but are typically marked by their use of crustless milk bread and minimalist presentation. Kazunori's Salmon Belly Sando (P750) is one to try: They make a katsu out of rich, fatty salmon belly, and make it a pungent-tangy flavor party with their house ebi sauce, garlic mayonnaise, lettuce, red onion, and mustard seed. You can place your orders by filling out the form on their website, or by messaging them on mobile or social media.
For orders, fill out Kazunori's order form or contact 0917-836-2695 or 0968-773-3633. You can also message them on Facebook or Instagram.
Pulled Pork Sandwich from Gatong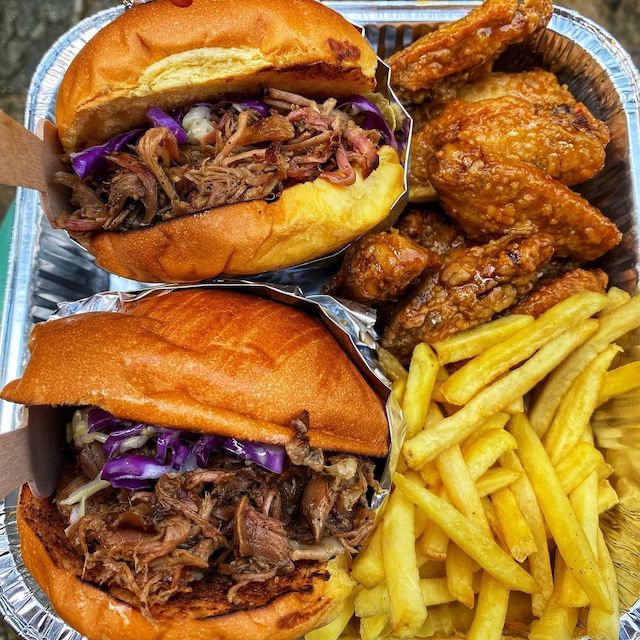 Pulled pork ranks high up in our book as one of the best ways to get your pork fix, and QC-based shop Gatong makes a stellar version that you can have in a sandwich (starts at P275/with fries). Tender and juicy with a deep, resounding smokiness, the rich and savory meat is brought to perfection with a light, crisp cabbage slaw and soft buns that absorb the meat's juices without getting soggy. Hit up their DMs to try this meaty number for yourself.
For orders, send a message to Gatong on Facebook or Instagram.
Veggie Buns by Bitelab MNL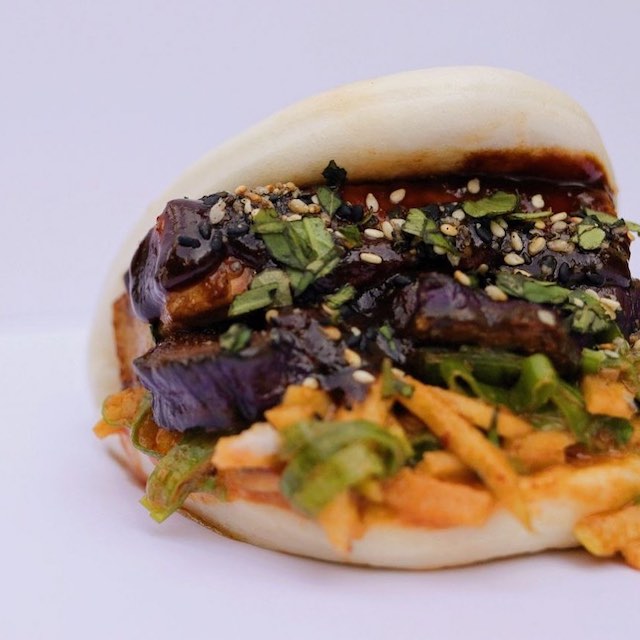 For the Chinese and Taiwanese, it's all about them baos—sandwich-like bites made with steamed buns (a.k.a. mantou) and various fillings. Bitelab MNL makes a wide range of baos that they give all sorts of modern spins, and one of their standouts is the Veggie Buns (P100)! With tofu that contributes a "meaty" bite, tender eggplant, and crisp veggies mingling into an umami-rich whole, this is the kind of plant-powered dish that's craveworthy in its own right. Get your fix by filling out their order form.
ADVERTISEMENT - CONTINUE READING BELOW
For orders, fill out Bitelab MNL's order form. You can also check out their Facebook page.
Chori Sandwich from Chori Chori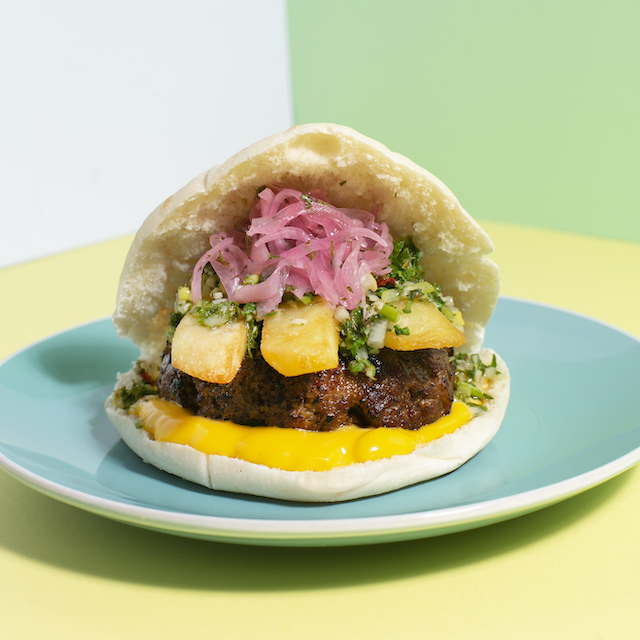 Chori Chori lets you travel by taste to the sunny streets of South America with their line of Latin-American style sandwiches. You're in for a zesty time with the Chori Sandwich (P250), which delivers a spicy-herby flavor fest with its fillings of a thick and punchy chorizo sausage patty, onion curtido, chimichurri, escabeche aioli, and fried potatoes inside warm, fluffy pitas. Try these sandwiches for yourself by giving them a call or hitting up their DMs.
For orders, send a message to Chori Chori on Instagram or contact 0917-520-1880.
Crab Grilled Cheese from Bun Appetit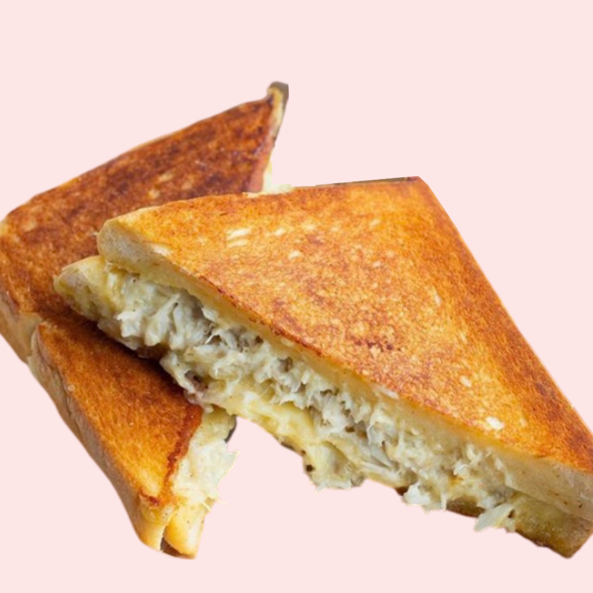 You probably know Bun Appetit for their stuffed-AF lobster rolls, but their grilled cheese sandwiches shouldn't be missed, either. Never mind the supposed "bad pairing" of seafood and cheese; in their Crab Grilled Cheese (P450), they come together into an indulgent union, with lightly sweet blue swimming crab meat paired with nutty and gooey parmesan and emmental cheeses, butter, and spices. Everything comes together on soft slices of potato bread, which is grilled just a touch for a crisp, golden-brown surface. You can place your orders via the websites of Bun Appetit or The Grid.
For orders, visit Bun Appetit's delivery website or check out Bun Appetit on The Grid Food Market's delivery website. You can also check out their Facebook page.
Hey, Spotters! Check us out on Viber to join our Community and subscribe to our Chatbot.
Your guide to thriving in
this
strange new world.
Share this story with your friends!
---
Help us make Spot.ph better!
Take the short survey
More Videos You Can Watch
Load More Stories