It's Time You Try This Underrated Cebu Lechon
Check out Alejo's take on the Cebuano fave.
(SPOT.ph) Lechon is synonymous with Cebu. It's so popular that even those who aren't from the island can easily name their favorites. Manila-based celebrities and politicians have launched local lechon houses into dining destinations by name-checking them on national TV or social media. However, there is one inasal (understood to mean lechon baboy in Cebu) brand that has managed to stay under the radar for two, maybe even three, decades. This publicity-averse brand is so elusive that even the Internet doesn't know how long they've been around—just that they've been here "forever." Meet Alejo's Lechon, the Cebuano favorite you probably haven't heard about yet.
Alejo's is based in Barangay Labangon, Cebu City, and its only retail outlet, a takeout counter in the Labangon Public Market can be considered a landmark of sorts. Even if there isn't much known about it, its name always popped up when we asked around for local's favorite lechon. It goes to show that you don't need much fanfare (or social media clout) to churn out amazing product. Alejo's has notably been consistent on the size of the produce they use through the years, too; the smaller pigs generally mean softer meat and a more even cook. 
The size was also consistent with the ones in food blogger Alex Oh's Instagram post from December 2019. (Given the current circumstances a.k.a. the pandemic, not all brands have been able to maintain the uniformity of the size of the produce they use.)
ADVERTISEMENT - CONTINUE READING BELOW
Ordering Pabili From Alejo's Lechon
Because Alejo's operates out of the market, it's only available for takeout. And it's not on any of the food delivery apps either, which really isn't that big of a deal thanks to pabili services. (In-house delivery is only available for whole orders.) The rider assigned to us was kind enough to send a picture of the lechon before and as it was chopped. That doesn't mean that it wasn't a blind buy though, as we didn't put in any requests. Even if we'd normally ask for our preferred cuts, we left this up to them to make sure it was as impartial as possible. However, most lechoneros nowadays make it a mix of various parts in the name of fairness to all customers.
Although Cebu lechon's trademark identifier is its lack of dipping sauce, some restaurants still provide soy sauce and vinegar. This wasn't the case for our takeout. It was just the lechon itself. It arrived in a generic white sando bag, and as soon as we opened it, we already couldn't wait to try it (but we did, of course). It was still steaming hot, and it smelled definitely porky—more than the usual lechon. There was a good ratio of meat to skin—in fact, there was more skin than expected. As for the meat, the portion we got was a mix of leg and belly. No ribs though—the ribs or gusok in Cebuano are the best part of the lechon because the meat here is sure to be tender and it absorbs so, so much flavor. Not only does it get rubbed with salt and sit close to all the spices, but it also gets the meaty flavor from the fat and the bones. Plus, the way you have to hold the bone in your hands adds to this messy-delicious experience that engages all of your senses.
CONTINUE READING BELOW
Recommended Videos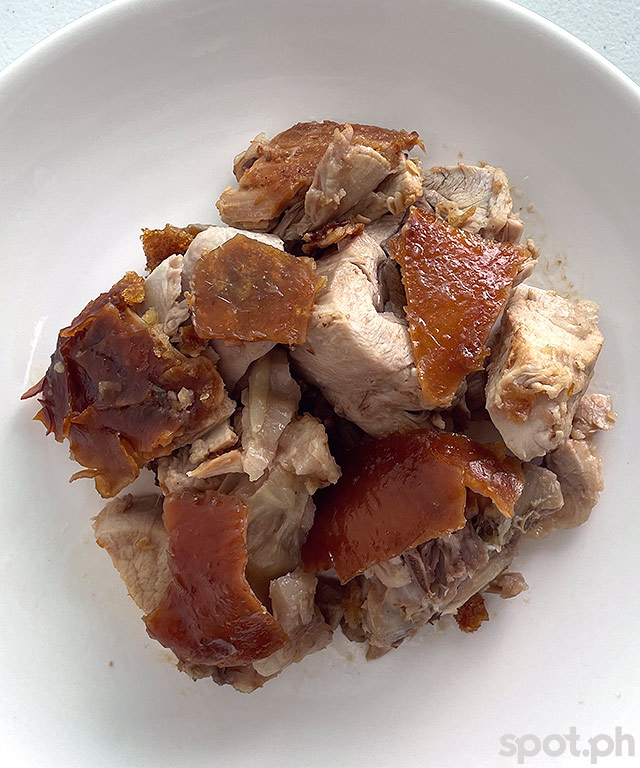 So How Did It Taste?
The first bite had to be the skin, of course. Crispy? Yes! In some parts, it was even blistered, which made it taste a bit like chicharon with a toasty, lardy flavor. Normally lechon skin is milky from the fat, but the fat on these pieces were well rendered. Where it wasn't blistered, the skin tasted pretty standard, but it didn't have that creaminess because of how well-cooked the fat was. What was really impressive was how virtually all pieces of skin in the 250-gram serve were crispy. It probably helped that we let it breathe as soon as it arrived. Moisture is the enemy of crunch, after all.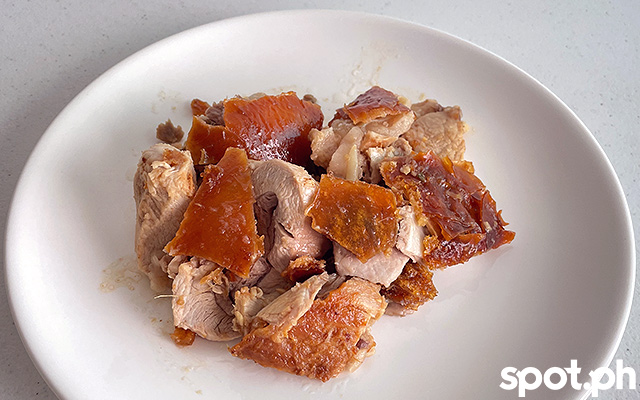 ADVERTISEMENT - CONTINUE READING BELOW
The meat itself was tender, juicy, and not too salty—yes, even the chunky blocks of paa and the thin stringy layers of meat under the fat were soft. The flavor was expected—spring onions, the king of Cebuano roasts, as well as onions. If you're really paying attention while eating the lechon fresh, on its own, you might even be able to pick up the faintest hint of lemongrass. (Even if all the recipes online call for it, it's not typically a dominant flavor of lechon here in Cebu.) But once in a while, you'd get a piece that's a bit more garlicky than the others, and it'd provide that kind of savory fragrance that'd made you want to eat even more. If the whole pig was available to us, we'd pick a clove from inside it and eat it as well. Just imagine how creamy and flavorful that'd be after spending hours cooking inside the lechon and absorbing its juices. That's another local secret: always ask for lamas (the herbs and aromatics stuffed inside the cavity) with your lechon. It's this salty flavor bomb that'll take your experience to the next level. The best way to have it is with pusô or steaming hot rice. 
Did It Make It the Next Day?
Curious to see how it'd taste once reheated—and let's be real, as much as we love lechon, we don't normally finish it all in one sitting—we steamed the meat (without a lid so it wouldn't get soggy; the microwave could've turned it chewy) and toasted the skin to see how it'd fare. The skin was a tad overdone, but that could've been the uneven heat from our oven. What we're really sad about is the loss of the nuances of flavor of the meat. Instead, what remained was a shadow of its former self. Still good, don't get us wrong, but it was so mild that it'd be preferable to dip it in something if you're having it with rice. It couldn't hold a candle to when it was still fresh. So do not make the mistake of thinking this lechon can wait. To get the best out of it, you really have to eat it right away. 
ADVERTISEMENT - CONTINUE READING BELOW
The Verdict: The Platonic Ideal—as Long as It's Fresh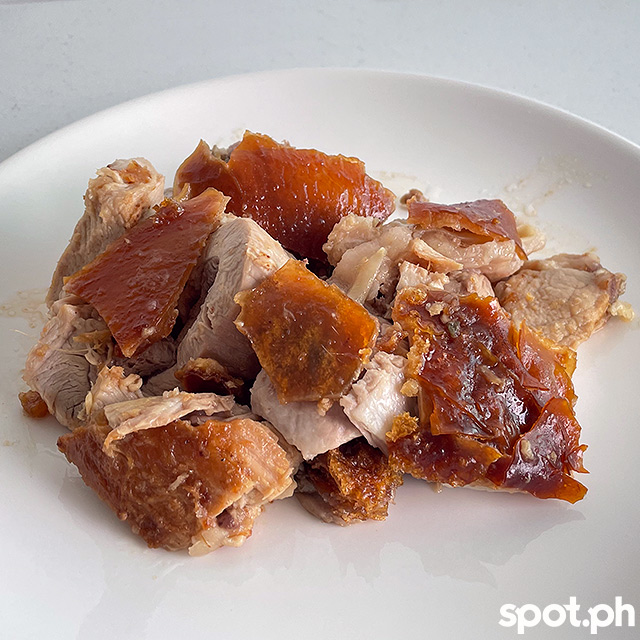 What sets Alejo's apart is the strength of the natural flavor of the pork they use. This isn't some mild pork chop with a clean and delicate flavor. It's in-your-face pig. But their best asset is their execution of the quintessential Cebu lechon. They don't deviate much from the standard, but they cook the lechon perfectly. It's hard to notice balance on its own, and it's this quality that makes their lechon so underrated.
Alejo's Lechon is at Labangon Public Market, Katipunan Street, Labangon, Cebu City. Open daily from around 3 p.m. until supplies last. For more information, call (032) 261-8575.
Hey, Spotters! Check us out on Viber to join our Community and subscribe to our Chatbot.
ADVERTISEMENT - CONTINUE READING BELOW
We are now on Quento! Download the app and enjoy more articles and videos from SPOT.ph and other Summit Media websites.
Share this story with your friends!
---
Help us make Spot.ph better!
Take the short survey
Load More Stories