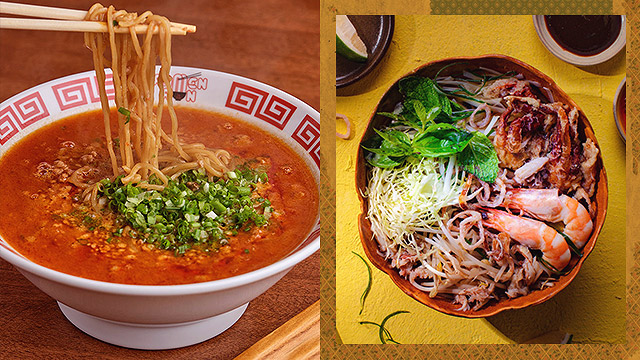 (SPOT.ph) Food, as you know, impacts how we feel in many ways—and when times are tough and it's comfort that you crave, a hearty bowl of soup hits the spot like no other. Almost every country and culture has their own version of this primarily-liquid, soul-soothing dish, which can range from being light and nourishing to rich and ultra-hearty; other additions like meat, veggies, and/or starches like noodles or grains are also common, adding taste and textural variety amid sips of the soup base. Should you be looking to warm your belly, these great-tasting soups available for delivery in Manila have got you covered.
ADVERTISEMENT - CONTINUE READING BELOW
Looking for the best soup in Manila? Warm your belly by ordering up these soups:
Truffle Mushroom Bisque from The Daily Knead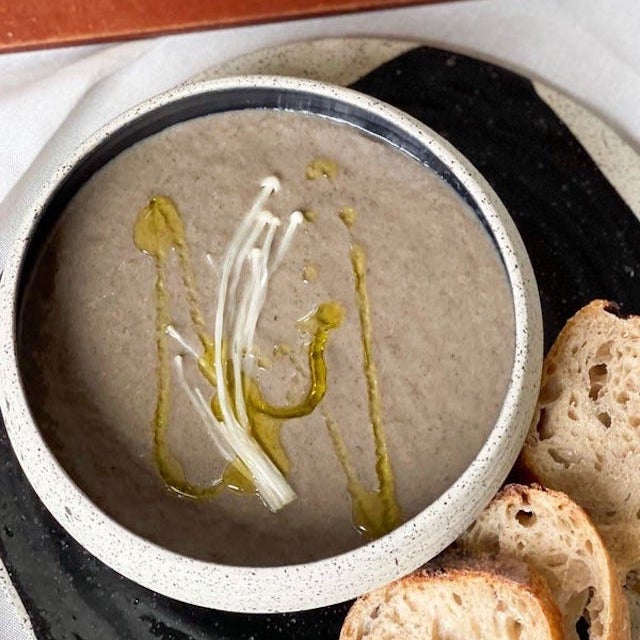 Remember the famous mushroom soup from Caffeined by Artesania? The café may have closed, but you can still get your fix via the owners' currently open bread venture. Yup, though better known for the baked goods, The Daily Knead also peddles the stellar Truffle Mushroom Bisque (starts at P1,000/650 grams without bread), which delivers full-on earthiness and umami with a good amount of creaminess for balance. The Daily Knead makes their own chicken broth from scratch and throws enoki and button mushrooms in the mix for added texture. The soup is best paired with their crusty-chewy Sourdough Baguette, which you can get as an add-on (additional P120/half-baguette, P190/full baguette).
For orders, visit The Daily Knead's website. You can also check out their Facebook page.
Duck Porridge from Apero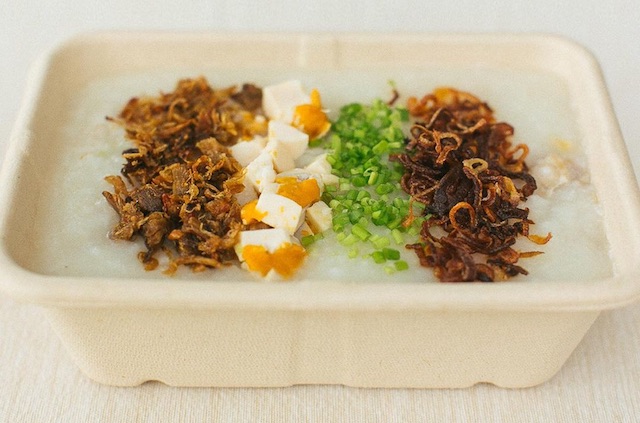 With our love of dishes like lugaw and arroz caldo, we Filipinos sure know the power of a hearty rice porridge to deliver a sense of solace when the going gets tough. Apero switches proteins to highlight duck in their Duck Porridge (P320), and the results are great: think hearty porridge base with the duck's signature flavor (thanks to the use of their own slow-simmered duck stock that's tinged with ginger!), plus toppings that include scallions for zestiness, fried shallots for a subtle crispness, salted duck eggs for richness, and even shredded duck confit flakes. The resulting dish is as homey and nostalgic as it is eye-opening and ingenious.
ADVERTISEMENT - CONTINUE READING BELOW
For orders, visit Apero's Pickup.ph site. You can also check out their Facebook page.
Kurobuta Sinigang from Mamou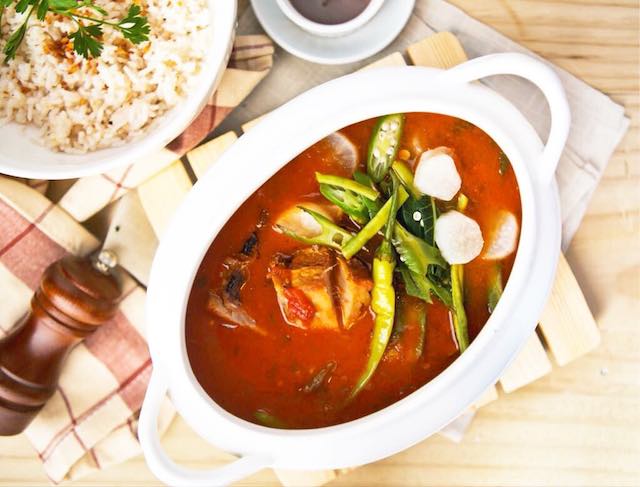 Sinigang, of course, has a special place in almost every Filipino's heart. We're sure your go-to will always be the kind you make or serve at home—but if you're open to trying it in an even more chef's-kiss worthy light, it's well worth going for Mamou's famous Kurobuta Sinigang (P625). As the name implies they use the Kurobuta variety of pork, and its bold (if not borderline beefy!) flavor and superb tenderness shines amid the relatively thick, full-bodied tamarind broth. Also in the mix are country vegetables that are notably cooked just enough that they still retain their vibrant colors and crisp-tender bite. You also get rice on the side; take your pick between the garlic- or Bicol fish paste-tinged versions.
ADVERTISEMENT - CONTINUE READING BELOW
See a list of Mamou branches and their contact numbers. You can also check out their Facebook page.
Gokong Soup from China Mommy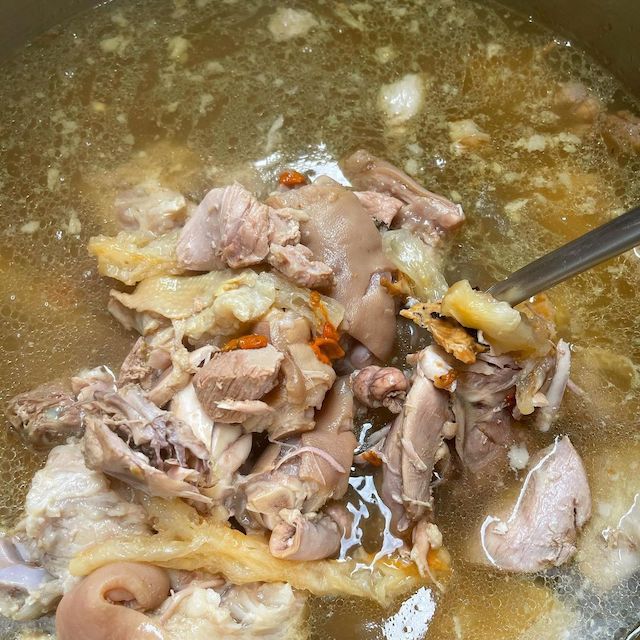 When the need for a soothing sip arises, the Filipino-Chinese turn to the classic dish known as go kong—a soup that typically combines different proteins in a hearty broth made complex and aromatic thanks to Chinese herbs. You can get an excellent version via China Mommy, who makes their Gokong Soup every weekend with pork soft bone, tendon, hock, intestines, tripe, and native chicken all cooked low and slow until ultra-tender. You can get just the soup at P3,300 and provide your own 10-liter or 26-centimeter pot; alternatively, they can provide their own pot, in which case the package would cost P3,900. Note that as of writing, China Mommy is temporarily closed but is taking orders for January 31 onwards.
ADVERTISEMENT - CONTINUE READING BELOW
For orders, send a message to China Mommy on Facebook or Instagram. You can also contact 0917-514-8540.
Tantanmen from Ramen Ron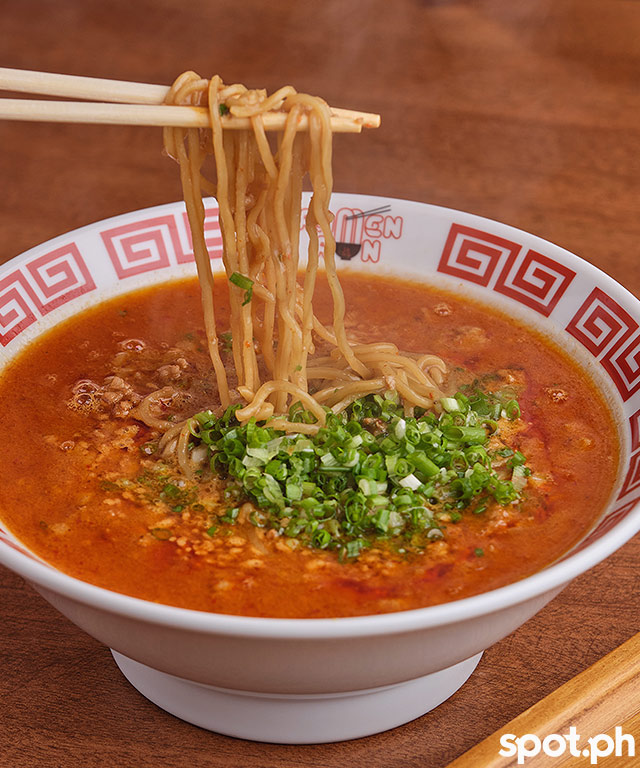 Famed ramen spot Ukokkei Ramen Ron made its comeback-slash-continuation in 2020, now with Chef Margarita Fores and son Amado joining forces with Chef Tamura and bearing the new moniker Ramen Ron. They recently opened their new dine-in resto at Rockwell, but you can also get your fix from home as they've got DIY ramen kits available for pickup! The DIY kit selection includes Ukokkei's famous Tantanmen (P545)—a stick-to-your-ribs ramen that melds the nuttiness of sesame, the umami jolt of miso, and the feisty kick of chili with ground pork and spring onions into a bold yet balanced mix.
ADVERTISEMENT - CONTINUE READING BELOW
For orders, visit Ramen Ron's Pickup.ph website. You can also check out their Facebook page.
Borscht from Russian Doll Eats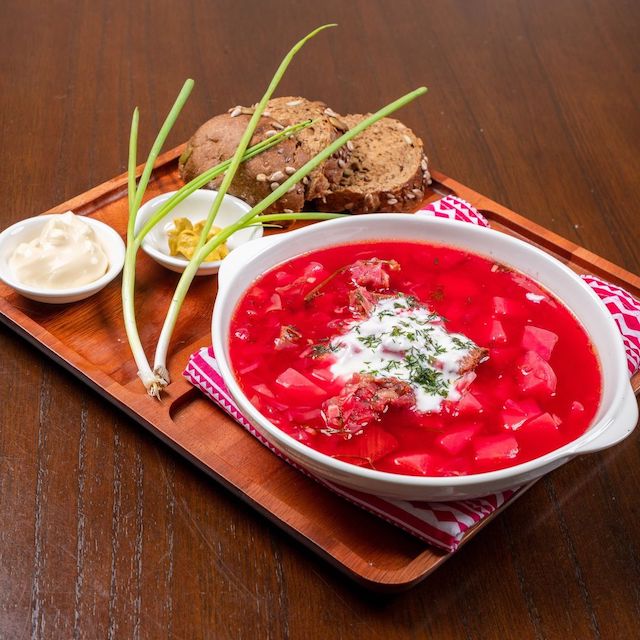 Ever heard of borscht? This Russian classic soup stars beets and occasionally meat or fish in a subtly sour soup that might bring to mind our own sinigang. You can get your fix locally via online seller Russian Doll Eats, who cooks up a mean Borscht (P620/400ml) with beef—best paired with rye bread or potatoes and a dollop of sour cream.
ADVERTISEMENT - CONTINUE READING BELOW
For orders, send a message to Russian Doll Eats on Facebook or Instagram.
Classic Laksa from Babu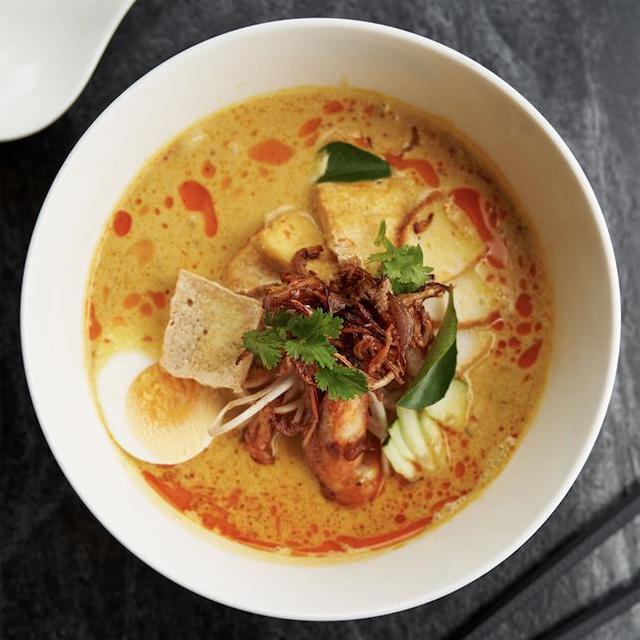 If there's any dish that exemplifies both comfort and vibrancy in one soul-soothing bowl, it's laksa—the noodle soup dish of Southeast Asian origin that delivers spiced, creamy, full-flavored sips. A stellar version you can get locally is the version by Babu; their Classic Laksa (P395) takes after the Malaysian style of the dish, with prawns, squid, fishcakes, tofu, and a boiled egg in a bold coconut-curry soup base you'll be savoring every last drop of. They also make Chicken Laksa (P345) with Hainan chicken breast, and Premium Laksa (P580) with prawns, squid, scallops, mussels, fish cakes, tofu, and egg—as well as DIY Take Home Laksa Kits in Chicken (P750) and Seafood (P840) versions.
ADVERTISEMENT - CONTINUE READING BELOW
For orders, visit the Babu section on The Grid Food Market's website. You can also check out their Instagram page.
Crema de Zucca from Cibo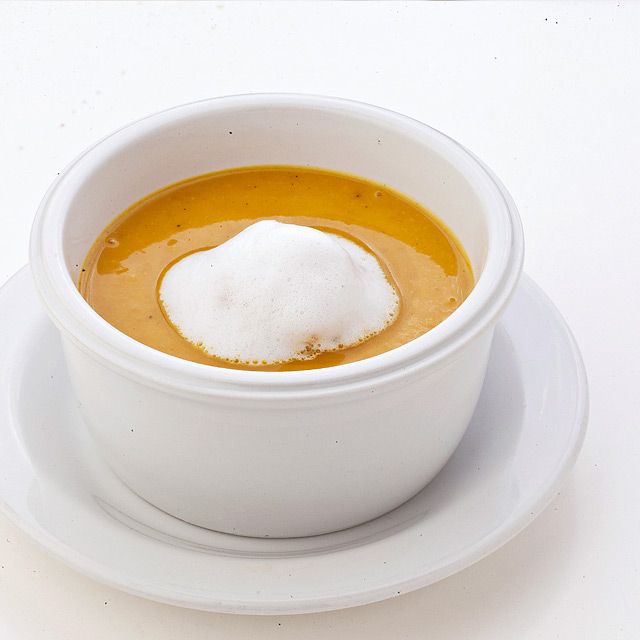 Pumpkin soup hits the spot with its earthy profile and Cibo makes a stellar variation that instead ingeniously uses summer squash! A bestseller at the famed Italian eatery, the Crema de Zucca (starts at P345) highlights the telltale taste of the squash, made just a touch rich with cream without being overly fatty or cloying. Pancetta bits in the mix give you occasional pops of saltiness and meatiness, which contrasts beautifully with the naturally sweet squash-soup base.
ADVERTISEMENT - CONTINUE READING BELOW
For orders, visit Cibo's delivery website. You can also check out their Facebook page.
Pho Hai from HuChi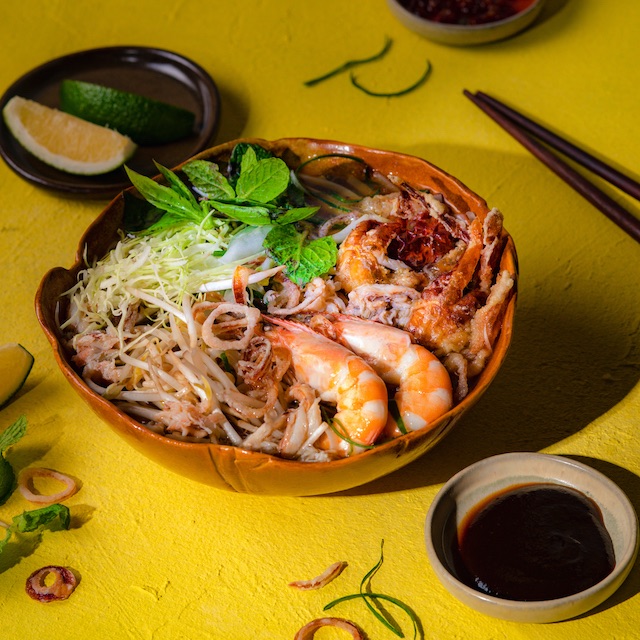 Looking for a lighter but no less satisfying soup to warm you up? It's well worth taking a page from the Vietnamese—specifically, their classic noodle soup dish known as pho. Consider changing it up from the more common beef or chicken versions with a more seafood-forward contender, like HuChi's Pho Hai (P545); this hearty take brings together poached shrimp, crispy soft-shell crab, and mud crab, with noodles, cabbage, basil, and leeks joining the party. Its broth is just on the right side of being lean but uber-flavorful, thanks to their addition of cilantro-chili lime oil for zestiness and a touch of heat.
ADVERTISEMENT - CONTINUE READING BELOW
For orders, visit the HuChi section of Moment Food. You can also check out their Facebook page.
Soondubu Chigae from Sariwon Korean Barbecue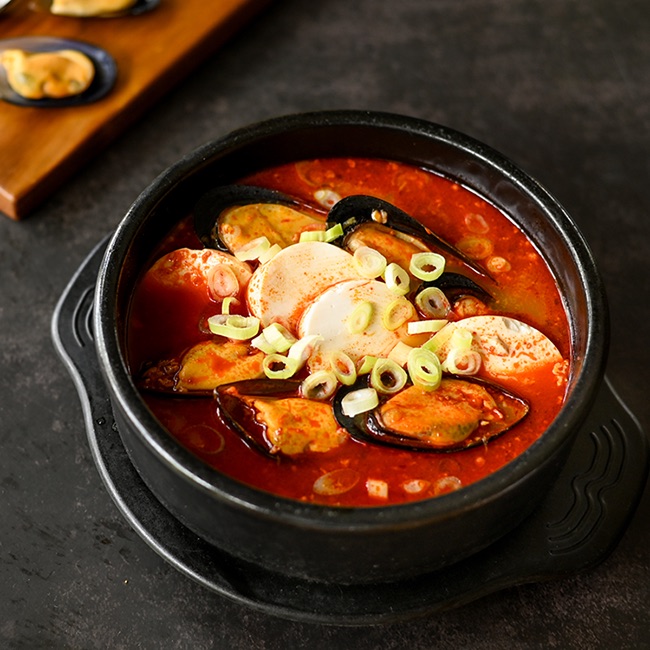 There's food that feels hot given its literal temperature, and then there's food that feels hot in the sense that it's spicy and delivers a kick. Put them together, and you get a real fiery yet warming dish that stimulates the senses as much as it appeases the soul. You get precisely that with Sariwon's Soondubu Chigae (P450)—their take on the spicy Korean tofu stew of the same name, with seafood and pork that make for even heartier spoonfuls. An order also comes with four side dishes and rice.
ADVERTISEMENT - CONTINUE READING BELOW
For orders, visit Sariwon Korean Barbecue's delivery website. You can alos check out their Facebook page.
Bonus: French Onion Soup from Sagana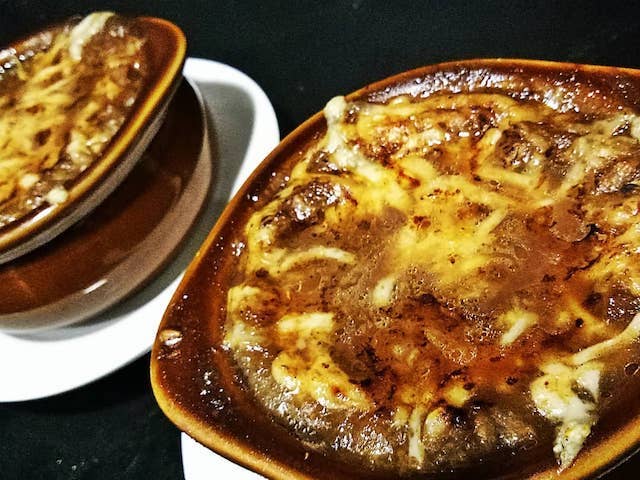 When at a French or continental restaurant, there's really no better way to open a meal than with a good bowl of French onion soup. Here, humble ol' onions are taken to decadent heights as they're cooked low and slow until caramelized, along with some broth (beef is common) and wine or another liquor; it's then topped with a croute (a slice or small piece of toasted bread), which may itself be topped with cheese before being broiled or baked. Locally, French restaurant Sagana makes one of the best versions in town (P460) that's rightfully rich and full-flavored, with the meaty flavor of beef and the natural sweetness of onions coming together into an impactful union. As of writing Sagana is temporarily closed, but trust us when we say it's well worth giving them a follow on social media so you can be alerted once they reopen!
ADVERTISEMENT - CONTINUE READING BELOW
Check out Sagana's Facebook page.
Hey, Spotters! Check us out on Viber to join our Community and subscribe to our Chatbot.
Your guide to thriving in
this
strange new world.
Share this story with your friends!
---
Help us make Spot.ph better!
Take the short survey
More Videos You Can Watch
Load More Stories