Terraza Martinez
Shangrila at the Fort, 30th corner 5th Avenue, Bonifacio Global City
Contact: 0966-700-5801
Instagram: www.instagram.com/terraza.martinez
Open from 11 a.m. to 10 p.m. (Monday to Thursday, Sunday); 11 a.m. to 11 p.m. (Friday to Saturday)
(SPOT.ph) Think of the last time you flew to Siargao. Being almost 800 kilometers away from Manila, the Surfing Capital of the Philippines can feel like a whole other world—one where folks trade their sneakers for slippers to stroll around town; one where rather than cars beeping on the road, you hear the undulation of waves from the sea; and one where whatever worries on your mind about bills, your dreams, your career, and so on simply melt away.
The island's inherent laid-back character isn't one you can easily bring over elsewhere, most especially busy ol' Manila. Still, Terraza Martinez—BGC's new dining darling, helmed by Chef Luis Martinez of Siargao's famed Spanish dining spot Alma—manages to channel its carefree vibe, albeit with the more modern sensibilities of the city.
ADVERTISEMENT - CONTINUE READING BELOW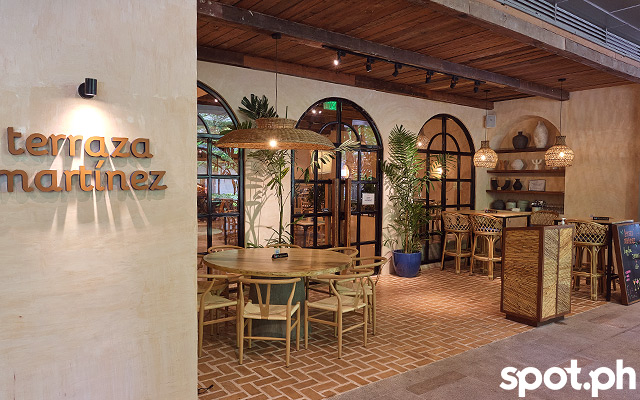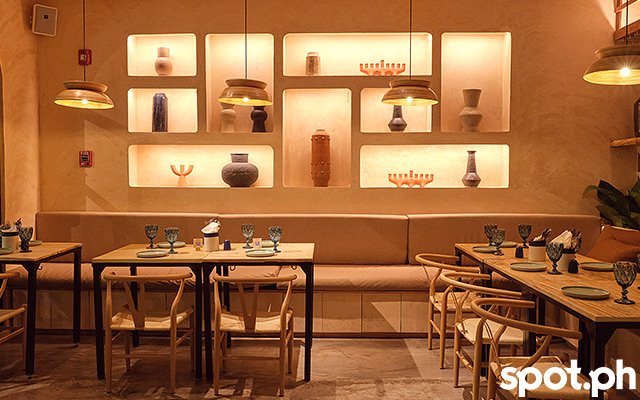 ADVERTISEMENT - CONTINUE READING BELOW
Recommended Videos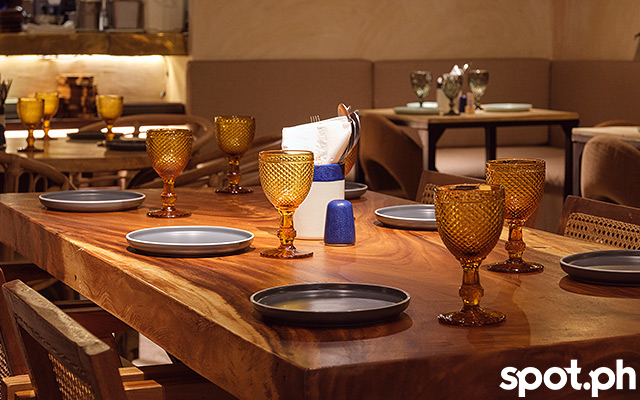 Also read: The Chef Behind Siargao's Alma Is Bringing His Spanish-Mediterranean Cooking to BGC
Dig into the vivid flavors of the Mediterranean region in a laid-back setting at this Spanish restaurant in BGC:
Whereas a lot of other Spanish establishments go for a more brooding, old-style look reminiscent of the country's tapas bars or taverns—or on the other end of the spectrum, one that's more hip and urbane to appeal to the younger, partygoing set—Terraza Martinez diverges from these, and instead proposes a more relaxed alternative. Sure, they go for elegant taupe and warm caramel tones on the walls, albeit with a deliberate uneven look that keeps things rustic and approachable. In most other aspects, though, the restaurant invites us to kick back, relax, and, well, chill. Decking their space are wooden tables, woven lamps, bamboo stools, and clay figurines and vases—seemingly a nod to Alma's Siargao roots. Both inside and outside the restaurant you'll also find potted plants and greenery, which breathe color and life into the mix. 
ADVERTISEMENT - CONTINUE READING BELOW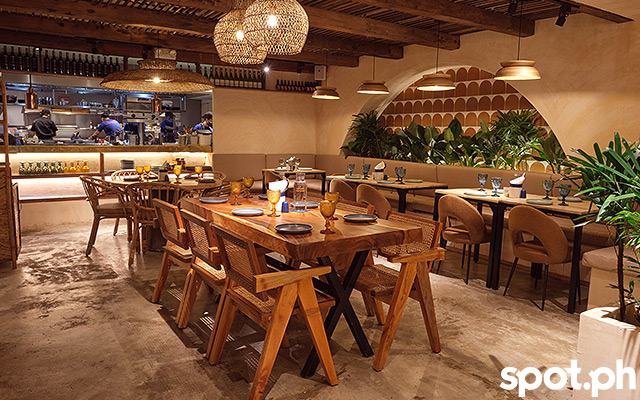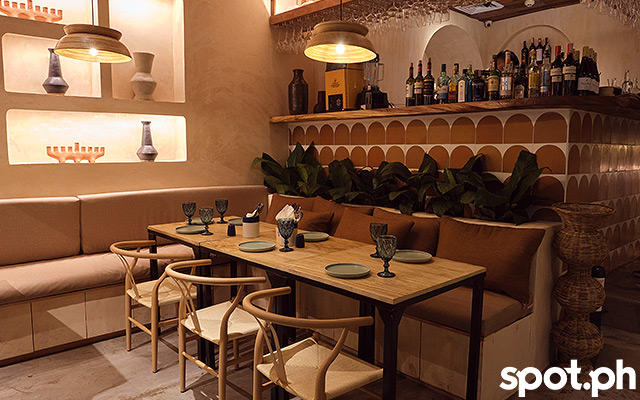 ADVERTISEMENT - CONTINUE READING BELOW
Martinez, a Valencia native with a veterinary background, has long loved cooking, mastering the art of whipping up a classic paella Valenciana as early as when he was seven years old. Growing up in the area—in close proximity to the sea—taught him the value of using fresh, local ingredients, and he brings this philosophy over to his restaurants in the Philippines. "[In Spain], I live super near the ocean, and [as] you know Mediterranean food is based on veggies, fresh fish, and fresh meat. Where I live in Valencia, you have everything nearby," Martinez explains.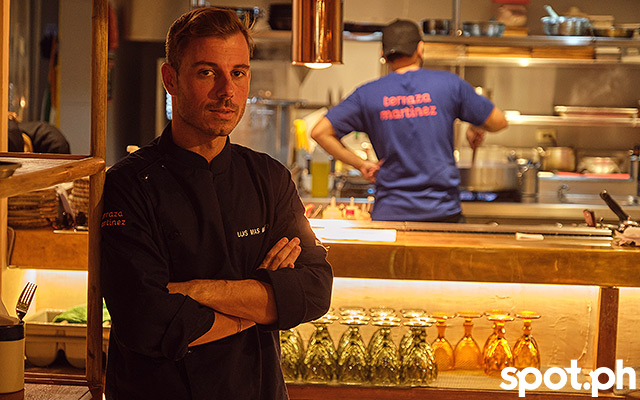 ADVERTISEMENT - CONTINUE READING BELOW
Likewise, the chef goes for a "simple" approach for the most part, choosing to highlight the great-quality ingredients he works with. The Tiradito de Snapper (P725), for one, shines the spotlight on its namesake fish in its succulent yet substantial glory. It's cut into thin strips, and dressed in a tantalizing troupe of extra-virgin olive oil, red onions, grated tomatoes (which add just a touch of sweetness), fried capers, and lime zest. Fresh tuna, too, gets the zingy treatment in the Atun Marinado (P330), which has cubes of the fish mingling with tomatoes, onions, and wakame seaweed; scoop spoonfuls up onto the accompanying tortilla crackers, and pop it in your mouth for a sunny flavor burst.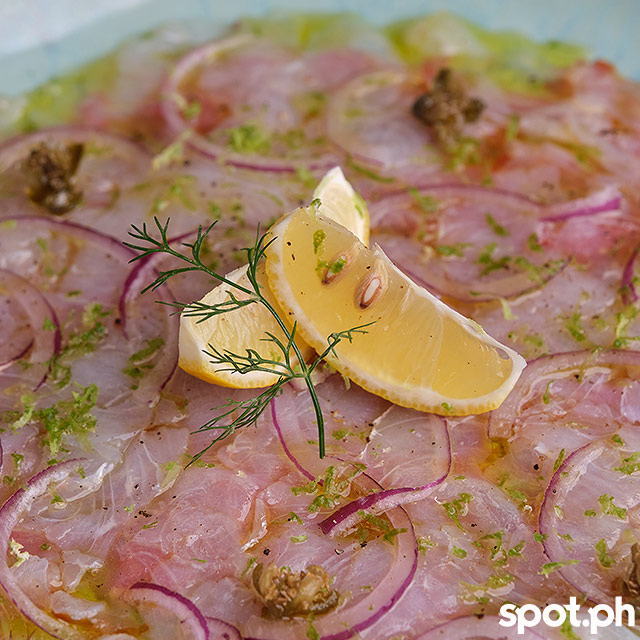 ADVERTISEMENT - CONTINUE READING BELOW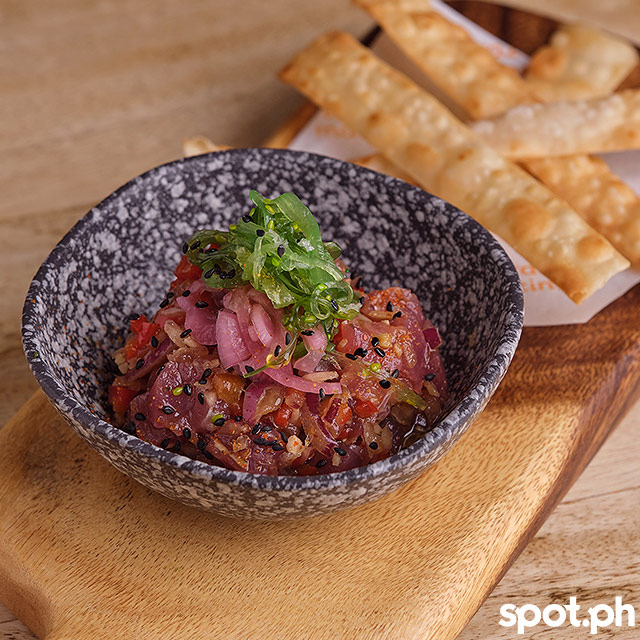 Going local, too, is a philosophy the chef takes to heart. "It's important for me to [source] everything nearby [as much as possible] because… you guys here in the Philippines have [good] ingredients that can be used in the kitchen, and you can get so much flavor [from them]." Martinez sings praises about our local seafood—in particular, our octopus, which he cooks to the perfect tenderness in the Pulpo (P450). Chunks of the soft, smoky roasted octopus are then served over a smooth, sticky mash of potatoes, with garlic confit, fried almonds, a dusting of Spanish paprika, their signature Terraza sauce for vivacity, and crispy potato shoestrings. To go with their tapas you also can't beat any of their cocktails—whether you go for the fruitier Terraza Spritz (P495) or more floral Gin & Tonic (P350).
ADVERTISEMENT - CONTINUE READING BELOW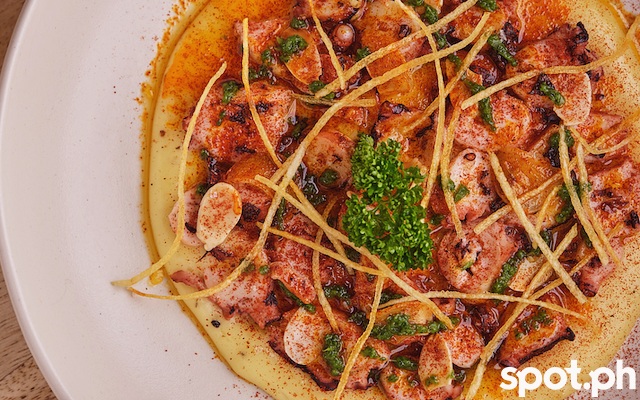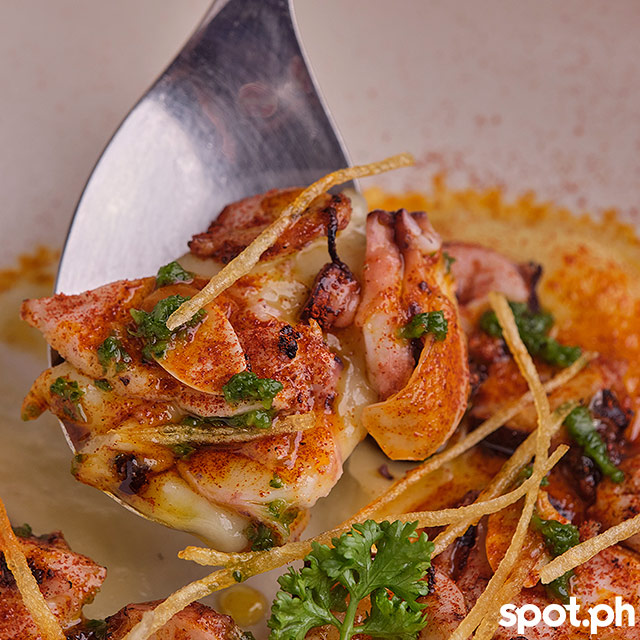 ADVERTISEMENT - CONTINUE READING BELOW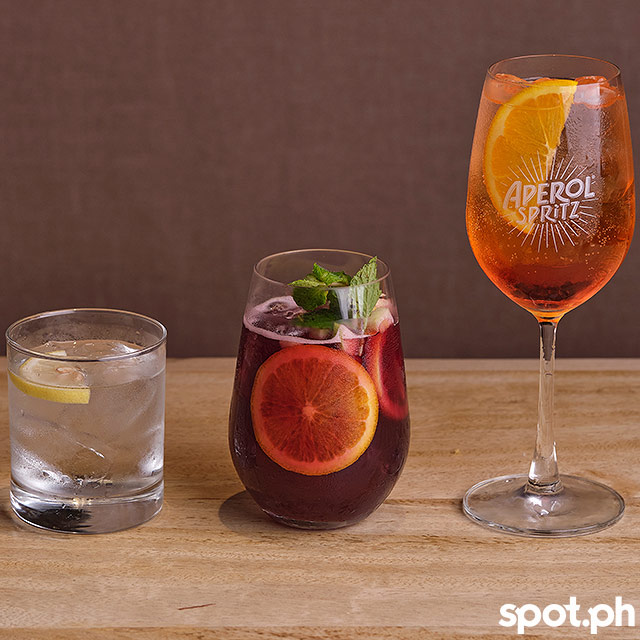 Martinez goes traditional with his Spanish cooking where appropriate, as the restaurant dishes out great takes on classics like the Paella Negra (P995). You can't beat its jet-black rice base that's moist but not mushy, and toppings of prawns and scallops that, unlike with many other paella available locally, retain a succulent bite. Share a platter along with the Sangria Roja (P595), which has added depth from Hennessy VS apart from Malbec, raspberries, cinnamon, lemon, orange and mint leaves.
ADVERTISEMENT - CONTINUE READING BELOW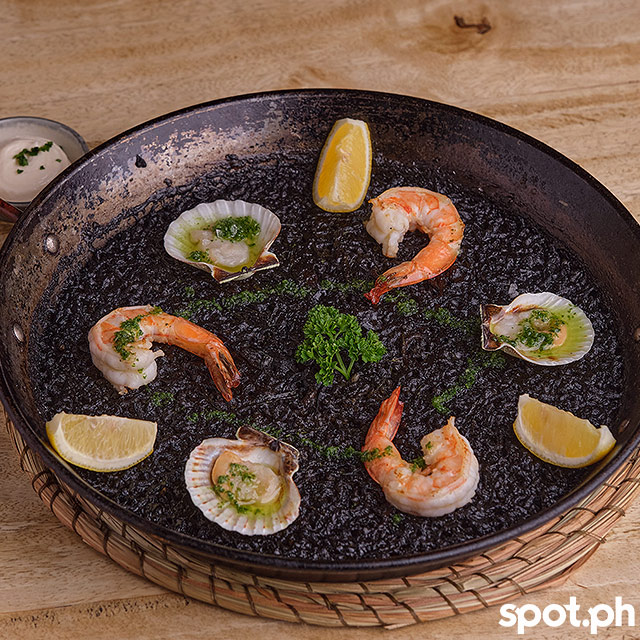 Elsewhere, though, he isn't afraid of changing things up. "[My take on Spanish food is] something more adapted to the times we are right now," he quips. You'll see him raising humble dishes to more sophisticated heights, as with the Bacalao Confitado (P650)—think bacalao al pil pil but interpreted as an elegant entree. A hunk of cod fish is confited, then cooked just until the skin is browned and lightly crisp. Garlic confit and chili flakes then further upp the ante without taking over the fish's delicate flavor. Don't forget its sidekicks: a silky mashed-potato emulsion, slivers of haricot vert for color, and crisped-up flakes of jamon Iberico for pops of saltiness and crunch.
ADVERTISEMENT - CONTINUE READING BELOW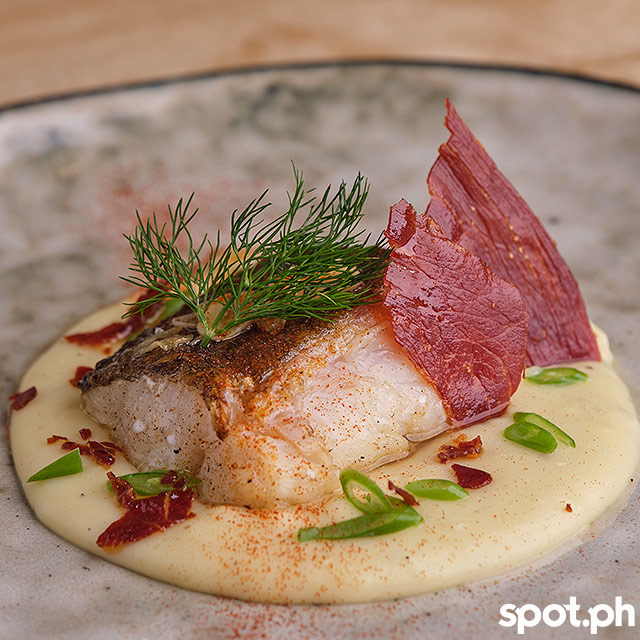 In similar fashion, the Piquillo Relleno de Bacalao y Gambas (P280) takes classic stuffed piquillo peppers out to town with a creamy filling of bacalao and shrimp inside glistening red peppers, plus a surrounding piquillo sauce that takes every forkful to brighter, feistier heights. The Ravioli de Marisco (P320) also pays ode to the Mediterranean region's love for seafood, but in a heartier light. Comprising the dish is a single raviolo about the size of your palm, plus a stuffing of prawns, crab meat, roasted veg, and cream cheese, and then the kicker—a potent seafood bisque that's poured over right upon serving.
ADVERTISEMENT - CONTINUE READING BELOW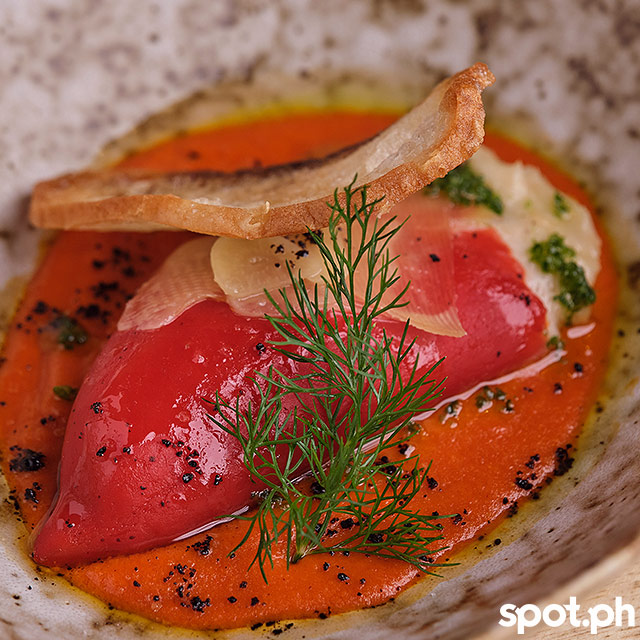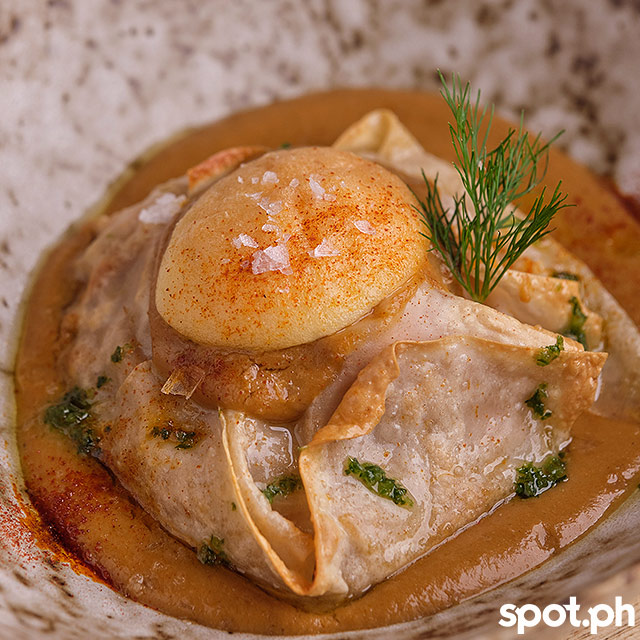 ADVERTISEMENT - CONTINUE READING BELOW
Whereas Terraza Martinez is all about going the less-is-more route for most part, there is one exception that shouldn't be missed—and that's the rebel of a fideua variation that is the Fidefoie (P1,295). Fideua, of course, refers to the paella-like dish that uses broken noodles in place of rice; this delinquent variation trades the typical seafood elements for the richer, arguably more indulgent protein that is duck. And we're talking two forms of duck, no less: their own duck confit that they shred and mix into the dish's sofrito base, infusing its characteristic richness into the noodles when cooked; and a slab of duck magret (a.k.a. duck breast) that's lightly seared on the outside yet juicy within.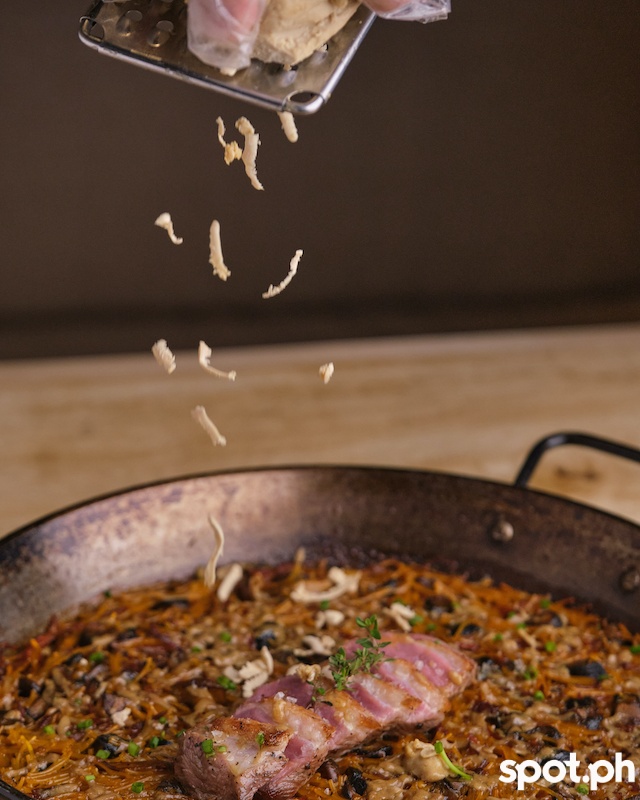 ADVERTISEMENT - CONTINUE READING BELOW
Wild mushrooms in the noodle mix also contribute earthiness, as well as textural contrast. The real killer, though, is the cold foie gras that they grate over your paellera—not unlike cheese atop a pasta plate—as it arrives on your table. This isn't just for gimmick's sakes, though, as the foie bits melt onto, and amplify the flavors of, the fideua below. The result? Sinful stuff that's best shared, but that absolutely should not be skipped. And as excessive as it all sounds, this is the time to live a little. (Getting a salad on the side doesn't hurt, either.)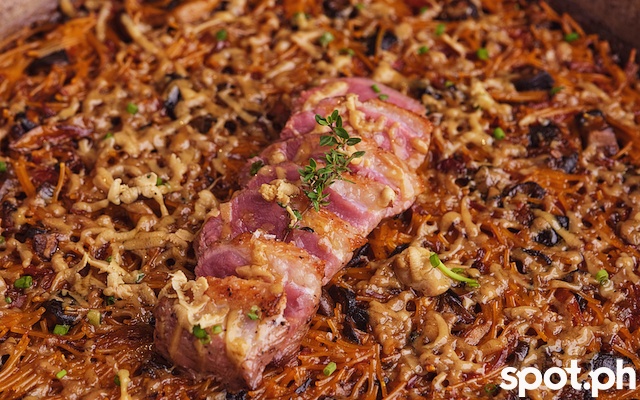 ADVERTISEMENT - CONTINUE READING BELOW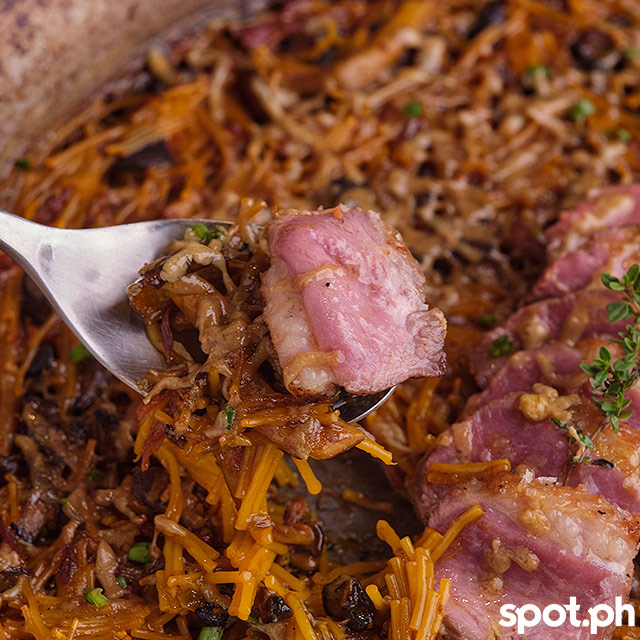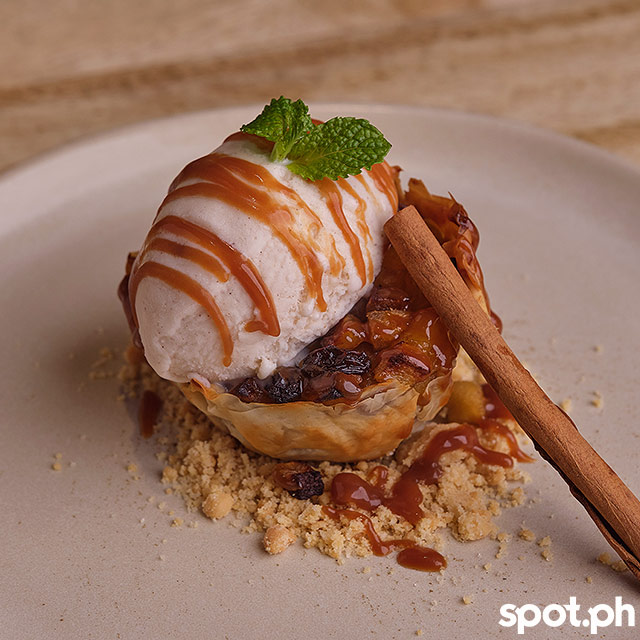 ADVERTISEMENT - CONTINUE READING BELOW
Standing out in a sea of other Spanish spots doesn't come easy. Terraza Martinez isn't necessarily out compete with them however, instead perfectly complimenting the Spanish food scene in Manila by introducing its own defining personality—one that's relaxed and easygoing, alright, without losing sight of the aim of serving damn good, hearty food, and drinks to match with it, too.
Photos by Hans Fausto
Also read:
Seafood Paella Recipe
How To Tell If Shrimp Is Fresh
Hey, Spotters! Check us out on Viber to join our Community and subscribe to our Chatbot.
Share this story with your friends!
---
Help us make Spot.ph better!
Take the short survey
Load More Stories