CUR8
Banilad Town Centre, Gov. M. Cuenco Avenue, Cebu City
Contact: 0977-328-0280
Facebook: facebook.com/cur8.ph/
Open from 11 a.m. to 12 a.m. daily
(SPOT.ph) If you follow the Cebu food scene, then chances are you've already seen this salmon soba salad on everyone's Instagram Story. It's probably the city's worst kept secret! And for good reason. This dish is from a restaurant that recently opened—you might have seen the tasting menus its proprietor and chef duo have been hosting for a few weeks now on social media too—and trust us, the salmon soba salad is just one dish out of many worth trying at CUR8. Heck, we might even be introducing you to your new favorite adobo courtesy of this modern Asian resto.
Also read: 
10 Date Night Restaurants to See the Different Views of Cebu
The Cafés in Cebu to Check Out If You're After Stunning Views
We know the term "fusion" has gotten a bad rap in the culinary world, and as Asians, Asian fusion cuisine hits even harder, especially when it takes the showy-over-soul route. Not so at CUR8. Their low-key and innovative takes prove it can be done right.
ADVERTISEMENT - CONTINUE READING BELOW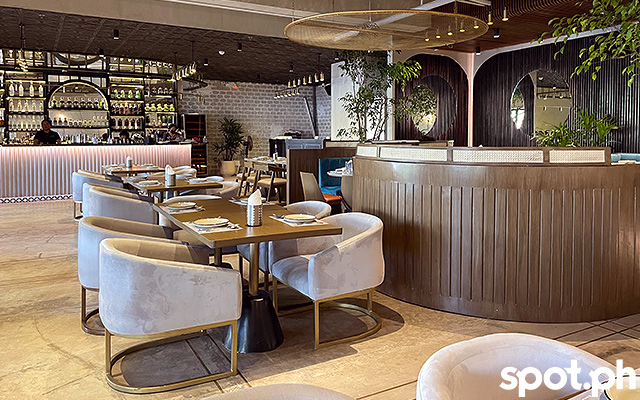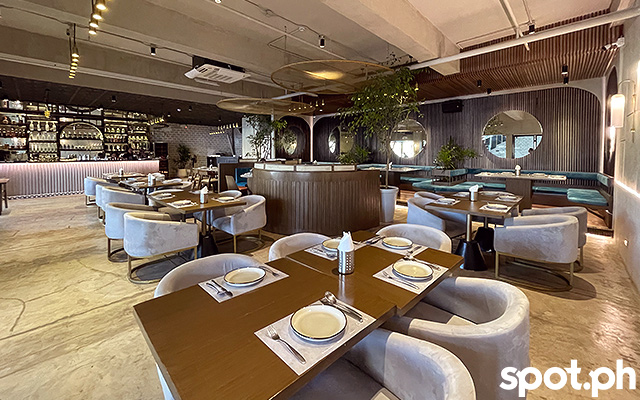 ADVERTISEMENT - CONTINUE READING BELOW
Recommended Videos
Get a taste of fusion done right at this CUR8 Asian restaurant in Cebu
Officially, CUR8 opened on October 8, but  they've been on a kind of soft opening, serving friends and family and ironing out their menu, for about a month beforehand. Even now as they serve regular customers, changes are expected thanks to their emphasis on using seasonal produce, even down to the herbs and aromatics they use. That's your cue to run, not walk, to get a bite of the Dragonfruit Kinilaw (P395). When dragon fruit is no longer in season, owner JP Chongbian says they'll have to redo the dish with another fruit that'll be available.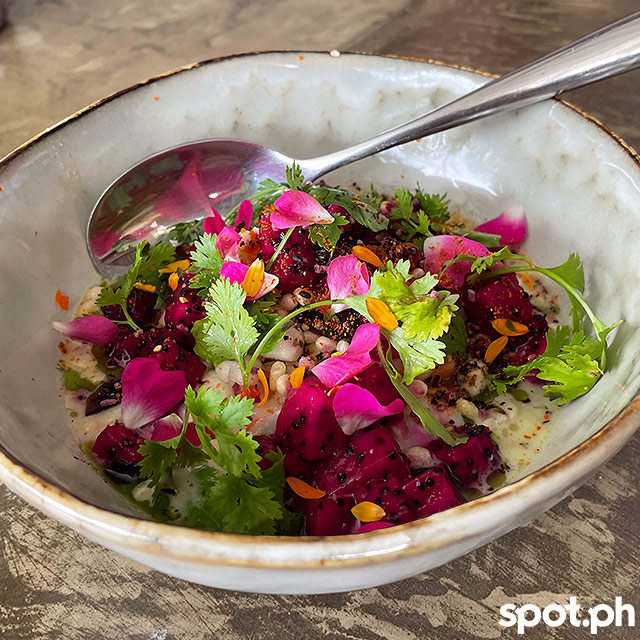 ADVERTISEMENT - CONTINUE READING BELOW
Undeniably, this starter is a star. The name alone is interesting, and pink dragon fruit is social media catnip. They suggest mixing everything before helping yourself to the dish, which consists of a mix of scallop and shrimp—no fish here. The aged ponzu comes as a gel; it's the thing that looks like a Century Egg but is full of refreshing notes. That said, the entire dish is a refreshing concontion with crunchy puffed rice, coconut milk, and unmistakably Thai spices. The garnish of flowers and herbs are delivered fresh, so it might change from visit to visit.
The reigning social media star, the Green Tea Noodle Salad (P750) also has a Southeast Asian twist to it. The party of flavors made it difficult to distinguish a specific profile—testament to how good it was—but it leaned more towards basil with a nutty edge. The dressing was also sweet and tangy, complimenting the deep flavor of the perfectly flaky semi-cured salmon chunks.
ADVERTISEMENT - CONTINUE READING BELOW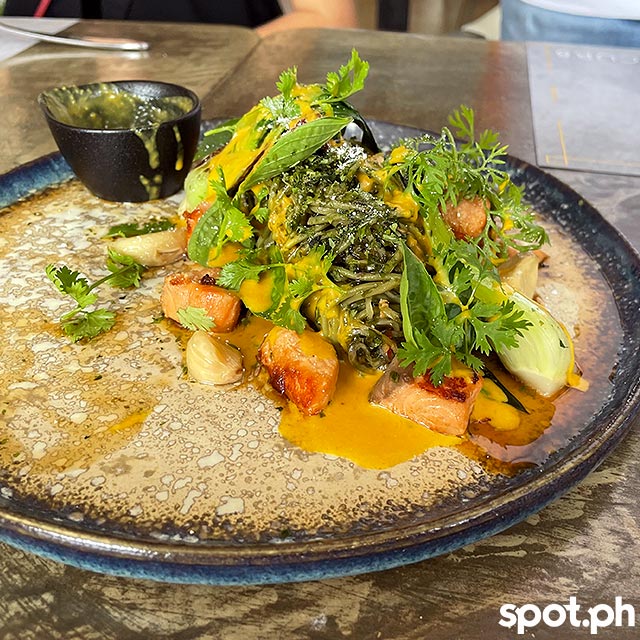 The Beef Rendang (P580) came with penang acar (pickled vegetables), turmeric rice, and surprise—coconut flakes. The flavor of the coconut with the pickles gave it the notes of a carb-rich custardy white fruit (think caimito), just one of the more unexpected notes of this rich dish. If you're in it for the spice, know that CUR8 waits for customers to specify they want the heat so be sure to notify them when ordering. 
ADVERTISEMENT - CONTINUE READING BELOW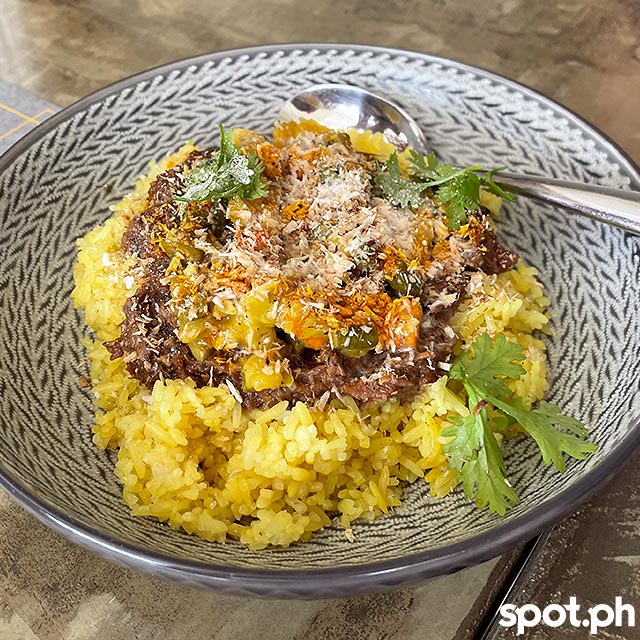 The Cambodian Yellow Curry (P495) is a textbook example of what this should be. They're so sure of the broth that they occasionally serve it as a soup at degustations. And we're with them on this one. Nice and hearty, it's soul-satisfying soup at its best. The dish comes with pita that's hollow inside so you can scoop the meat in and eat it like a pita pocket. When you do, you'll find that alongside the chicken's red meat are bits of cauliflower for added bite.
ADVERTISEMENT - CONTINUE READING BELOW
How do we even begin to describe the Beef Brisket Adobo (P725)? It's at once familiar and comforting yet different. It tastes meaty from the beef fat and shiitake mushrooms, with that sweetness that we Cebuanos love enveloping the varying flavors. But there's also a hint of spice to it, again borrowing from our Southeast Asian neighbors, that keeps it from going overboard. It's fatty, yes, but not sum-od. And it's even better with steaming hot rice, of course.
ADVERTISEMENT - CONTINUE READING BELOW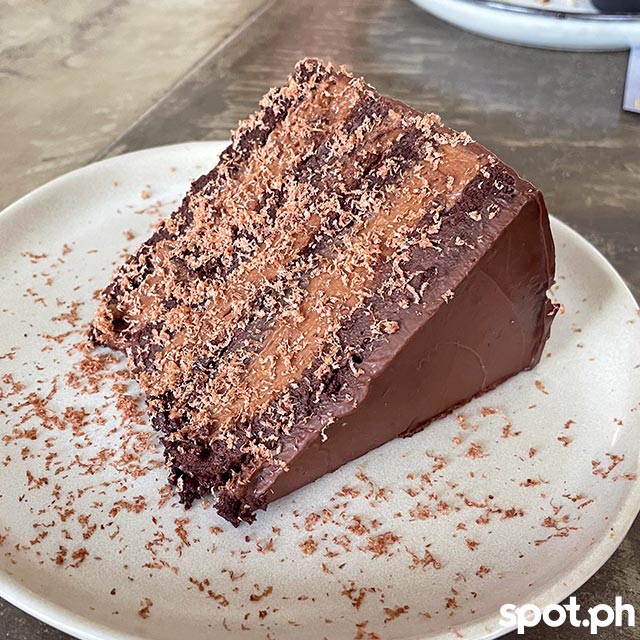 Even if the Dragonfruit Cheesecake (P350) can easily run laps around the Textures of Cacao (P395) in terms of presentation, we still declare the latter the winner. Chongbian admitted that it is the more requested one among the desserts and we totally get why. The chocolate shaving are just a bonus for the eyes, but the chocolate cremeux is what we really need to talk about here. Their light and creamy take, with an unmistakably deep cacao flavor, takes the cake from a simple chocolate slice into a decadent treat.
ADVERTISEMENT - CONTINUE READING BELOW
Chef Christian Bernard Tan is a homegrown talent who now has the platform to reach more people and introduce the ideas he's played with in his past ventures. If you want to experience firsthand what we're talking about, it might be wise to go for lunch as they're always fully booked for dinner, but don't go too late in the afternoon as they switch to a coffee-and-pastries menu. It's still best to make a reservation so you can also pre-order the in-demand dishes.
Share this story with your friends!
---
Help us make Spot.ph better!
Take the short survey
Load More Stories